I also loved gazing into the drawing room, which was decorated in creamy yellows, where translucent drapes allowed the light to filter through the bay window, reflecting off elegantly decorated couches, dainty French chairs with lattice backs, all painted in gold, and amazing fluffy white alpaca mats which covered the carpets at the fireplace and windows. Gran's small black poodle Hugo used to sneak in and lie on them, when no-one was looking and Gran would pretend to be cross when she found him there. Large urns and vases, clocks and glass ornaments were placed on tables, which were most definitely never to be touched. I loved the glowing amber and toffee coloured glass beaded heaters which were enclosed in ornate wrought iron fire boxes that decorated many of the rooms.
Sculptures of women, half naked, were posed on elegant timber pillars in the main hall and drawing room. I loved them, and I loved to run my fingers over the smooth cold marble and alabaster, when no one was watching. It was always made clear that nothing was to be touched, and that at no time were we to run or jump in the house. I think my sister Lavinia and I must have been quite good girls, because I can't remember breaking anything or actually being scolded! The enormous staircase also hid an amazing under stairs room, filled to the brim with oddments, and it was a fantastic hiding place when we played hide and seek. Mrs Noble, the house keeper, looked after everything. She bought us tea and ginger nuts and buttered arrowroot biscuits, to either the front sunroom or to a table out on the lawn in the garden, near the frangipani tree. Another of my earliest memories of my childhood was making a necklace with the frangipani flowers by threading them with cotton twine with Aunty Ethel Moar, Gran's sister, whilst sitting on the sandstone balustrade of the steps to the sunroom on a sunny afternoon.
As I placed my grandparents, Johnny Fuller and Lavinia Moar into my tree I immediately began to accumulate records. The beauty of subscribing to a search engine like ancestry.com is that once you proceed beyond the 50 year limitation period for privacy purposes, records start being produced that can come up as recommended matches. It is quite amazing, as the search engine knows that you are looking at records that others may have collected, and they make suggestions, and invite you to look at other family trees. However, accept these trees at your peril, as you can go very wrong if you don't do the research yourself. I did learn this lesson the hard way, when I accepted incorrect information from another Fuller family tree.
Johnny and Lavinia Fuller had married in Wellington, New Zealand on 28 September 1916. The marriage record was not torn out of the page, as a family myth claimed, however, New Zealand BDM Registry Office records have been slow to come online, and, like the U.K Registry Office, are only indexes with scant information.
Full records can be purchased, but for an exorbitant price. There are some NZ voting records available online which list those in the family over 18, and their addresses and occupations. Through previous knowledge that Johnny Fuller had been born in England, I was able to find an amazing hand written English Census from 1881 fairly quickly online. This was the start of an incredible journey back in time. Each person in my tree then had a timeline profile created where records were collected. I quickly learned that adding in brothers and sisters at each generational level would help to lead me back to the next generation. I discovered these names and addresses in an area of London I had never heard of before, called Shoreditch. Googling a London map, I realised that this was a poor area in London, near to the Thames and to the theatre district of London, which had beckoned Johnny's father John Fuller Snr., away from his trade as a printer's compositor, to treading the boards of London's theatre halls. Johnny Fuller Jnr. always claimed he was a small man because of his poor diet when he was a child. Obviously the family was poor, and Shoreditch was the poor man's area of London. My mum used to tell us that her dad, Grandpa John Fuller Jnr. was given bread and dripping every day, except on a Sunday, when he had an egg for his dinner.
I did however, have a good news story that day for Scott, and that was that our correct, and direct ancestor Richard Fuller had a father named Richard, who was a Merchant of London, and a silversmith. It was a fairly simple matter of finding the correct baptism for Richard. It so happened that two Richard Fullers were born in the same year, in Shoreditch in 1791. I collaborated with a very kind online Fuller researcher who pointed this fact out to me, and she was the one who consoled me with the information that Richard Fuller's father was a silversmith, whilst her ancestor Cornelius was a lowly poster colourer, who trawled the streets of London with a wagon pulling his wares! She was actually quite sorry that my Richard Fuller wasn't her ancestor, and I was pretty pleased with this turn of events, because Scottie and I had actually found Cornelius Fuller's Will and his bequests, and the bestowal of his cart and its contents were quite unsettling and extraordinary.
During the first weeks researching the Fullers, and before I was confident collecting records on the ancestry website that I was certain belonged to the Fuller family, I firstly searched for the birth records of both John Fuller and Harriett Jones without much success. There were so many Fullers, and way too many Jones! Scottie Fuller was certain that Harriett's father John Jones was an accountant from Wales, and I spent a great deal of time searching the Welsh Census' for the Jones family. I nearly went mad, and it proved absolutely fruitless, and Scottie and I were disappointed with the progress I was making. There was no John Jones who was an accountant, with a daughter named Harriett. I must say I was frustrated with the terrible misinformation that had been passed down to Scottie, as he had this information directly from his own dad, John George, the son of Johnny Fuller, who presumably gave his son this information in the first place. Seriously, who was I to question family stories, and not take them as correct? This experience was another good lesson in genealogy – never rely on family information and stories, as it is almost always incorrect, and is destined to disappoint! I can clearly remember my phone call to Scottie, telling him crossly (!) that I had wasted so much time on a wild goose chase in Wales, after I found out that Harriett was actually born in Islington, London, and that her father John Jones was a rope maker! Later l found out that one of the family was listed on the census as an annuitant – someone had read a document and mistook an annuitant for an accountant! I can't find this record at the moment to illustrate this, as it was early in my research, and I still hadn't learned another very valuable lesson of keeping a foot print of every piece of good information found. This was why I undertook the two year Research Diploma at the Society of Australian Genealogists, but honestly, I could have done without the exam at the end! It was a good grounding for me in the skills I needed to capture records and documents, that I would refer to at a later date, when it came time to write up the family tree. I must add here that thanks have to go to my husband Geoff for his encouragement to write up the tree, and the many hours of the day that I have my head immersed in my laptop, putting at least two hundred years between us.
The first record I opened with some confidence and excitement was the 1881 English Census for the Fuller Family living in the Parish of St Leonard Shoreditch, in the Municipality of Kingsland and Parliamentary Borough of Hackney, London. The Fuller's address was listed as 6 Rutland Street. John Fuller was a printer's compositor and stated that he was born in Shoreditch, Middlesex. His wife Harriett was listed as being born in Islington, Middlesex. This was obviously my first contradictory evidence that Harriett Jones was not born in Wales. Their children Walter, Benjamin, Lydia, Harriet and John were also listed on the census as well as a nurse, Caroline Randall. I can remember feeling so pleased that Harriett had help in her large household of children, and my thoughts were, that they cannot have been that poor, if they could afford a nurse. As mentioned earlier, my mother, Lavinia "Vena" Fuller always explained that her father had told her how very poor the family was in England.
The next record I found was the marriage of John Fuller to Harriett Jones on October 7 1871, at St Matthew's Church, City Road, Shoreditch. John and Harriett both signed their signatures to the document and gave their address as 17 Remington Street. The fathers of John and Harriett were also listed on the marriage record. Harriett's father John Jones was listed as a rope maker, and John's father was listed as Benjamin Fuller, cabinet maker. St Matthew's Church was bombed and destroyed during the blitz of London in World War II, and historically it is recorded that the East End of London was hardest hit by the Germans.
The beauty of these documents on a computer screen is that you can enlarge and inspect the details.
The witnesses to the marriage were Benjamin Fuller, John Snr's father, and Frances Jones, Harriett's mother. At first I was not sure of these relationships, wondering if they were possibly siblings, however, after collecting some further records I was able to confirm these family relationships. Genealogy is rather like completing a jig-saw puzzle, you know the pieces should fit, but you have to do a lot of brain-teasing before it is completed, and rather like most puzzles, there are always a couple of pieces missing in the puzzle at the end! This is the same with our tree, there will always be puzzles and there will always be a time when records simply dry up and it is no longer clear who our direct family is. In the case of London I think we can be quite clear that we can go back no further than the Great Fire of London, when most of the parish records perished as so many of the churches of Shoreditch burnt to the ground.
The great rebuilding period shortly after the Great Fire of London saw a massive amount of money put into the rebuilding of London's churches. Shoreditch stood in the shadows cast by the building of London's magnificent St Paul's Cathedral, built by Sir Christopher Wren, and its inhabitants would have witnessed the spectacle of this great church rising from the ruins and ashes to dominate the skyline of London.
Baptism of John, son of Benjamin and Mary Fuller, 18 August 1850 at St Mary Haggerston
The Fullers would have rented their homes, it is doubtful that they were ever landowners in London, and for this reason I found that they moved a fair bit between the census collections from 1841 to 1911.
This is certainly an historic photograph from London, and I am now happy to attribute it to Harriett Fuller, despite earlier concerns about her likeness to Ma Fuller in the family portrait taken of the family in Auckland a few years later.
I then looked for Harriett Jones' baptism, and found it quickly, thanks to the knowledge that her family were living in Islington, Middlesex, and that her father was a rope maker. The record also confirmed her mother's name as Frances Mary, and showed the family living at St James Street, Islington. It showed that Harriett was born on 7 April 1852 and baptised on 2 January 1859. This Parish Record revealed a lot of information, as three of Harriett's siblings were also baptised on the same day, John born 28 August 1848, Edwin born 17 January 1854 and Charlotte Elizabeth born 29 August 1856. The records coming from page 92 and 93 of the Parish Book of St Mary Islington.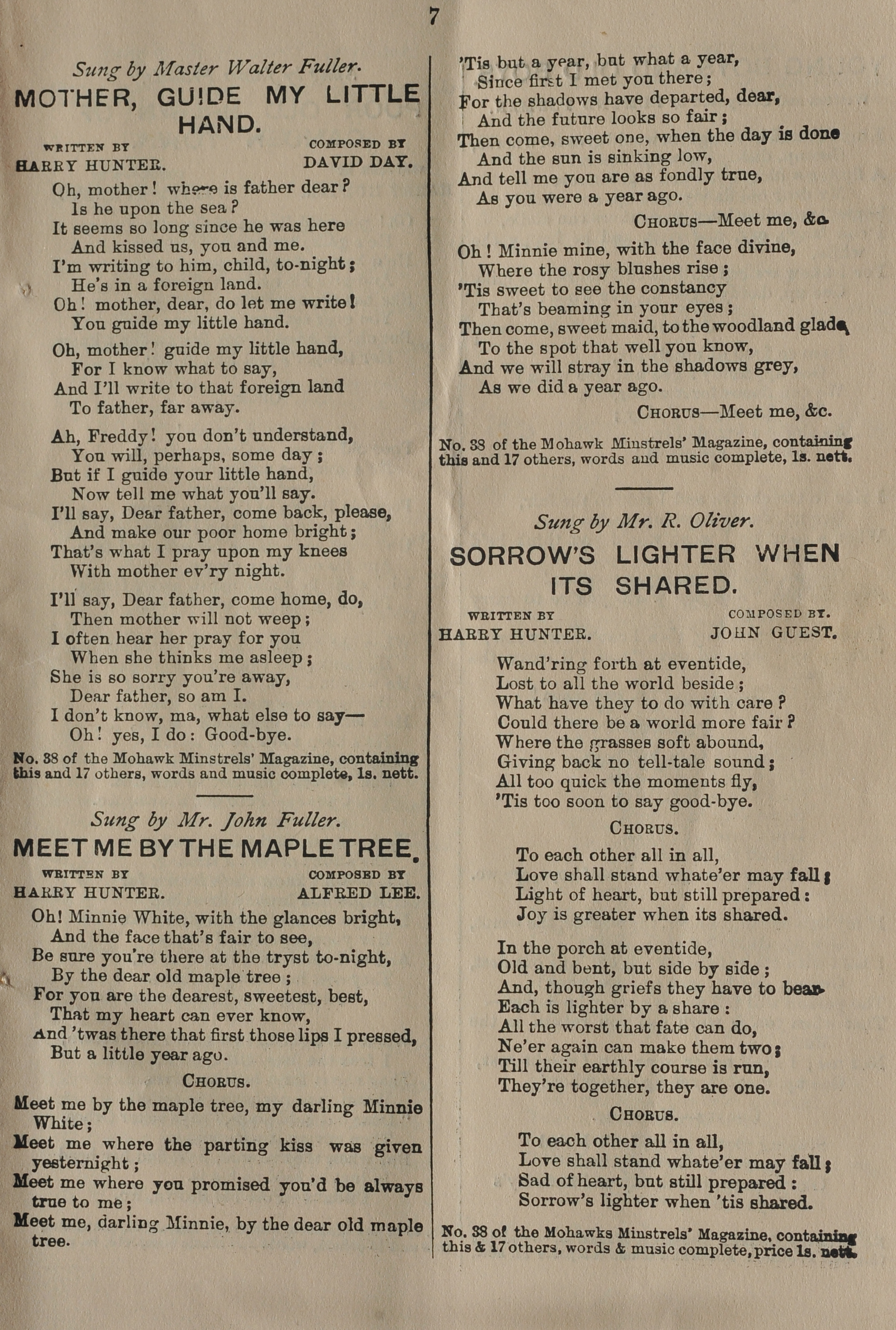 Mohawk Minstrels Programme No 38, November 1884, courtesy of Jean Thomas Collection
It is just so precious to have these wonderful programmes, kindly sent to me by Jean Thomas, listing John Fuller singing Meet Me by the Maple Tree and his son Walter Fuller singing Mother Guide my Little Hand, performing with the Mohawk Minstrels at the Agriculture Hall in Islington, London. Also the review of the show from The Era newspaper reported that Master Fuller's voice is sweet and sympathetic and his intonation is remarkably correct.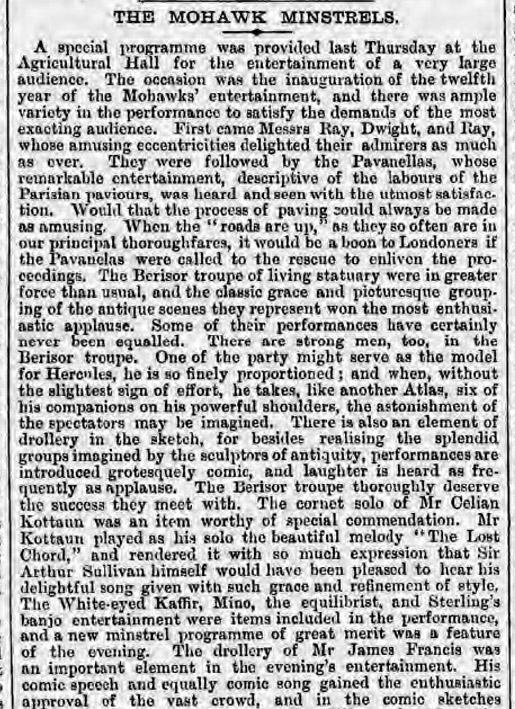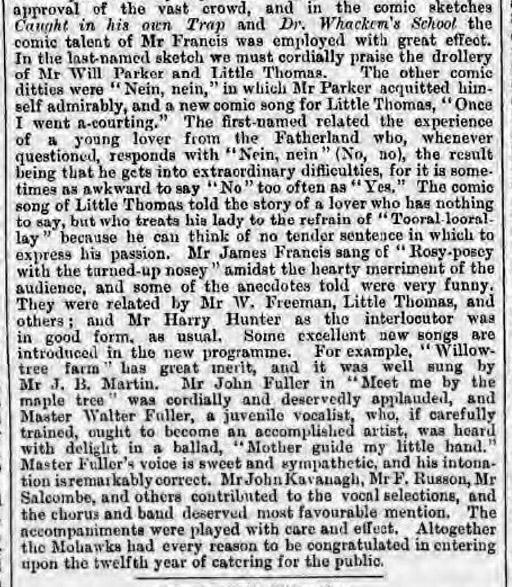 The Era (London), 8 November 1884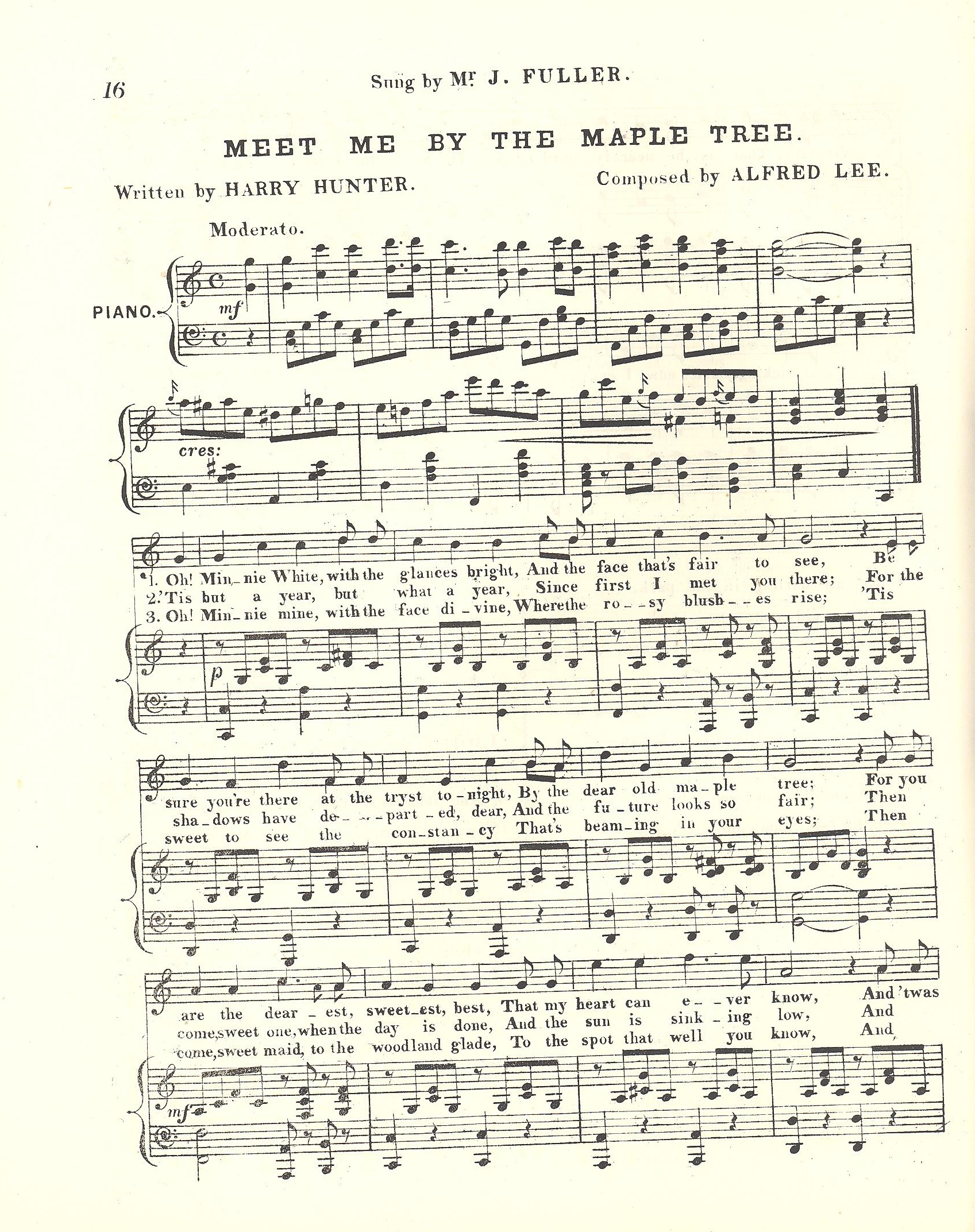 Meet me by the Maple Tree, page one, written by Harry Hunter, composed by Alfred Lee and sung by Mr. John Fuller, Mohawk Minstrel Magazine No 38, image courtesy of Cambridge University Library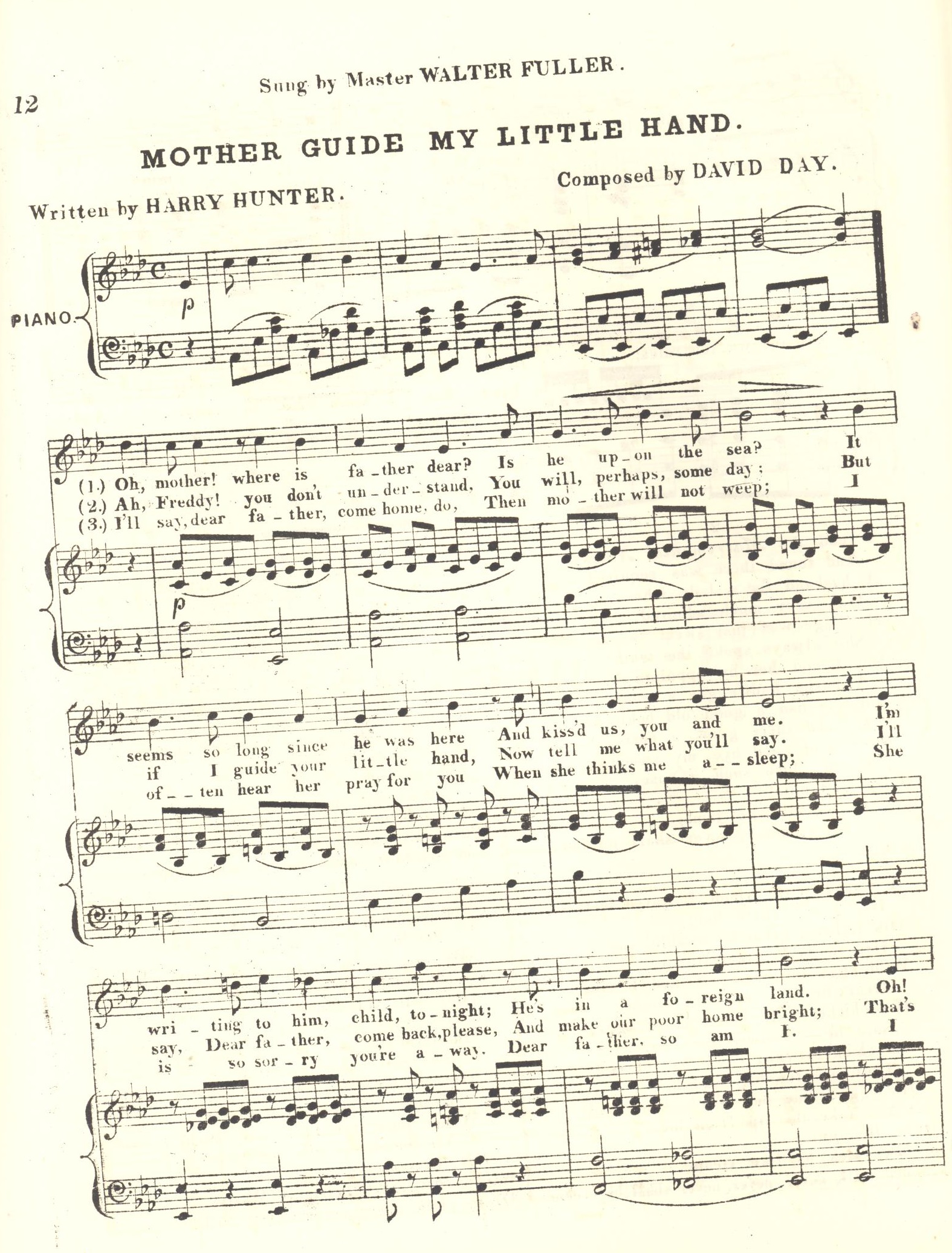 Mother Guide my Little Hand, page one, written by Harry Hunter, composed by David Day and sung by Master Walter Fuller, Mohawk Minstrel Magazine No 38, image courtesy of Cambridge University Library
In October 2019 my sister Lavinia Chrystal travelled to England and I asked her help in my quest to find some of the sheet music that John Fuller had sung. In particular I was searching for one of John Fuller's signature tunes, We don't know how we love them till we lose them written by Harry Hunter and composed by W. G. Eaton. My sister visited London Library, where the librarians kindly helped her to browse their "search hub" and discovered that a copy of the music was lodged at Cambridge University Library.
Thus began a wonderful email correspondence with Margaret Jones, the Musical Collections Supervisor at Cambridge University Library. Like myself, Margaret was inspired by the Fuller family "rags to riches" story from Shoreditch to Sydney and not only kindly provided these song sheets to me, but several other music scores from their library that both John Fuller and his son Walter Fuller sang in England in the 1880's. I am indebted to Margaret for this help in uncovering this wealth of a hitherto forgotten past about the Fuller family's life in England before they migrated to Australia and then New Zealand.
Margaret Jones emailed me a short time later to let me know that she had written up a blog on the Cambridge University Library website about the Mohawk Minstrels and had featured my Fuller family as part of this history. I am grateful too, that she included a link to my website, so that those interested in further information about the Fuller family can certainly find it here! It was wonderful also to see her interpretation of this popular musical entertainment. Like myself Margaret had also been impressed that the Mohawk Minstrel Magazines, which published the songs and music of their Company, proudly boasting that "These songs may be sung by anybody".
"The Mohawk Minstrels were formed in London in 1867. So called "Black-face" minstrelsy was hugely popular at the time, and was the first form of distinctively American entertainment to storm Britain. Audiences were thrilled by the seemingly exotic music and dances performed by the minstrels, and were also reassured that in a minstrel show, they could expect a rather more refined kind of music, inspired by the structures of classical music, and lacking the double-entendres, and suggestive lyrics, beloved of Music Hall audiences." Minstrels by Margaret Jones, posted 25 October 2019.
Margaret went on to explain "By 1873 the Mohawk Minstrels had taken over the lease of the Agricultural Hall in Islington, London, and would stage shows there on a continuous basis until 1900. The Mohawks were founded by brothers James and William Francis; who were soon joined by composer David Day, and later in the decade by lyricist and performer, Harry Hunter; who was head-hunted from a rival minstrel show. Between them, they would form one of the largest publishers of popular music, Francis, Day and Hunter, who would go on to become founding members of London's own Tin-Pan Alley, publishing Jerome Kern, George Gershwin and Cole Porter, among other eminent names, before being bought out by EMI in the 1970's."https://musicb3.wordpress.com/2019/10/25/minstrels/
In her blog Margaret Jones pointed out that after his migration to New Zealand, John Fuller Snr. moved away from blackface minstrel shows and went into vaudeville and varietal musical entertainment, hiring out Auckland Town Hall, where John Fuller Snr. and his five children, Walter, Ben, John Jnr., Hetty and Gertie Fuller produced and performed their own shows, which evolved to include wax works and magic lantern or myriorama shows.
My own grandfather John Fuller Jnr. became the "electrinopticon controller" creating sound and lighting effects to complement slides of pictures from all over the world that included India, Africa, England and Ireland, from wars in Europe, volcanic explosions from Mount Krakatoa in Indonesia to wondrous and exotic Pacific Island paradises, all stylishly accompanied by music and song.
John Fuller Snr. was not only a polished performer with a magnificent tenor voice, he became a theatrical proprietor and a man of his time, observing the changing fashions of theatre, so that by 1910, noting that his audiences couldn't get enough of silent movies and newsreel pictures illustrating current events, Fuller's Theatres moved towards cinema and away from live popular musical entertainment. John Fuller Snr. stepped back, allowing his sons to take over the movie theatre business.
Thus it was, for a short time in theatre history that the Fuller family enshrined a style of live and affordable popular musical entertainment that captured the hearts and minds of audiences in New Zealand and Australia, made them a household name and shot them to fame and riches beyond their imagination.
A year later, John Fuller had left the Mohawk Minstrels, being described in the Islington Gazette, 1 November 1888 as an ex-Mohawk. I can only think that John Fuller had decided to move on from "burnt cork face" singing into more personally identifiable concert performances. A forerunner of the style that he adopted in New Zealand and Australia at his own concerts, which was more vaudeville entertainment, primarily popular songs and duets, together with a good variety of comedy acts and operettas.
The Islington Gazette, 5 March 1888
On 5 March 1888, The Islington Gazette reports on the Mohawk Minstrel performance stating "Another old favourite who met with a good reception was Mr. John Fuller, who appearance caused gratifying applause, and whose singing of Tom Bowling gained an encore, which was not responded to."
Interestingly, it appears that John Fuller had left the Mohawk Minstrels, some time between March and September, John Fuller being described in the Islington Gazette, 1 November 1888 as an ex-Mohawk. I can only think that John Fuller had decided to move on from "burnt cork face" singing into more personally identifiable concert performances. A forerunner of the style that he adopted in New Zealand and Australia at his own Fuller's Theatres concert productions, which was more vaudeville entertainment, primarily popular songs and duets, together with a good variety of comedy acts and operettas.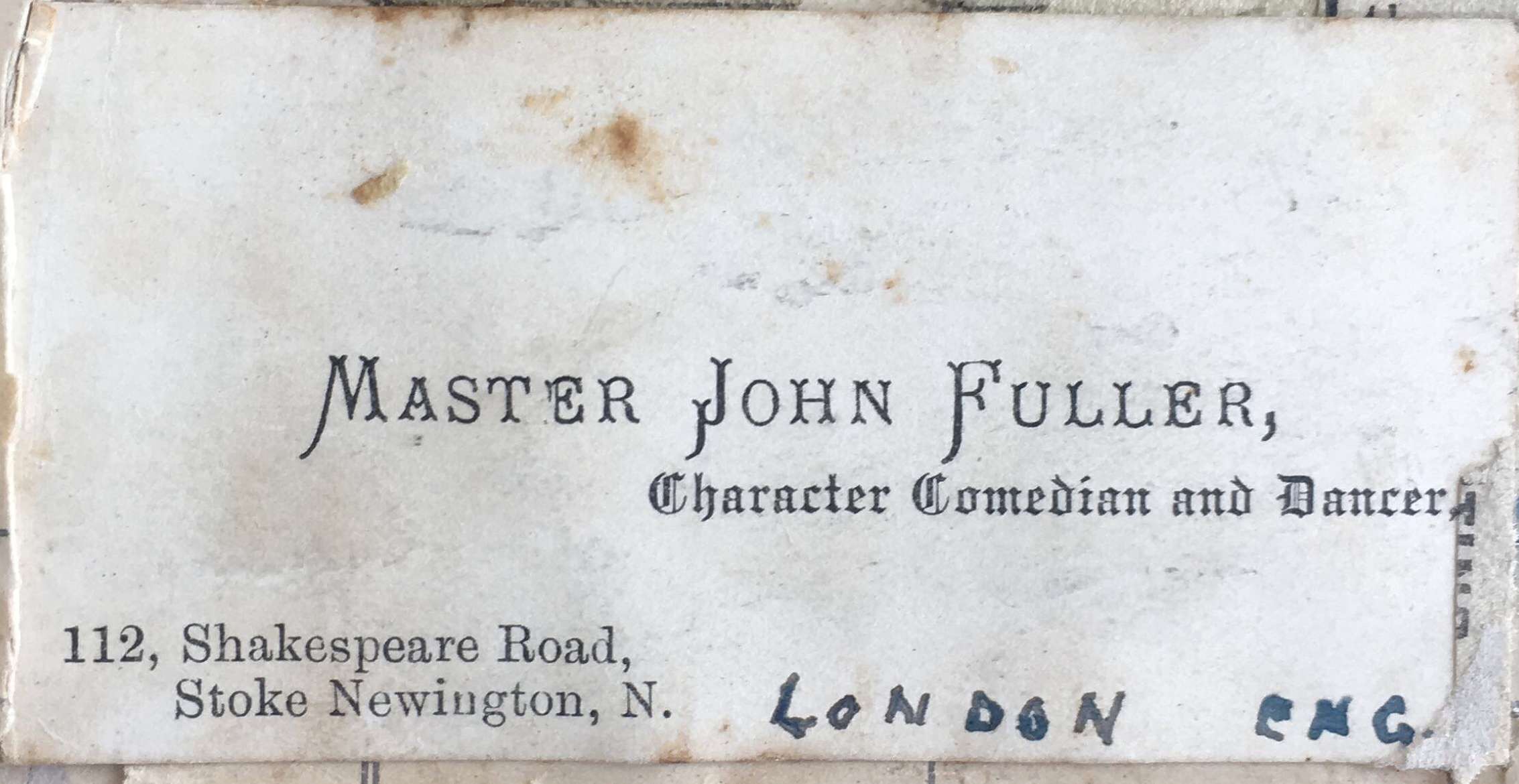 John Fuller Jnr. Scrapbook, image courtesy of Lavinia Chrystal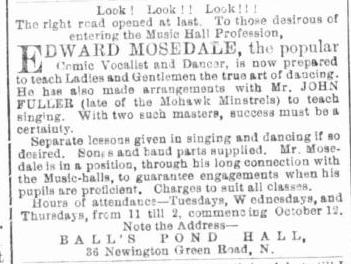 Provincial Entr'acte (London),  16 October 1886
This interesting newspaper clipping found by Jean Thomas, shows that John Fuller Snr. was also giving singing lessons in Stoke Newington, helping to supplement his income.
I was impressed to see that John Fuller Jnr. appeared on the stage in London in 1890, whilst his father John Fuller Snr. was in Australia.
The Walter headstone and grave at Abney Park, London. Photos courtesy of Lavinia Chrystal, 2015
Grave of the Walter Family, restoration organised by Lavinia Chrystal and Virginia Rundle, June 2015


We are probably lucky that the headstone fell with the inscription face down, as this has helped to preserve it after all these years. It is from this headstone that I feel I can correctly accept the death record I found online for Elizabeth Brown see below. I will apply for this record from London's BDM Registry.
| | |
| --- | --- |
| | |
| | |
| | |
| | |
| | |
| | |
| Parishes for this Registration District: | |
| | |
| | |
| | |
Notice that the father of George is listed as James John Brown, Ironmonger, this is probably James John Walter, not George's father, but his uncle, listed on the marriage record! I hesitated at first to collect this record, as did Yvonne Darby, and I had a message on ancestry from Ken Walter telling me I had the wrong relative. I firstly undid my connection for George Walter and discarded the marriage record. However this all changed when I saw the Walter grave. It has spurred quite a few people to look again at this record, including my sending a message via ancestry.com back to Ken Walter, the ancestor of George Walter who runs the Walter Family Tree. He is also rethinking his position on the marriage record. It is significant that George Walter named his second daughter Elizabeth after his mother Elizabeth Brown. However his marriage record is certainly mysterious, to say the least. The next record I collected for George Walter Brown was this census for 1871 where he is listed under the surname Walter.
The Census shows George and Eleanor Walter and their large family, George Jnr, Eleanor Jnr, Elizabeth, Henry, Louisa and Anne. George is listed as a Foreman Packer and his son George Jnr is listed as a Clerk, aged 14. The rest of the children are listed as scholars, except the 11 month old baby Anne. They are living at 30 Fellows Street, Hackney in Shoreditch. George is listed as being born in Shoreditch, Middlesex and Eleanor is listed from St Luke Finsbury, Middlesex. As mentioned, the family are all going by the name Walter and this continues in the Censuses, even after Eleanor dies, and George remarries to Emily Ellis, this time he married under the name Walter. In subsequent censuses George became a travelling salesman and in the previous 1850 Census when George was living with James John Walter and his wife Mary he was a tailor's apprentice. In later records George can be seen witnessing all of his children's marriages, and seems to have been a most supportive and accessible father to his children.
http://www.devsys.co.uk/ap/
| | |
| --- | --- |
| | |
| | |
| | |
| | |
| Parishes for this Registration District: | |
| | |
| | |
| | |
| | |
| | |
| --- | --- |
| | |
| | |
| | |
| | |
| | |
| | |
| Parishes for this Registration District: | |
| | |
| | |
| | |
Three months after witnessing the probate document of her father James John Walter, Mary Fuller died at the age of 53, leaving her widowed husband, Benjamin Fuller to survive her until his death in 1903. During my research I found Benjamin Fuller living with various children in the English census of 1881 and 1891 and saw that he witnessed each of his children's marriages. I am sad that there is no verbal history handed down about Benjamin to his grandchildren, however, I feel confident that he was a caring and diligent father.
Benjamin Fuller, now a widower is living with his daughter Anne "Anna" and her husband Alfred Wallbank at the Fuller's home at Weymouth Terrace, Hackney. It is comforting to know that Benjamin Fuller was not alone at this time in his life.
I used to sing old English ballads in the second part of the programme while I was with the Mohawks. One night W. C. Levy, the famous musical composer, of Drury Lane celebrity, and the composer of 'Esmeralda' heard me sing, and said to the manager, "I should like to compose a song for Mr Fuller". Harry Hunter, of the Mohawks, wrote the song and sent it to W. C. Levy who composed the music. So originated 'Geraldine' which has been ever since my most popular song. In London, in the English provinces, at the English watering places, in Australia, and in Auckland the success of this song has been simply amazing. It is on sale at Eady's and all the Auckland music-sellers.
I remember once being engaged to sing at Rlyl, North Wales. It was during the summer months of course, while the place was full of tourists and visitors. I sang 'Geraldine' there one night as an encore. It made a tremendous hit. Next day the man who was running the show asked me to put the song on the regular programme. I did so, and every night of my stay, after that I either sang 'Geraldine' as a programme item or as an encore. The people never seemed to tire of it. Did you hear me sing it at the Opera House, Auckland? I sang it one night for the first time as a wind-up to the programme, but though it was the final number the people encored me four times. At last one of the Misses Albu said to me, "don't sing it any more, we shall never get home."
'We Don't Know How We Love Them Till We Lose Them', is another song which I have sung all over the colonies and elsewhere with enormous success. In Sydney they prefer it to 'Geraldine'. It was composed by W. S. Eaton, Harry Hunter supplying the words. While in London I was for a considerable time second leading tenor at the Brompton Oratory. My experience has been a very varied one. I was engaged once, for a fortnight, to sing ballads at the Oxford Music Hall, Oxford street. I was so successful then, that the management extended the engagement from a fortnight to nine months. I sang Sims Reeves' songs at the Oxford. Soon after my engagement I terminated there I received an offer to join Fred E. Hiscock's London Pavilion Company which was starting to tour Australia. The stars of the troupe, well, Jolly Nash was one and I suppose I may say without vanity that I was the other principal. We visited Sydney, Melbourne, Brisbane and Adelaide. I suppose the tour lasted about five months. While with the Pavilion Company I was wonderfully successful.
I like Adelaide very much. I once accepted an engagement to sing at the popular concerts in the Exhibition Building in that city. I was very successful indeed in Adelaide. In fact I have reason to be well satisfied with the way in which I have been received by the colonial, public everywhere. I have made troops of friends out here, and am now as well known in Sydney, Melbourne, Adelaide and Brisbane, to say nothing of the smaller Australian cities, as I am in Auckland.
After we had done all the principal cities we disbanded. Most of the people went home again. No, I didn't go. I received a tempting offer from the Outtiea Italian Opera Company (they were throngh New Zealand a year or two ago). I was their second tenor for some time. I subsequently joined Emerson and Wood's Minstrels as principal tenor. We opened at Sydney, Melbourne, and Adelaide, where we disbanded. It was at Launceston (Tasmania) that I met the Albu's and accepted an engagement with them as tenor. We toured the tight little island, afterwards coming to New Zealand, landing in Dunedin. I suppose I was with the Albas for about five months. At Auckland, as you know, we parted company, and I took over the l pops from Harold Ashton. Do I think Auckland has a right to the title of 'Musical Auckland'? Yes, I do. I consider the Aucklanders are genuine lovers of music, especially vocal music. But they want popular selections, something they can understand and appreciate, and what finer music can you have than the dear old songs and ballads which have delighted generations, and will continue to doing it until the end of the chapter.
Could I secure engagements in the Old Country now? Certainly I could, plenty of them. The Mohawks would give me an engagement to-morrow. But Ido not like the English climate, or rather the English climate does not like me. A London doctor told me before I left that I must seek a more genial climate than that of England if I hoped to preserve my voice and my general health. Which New Zealand city do I prefer? Auckland, without a doubt I hope to make Auckland my head-quarters for the future. The people here are more sociable, more kindly, more genial than those I have met in any other of your leading cities. I was astonished at the warmth of the welcome extended to me on my return here the other day. It was really like coming home.
The pops? Yes, they are more popular than ever I am pleased to say. I really think I have established them now as a permanent winter amusement in Auckland. Do I accept country engagements? Yes, certainly. Last summer I had almost more than I could attend to, and this year promises well for I have been asked to visit three country townships already. My terms for country engagements? Three guineas, and expenses. Letters or wires addressed to me here at "Bellevue, Beresford-street," are sure to find me.
Funny incidents? Oh yes, I have met with plenty of them in my time. I was proprietor of a flourishing dancing academy in North London, once upon a time. One evening the supply of gentlemen unexpectedly ran short, so I went into the ballroom to take a hand. A very plump lady (she scaled about twelve stone) attracted my attention. I asked her for the pleasure of a dance. She smilingly assented. Beamed at the offer. She couldn't dance a bit. Just plumped down into my arms and I had to almost carry her. Never mind, I thought, the waltz was almost through when we started. It will be only once round. But imagine my horror when the musicians went on playing. I thought they would never stop. At last they did so. I went up nearly fainting to the leader, my son was acting as musical director, and asked him how it was he had played the waltz twice. He grinned as he replied, "Oh, your son, Mr Fuller, told us to play it over again, as father seems to be enjoying himself so much." Wasn't that cruel? Going are you? Well, good-bye. Have I submitted to the pumping process gracefully?