Five generations of my maternal family line are all named Lavinia, my great grandmother Lavinia Northey, my grandmother, Lavinia Moar, my mother Lavinia Fuller, my sister Lavinia Robson, my niece Lavinia Chrystal as well as my cousin Wendy Lavinia Fuller. It was armed with this name Lavinia, that I became determined to uncover more about why this name had been handed down without a break for over 150 years. The only other information I knew about my great grandmother Lavinia Moar was that she was born in Cornwall, England and my quest to take each and every branch of my family back to their places of origin in England, Scotland and Ireland was to be challenged in this chapter, by many factors, not least the fact that early in my research I needed to know Lavinia Moar's maiden name. This name stubbornly refused to pop into my mother Lavinia Robson nee Fuller's 90-year-old memory, as I quizzed her for information about her grandmother. Mum could readily tell me dates and stories about the family, and she happily told me that this name was on the tip of her tongue. I waited patiently for her memory to clear, and sure enough, late one evening I received an excited telephone call from her, she had remembered her grandmother's maiden name, and it was Northey! It was the breakthrough I needed to take our family back to Cornwall.
My early research into the Northey family began with a need to understand why the family migrated from Cornwall to New Zealand aboard the Mary Shepherd in 1873. I thought at the time it would be a simple matter of finding the family in Cornwall, and I didn't really expect much more. As I wrote in my previous chapter The Northeys of Lyttelton, New Zealand, I quickly found the English census for the family, mainly due to my great grandmother's name Lavinia Northey. What a gift to the researcher it is to have an unusual name, even when it is misspelt "Levenia", as it was in the English Census of 1861. There I found the Northey family witnessing first-hand the English Industrial Revolution in the tiny town of Crofthendy in the Parish of Gwennap, Cornwall.
Incredibly when I captured this record for the Northey family other Census suggestions appeared for my selection on ancestry.com. The Northey Family English Census for 1871 also included Lavinia Northey and her family, intriguingly listed as living at Goongumpus Lane, Gwennap, which is nearby to the township of Crofthendy.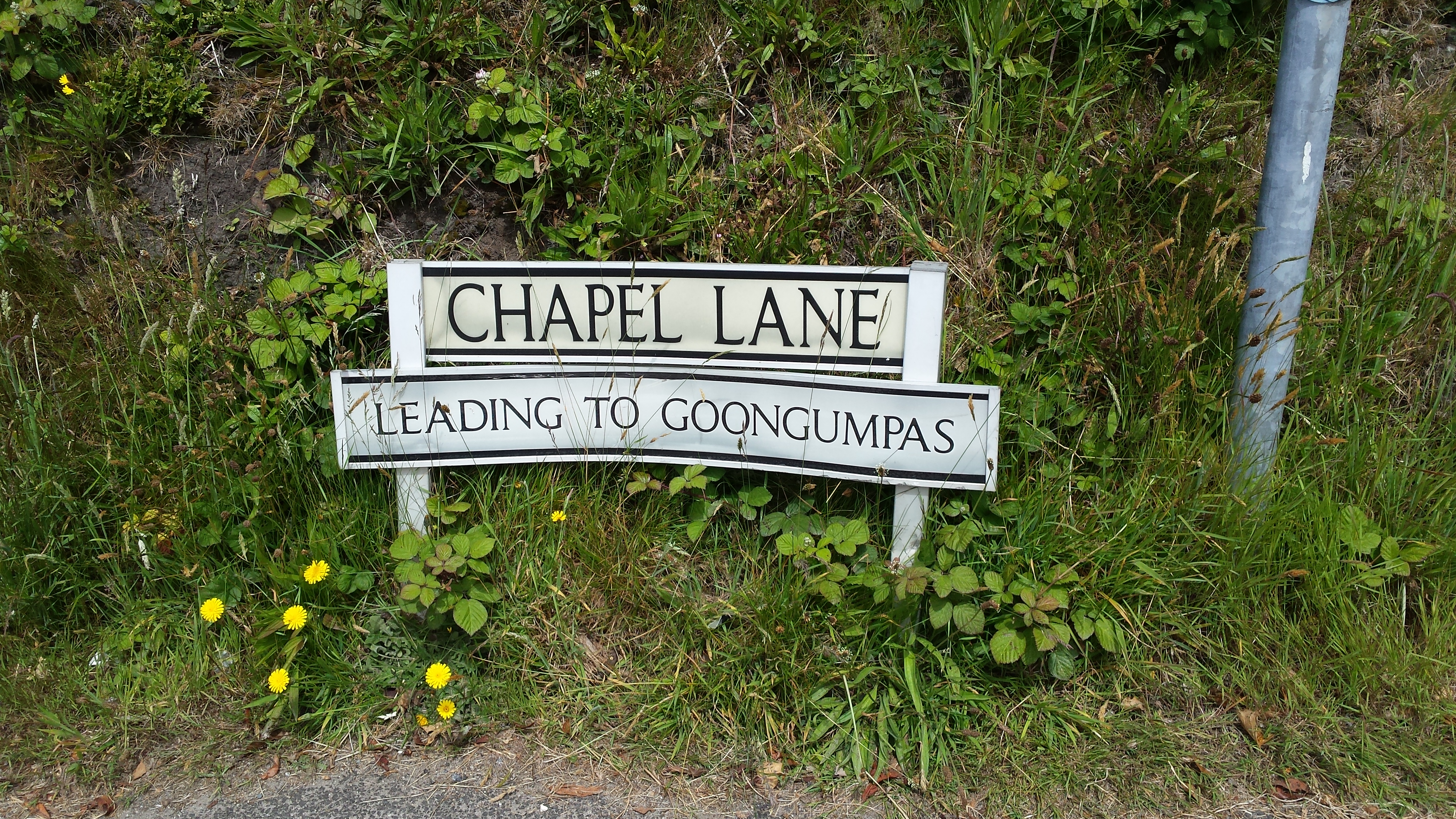 Chapel Lane, Leading to Goongumpas, Gwennap. Image taken by Lavinia Chrystal, 2015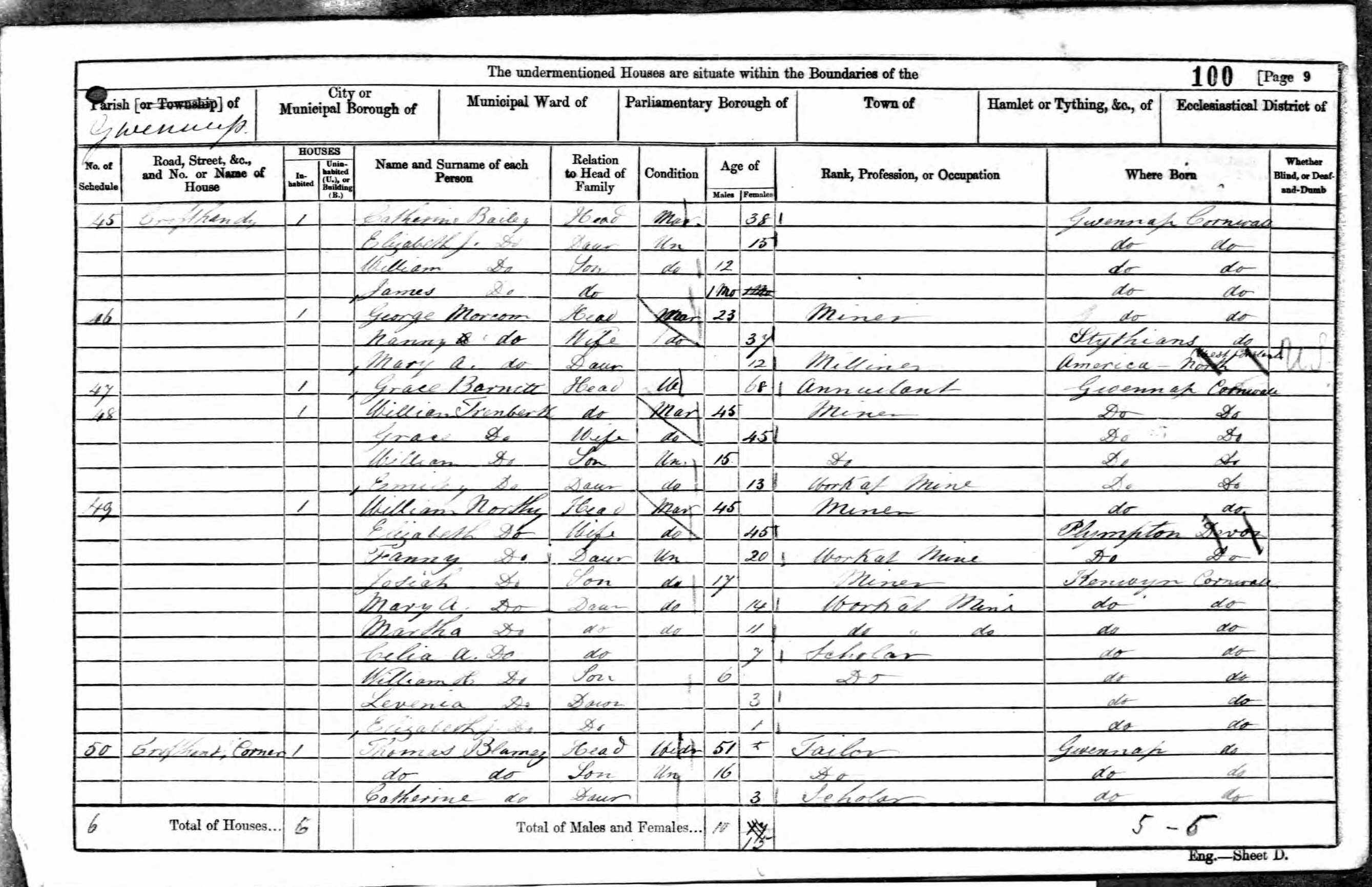 English Census of 1861, William 45 and Elizabeth Northey 45, and their children Fanny 20, Josiah 17, Mary A 14, Martha 11, Celia A 7, William H 6, Levenia 3 and Elizabeth 1, living at 49 Crofthendy, Gwennap. William Northy and son Josiah are miners, his two daughters Fanny and Mary A and are listed as "worker mine".
My goal in this chapter was to try and find out as much as I could about William's Cornish family. I used two pieces of valuable information available from this Census, his age and place of birth. It would narrow down things considerably. William's elder son Josiah's unusual name gave me one more clue in the puzzle – that this name may have been a traditional family Christian name. In a short space of time I was able to find a Baptism for William Northey in Kenwyn dated 21 May 1815, son of Joseph and Ann, which was most promising. I sent an email to the Kenwyn OPC (Online Parish Clerk), a volunteer organisation supporting family researchers who responded quickly to confirm this record, and gave me the dates of many more of William's other siblings to place in my family tree.
As I have done with "The Dodridge and Galsworthy Family of Devon" I have placed all records and information into the townships and parishes churches where they were collected, to make it easier to keep the relationships together and help those family members visiting Cornwall and Devon on their ancestor "trail". This style of writing my chapters came about due to my sister and niece, the two Lavinia's, imminent trip to Cornwall to uncover the past. They had become my intrepid researchers in the fields of Cornwall and Devon, and in the short days before their trip I was under pressure to complete my history, so they could embark on their holiday, promising to photograph their every adventure. I can remember that I was still frantically updating, uploading and printing off this chapter just a few hours before their departure.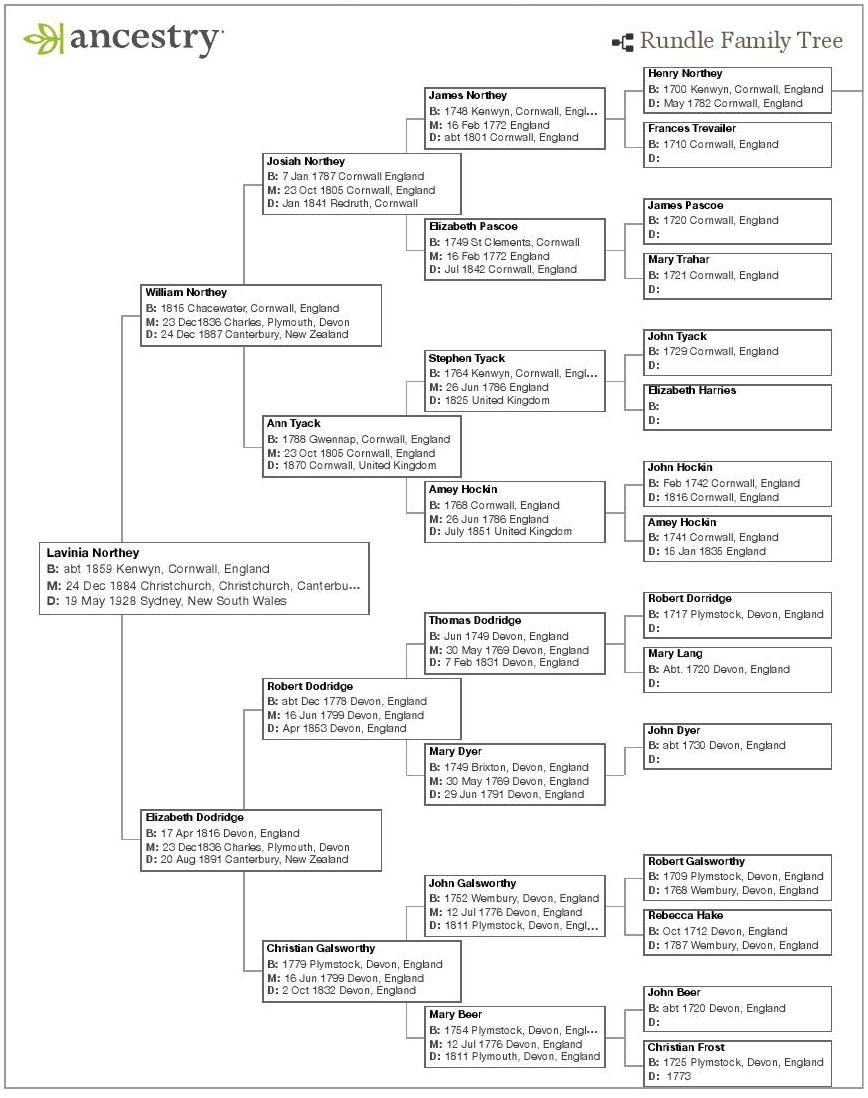 Lavinia Northey is my Great Grandmother. This chapter deals with her paternal Northey family and branches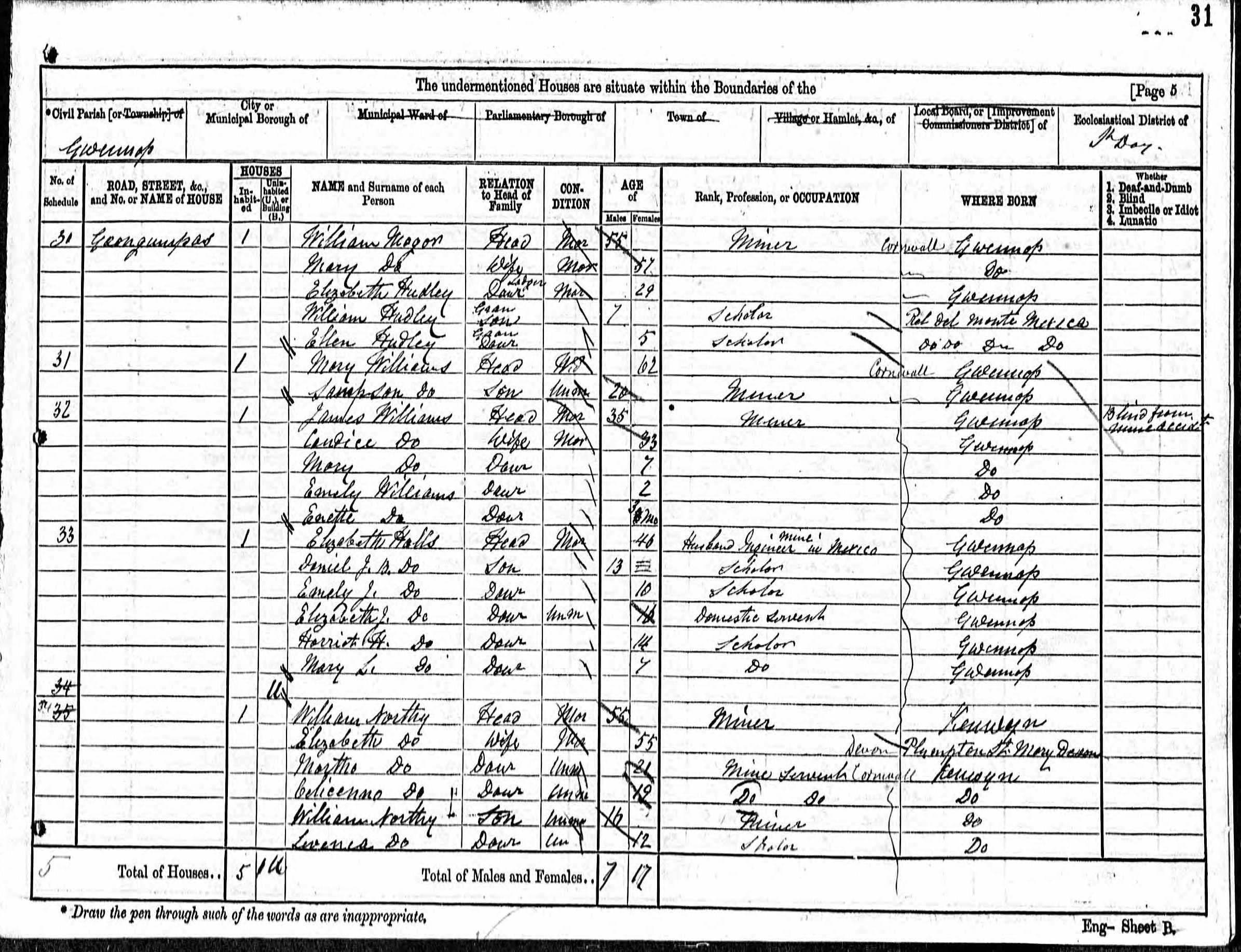 English Census for 1871, William 56 and Elizabeth Northey 55 and their children Martha 21, Celianne 19, William 16, Lavinia 12 and Elizabeth 10 (next page), 35 Goongumpas Lane, near Crofthendy. William and his son William are both miners, and Martha and Celianne are listed as mine servants. Elizabeth is listed as being born in Plympton, St Mary, Devon. Levenia and Elizabeth are both listed as scholars.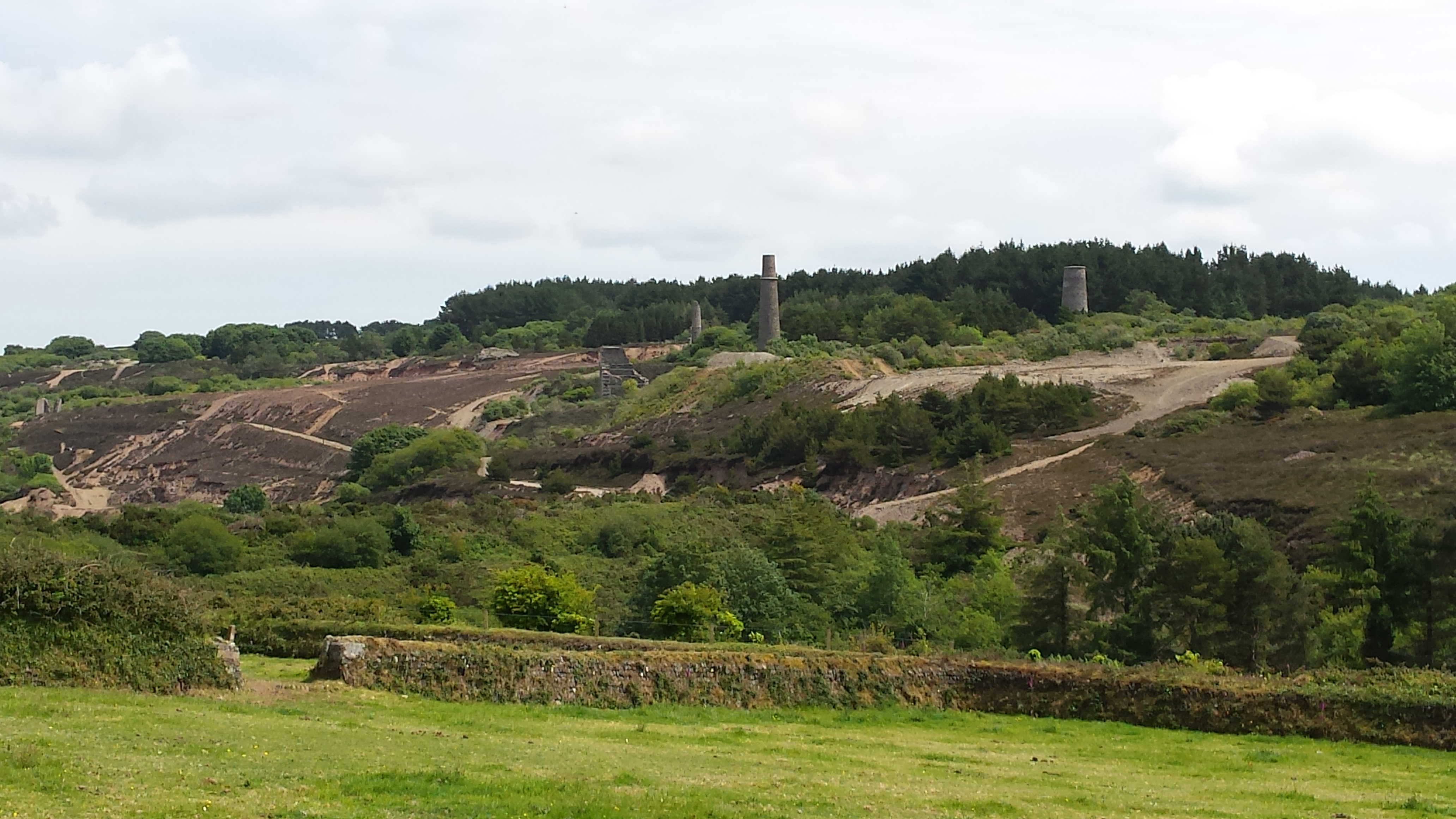 Tin mines of Crofthendy, Cornwall, near Goongumpus Lane, photo taken by Lavinia Chrystal June 2015
Fanny sadly died shortly after the 1861 Census of Crofthendy, Parish of Gwenapp was taken. Another sister Mary died young.
TRANSCRIPTION RECORD FROM CORNWALL OPC FOR THE DEATH OF FANNY NORTHEY:
Cornwall OPC record 1549115 in the Burials database:
Day Month: 08-Mar
Year: 1862
Parish Or Reg District: Chacewater
Forename: Fanny
Surname: NORTHEY
Age: 22
Residence: Crofthandy
Notes: Buried by G L Church
Transcriber: Carol Hughes
Note that Crofthendy is also spelt Crofthandy and in modern times the latter spelling is more common. The only child of William and Elizabeth's to be christened in England was their son Josiah. This has often perplexed me as I have found so many other members of their family diligently christening their children that it does come as a surprise that it was only when they migrated to New Zealand that the daughters of William and Elizabeth were christened. See my chapter on The Northeys of Lyttelton New Zealand for these records.
England, Select Births and Christenings, 1538-1975
Name
Josiah Northey
Gender
Male
Baptism Date
09 Sep 1842
Baptism Place
Chasewater, Cornwall, England
FHL Film Number
1472033
Reference ID
item 3 p 77
Household Members

| Name | Age |
| --- | --- |
| Elizabeth Northey | |
| William Northey | |
| Josiah Northey | |
Josiah Northey, the elder son of William and Elizabeth was married on 28 April, 1864 to Emily Sleeman at Gwennap. By the time the family migrated on the Mary Shepherd with William and Elizabeth Northey and their other children in 1873, Josiah and Emily had two children of their own, Emily Jane and William Henry.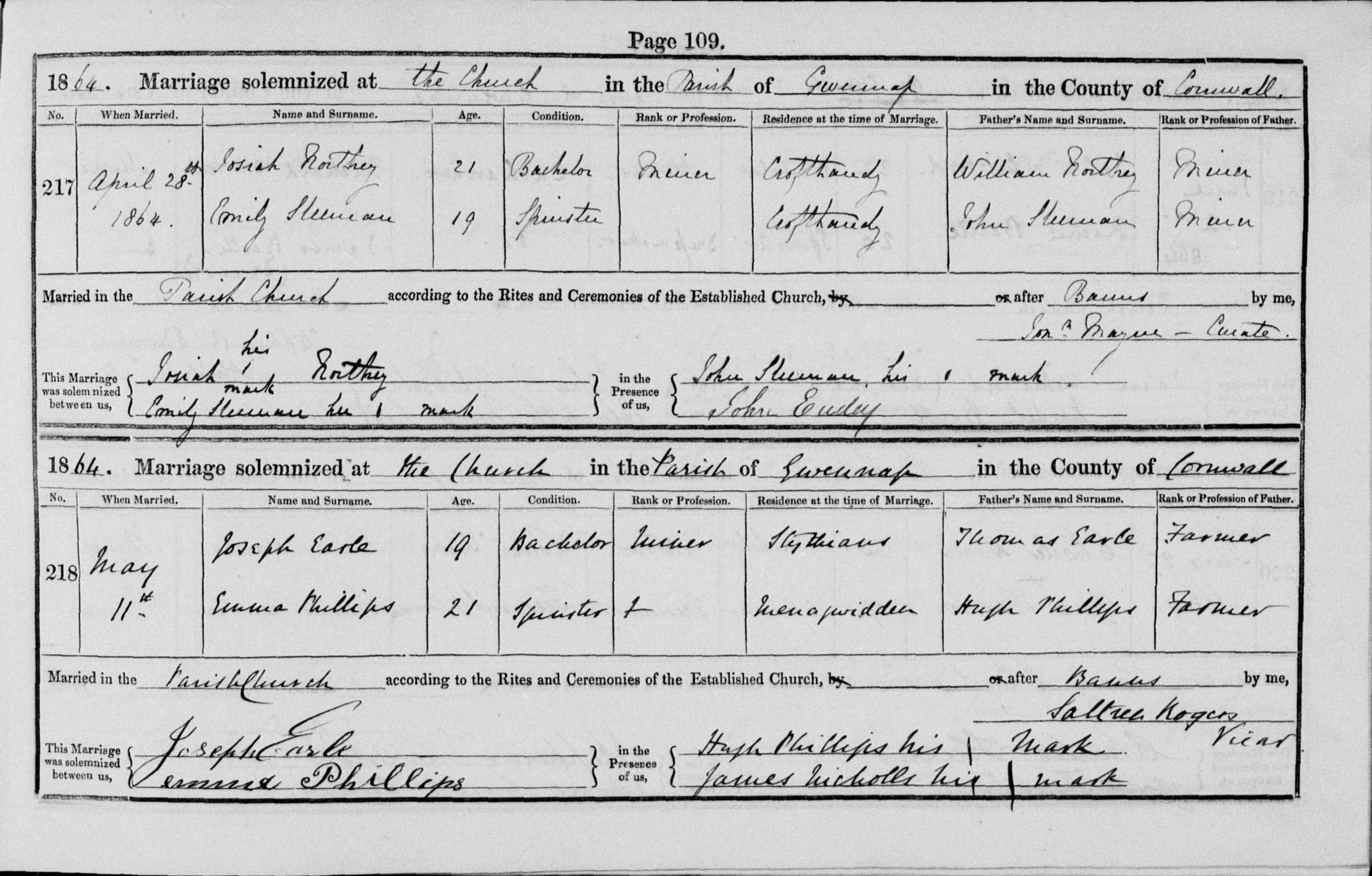 Marriage of Josiah Northey and Emily Sleeman 28 April 1864, Gwennap, Cornwall
Neither Joseph nor Emily could write their names on their marriage record. Emily's father John Sleeman witnesses the marriage. All the men listed on the record are miners from Crofthendy. Note also that Northy was sometimes spelt with the "e" missing. I found Josiah and Emily's marriage record from a Parish Book in Gwennap, Cornwall, which is now lodged with a family history website called Family Search and is supported by the Mormon Church in the USA, who purchased the records and offer them for free through their online website. This is a wonderful resource for the family researcher. Cornwall records are available as images and not just transcriptions. It is this resource that has enabled me to collect so many precious family records as original handwritten documents and place them all into this chapter. I have collected hundreds of these documents, however I am only concerned in this chapter with our direct line, which takes the family back to the early 1500's. The record above is also listed as a transcription from a selection of records entitled England, Select Marriages 1538-1973 that is managed by the UK Births, Deaths and Marriage Register.
I then concentrated on finding the earlier English Census for the Northey Family for 1841 and 1851. Interestingly these Censuses came from Kenwyn, a village nearby to Gwennap.
The image below is the cover of the English Census for Kenwyn, Cornwall for 1841 and describes the exact area in Cornwall. Below that is the 1841 English Census for William 25 and Elizabeth Northey 24, and their two children Mary 5 and Fanny 2, living at Seveock in Kenwyn. William is described as a copper miner. Mary dies between 1841 and 1851. The next page shows the 1851 English Census for the Northeys and a Census of 1841 shows how I discovered William's mother and brothers also living in the Parish of Kenwyn at Seveock and immediately I found myself confidently capturing more members of the extended Northey family.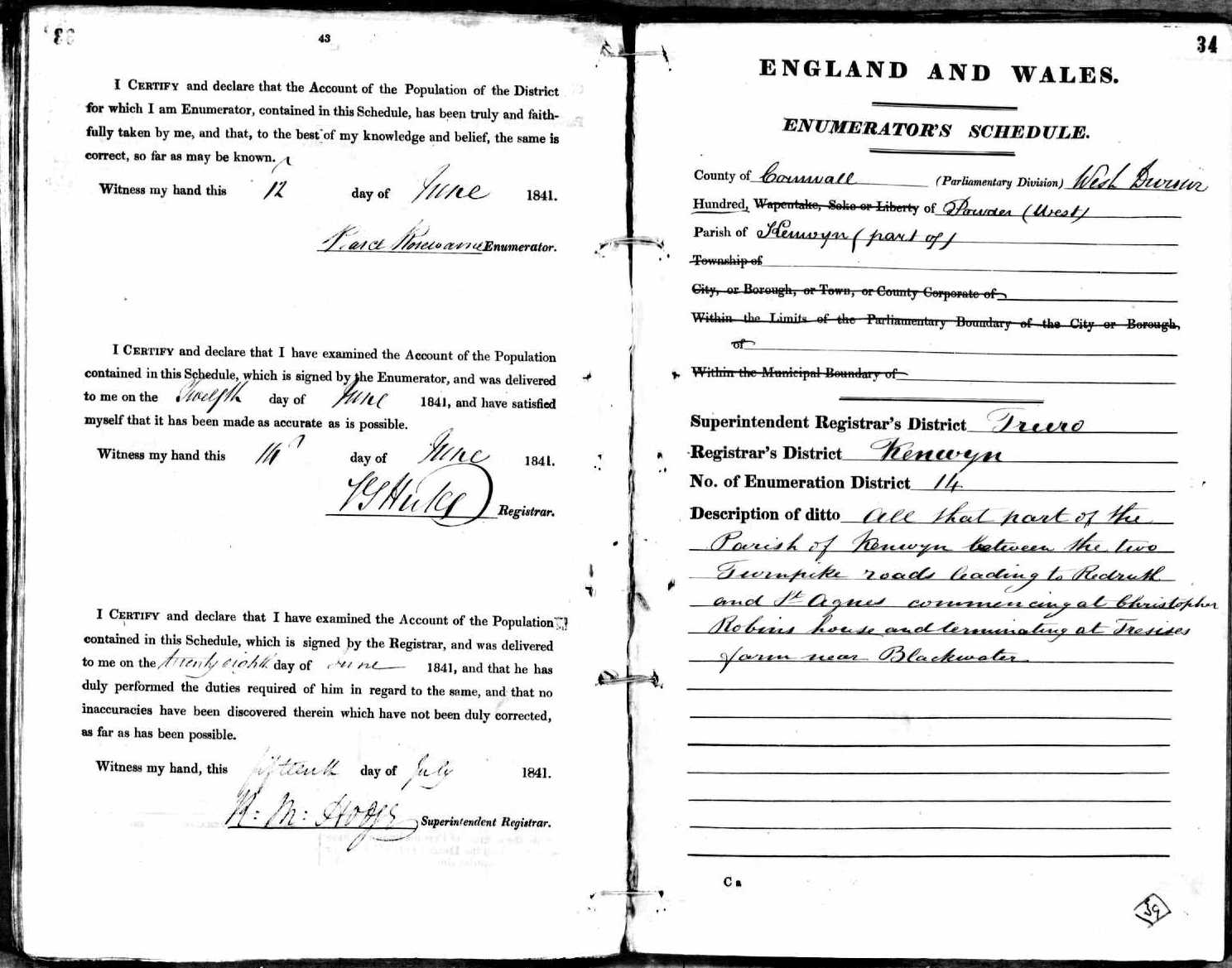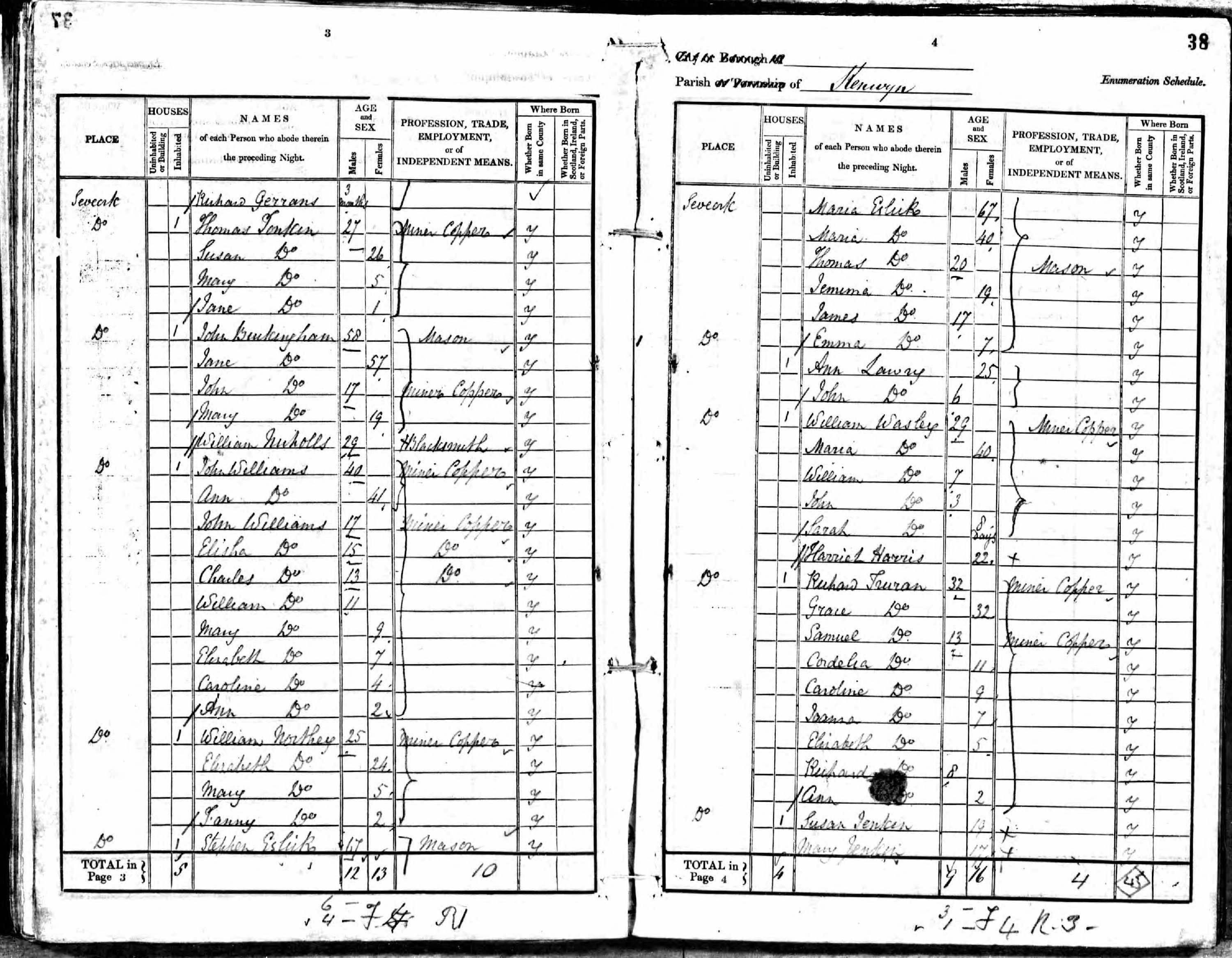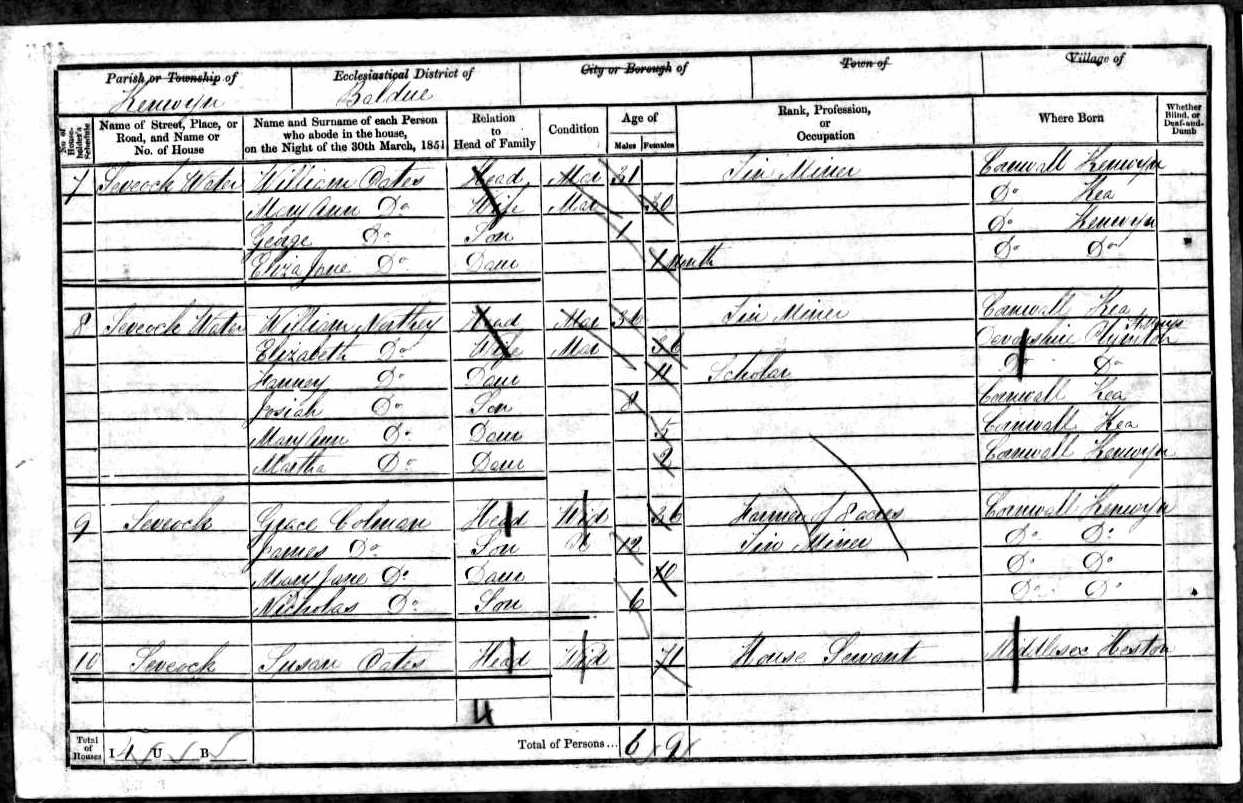 1851 English Census for William 36 and Elizabeth Northy 36, and their four children Fanny 11, Josiah 8, Mary Ann 5 and Martha 2, living at 8 Seveock Water, Kenwyn. William is listed as a tin miner.
1841 English Census showing William's mother Ann and brothers James and Samuel at Seveock, Kenwyn
KENWYN, CORNWALL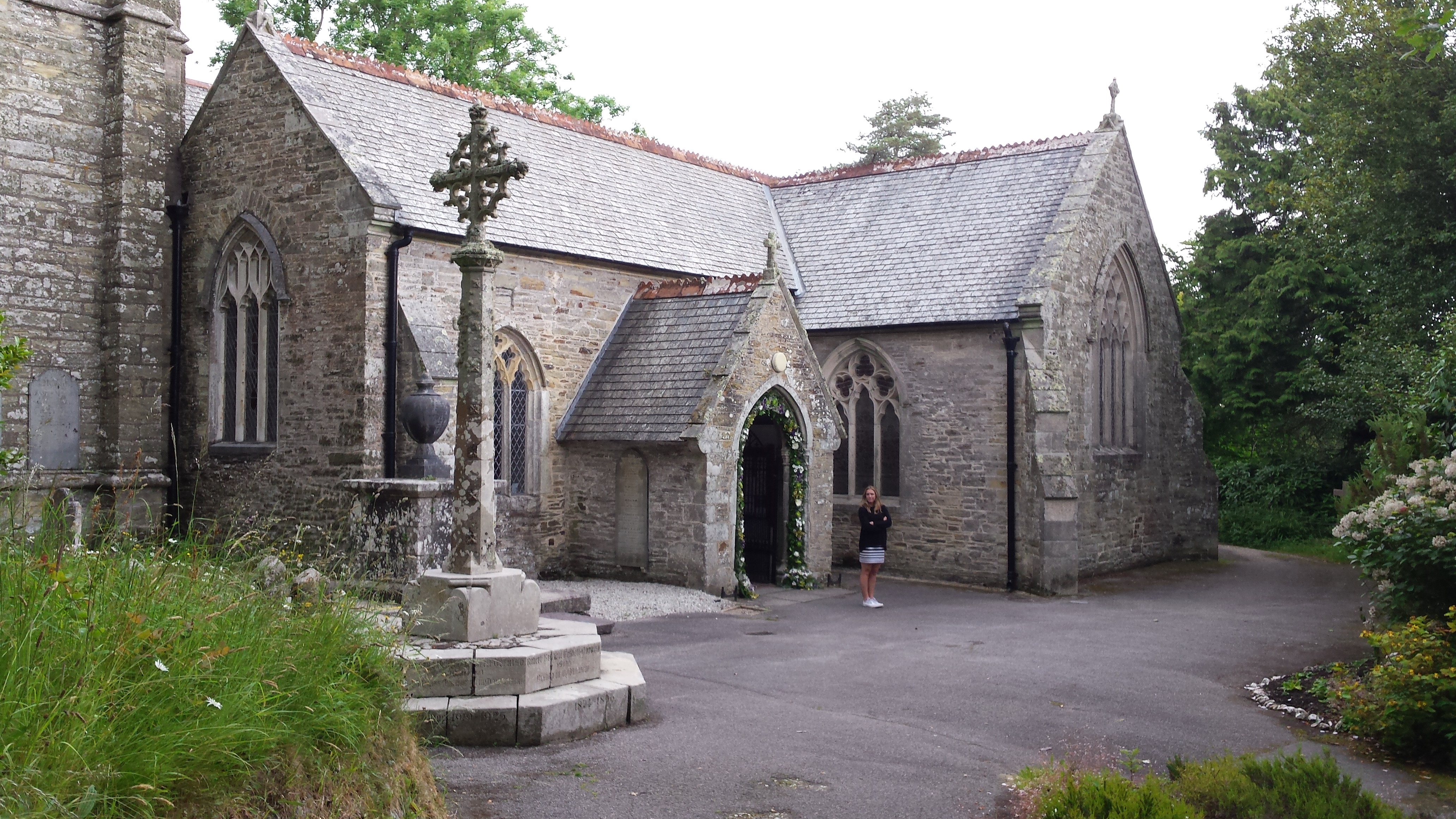 St Keynes, Kenwyn, Cornwall, photos are courtesy of Lavinia Chrystal Snr.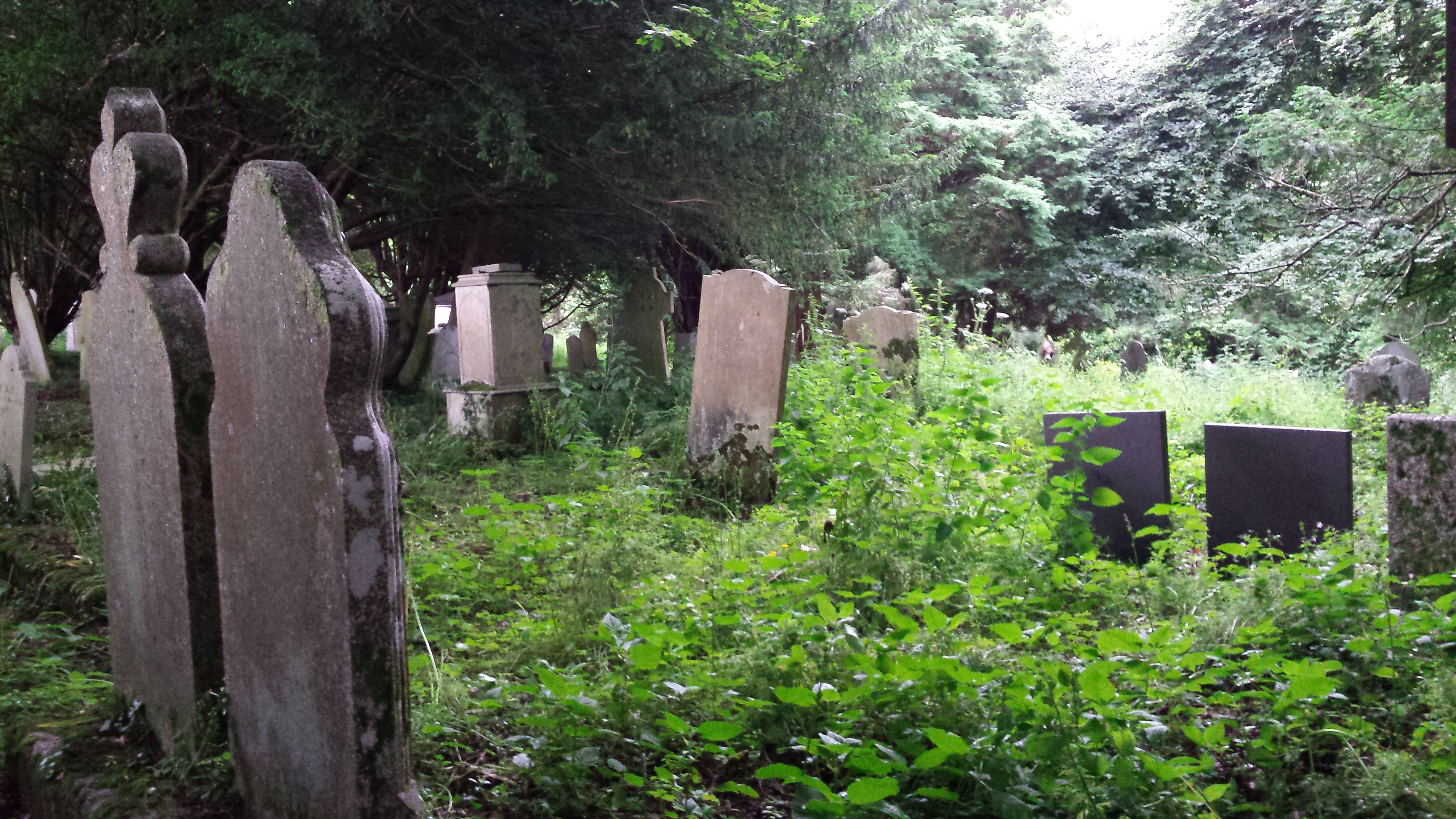 Graveyard at St Keynes, Kenwyn, Cornwall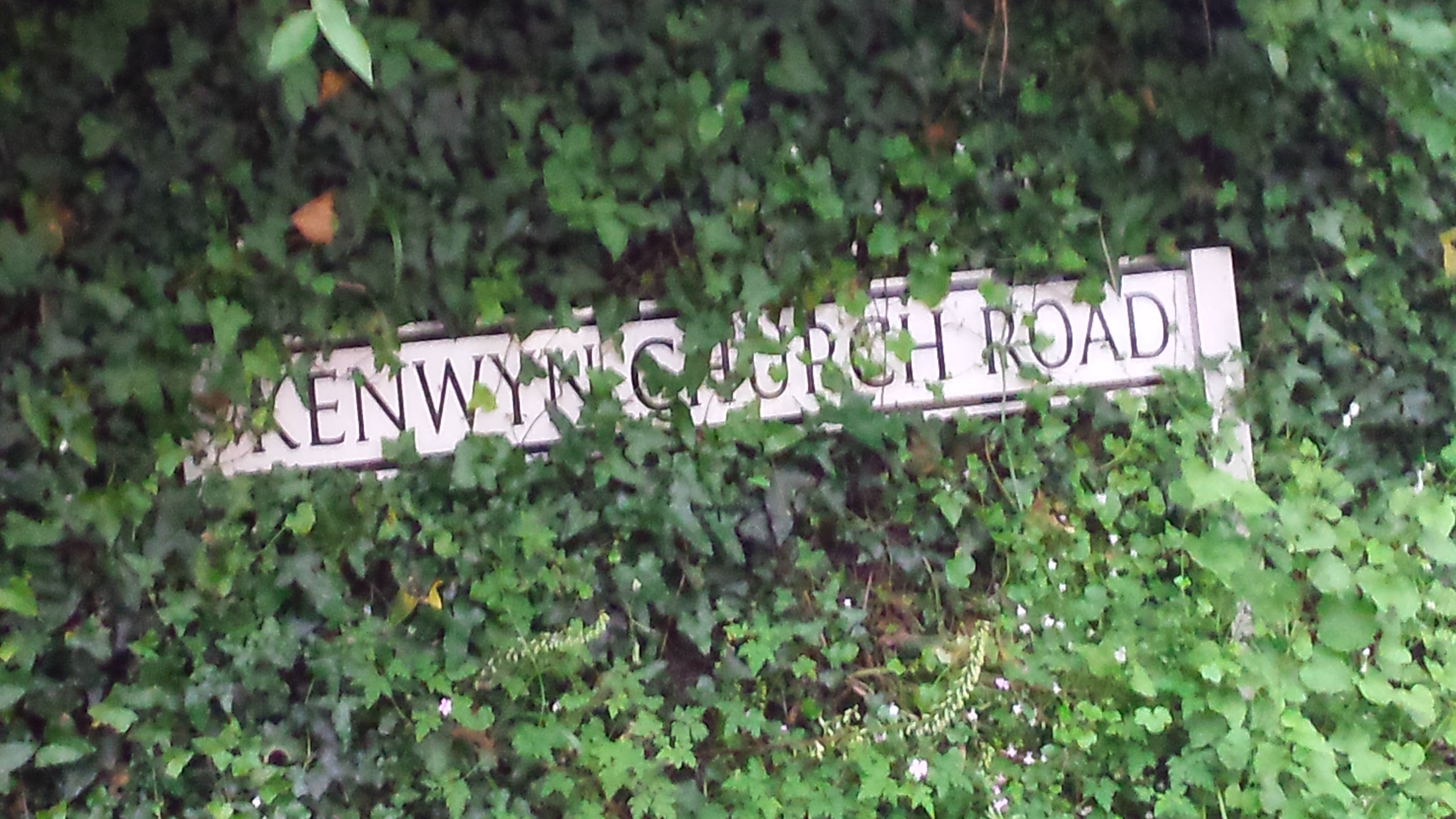 My sister Lavinia Chrystal Snr. nee Robson and her daughter Lavinia Chrystal Jnr. travelled to Cornwall and Devon in June 2015, to view first hand our Northey heritage. Their other family quest was to try and find other Lavinia's in our family, knowing it to be a naming tradition starting in Cornwall over 150 years ago. Many photos in this chapter are kindly provided by the two Lavinia's from their holiday.
As my research continued back several generations I realised how much the Northey family had moved about in the county of Cornwall. It was fascinating to see the move from the mining areas in Cornwall's centre to the coastal areas, where they had clearly been farmers, calling themselves yeomen – men loyal to their king. I hope this chapter will also help others who journey to Cornwall on our ancestor trail.
My first attempts to identify the parents of William Northey stalled, due to the fact that there were several William Northey listings in Cornwall around 1810-20 and I had to be sure I was collecting the right one.
As mentioned before, I had two facts to go on, his approximate age and place of birth. It was at this point I emailed the Cornwall Online Parish Clerk (OPC) for Kenwyn. These OPC volunteers are remarkable, and very experience researchers, and without their help I would not have been confident I was collecting the correct records for our family. In the case of William Northey, the Kenwyn OPC gave me information about William's other siblings, as they had all been baptised in the same church, and were all listed in the same Parish Church records. While these transcriptions give so much accurate information they just can't match the excitement of opening up a precious original record of your ancestor. However, these transcriptions at the beginning of my research were a remarkable and exciting discovery.
England, Select Births and Christenings, 1538-1975:
| | |
| --- | --- |
| Name: | William Northey |
| Gender: | Male |
| Baptism Date: | 21 May 1815 |
| Baptism Place: | Kenwyn,Cornwall,England |
| Father: | Joseph Northey |
| Mother: | Ann |
| FHL Film Number: | 246765 |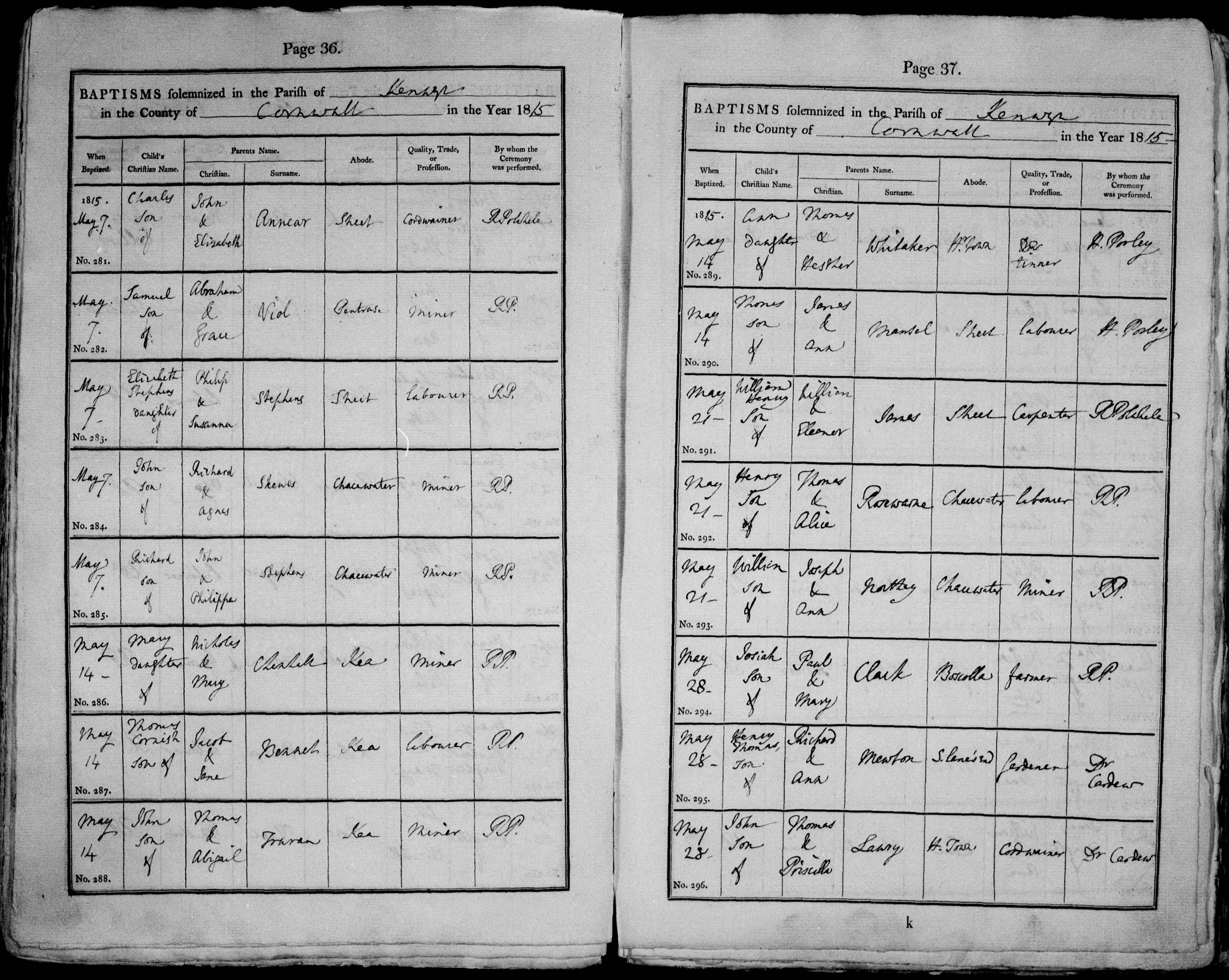 William Northey's Baptism, son of Joseph & Ann of Chacewater, miner, 21 May 1815, Kenwyn, 21 May 1815
William Northey married Elizabeth Dodridge in Plymouth St Charles, Devon on 23 December 1836. Elizabeth's family is written up in "The Dodridge and Galsworthy Family of Devon, England", and their original marriage record is illustrated in this chapter. William and Elizabeth Northey and their family migrated to Lyttelton aboard the Mary Shepherd in 1873 with their large family. I have previously written up another chapter on the William and Elizabeth Northey called The Northeys of Lyttelton, New Zealand that explains this migration from Cornwall. William and Elizabeth had many children including Lavinia, Martha, Josiah, Mary Ann, Elizabeth, William Henry, Celia, Mary and Fanny. As mentioned earlier, Fanny and Mary, the eldest daughters of William and Elizabeth died before they migrated in 1873. Another daughter Martha followed the family to New Zealand a year later on the Merope.
This record above of William's baptism I discovered some years after I obtained the OPC transcription. It came about through collaboration with a third cousin, Sandy Murray, a Robson researcher, who is a very experienced and knowledgeable person. She showed me how to capture the original images from the parish books of Newcastle upon Tyne, which had not yet been published. This behind the scenes work on the Family Search website was laborious but rewarding. It involved going through the parish books, page by page to link the transcription date to the parish page – and there was the record to collect to my laptop. Sandy pointed out that the same method could be applied to Cornwall, because the records hadn't yet been published or purchased by a research company. It came with her wise words of warning, that time was of the essence, as this access would be cut off as soon as a deal was made with a subscription company. Original transcriptions from these companies run at a cost of several pounds each, on ancestry.com many are over twenty pounds to purchase. My work on this chapter is therefore very special and the records are particularly precious and most prolific! This original work on these records is amongst my best research efforts, apart from my endeavours on my paternal grandmother's Irish ancestors, where record keeping was not a priority for the parish rectors!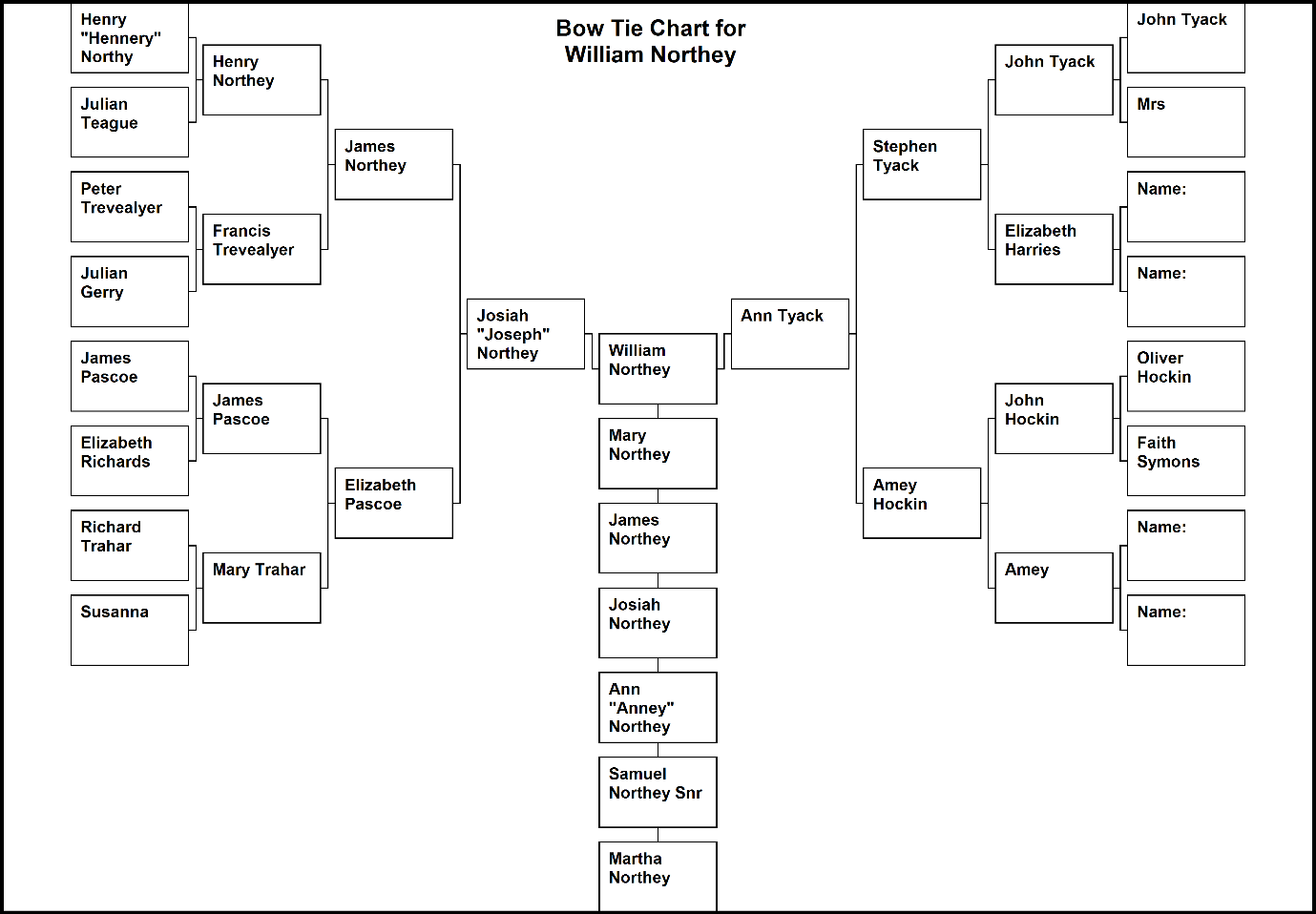 The chart above shows several ancestor generations for William Northey. William Northey's parents, Joseph/Josiah Northey and Ann Tyack married in Ann's family parish of Kea in Cornwall on 23 October 1805.
It also lists the siblings of William and it can be seen that there is a familial and traditional naming pattern occurring in the Northey family.
The next important transcription record I found was for William Northey's father Josiah.  The following page illustrates the original document, however it is faded by the centuries, and the handwriting is difficult to decipher.
England, Select Births and Christenings, 1538-1975:
| | |
| --- | --- |
| Name: | Josiah Northey |
| Gender: | Male |
| Baptism Date: | 7 Jan 1787 |
| Baptism Place: | Kenwyn,Cornwall,England |
| Father: | James Northey |
| Mother: | Elizabeth |
| FHL Film Number: | 246764 |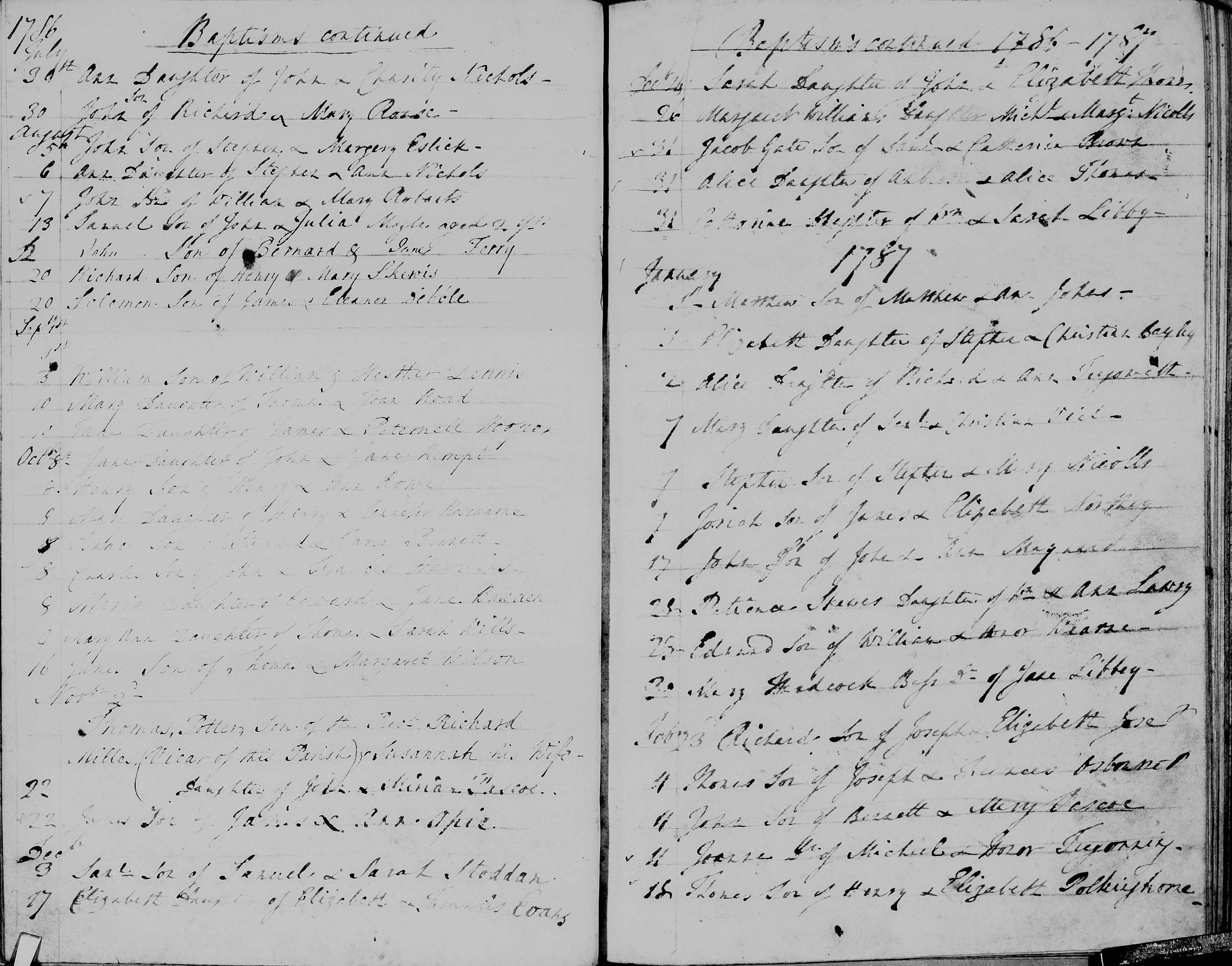 Baptism of Josiah Northey, son of Joseph Northey and Elizabeth Pascoe, 7 January 1787 Kenwyn, Cornwall
Josiah Northey is the father of William Northey. William married Ann Tyack in Kea, Cornwall on 23 October 1805.
Josiah died in early 1851 and was not recorded on the English census for that year, however I found his wife Ann living with their daughter, Annie Lawry on the 1851 English census, now listed as a widow.
Josiah Northey and Ann Tyack had many children – Josiah, Anney, Mary, William, James, Martha and Samuel. James migrated to South Australia; "Uncle Samuel" Northey and his "stern" wife Mary Handcock, mentioned several times in the Northey letters, remained in Cornwall.
The next pages will show many documents relating to our Northey family and their related branches. Sadly I cannot build a story of their lives, as so little is known about them other than a collection of Parish records identifying their churches – records showing their Baptisms, Marriages and in some cases their Burials. These were hardworking, religious and very large families, most of them were barely educated and probably lived a fair degree of their lives in what we would consider very poor conditions. For generations they had existed in the same county marrying into families of their same class. The mining industry was an important part of the Industrial Revolution and sons of miners followed their fathers into the mines, very often their daughters would be working as servants for the mining operators, or at their homes in the district. Earlier in this chapter the English censuses showed William Northey's daughters working as servants in the mining industry just before their migration. Miners were paid better than many other occupations as it was recognised as a dangerous occupation. This danger money probably helped to provide a better standard of living for the family.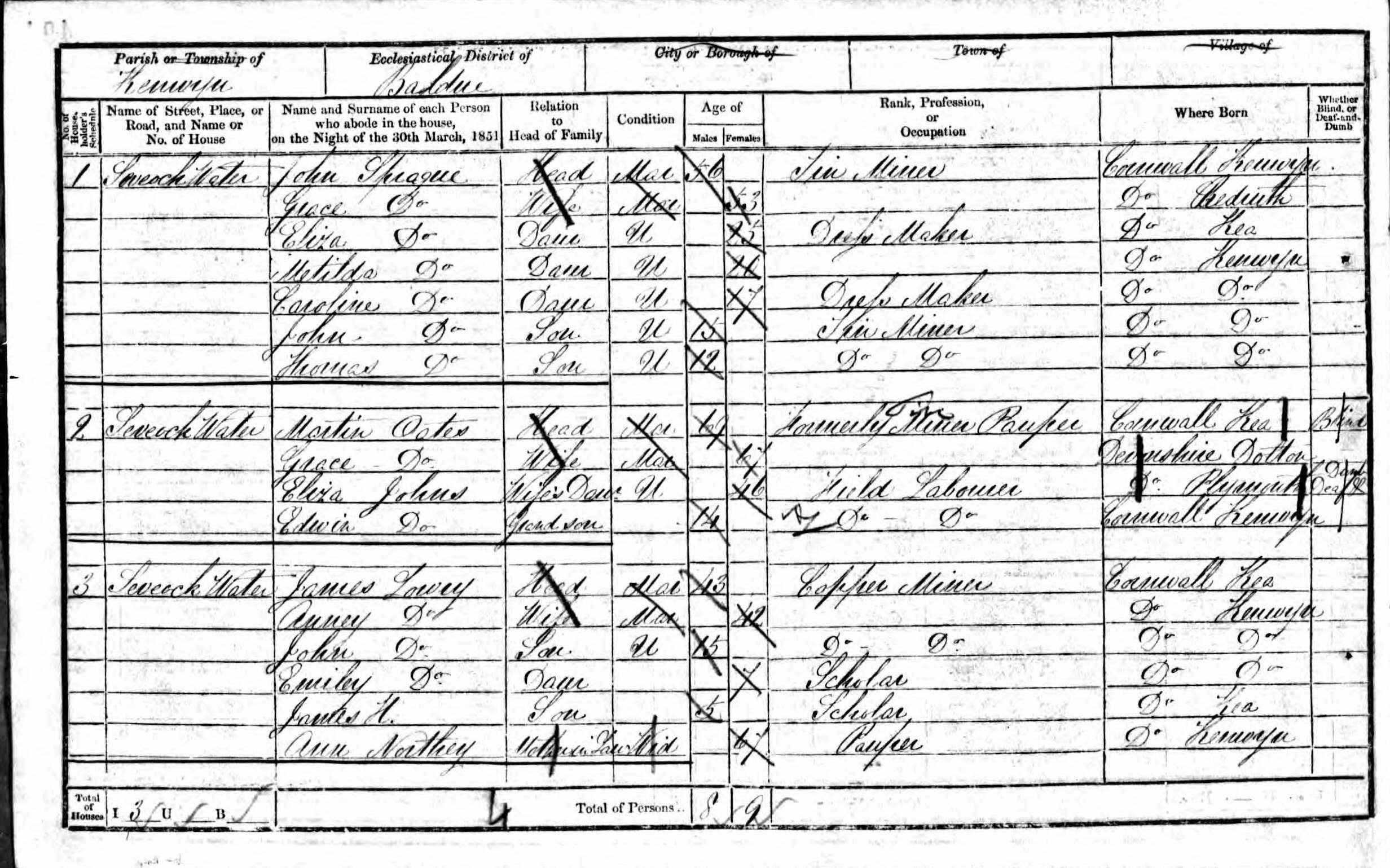 Census of 1851 for Ann Northey living with her daughter Anney Lawry in the Parish of Kenwyn, District of Baldhu in Cornwall living at 3 Seveock Waters, close neighbours to William and Elizabeth Northey and their children – see this Census earlier in this chapter.
Anney is listed along with her husband James Lawry, a copper miner from Kea, and their three children John, (also a copper miner), Emily and James. Anney's mother Ann Northey nee Tyack, is listed at the bottom of the page as a widow and pauper, aged 67, who was also born in Kenwyn. There is so much information to find on these pages. The alarming word pauper actually meant that Ann had no income, and was therefore dependant on others.
The mining industry was an important part of Cornwall, well before the Industrial Revolution and sons of miners traditionally followed their fathers into the mines, very often their daughters would be working as servants for the mining operators or at the more well to do homes in the district. Pay for the miner was good, most especially because of the risks taken by them to work underground. Earlier in this chapter the English censuses showed William Northey's daughters working as servants in the mining industry just before their migration.
For the next few records, it is important to keep an eye on the previous bow-tie chart of William Northey so that you can work out the various relationships. The relevance of Kenwyn is just as important in the Tyack family as it is for the Northey family. On the maternal side of William's family his mother is Ann Tyack. Ann's parents were Stephen Tyack and Amey Hockin. The next illustration shows the baptism of Stephen Tyack of Kenwyn.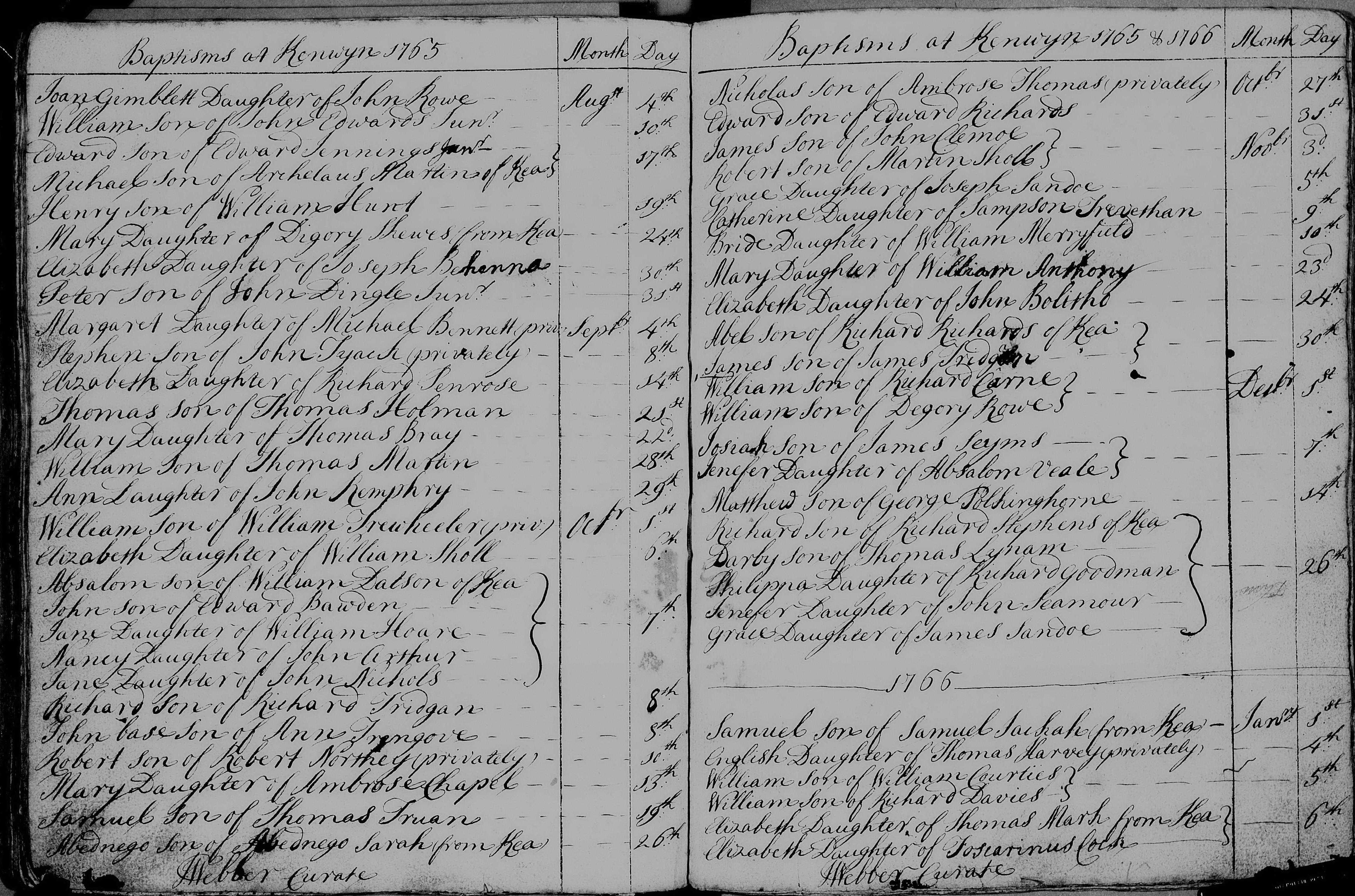 Baptism of Stephen Tyack, son of John, 6 September 1765, Kenwyn, Cornwall
England, Select Births and Christenings, 1538-1975:
| | |
| --- | --- |
| Name: | Stephen Tyack |
| Gender: | Male |
| Baptism Date: | 8 Sep 1765 |
| Baptism Place: | Kenwyn, Cornwall, England |
| Father: | John Tyack |
| FHL Film Number: | 246764 |
Stephen was the father of Ann Tyack – also listed is his father John Tyack, thus taking the family back one more generation. More information about the Tyacks from the town of Gwennap will be dealt with later. Stephen Tyack was my 4th great grandfather and was the father of Ann Northey nee Tyack who married Josiah Northey. Although Stephen was baptised in Kenwyn, he and his wife Amey Hockin were married in Gwennap, due to the fact that this was probably Amey's family parish – still today it is a tradition that women marry from their own parish church. I did find that Stephen's father John Tyack married Elizabeth Harries in Kenwyn on 30 January 1754. The fact that Tyacks and Northeys were marrying in the same Parish means that these families had probably known each other socially for generations.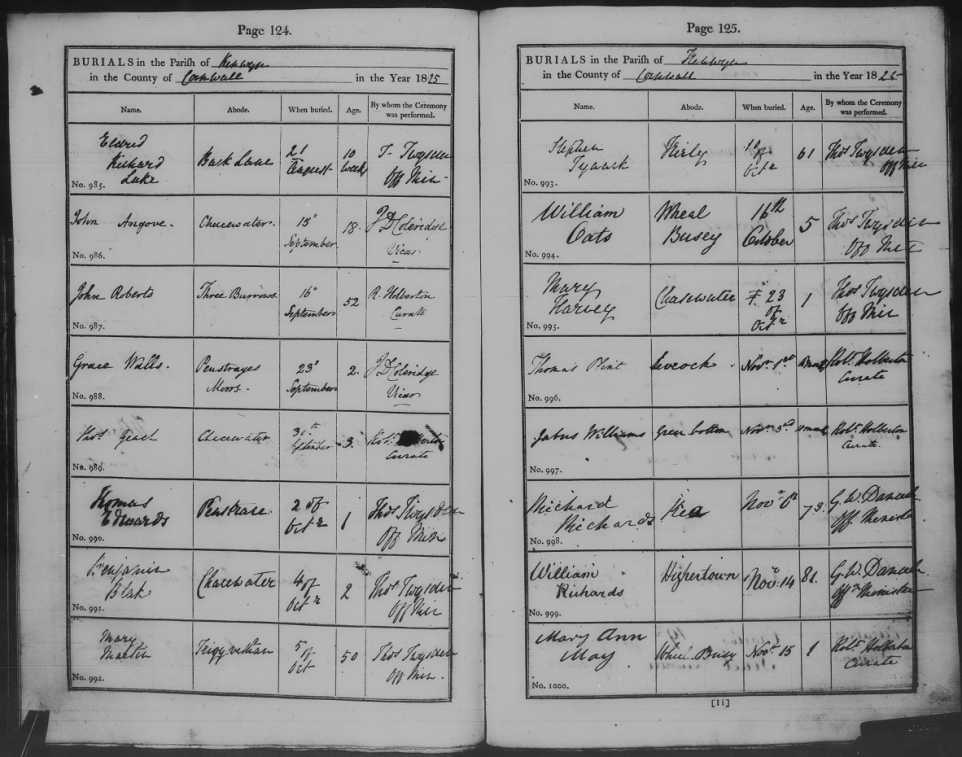 Burial of Stephen Tyack of Kirly 10 October 1825 Aged 61, Kenwyn Cornwall.
Kirly is most probably Kerley, a township nearby to Chacewater where William and Elizabeth Northey were living before their migration to New Zealand. It was pleasing to find this burial that correlates Stephen's age at 61 exactly with his baptism.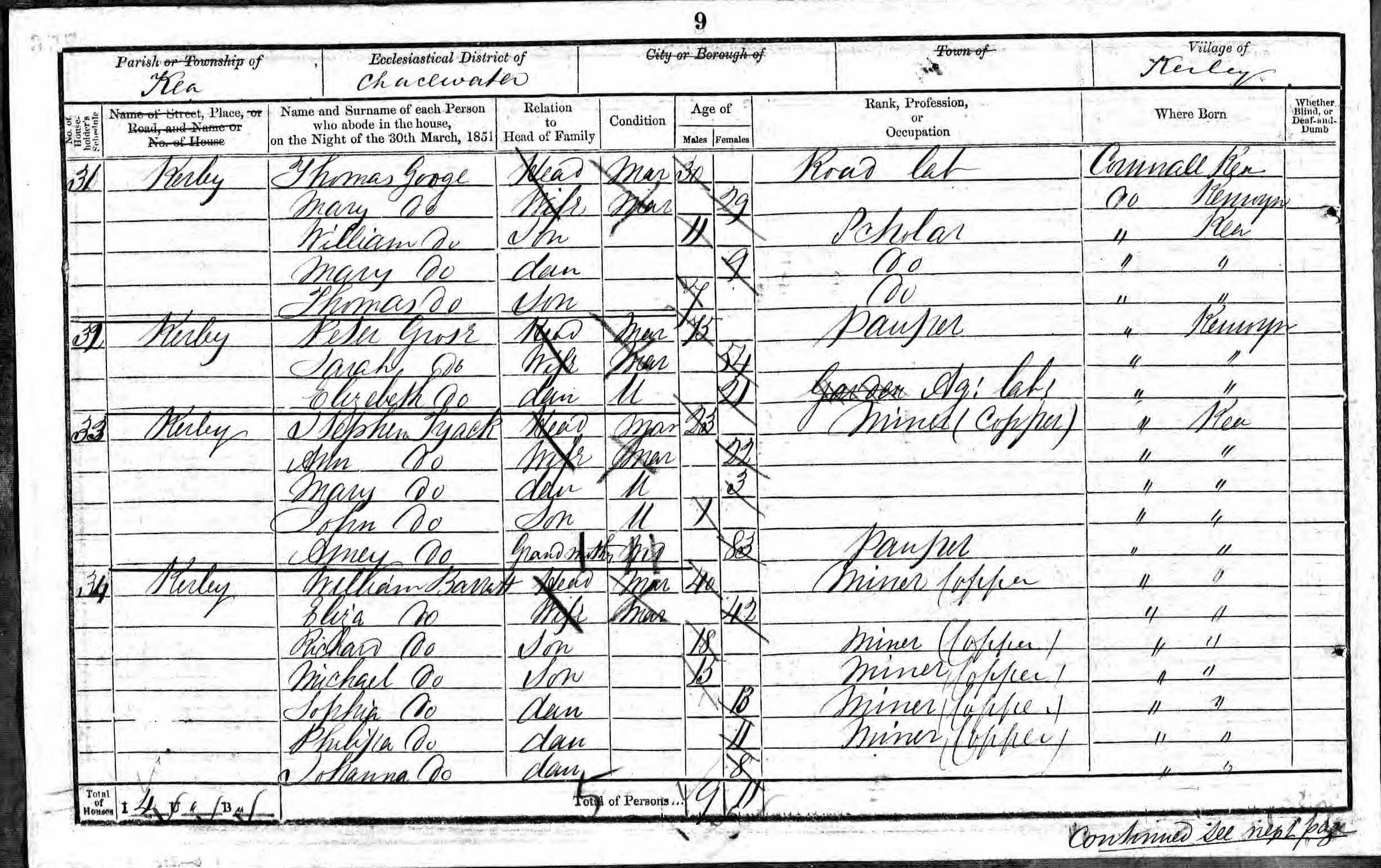 1851 English Census showing Stephen Tyack Jnr. and his family including grandmother Amey Tyack.
Keen readers will have noticed the census illustrated was from Kea, not Kenwyn. However it is an exciting find amongst the Chacewater Census books, as I have illustrated two other 1851 Census' from Kenwyn and I wanted to show that these families were living in close proximity. Not only had I found Amey Tyack, widow of Stephen, but also here she was at the great age of 83, living with her grandson Stephen, his wife Ann and their two young children. Amy is listed as a pauper, meaning she had no independent income and was dependant upon her family to care for her. Stephen Tyack, a copper miner, was named after his grandfather, following English naming traditions. A first-born son will be named in honour of his paternal grandfather, the second son will be named in honour of his maternal grandfather and often his mother's maiden name will be included. It also follows that the first-born daughter will be named in honour of her maternal grandmother and a second daughter after her paternal grandmother. The most significant information coming from this census was the address, Kerley – the same address given on Stephen Tyack's burial record, but spelt Kirly. These spelling errors are commonplace as scribes are very often writing down information given to them by people who cannot read or write. Thus names and addresses will vary phonetically. It was probable that Stephen Tyack had inherited his grandfather's home in Kerley, Chacewater, and therefore not surprising to find Amy living with them in what was probably her former home.
Thus I had found mother and daughter, both widows, both listed as paupers, living with their families in the 1851 English census. Amey Tyack, Annie Northey's mother was living with her grandson Stephen Tyack, and Amey's daughter Annie Northey was living with her daughter Anney Lawry. This intergenerational mix of families was intriguing and has let me to believe that they were a close-knit family. No nursing homes in those days, either be supported at home or you could be sent to the dreaded and infamous poor house.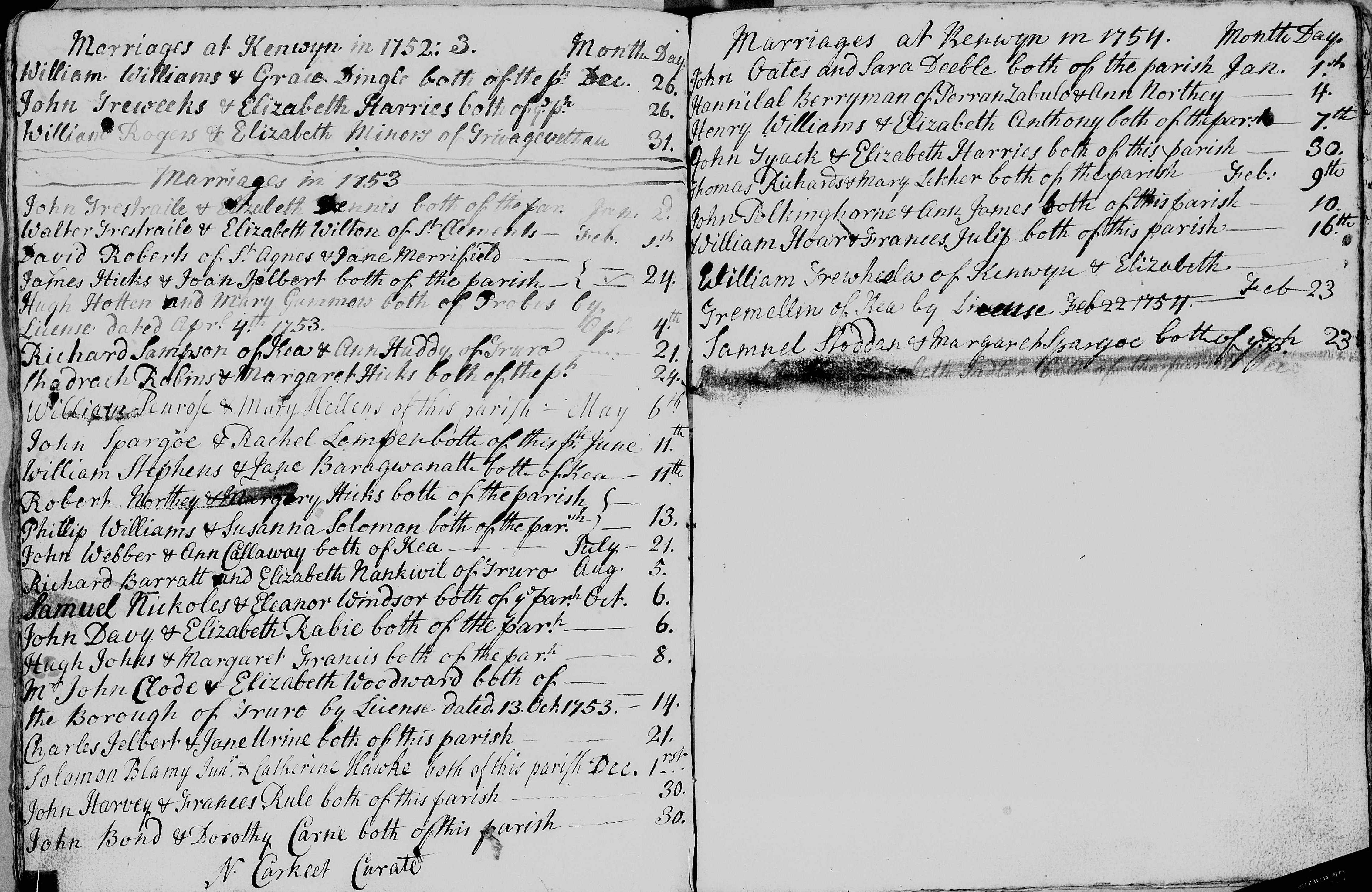 Marriage of John Tyack and Elizabeth Harries, 30 January 1754, Kenwyn, Cornwall
John Tyack and Elizabeth Harries were the parents of Stephen Tyack 1765 -1825.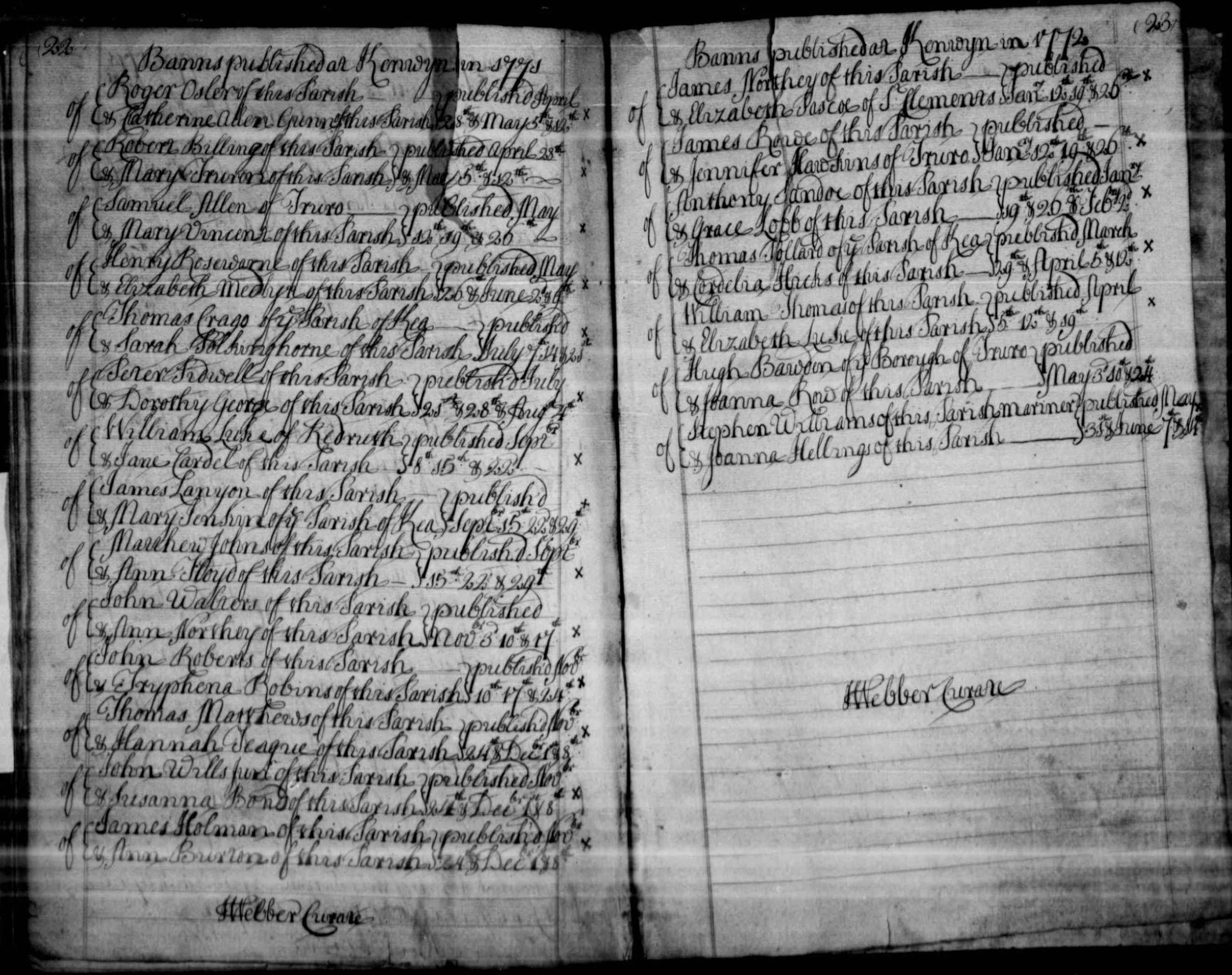 Marriage Banns of James Northey of Kenwyn, Cornwall and Elizabeth Pascoe of St Clement 4 March 1772.
James and Elizabeth Northey are my 4th Great Grandparents on the paternal side of William Northey's family tree.
England, Select Marriages, 1538-1973:
| | |
| --- | --- |
| Name: | James Northey |
| Gender: | Male |
| Marriage Date: | 4 Mar 1772 |
| Marriage Place: | Kenwyn, Cornwall, England |
| Spouse: | Elizabeth Pascoe |
| FHL Film Number: | 1595810 |
| Reference ID: | item 17 p 95 |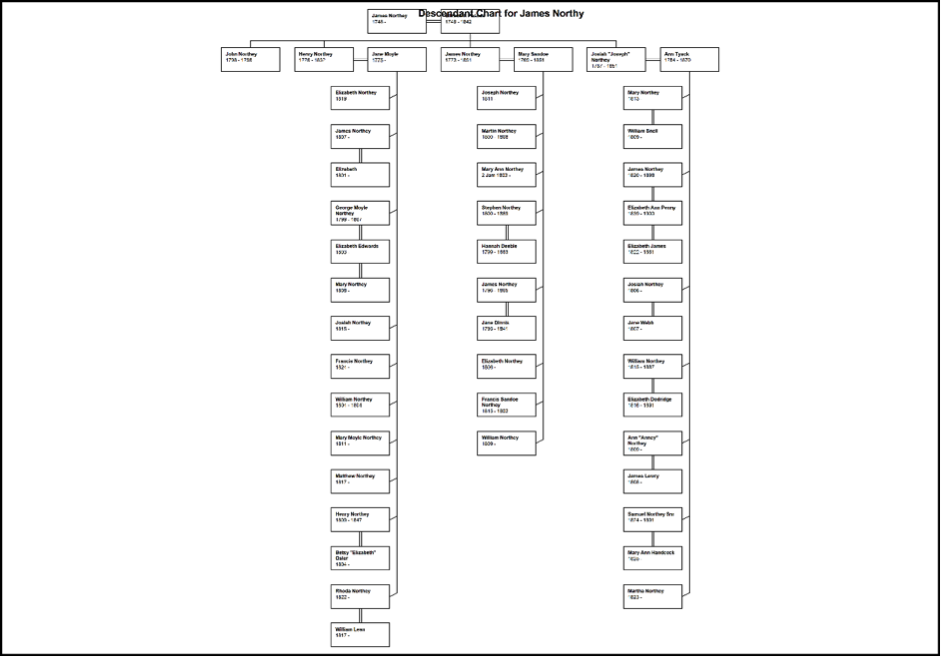 This Descendant Chart for James Northey and his wife Elizabeth Pascoe will need enlarging to see the connection of the various Northey families of Cornwall that are mentioned in the story in next few pages.
Whilst I was searching through the Parish Records of Kenwyn I found such a 'nest' of Northeys living in this Parish that it took me simply ages to work out who everyone was, and how they were inter-related. More importantly it also helped to establish who were my direct ancestors and it gave me the confidence to collect many more records than I was expecting to collect. These records I then placed onto my ancestry tree in the hope of getting more information about our extended family. It has been a wonderful social experiment! I have had quite a lot of people commenting on this story which I placed on ancestry and I think it has helped to correct quite a lot of other trees. The difficulty of course is that big families keep naming their children after their ancestors, thus so many families will have familial Christian names. A careful check with the parish records allowed me to write up this multiple Northey christening, Sunday 1 September, an autumn morning in Kenwyn in 1822. Although my direct ancestors are not involved I imagine that among the many Northey parishioners that day it would have included Joseph and Ann Northey, and their many children.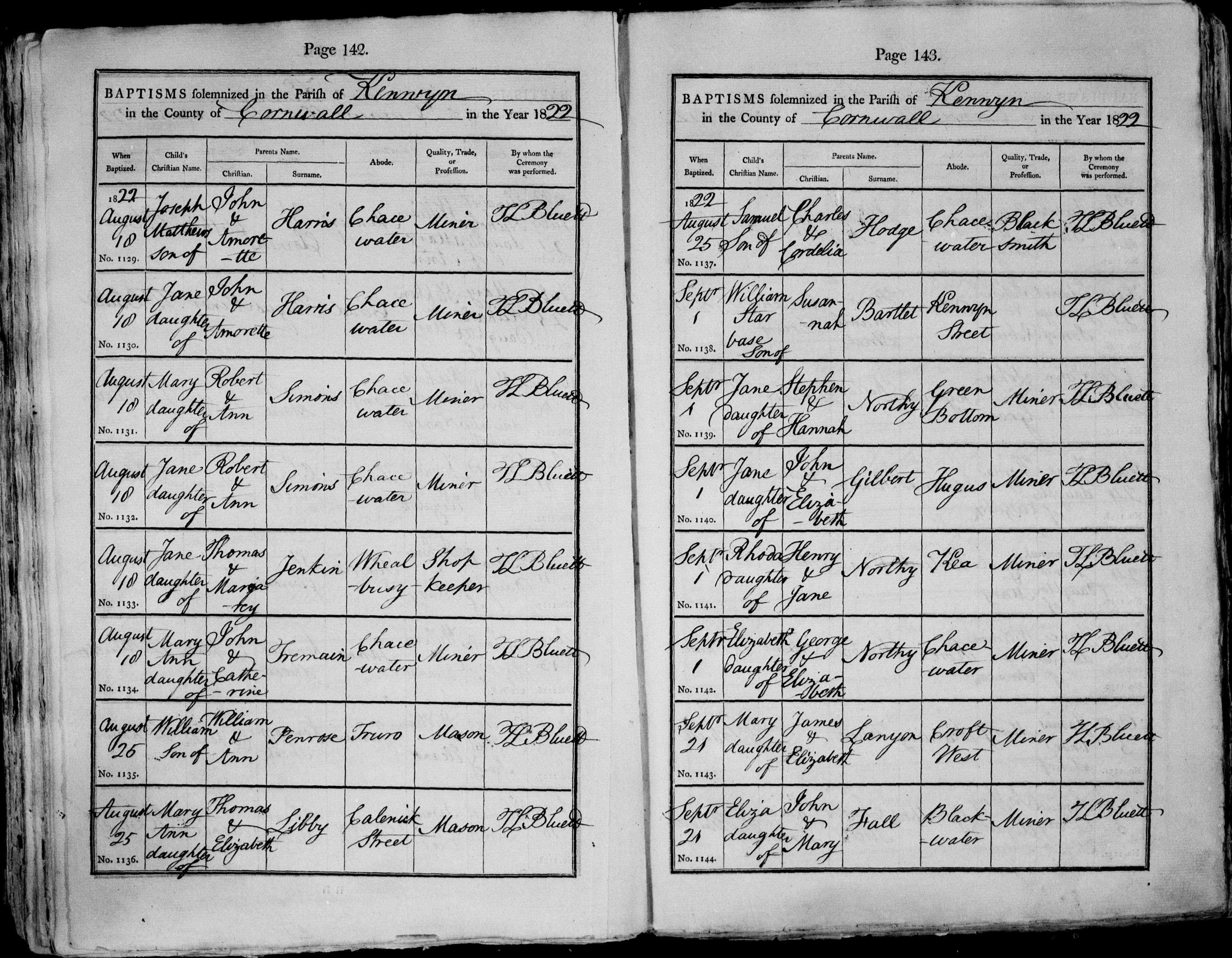 A Northey Christening at St Keyne's Church, Kenwyn, Cornwall, on 1 September 1822
"It was a busy Sunday morning at St Keyne's Church, Kenwyn, Cornwall, England on 1 September 1822 for Reverend T. L.  Bluett, who had five babies to baptised at the morning service. Amongst them were three Northey children named Jane, Rhoda and Elizabeth – from three different sets of parents. Most interestingly, they were all related. Jane was the daughter of Stephen and Hannah Northey of Green Bottom, Rhoda the daughter of Henry and Jane Northey of Kea and Elizabeth the daughter of George and Elizabeth Northey of Chacewater; all their fathers were miners. The other children were William Bartlett and Jane Gilbert. Little William being the base born son of Susannah Bartlett of Kenwyn Street, and Jane, the daughter of John and Elizabeth Gilbert of Hugus.
With regard to the three Northey girl's Baptisms, Rhoda Northey was actually the aunt of Elizabeth Northey. Rhoda's father Henry Northey being the father of George Moyle Northey, who was Elizabeth's father. George's middle name Moyle was his mother Jane's maiden name. A father and son as well as baptising their daughters on the same day were also a grandfather and a brother to the other little girl Jane Northey.
Jane Northey, the daughter of Stephen Northey and Hannah Deeble, was a distant cousin to Elizabeth and Rhoda Northey. It has taken me a while to place Jane's family into the rest of the Northeys in Cornwall. I believe Jane's great great grandfather was Robert Northey, a half brother to Henry Northey from whom the two other girls are descended. No mother was recorded on either Henry Northey b 1700 or Robert Northey b 1717 baptisms, however their father Henry Henry married Julian Teague on 4 October 1708. It is interesting that this baptism identifies that the Northey descendents all remained close knit in their communities and in particular to the parishes of Kea and Kenwyn.  
If these relationships are complicated to you imagine how mind twisting it was for me to work out who was who! It will help here to refer back to the James Northey Descendant Chart.
What a family gathering it must have been. I have no doubt that some of my own direct ancestors were present at St Keyne's that day; Josiah Northey, who married Ann Tyack, was a brother to James and Henry Northey. Josiah and Ann Northey had a large family of children, including my GG grandfather William, who would have been about seven years of age. The Northey family alone, with their extensive families could almost have filled the church that Sunday to celebrate the Christenings of the three Northey children.
What is so interesting is the fact that Henry and Jane Northey's eldest son George was 22 years of age when his sister Rhoda was born. Henry and Jane Northey went on to have another child Francis in 1824, their tenth child.
As a family researcher I have come across these juxtapositions in family generations many times, and it is always a challenge to collect the many siblings and cousins and their records, and then correctly place them into the family tree in their correct generations. It is also fascinating to see how far and wide some of the Northey family migrated. Many Northeys ended up in New Zealand, Australia, Canada and the United States, often their destinations and townships were named in honour of their Cornish origins.
I have been slowly going through the Parish Baptism and Marriage Records from Kenwyn, Cornwall, in an effort to uncover the history and relationships of this 'nest' of Northeys in Kenwyn, Kea and Chacewater in Cornwall. Most of the men and their sons were tin and copper miners, and many of their daughters were servants, some associated with the mines. It was not until 1841 when the first English census was collected that it became clearer how these families were associated. It can also be seen how many families lived in the same streets in neighbouring properties, and in some cases you find grandparents living with their children, thus taking the family back another generation. In the case of George Moyle Northey, this inclusion of his mother's maiden name as his middle name is a gift for the family researcher, often opening up a new branch of the family tree, taking the family back many more generations.
I have still not completed my Northey research, what family researcher ever does?  The complications with names on records is a continual challenge, especially coupled with the fact that many of the Northeys could not read or write, subsequently scribes often wrote Northey as Northy and family nick names were prevalent and confusing.  English naming traditions meant so many familial names were prevalent; Jane, Ann, Martha, Josiah, James and Henry were present with nearly each family of cousins.
I am lucky to have found the Northey family letters from 1873/4, lodged in Christchurch Library in New Zealand, which named many cousins and uncles in my family tree, particularly ones who had not migrated from Cornwall. I could then find them on various English censuses during the nineteenth and early twentieth century. The link in my tree to Salome Northey and to Samuel Northey came from the Northey letters. Salome Osler Wearne nee Northey (born 1839 in Hugus, Cornwall) being the very kind and generous grand-daughter of Henry Northey and Jane Moyle, who fostered and later adopted her second cousin, Martha Patty Northey, an illegitimate child, after the rest of her family, including her mother Martha Northey migrated to New Zealand. Salome was the daughter of Henry Northey and Betsy Osler, Henry being a brother to Rhoda Northey. "Uncle Samuel" Northey was mentioned in many of the letters, along with his 'stern' wife Mary Ann Handcock, who stayed in Cornwall, are amongst others named in the letters which helped me connect the family. Samuel Northey, born 1824, Kenwyn, being a younger brother to my great great grandfather William Northey born 1815, Chacewater, being two of the sons of Josiah Northey and Ann Tyack. William Northey and his wife Elizabeth nee Dodridge migrated to Lyttelton, New Zealand aboard the 'Mary Shepherd' with their family in 1873."
The Northey Letters are part of another story from my chapter on The Northeys of Lyttelton, New Zealand.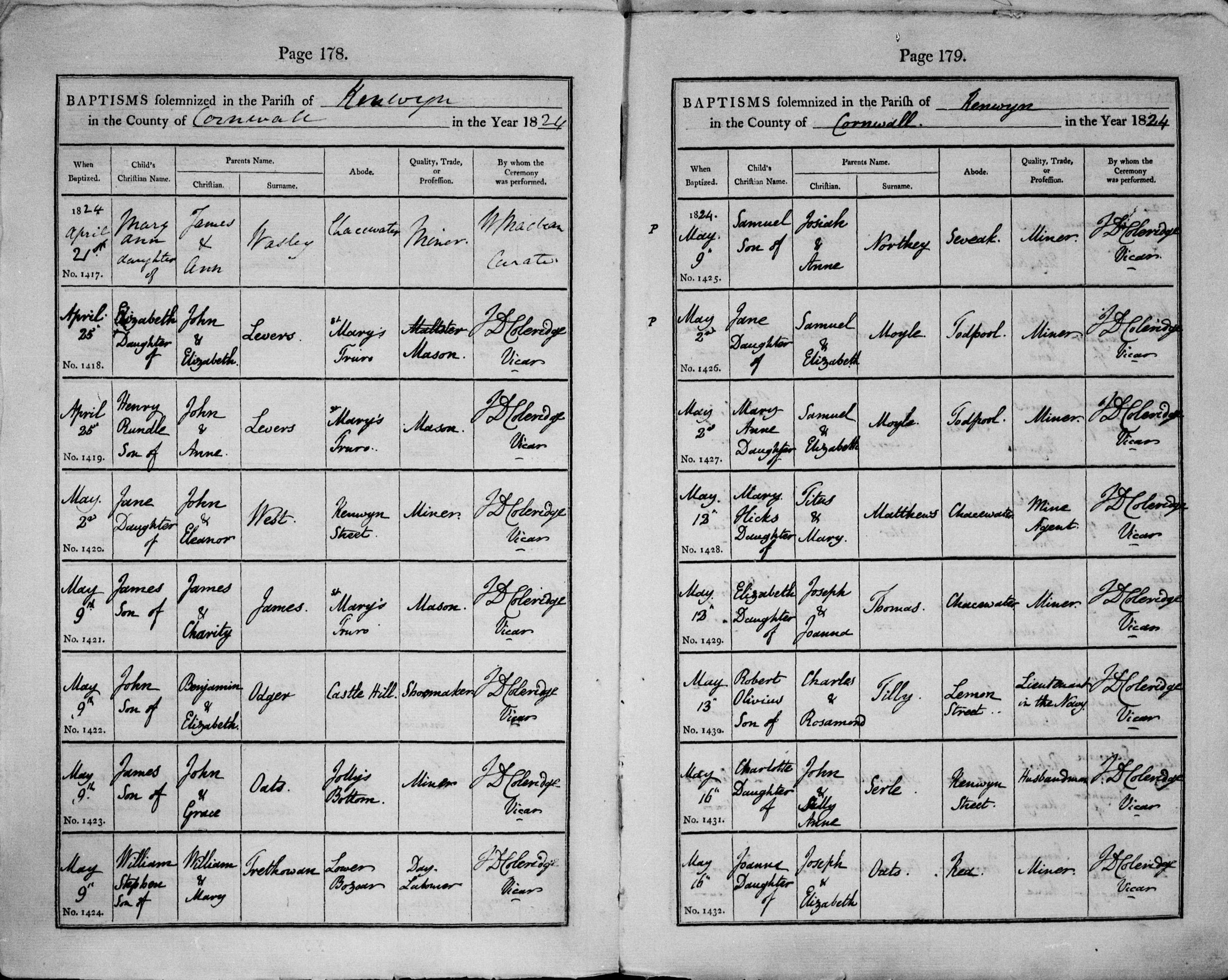 Baptism of Samuel Northey, son of Joseph and Ann Northey, 9 May 1824, Kenwyn, Cornwall
Samuel Northey was a younger brother to William; he remained in Cornwall after several siblings migrated.
Samuel married Mary Handcock on 15 December1846 at Seveock Waters in Cornwall. Samuel is mentioned in the Northey letters, written by Elizabeth Northey, wife of William in New Zealand and posted back to their daughter Martha and granddaughter Patty in Cornwall. Money is sent to Uncle Samuel to give to Martha and Patty, other descriptions in the letters describe Samuel's wife, Aunt Mary as stern and somewhat judgemental regarding the plight of Martha and her illegitimate baby daughter, Patty. It was with much angst that William and Elizabeth Northey left their unmarried daughter Martha and baby Patty behind in Cornwall. See the chapter on The Northeys of Lyttelton, New Zealand.
The next two images are consecutive pages in the 1861 English Census for Seveock, Kenwyn. Samuel Northey and family are listed on the first page. The second image shows Lawry family living next door, with the widowed Ann Northey, Samuel's mother living in the home. Anney is not included in this census and is absent rather than dead as her husband "condition" is listed as married. Samuel of Kenwyn is described as a copper miner, and his wife Mary A is listed as a miner's wife who was born in Gwennap. His young son Samuel at the age of twelve is already a copper miner. Two daughters Elizabeth A and Mary J and on the following page another son aged three, James H.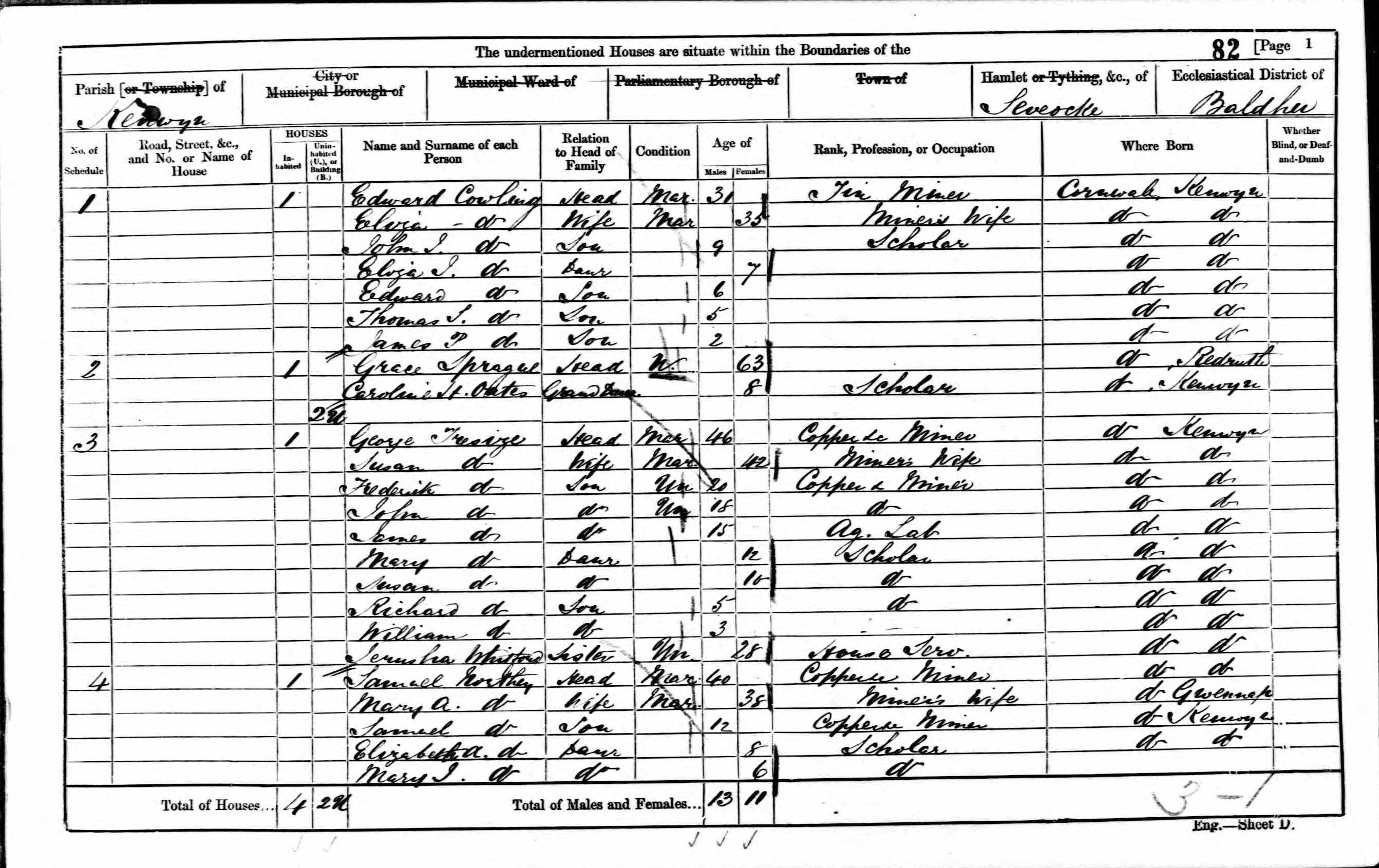 1861 English Census for the Samuel Northey family, below the Lawry family including Ann Northey aged 70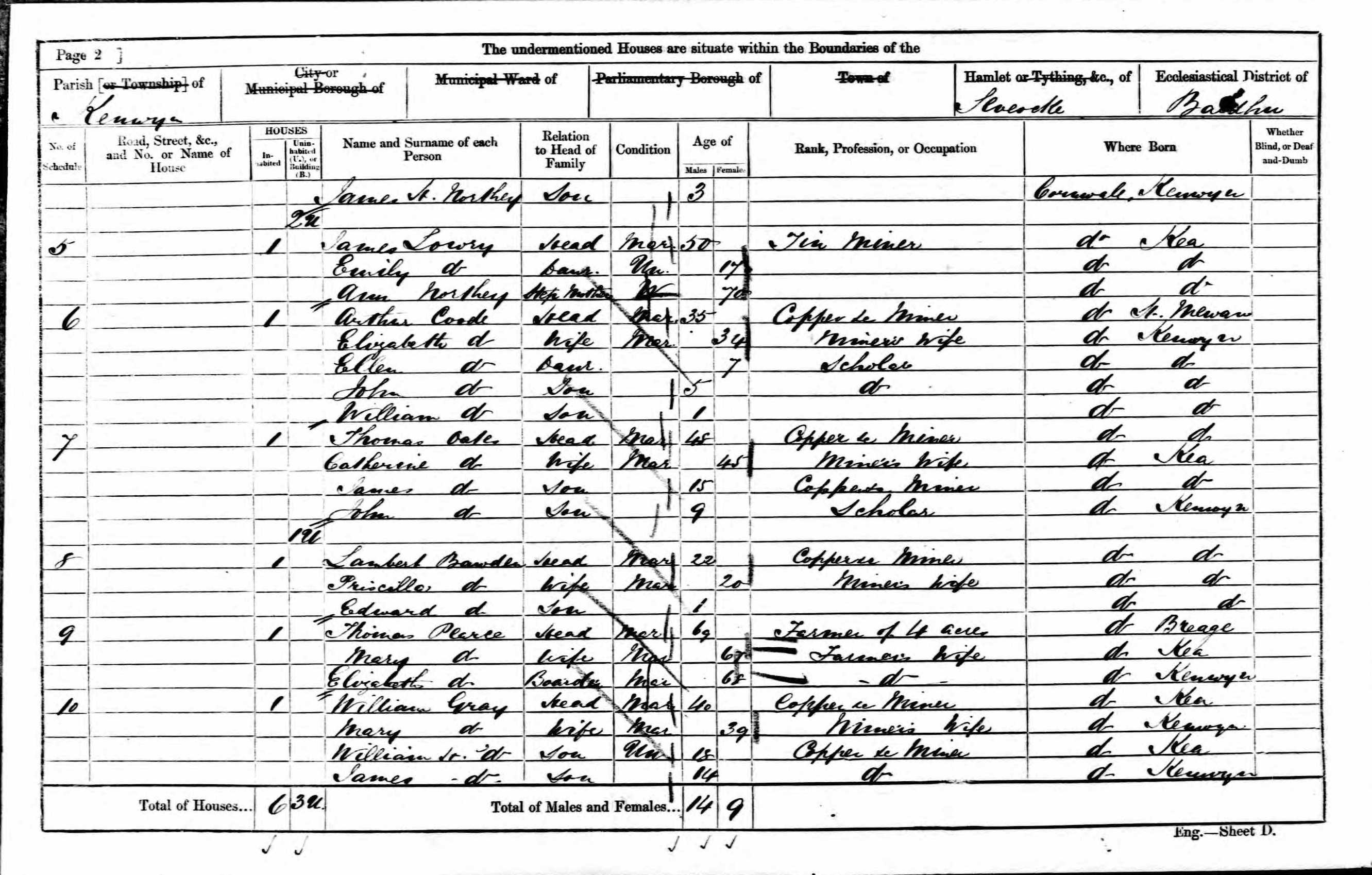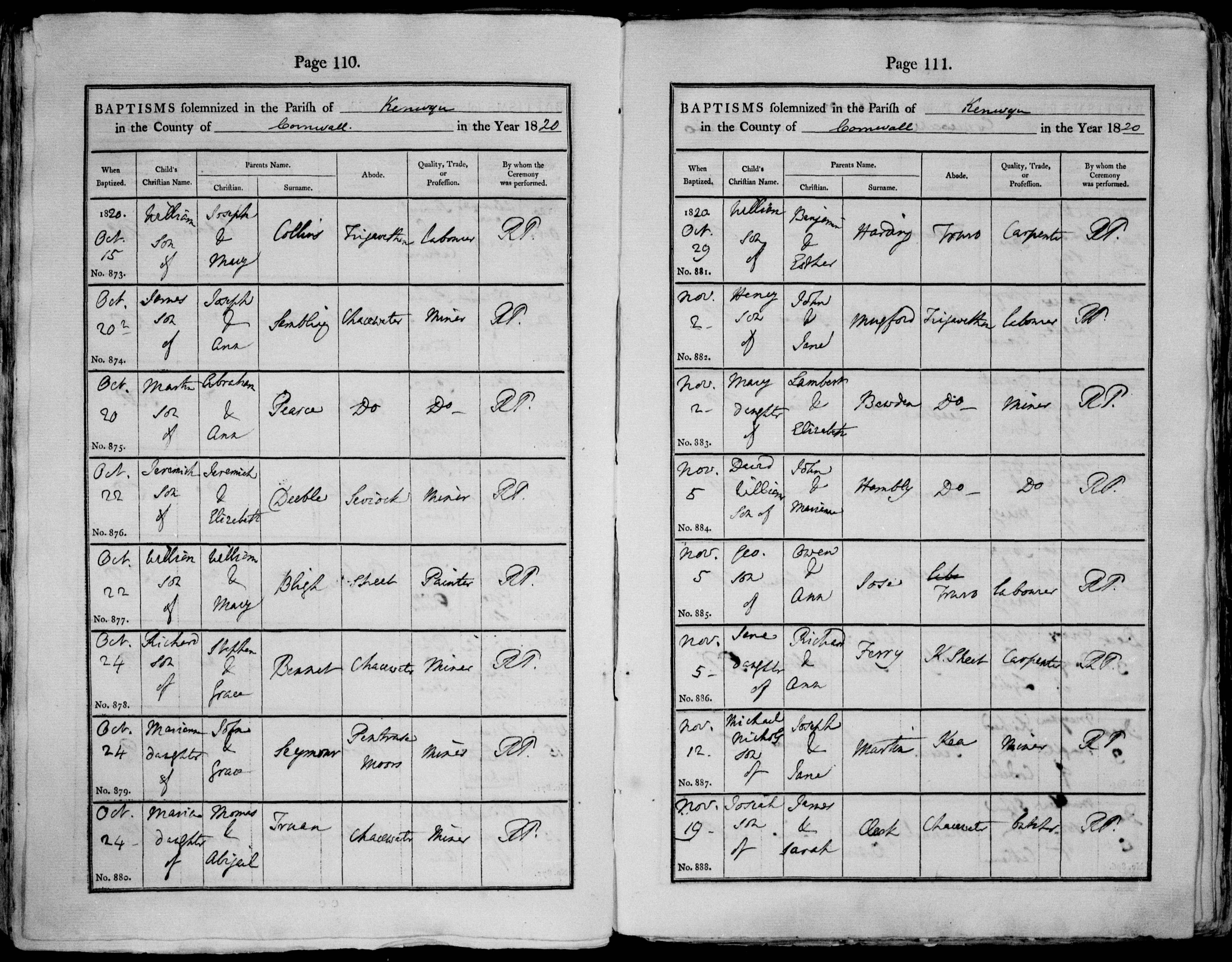 Baptism of James Northey 20 October 1820 youngest son of Joseph and Ann Northey, Chasewater, Kenwyn.
Another brother of William and Samuel's was James Northey who married Elizabeth James and migrated to South Australia with his family aboard the Cressy in 1847. I believe this document above is James' baptism, but I don't think it can ever be confirmed, due to a transcription error whereby the name is recorded as Sorthey. However, I believe it is a correct record for our family, and was the result of a scribe or vicar's error when writing up surnames in the baptism book.
A second marriage for James Northey to Elizabeth Ann Penny in South Australia lists his father as Josiah, as did his first marriage record in Kenwyn, Cornwall. These records can all be found on the Rundle Family Tree on Ancestry. The error of James Northey's Baptism on 20 October 1820 is probably the result of an inattentive or bored scribe. It cannot be overlooked that it may have been late at night, and that the vicar was trying to catch up on his paperwork, and may well have imbibed rather too much of the communion wine that evening, resulting in the error and ink splotches on the page.
Recently I found several more Northey records from the Kenwyn Parish Books that take our family back several more generations. These records do take a bit of enlarging to find and read and it is incredible that I have been able to go back in these Parish Books as far as 1700.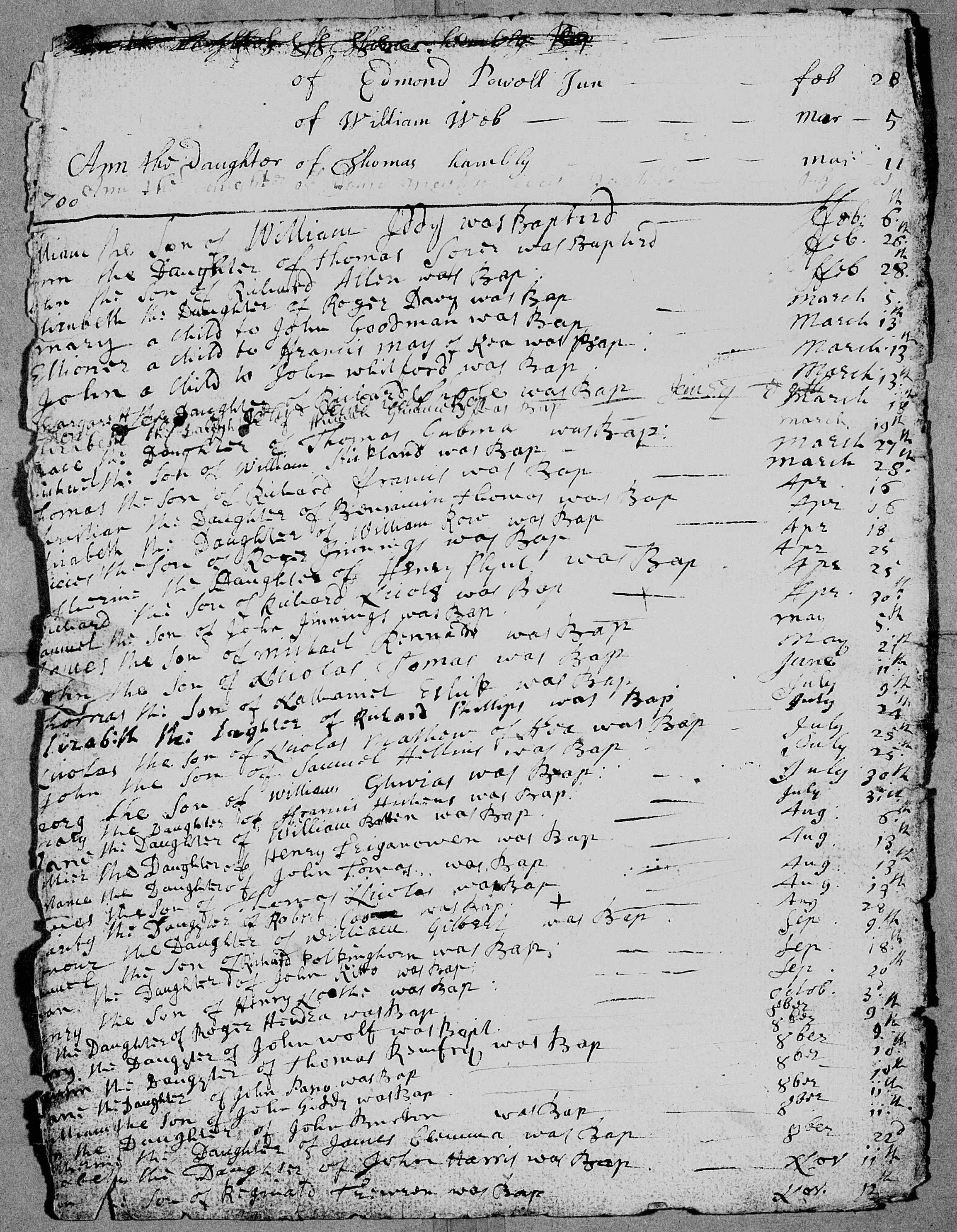 Baptism of Henry, son of Henry Northey 3 October 1700, Kenwyn, Cornwall
Henry Northey was baptised at Kenwyn on 3 October 1700, note the date 1700 written on top left hand side of this image. Henry married Frances Trevailer at St Agnes Church, on 5 June 1734, unfortunately there are no original images for St Agnes, but several online ancestry trees have collected a transcription of their marriage uploaded kindly by "kneelybob" which I am happy to accept.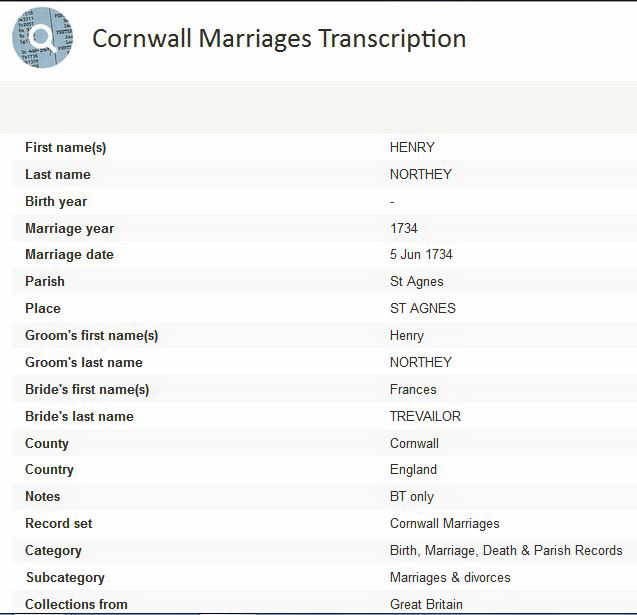 I also found the death record for Henry Northey, from the Kenwyn Parish records and amazingly he was aged 82 years. The next few pages are the records for Henry's siblings, Elizabeth, Jane and Richard, whose mother was Julian Teague. It is probable that this was a second marriage for Henry Northey. Unfortunately, the Kenwyn Parish Record Book is badly weathered and information about his first marriage is unable to be found at this stage.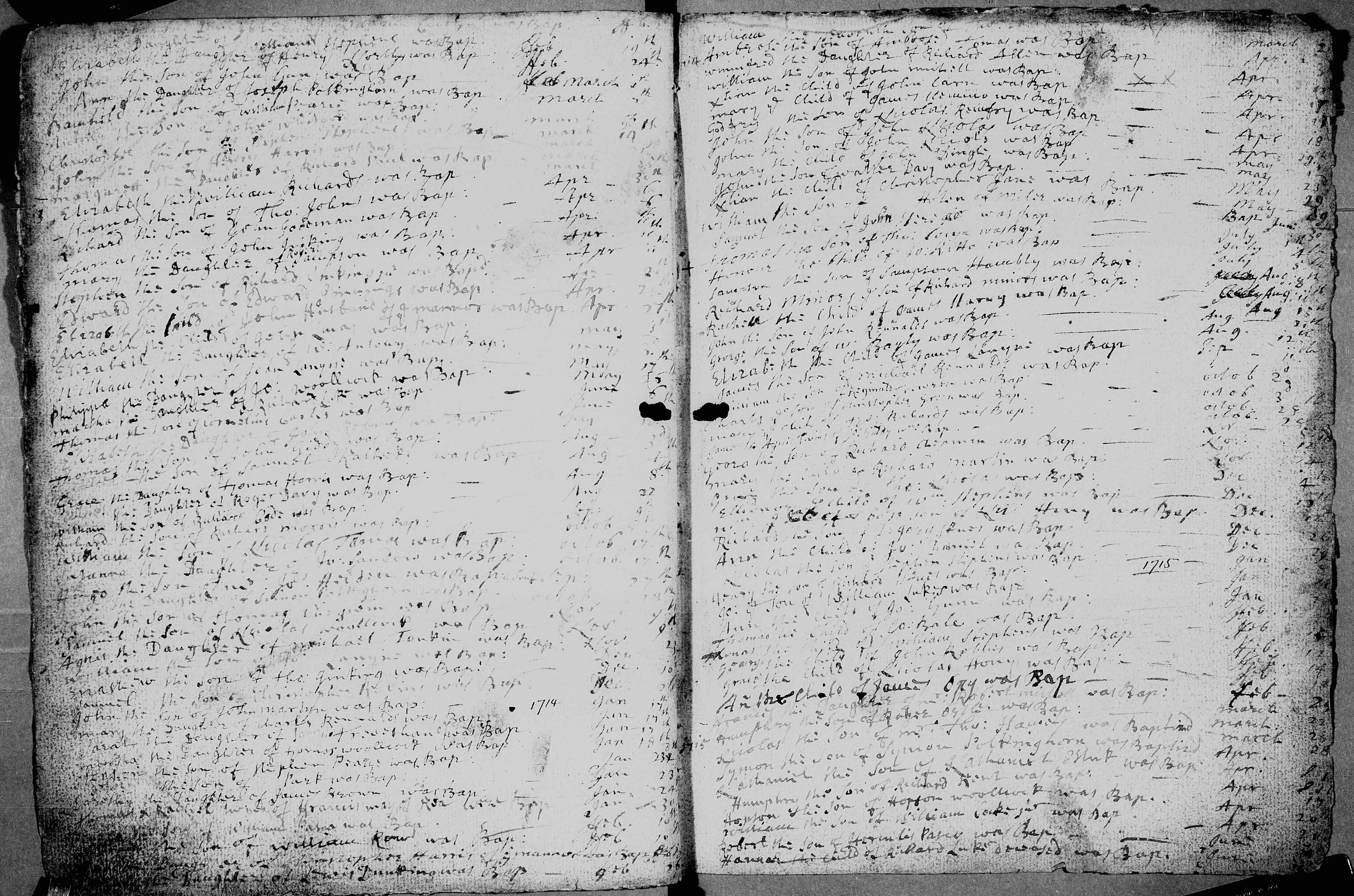 Baptism of Elizabeth Northey daughter of Henry Northey, 19 Feb 1713, Kenwyn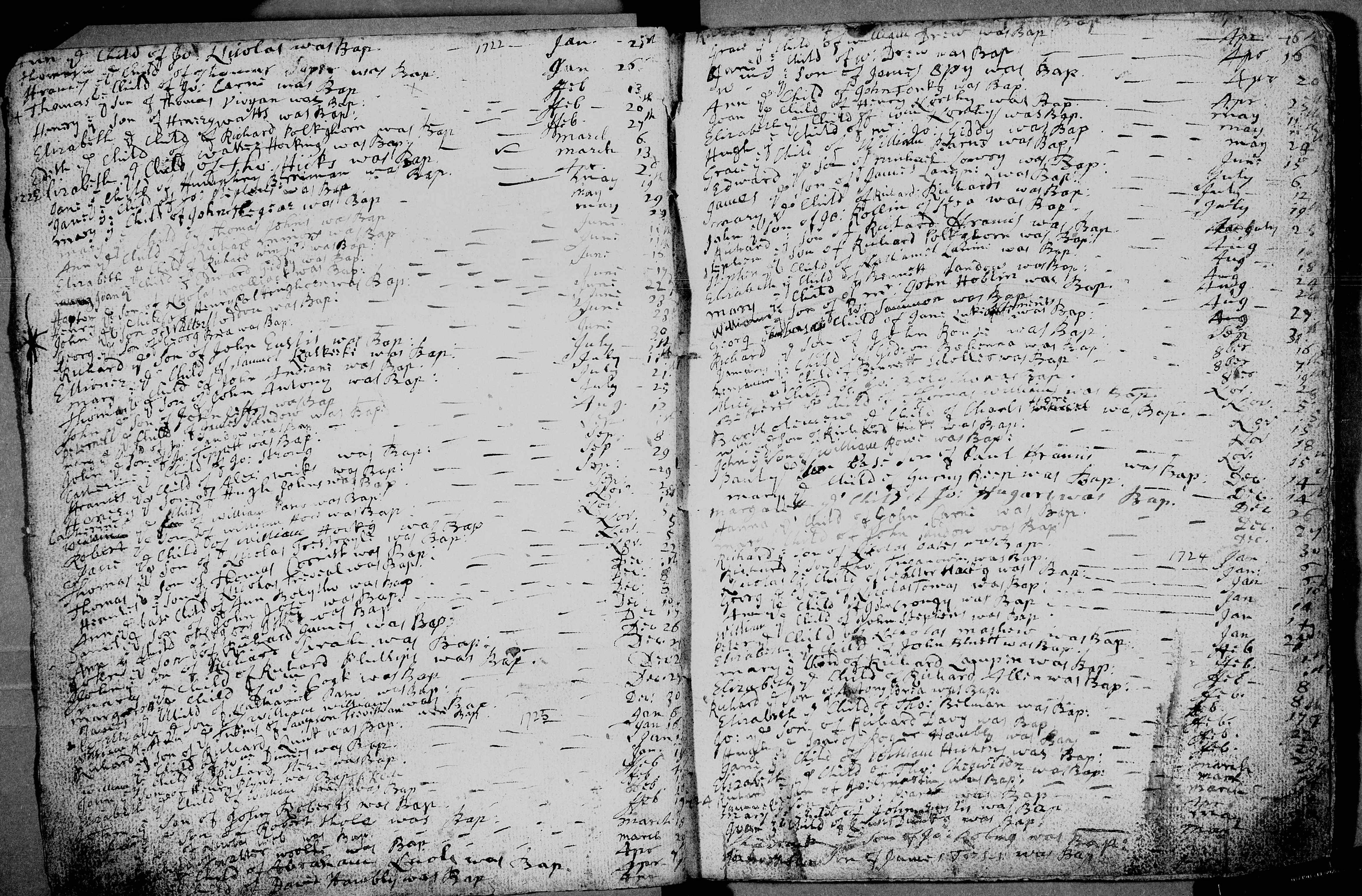 Baptism of Jane Northey daughter of Henry Northey, 11 May 1723, Kenwyn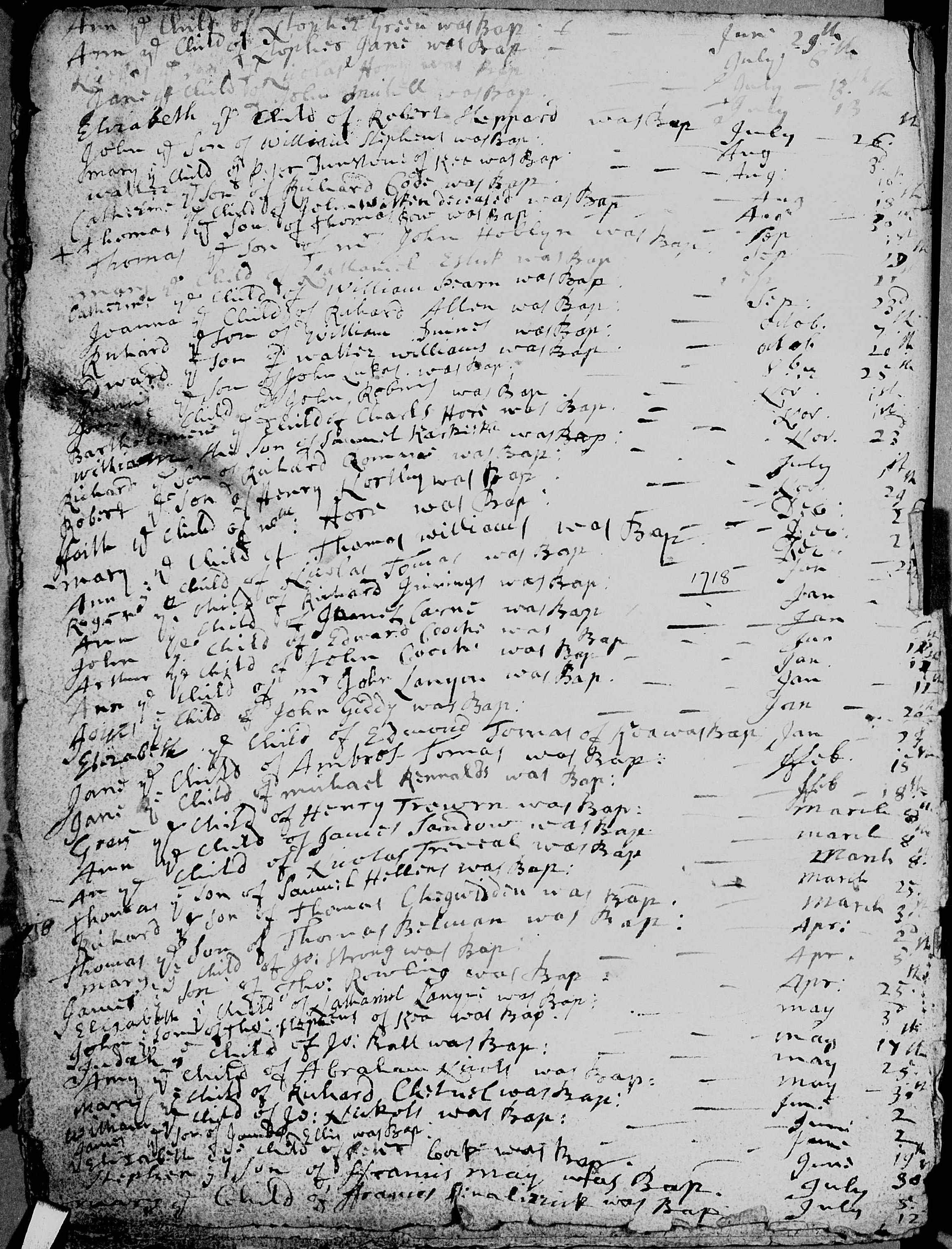 Baptism of Robert Northey, son of Henry Northey, 1 July 1717, Kenwyn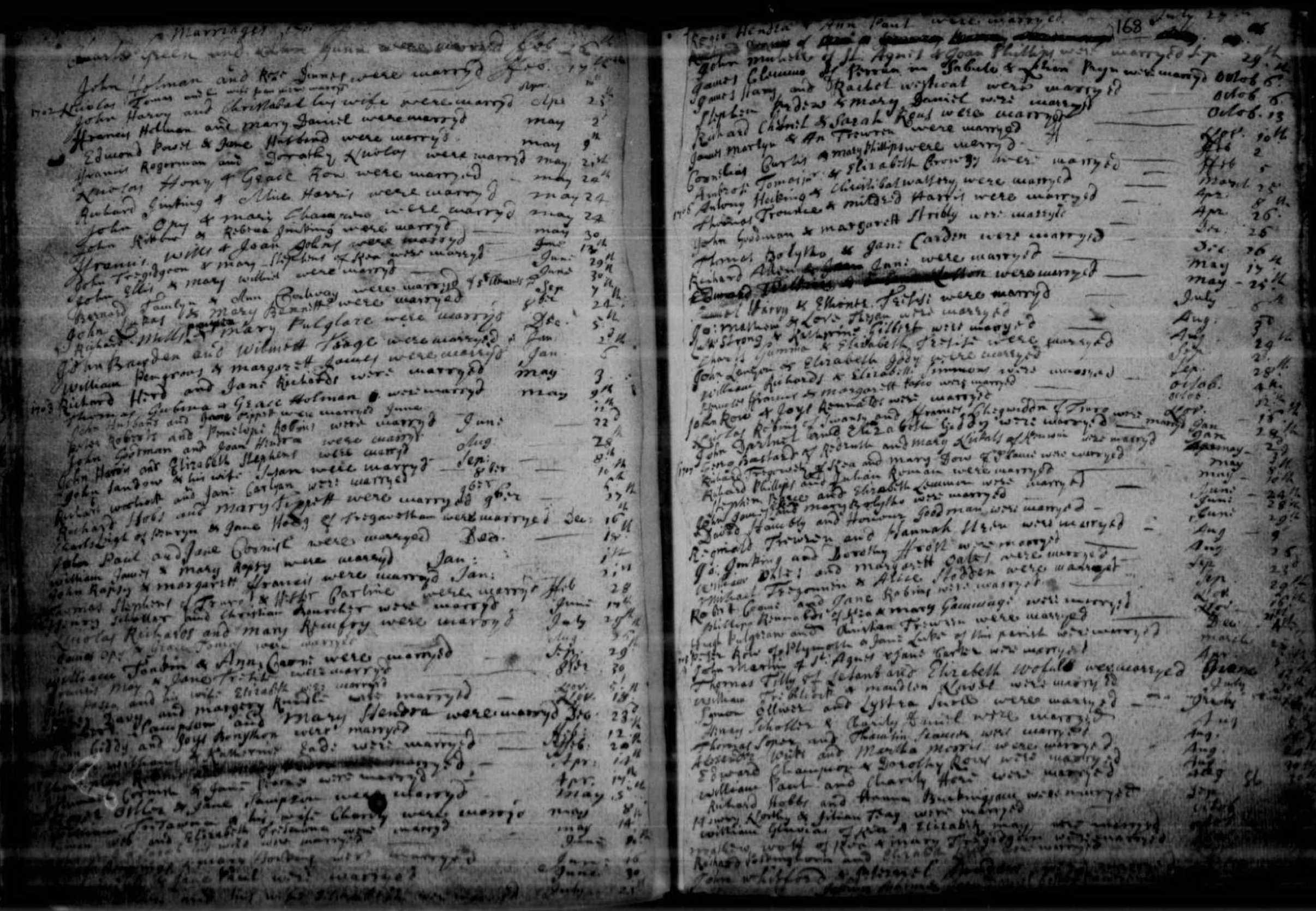 Marriage of Henry Northey and Julian Teague 4 October 1708, Kenwyn, Cornwall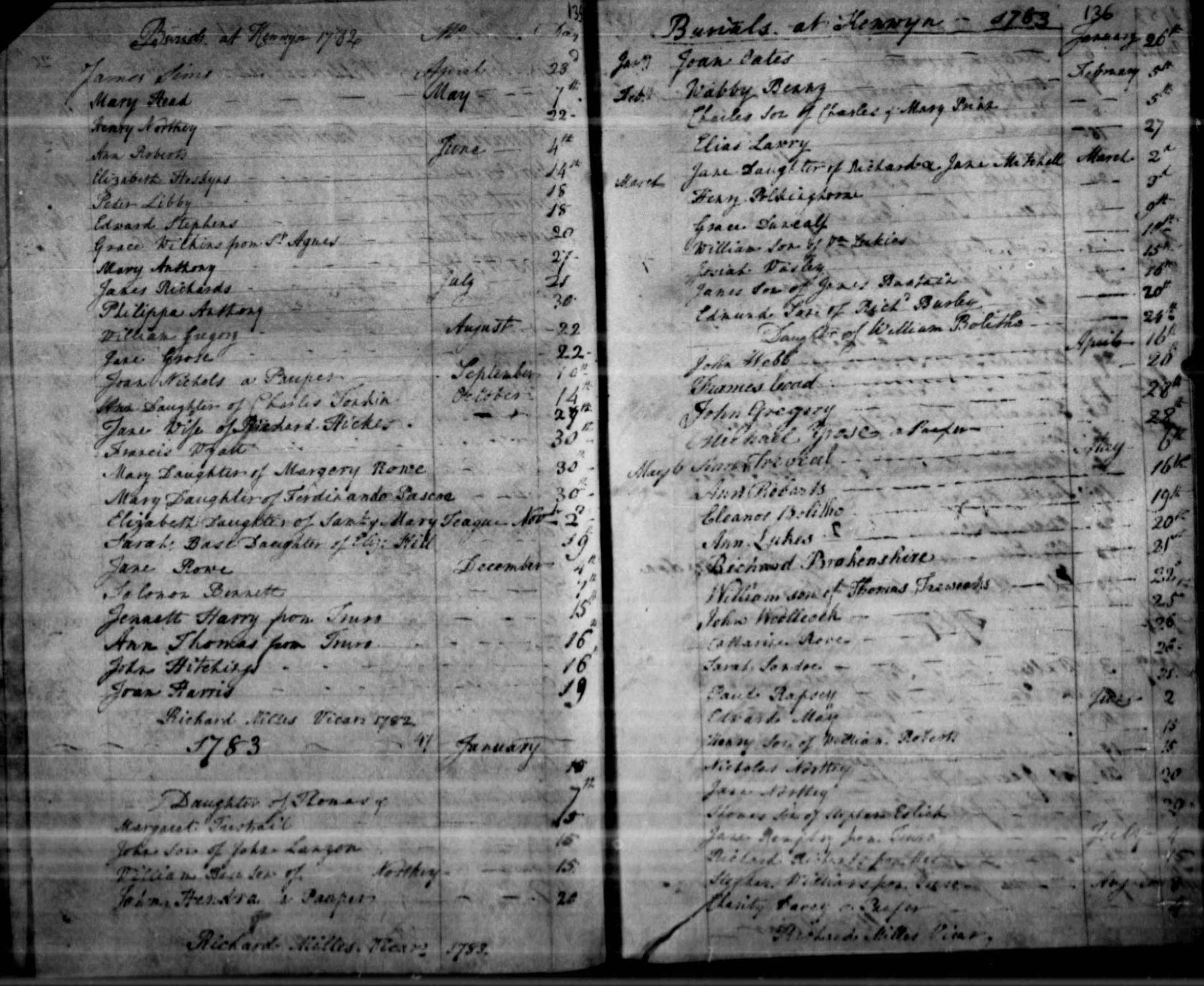 Burial of Henry Northey, 22 May 1782, Kenwyn, Cornwall
ST CLEMENT CORNWALL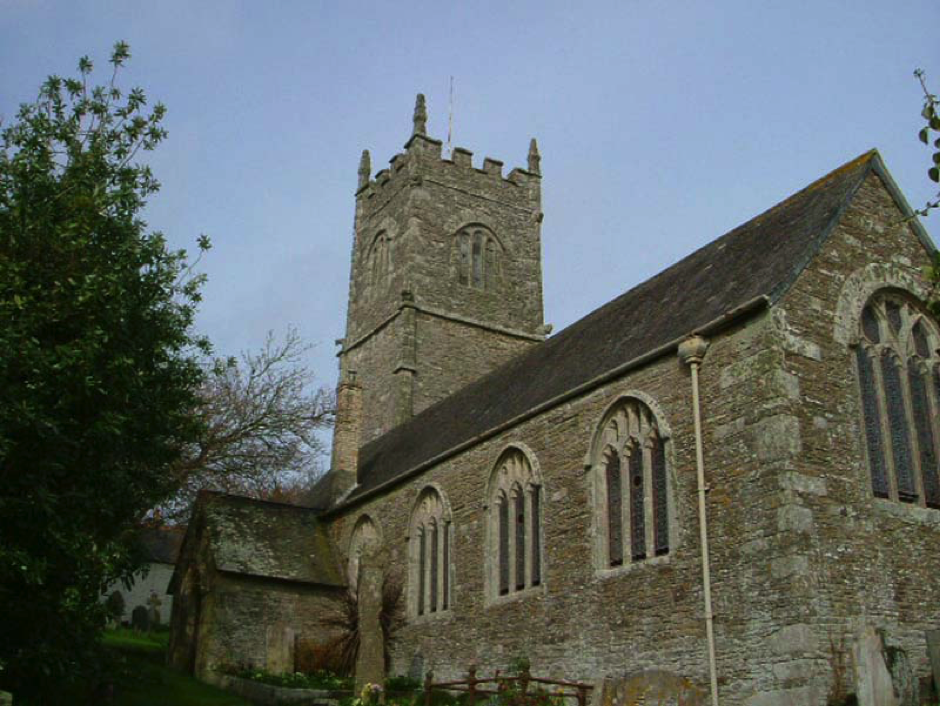 St Clements Church, St Clement, Cornwall, near the Trescillian River. Steeple tower built in 1376AD.
In 1870-72, John Marius Wilson's Imperial Gazetteer of England and Wales described St Clement like this:
"ST CLEMENT, a parish and a sub-district in Truro district, Cornwall. The parish lies on the Tresilian creek, or head of the Fal estuary, adjacent to the Cornwall railway, 2 miles SE of Truro; and contains a work-house. Post town, Truro. Acres, 3, 494. Real property, £12, 680. Pop., 3, 731. Houses, 731. The property is much subdivided. Conor manor belongs to the duchy of Cornwall; and Polwhele belonged to the county historian Polwhele. The living is a vicarage, united with the p. curacy of St. Paul's, under the rectory of Truro-St. Mary, in the diocese of Exeter. Value, £390.* Patron, the Lord Chancellor. The church includes a transept of the 13th century; and is good. A very ancient inscribed cross is at the village. Charities, £12.—The sub-district contains four parishes. Acres, 11, 692. Pop., 8, 089. Houses, 1, 613."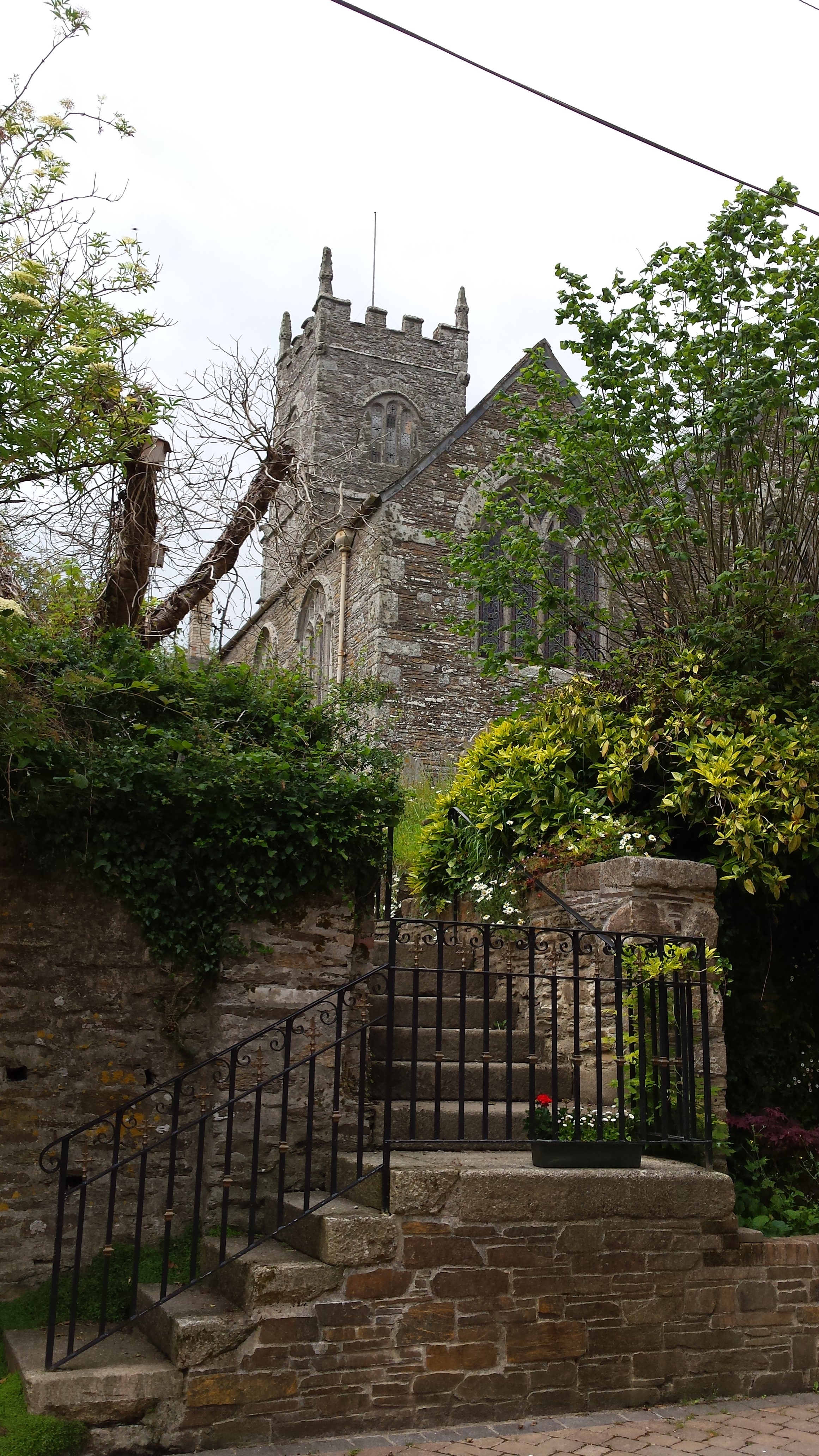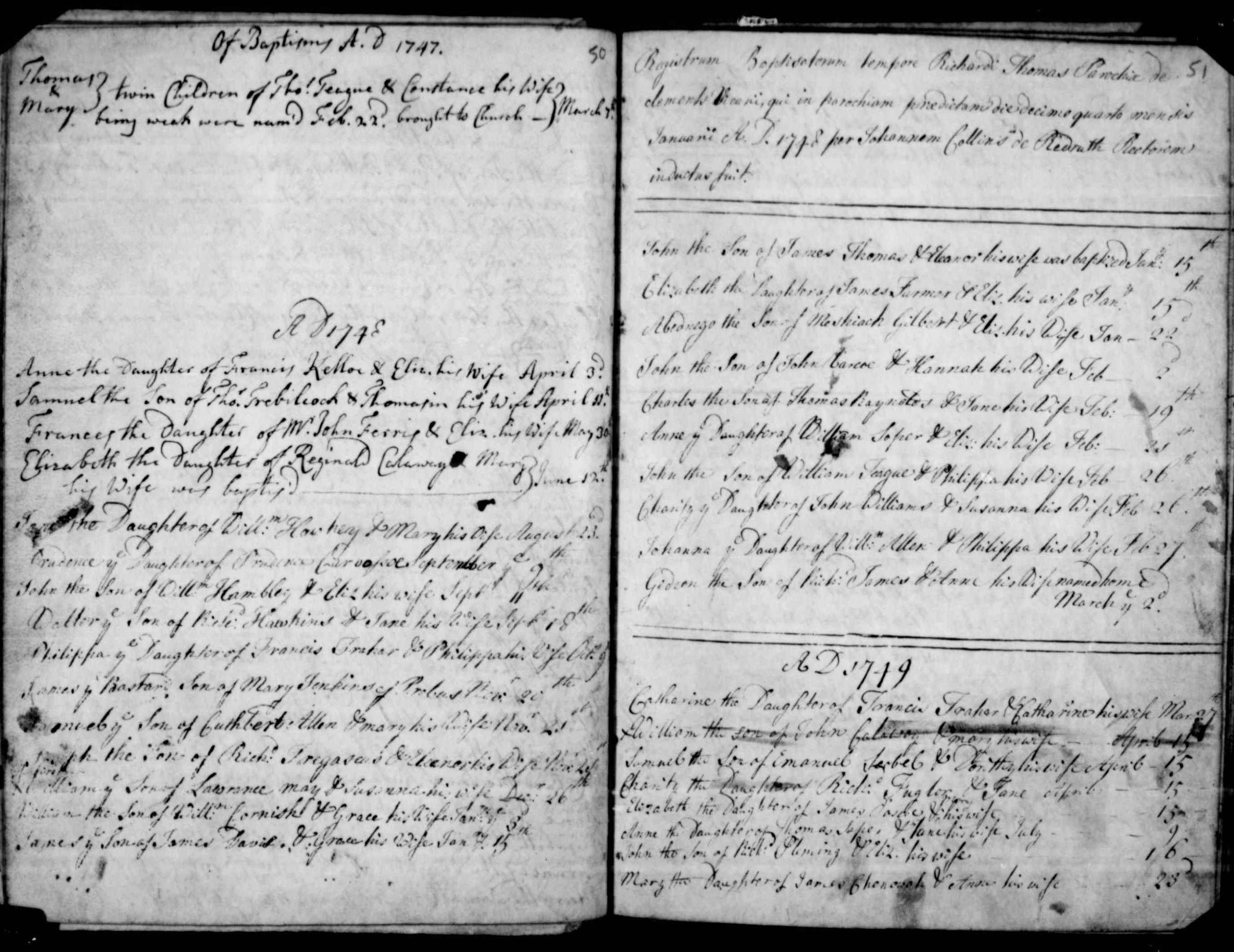 Baptism of Elizabeth Pascoe, 15 Apr 1749 daughter of James Pascoe and Mary Trahar, St Clements, Cornwall.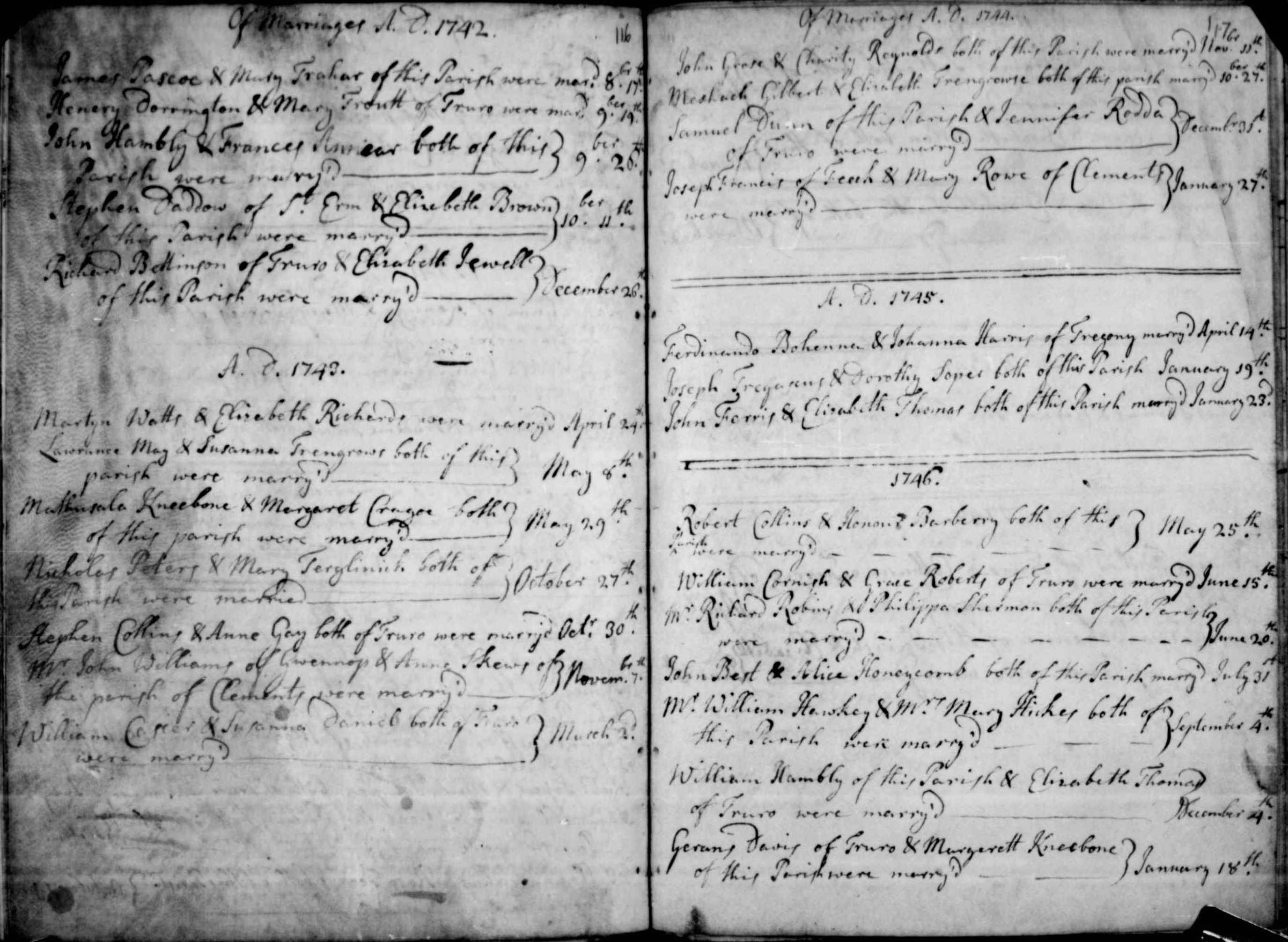 Marriage of James Pascoe and Mary Trahar, 17 October 1742, St Clement's Church, St Clement, Cornwall.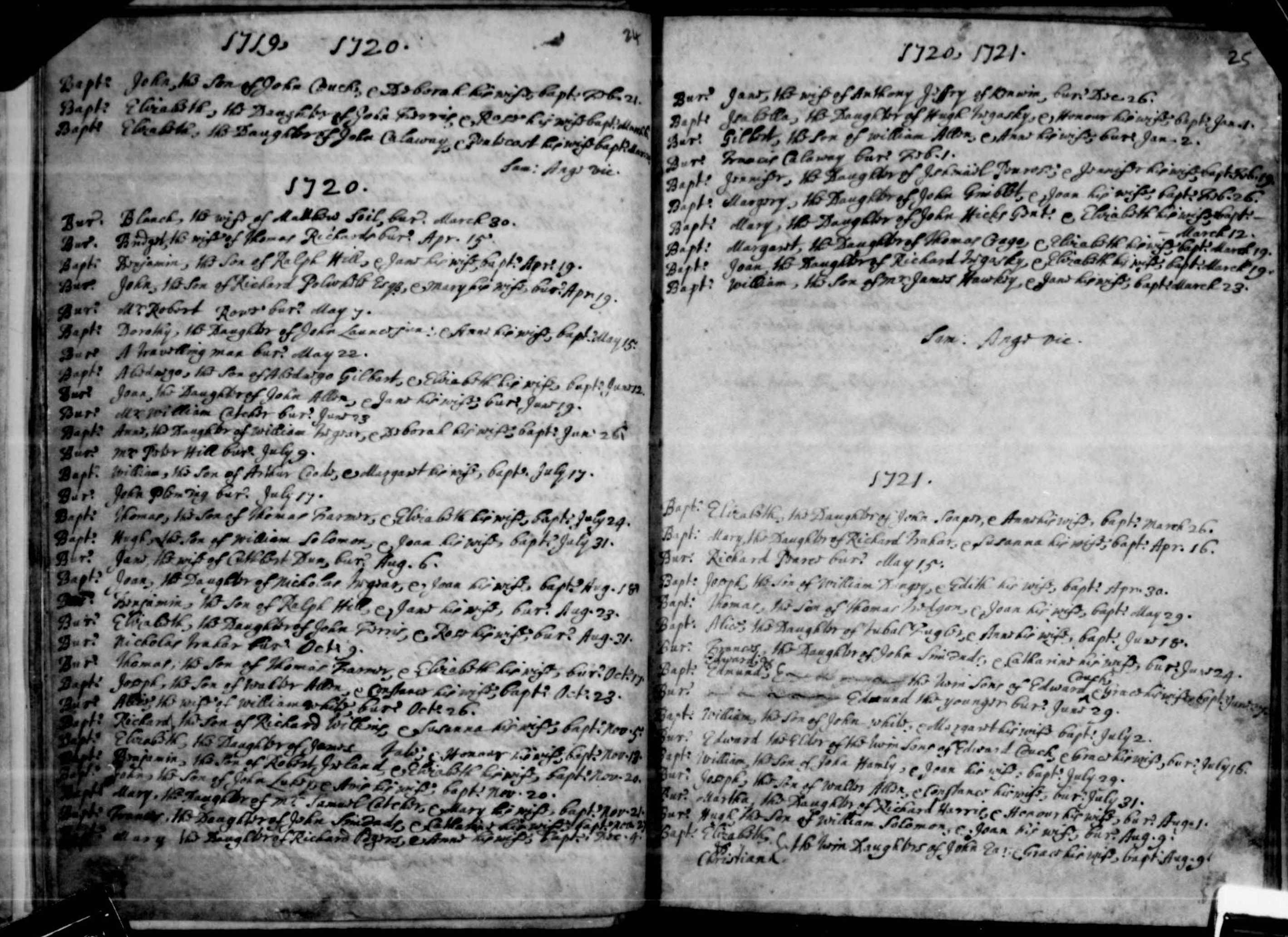 Baptism of Mary Trahar 26 April 1721 daughter of Richard and Susanna Trahar, St Clement
KEA, CORNWALL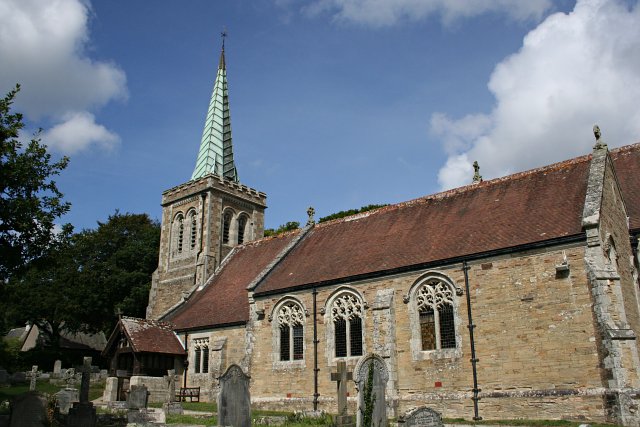 Historically, there has been a church or monastery in the township of Kea since the time the Domesday Book wrote Kea up as a taxed parish. All Hallows church is in Kea village and was built in 1895 to replace the church of 1802, which was badly buttressed, and started to crack and crumble almost immediately after it was completed. The townsfolk also found it unattractive and it was decided to demolish the church and rebuild. The "new" church has a steep tiled roof and a lead spire. The font is Norman and of the Altarnun type. This present church was consecrated 4 June 1896.
The church of St Kea at Old Kea was the parish church until All Hallows in Kea was built in 1802. The town centre had gradually shifted away from Old Kea, and it was decided that a new church called All Hallows would be built closer to where people were now living. Later, the church at Old Kea was pulled down and only the tower remains today. A small chapel now stands beside the ruined medieval tower, and services are held there twice a month. It is probable that our family were married at Old Kea prior to 1802 and in the demolished church of All Hallows that formerly stood on the site of the new church. The Norman bowl style font that stood in St Kea was moved to All Hallows Church. It is very pleasing that this font remains as this would have been used for our ancestor's Christenings.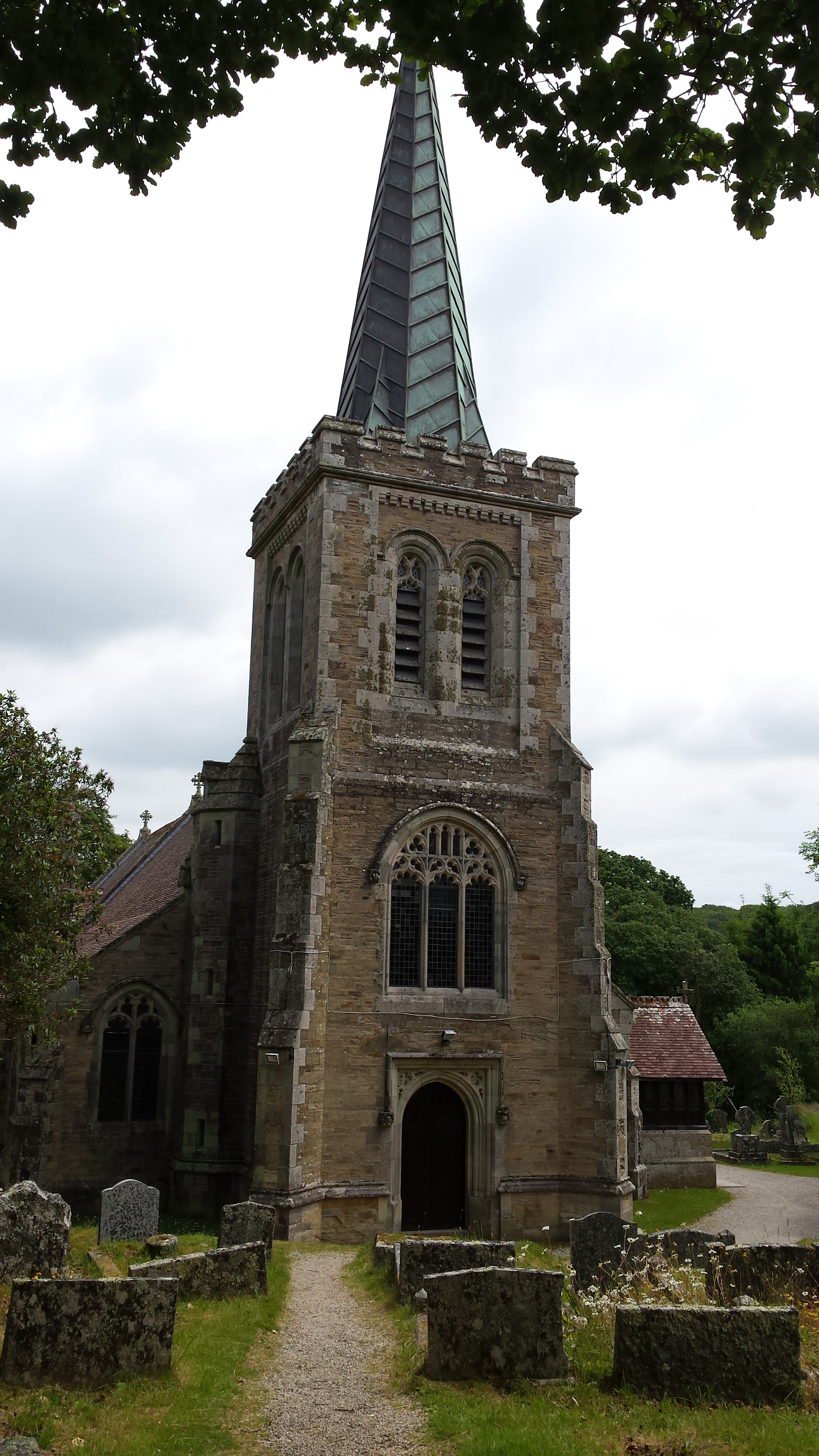 England, Select Marriages, 1538-1973:
| | |
| --- | --- |
| Name: | Josiah Northey |
| Gender: | Male |
| Marriage Date: | 23 Oct 1805 |
| Marriage Place: | Kea, Cornwall, England |
| Spouse: | Ann Tyack |
| FHL Film Number: | 1595810 |
| Reference ID: | item 8 p 94 |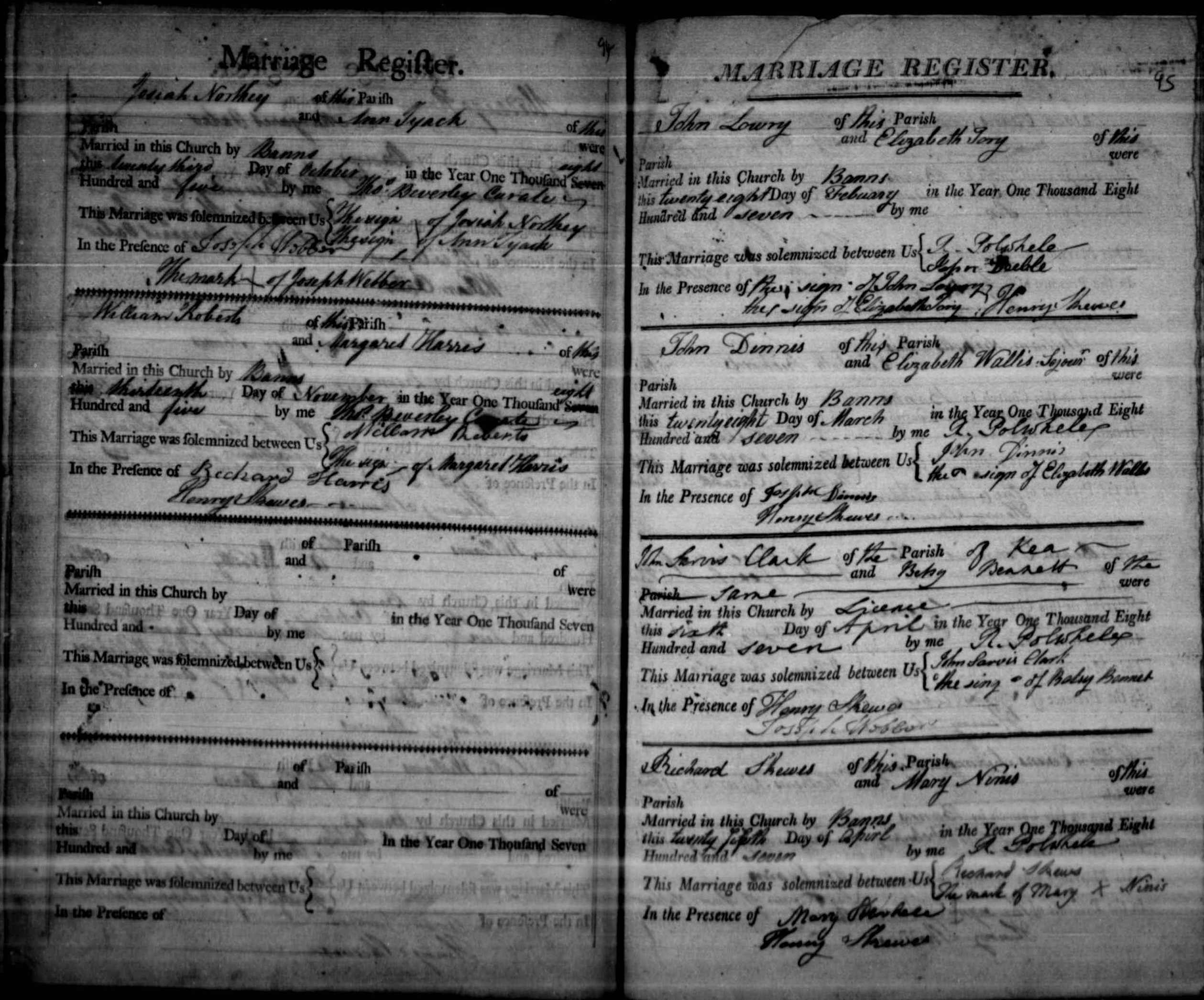 Marriage of Josiah "Joseph" Northey and Ann Tyack 23 October 1805 at Kea, Cornwall.
Ann Tyack was the daughter of Stephen Tyack and Amey Hockin who was born in Gwenapp on 1 May 1788. Josiah and Ann Northey's son was William Northey, who married Elizabeth Dodbridge.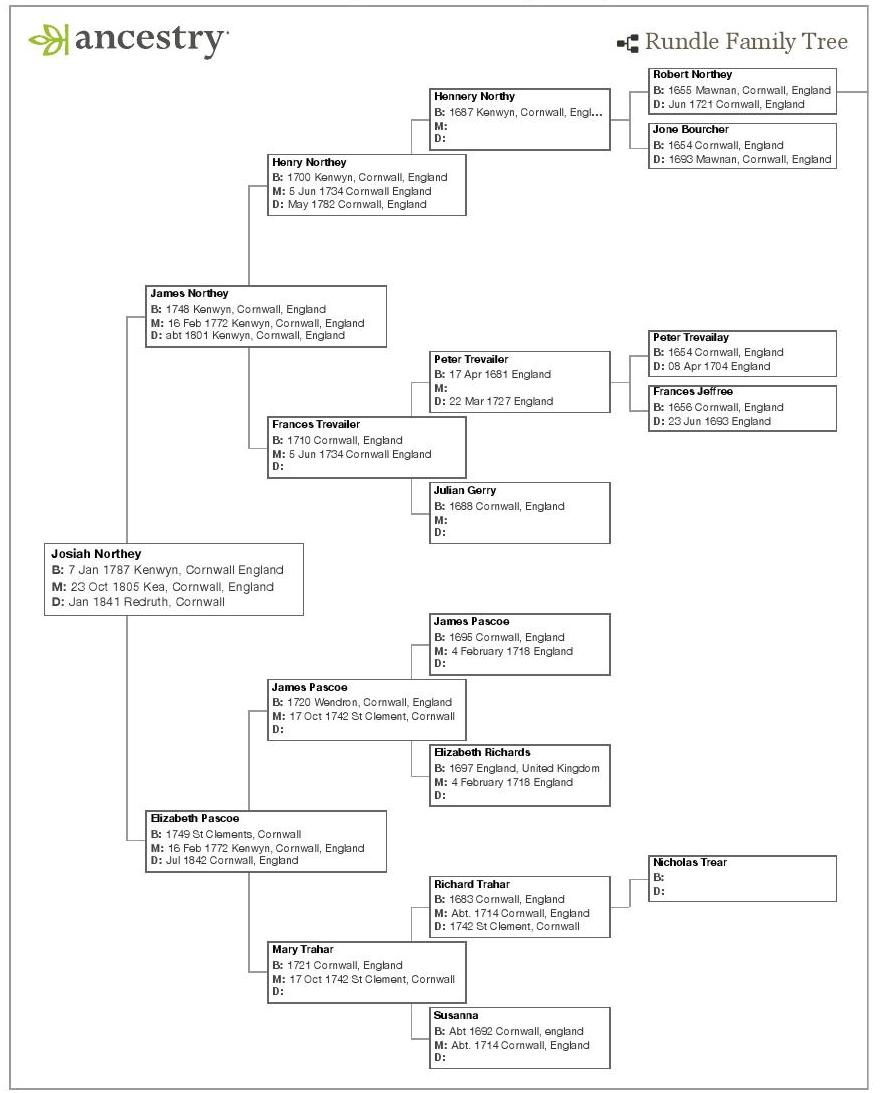 Pedigree View for Josiah "Joseph" Northey son of James Northey and Elizabeth Pascoe
1851 English Census:
Name:
Arney Tyack
[Amey Tyack] 
Age:
83
Estimated Birth Year:
abt 1768
Relation:
Grandmother, Grandma(Grandmother)
Gender:
Female
Where born:
Kea, Cornwall, England
Civil Parish:
Kea
Ecclesiastical parish:
Chacewater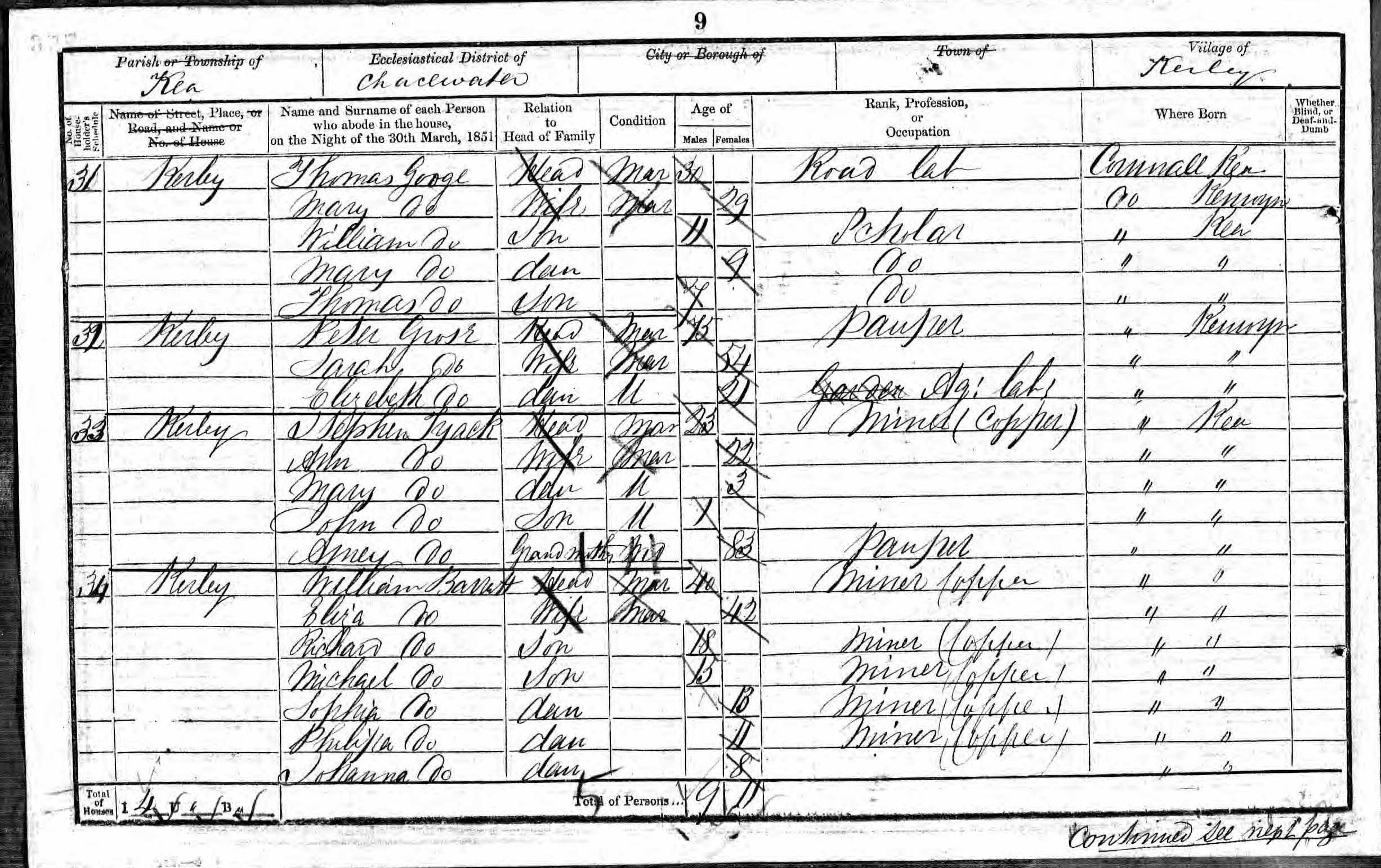 1851 English Census for Amey Tyack nee Hockin for Kea Cornwall, illustrated earlier 
Amey aged 83 is living with her grandson Stephen Tyack a copper miner and his wife Ann and their children Mary and John. They are living in the village of Kerbey, Parish of Kea, Ecclesiastical Parish of Chacewater.
Amey's husband was also named Stephen Tyack, they were married in Gwennap 26 June 1786.
The next page is from the original Parish Record Book of Kea and is an interesting account by the Vicar of "a large and brilliant comet in the night sky" over Cornwall on 30 June 1861. There are also accounts of a heavy gale and other storms which included the death of a person from the Parish of Phillack who was struck by lightning.
Great Comet of 1861, Kea Parish Record Book, Cornwall
This a description from the original parish record book for Kea, Cornwall, England, about the "Great Comet of 1861". I found this description while working my way through the parish records on the family search website, which used to be a free online resource until it was purchased by Find My Past in 2014. Recently these records have been removed, and will now only appear on Find My Past, for those who take out a subscription. I am not sure that this page will ever be available online again. It must have been an exciting experience for the residents of Cornwall to observe this natural phenomenon. The Rector writes an account of "a great comet in the night sky of unusual size and brilliancy, with a mighty tail, visible in the N/W". The Rector's detail about the dimensions and distance from the Earth and sun are astonishing, and he must have been an accomplished astronomer. It was a wonderful article, probably long forgotten, and one I am pleased to be able to highlight for other interested researchers. I am excited to be able to rediscover and proudly show off this piece of scientific observation from Cornwall. I believe that many of our ancestors would have witnessed this phenomenon in the night sky in 1861, over several nights, and wonder what they may have thought, and whether there was adequate explanation for something that lit up the night sky so brightly. It may have been a little frightening, and was an obviously strange experience.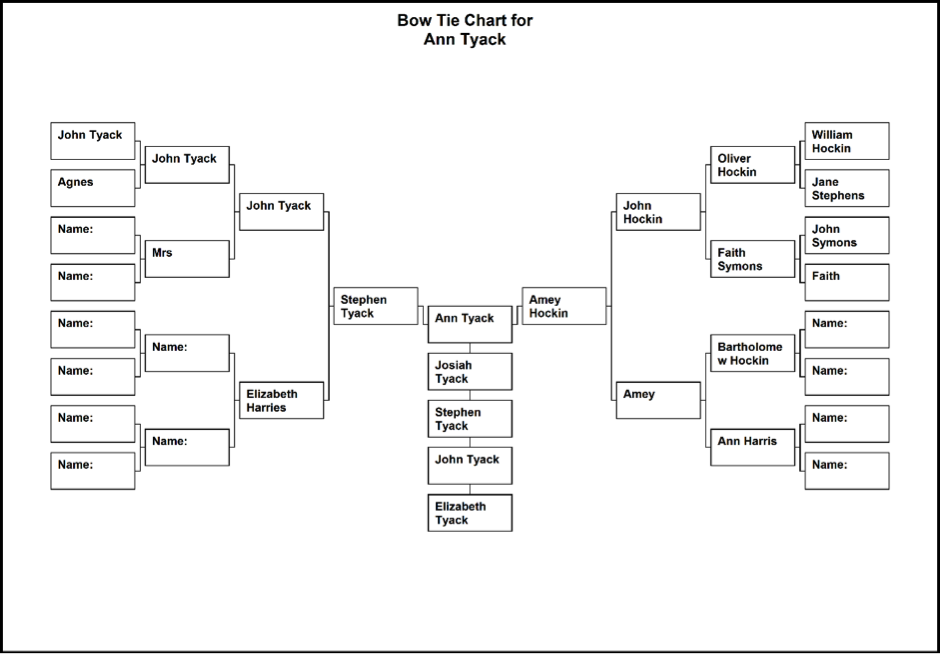 This chart shows four generations both paternal and maternal as well as Ann's siblings. Ann Tyack married Josiah Northey on 23 October 1805 at All Hallows Church, Kea.
GWENNAP, CORNWALL
The English Census for 1851 and 1861 for Elizabeth and William Northey gave their address at Gwennap. These records for the family are listed at the beginning of this chapter in the introduction.
England, Select Births and Christenings, 1538-1975:
| | |
| --- | --- |
| Name: | Ann Tyack |
| Gender: | Female |
| Baptism Date: | 1 May 1788 |
| Baptism Place: | Gwennap, Cornwall, England |
| Father: | Stephen Tyack |
| Mother: | Amy Tyack |
| FHL Film Number: | 1595598 |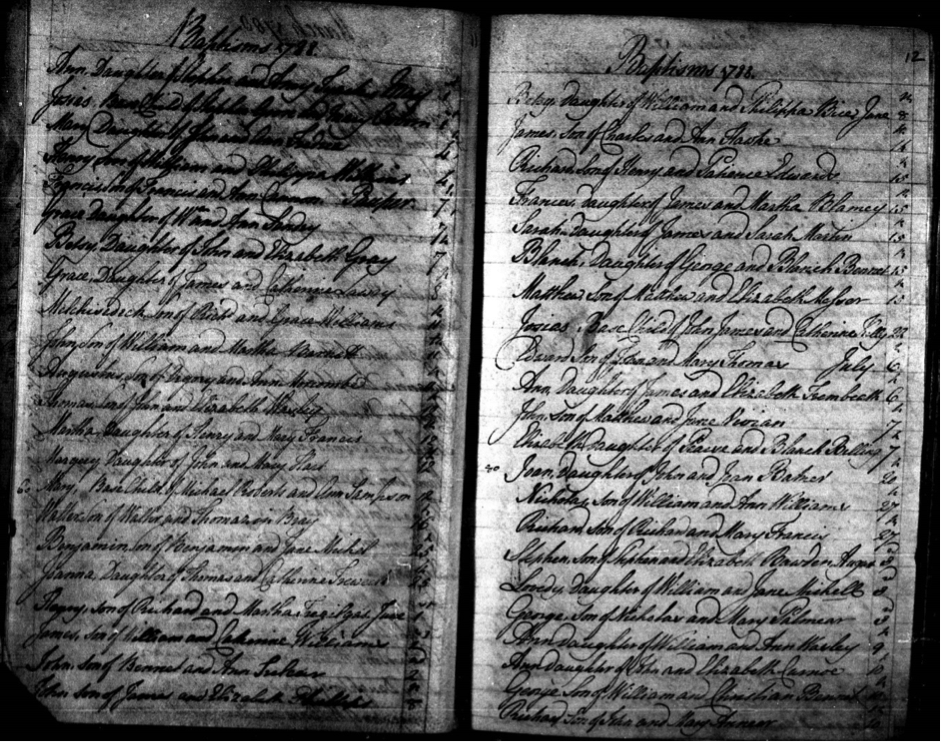 Baptism of Ann Tyack the daughter of Stephen Tyack and Amey Hockin 1 May 1788 at Gwennap.
England, Select Marriages, 1538-1973:
| | |
| --- | --- |
| Name: | Stephen Tyack |
| Gender: | Male |
| Marriage Date: | 26 Jun 1786 |
| Marriage Place: | Gwennap, Cornwall, England |
| Spouse: | Amy Hackin |
| FHL Film Number: | 1595598 |
| Reference ID: | 103 |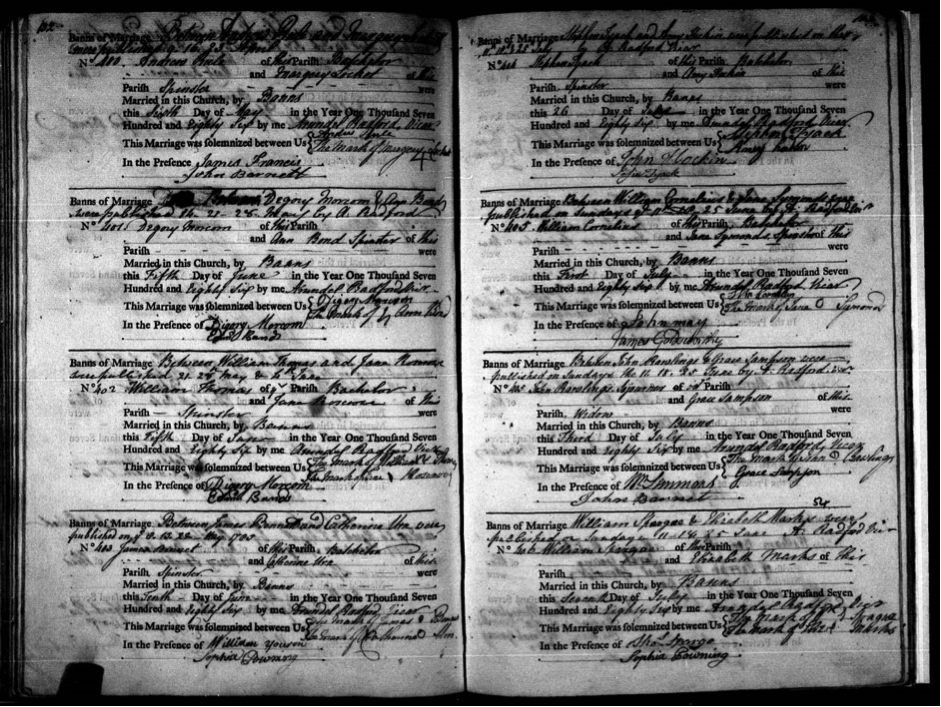 Marriage of Stephen Tyack and Amey Hockin on 26 June 1786 at Gwennap, Cornwall. Both signed their names to the record page.
In the presence of John Hockin and Sophia Tyack. John Hockin was Amey's father.
Stephen and Amey had many children, Ann, Elizabeth, Stephen, John and Josiah. Ann Tyack being our direct ancestor who married Joseph/Josiah Northey.
http://gwennap-opc.com/marriages_1780.htm
The link above comes from Sandra Pritchard OPC for Gwennap, who transcribed the marriages for 1780 to 1789 which includes this marriage for Stephen and Amey Tyack.
Just when I thought I had finished my research on the Northey family I went back to the Gwennap Parish Books and also spent some time referencing another useful website:
www.genealogy.com/ftm/i/v/e/Janice-Iverson/Website-0001/UHP-0060.html
I was then able to scour the Gwennap Parish Book and find several Northey records for Robert Northey who married Joan Bourcher, they had several children, and it was exciting to find the baptism of Henry Northey my 7th great grandfather and his siblings Kathorine and Robert and also find his father Robert Northey's burial record. I also discovered that Robert Northey on many occasion was listed as "Robert Northey of Kenwyn" in the Gwennap Parish Records and this tied in wonderfully with the earlier records I found in Kenwyn. These are amongst some of the oldest Northey records I have been able to find.
It was incredible to think that my Northey family were living during the time of the Restoration of the English monarchy and that Charles II was on the throng of England. Earlier this century there had been the shocking scourge of the Black Death which swept through Europe and England in 1665, and my Northey family were survivors of this terrible calamity. It must have helped to have been cut off from the busier town centres closer to London.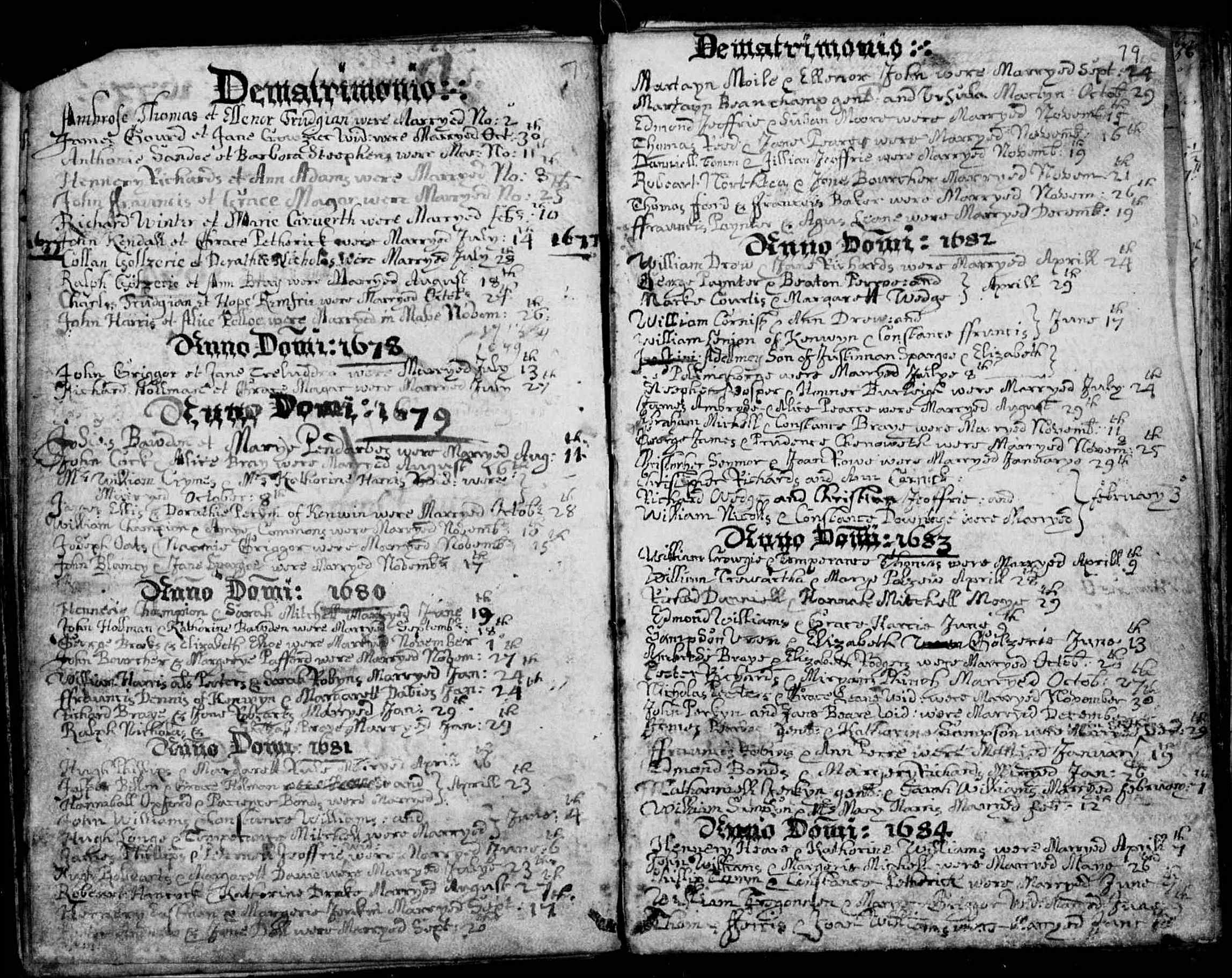 Marriage of Richard Northey of Kenwyn and Joan Bourcher 21 November 1681, Gwennap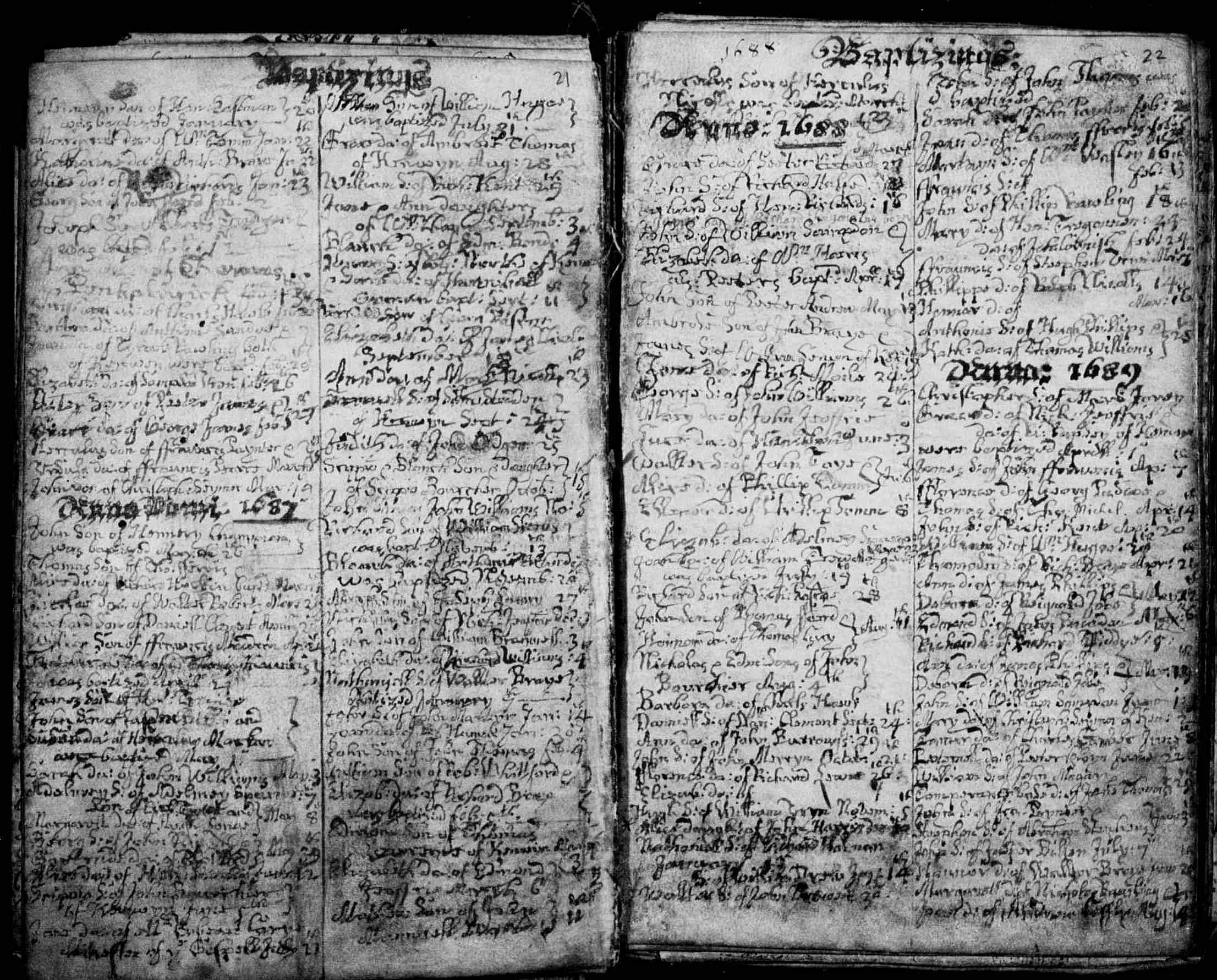 Baptism of Henry Northey, son of Robert Northey of Kenwyn 4 September 1687, Gwennap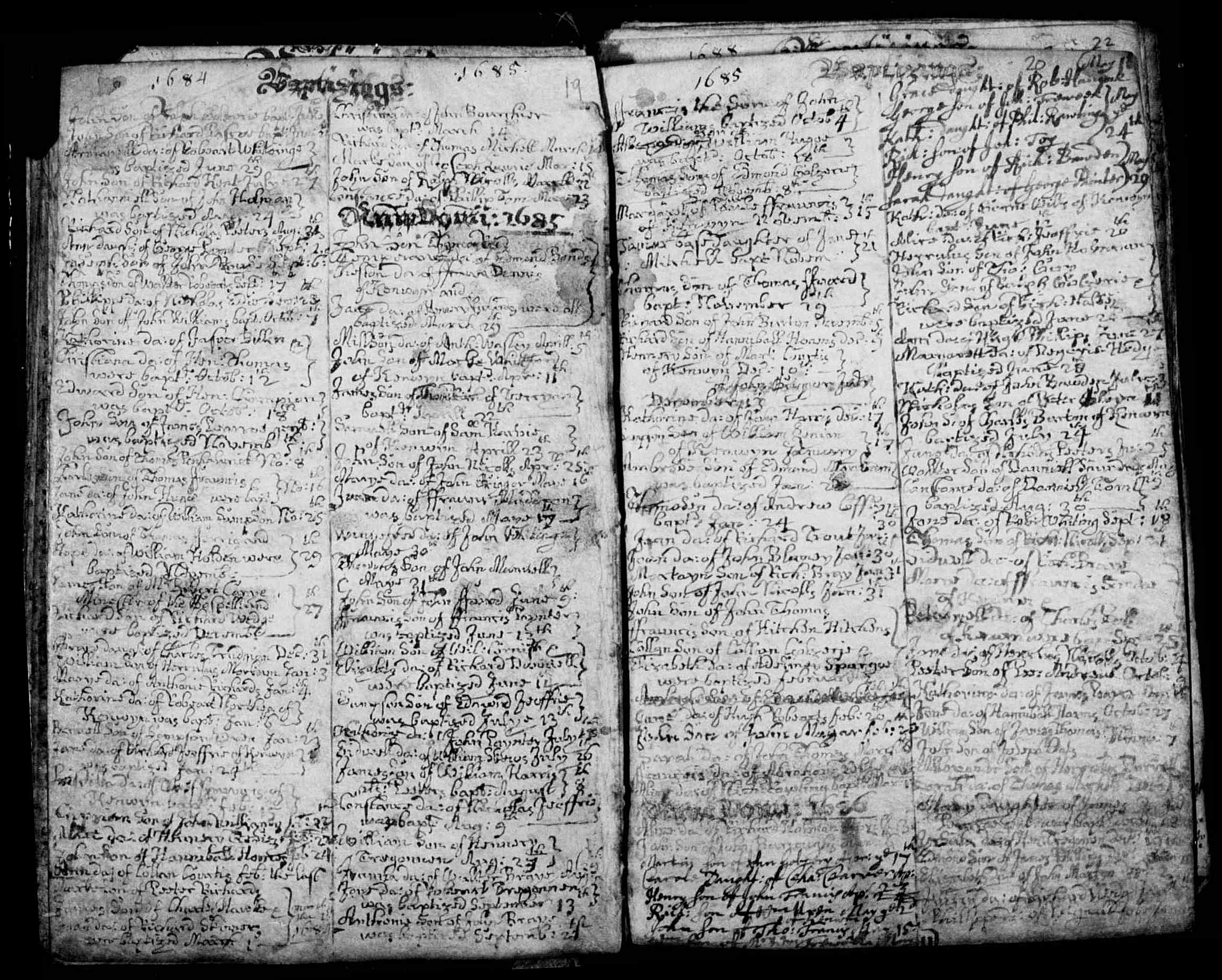 Baptism of Kathorine daughter of Robert Northey of Kenwyn, 6 January 1684, Gwennap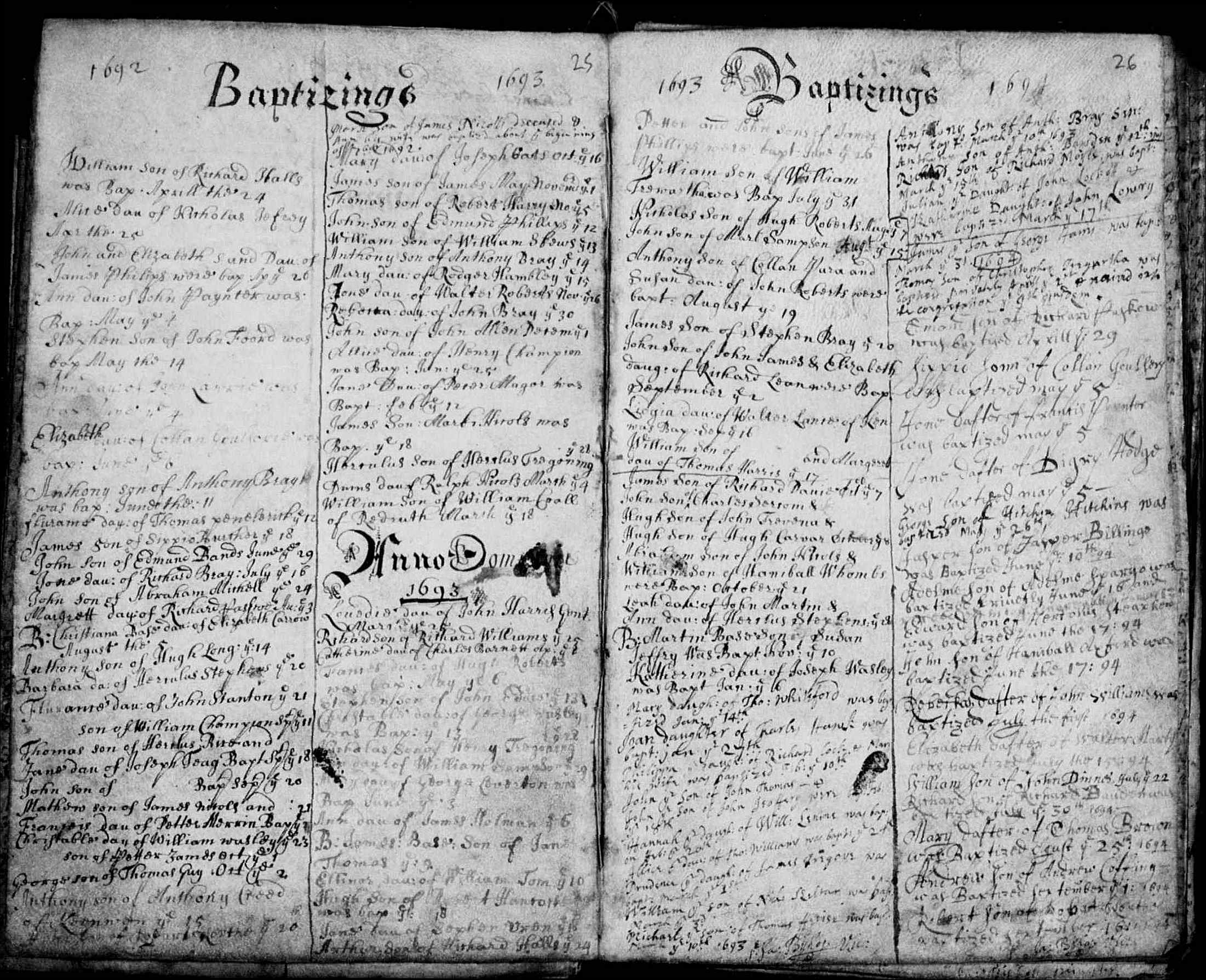 Baptism of Robert son of Robert Northey 6 January 1694, Gwennap, Cornwall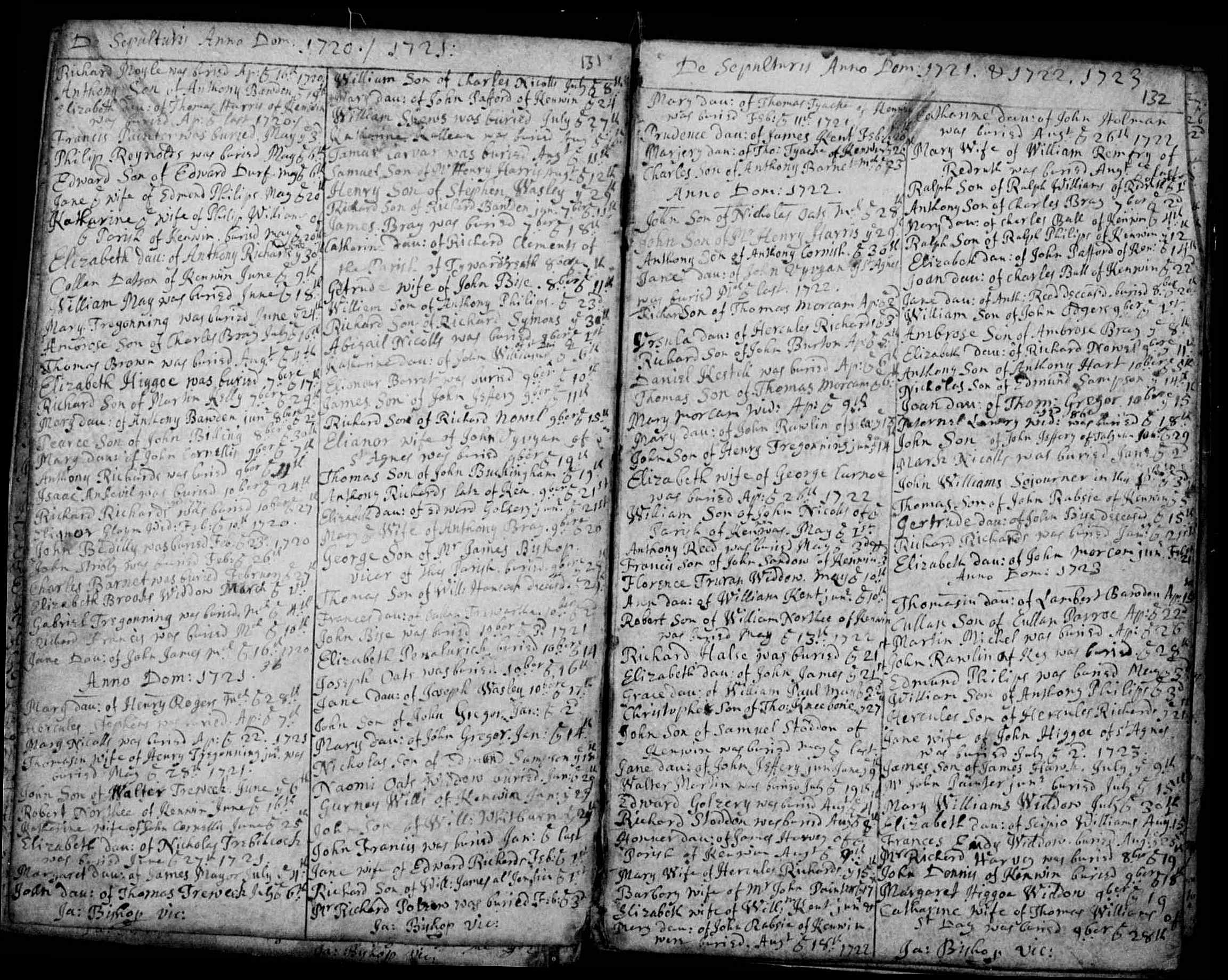 Burial of Robert Northey of Kenwyn, 16 June 1721 Gwennap, Cornwall
GWITHIAN, CORNWALL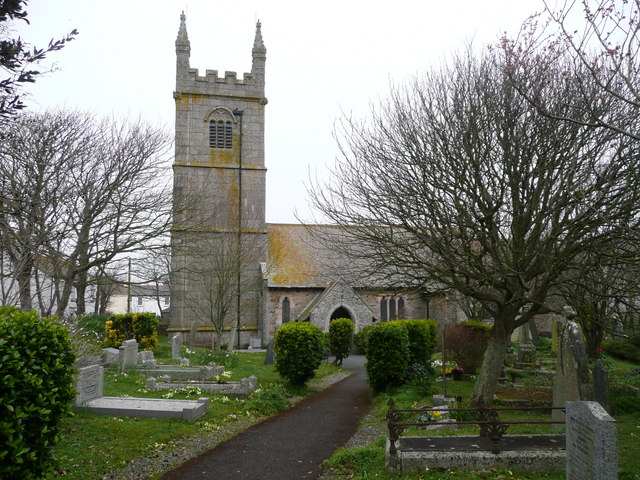 St Gothian, Gwithian, Cornwall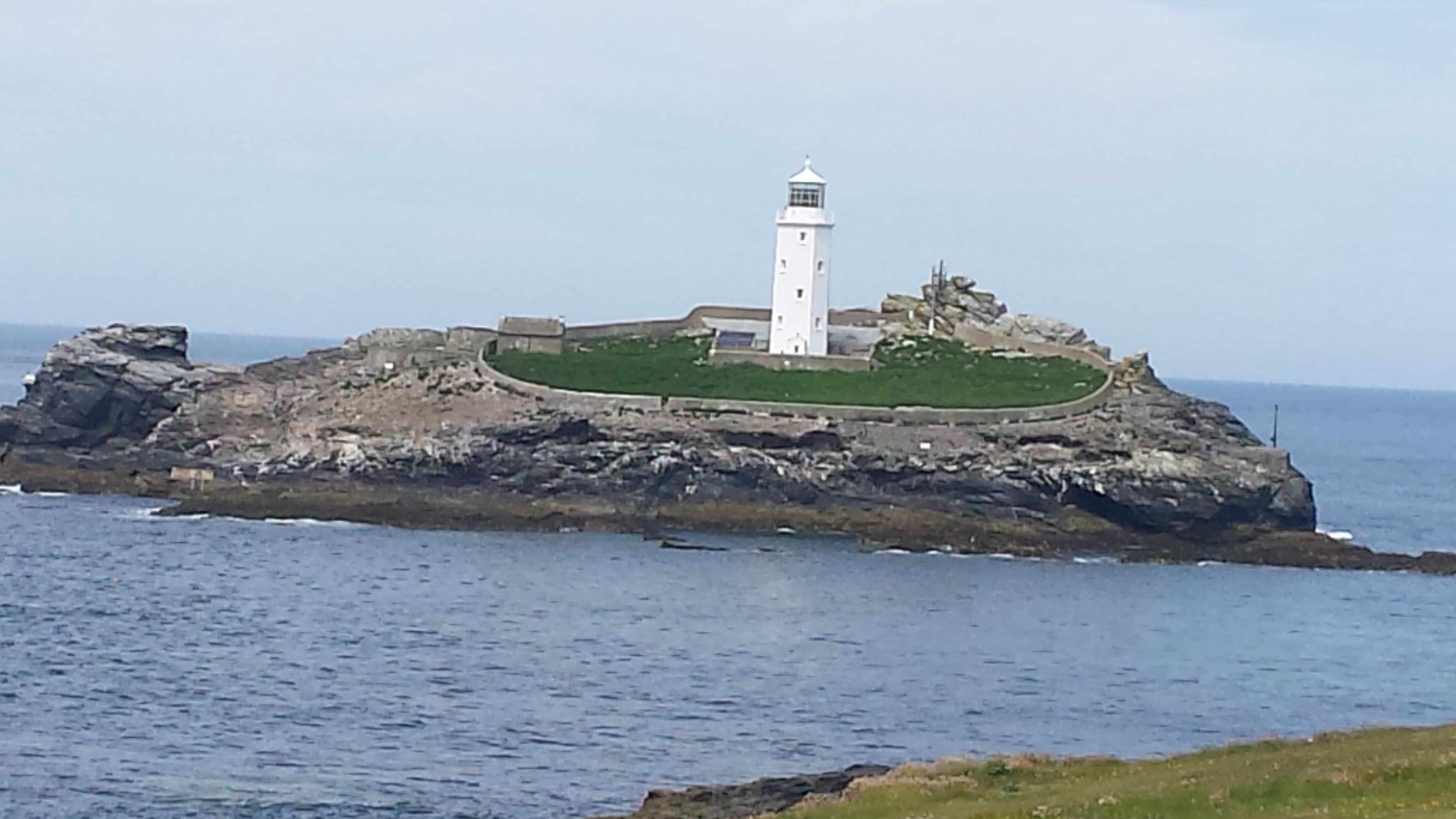 Lighthouse at Gwithian, Cornwall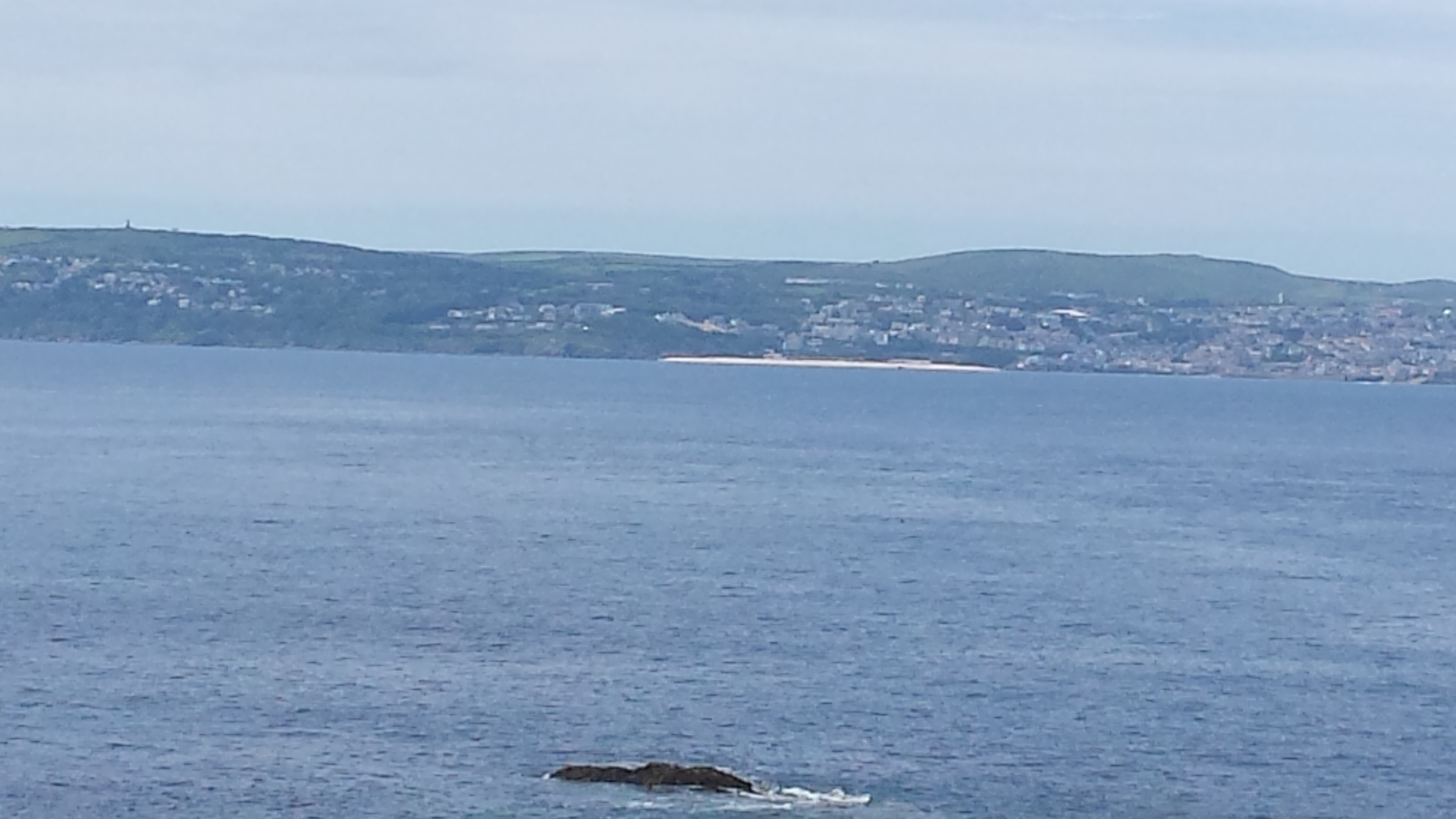 St Ives Bay, Gwithian, Cornwall
Several researchers have Amey Hockin in their family trees as having been born in Gwithian, Cornwall and baptised on 18 September 1768, the daughter of John and Amey Hockin.
Here is the transcription from the webpage which apparently comes from the Parish Records of Gwithian:
Baptism 18 Sep 1768 "Amey daughter of Jno Hockin & Amey 18 Septr."
http://webs.lanset.com/azazella/gwithian_page.html
It could be worth a trip to the west side of Cornwall to visit this town and church. This is a very pretty part of Cornwall and overlooks St Ives Bay.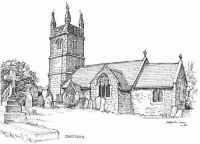 "The Church of St Gothian stands on an ancient site, the original Norman building had a chancel arch and two similar arches spanning the junctions of transepts and nave. These arches were built with sandstone or sandrock, an easily worked rock obtained from the nearby cliffs at Godrevy.
In the 15th century the church was enlarged with the addition of a south aisle and a fine west tower, battlemented, with light pinnacles and angels at the upper angles. It is a particularly good example of the skilled use of the local granite.
By the 19th century, an almost complete reconstruction was essential, and between 1865-1867 the entire south aisle was removed to reinstate the original cruciform plan. Only the tower of the 15th century building remained and the fine original tower arch. The altar, of oak, has a beautiful crimson frontal embroidered by members of the family of the then rector, the Rev. Hooker, who bore the whole cost of this restoration including the building of an adjoining schoolroom; now the Church Hall. Two granite arches saved from the 15th century arcade have been built into the lynchgate.
The square bowl of the font is all that is left of the Norman church. Its date is circa 1150."
http://www.achurchnearyou.com/gwithian-st-gothian/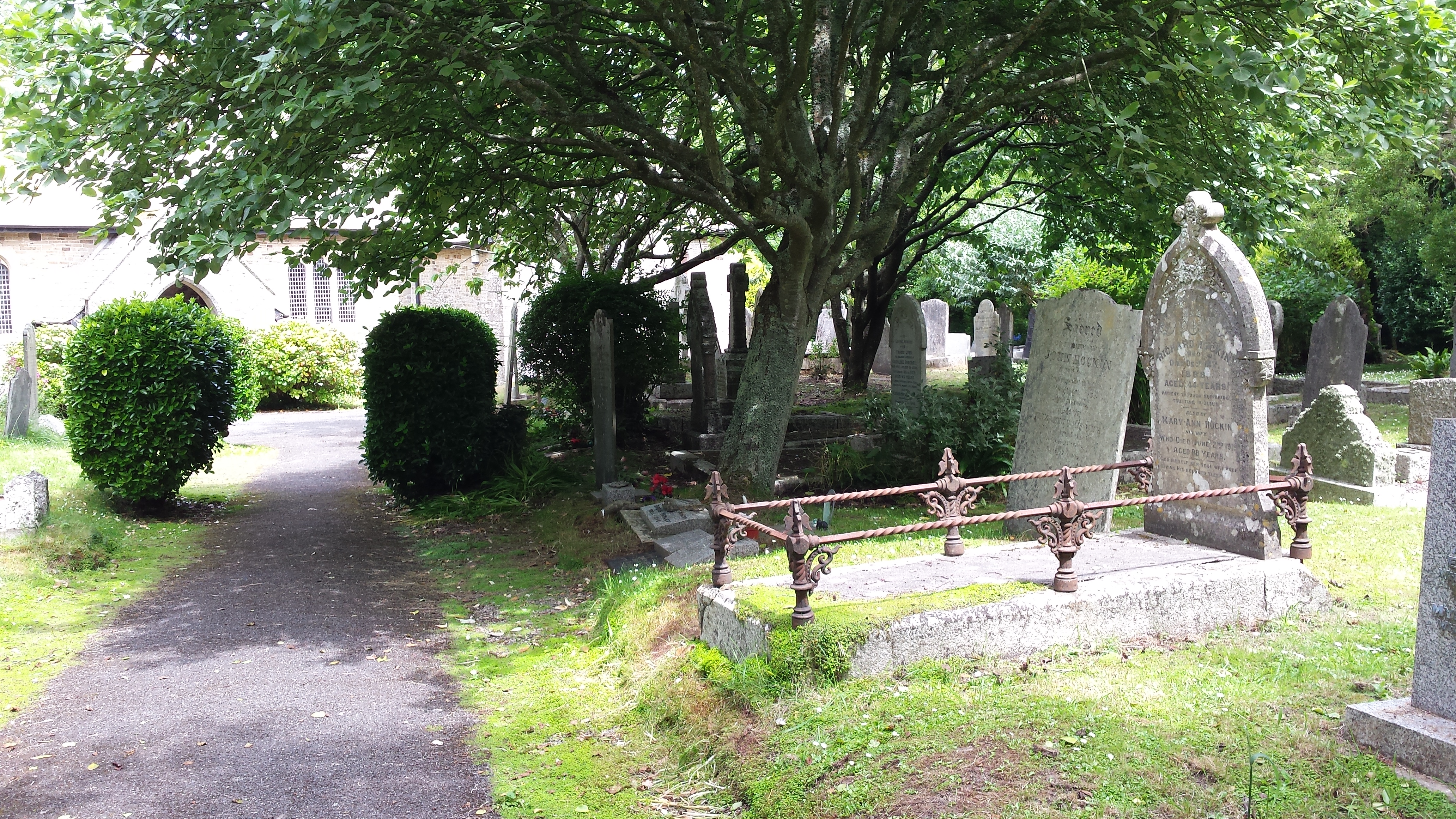 Recently I emailed the OPC for Gwithian, I was curious to ask why there were no Parish Books available on Family Search only to find that the volunteer clerk was very happy to supply me with original records. I replied back with my wish list and within a day I was sent four precious records including the baptism of Amey Tyack. These four records are illustrated on the next four pages and give four generations of the family from 1768 back to 1680. This is an incredible tradition of Hockin children being baptised in the same church for over a century. It shows that these families were settled in this area and living a relatively undisrupted lifestyle, probably as farmers in the area.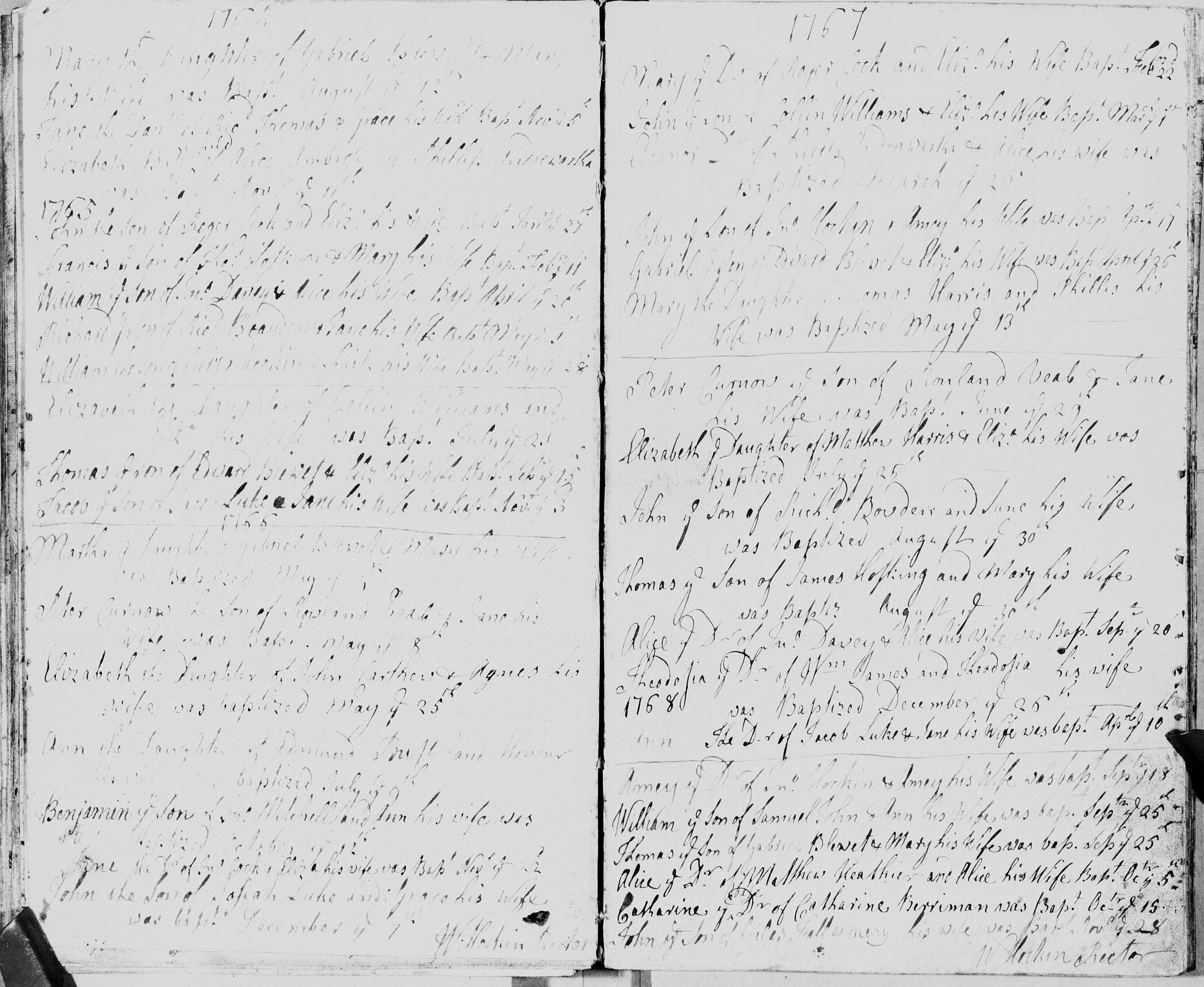 Baptism of Amey Hockin daughter of John and Amey Hockin, 18 September 1768, Gwithian
Amey's father John Hockin was baptised in Gwithian on 17 February 1742, son of Oliver and Faith Hockin.
Oliver Hockin was born and baptised in Gwithian on 15 April 1718, the son of William Hockin and his wife Jane.
William Hockin was baptised on 23 January 1680 at Gwithian, the son of John Hockin and his wife Alice.
John Hockin married Alice Harry in Camborne, Cornwall on 18 January 1667. They had eleven children between the years 1669 to 1687. Alice Harry was the daughter of John and Grace Harry.
Richard Hockin was baptised 17 June 1616, the son of Thomas Hockin and Grace Allen. Richard was the father of John Hockin, who was born in Phillack in 1644, he married Elizabeth Andrewartha in Phillack in 1641.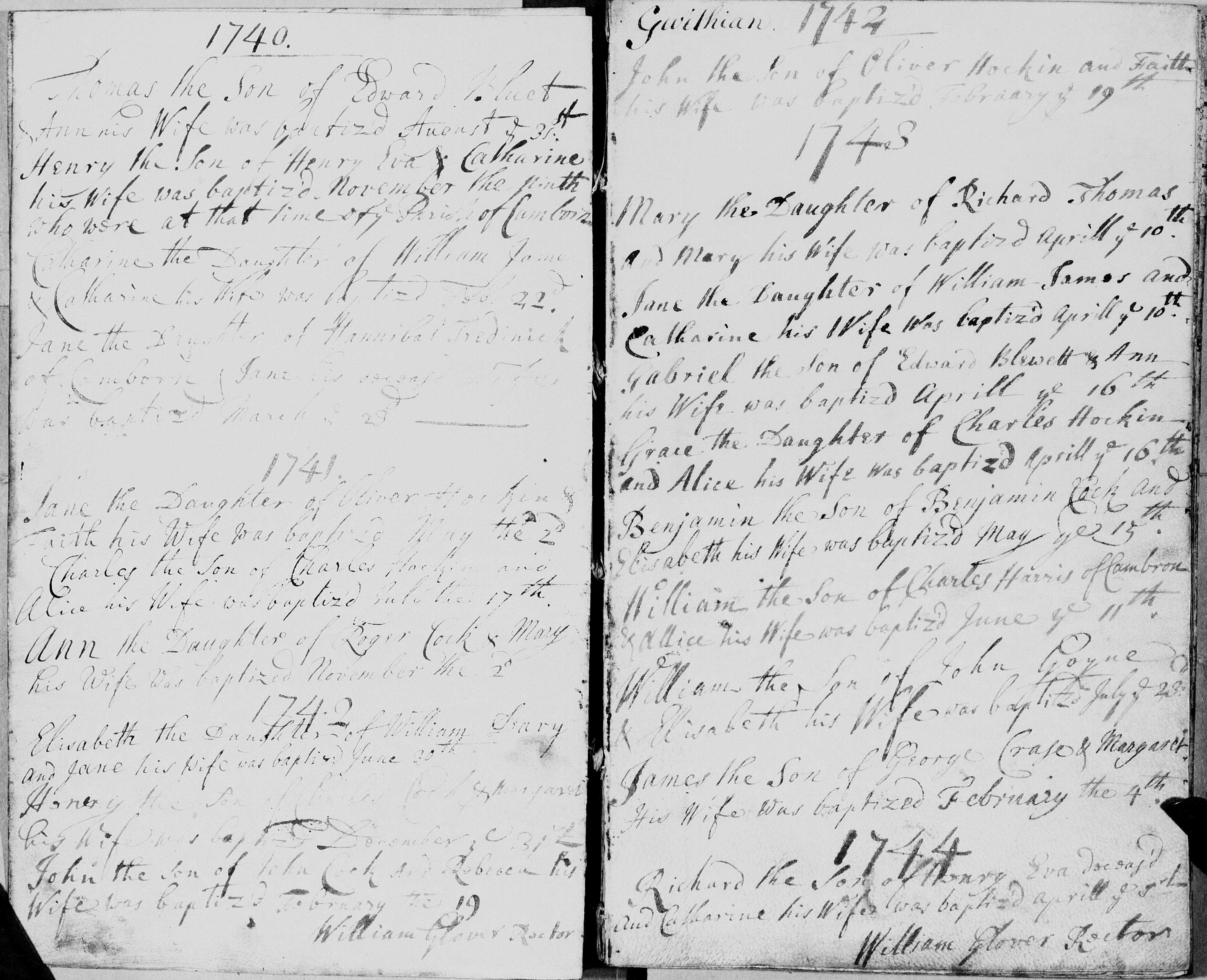 Baptism of John Hockin, son of Oliver and Faith Hockin on 17 February 1742, Gwithian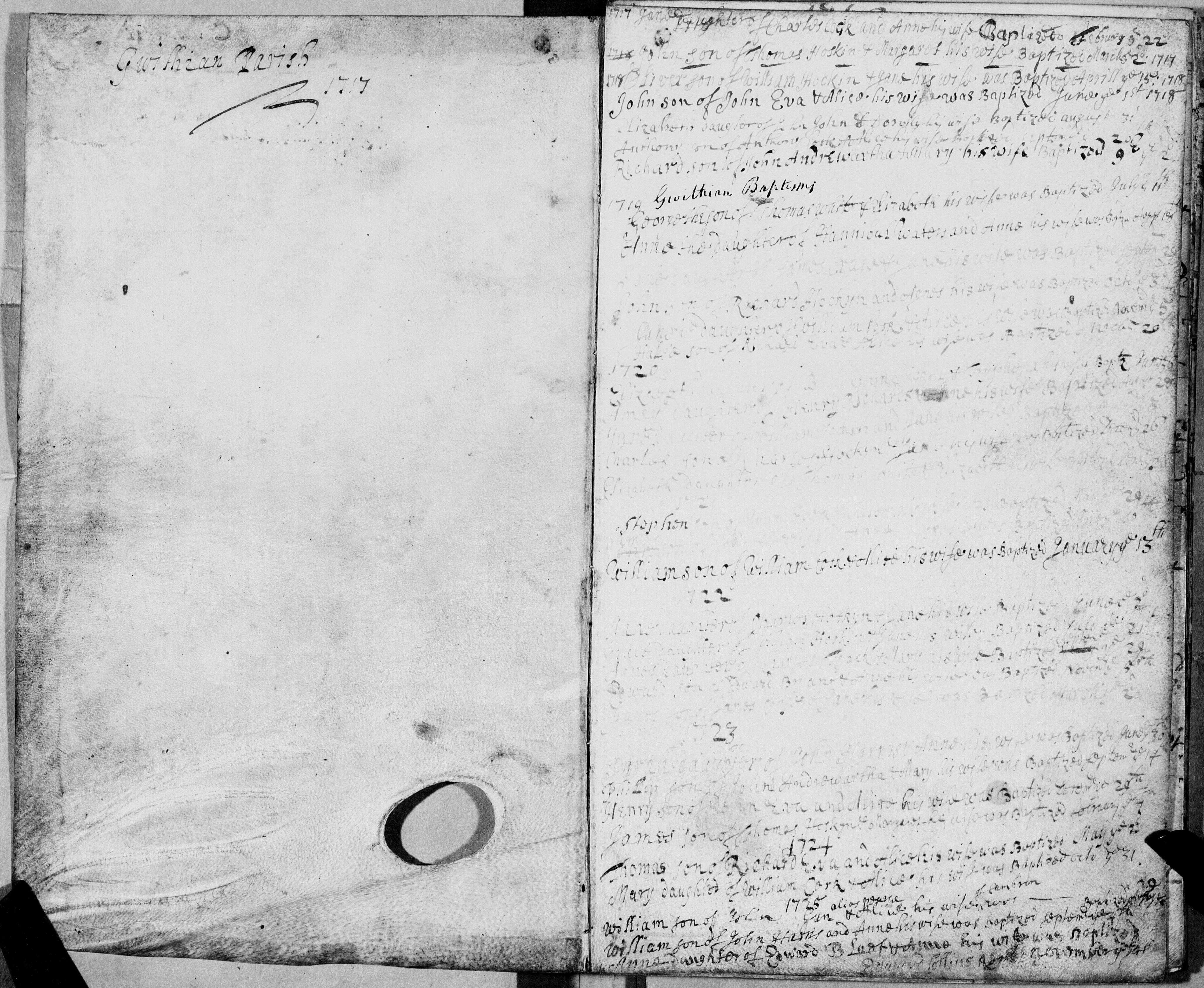 Baptism of Oliver Hockin, son of William and Jane Hockin, 15 April 1718, Gwithian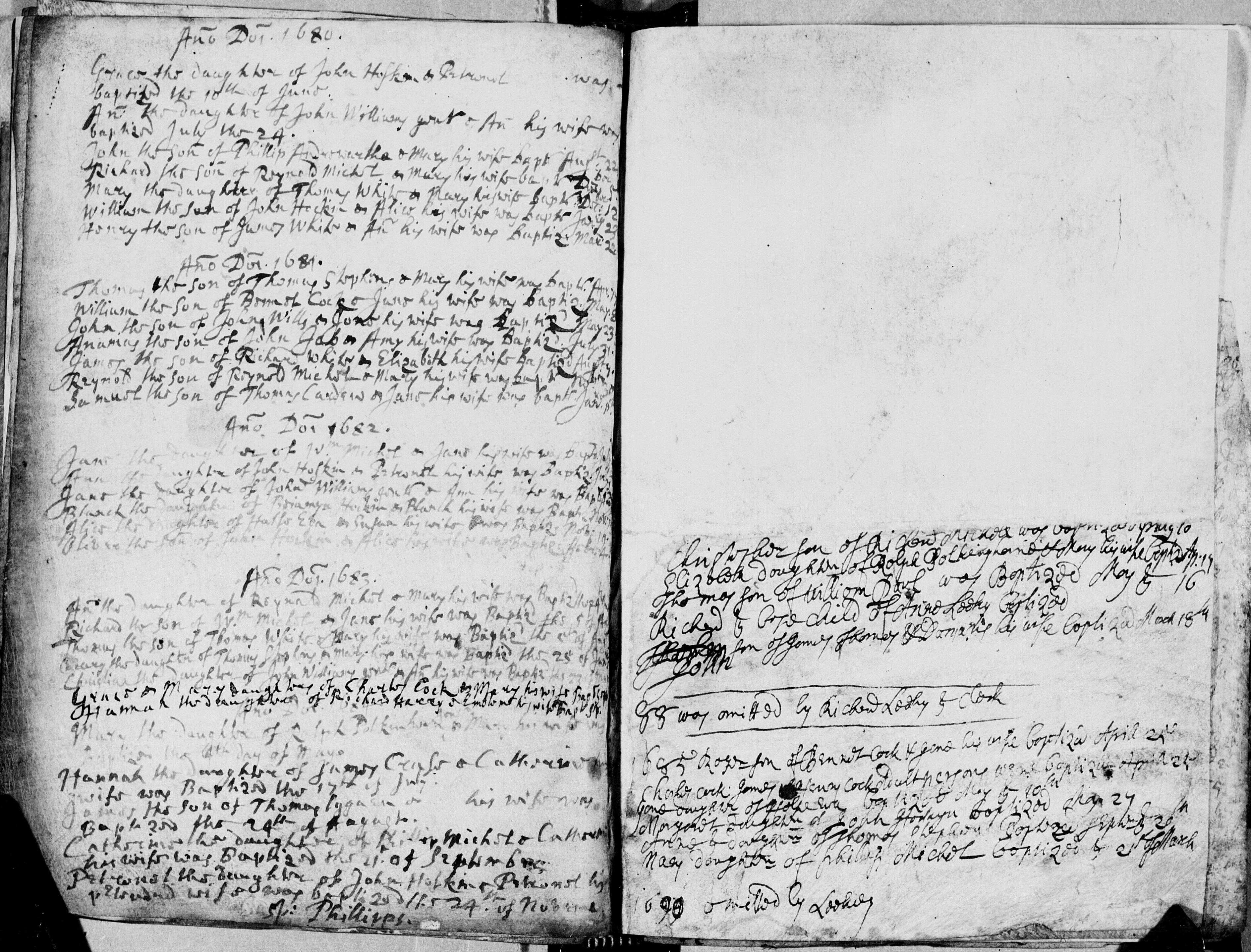 William Hockin, son of John and Alice Hockin, 23 January 1680, Gwithian, Cornwall
In 1660 England saw the Restoration of the Monarchy under Charles II, after an unsettled and probably frightening era under Cromwell. Then the bubonic plague hit London in 1665 and wiped out huge swathes of the population. Apparently it didn't arrive in Cornwall until 1667, and although the toll was not as high in country areas there were pockets where the disease wiped out up to 50% of the population. Its arrival must have been greatly feared by these communities.
PHILLACK, CORNWALL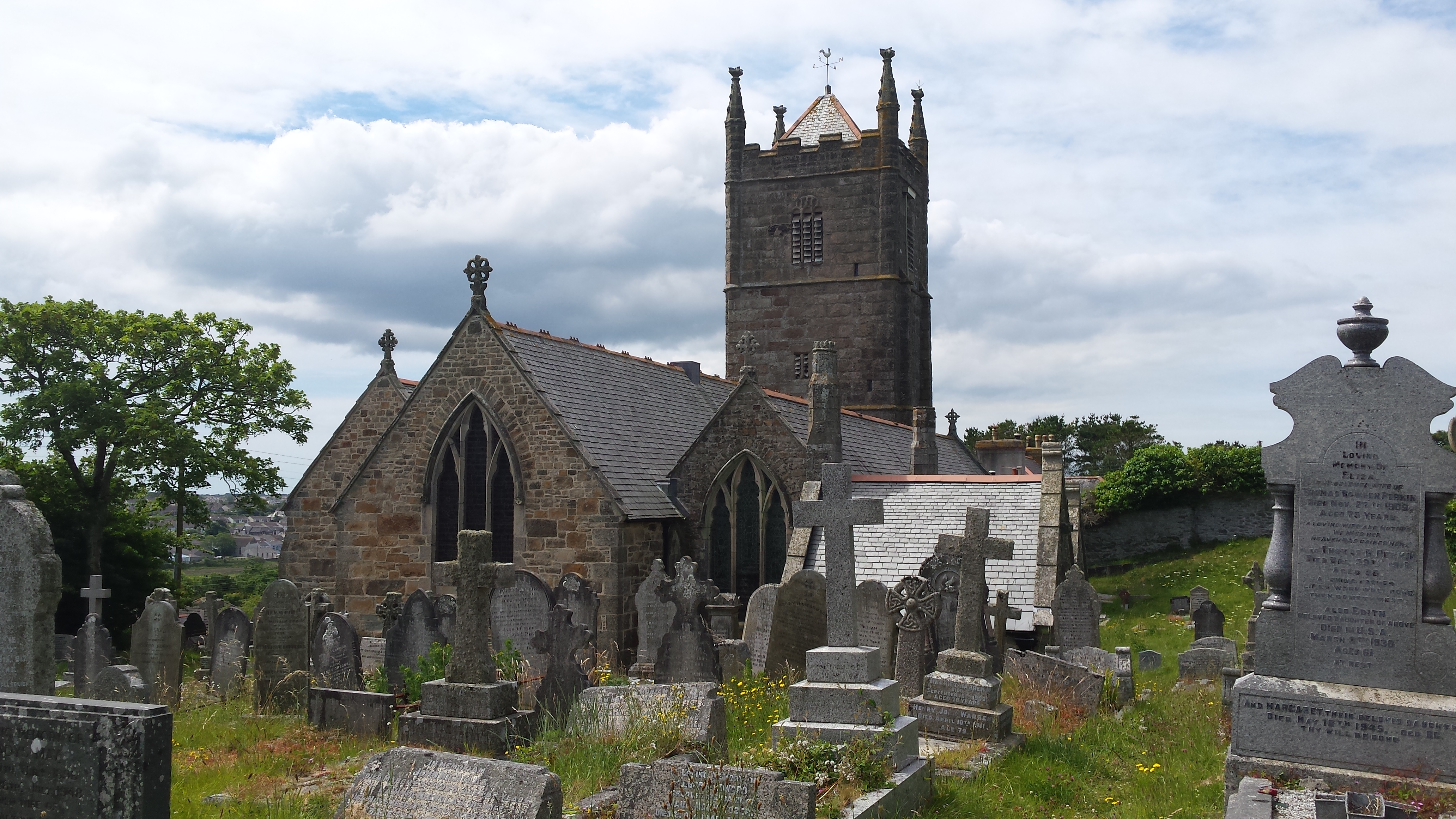 Saint Felicitas in Phillack, Cornwall, England
"PHILLACK (St. Felix), a parish, in the union of Redruth, E. division of the hundred of Penwith, W. division of Cornwall, 9 miles (W. by S.) from Redruth, There is a place of worship for Wesleyans. 

Phillack (Cornish: Sen Felek) St Felicitas is an Ancient Parish in the county of Cornwall.  Gwithian was a chapelry of Phillack. Other places in the parish include: Foundry, Guilford, Hayle, Logans, Venton League, and Angarrack. 
There is some dispute over the origins of the name. In the 17th century, Phillack was believed to refer to the Irish Saint Felicitas who is said to have founded Phillack church in the 6th century. However, a 10th century Vatican codex mentions a Saint Felec of Cornwall who is believed to have lived about the same time and may be dedicatee of the parish church
The church was originally the parish church also of Hayle: it was built in the 15th century and rebuilt in 1856 by William White but the tower is original." www.familysearch.org/phillack
This website below lists the parish registers for Phillack and is quite comprehensive:
http://freepages.genealogy.rootsweb.ancestry.com/~phillack/phillack_pr.htm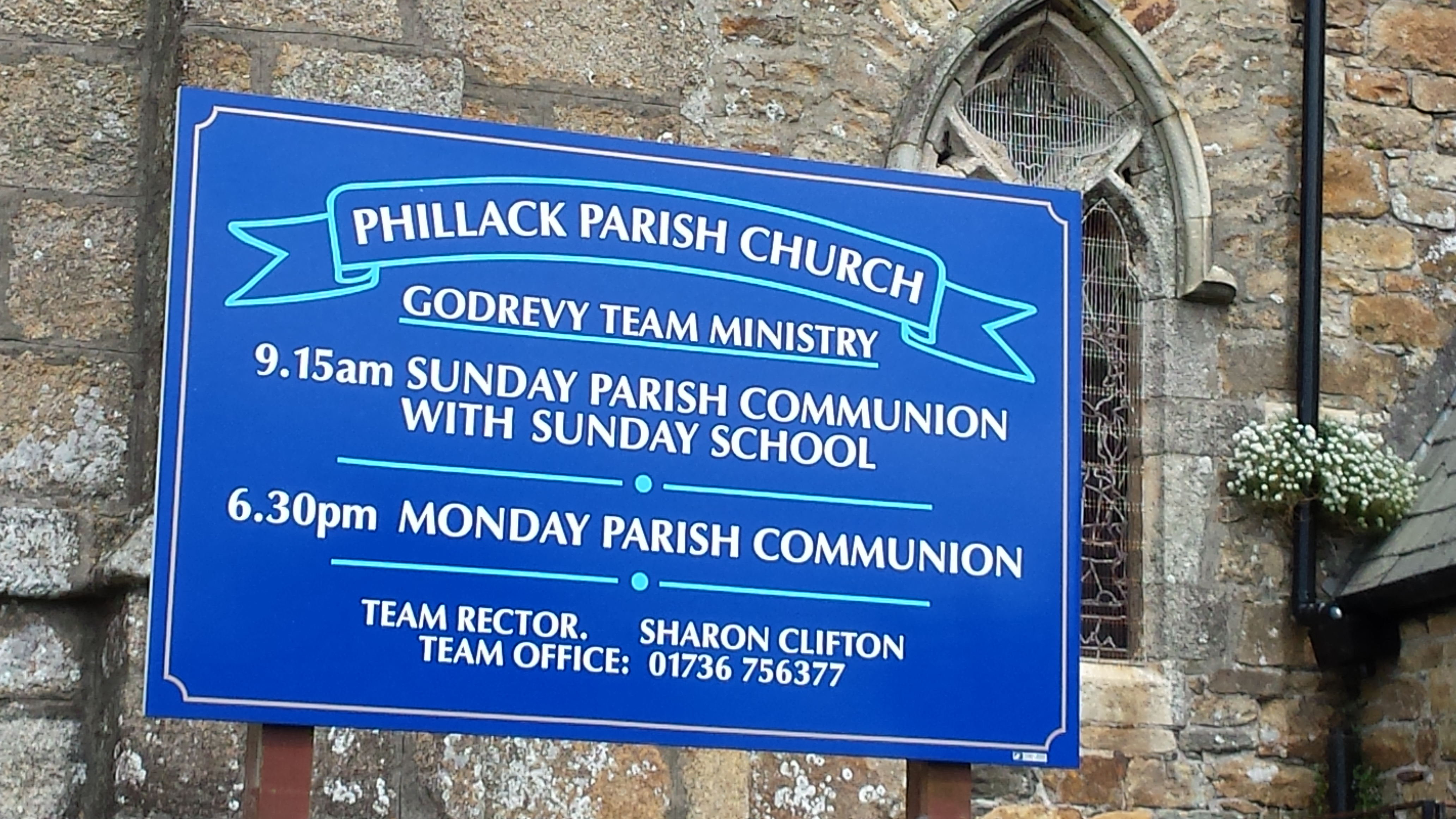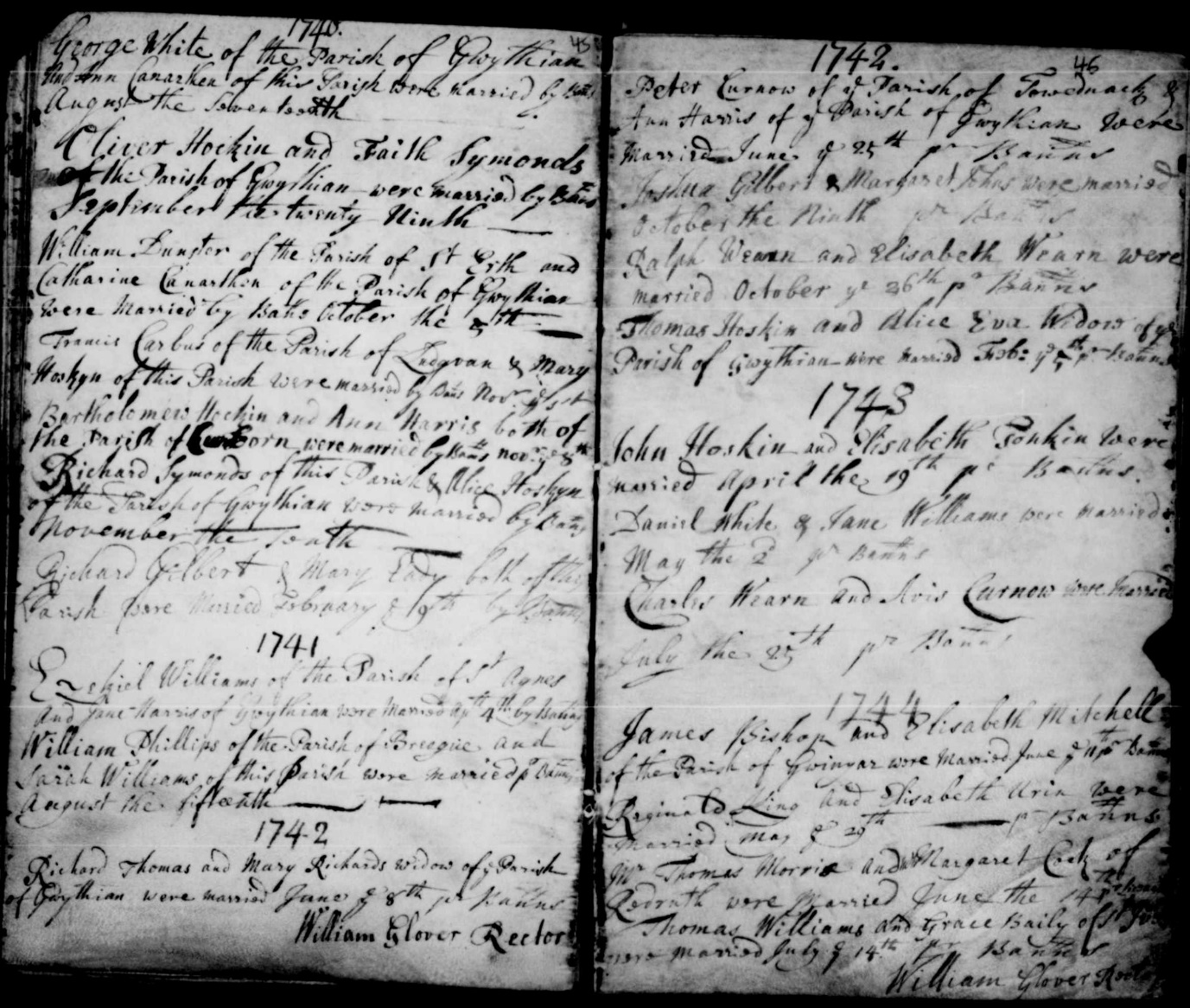 "Oliver Hockin and Faith Symonds, of the Parish of Gwithian were married", 29 September 1740, Phillack
Oliver Hockin and Faith Symonds are my 6th Great Grandparents.
On 18 February 1706 William Hockin married Jane Stephens at St Felicitas, Phillack, Cornwall and they had a large family of nine children. Oliver Hockin, their youngest son, was baptised in 1718 in Gwithian. Incredibly many of our ancestor records go back many centuries in this Parish. This next record below is for Oliver's paternal grandfather John Hockin.
John Hockin was baptised in Phillack 1 December 1644 the son of Richard Hockin and Elizabeth Trewartha:
England, Select Births and Christenings, 1538-1975
| | |
| --- | --- |
| Name: | John Hockin |
| Gender: | Male |
| Baptism Date: | 1 Dec 1644 |
| Baptism Place: | Phillack, Cornwall, England |
| Father: | Richard Hockin |
| Mother: | Elizabeth |
| FHL Film Number: | 245198 |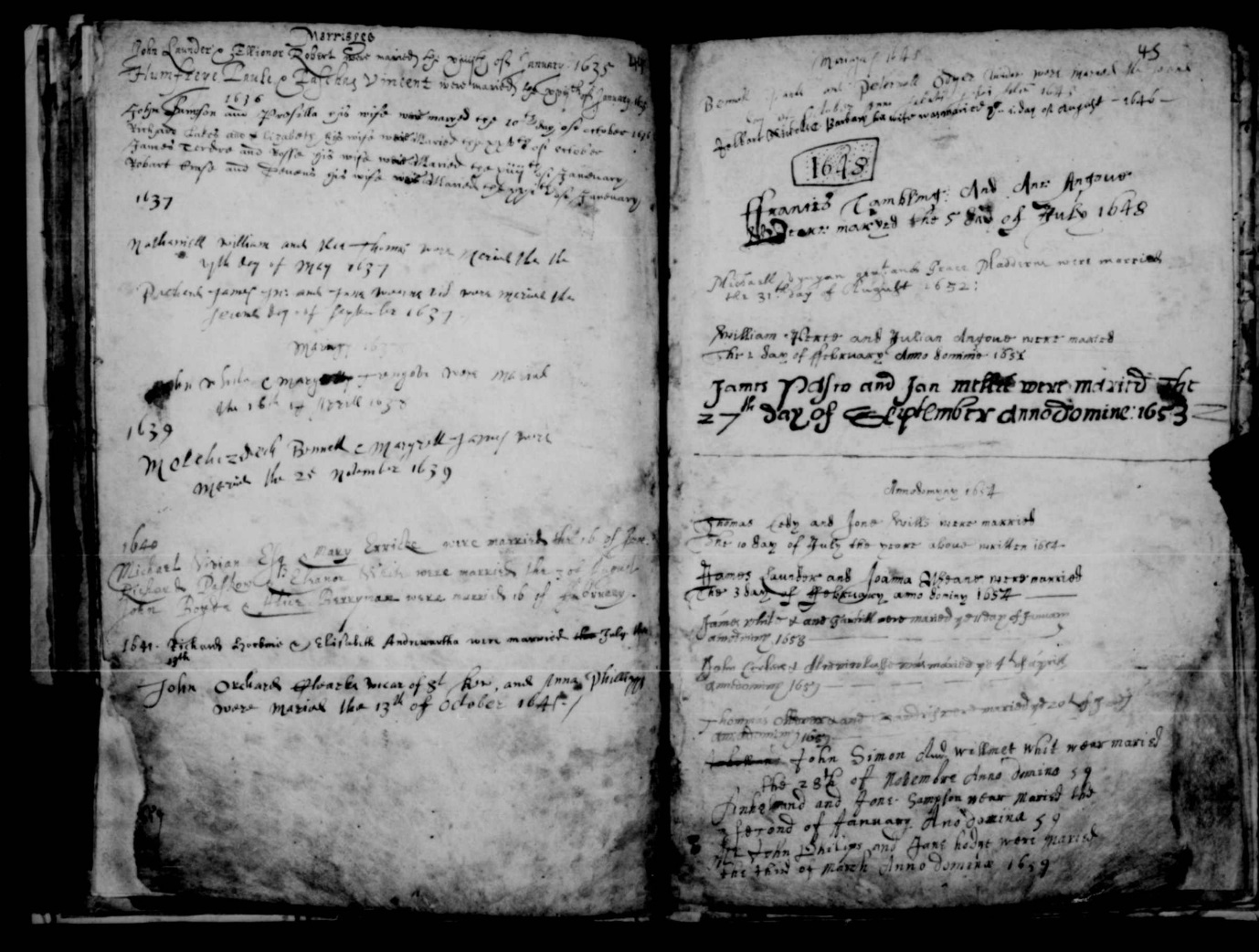 Richard Hockin married Elizabeth Andrewartha/Trewartha at St Felicitas, Phillack on 19 July 1641
England, Select Marriages, 1538-1973
| | |
| --- | --- |
| Name: | Richard Hockine |
| Gender: | Male |
| Marriage Date: | 19 Jul 1641 |
| Marriage Place: | Phillack, Cornwall, England |
| Spouse: | Elisabeth Andrewartha |
| FHL Film Number: | 254198, 254201, 254202, 90263 |
Richard Hockin died 14 May 1685 and left the bulk of his estate to his son John Hockin, our direct ancestor.
Last Will and Testament of Richard Hockin:
"RICHARD HOCKIN, yeoman, of Gwithian written: 29 Mar _____ (year not stated) proved: 25 May 1685MR. PHILLIPPS, parson 2 sh. 6 d. for forgotten tithe and offerings brother's son: THOMAS HOCKIN __ L. serving maid: FRANCIS WHITE 10 sh. brother: CHARLES HOCKIN 10 sh. son: JOHN all the rest & executor Richard ( ) Hockin witnesses: CHARLES COCK, JOHN ( ) JOBE, AMY ( ) JOBEAP/H/2163"
http://webs.lanset.com/azazella/willscor_pen.html
The link above is where I found many of the marriage and baptism facts on the Hockin family of Cornwall.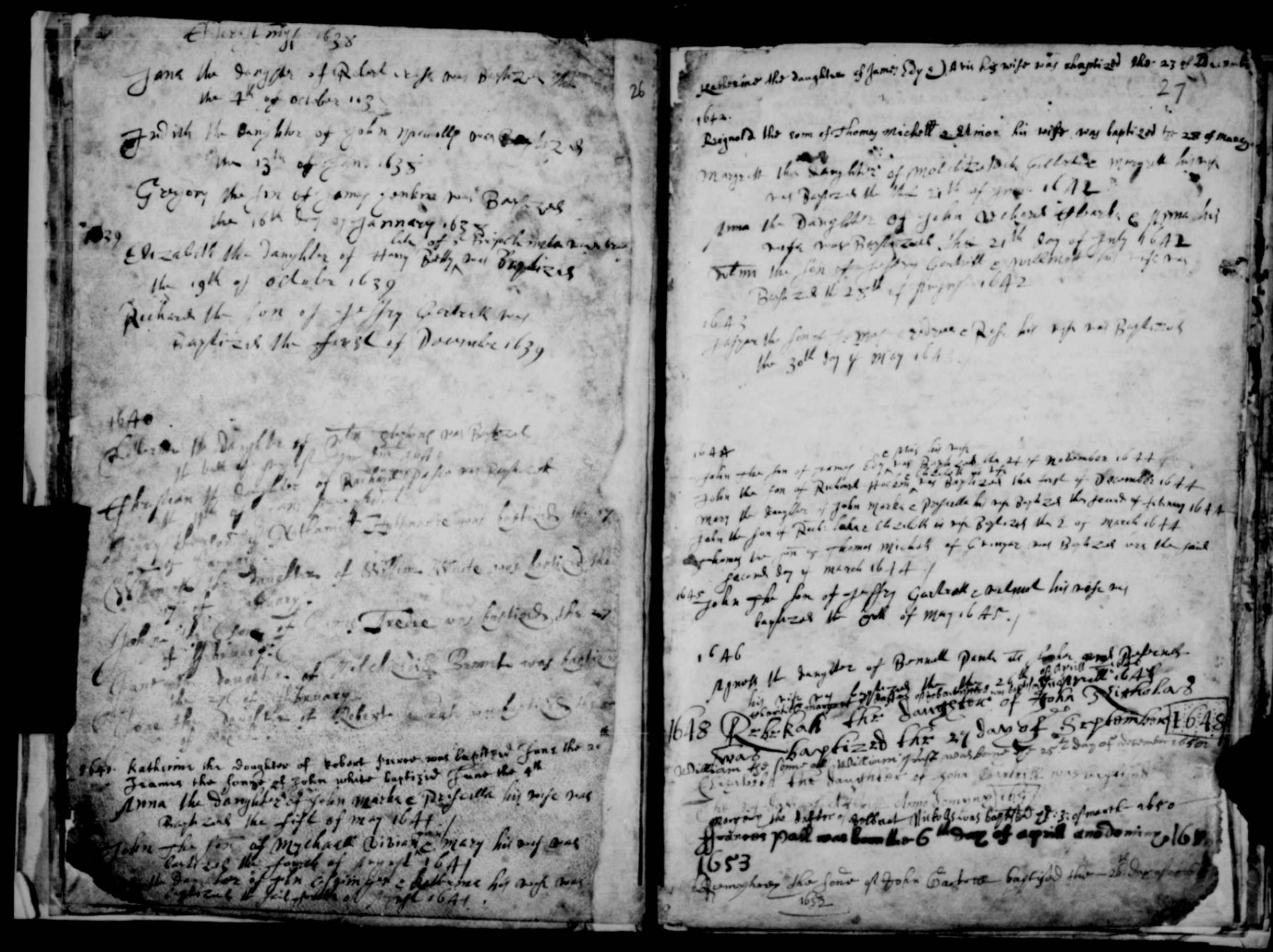 Baptism of John Hockin, son of Richard Hockin and Elizabeth Trewartha 1 Dec 1644, Phillack, Cornwall.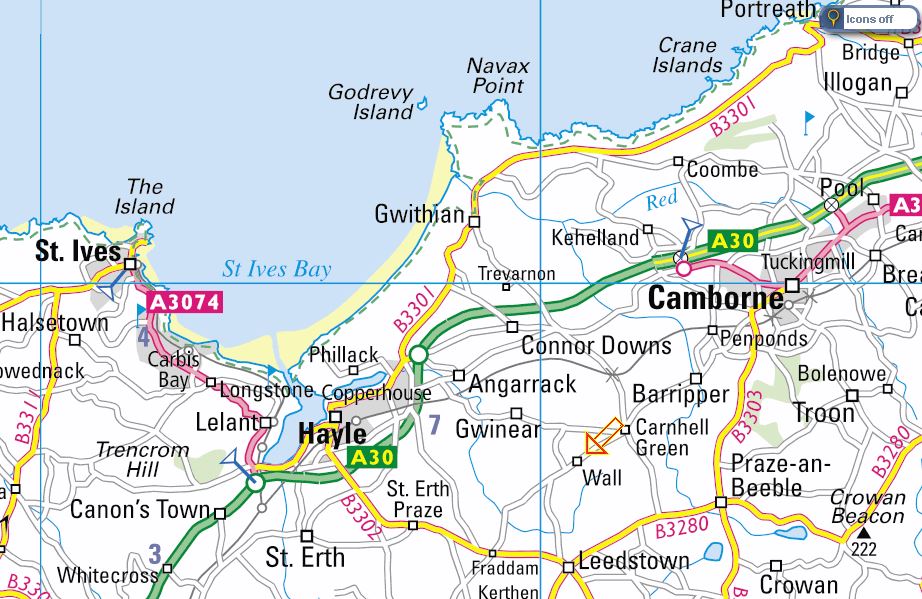 Map of the west coast of Cornwall showing Camborne, Gwithian and Phillack.
The information below was found online and I found it a most interesting account of our ancestors:
Phillack, Cornwall England
A village on the north side of the Hayle estuary, stretching from the mouth of the Hayle river at Riviere Towans, northwards to Godrevy Point. This was where John Hockin left a farm called Caleane, adjoining Gwithian, in the parish of Camborne, bought some land at Godrevy, and settled there. He was a well-known hurler, and once, aged 19, carried off the ball from Four Borough Downs at an "Out-ball", and brought it himself to Camborne in opposition to a vast number of horsemen and footmen. His issue were 9 children. He was buried at Gwithian on the 15th of April, 1706. The eldest son of his first son John, was to purchase in 1754, from Henry, Baron Arundel of Wardour, the lease for three lives of presentation to the rectory of Phillack, with the chapelry of Gwithian. His second son, Thomas, was the one who caused the family to later receive a Grant of Arms from the Queen.
The Hockin family was granted, in 1764, their coat of arms:- "Per fesse wavy gul: & az: a lion passant guardant. Beneath the feet a musket lying horozontally pp. (sic) (this may be a typing error in the article) Semee of fleur de lis of the third. Crest. on a rock a seagull rising. ppr."
During the reign of Queen Anne of England, the country was at war with France. Off the coast of Godrevy, overlooking the Bristol Channel a French ship was spied and the villagers feared pillaging if the French landed. The Hockin family and their neighbours hid upon the cliffs overnight, watching and ready for battle, with spears and guns at the ready. However by daybreak with no apparent danger to their village, they dispersed back to their village thinking the threat of invasion was over. John Hockin's son Thomas, was then made aware of a boat load of French rowing to shore. He picked up his gun and spear and made for the cove, where, sheltering behind a rock, he fired upon the boat forcing it to turn back, thus saving his village from plundering. He was heroically greeted by the townsfolk and the legend of his defence bought about the granting of the family crest from a grateful Queen.
The story is also told by Dave Hockin, whose website tells the tale which apparently came from a newspaper article written at the time.
From the website: http://www.telecall.co.uk/~78741/phillack.htm
He writes:
"Artist: J.E.Hockin, Portishead. '96
These arms were granted to all the DESCENDANTS of the original John Hockin the Hurler, the father of Thomas who had been the one in action against the French. They were granted by Queen Anne, not the College of Heralds, although one of the Heralds (Francis Martin, Bluemantle Pursuivant), drew up the official document, with the description of the arms, the crest and made up the motto:-
"Hoc in Loco Deus Rupes" = This in the Place of God's Rock i.e. Hockin at Godrevy.
Being a grant from the Queen, these arms pass down through both the male and the female lines, unlike one from the College of Heralds.
I have seen, but do not have a copy of the original Herald's document. That was signed by the particular Herald. The above has been taken from a carbon (typed) copy of an article for publication (date of original publication unknown)." Dave Hockin.
The Hockin Family History by David Hockin, whose family migrated to Canada, is well known for the knowledge he has on Cornwall and our ancestors.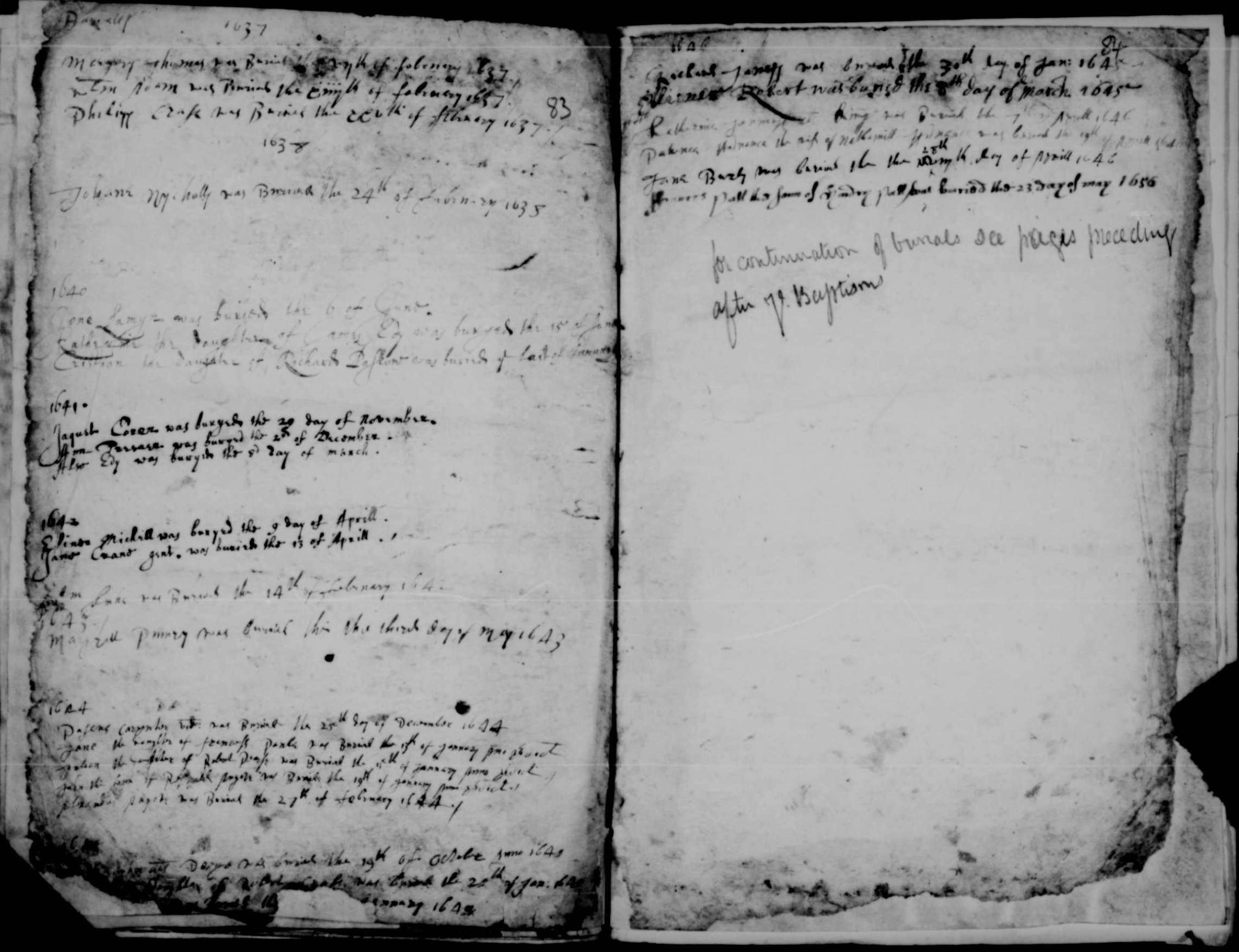 Burial of Alexander Angove, 27 Feb 1645 at Saint Felicitas, Phillack
TRANSCRIPTION OF THE WILL OF ALEXANDER ANGOVE:
In the name of god Amen, I Alexander Angove being
now growne Aged & weeke of body but of p'fect memory for
wch I give most hearty thankes to Almighty god doe make &
ordaine this my last will & testamt in manner & forme following
Ims. I bequeathe my soule unto the hands of Almighty god
that gave it, & my body to Christian buriell
Item I give & bequeath unto the poore of the parish of Illogan iii sh. 4 d.
and to the poore of the parish of Phillack iii sh. 4 d.
Item I give unto Jane Angove my grandchild the sum of [five?]
pounds currant mony of England
Item I give unto Nathaniell Angove my grandsone forty shillings of like mony
Item I give to each of the rest of my son Reynolds children to witt Anne, John, Julian, & Elizabeth, twenty shillings apeece of like lawfull mony
Item I give to every of the rest of my grandchildren xii d apeece
Item I give to the Rector of the parish of Phillack for tith forgott five shillings
Item I give to Reynold my son & Alce his wife ye estate of on tenemt in Eglishaile called Parke an Deere als Parke Egles haile for terme of theire severall lives if the said Reynold & Grace the wife of John Harry my daughter happen so long to live & after the decease of the said Reynold & Alce his wife my will is that John Angove my said grandchild shall have the remander of the said estate
All the rest of my goods & Chattles not given & bequeath I give unto the said Reynold Angove my son whome I make whole
executor of this my last will & testmt In witness here
to I have hereunto sett my hand & seale even the xxvith
day of December Anno dom 1643
signe Alixander Angove
this will was declared by the
said Alexander in the p'sence of
Gregory Phillipps
Website reference:http://thesignsofthetimes.com.au/15/671343.htm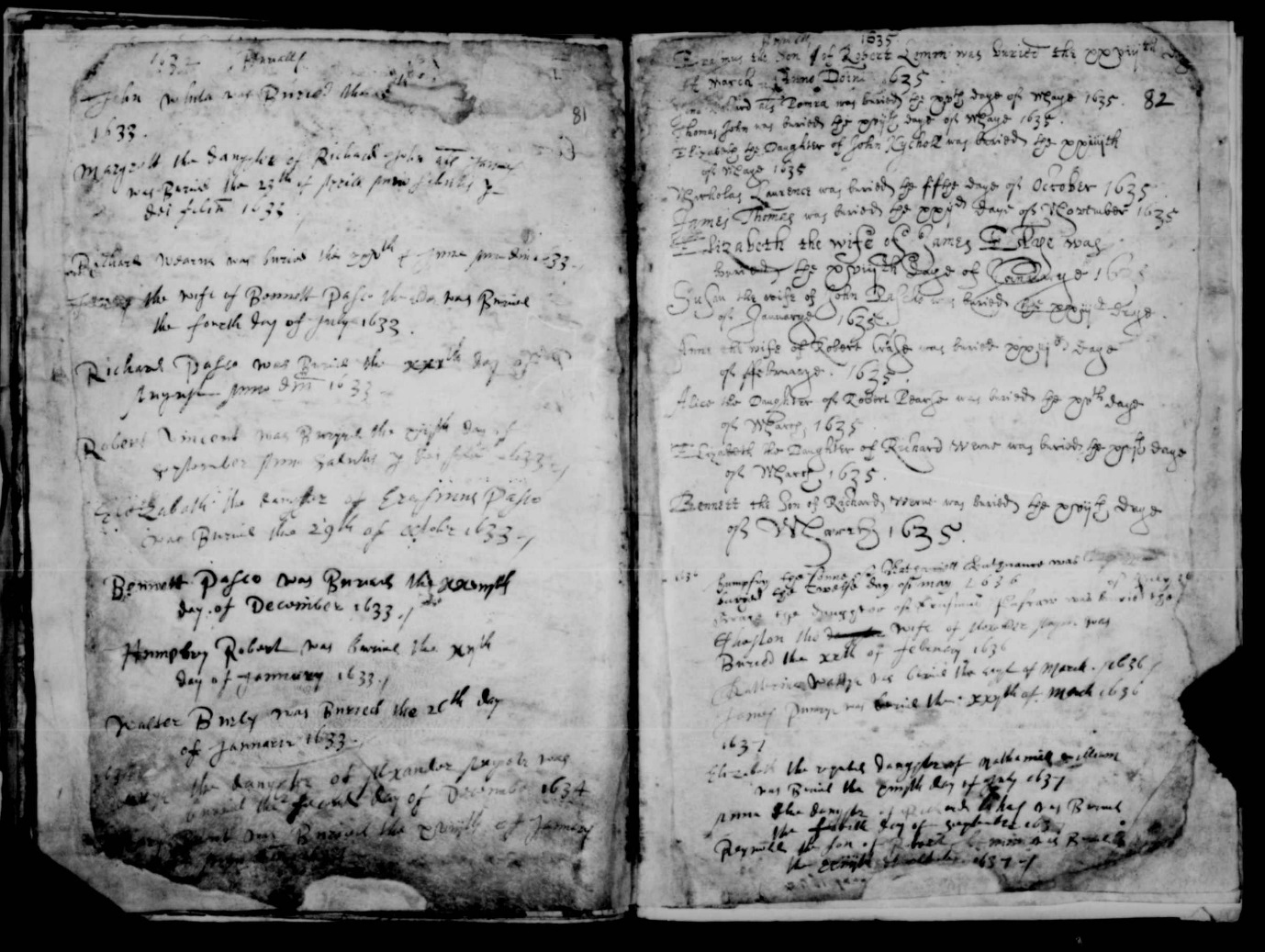 Burial of Chesten, wife of Alexander Angove, 20 February 1637, at Saint Felicitas, Phillack, Cornwall
Alexander and Chesten Angove were the parents of Grace Angove, the wife of John Harry of Gwithian.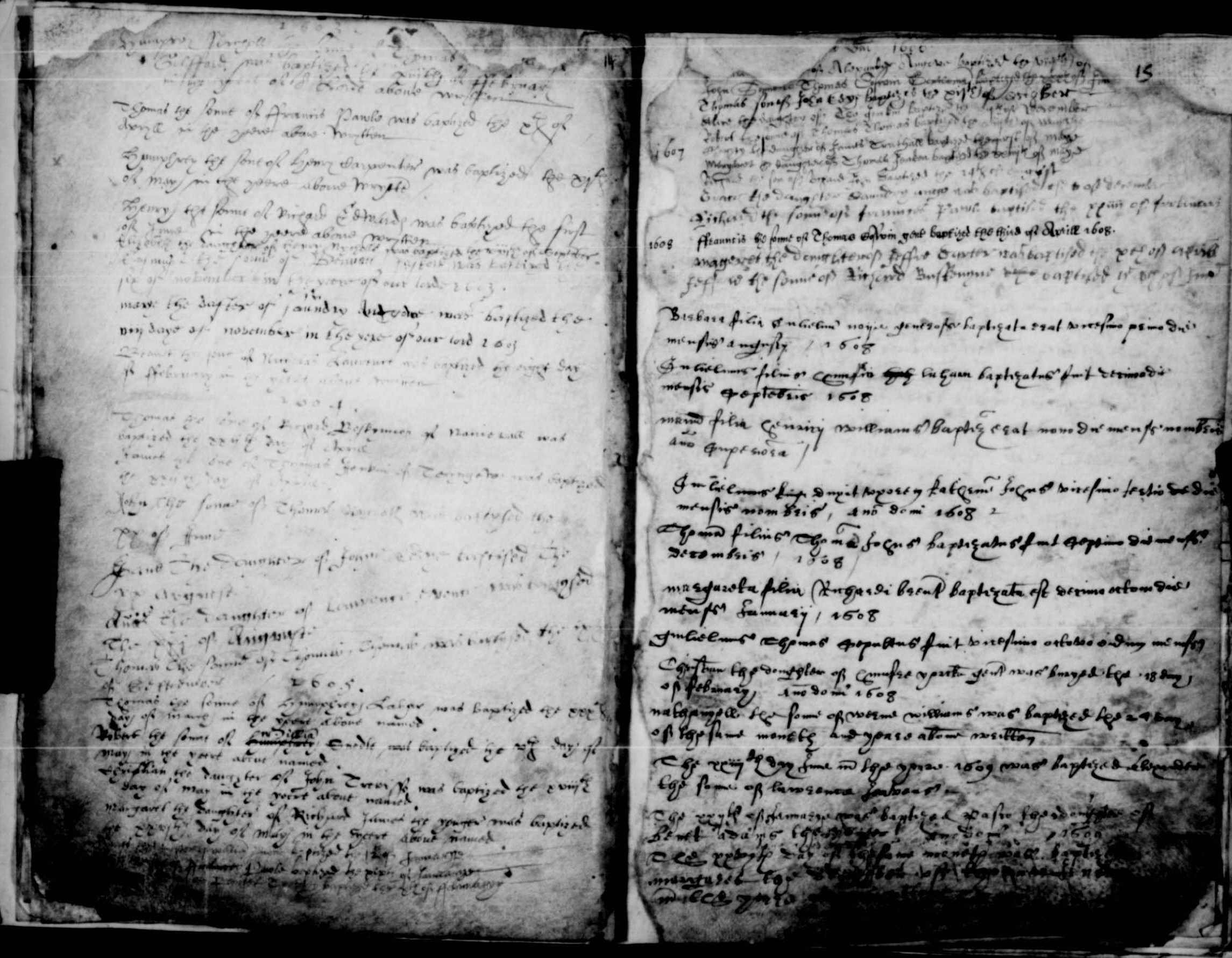 Baptism of Grace Angove, daughter of Alexander Angove, 5 December 1607, Phillack, Cornwall
I found two websites of interest recently which were very helpful in supporting some of the documentation and records on ancestry.com:
http://thesignsofthetimes.com.au/15/673008.htm
http://azazella.proboards.com/thread/120/hunch-pays-off
"There are a number of document in the Arundell of Lanherne and Trerice files that relate to the Harry and Cock families holding Tolsethan.
The three most pertinent to our family are:
ref. AR/4/352 – date: 13 October 1630 – Agnes, wife of Richard Harry; and John Harry, their son
ref. AR/4/353 – date: 20 January 1650/51
(1) Sir John Arundell of Lanherne to
(2) John Harrye of Talsethan in Gwithian, yeoman
Counterpart of lease for 99 years on life of Mary Harrye, daughter of John Harrye of Talsethan in Gwithian, yeoman; to commence from deaths of John Harry and Agnes Harrye, widow, mother of said John Harry
ref. AR/4/354 – AR/4/355 – date: 15 June 1675 – Lease and counterpart, in reversion, for 99 years, on lives of Mary wife of Charles Cock of Gwithian, yeoman, and John Cock their son; to commence from termination of the estate of John Harrys."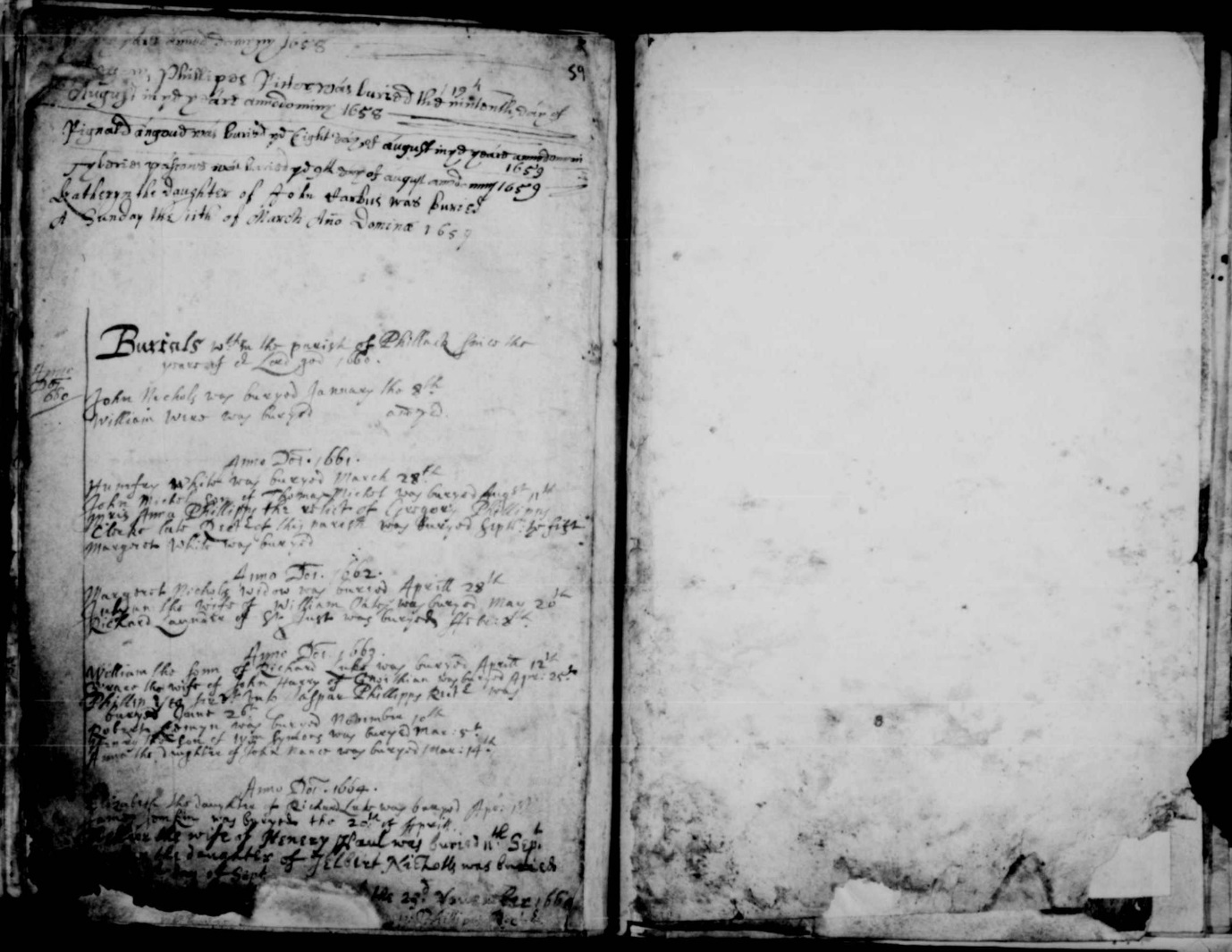 Burial of Grace the wife of John Harry of Gwithian, 25 April, 1663 at Saint Felicitas, Phillack
John Harry and Grace Angove were the parents of Alice Harry who married John Hockin on 18 January 1667 in Camborne.
CAMBORNE, CORNWALL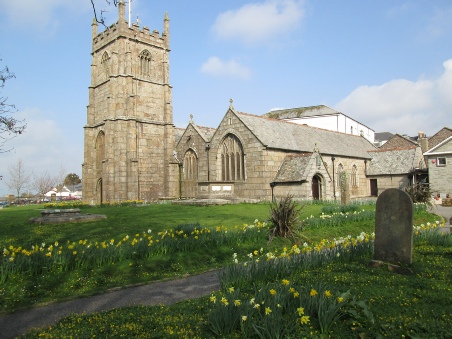 Church of St Martin and Meriadoc, Camborne, Cornwall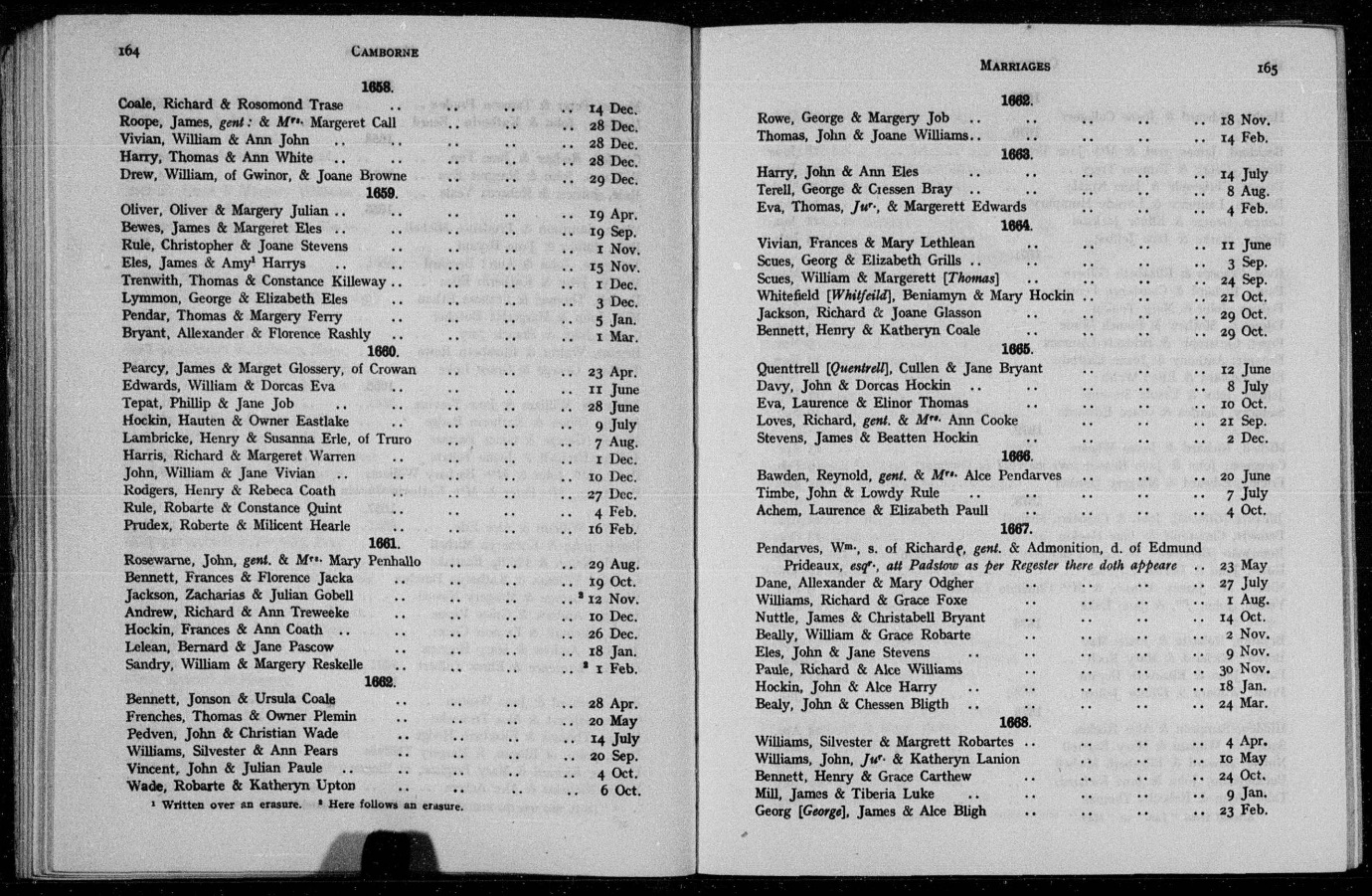 Marriage of John Hockin and Alice Harry 18 January 1667 at Camborne.
John Hockin was the son of Richard Hockin and Elizabeth Trewartha 1 Dec 1644, Phillack, Cornwall.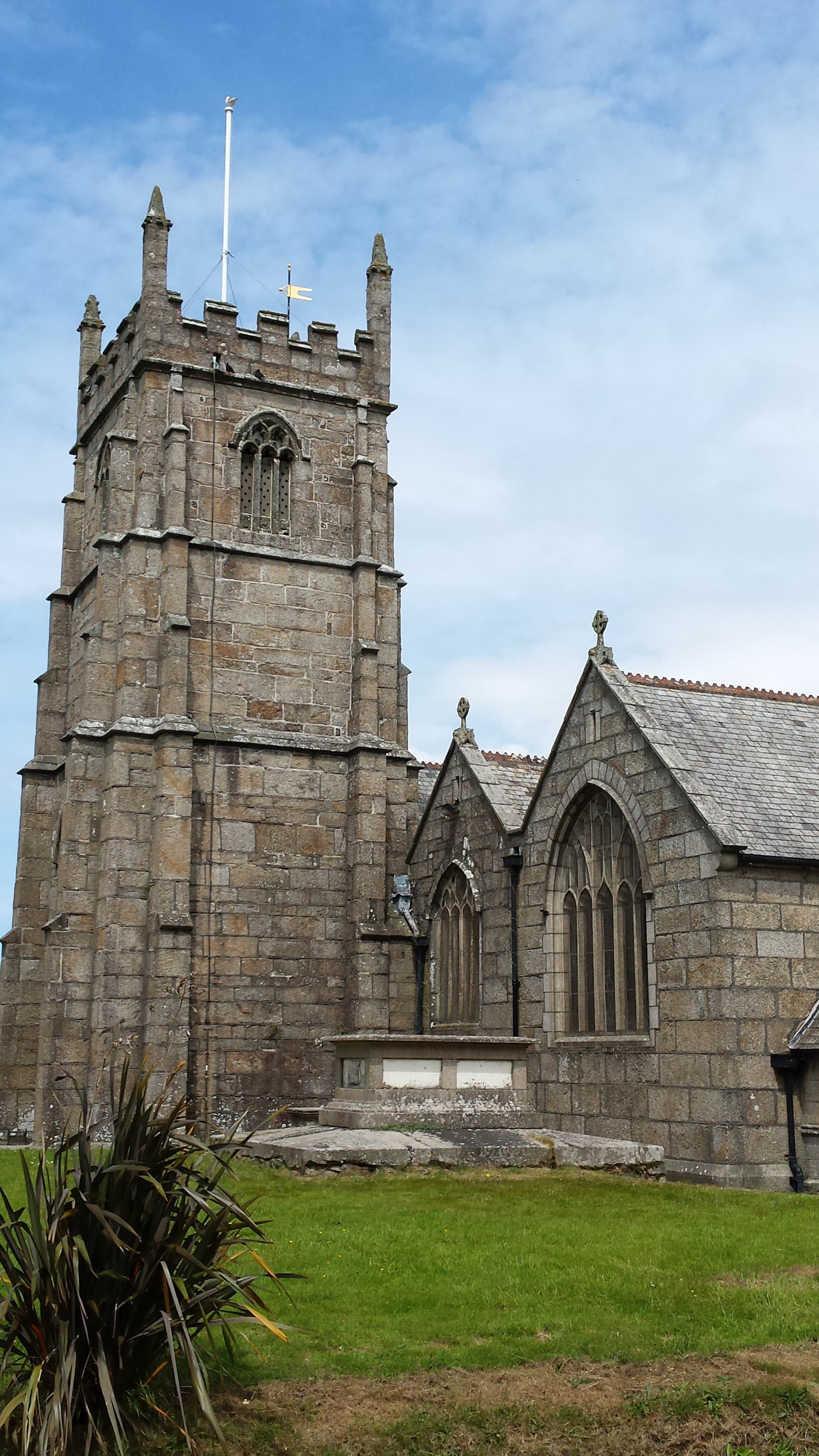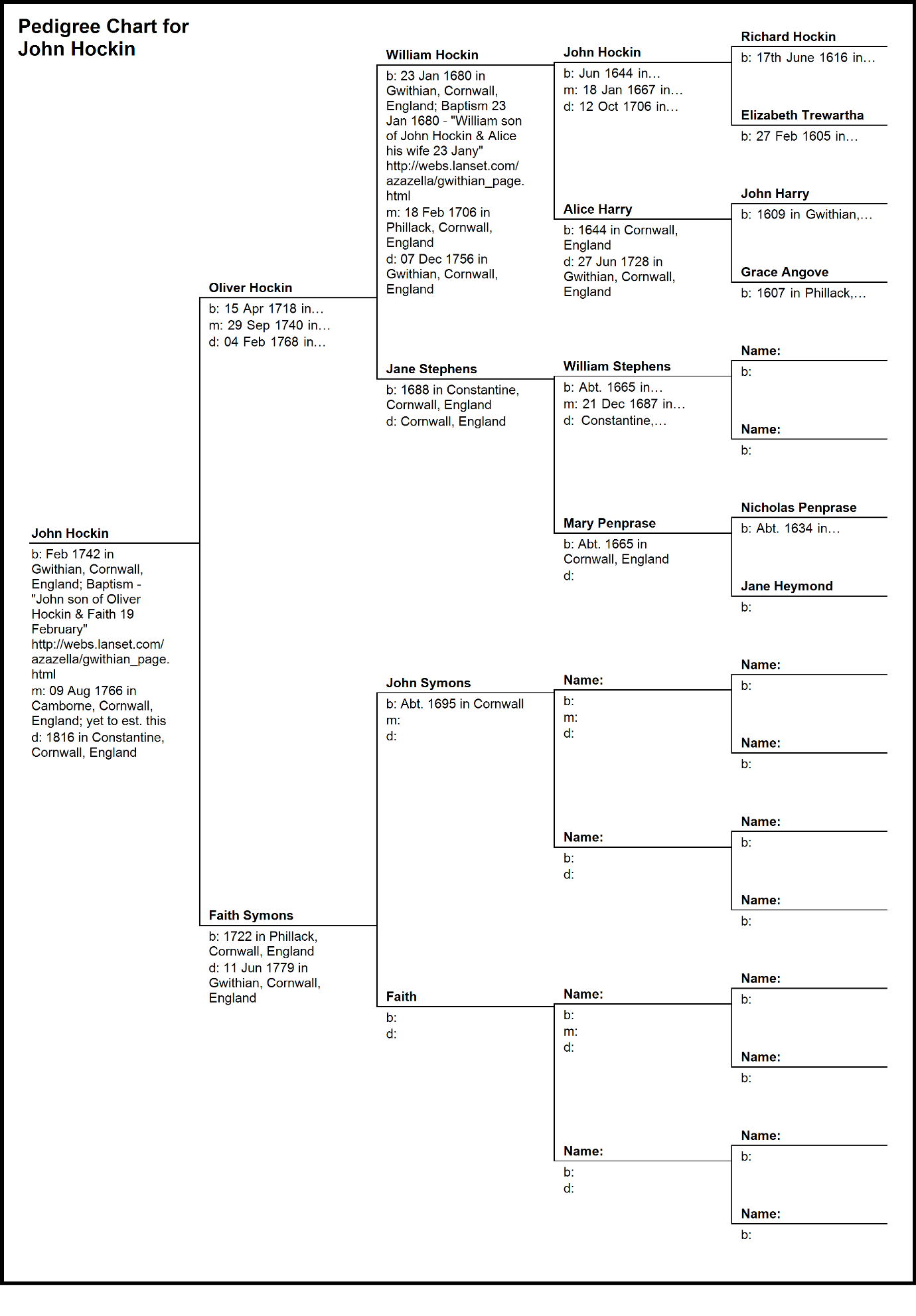 John Hockin is my 5th Great Grandfather. John Hockin married Amey Hockin on 9 August 1766, according to transcriptions from the Camborne Parish Online Records. Amey was the daughter of Bartholomew and Ann Hockin of Camborne, baptised at Camborne on 30 August 1741. John and Amey were possibly cousins.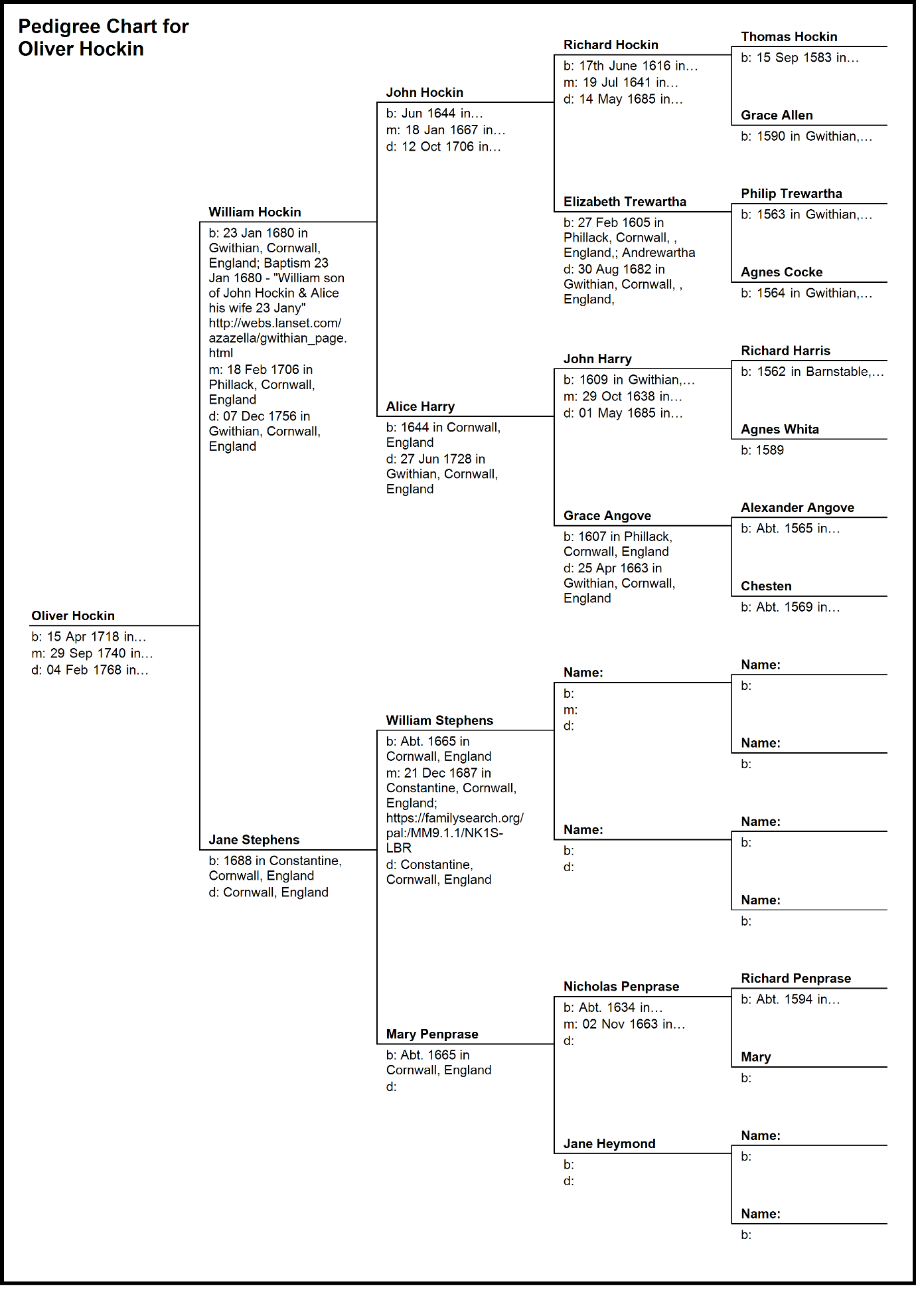 Oliver Hockin is my 6th Great Grandfather, it is pretty amazing for me to be able to create his fairly complete Pedigree Chart which then goes back another four generations.
Marriage of Peter Trevailey and Frances Jeffry, 13 September 1679 at Camborne:
| | |
| --- | --- |
| Day Month | 13-Sep |
| Year | 1679 |
| Parish Or Reg District | Camborne |
| Groom Fn | Peter |
| Groom Sn | TREVAILEY |
| Groom Age | |
| Groom Residence | |
| Groom Condition | |
| Groom Rank Profession | |
| Groom Signed / Marked (S/M) | |
| Groom Father Name | |
| Groom Father Rank Profession | |
| Bride Fn | Frances |
| Bride Sn | JEFFRY |
| Bride Age | |
| Bride Residence | |
| Bride Condition | |
| Bride Rank Profession | |
| Bride Signed / Marked (S/M) | |
| Bride Father Name | |
| Bride Father Rank Profession | |
| Banns / Licence (B/L) | |
| Witness Fn1 | |
TranscriberSally Cann
Peter Trevailer and Frances Jeffry are my 7th Great Grandparents.
Their daughter Frances Trevailer married Henry Northey on 5 June 1734 at St Agnes, Cornwall. On the next page is the pedigree chart for their son James Northey who married Elizabeth Pascoe on 4 March 1772 at Kenwyn in Cornwall.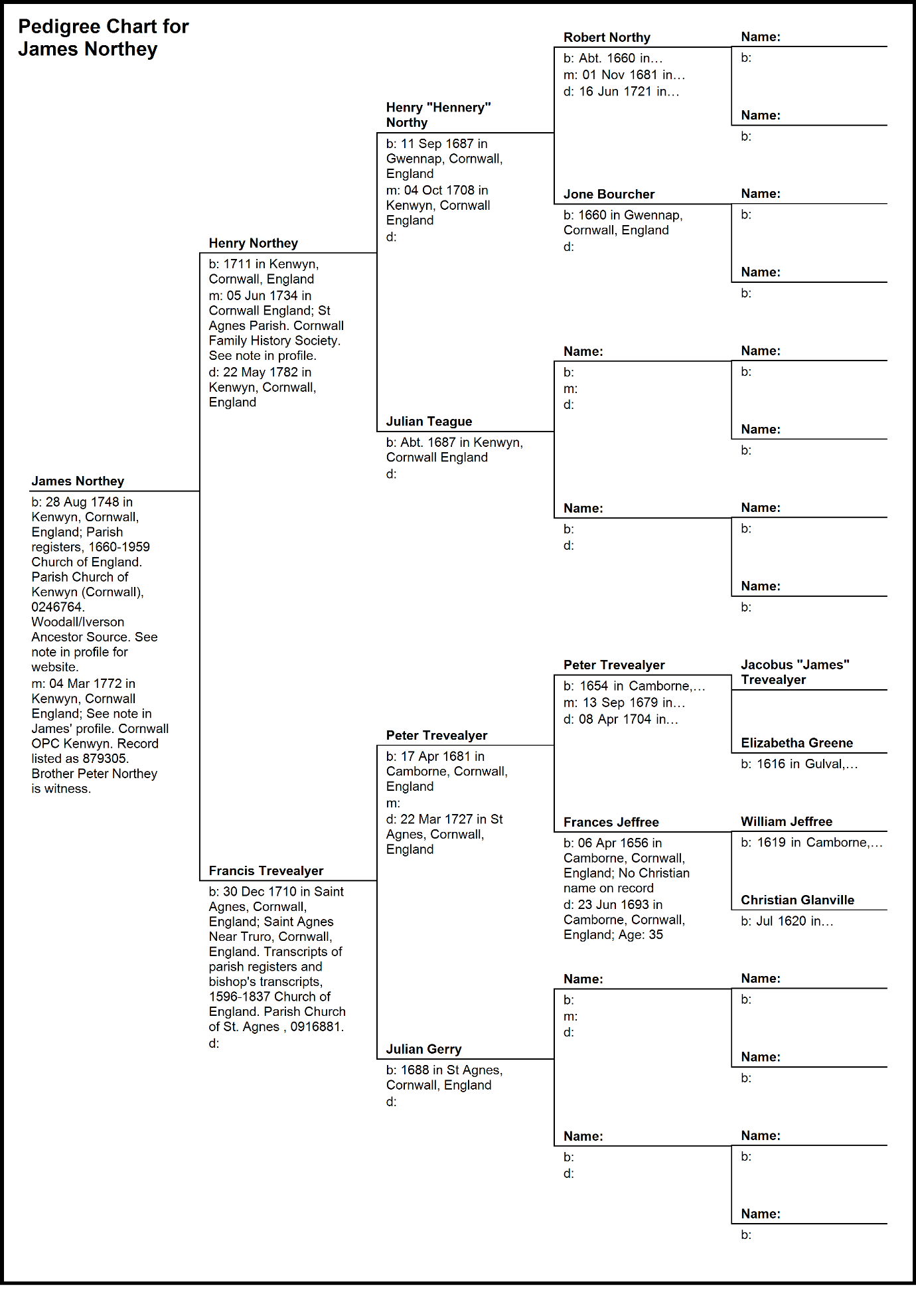 James Northey is my 4th Great Grandfather. He married Elizabeth Pascoe on 4 March 1772 at Kenwyn, and their son Josiah was the father of William Northey who migrated to Littleton in New Zealand in 1873 aboard the Mary Shepherd with his family.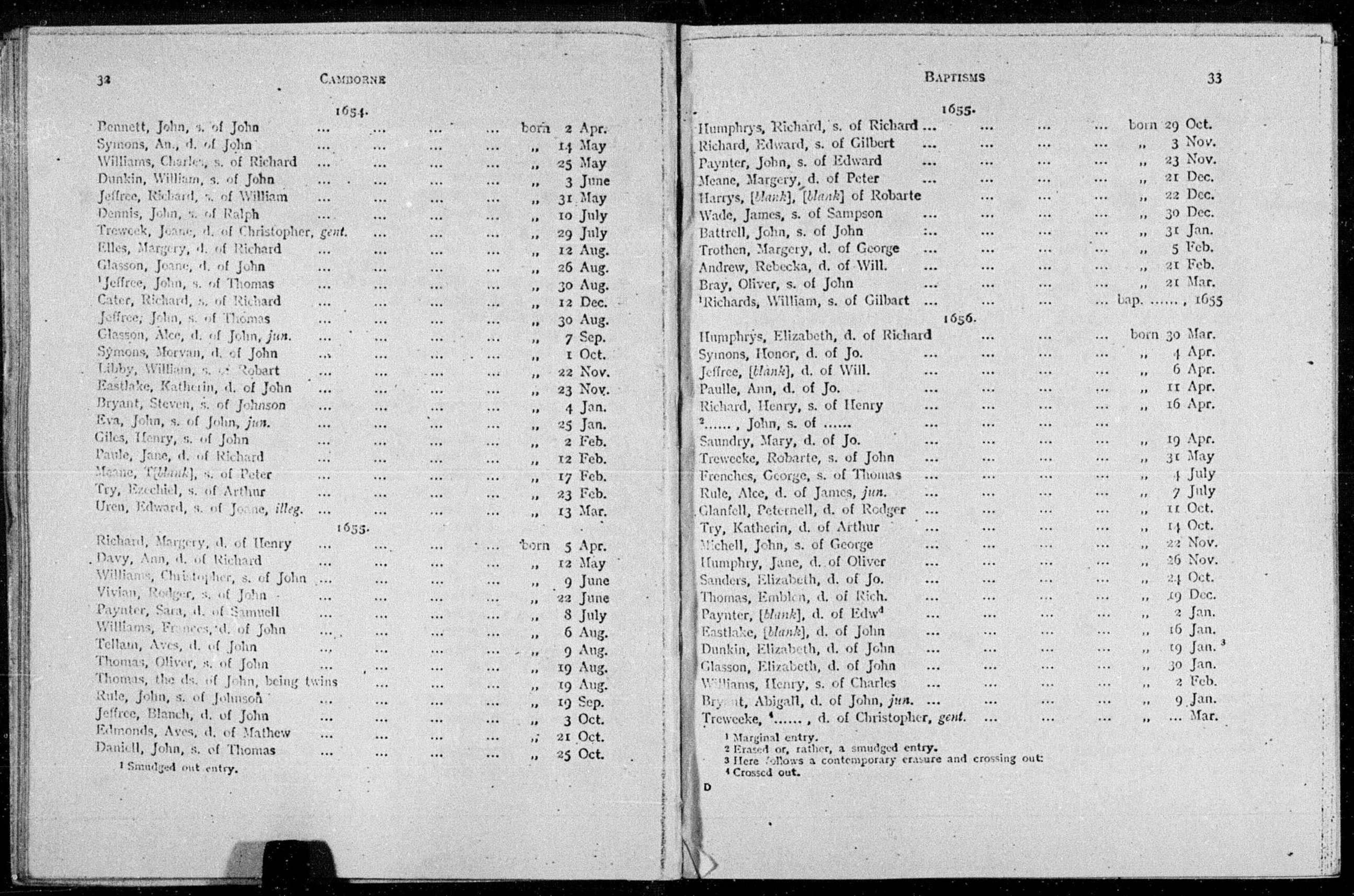 Baptism of Frances Jeffrey, daughter of William 6 April 1656 also brother William 31 May 1654 of Camborne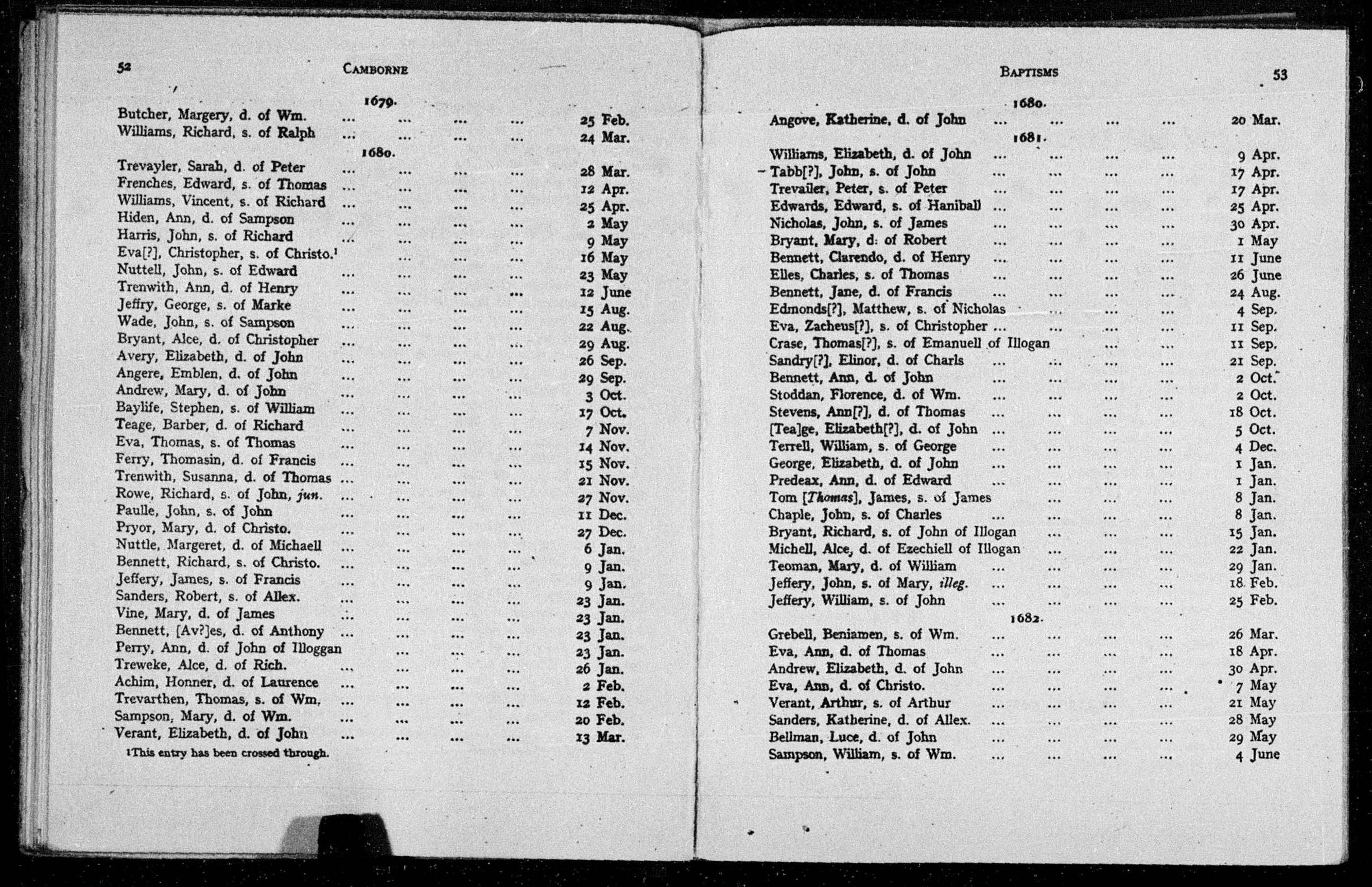 Baptism of Peter Trevailer, son of John, 17 April 1681 at Camborne, also his sister Sarah 28 March 1680
Peter Trevalier's mother was Frances Jeffery, who Baptism is on this page. Peter Trevalier and Julian Gerry were the parents of Frances Trevalier who married Henry Northey. Henry was the father of James Northey whose Pedigree Chart is on the preceding page.
MADRON, CORNWALL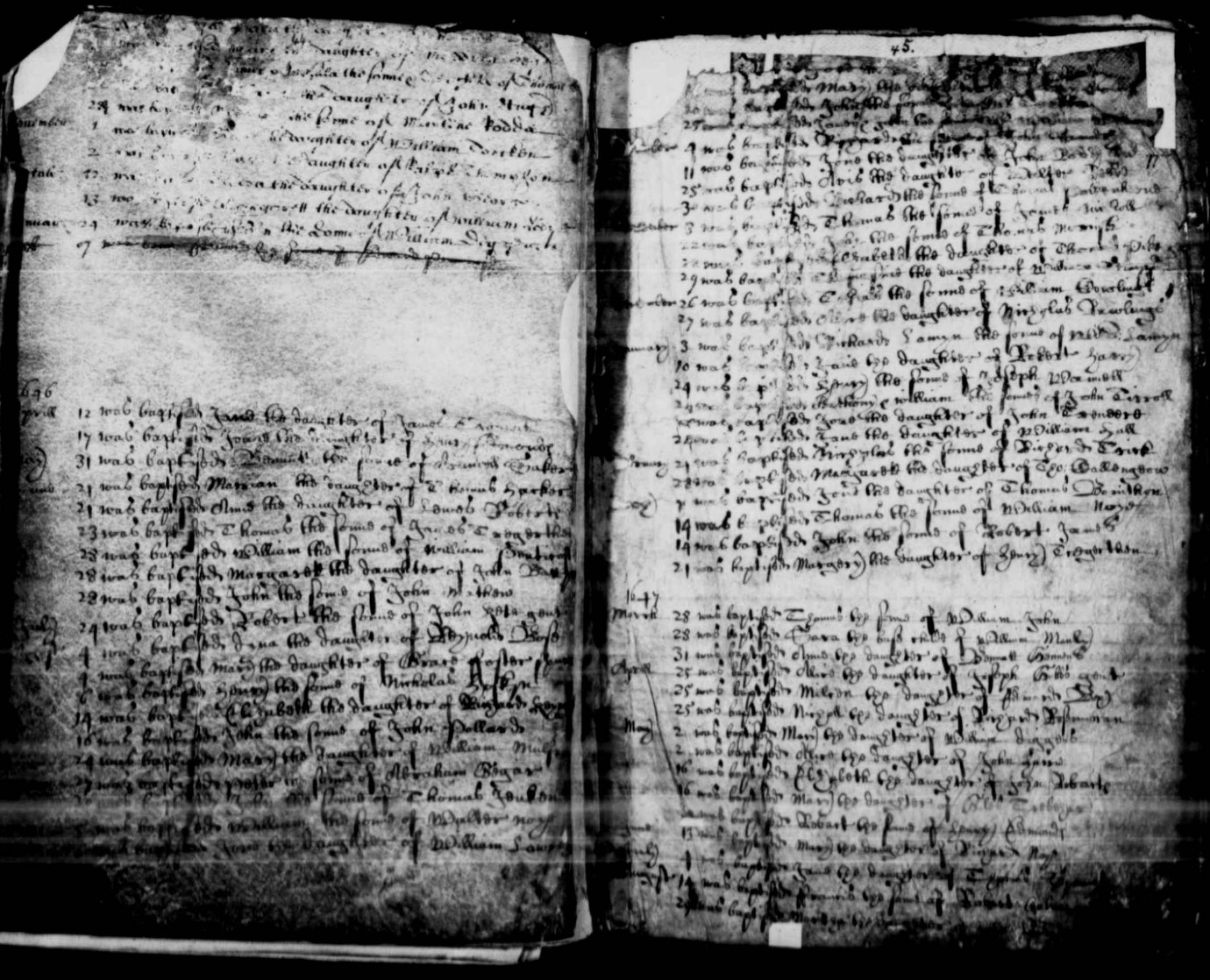 Baptism of Alice daughter of John Harris and Grace Angove, 2 May 1647 at Madron, Cornwall
ILLOGAN CORNWALL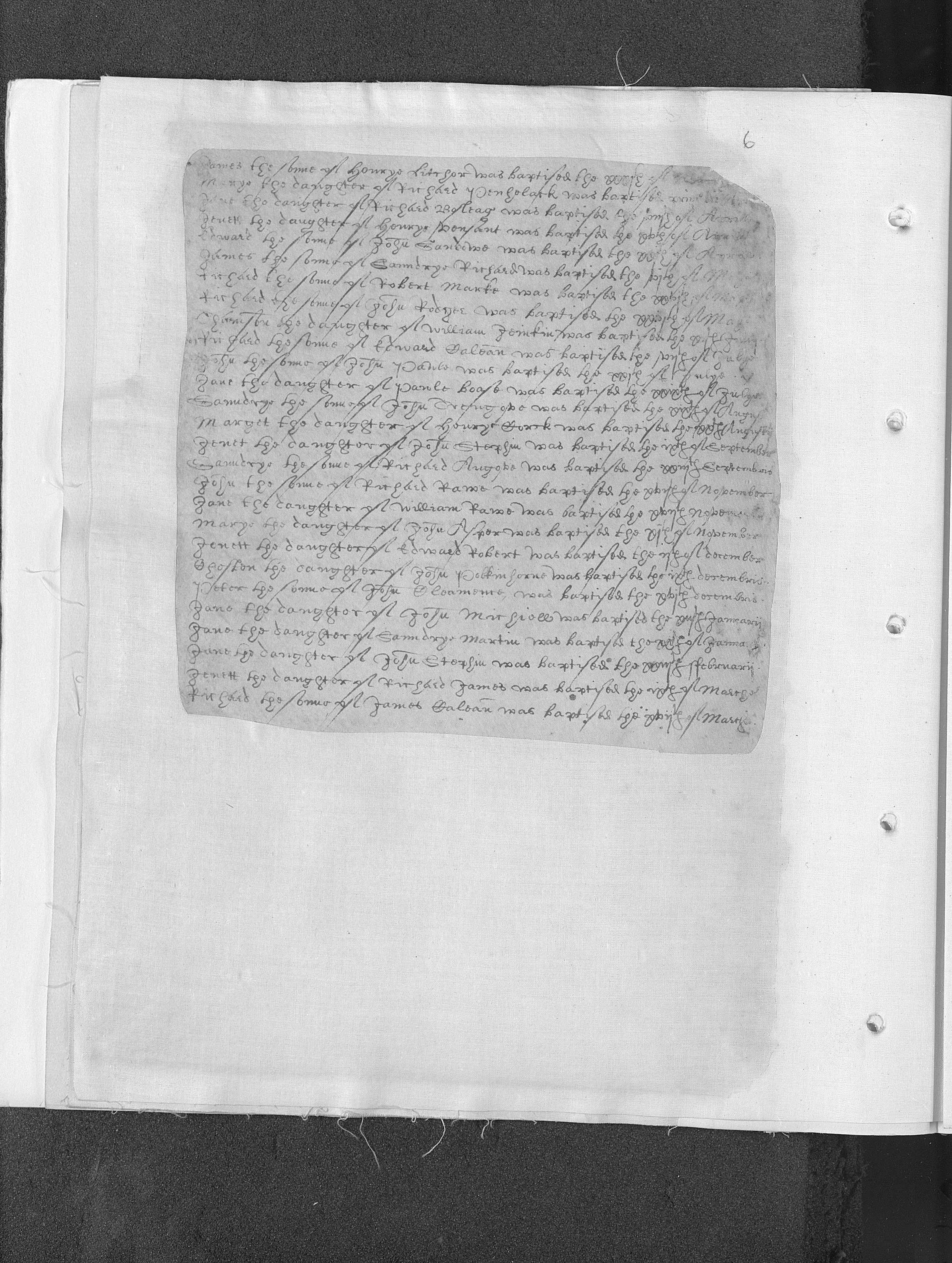 Baptism of Alexander Angove son of Richard 23 September 1565 Illogan, Cornwall
These records from Illogan are some of the earliest records I have found in the family history. It takes some deciphering to read the early handwriting. Alexander is written as Saudry, possibly an early spelling or diminutive form. The page is badly damaged but has been mended and carefully restored. Earlier I showed Alexander's death record from Camborne. Incredibly I found another website which devoted considerable information about the Angove family including wills and family tree information. I used the dates from this website to delve even further back in the Parish Records of Illogan and much to my surprise I found many records. The books not surprisingly are in a bad state, many are unreadable and severely damaged. The next two records are burial records for Alexander's father Richard Angove and his grandfather Jenkin Angove.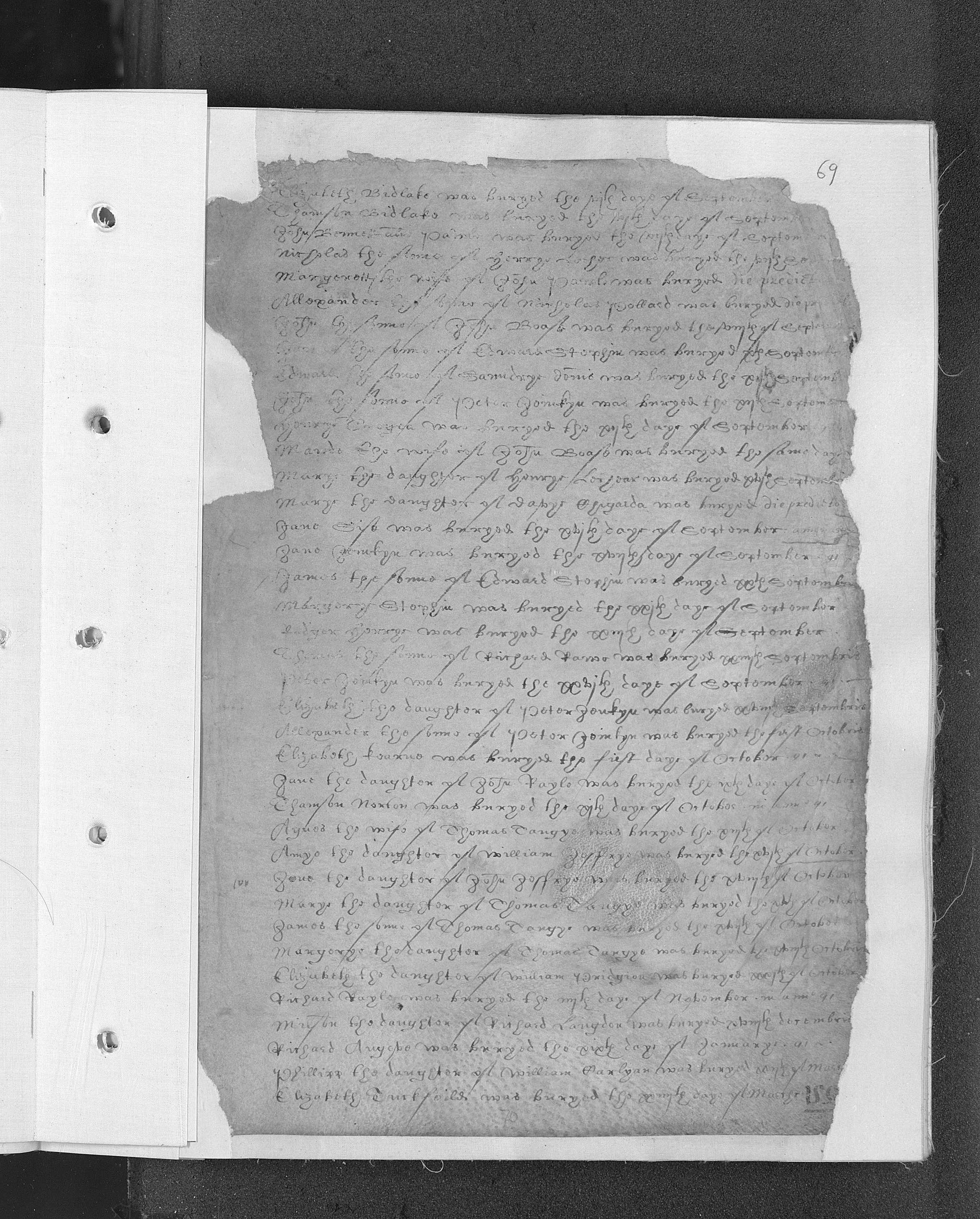 Burial of Richard Angove 6 Jan 1592 Illogan, Cornwall
Burial of Jenkin Angove June 1570 Illogan, Cornwall
Research on my Cornwall ancestors finishes here for the time being, and it seems plausible to conclude that our families living in the areas around Gwithian, Camborne, Illogan and Phillack were farmers. Our direct ancestors were, for several generations the elder sons, enjoying the benefits of rightful inheritance of farmland from their fathers. However subsequent generations were daughters, and as such received no inheritance, their only hope in life was to marry well and to bear children. They moved away from their birthplaces to settle in their husband's place of occupation, which was never very far from their birthplaces. Over time these families moved inland when their men became copper and tin miners, as did their sons after them. These men were probably enticed by good wages paid to those who were willing to go down the mineshafts and risk their lives above and beyond the more ordinary occupations of the population of Cornwall. It was a means to provide better opportunities for their large families. However, once the mines closed, they had to find other ways to make a living. When the copper and tin prices fell and it was no longer viable for the mine operators, strikes and unrest prevailed, and it was then that our Northey ancestors decided to take up the opportunity to migrate to New Zealand, with an assisted passage. Other branches of the family went to Australia, USA and Canada. New Zealand advertised their country as a better choice than Australia, because they did not have the association with convicts. Whatever caused our Northey family migrated, we do not know, and can only guess at the reasons, however several generations later we are grateful for their brave decision to board the Mary Shepherd in 1873 and travel to the other side of the world to settle in a new land.
I would like to dedicate this chapter to my sister and niece, Lavinia Robson and Lavinia Chrystal, who I fondly refer to as the two Lavinias, without their help and support in uncovering the past, combing through Cornish churches and church yards, this chapter on the Northey Family would never have been unillustrated. It was exciting to hear from them whilst they were in Cornwall, in their role as my enthusiastic researchers in the field. Upon their return, it was an absolute delight to sit down with them and go through their photographs of Cornwall and hear them recalling their incredible adventures.
Virginia Rundle
8 June 2015, updated 29 April 2016 and 12 February 2018.
Bibliography:
Cornwall OPC direct emails to Kenwyn, Kea, Gwithian, Camborne
http://www.cornwall-opc-database.org/search-database/baptisms/
http://gwennap-opc.com/marriages_1780.htm
http://thesignsofthetimes.com.au/15/673008.htm
http://azazella.proboards.com/thread/120/hunch-pays-off
Dave Hockin website: http://www.telecall.co.uk/~78741/phillack.htm
http://www.geni.com/people/John-Hocking/6000000007644124996
www.genealogy.com/ftm/i/v/e/Janice-Iverson/Website-0001/UHP-0060.html
Subscription online websites:
Ancestry.com
Find My Past
Free online websites:
http://familysearch.org
http://freepages.genealogy.rootsweb.ancestry.com/~camborneopc/marriage1746-1775.htm
http://wc.rootsweb.ancestry.com/cgi-bin/igm.cgi?op=GET&db=dawnajl&id=I51
http://freepages.genealogy.rootsweb.ancestry.com/~phillack/phillack_pr.htm
http://webs.lanset.com/azazella/gwithian_page.html
http://www.archaeologyonline.org/Site%20-%20Contact%20us.html
https://books.google.com.au/books?id=WUivBwAAQBAJ&pg=PA226&lpg=PA226&dq=%22Goongumpus%22+cornwall&source=bl&ots=bbU_k1w3zi&sig=2BFZrMi-0GkYE13HUFJgEhe4Agw&hl=en&sa=X&ei=rTmDVfzRKePDmQW6h4OoBg&ved=0CEAQ6AEwCA#v=onepage&q=%22Goongumpus%22%20cornwall&f=false
The former link is a poem about Goongumpus:
http://www.deadfamilies.com/index.html