I had a lot of trouble pinning down my Great Great Grandmother, Ellen Frances Matilda Murray, and my earliest research found only her death notice from The Argus newspaper and her Australian Death Index. At first, I wrongly assumed that Ellen may have been the daughter of early settlers to Victoria and I probably wasted a good deal of time searching Australian records at this time, and eventually came to a dead end.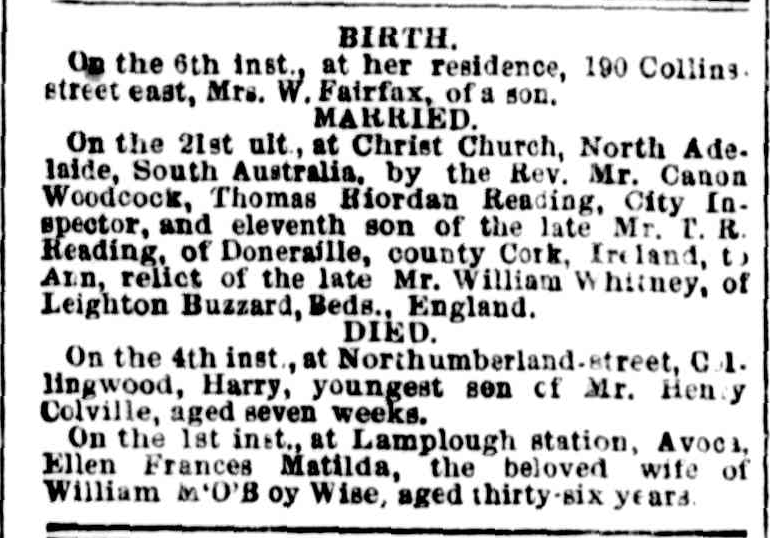 Death of Ellen Frances Matilda Murray, 7 June 1855, The Argus
Australian Death Index 1787-1985:
| | |
| --- | --- |
| Name: | Ellen Frances Matilda Wise |
| Death Place: | Victoria |
| Age: | 36 |
| Father's Name: | Murray Michael |
| Mother's name: | Ellen |
| Registration Year: | 1855 |
| Registration Place: | Victoria |
| Registration Number: | 5035 |
| Estimated Birth Year: | abt 1819 |
One can only imagine what caused Ellen's untimely and tragic death at the age of thirty-six, leaving six young children to be brought up by her husband William McOboy Wise, a property manager in the tiny Australian country town of Avoca in Victoria. William never married again.
William's employment is described below in this excerpt from The Lamplough Name Index at the Avoca and District Historical Society (ADHS). His full life history profile from this Index can be found at the end of this chapter.
"Manager of John O'Halloran's timber yard on site of Old Tattersall's, or Theatre Royal. Went to Woodstock Station as supervisor, leased Lamplough run. (Sutherland, P 226.)" Alexander Sutherland. Victoria and Its Metropolis. Past and Present Vol. 2 1888
On visiting the ADHS I was told that William McOboy Wise's huge profile in The Lamplough Name Index was a testament to his active and outstanding involvement in his local community. William McOboy Wise's obituary recorded that over 500 people gathered to mourn him at his funeral, after he died from receiving fatal head injuries when thrown from his horse on 22 July 1873 at Coffey's Hotel near Avoca. William's profile in The Lamplough Name Index has little information on his early life in Cork, Ireland. Newspaper articles about Wise's paddock during the gold rush in Lamplough in 1860, and correspondence regarding his will intestacy are included in further chapters, The Wise Family of Avoca, Victoria, Australia and Wise Merchants of Cork, Ireland. William was involved in the community as an auctioneer, gold assayer, Master of the Hounds, President of the Avoca Turf Club and Steward at the Avoca Annual Races. It also became clear from the ADHS that the Wise family had migrated to Australia from Ireland in 1851.
Ellen Frances Matilda Murray married William McOboy Wise in County Clare, Ireland in March 1840, and they had six children, Henry Wise (1841-1900), Michael Murray Wise (1943-1903), James Wise (1845-1894), Ellen Murray Wise (1847-1930), William Wise (1848-1924) and George Edwin Wise (1850-1933).
I firstly found a newspaper extract from an Old Irish Newspaper website listing William and Ellen Wise's marriage, along with a few other listings, which had been transcribed and placed on the internet by an Irish volunteer researcher. It was as easy as keying their two names into Google on my laptop, and this information was there to find. I was incredibly lucky that the Wise marriage was amongst the examples chosen. Later, during a visit to Dublin, Ireland in 2016 I visited their National Library and accessed old Irish newspaper microfiche and was able to capture their marriage image from The Clare Journal. You will see that there were two wedding ceremonies for William M'O'Boy Wise  and Ellen Frances Matilda Murray. They were firstly married in the Church of England and Ireland at Kilnasoolagh, Newmarket on Fergus, Country Clare, by Rev. McCullagh and later their marriage was blessed by a Catholic priest, Rev. Kennedy at Ellen's father, Michael Murray Esquire's home at Ralahine, County Clare, a short distance away.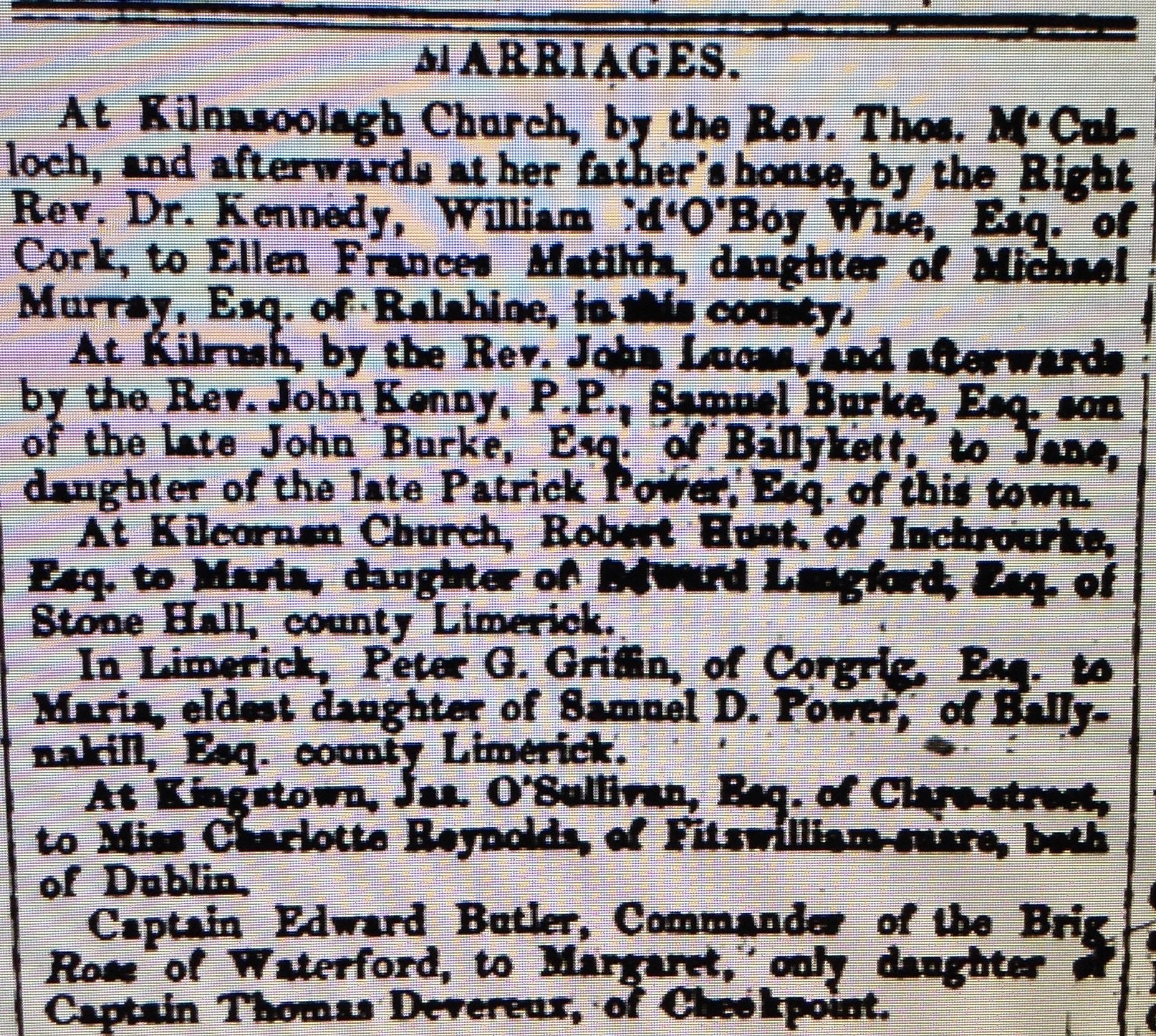 Clare Journal, March 2 1840
I had never heard of Kilnasoolagh Church, and upon further investigation it turns out Newmarket on Fergus is nearby to the River Shannon, in County Clare, Ireland. This area ties in with information from the Avoca District Historical Society (ADHS) in The Lamplough Name Index for William McOboy Wise stating that his origins were Tulla, County Clare and not from Cork, as I had expected. I believe that William took a job as a property manager in Tulla, Clare, possibly working for another branch of the Wise family, after having a setback in his business interests in Cork. Some bad investments and an insolvency most probably led him to seek alternative employment away from Cork and his debts. Tulla is not far from Newmarket on Fergus and is on the western side of Lough Derg, Clare.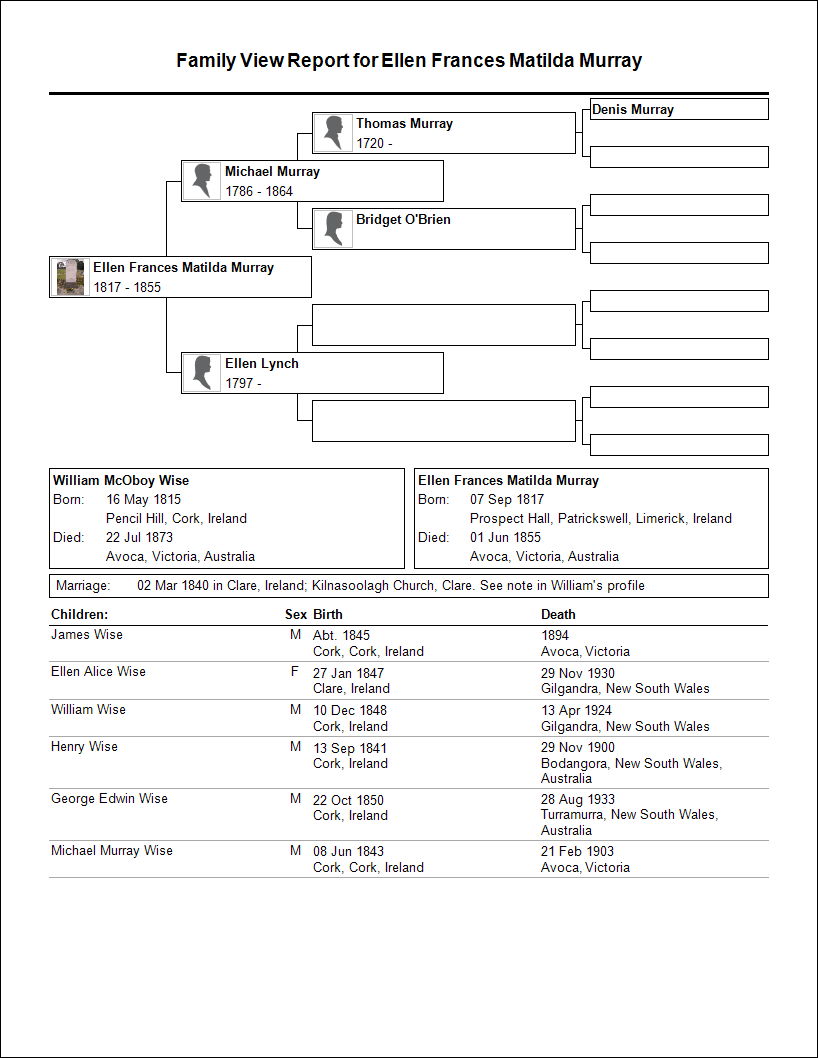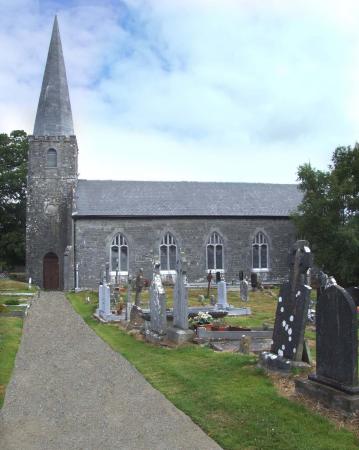 Kilnasoolagh Church, Newmarket on Fergus, County Clare, Ireland.
Whilst the Clare Journal confirmed the Wises marriage, it threw up more challenges than ever before, including new information regarding Michael Murray's home in Ralahine, County Clare. Michael Murray was born at Balliston House, County Limerick, he obviously moved after his marriage to nearby Prospect Hall, Patrickswell, Limerick, where Ellen Frances Matilda Murray was born, and then to Ralahine, County Clare, sometime after the birth of his children in Limerick. Ralahine is famous as a township set up in 1831 as an experiment in communal existence on the estate of John Vandeleur. It collapsed just over two years later, and although the socialist model was unworkable, the experiment was actually declared a success. I have no reason to believe that the Murray family were involved in this community group, and I understand that after the breakup of the communal estate in 1833, the land was then sold. An extract about Rathlaheen House from the Landed Estates of Ireland, confirmed the Murray family interest in Ralahine House. It appears that Michael Murray had an interest in a property at Raheen, Clare from 1814, from the record I collected below:
Ireland, Tithe Applotment Books 1823-1837:
| | |
| --- | --- |
| Name: | Michl Murray |
| County: | Clare |
| Parish: | Kilmanaheen |
| Townland: | Raheen |
| Year: | 1814 |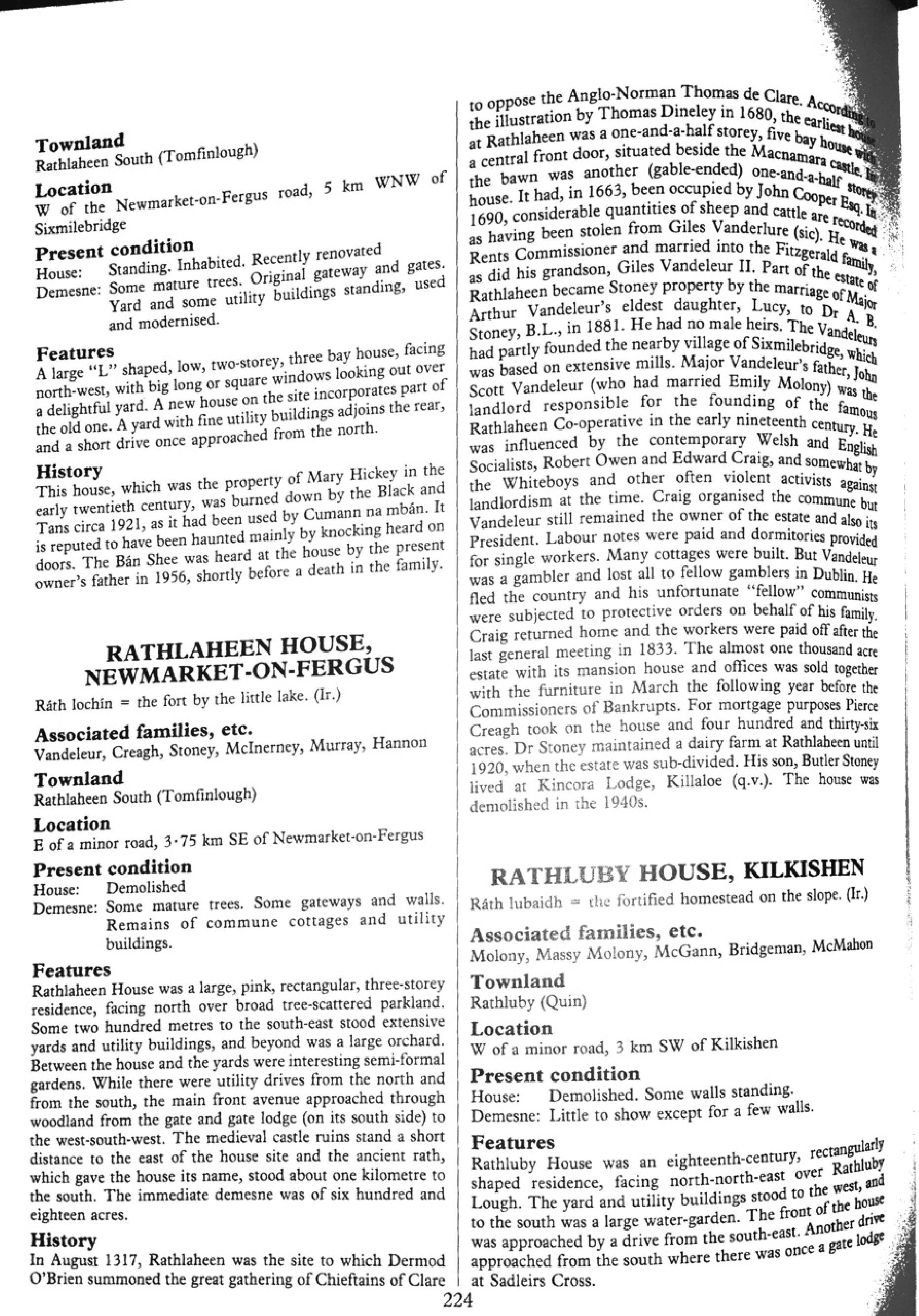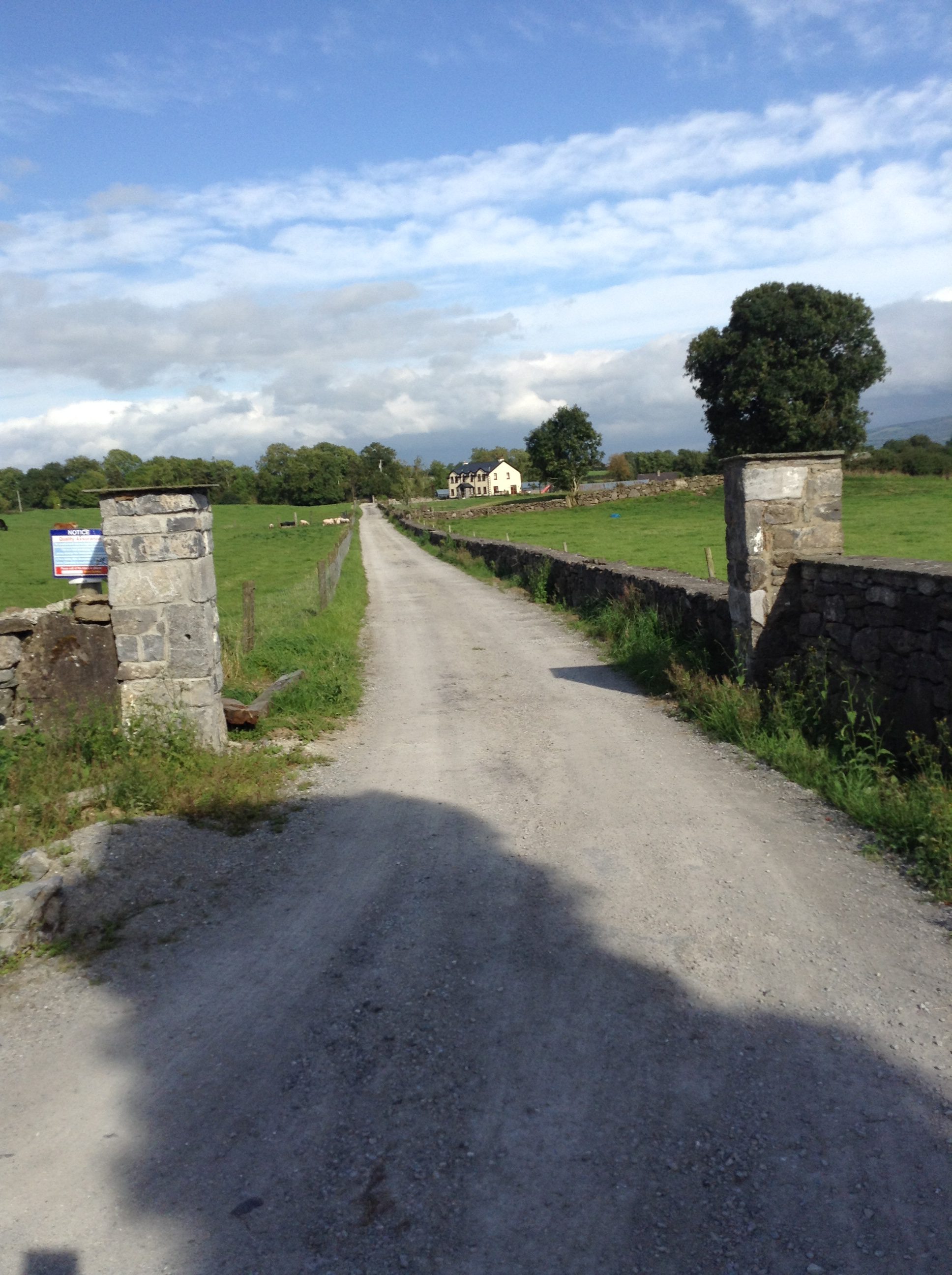 Entrance to Ralahine House, Clare, image taken by Virginia Rundle
It was sad to find that Ralahine House had been demolished, however the previous article was of great interest especially because it mentioned both the Murray and Creagh names in conjunction with the house. It is probable that Michael Murray, whose occupation was a farmer, leased the house and surrounding lands after Creagh took over Ralahine in 1834, and he then moved his family from Limerick to Clare. Today a new house stands in place of its predecessor, however mature old trees and walls mark the fact that this this area had gardens from a much earlier history, a great deal of disturbance and rubble can still be seen beyond the newly built house, so it is not clear whether the new building was built on the site of the old home. The road comes to a dead end from where the driveway to Ralahine House begins. The photos below were taken by Virginia Rundle in September 2016.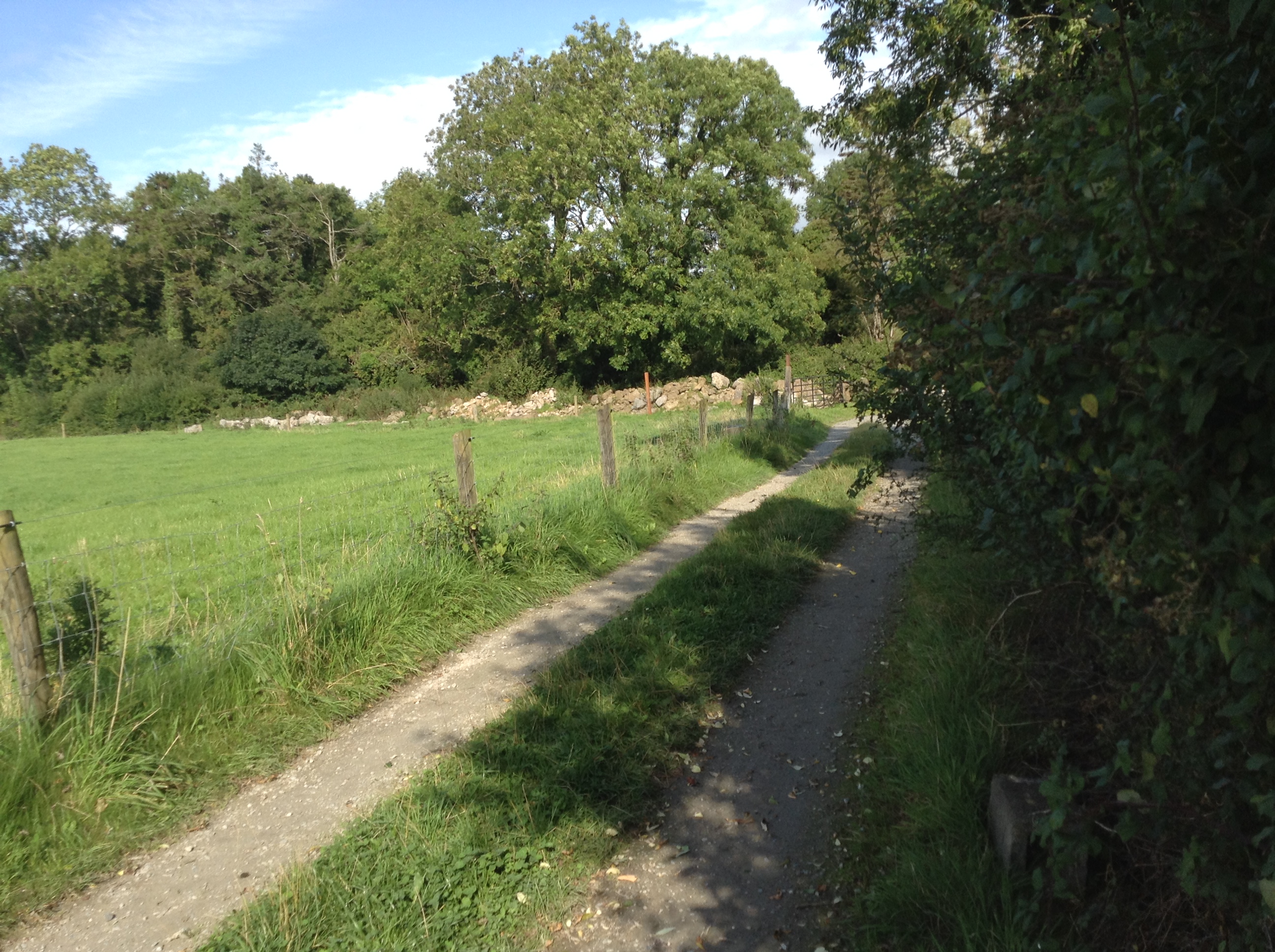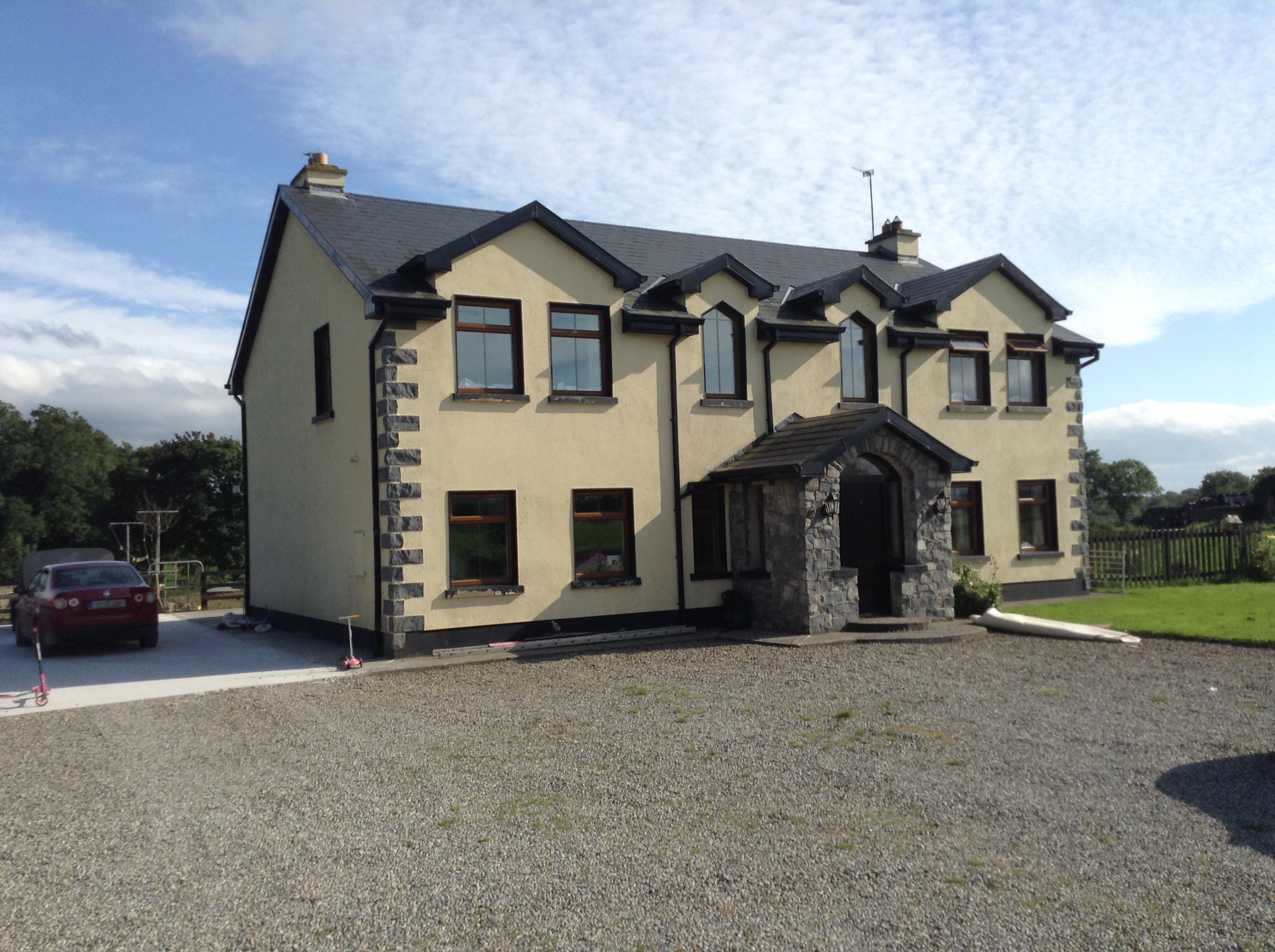 My early searches for records in Ireland showed that two of William McOboy Wise's siblings George Henry Wise and Mary "Maria" Wise had been married in Cork. They also migrated to Avoca, Victoria, Australia with their families. I spent quite a bit of time searching for William and Ellen Wise's marriage in Cork, before giving up, so when I found the marriage announcement from the Clare Journal, the information from ADHS regarding William's employment in Tulla, it started to make more sense of his early life possibly spent in Cork, and then later in Clare.
Irish Records Extraction Database:
| | |
| --- | --- |
| Name: | George Henry Wise |
| Sex: | Male |
| Marriage: | 1842 |
| Marriage Place: | Diocese of Cork & Ross, County Cork, Ireland |
| Spouse: | Elizabeth Humphries |
| Source: | Albert Eugene Casey, Eleanor L. Downey-Prince, and Ursula Dietrich.. Index of O'Kief, Coshe Mange, Slieve Lougher and Upper Blackwater in Ireland. 16 vols. Birmingham, Alabama: Knocknagree Historical Fund, 1952-1971. |
| | |
| --- | --- |
| Name: | George James Wise |
| Sex: | Male |
| Marriage: | 1836 |
| Marriage Place: | Diocese of Cork & Ross, County Cork, Ireland |
| Spouse: | Maria Wise |
| Source: | Albert Eugene Casey, Eleanor L. Downey-Prince, and Ursula Dietrich.. Index of O'Kief, Coshe Mange, Slieve Lougher and Upper Blackwater in Ireland. 16 vols. Birmingham, Alabama: Knocknagree Historical Fund, 1952-1971. |
My great grandfather George Edwin Wise was William and Ellen Wise's youngest son. According to the Wise family tree, George was born on board ship on the way to Australia, however, another source from an Australian newspaper obituary, claims he was a native of Waterford, Ireland and yet another record has him listed as being born in Cork, Ireland. The reference below is a transcription, and is the only shipping record that I can find regarding the migration of the Wise family to Australia. The record whilst not conclusive, did offer a glimmer of hope in the tantalising search for a ship for the Wises. The Wise family would then have had to sail to Melbourne before taking a land journey to Avoca where William was employed as a property manager. Mrs Wise and her three youngest children were left off the ship's list, and this is not altogether surprising, because as unassisted migrants this shipping list was made up by a clerk or agent, who met the ships as they arrived into port and they then gave their lists to the newspapers – inaccuracies are notorious. The Wise family tree (see reference in next few paragraph) has a margin note indicating that the Wises migrated from Cork to Australia, arriving in Sydney in 1851.
Ship Roman Emperor, 793 tons, Captain Champion from Plymouth, 27th September 1850, arrived Sydney 6th January 1851 Mr.& Mrs. Alexander Young, four children and servant Mr. D. Hill Young Mr.& Mrs. H. Woolley, two children and servant Mr. A. McKenzie Mr. W.H. Alexander Mr. Wise & three sons Mr. McFie Mrs. Walters & eight children Mr. Oake Mrs. Kenny & two children Miss Sands Mr.& Mrs. Everard Mrs. Tyler Mrs. Parkinson & child Mr.& Mrs. J. Hummel & daughter Mr. Meers Mr. Skarratt Mr. Lane Mr. Reid Mr. Austin Mr. Harris Mr.& Mrs. Prescott Mr. King Mrs. Mullins & two sons Miss Penrose Miss Shirley Mr. Kane
The Ships Lists Sydney Shipping Gazette, Volume 8, Number 356 (11 Jan. 1851) p. 350
It is probable that the Roman Emperor called into Liverpool and then Cork at the beginning of its voyage and just perhaps, this was the ship I was searching for. The reference to George Edwin Wise being born at sea comes from a hand written note on the Wise Family Tree. It was quite by chance that I discovered that the Wise Family Tree existed in the Borthwick family. I caught up with my cousins, Peter and Helen Borthwick in 2011 at a family gathering, and when I explained that I was researching the family tree, they told me they had a family tree given to them by Peter's grandmother, Irene Borthwick, nee Wise. Aunt Irene was my great aunt, and sister to my grandmother Mabel Robson, two of the seven daughters of George Edwin Wise and his wife Agnes Amelia Kilpatrick. The Borthwicks thought that Irene had authored the tree and the contemporary Australian content is impressive. At first I was unsure that it was Irene's work because she lived in England. However, as my research progressed I have come to know not only Irene's unmistakable handwriting but also an understanding that whilst she lived in England, she was meticulous in her efforts to keep up with her growing Australian family. The enthusiasm, diligence and personal observations make this a valuable family document, and whilst not complete or entirely accurate, it is an amazing piece of family history at a time when communication was by letter, and the purchase of BDM (Birth, Death & Marriage) records would have been expensive and difficult to obtain.
The margin notes on the Wise Family Tree about William and Ellen's marriage are most interesting. Irene writes that the Wises were unhappy with their son marrying a Catholic girl and it was agreed that any children born to Ellen would be brought up in the Church of England and Ireland (COI).
The next illustration shows a portrait of my Great Grandfather George Edwin Wise, son of Ellen Frances Matilda Wise nee Murray, and then a Family View Report for George Edwin Wise and his family. The portrait was given to me by my first cousin, Peter Drury, and includes his writing on the photograph. This following chart illustrates the relationship of the Wises and the Murrays.
George Wise, I believe, was born in Cork, Ireland on 22 Oct 1850 just before the Wises left Ireland for Australia. The extract below from the National Archives of Ireland, needs to be further investigated. The Wise Family Tree also gives 22 Oct 1850 as George's date of birth, so I feel this document from the Dublin archives is correct. It was a matter of grievance that when we were in Dublin in August 2016 the archives were closed for renovations. It was terrible luck because I had intended to spend considerable time there doing Wise and Murray family research. However, I took the good with the bad, because Geoff and I had the most amazing weather whilst in Ireland, and contrary to every good wish for my pending trip was the comment, "we hope it doesn't rain too much for you"! Incredibly we had only one morning of rain in Cork. Geoff and I spent my 60th birthday in Wexford, experiencing heat wave conditions, and whilst people were complaining, we enjoyed the heat without the Sydney humidity.
Private Sources at the National Archives:
Dublin, Ireland
Small Private Accessions
1972–1997
999/1–999/850:
999/565 EXTRACTS FROM PARISH REGISTERS
81. 22 Oct. 1850
George E. Wise
Cork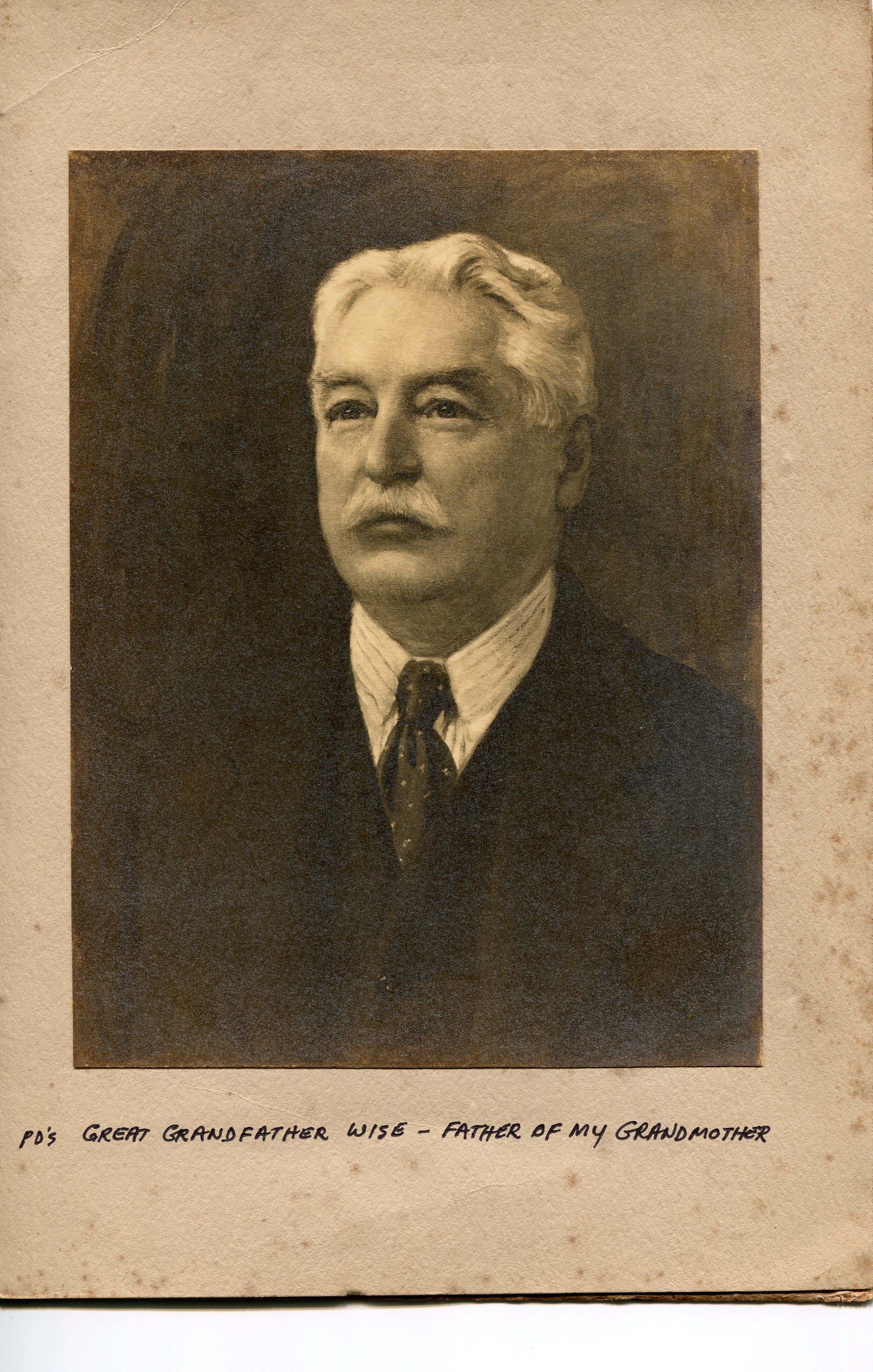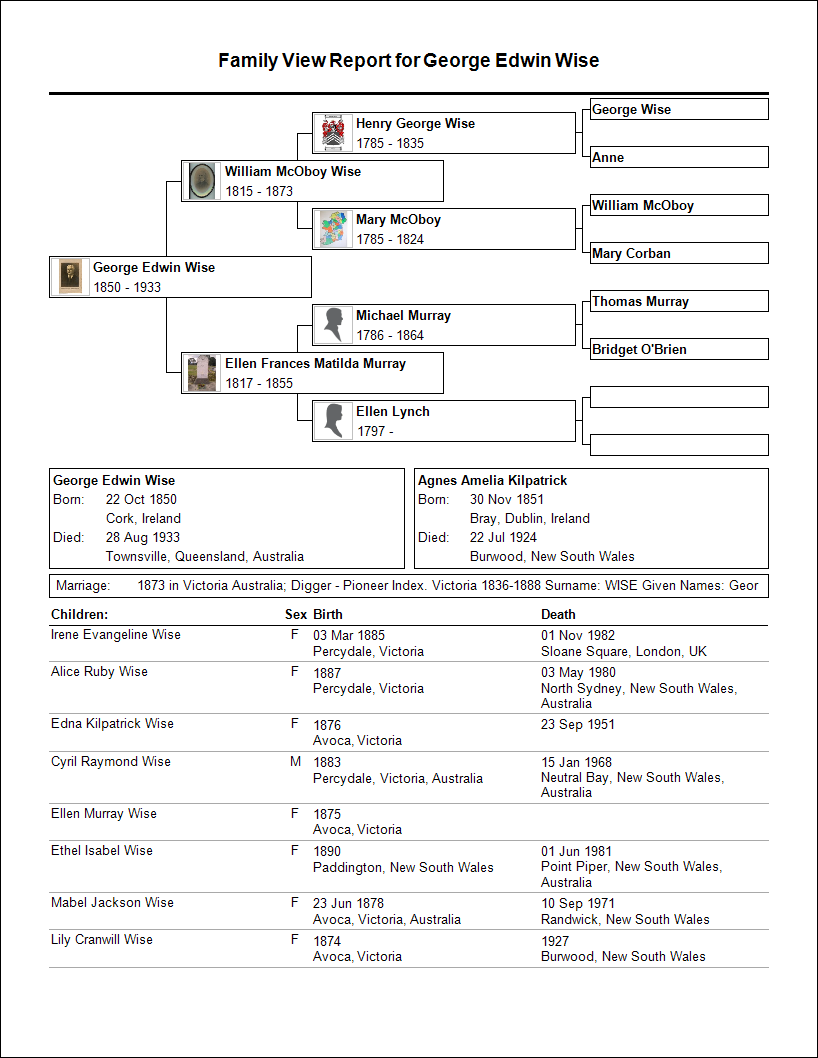 One of the other sources that I have used to help place our family into the correct Wise/Murray line was a book published in 1930 called Leaske's Genealogy of Early Australian Families. Leaske prefaces his book by explaining that he relied mostly on family members to provide his information. It is a masterpiece of its time, and was a very helpful and interesting document that also has its inaccuracies. What piece of family research doesn't? It is not possible to be one hundred percent correct with family history, and information that is handed down verbally by family members will quite understandably leave out anything that could put the family into a bad light. Leaske's book is out of print, however it is held in several public libraries. I firstly tried to obtain it at the NSW State Library, where they had two copies of the book listed in their collection, and found them both missing. Likewise, on a trip to Newcastle Library, I was unsuccessful, and my last avenue of opportunity in New South Wales was at NSW University, and knowing how difficult it is to park, I enlisted my sister Lavinia Chrystal for the journey. After a search we found a dusty and untouched book on a back shelf, and it was with great excitement we discovered that our Wise family of Victoria was listed in great genealogical detail.
It is sad that this book, which is now out of print, is being pilfered by researchers from the shelves of our Libraries. Leaske based his family reporting in the style of Burke's peerage and at first glance it seems a complicated method, however with practice it is happily quite easily conquered. It is a simple way of showing several generations in a concise style starting with one ancestor, much the same way that genealogists create a descendant chart. Through Leaske I was able to discover the existence of William McOboy's sister Mary "Maria" Wise, who had married her first cousin, George James Spratt Wise, the son of James George Wise and Martha Spratt of Pencil Hill, Co Cork, Ireland. James George Wise being a younger brother of Henry George Wise (William McOboy Wise's father). Maria and George Wise migrated to Australia with their children, and they are buried in the Avoca Cemetery in Victoria in a magnificent, sadly fallen, marble grave, which is one of several Wise graves in a long row. I spent a great deal of time placing the family information from Leaske into my family tree in an effort to take the Wises back to Ireland and place the family into their correct place in Irish history. The Australian Death Index for William McOboy Wise is helpful in identifying his father's full name and his mother's maiden name. As a novice genealogist, at the time, it was also comforting that Leaske also confirmed these names.
Australian Death Index 1787-1985:
| | |
| --- | --- |
| Name: | William Mcoboy Wise |
| Death Place: | Victoria |
| Age: | 58 |
| Father's Name: | Henry George |
| Mother's name: | Mary Mcoboy |
| Registration Year: | 1873 |
| Registration Place: | Victoria |
| Registration Number: | 5973 |
| Estimated Birth Year: | abt 1815 |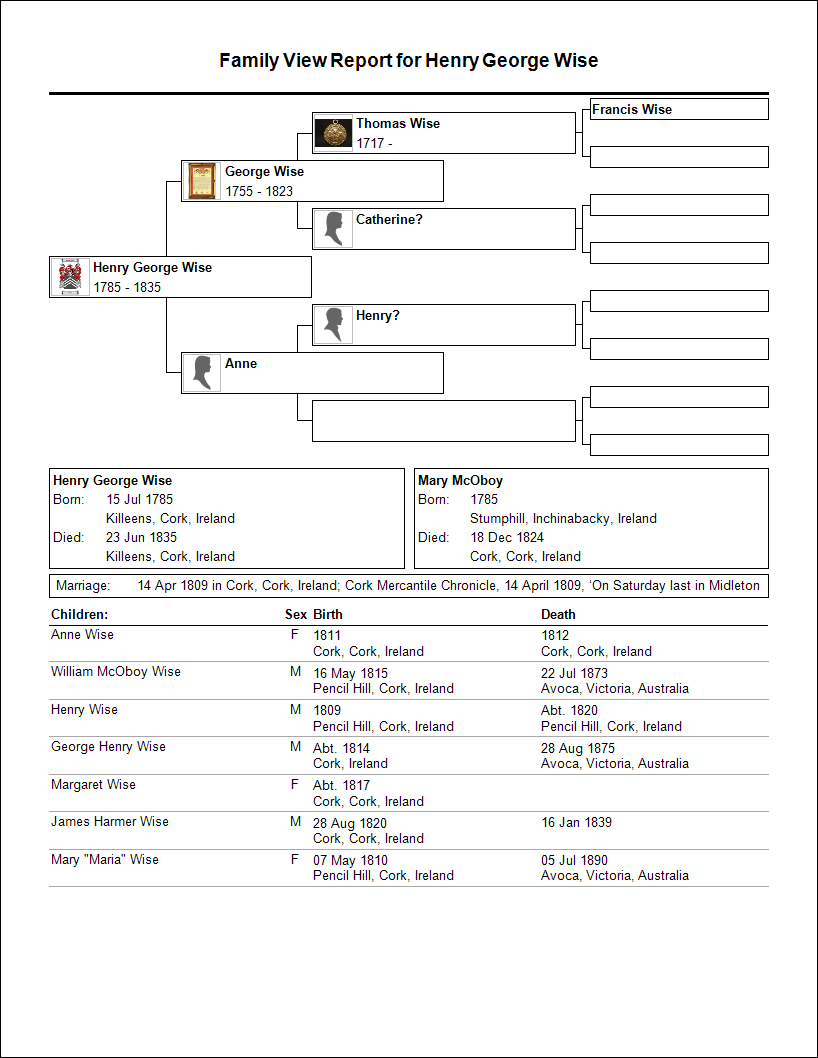 Henry George Wise and his wife Mary McOboy, of Killeens, Co Cork, Ireland, married on 14 April 1809 and were the parents of seven children, Henry, Ann, James and Margaret Wise, who stayed in Cork, Ireland, and of William McOboy, George Henry and Mary "Maria" Wise, who all migrated to Australia, and whose families are recorded by Leaske's book. Apart from James George Wise, Leaske also mentions three other brothers of Henry George Wise, who were Thomas, Frank and George Wise. Thomas Wise being the elder brother, and Frank (Francis George) and George were younger brothers. An educated guess into Irish naming customs allowed me to assume that George Wise was their father. I placed George with a question mark into the family tree without any solid records at that time, as it presented another generation and tied up all the brothers of Henry George Wise in my quickly growing Wise family tree.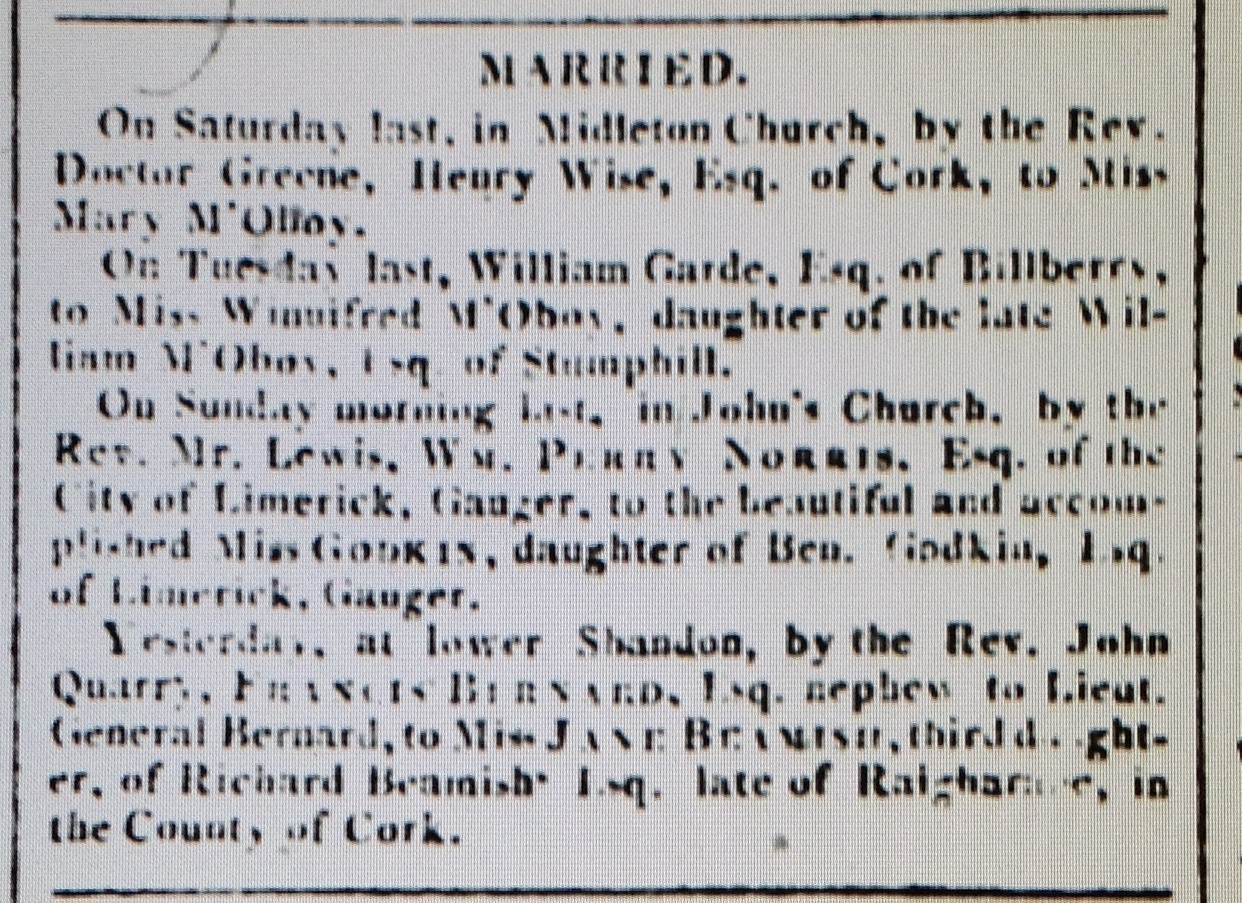 Cork Mercantile Chronicle, 14 April 1809
Irish naming patterns traditionally mean that the eldest son is named after the paternal grandfather, and the second son will be named after the maternal grandfather, thereafter a son will be a namesake of his father and the fourth son will usually be named after a favourite brother or uncle, thus keeping familial names repeating down the generations. Naming patterns for the maternal side follow the same traditions. William McOboy Wise was given his maternal grandfather's Christian name and surname as his first and second names. Another name that was impressive was William and Ellen Wise's second born son, who was given his maternal grandfather's name, Michael Murray Wise. It is these names that allow the genealogist to take a considered guess as to the names of parents of the previous generation. This also applied to women, and very often they will be given a mother's maiden surname as their middle name, often linking them back to the maiden name of their grandmother. In particular, it has been our Irish heritage that has been traced back to further generations by using these naming patterns. Records in Ireland are scarce and hard to come by, coupled with hundreds of years of unrest, a terrible famine and a depression, a less than diligent tradition for record keeping and the fact that in 1922 the Dublin Public Record Office (PRO) burnt to the ground, taking with it precious records of our past ancestors. It has been a struggle to find any surviving records for our Wise and Murray families. The record below belongs to George Henry Wise, who was William and Maria's elder brother and he travelled to Australia in 1861 on the Great Tasmanian, and started up the Wise Flour Mills of Victoria. He migrated with his wife Elizabeth Humphries and their large family of nine children. Migrant and shipping records were more readily available after 1860 and the immigration of George Henry Wise and his family was easily picked up. The fact that there is not a shipping record for Mary "Maria" Wise and her family leads me to think that she arrived somewhat earlier than 1860 but after 1851.
Victoria, Assisted and Unassisted Passenger Lists 1839 – 1923:
| | |
| --- | --- |
| Name: | George Wise |
| Estimated Birth Year: | abt 1814 |
| Age: | 47 |
| Arrival Date: | 16 Oct 1861 |
| Arrival Port: | Melbourne, Australia |
| Departure Port: | Liverpool |
| Ship: | Great Tasmania |
| Nationality: | Irish |
Leaske claimed that William McOboy Wise married his first cousin Ellen Murray. This statement I find difficult to accept, for the reason that Ellen came from Prospect Hall in Limerick, a fact recorded on the Wise Family Tree, a handwritten document. The Wise Family Tree also noted that Ellen Murray was a Roman Catholic and an understanding upon her marriage was that her children to William McOboy Wise would be bought up in the Church of England faith. I think Leaske was confused by the fact that William McOboy Wise and Ellen Murray's son Michael Murray Wise married his first cousin Kate Wise, the daughter of George Henry Wise and Elizabeth Humphries. Another interesting comment on the Wise Family Tree was the fact that William McOboy Wise had a falling out with his father over his marriage to a Catholic, and after his migration to Australia, he lost touch with the family. I think the falling out may have been a result of his business enterprises going badly, more than anything else, as I now have information that Henry George Wise actually died on 23 June 1835, well before William's marriage to Ellen Murray.
There have been two other family pieces of information that have helped me place Ellen Frances Matilda Murray correctly into the Wise family tree. In March 2011, my cousin Murray Robson came down from the Hunter Valley for a luncheon with my mother, Vena Robson, my husband Geoff Rundle and me. Murray's daughter Sophie Robson also joined us. We had a great catch up and I asked Murray if he knew why he and his dad were both called Murray Robson. He told us a story about being named after the Governor of New Guinea, Mr John Hubert Plunkett Murray, and that he really knew nothing else about it and it had always been a bit of a mystery to him. I was able to tell him about our great great grandmother Ellen Murray marrying into the Wise family and that I thought he was given the name Murray in her honour. He was most interested. Some months later I saw another first cousin, Ann Loveridge, and explained to her that I was researching the family tree. Ann was most informative, and told me her brother Peter Drury was also interested in family history. Intriguingly, she revealed to me, that Ellen Murray was related to the Murray family of Yarralumla, ACT, which is today the official home of Australia's Governor General. This did come as a surprise as I had never heard the 'Murrays of Yarralumla' being mentioned in our family before. A quick google on Terence Murray revealed that he came from Balliston House, Limerick. Ann also very kindly lent some other information to me, including letters, photos and a book Murray of Yarralumla by Gwendoline Wilson. The book was a tale of the early settlement in New South Wales. Unfortunately, there was not one mention of 'our' Ellen Murray on any page of the account of the Murrays in Australia. However on the Murray of Yarralumla Family Tree  illustrated in the book, there was listed a Michael Murray, a brother to Terence Murray. It was this name that has been my link back to Limerick to prove that 'our' Ellen was indeed the daughter of Michael Murray of Balliston House, Limerick, Ireland. Finally, with the help of Peter Drury I was able to add credence to Murray Robson's story about his name. He was named after John Hubert Plunkett Murray, the Lieutenant Governor of Papua from 1906 to 1940, the son of Terence Aubrey Murray of Yarralumla, the grandson of Terence Murray of Balliston House, Limerick, Ireland. In 2013, when I emptied my dad's bookshelf, I discovered my dad, Reginald George Robson had also owned a copy of Wilson's book, indeed he must have known something about the Murray Family.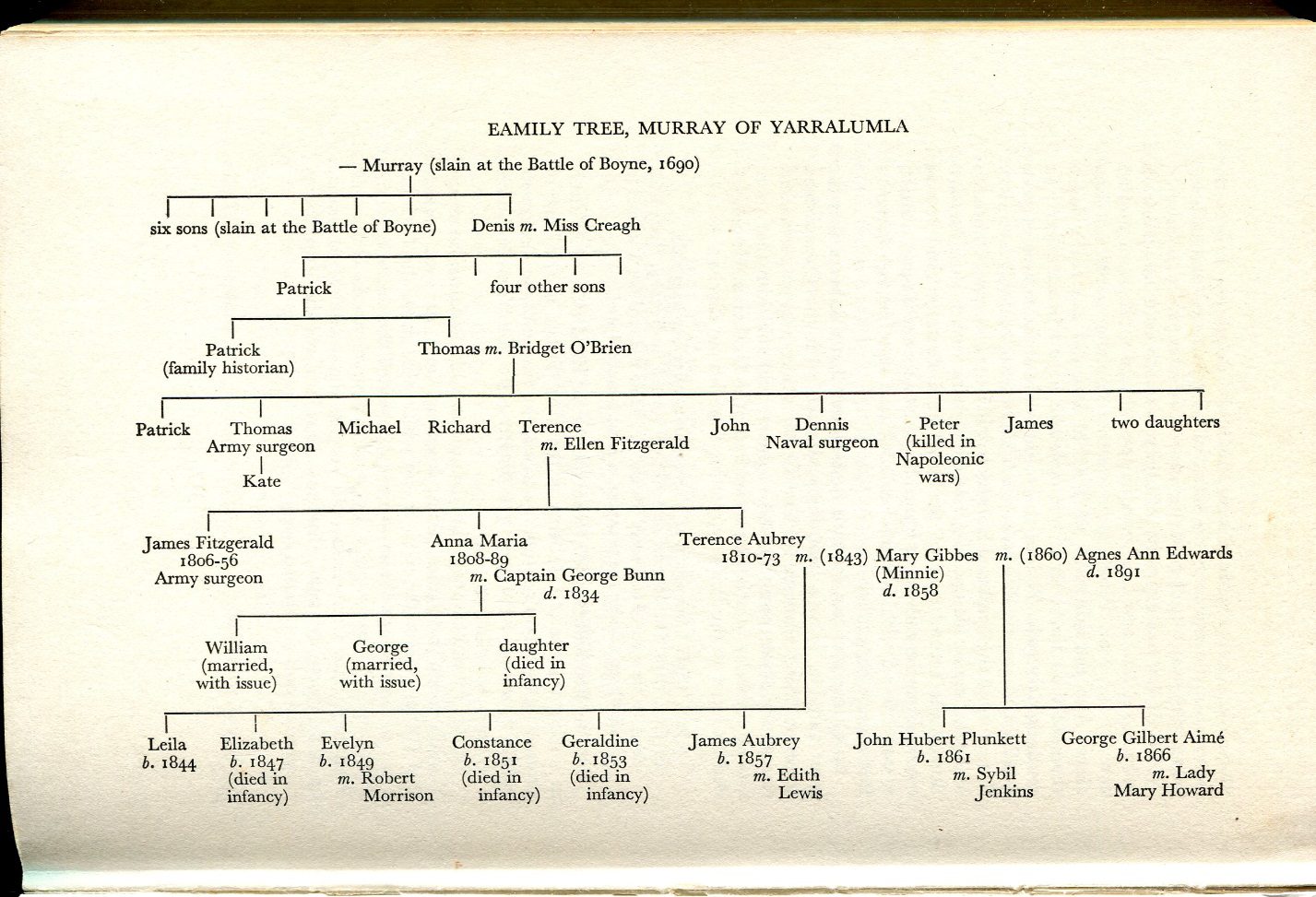 Family tree from Gwendoline Wilson's book on The Murrays of Yarralumla
Armed with the information that Ellen Frances Matilda Wise was Irish and with her death certificate naming her parents as Michael and Ellen Murray, I now determined that my only course was to find Ellen's family in Limerick, Ireland. Irish names are handed down with each generation so the fact that two of Ellen's children were called Michael Murray Wise and Ellen Murray Wise was most helpful. Other children were given their fathers family names. I was able to find on ancestry.com other family members collecting their own family tree information, supporting my research on the Wise family of Avoca. I was able to link up with John Lee who is a second cousin through his direct ancestor George Henry Wise, brother to William McOboy Wise. Once I placed our tree on ancestry and added in Henry George Wise I immediately received a message from John Lee and we have been collaborating ever since. However, he is no relation to Ellen Murray and had no information in this regard, although he was most interested due to the first cousin marriage of Kate Wise, the daughter of George Henry Wise to Michael Murray Wise.
The trail through BDM records in Ireland is scant and parish records were sadly often water damaged and then thrown out or burned during the ravages of religious warring. The Irish collection of early 19th century census' were all burned, excepting for the 1850 Griffiths Land Valuation Records, collected by the Irish Government of Landowners property, and their rent collection, showing the size of the land, and the amount paid by renters. These valuations also have amazing Irish Ordnance Maps attached showing the exact whereabouts of each property. They named the lessor and owner in most cases. These records however are too late in many cases for the people that I am looking for in our family history. The Wises had left Ireland for Australia just around this time. The shipping records are also almost non-existent for the unassisted migrant. The Irish lack of records although disappointing, is coupled with the fact that even Church parish records, if they survive, are either difficult to obtain, are exorbitant in price, and mostly unavailable online. The only website, irishgenealogy.ie where records are freely available are those surviving from the Dublin area, a traditionally strongly protestant area of Ireland. I object to having to pay for 10 records of possible matches of the person I am looking, as the purchase process does not narrow down the information to identify one person. At 30 Euros per 10 records this is almost robbery, especially if it turns out not to be your relative at all.
The Griffith's Valuation represents an impressive undertaking in terms of land survey and the amassing of valuable social and economic data.  Its value to those seeking information on their ancestors is obvious, although it goes further by providing a detailed snapshot of Ireland in the years following the Great Famine. In this sense it can be regarded as more than just a taxation survey; it serves also as a census of Ireland during the 1850s, a period of social change when emigration was at prevalent, especially in the west and southwest. The population of Ireland, which had numbered over eight million in the 1841 census, had been reduced by two million between 1845 and 1850, by a combination of emigration and deaths from starvation and disease.  In succeeding decades this outflow of people continued as landlords cleared people from their estates and more efficient large-scale grazing operations replaced intensive cropping of small holdings. By 1911, the Irish population was just under 4.5 million, a little over half that of 1845, a truly staggering statistic. There are many complementary genealogical sources, including church registers, census returns, and the Tithe Applotment Books, but Griffith's Valuation retains a special place in the estimation of most researchers, perhaps attributable to its all-Ireland basis.
A few days after meeting with Ann Loveridge, I decided to place a post on an internet site called Roots Web. It is a genealogical web page that I had only used once before when I found some information after looking up another member of my mother's Cornish family. The post site is easy to search and by simply Googling your information into the bar, a result comes up without the need to be a member of Roots Web site – that is unless you want to write a post or respond to one. So I decided to give it a go as a last resort and registered. The following extracts are what unfolded in the space of 24 hours.
"I need help finding the Murray family of Limerick, Ireland.  Ellen Frances Matilda Wise nee Murray, the information on her death certificate lists, father as Michael, mother as Ellen, my family tree information states she was from Prospect Hall (Hill?), Limerick. She married William McOboy Wise, who was from Cork and they immigrated to Australia in 1851 and settled in Avoca, Victoria with their family of 6 children. 
 Charlie" 20 September 2011 (Charlie is my nickname on the internet)
Within 10 hours I had the following reply from George:
"Prospect Hill was on the SW side of city in St Michael's parish – just a few hundred yards from where I'm sitting now. If you go to www.rootsireland.ie you can browse old parish records. Only Ellen born to a Michael for relevant period is in 1817 in Patrickswell – a parish just to the west of city. This not definitive proof that it's your Ellen as many, if not most of our rural parishes had no records at time. The city parishes go back to 1700's, but as I said the 1817 entry is only one listed. I have been researching my own family in area and one was married to a Murray and I came across baptisms for a Michael Murray and his wife Ellen/Helen Lynch for years 1813/22. It's possible that they moved the few miles into town after that. The rootsireland site allows free browsing but they charge for details. I didn't note names of children born in above family and it's possible that the 1817 Ellen was child of another Michael Murray with family in Patrickswell around same time. I think it's worth checking it out. George"
I sat bolt upright on receipt of the above. I was amazed at this response and that I seemed to be onto something solid here, I replied:
"How kind of you to reply so quickly. This is good news. I have been to the site you recommended and have had a positive answer also on Ellen Murray, daughter of Michael, born 1817. Our relatives here in Sydney, Australia think that Ellen is related to the Terence Murray family of Yarralumla, now the home of Australia's Governor General in Canberra. I wondered if there was any firm link at all that you knew of between Terence Snr and Michael?  I have a family tree of Terence Murray Snr, listing his father as Thomas and mother as Bridget O'Brien, living at Balliston, Limerick, and there is a brother Michael listed there but no spouse or children. You mention Prospect Hill in your message; do you know where Prospect Hall is at all? It is the birthplace of Ellen Murray that is handwritten into our family tree fifty or so years ago. Ellen's full name was Ellen Frances Matilda Murray and coincidentally in 1817 Terence Murray Snr sailed on the ship Matilda to Sydney on his first visit as Paymaster of the Colony of New South Wales, attached to the 48th Northumberland Regiment. He then returned to Ireland and, after his wife, Ellen Fitzgerald died and migrated to Australia with his son, Terence Aubrey and daughter Anna Maria, leaving his elder son to be educated in Ireland. Matilda is such a significant and iconic name in Australian history and we always wondered about the connection to the colony.

 Charlie"
Within the space of another ten hours I received the following response:
"Charlie, your recent posting referred to Prospect Hall or Hill. Hill is in town, while Prospect Hall was a country estate near Patrickswell. Murray was/is a fairly common name here in Limerick, but it's quite possible yours were related to the Balliston family – only thing is there's no way of confirming it that I can suggest. When you refer to the 1817 Ellen, was she the daughter of Michael Murray and Helen Lynch? If so I can give you a list of names of godparents to children born in that family between 1813/22
John Hartigan and Anne Murray
William Costelloe and Ellen O'Neill
Denis Murray and Bridget O'Brien
William Crilly and Margaret Lynch
James and Bridget Murray
Terence and Elizabeth Murray.
As far as I know a branch of the family still in area of Patrickswell. Some years ago we had a Terence prominent in our local sport of hurling, and the scrum half on our present Ireland Rugby Union team at the world cup in NZ is a Connor Murray also from Patrickswell. George"
This information was really amazing news, with all these names being so familiar to me from the Murrays of Yarralumla book. Margaret Lynch may well be an aunt or grandmother of Ellen Murray. It is still up in the air, and not 100 percent, but this development gave me great encouragement in my efforts to place Ellen Murray in her correct family tree.
I replied to George later a few hours later:
"George, how kind to let me know all these interesting facts. I am very excited about this information. I can't help being confident that this is our Ellen. The familiar names are all there. This is so amazing. I wonder if there is any connection with your Murray's? Also I am new to this sort of research. How exactly did you view these parish records? Are they still there in Patrickswell? How can I get copies of these records? I have found the site you mentioned quite difficult to get really accurate documents without paying for umpteen other documents that might be incorrect ones? How did you cope with this? I would love to find the name of Ellen's other siblings. I will try again with this site. I also found this web page regarding Lynches and Murrays. Interesting connections you will agree. Do you think this link below to Griffith land valuation in the Kilkeedy, Limerick area is anywhere near the same areas you have been referring to in your previous emails?

http://www.failteromhat.com/griffiths/limerick/kilkeedy.htm
Thanks again for all your marvellous information. It is so amazing to have this visual image of you sitting just a few hundred yards from the very place that I am searching for in Limerick! Charlie"
By eight that night I had another interesting reply supporting my opinion about the site George recommended that was fleecing the general public, and further confirmation that Kilkeedy is indeed the correct area:
"Charlie, Nowadays direct access to old parish records is only available at National Library in Dublin-microfilm copies of originals-not in computer searchable format and often barely legible. Generally if a member of a family requests access from a priest to his copy the response is helpful and most parishes have a searchable version-transcribed from originals by genealogists back in 1980's. Response to long distance requests not too good however. In Ireland today there a shortage of priests and they don't see themselves as providers of family history service. The site I gave you has all existing records, but unless one has specific information I wouldn't advise paying their excessive charge- which really should be a cover charge for unlimited access for a given time. This is getting a bit long winded, but you need info on what is available. I got most of my data back in 1990's at local family history centre at a nominal fee-their records taken over by rootsIreland who are part of IFHF-object was to make each centre self-financing. The site that you have posted is indeed the area in question-land records were organised by an admin district known as a civil parish-not same as the Catholic Church parish. The area around Patrickswell was mostly in Kilkeedy civil parish. An American called Pat Connors has put a large number of land records online for 1820's/30's-just google his name for access. Also if you google 'griffithsaskaboutireland' you can view copies of original land records for 1850. Be aware that name Lynch was very common in area. You still have the problem of not knowing for a fact that this is your family and I advise against making assumptions-more people in Limerick in early 1800's than Oz.

Finally from cross referencing the parish records-using godparents names etc-I have found that there were at least some connections between a branch of my own family-named Frawley-and some of the Murrays. My family lived in an area just across the road from main part of Patrickswell village, but Patrickswell has records from 1801 and my part of was in another parish with no records until 1844.I suspect that a James Frawley who married a Margaret Murray in 1845 may have been my gr gr grf-second marriage-there was just a daughter Anna born in 1847.If you need any help don't hesitate to ask. George"
On further investigation of the Irish BDM website, I found a way of narrowing down Ellen's relevant 1817 baptism record. I decided to just buy the one record in the end as an experiment online. I nervously signed in and purchased one token, and the excitement of striking Ellen's baptism on the first try was amazing. So there she is and her uncle on her paternal side, Denis Murray acted as one of the sponsors, and Bridget O'Brien her paternal grandmother acted as the other. The combination of George's description of Patrickswell in Ireland and my seeing the Baptism record made me feel like I was there witnessing the event myself. It was probably the most rewarding piece of research I had undertaken to that date. O'Brien is Ellen's grandmother's maiden name so I wondered if there was another Bridget, an aunt perhaps. Bridget Murray nee O'Brien is Michael Murray's mother and of course this definitively links Ellen and her dad to Terence Murray, as an uncle to her. Michael and Terence and Denis were brothers. According to Gwendolyn Wilson in her book, the Murrays of Yarralumla, Denis was a Naval Surgeon.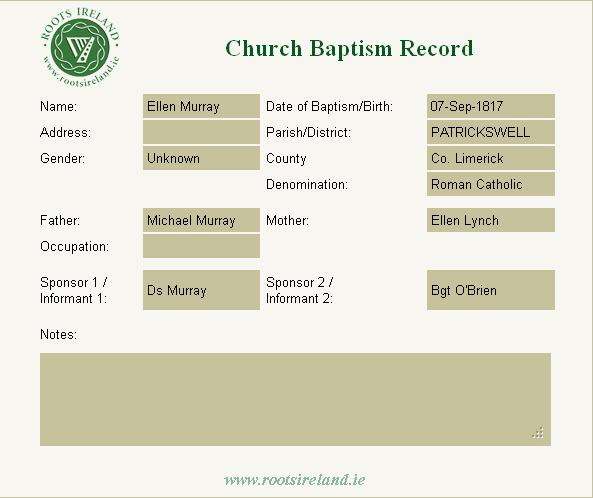 Ellen Murray was Baptised on 7 Sep 1817, the same year her uncle Terence Murray left Cork on 28 March 1817, for the Colony of New South Wales aboard the barque, Matilda, which was built in France in 1779, and weighed 460 tons. I believe Ellen was given the middle name Matilda in honour of her uncle's ship, as a token of good luck for his voyage. History has labelled the Matilda a leaky vessel, and the voyage in 1817 was an unpleasant experience, according to the surgeon's report, "between Cape Town and Sydney 15 poor souls lost their lives, overall 25 people died on the voyage", which was a grim toll.
It should be noted that on Ellen's Baptism her full name has not been used, however her marriage announcement in the Clare Journal gave her full name, Ellen Frances Matilda and so it was definite that this was her full name in Ireland, before she migrated to Australia. As was seen in the opening few pages of this chapter, Ellen's Australian death record gives her name in full as Ellen Frances Matilda Wise.
In July 2016 I was updating my files in preparation for my trip to Ireland in August when I found Ancestry.com had recently uploaded more records from Ireland, and it was a thrill to discover that Ellen's Baptism, along with several of her siblings had been included, five from Lurriga Catholic Church's Parish Records, Patrickswell, and two from St Michael's Church Parish Records, Limerick City, Limerick, all illustrated on the following few pages.  I have done a family sheet record for Michael Murray and his family to show how everyone fits into the Murray family tree, listing siblings, parents, wife and children.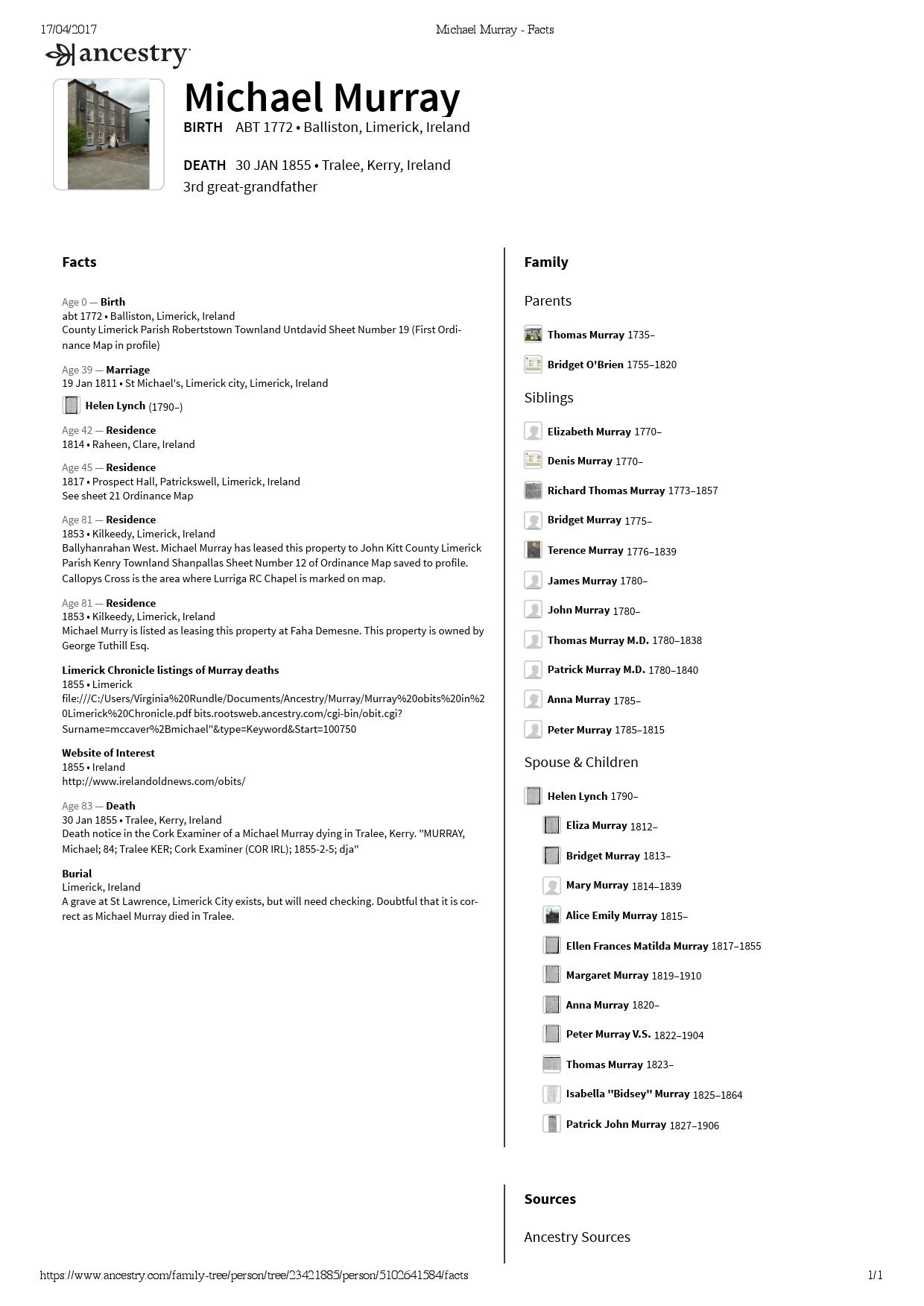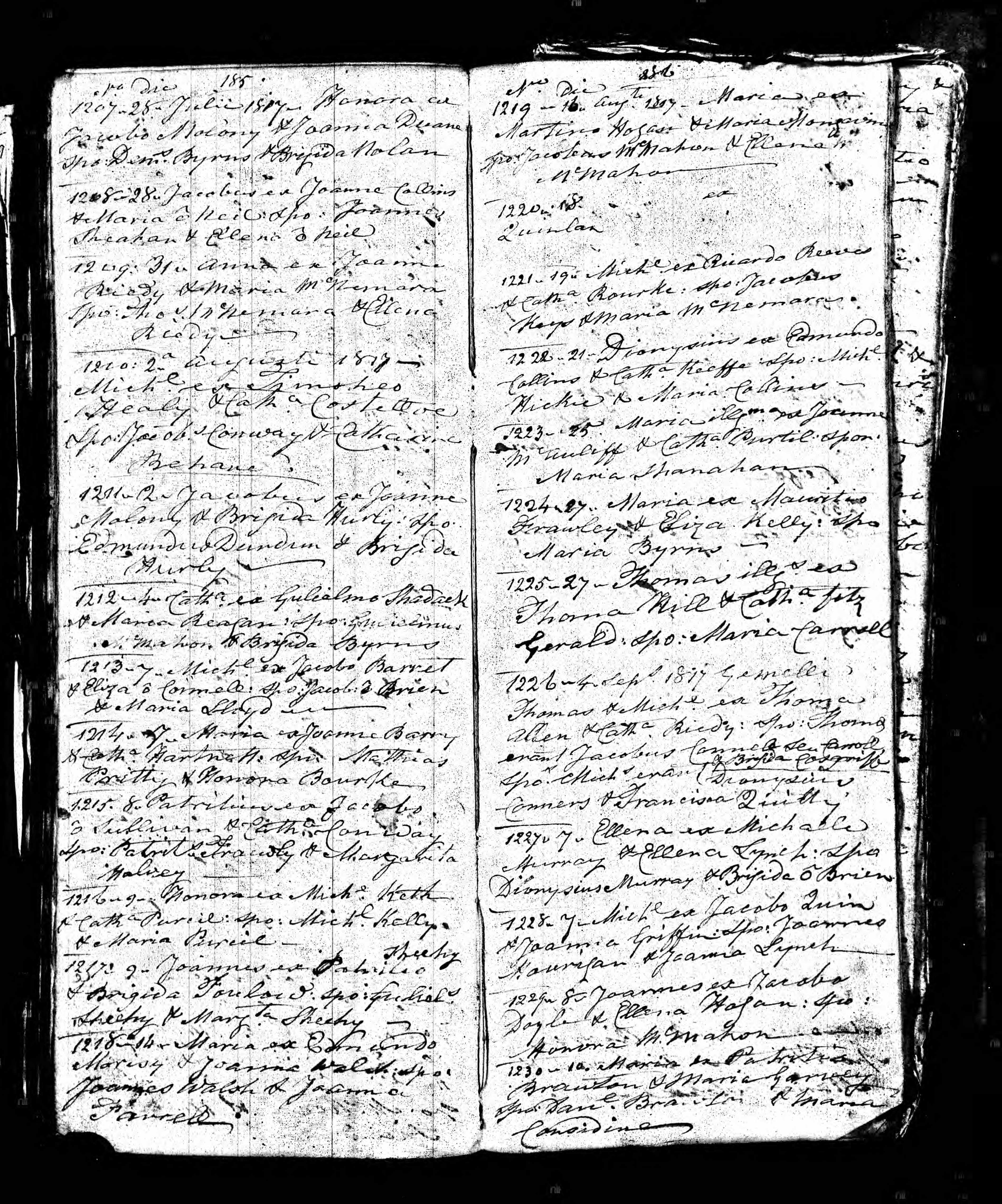 Baptism of Ellen Murray 7 September 1817, daughter of Michael Murray and Helen Lynch. Lurriga Parish Book, Patrickswell, Limerick. Ireland, Catholic Parish Registers, 1655-1915
Godparents are listed as Dionysis Murray and Brigida O'Brien. Dionysis is the Latin for Denis, her uncle and Bridget O'Brien, her paternal grandmother.
Baptism of Margaret Murray 15 May 1819, daughter of Michael Murray and Helen Lynch, Lurriga, Patrickswell. Ireland, Catholic Parish Registers, 1655-1915
Witnesses at baptism were Margaret Lynch and William Colley. Margaret Lynch was probably a sister of Helen's.
Baptism of Anna Murray daughter of Michael Murray and Helen Lynch 18 November 1820, Lurriga, Patrickswell, Limerick, Ireland. Ireland, Catholic Parish Registers, 1655-1915
Godparents listed as Jacob Murray and Bridget Murray. Named in Latin in the Baptism, Jacob is probably James, her paternal uncle, and Bridget Murray, her aunt.
Baptism of Peter Murray, son of Michael and Helena Lynch, 5 February 1822 at Lurriga Church, Limerick. Ireland, Catholic Parish Registers, 1655-1915
Godparents listed are Terence Murray and Elizabeth Murray. This is most probably Terence Aubrey Murray, who was known to have been in the care of Bridget Murray, his widowed grandmother, while his father Terence Murray Snr was in Australia.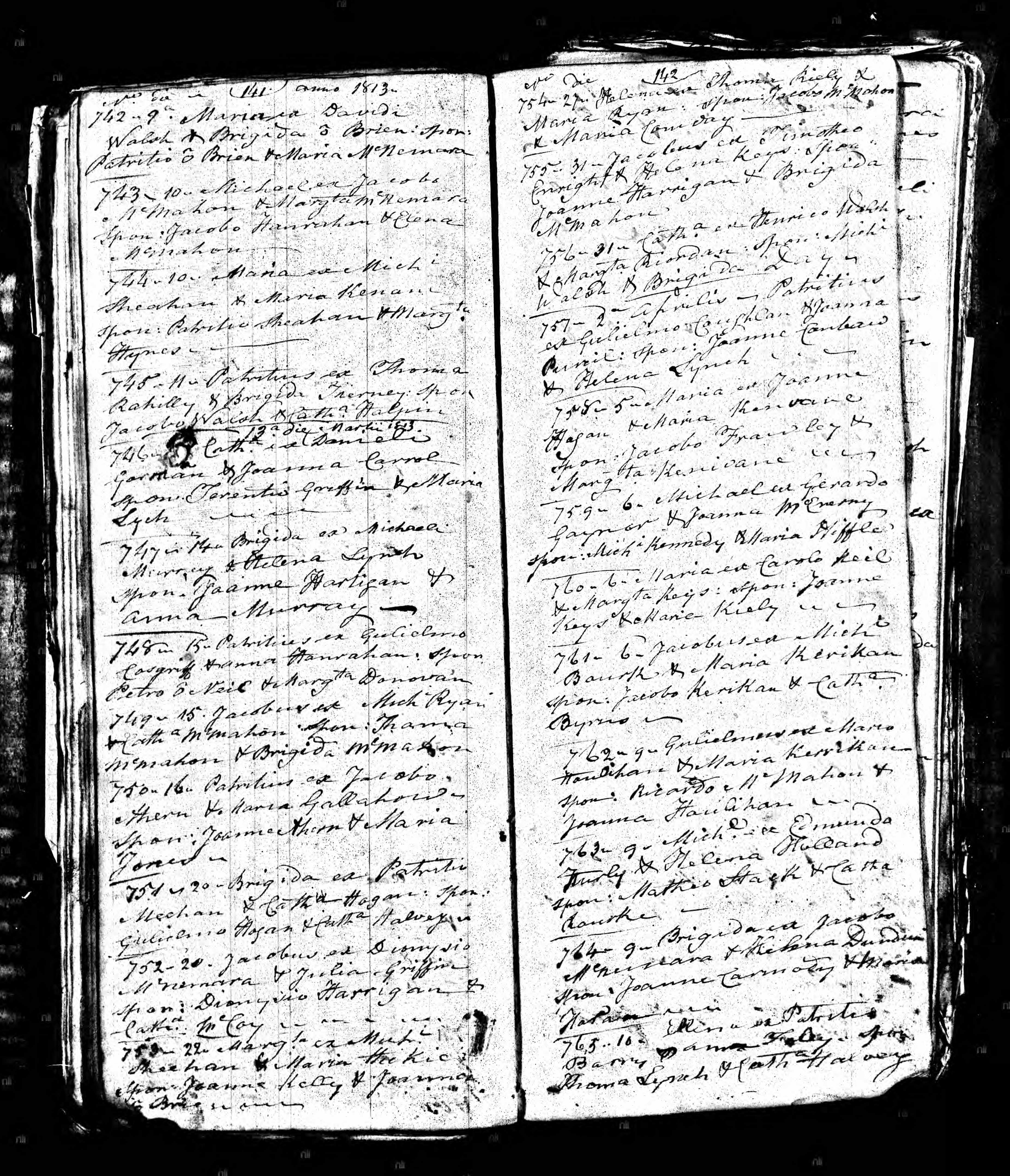 Baptism of Bridget 14 March 1813, daughter of Michael Murray and Helen Lynch, Lurriga, Patrickswell, Limerick, Ireland. Ireland, Catholic Parish Registers, 1655-1915
James Hartigan and Anna Murray are the godparents. Anna is Bridget's aunt, and a sister to Michael Murray. With each new baptism I was able to extend the Murray family.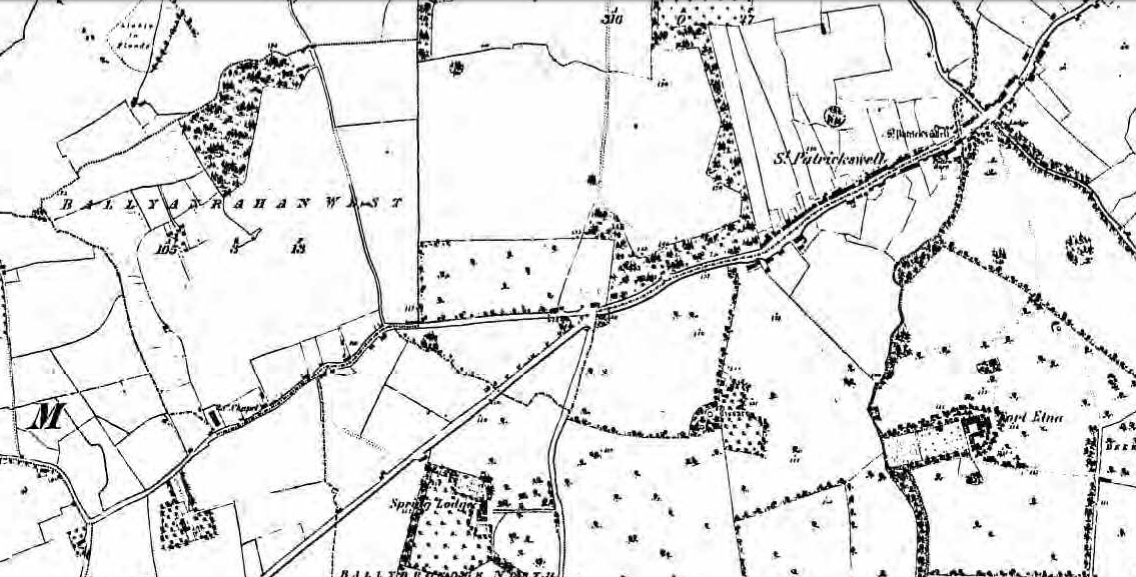 Ireland, Ordnance Survey 1824-1846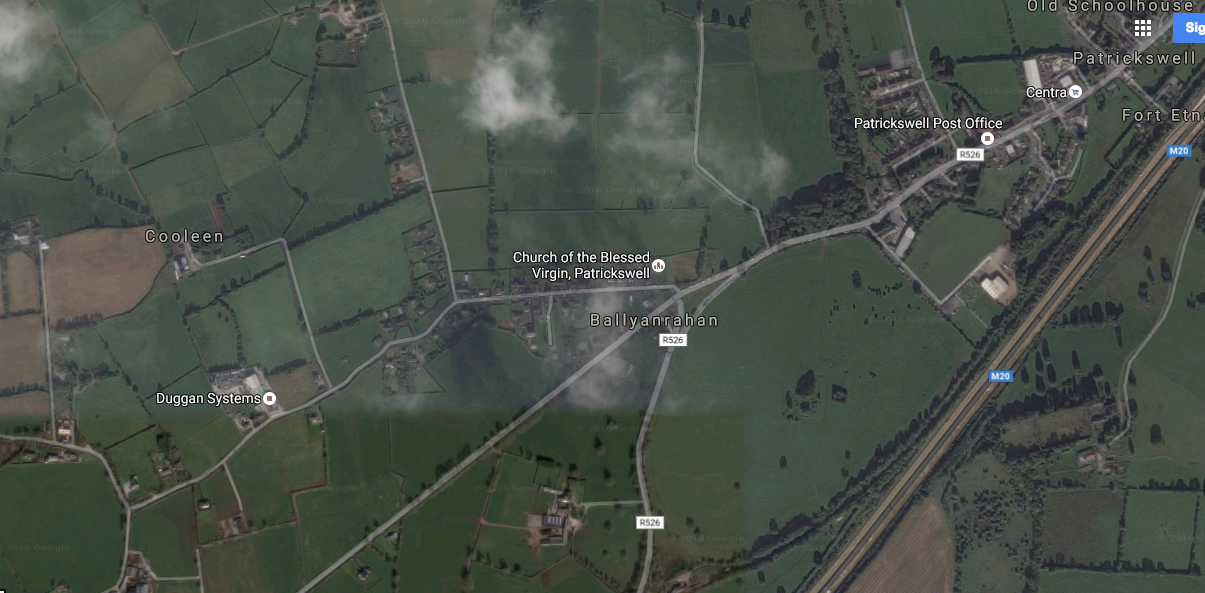 Google Map showing Lurriga Catholic Church where it is marked now as Duggan Systems
Looking at the two maps there is a three-pronged fork in the road coming out of Patrickswell, a town that is named on the top RHS. Although named Ballyanrahan, it is also commonly known as Collopy's Cross. On the Ordnance Map, take the top road of the fork and two thirds of the way down is the outline of a small building and in small letters it says RC Chapel. I believe this is Lurriga Church where Ellen Frances Matilda Murray was baptised. Lurriga would have been the Murray family church and is only a short distance from the Murray home, Prospect Hall, which is just south east of Patrickswell.
The overlaying of the two images, one from The Ordnance Survey of Ireland, and one from Google maps show the approximate position of Lurriga Church, Ballyanrahan, Limerick, now called Duggan Systems.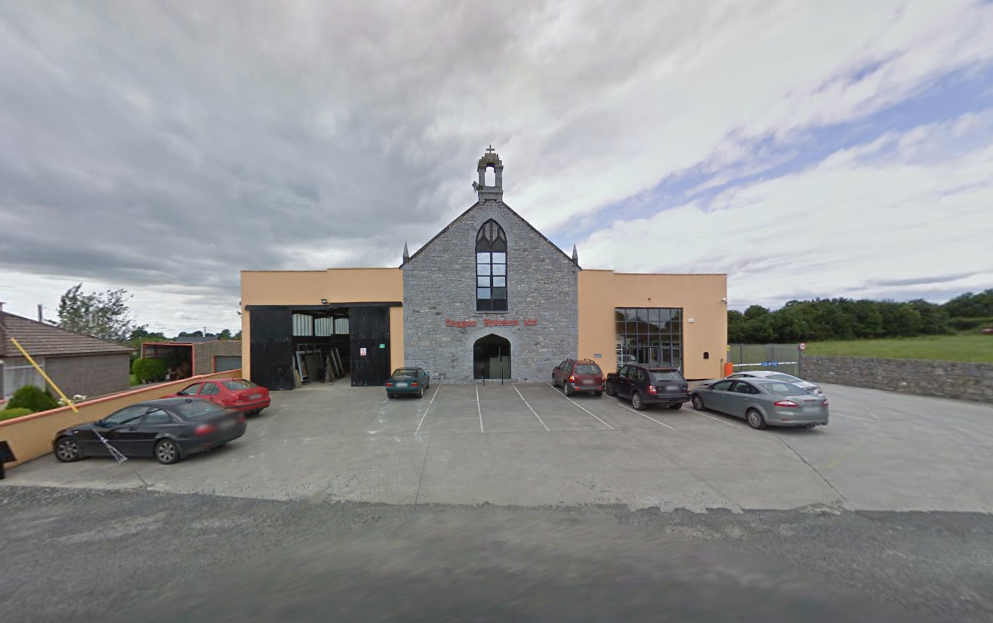 Although the church was rebuilt on roughly the same spot in about 1850, the Roman Catholic Church later decommissioned it. The façade still remains and is used as a business called Duggan Systems.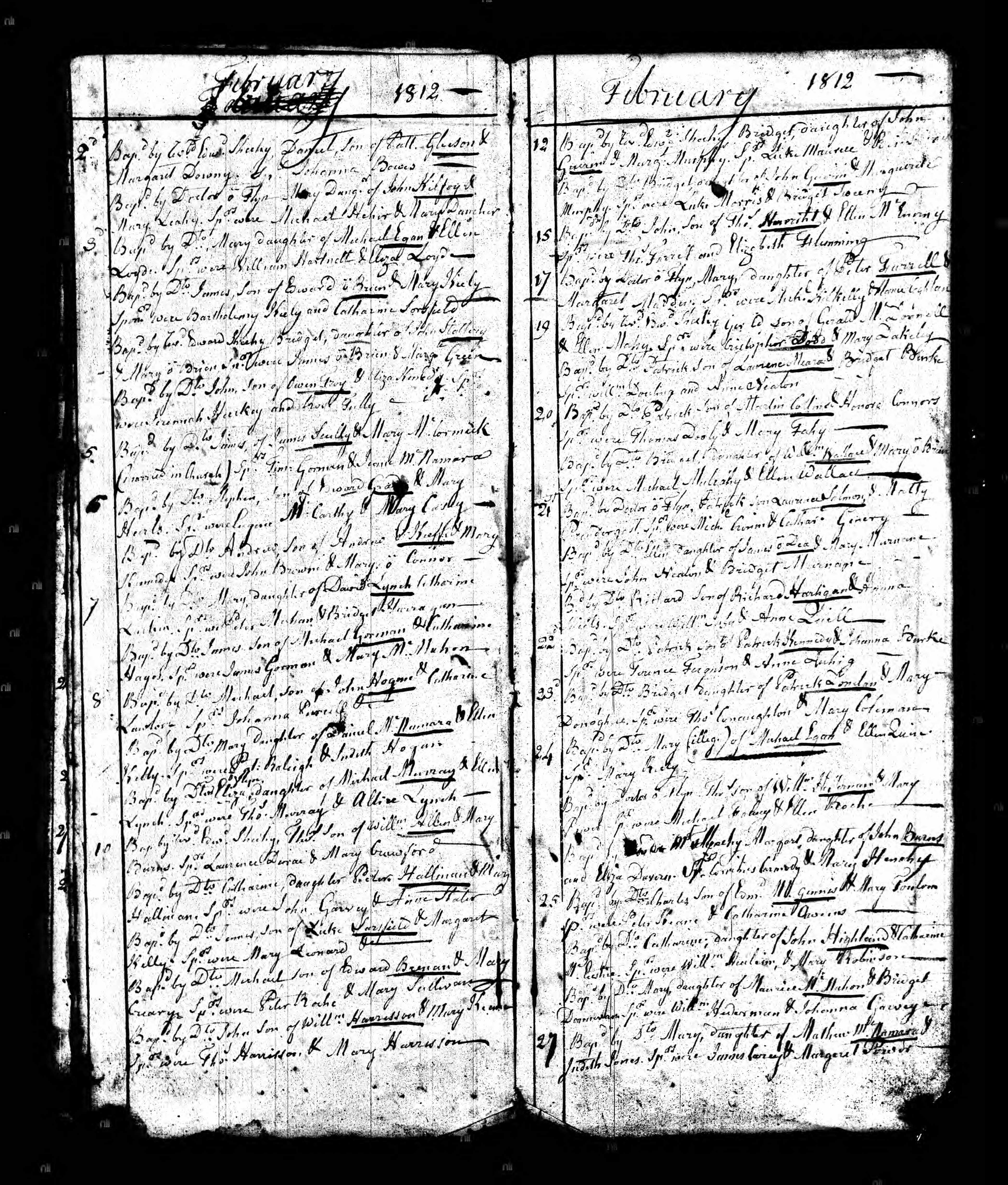 Baptism of Eliza Murray, daughter of Michael Murray and Helen Lynch 8 February 1812, St Michael's Limerick City. Ireland, Catholic Parish Registers, 1655-1915
Thomas Murray and Allise/Alicia Lynch are the godparents, Eliza's paternal uncle and maternal aunt.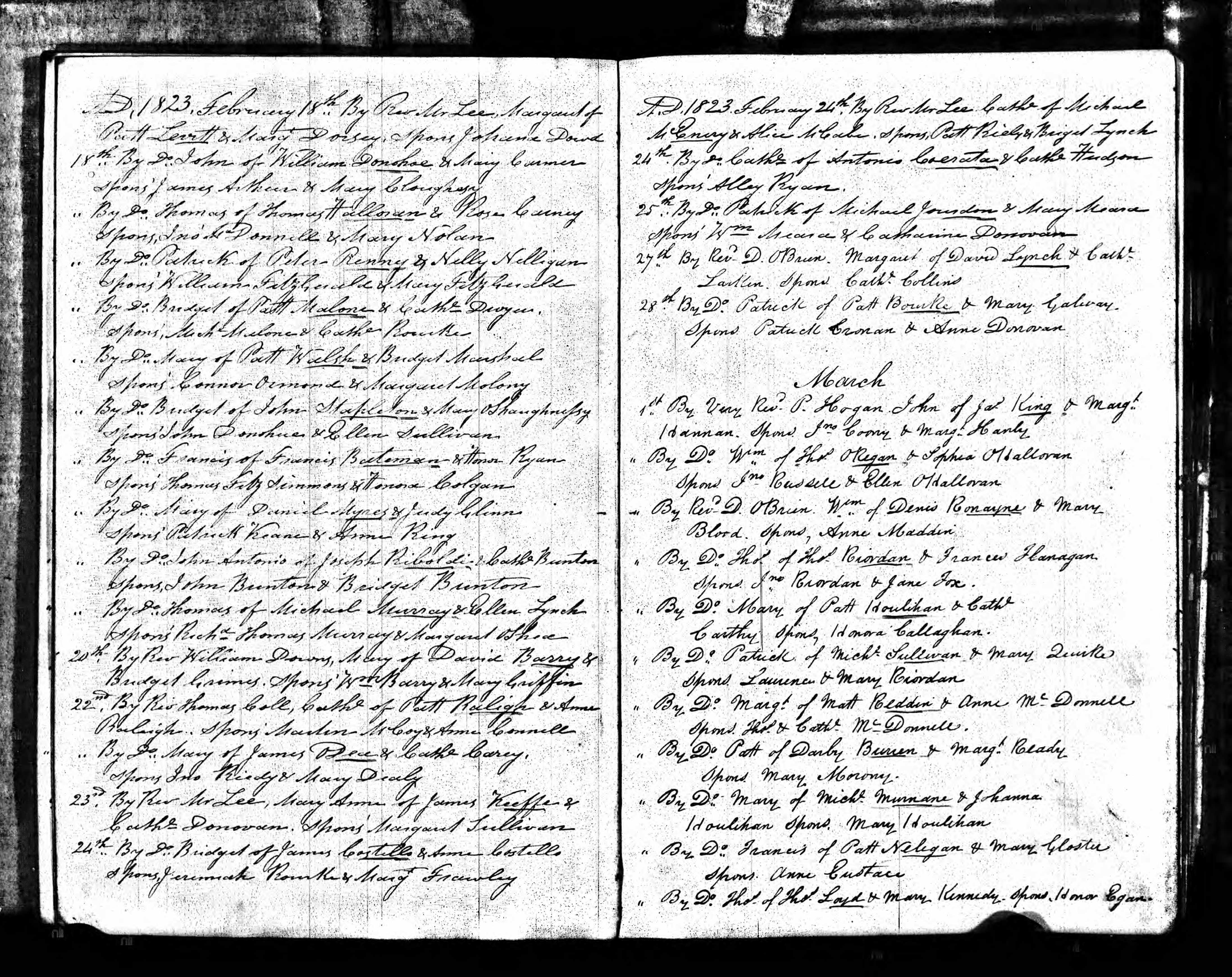 Baptism of Thomas Murray 18 February 1823, son of Michael Murray and Helen Lynch, St Michael's Limerick City, Limerick. Ireland, Catholic Parish Registers, 1655-1915
Richard Thomas Murray and Margaret O'Shane are the godparents. Richard was a brother to Michael.
Michael Murray came from a large family of sons born at Balliston House to Thomas Murray and Bridget O'Brien. Written up in Gwendoline Wilson's first chapter in Murray of Yarralumla was the fact that three Murray brothers married three Fitzgerald daughters. Wilson also mentions that there were several daughters in the Murray family as well. The Fitzgerald sister's father was James Fitzgerald of Movida, whose most famous ancestor was the Irish patriot, Lord Edward Fitzgerald. Terence Murray of Yarralumla married Ellen Fitzgerald who died tragically in France in 1812, well before Terence became paymaster to the Regiment, and embarked on the Matilda for Sydney in 1817.
Through newspaper notices I was able to determine that Thomas Murray and his wife Catherine Fitzgerald were another of these couples. Interestingly, Thomas and Catherine's daughter Kate married John Savory Rodd and migrated to Australia, she is mentioned in a Michael Murray Family tree that was placed inside my dad Reg Robson's family bible, as is a brother Edward. Edward also migrated to Australia and named a son Edward Fitzgerald Murray, thus confirming his grandparents relationship.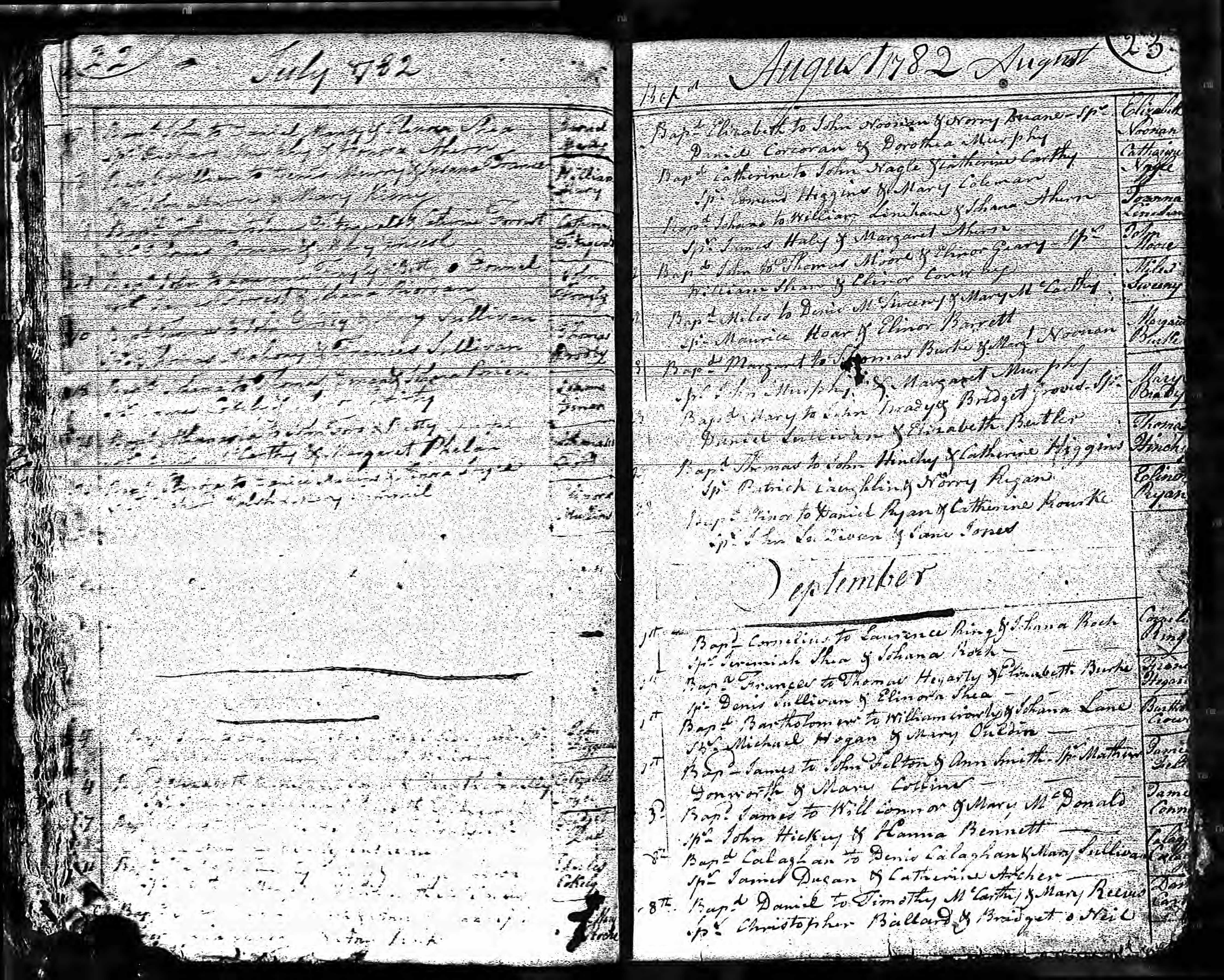 Baptism of Catherine Fitzgerald, daughter of James Fitzgerald and Catherine Forrest, 7 July 1782, St Mary's Church, Cork AND the Baptism of William Murray son of Denis Murray Snr and Susanna Forrest, 7 July 1782, St Mary's Church Cork, Ireland. Catholic Parish Registers, 1655-1915
(This document is very damaged; the image needs to be enlarged to read the document, their names appearing on the very top left hand side of the image.)
Catherine and William were baptised on the same day, in a joint family ceremony. It would appear that James Fitzgerald and Denis Murray Snr had married sisters, Catherine and Susanna Forrest. Legend has it that the Murray and Fitzgerald families were close friends, and this Baptism supports this wonderful family story that has been handed down through the generations. The fact that this is a Baptism in Cork is not surprising, because Denis Murray Snr was stationed there in the Regiment. When his nephew, Terence Murray Snr left for Sydney, Australia, aboard the Matilda, his regiment boarded the ship in Cork. Another nephew and namesake, Denis Murray, was a Naval Surgeon, stationed in Cork. Cork was the major port of southern Ireland. Catherine Fitzgerald married Thomas Murray, son of Thomas Murray and Bridget O'Brien, and a brother to Terence Murray Snr. As a matter of complete coincidence, when Geoff and I stayed in Cork in September 2016 we stayed at the Regimental Barracks, now a lovely hotel which overlooks the city, the River Lee and the port of Cork. Quite the best view in Cork had been selected for the regiment!
It was exciting to find Michael Murray's marriage record to Ellen Lynch when I was updating my article on the Murray family, and uploading the photos taken in September 2016 of Prospect Hall and Balliston House in Limerick.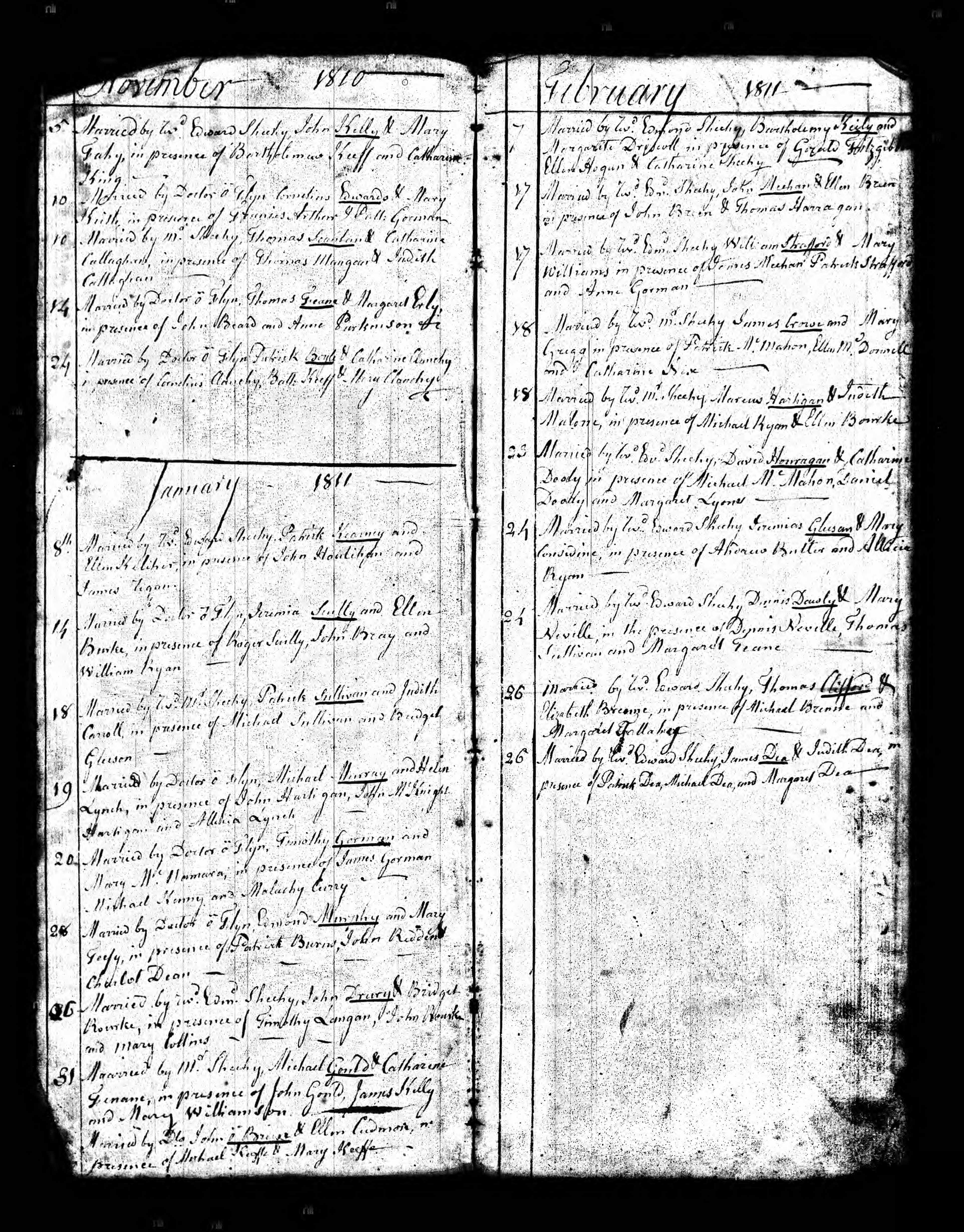 Marriage of Michael Murray and Ellen Lynch 19 Jan 1811 at St Michael's Church, Limerick City Catholic Parish Registers, 1655-1915. Witnessed by John Hartigan and Allice Lynch, Ellen's sister. More documents are coming to light, and they are being scanned and uploaded by Ancestry.com.
Death notice for Michael Murray 30 January 1855, aged 84 years, Cork Examiner 5 February 1855
While I was in Dublin in August 2016 I visited National Library where I accessed old Irish newspapers from microfiche in their files. It was a laborious business whereby one could only request three items every hour to examine. One of my requests was for the Cork Examiner newspaper, and even after I captured this notice I wasn't confident it was correct, because I wasn't expecting Michael to be living in Tralee. However, my later research for Michael's children found his son Peter Murray, a Veterinary Surgeon, living in Tralee in Nelson Street. I think it now probable that Michael was living in the same home.
The following page shows an Ordnance Map and a Google map of Prospect Hall, it was amazing to be able to compare these two maps and find that the terrain had changed very little. I was confident that I had found the home of Michael and Helen Murray, living near Patrickswell, Limerick.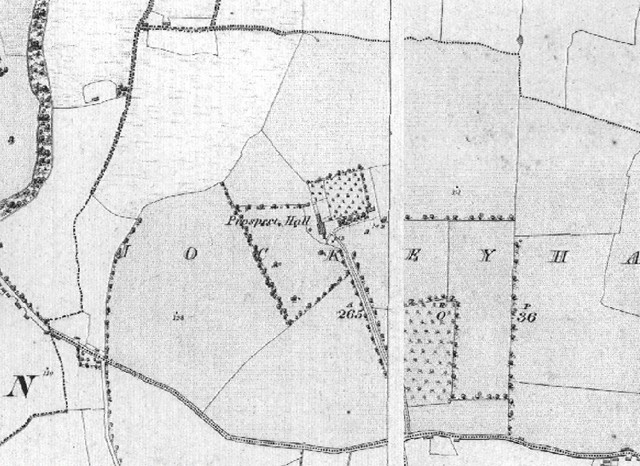 Old parish Ordnance map showing Prospect Hall, Patrickswell, County Limerick, Ireland
Google Map showing Prospect Hall, near Patrickswell, Limerick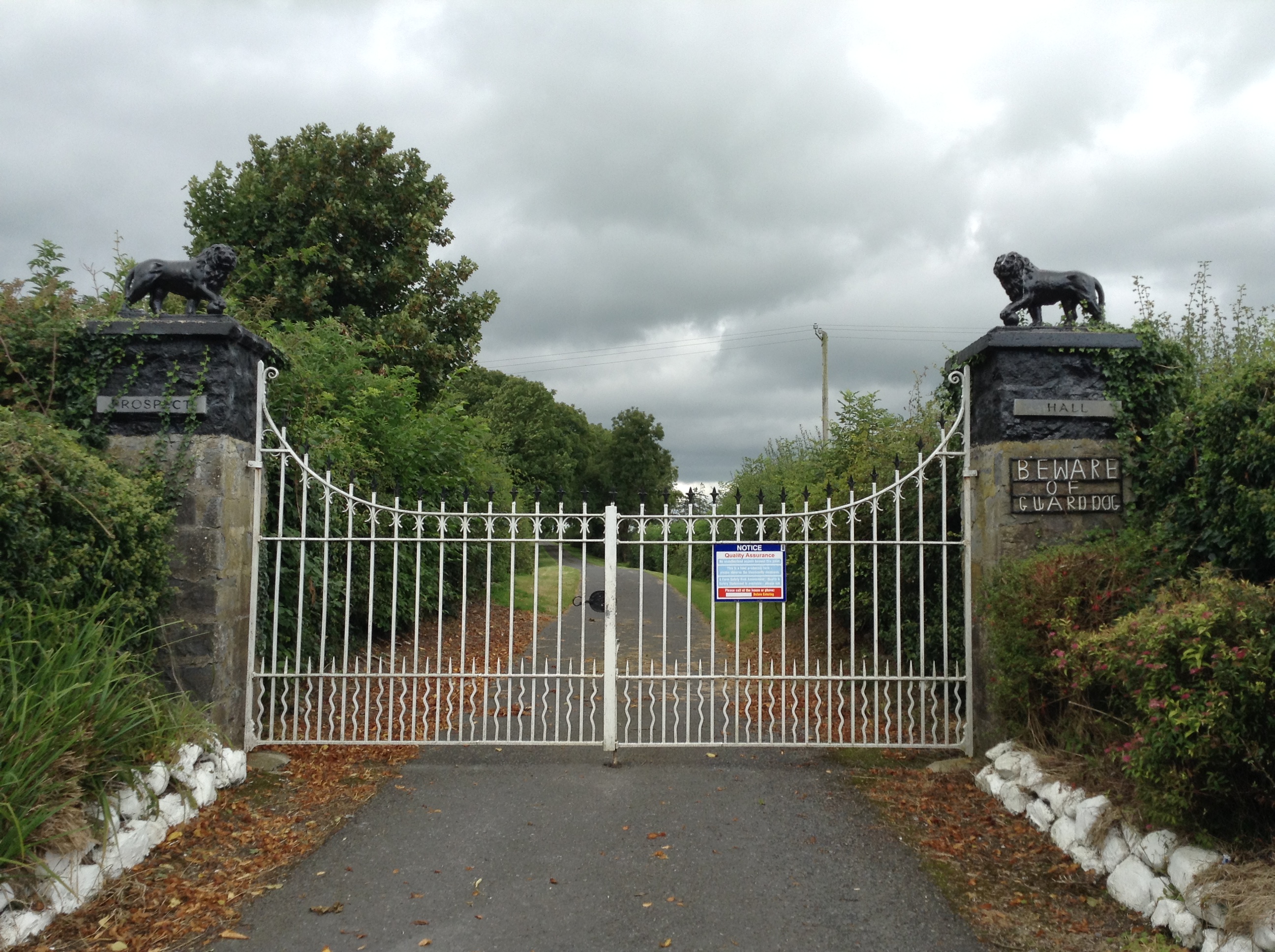 The gates to Prospect Hall and below the driveway to house
An upstairs bedroom above, and below the back yard of Prospect Hall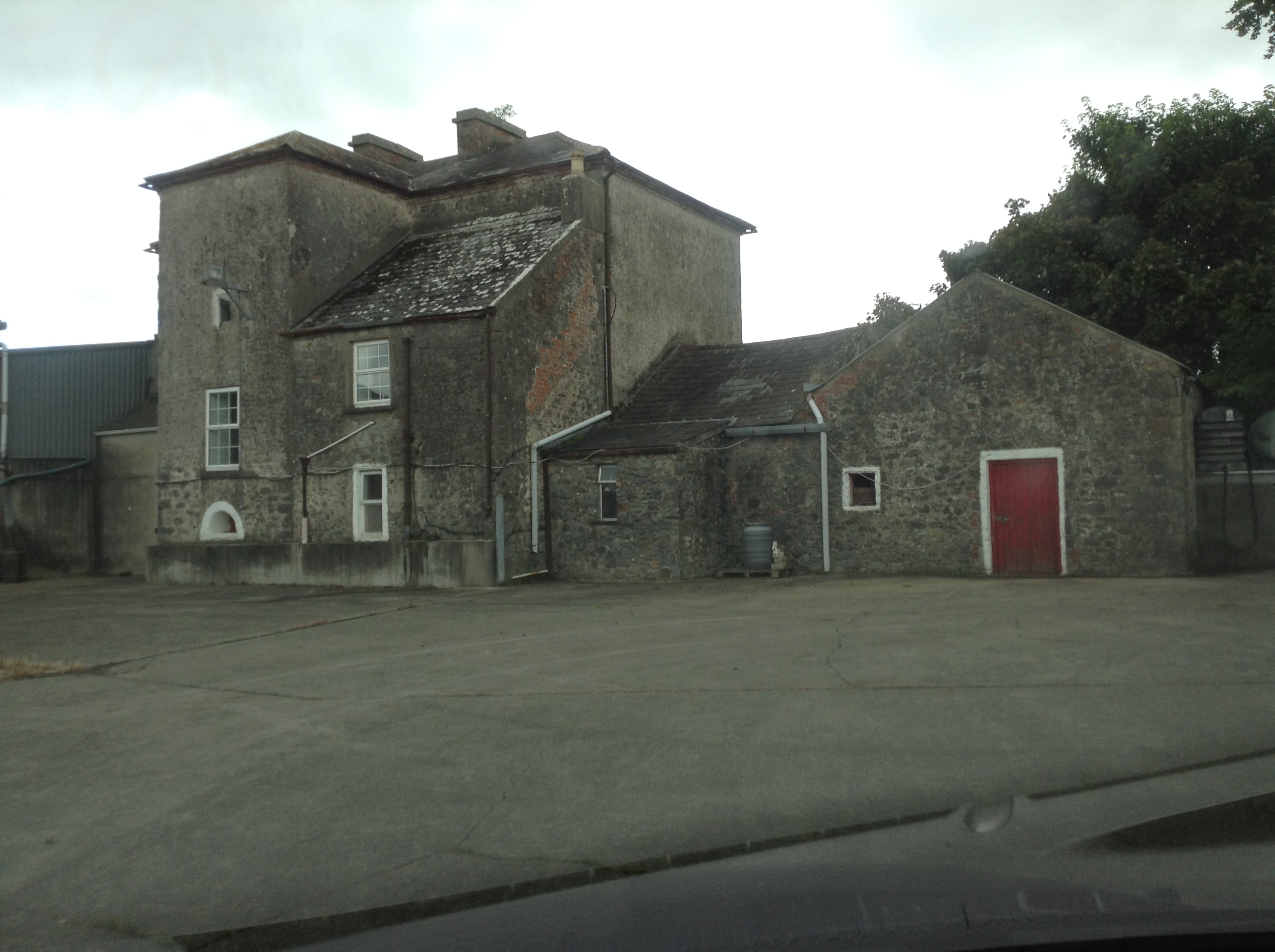 Prospect Hall is now a business premises, and an abattoir for local butcheries in Limerick. When Geoff and I arrived at the gates, they were open, so we drove up and found the house and took some photos. Around the back workmen were finishing up their morning's work and hosing down the barns. We were grateful that the owner was there, and that he was happy to talk about his family's history at Prospect Hall, and he very kindly showed us around the house and inside, which was very special for me.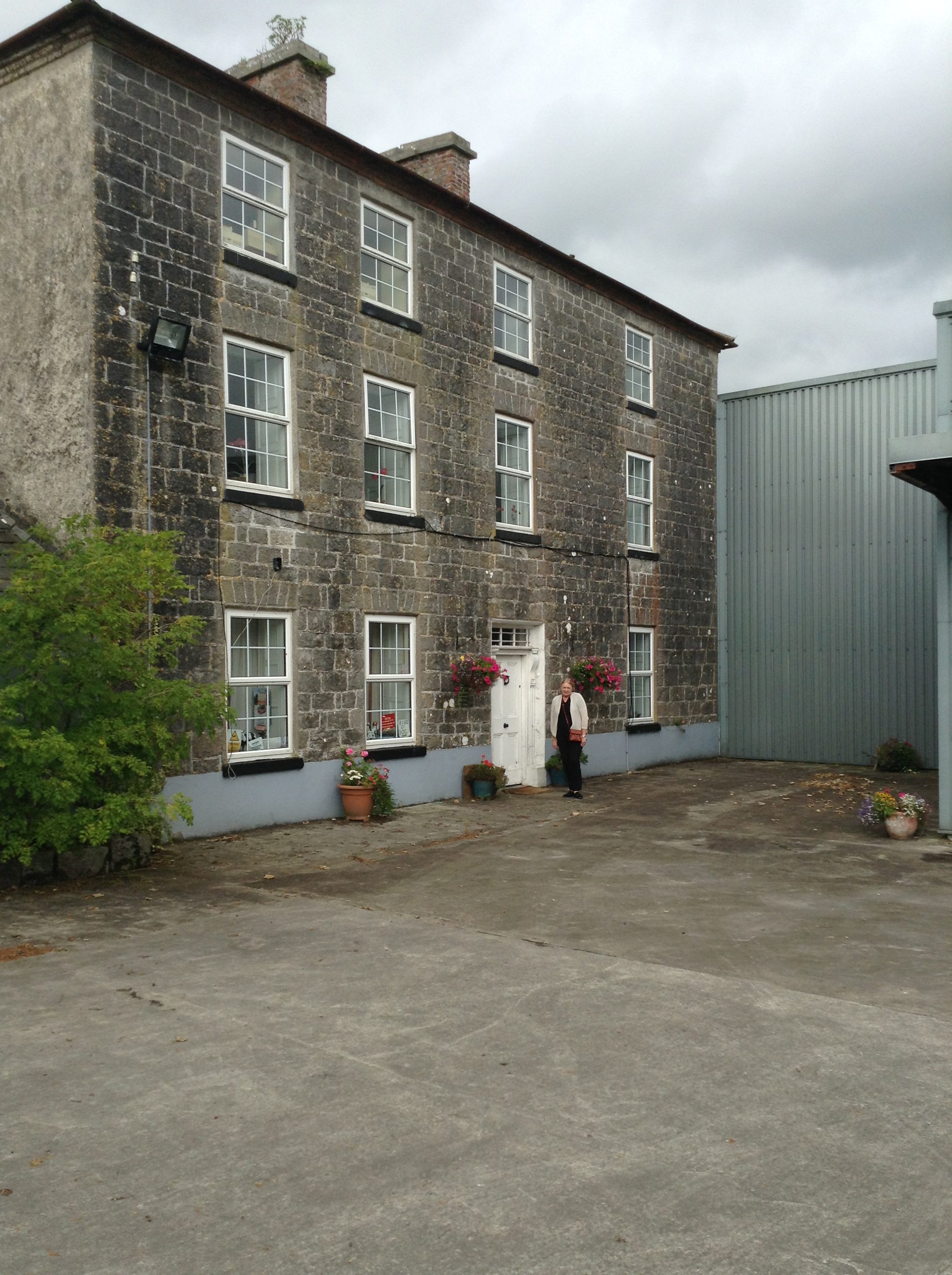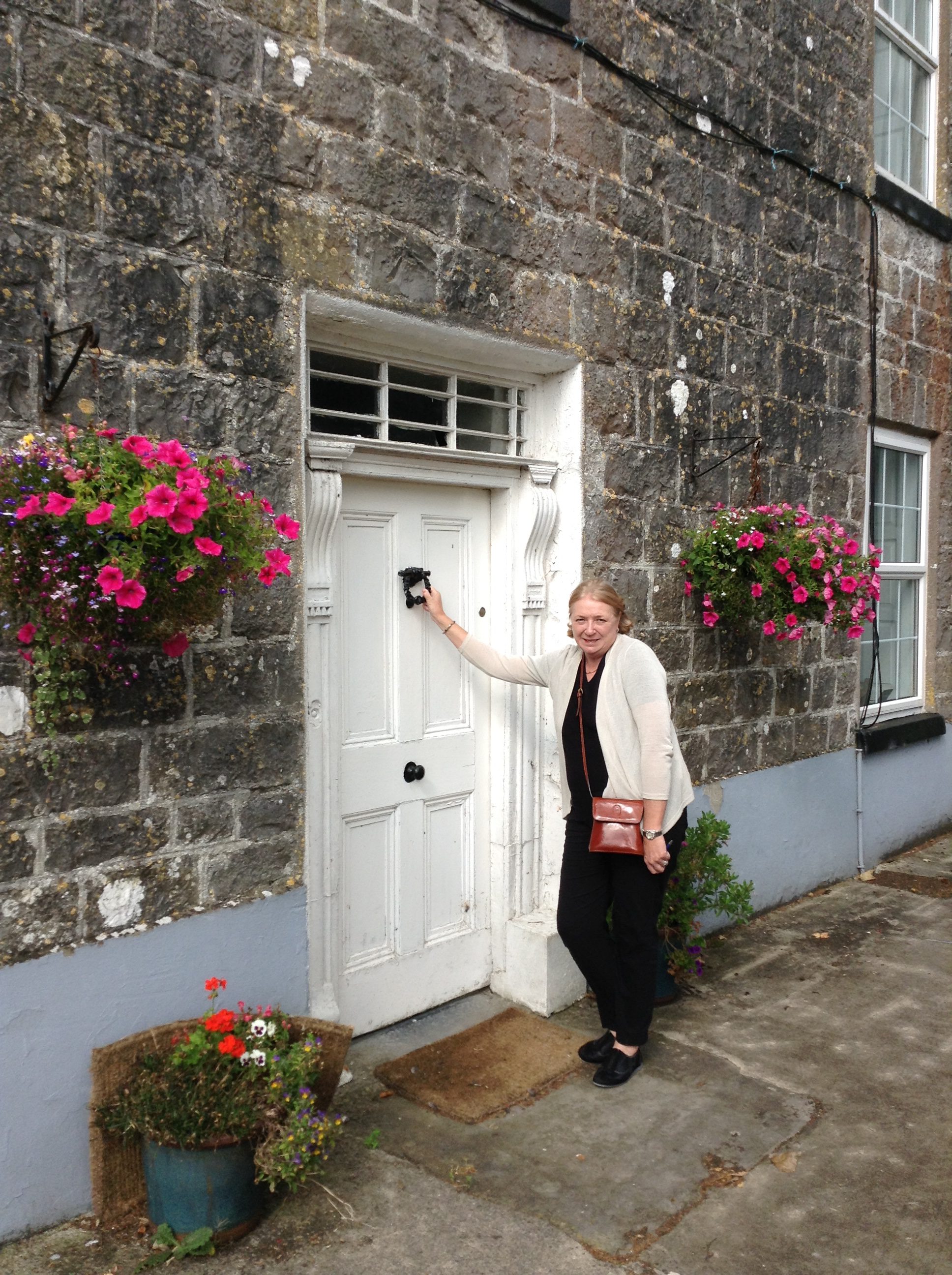 At one stage the owner's father lived in Prospect Hall, but circumstances with their business now means that Prospect Hall is their office. Unsympathetic buildings have been attached to the front side of the house, but do not interfere with its integrity, and he was at pains to tell us that the property is safe for now, because as the owner, he wishes to protect Prospect Hall for posterity, which is so pleasing. He told us that Ireland at one stage introduced a roof tax and it was so unpopular that some owners, not using a home would take off the roof of the building to avoid the taxation. Sadly it meant many historic houses were destroyed.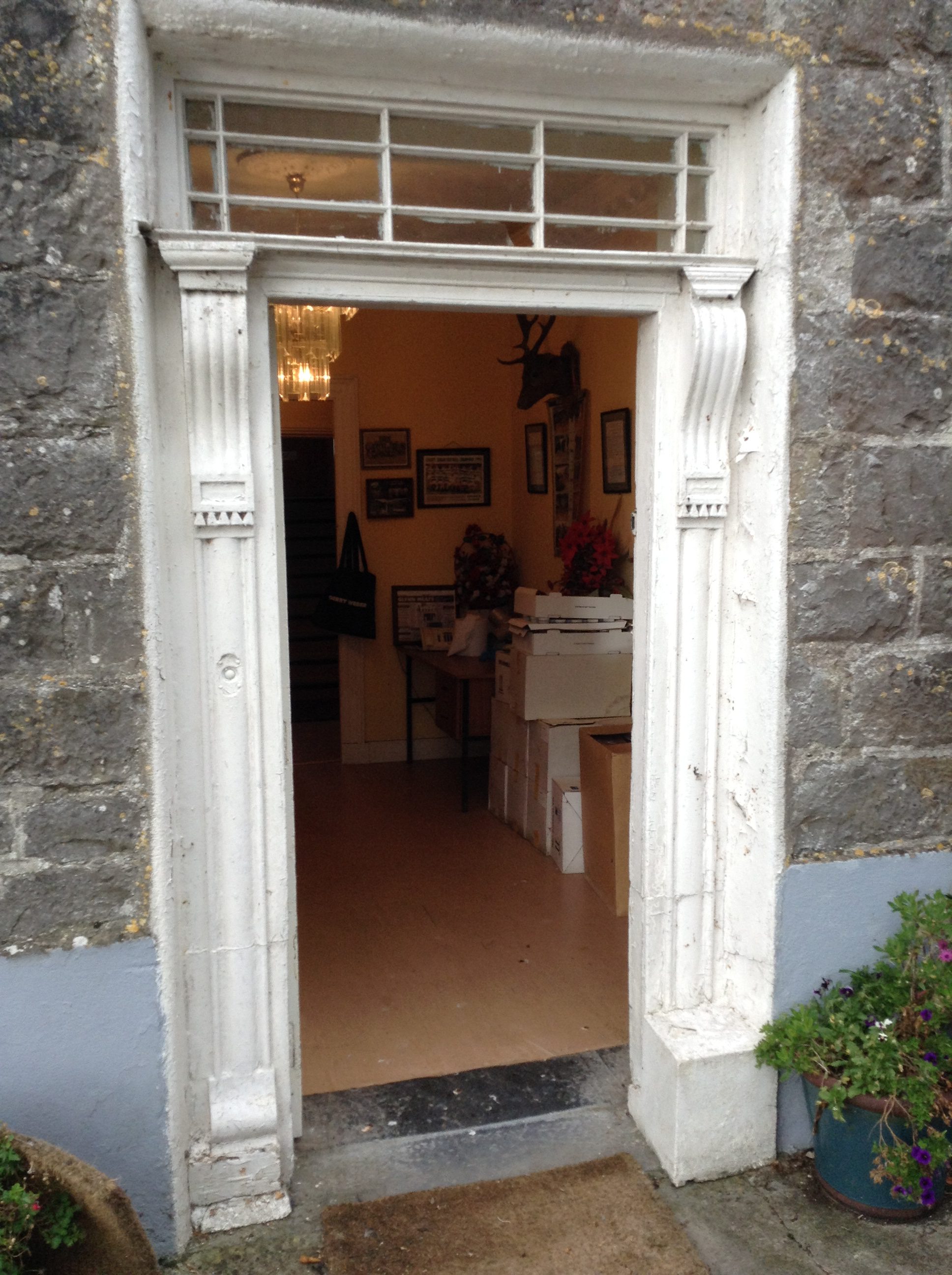 Prospect Hall, near Patrickswell, both images are courtesy of Limerick Library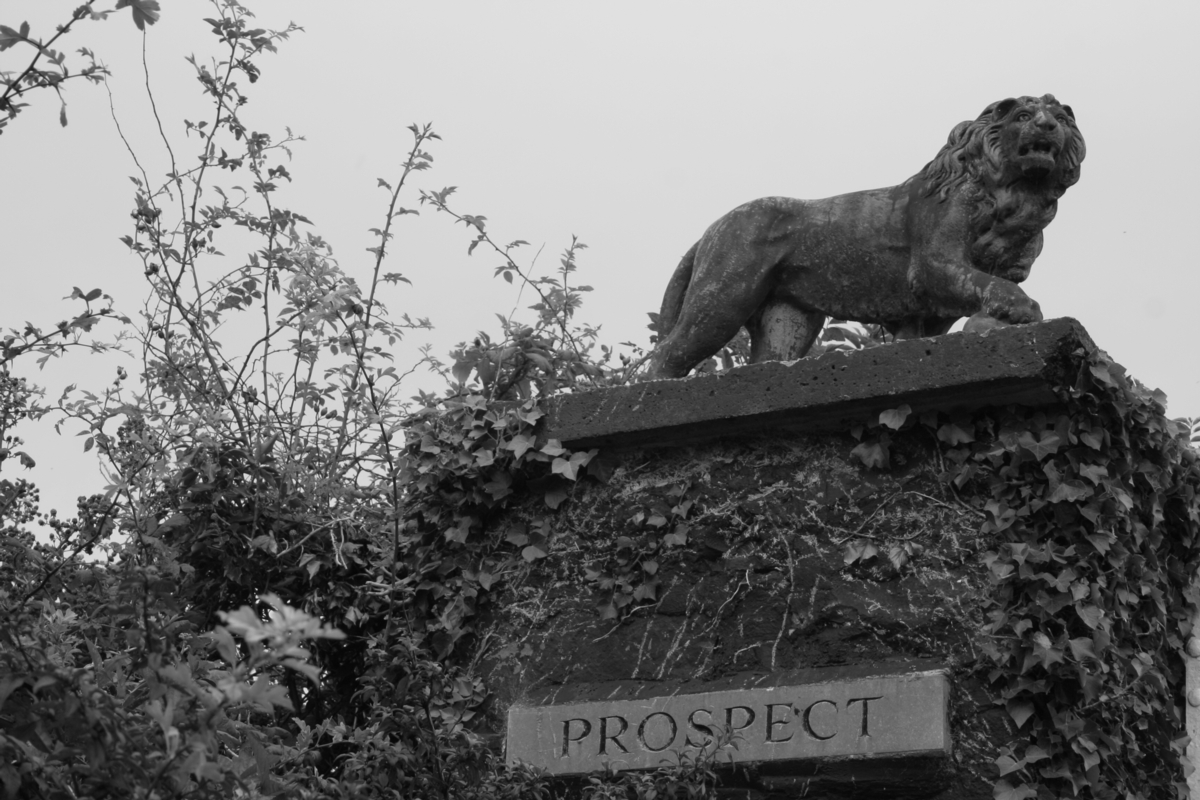 One of a pair of Lions on top of gate columns at the entrance to Prospect Hall
Limerick Library has excellent online research resources including surname references to family death notices from the Limerick Chronicle. I want to thank the Library for their excellent links to my Murray family, and acknowledge their assistance in uncovering my family history. It was exciting to find Prospect Hall photographs amongst these files. The wonderful thing about newspaper death notices is the fact that they almost always give an address, and in our Murray family this has helped me place our ancestors.
The following pages show photographs of Balliston House, Limerick. I was not confident at all that the house had survived, and it was an incredible moment when Geoff and I made this exciting discovery.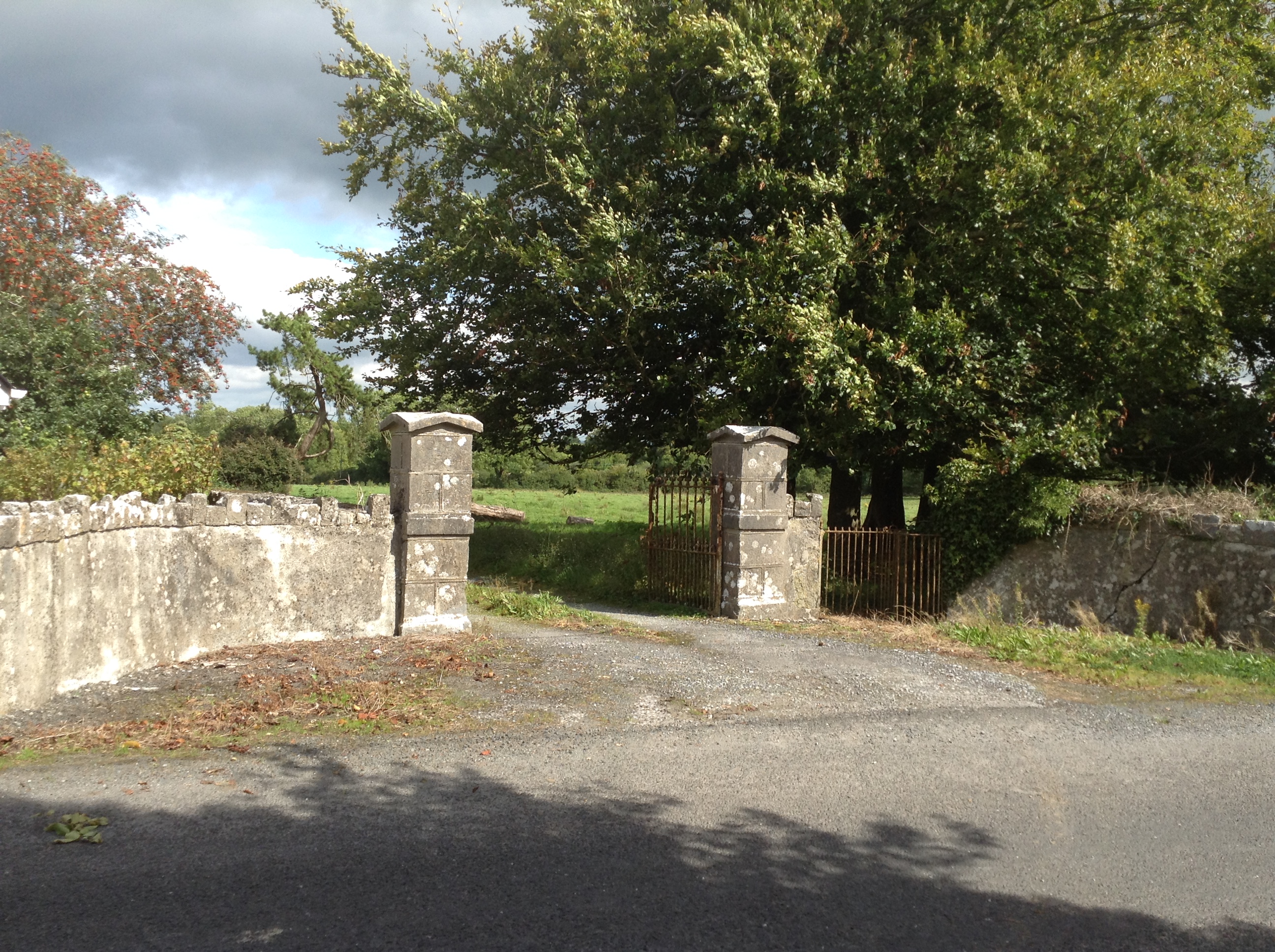 Balliston House, very overgrown façade showing front door with transom fan, and original gates
View from road, above, and below, back of house showing large barns and carriageway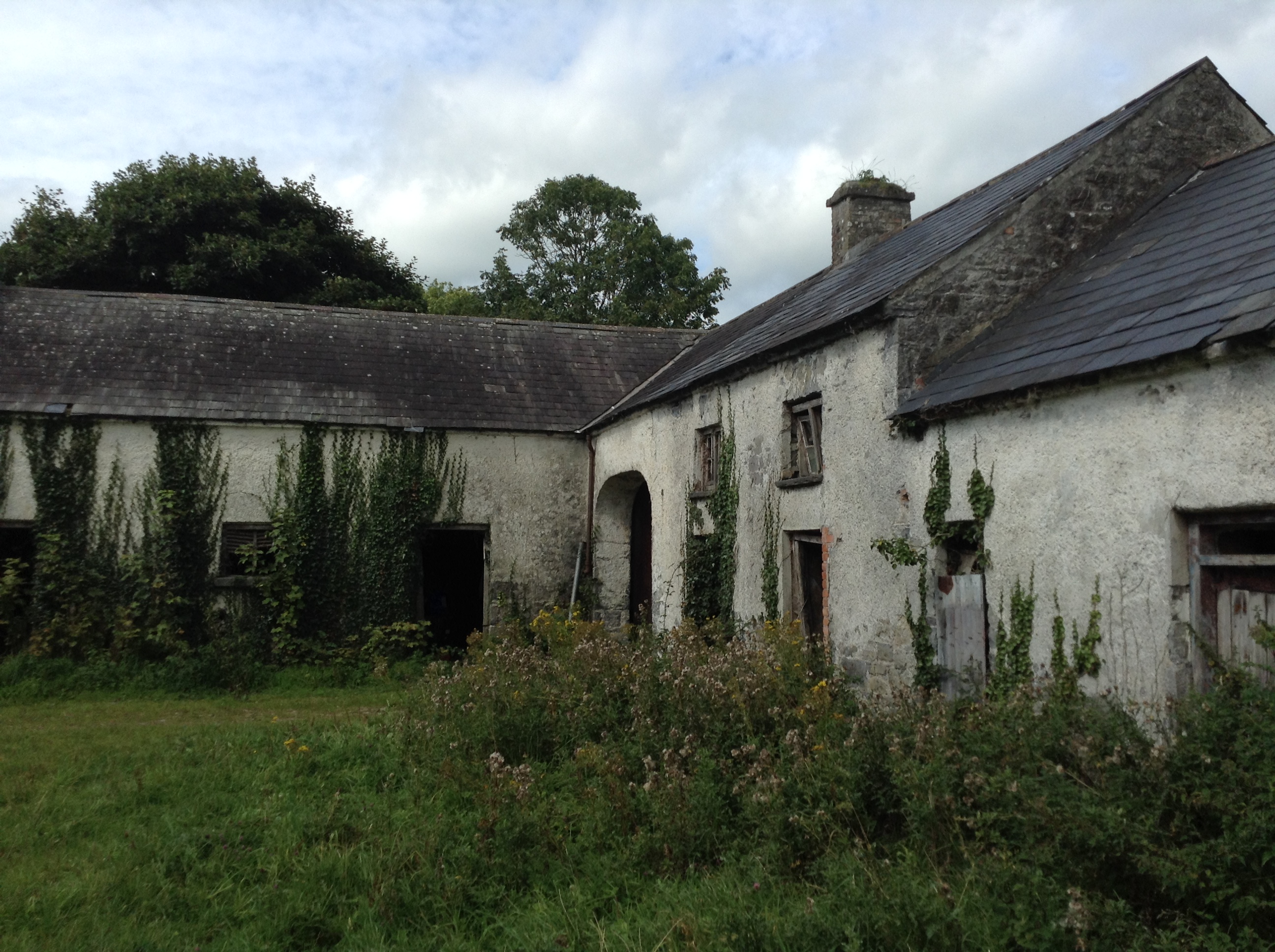 View of the old and very overgrown garden, above, and below, bay window on side of house
Terence Murray was born at Balliston, Limerick in 1776, the eldest son of Thomas Murray and Bridget O'Brien, and brother to my GGG grandfather, Michael Murray. He married Ellen Fitzgerald and they had three children, James Fitzgerald, Anna Maria and Terence Aubrey Murray.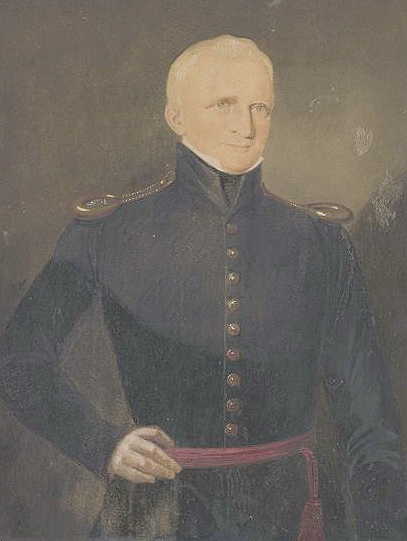 Portrait of Terence Murray, image courtesy of the National Library of Australia
Terence's wife died in France in 1812 after suffering poor health since the birth of her youngest child. Terence had previously enlisted in the Irish Brigade of Guards in 1811 and was then appointed Paymaster to the Regiment, and it is believed that he saw service in Portugal against the French and during the Napoleonic Wars; he also witnessed the Battle of Waterloo.
He transferred from the Irish Brigade to the 48th Foot. Northamptonshire Regiment on 14 November 1815, and was again appointed as Paymaster. The Matilda arrived in Sydney on 1 August 1817. Below is an extract from the transcription of Governor Lachlan Macquarie's Diary noting the Matilda anchored in Port Jackson. The original document is lodged with the State Library of New South Wales and the link below will take you to an online website where you can view the transcribed document.
https://www.library.mq.edu.au/digital/lema/1817/1817aug.html
Sunday 3 Aug 1817
"This forenoon anchored in Port Jackson the Ship Matilda Transport Commanded by Capt. Somerville, having the 1st. Division of the 48th. Regt. Commanded by Lt. Coll. Erskine (and also Lt. Govr.) on board; having Sailed from Cork on the 28th. of March last – being 4 mos. & 7 days.
Lt. Coll. Erskine Comg. the 48th. Regt., accompanied by Secry. Campbell arrived at Parramatta, to wait on me and report the arrival of the 48th. Regt. – and that he is appointed to succeed Col. Molle as Lt. Govr. of the Territory. — Lt. Coll. Erskine remained with us at Parramatta all this Night."
The passage below comes from an article by B & M Chapman, and the link below takes you to a biography and time line.
"Terrence Murray appears to be, according to records, a bit of a rebel. He was in strife over many items. Some of which were opening mail not directed to him, wearing different trousers instead of the Regimental garb, not showing for Regimental Parade and questioning his role as paymaster, that he should not be subject to military law as he did not in a sense carry out Regimental duties. Many times he had to be put straight as to his role and behaviour by Colonel Erskine and in some cases Governor Macquarie. 
He remained in New South Wales until his Regiment was posted to Madras, India in 1824 where he became gravely ill. He returned to England on sick leave where, on 3 September 1826, he retired on half pay. He decided to return to Australia and left Plymouth on the 25 November 1826. He arrived in Sydney on 7 April 1827 on the "Elizabeth" accompanied by his son Terence and daughter Ann Maria. His eldest son James Fitzgerald remained in Ireland to study medicine. He rented Erskine Park from Colonel Erskine's widow.
Terence Murray was given the courtesy title of Captain, was entitled to land grants because of his service in the Colony and took up a grants of 2560 acres of land in the Collector Valley.
 His son Terence Aubrey Murray was given a grant alongside his father's grant and named it "Old Collector". Further land was acquired and the property was named "Winderradeen". Terence Murray died in 1835, his land holdings being inherited by his younger son Terence Aubrey Murray"
It was Terence Aubrey Murray who owned "Yarralumla", a sheep station, from 1837-1859 and he built and lived in the original homestead during this period. Terrence Murray's daughter Mary Ann Maria married George Bunn and his son Terence Aubrey Murray married twice, firstly to Mary "Minnie" Gibbes and then to Agnes Ann Edwards. John Herbert Plunkett Murray was his eldest son by his first marriage.
http://freepages.history.rootsweb.ancestry.com/~garter1/terencemurr.htm
Much has been written about Terence Murray and his descendants, however it was exciting for me to find an 1828 document which substantiated so much information about Terence Murray including confirmation of his age and that of his son, and listed their arrival in 1827 on board the Elizabeth.
1828 New South Wales Census, listing both Terence and Terence Aubrey Murray
Anna Maria Bunn nee Murray, image courtesy of The State Library of New South Wales
Recently I was updating my article after my trip to Limerick in September 2016 when I found an amazing cache of baptism records for our Murray family, including the Baptisms of the three children of Terence and Ellen Murray. I have included them in my family history because they are so historic and I believe it is the first time anyone has seen these records since Terence Murray and his family migrated to Australia.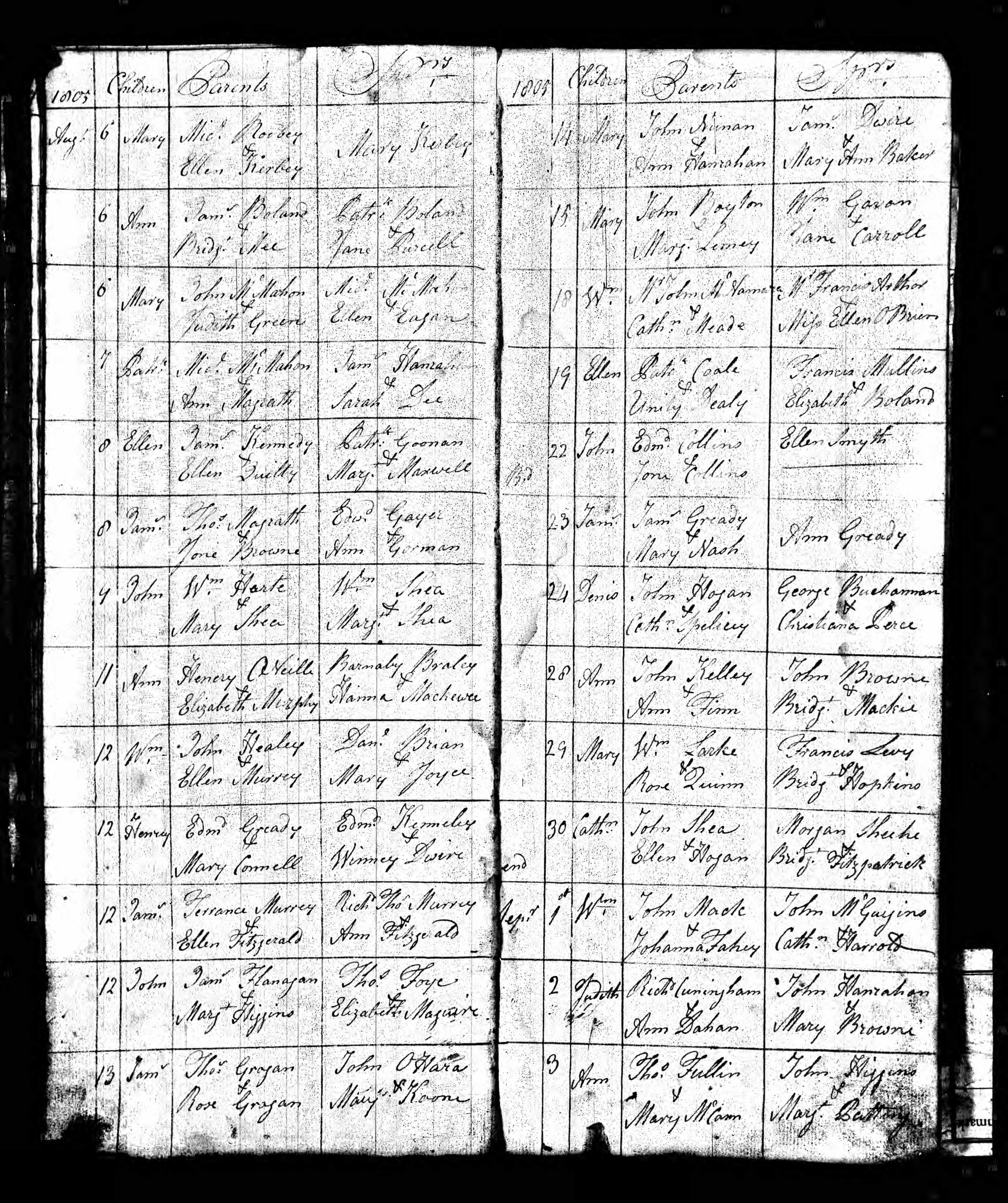 Baptism of James Murray, 12 August 1805, son of Terence Murray and Ellen Fitzgerald at St Michael's Church, Limerick City, Limerick, Ireland. Ireland, Catholic Parish Registers, 1655-1915
Sponsors were Richard Thomas Murray and Ann Fitzgerald, James' uncle and aunt. My thought here was that this couple were probably husband and wife, endorsing the likelihood that they were the third couple of Murray and Fitzgerald marriages, mentioned in Gwendoline Wilson's book, Murray of Yarralumla.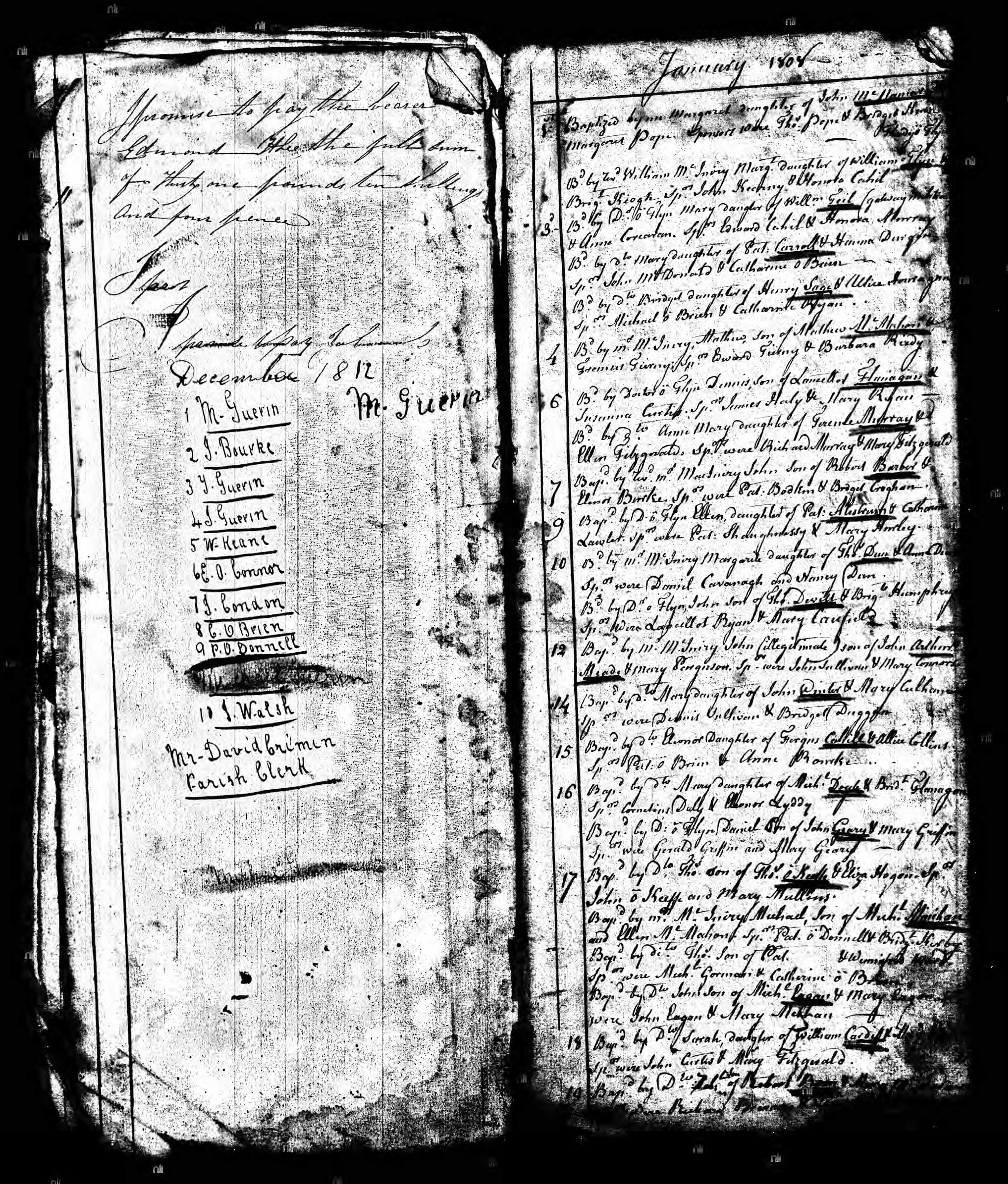 Baptism of Anna Maria Murray, daughter of Terence Murray and Ellen Fitzgerald, 6 January 1808, St Michael's Church, Limerick City, Limerick, Ireland. Ireland, Catholic Parish Registers, 1655-1915
Sponsors were Richard Murray and Mary Fitzgerald, Richard Murray possibly being Terence's brother Richard Thomas, and Mary was Anna Maria's maternal Aunt and namesake, another Fitzgerald sister.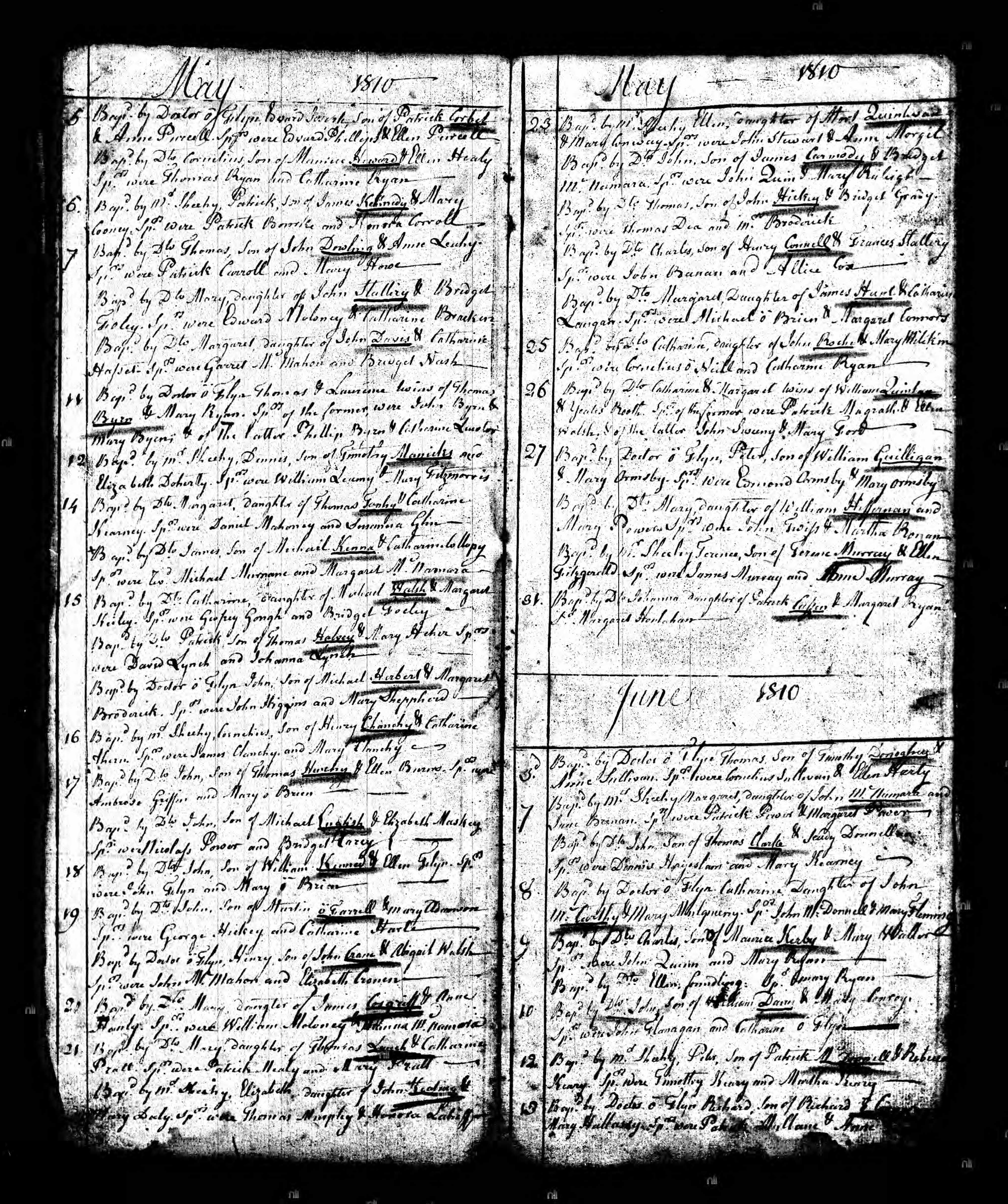 Baptism of Terence Aubrey Murray, son of Terence Murray and Ellen Fitzgerald, 27 May 1810, St Michael's Church, Limerick city, Limerick, Ireland. Ireland, Catholic Parish Registers, 1655-1915
Sponsor was his paternal uncle, James Murray. It is important to note that the name Aubrey does not appear on his baptism. The other sponsor was also Murray, however I can't make out the Christian name.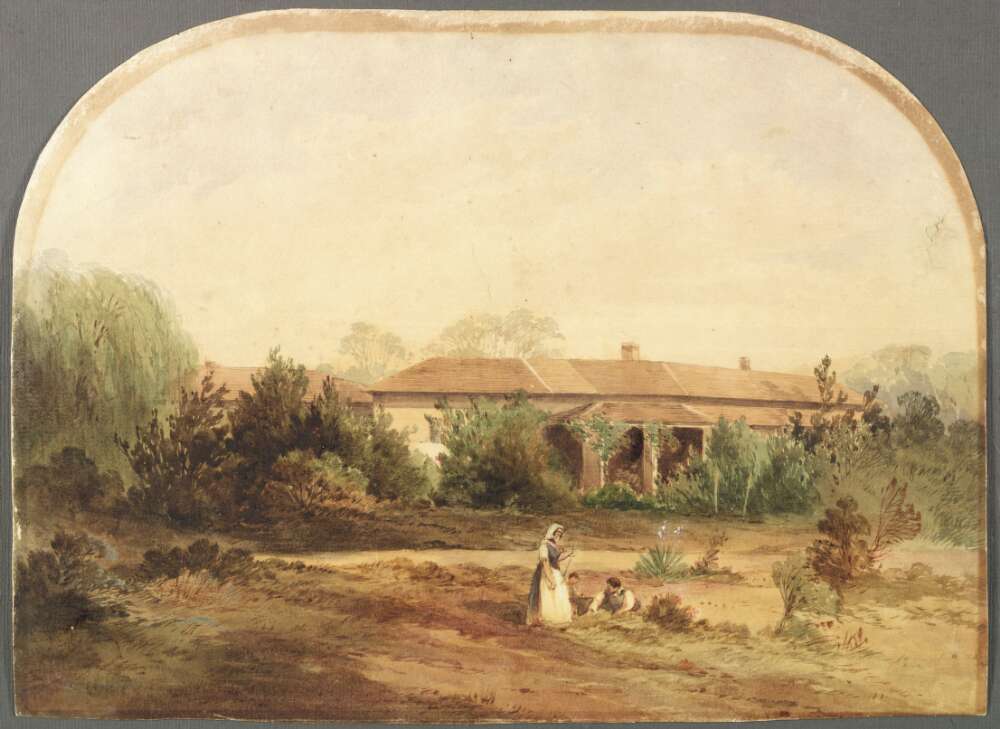 Yarralumla, entitled An Australian Homestead, Australian National Library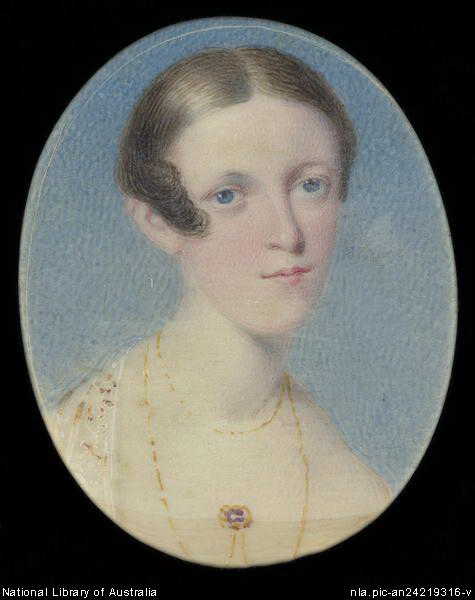 Portrait of Minnie Murray nee Gibbes, the second wife of Sir Terence Aubrey Murray, courtesy of the National Library of Australia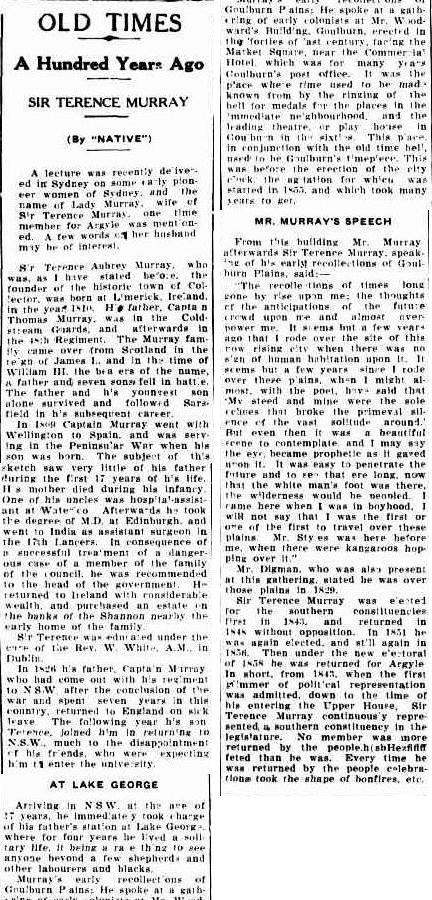 Goulburn Evening Penny Post, 23 November 1933, image courtesy of Trove Newspapers
Incorrect information in this article was probably taken from his obituary, which was also wrong.
Obituary for Sir Terence Aubrey Murray, Wagga Wagga Advertiser 28 June 1873
Many regional newspapers copied an incorrect obituary from The Empire, Sydney about his father being Captain Thomas Murray of The Coldstream Guards, who was actually his grandfather.
Both Terence Aubrey Murray's obituary and a look back to 100 years claim that Terence Aubrey Murray's father was Thomas, leaving out his father's magnificent contribution as Paymaster to the Colony of New South Wales and an early settler with land grants in an area we now today know as Yarralumla, the home of the Governor General of Australia.
Tracing the Murray family back through their family in Ireland revealed an amazing fact about our family history, and about their involvement in the Battle of the Boyne in 1690 near Drogheda, in County Louth, not far from Dublin. A battle ensued between two Kings of England, one the deposed (1688) Catholic
King James II, and the other Protestant King William III whose parents were King William II and Queen Mary of Orange. Killed at the Battle of Boyne, was a Murray. His head and those of his six sons were placed on spikes on the walls of Dublin Castle as a message to those who rebelled against the English. It was said that the troops who rallied behind James II were ill prepared for battle, and were mostly young and inexperienced. In our family's case we can bear testament to this sad fact. Sometimes it pays off to be the youngest son in the family, because young Denis Murray was too young to be a warrior, and he escaped the slaughter as a child with his mother. They settled in Limerick at Lower Connello. The passage below is from Landed Estates of Ireland, where I found a reference to Denis Murray regarding his estates and his marriage.
(Estate) Murray (Shanagolden) -Fitzgerald writes that after the Battle of the Boyne, Denis Murray settled in the barony of Connello Lower, county Limerick, and married a Miss Creagh and they had five sons.  One son Thomas Murray of Balliston married Bridget O'Brien and their grandson was Sir Terence Aubrey Murray, politican of New South Wales.  In the 1870s Patrick Murray of Balliston, Shanagolden, county Limerick, owned 776 acres in county Limerick.
http://www.landedestates.ie/LandedEstates/jsp/search.jsp?q=grandson
The passage above involves our Ellen Murray Matilda Wise, who is the granddaughter of Thomas Murray and Bridget O'Brien. It is incredible that Thomas Murray was singled out in this passage as the only one mentioned by name of the five sons, and it illustrates how, by a most fortunate piece of fate, we come down this Murray line that was very nearly wiped out on 1 July 1690.
Someday I hope I will able to piece together more information regarding the families of the other sons and daughters of Thomas and Bridget Murray, to see if I can find some more of our Irish cousins, some of whom I believe migrated to America. I also hope that I may find more information about Thomas Murray's brothers, because at this stage I only can confirm Patrick, the family historian, and Denis, who was in the Regiment based in Cork, who I dealt with earlier.
I am also aware of a family of Murrays from Rathkeale, which is not far from Balliston. Thomas Murray of Rathkeale who died on 18 September 1824 and was part of a large family. Thomas had the most incredible death notice placed in the Limerick Chronicle regarding the loss of one arm after defending his home from banditi in 1808. His son, Richard Murray was a prominent doctor in Rathkeale, and also had a large family. At the moment this family must remain unplaced in our Murray family tree until I find some solid information to link them. The fact that Thomas Murray who married Bridget O'Brien was known to have had four uncles, would give credence to the thought that there are many other Murray branches that lived in Limerick. It is also important to point out that this Murray family from Rathkeale had very familial naming patterns for their children.
When Geoff and I visited Ireland in August/September 2016 we used a wonderful navigation device on Google Maps, which pinpointed our exact position on the map from a satellite. I used my IPad and it was incredibly easy to find our way along the winding roads and locate places such as Lurriga Chruch, Prospect Hall and Balliston House in Limerick. The maps below show how little the terrain has altered.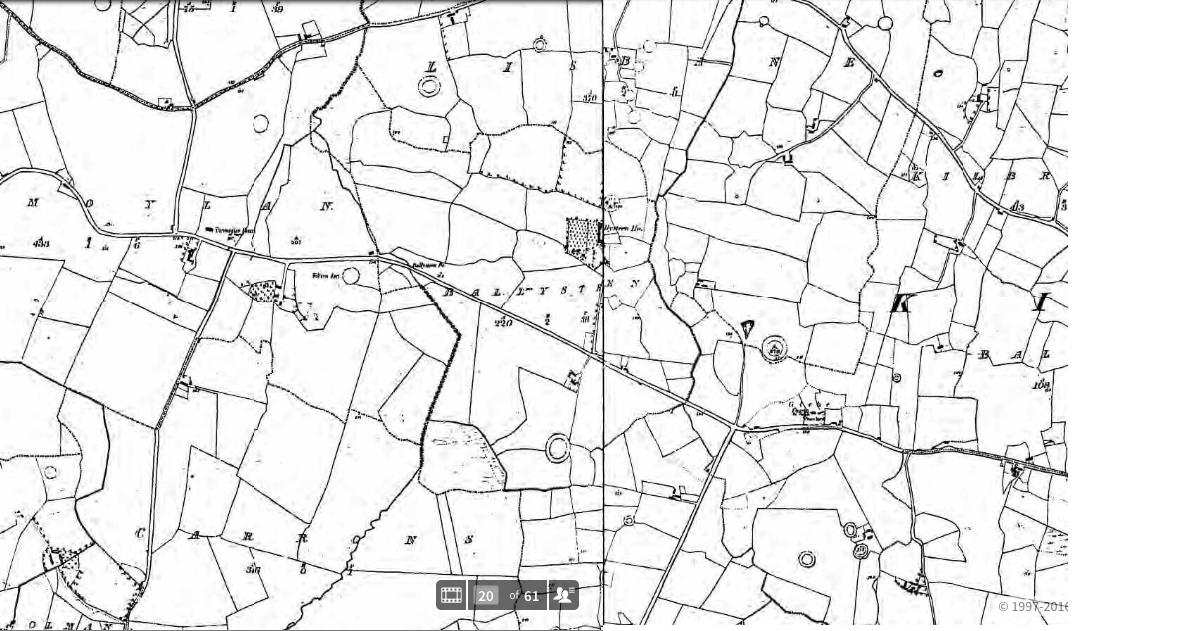 Ireland, Ordnance Map 1824-1846 of Ballysteen, showing Balliston House
The shadowy area in the centre shows the name Ballysteen House (sic), up from the roadway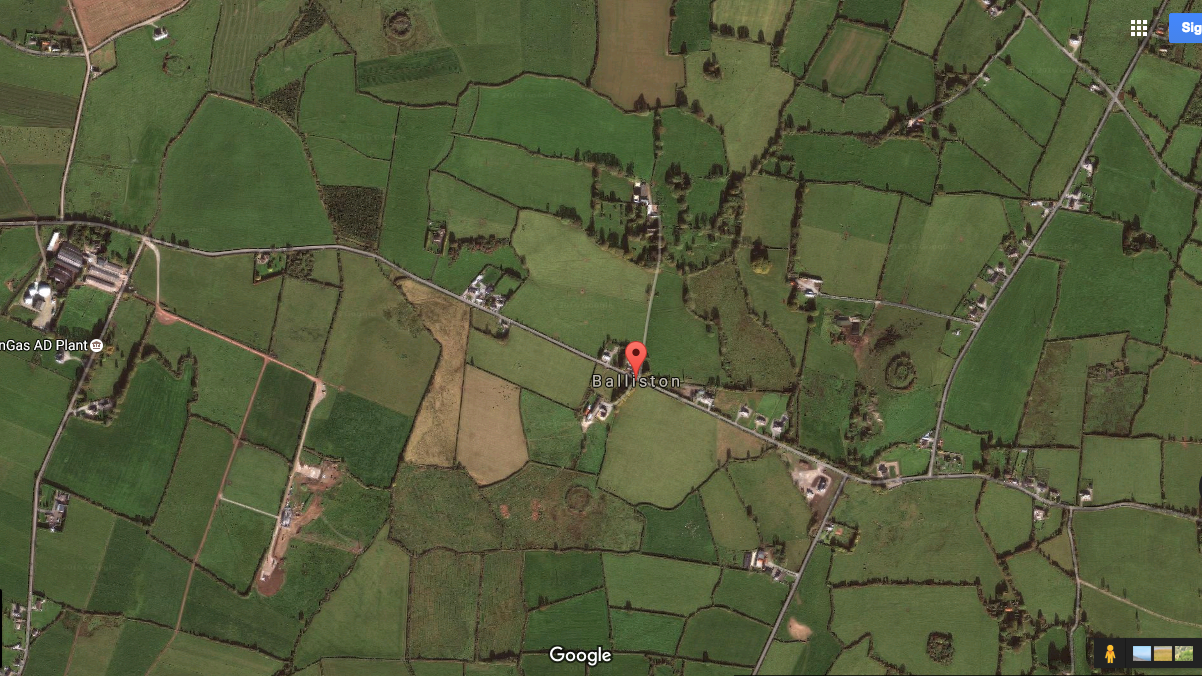 Google map showing the approximate position of Balliston House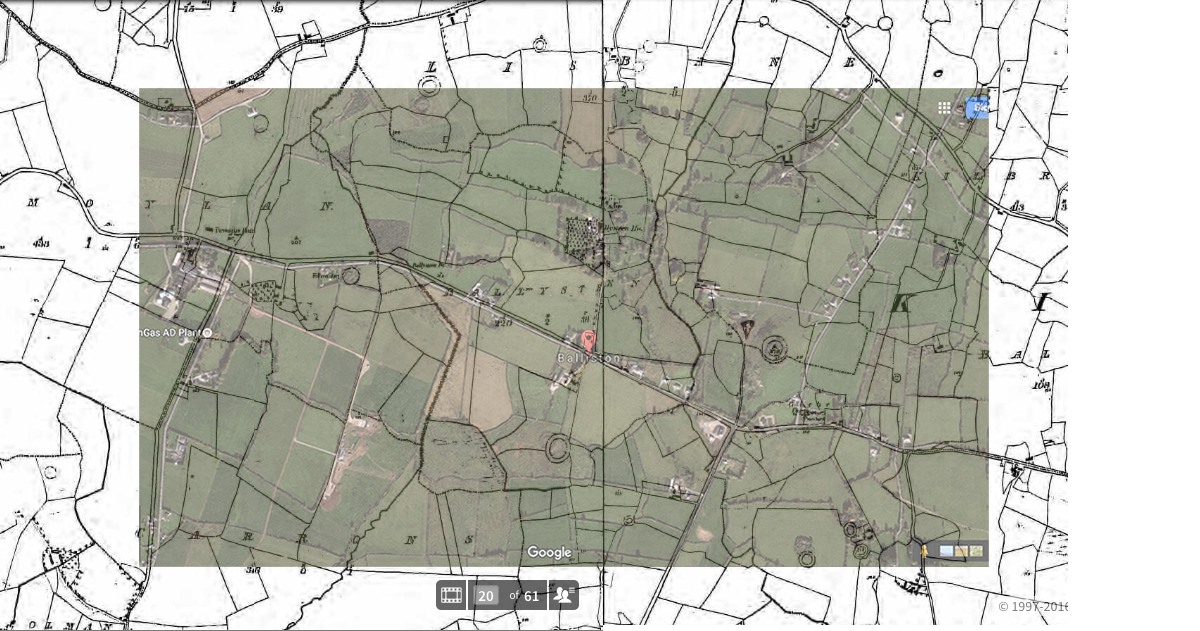 Google map overlay of the Ordnance map shows that Balliston House is up the driveway from the roadway, pinpointed on the map.
The next three pages are from the Limerick Chronicle, courtesy of Limerick Library and show the death notices for James Murray J.P. died 15 January 1867 aged 65 at Ballysteen (sic), his wife Anne Murray, died 22 February 1889 aged 85 at Ballystein (sic). I also found a death notice for James and Anne Murray's eldest son Thomas Murray, who died at Ballystin (sic) on 7 November 1857, aged 21 years.
Firstly I thought James may have been a younger son of Thomas and Bridget Murray, however his birth in 1802 meant Bridget would have been to old for childbearing. To place James correctly, I believe he was the son of James Murray J.P. and grandson to Thomas and Bridget Murray.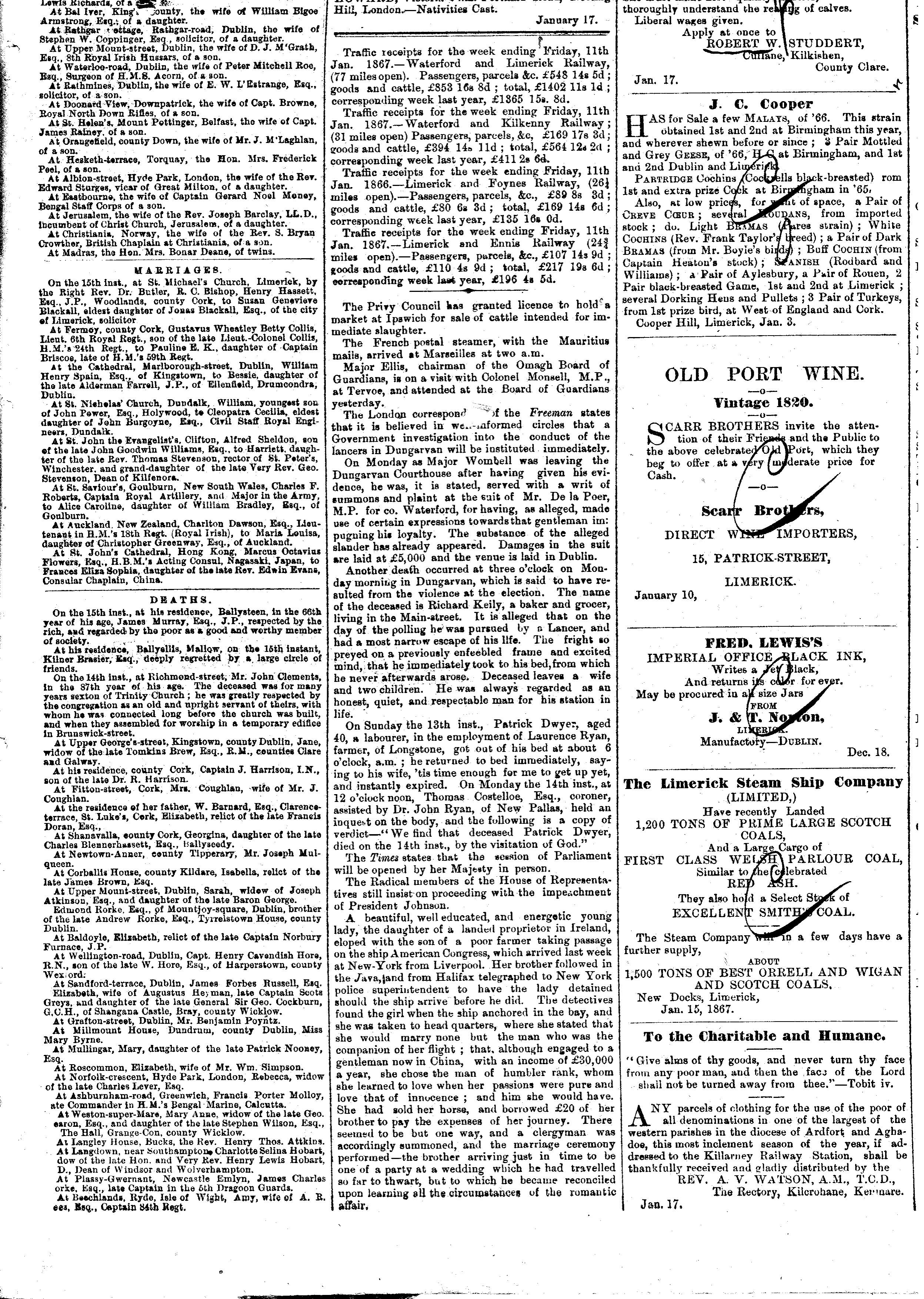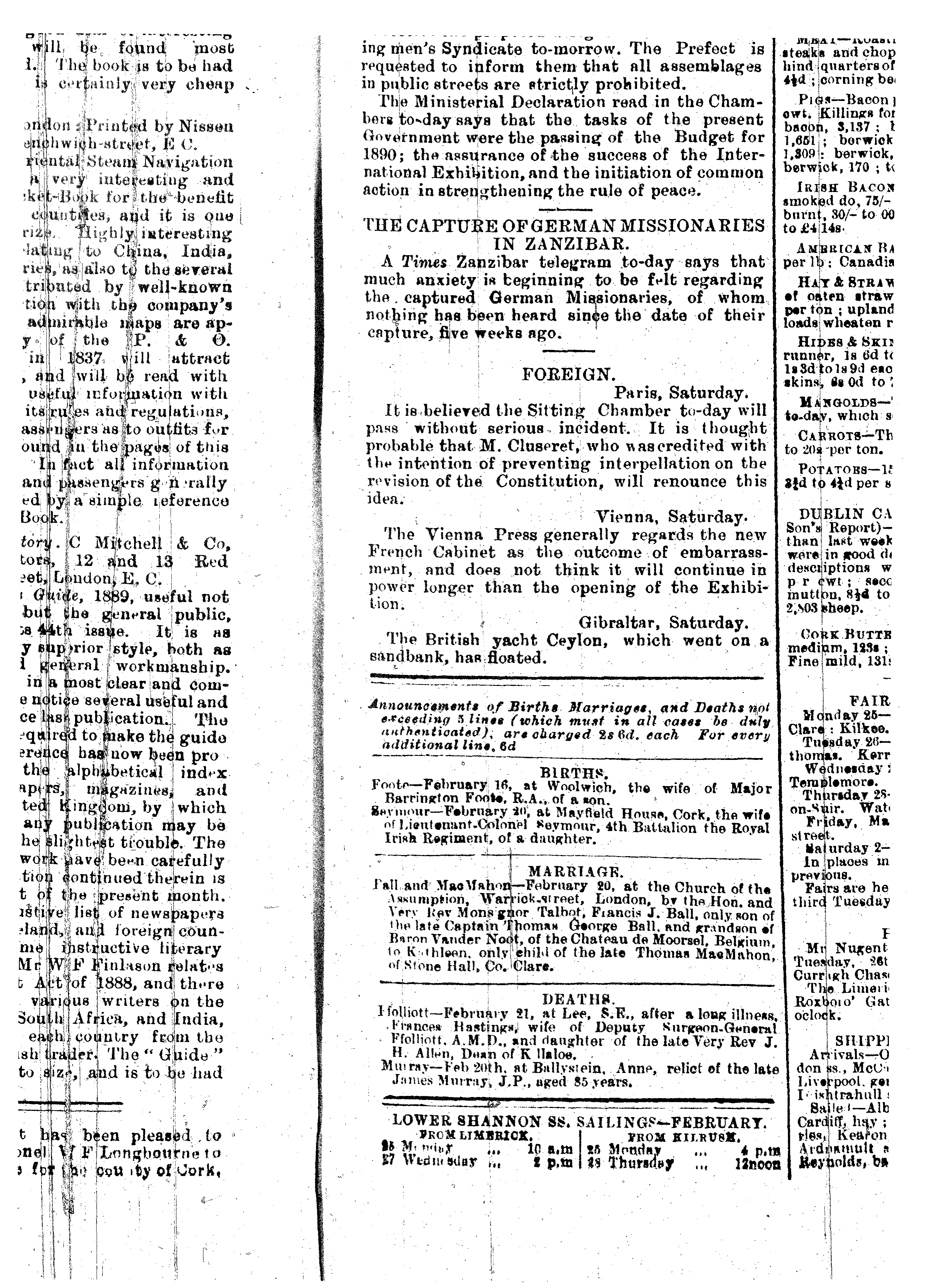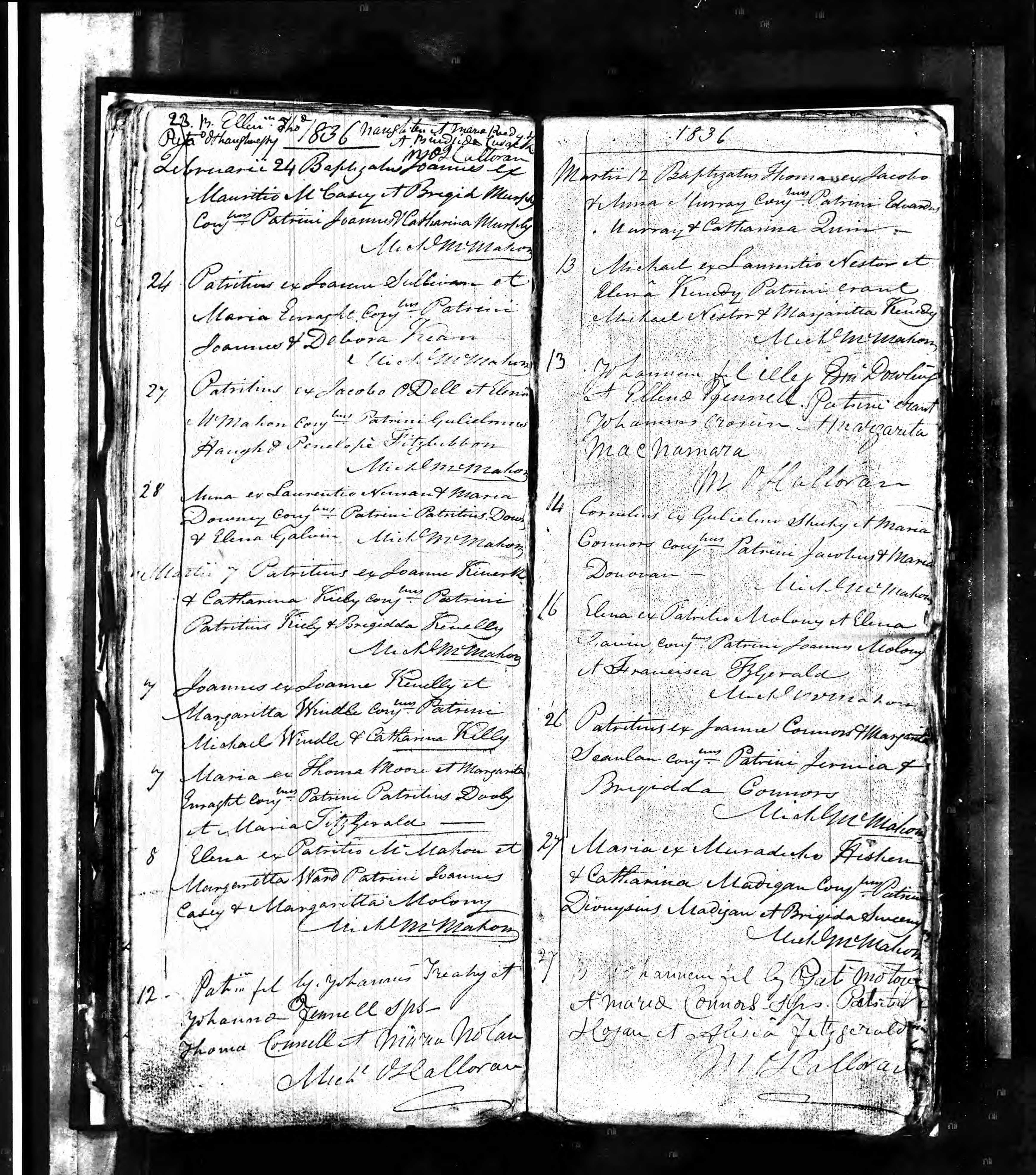 Baptism of Thomas Murray, eldest son of James and Anne Murray 12 March 1836 at Kilcolman Church, Ireland, Catholic Parish Registers, 1655-1915
Sponsor for Thomas was Patrick Edward Murray, his uncle and Catherine Quin.
Finding the baptisms of James and Anne Murray's children at Kilcolman Church, namely, Thomas, Bridget and Patrick Murray, from a church that lies just a few kilometres east of Balliston, were again records recently uploaded to ancestry.com. The sponsors/godparents and children's names were all familial Murray names, and it gave me the confidence to collect them, and believe that these are indeed correct. Knowing that James' probated will listed his major beneficiary as Patrick supports the records I have found.
Baptism of Bridget, daughter of James and Anne Murray 11 July 1834, Kilcolman Church, Limerick, Ireland, Catholic Parish Registers, 1655-1915
Sponsor at the Baptism were Patrick Peters and Bridget Murray, her namesake, would have been her aunt, Bridget Murray.
Baptism of Patrick, son of James and Anne Murray, March 1841, Kilcolman Church, Limerick, Ireland, Catholic Parish Registers, 1655-1915
Sponsors at the Baptism were Denis Murray, Patrick's uncle, an elder brother to James.
Web: Ireland, Calendar of Wills and Administrations, 1858-1920:
Name: James Murray Death Date: 15 Jan 1867 Death Place: Limerick
Primary Beneficiary: Patrick Murray
As we drove to Balliston House in Limerick, which is due west of Patrickswell, my husband Geoff saw a cemetery, about a kilometre away from Balliston, and he suggested that we visit Gragoor cemetery after visiting Balliston. On returning we walking around the cemetery and found a very impressive crypt grave, which was named in honour of James Murray. The very worn and old plaque showed the date of death of James Murray as 15 January 1867 and, after taking photos, I was able to later check this date, and discover it was indeed James Murray J.P. of Balliston. Most probably the son of James Murray, who was a brother to my GGG grandfather Michael Murray. The old iron door also had the date 1867 engraved upon it. It was an incredible moment in my family history. My only regret was that there were not more plaques showing other burials of the Murray family. The crypt was so large that I feel it must contain other descendants of James Murray. Later, after checking Google maps, I discovered that this graveyard was called Graigoor, however, no name is evident at the cemetery gates. The cemetery is directly east on the same road leading to Balliston House, and can also be seen on the Ordnance Map, just beyond the cross road. Family members travelling to Balliston will find this cemetery well worth visiting.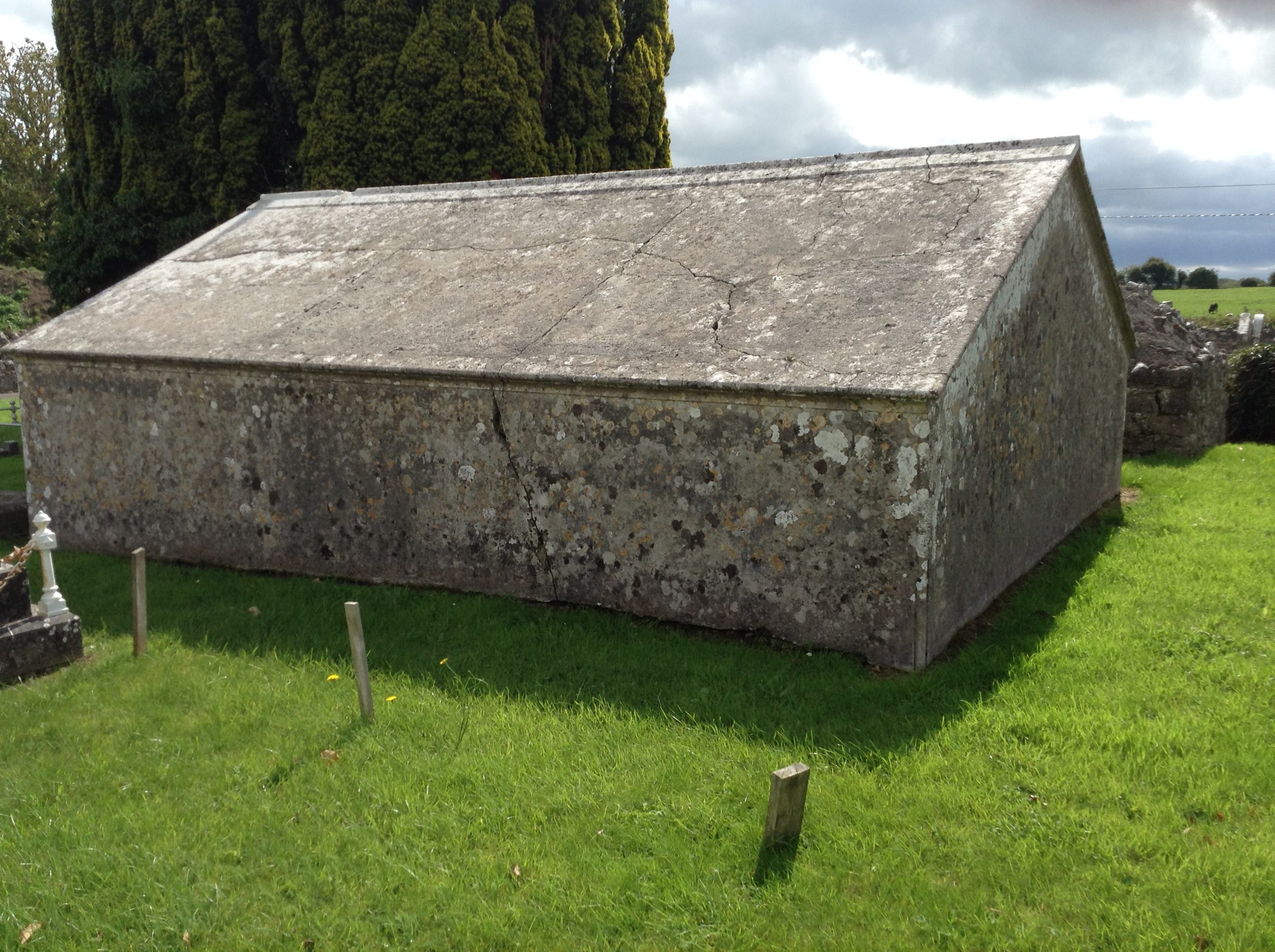 This large crypt dominates the cemetery at Craigoor and after a search of the cemetery I was drawn to admire and inspect this crypt and to my amazement the name Murray appeared on the entrance.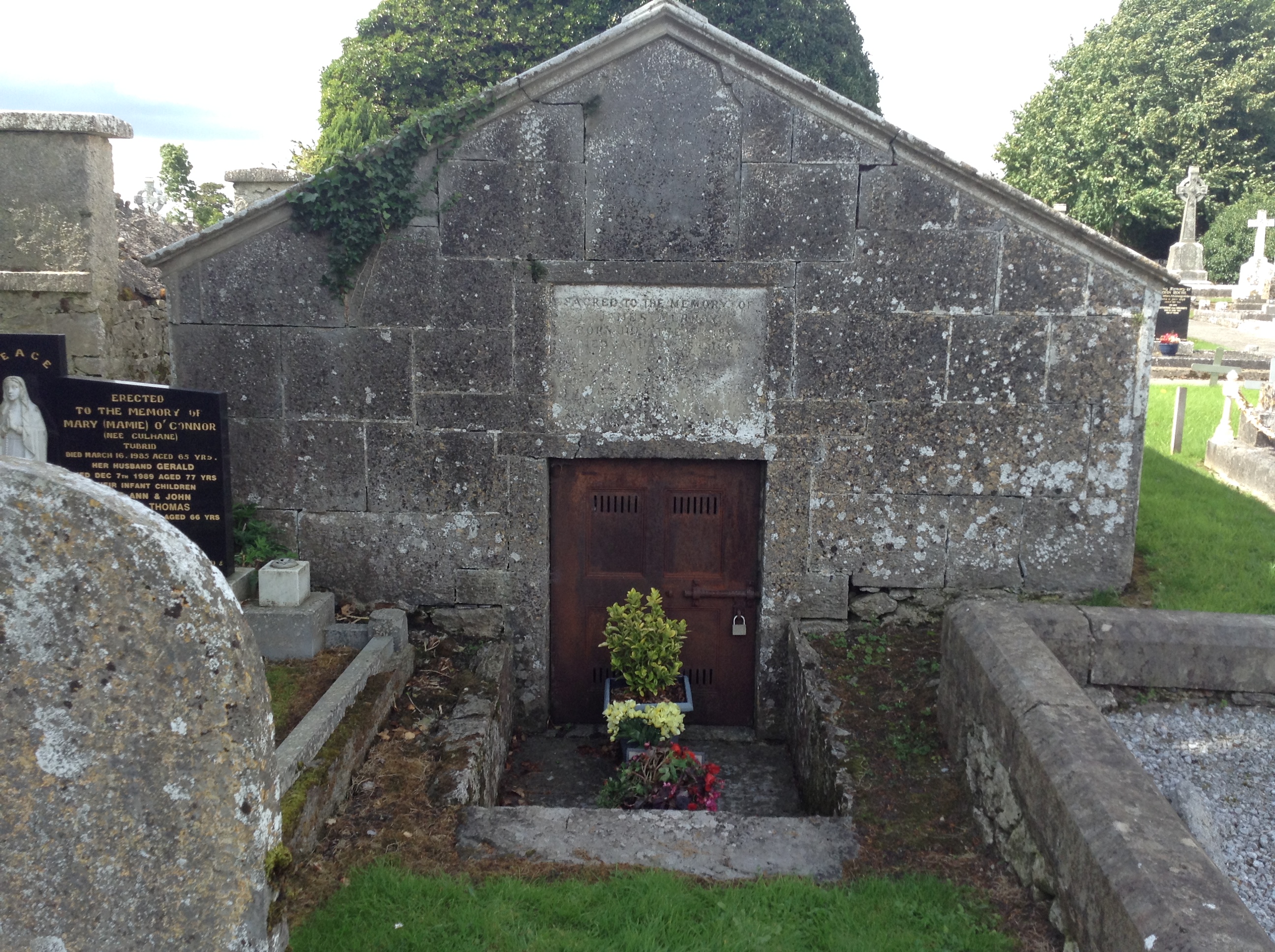 Tomb of James Murray Family of Balliston, graveyard on the same road as Balliston House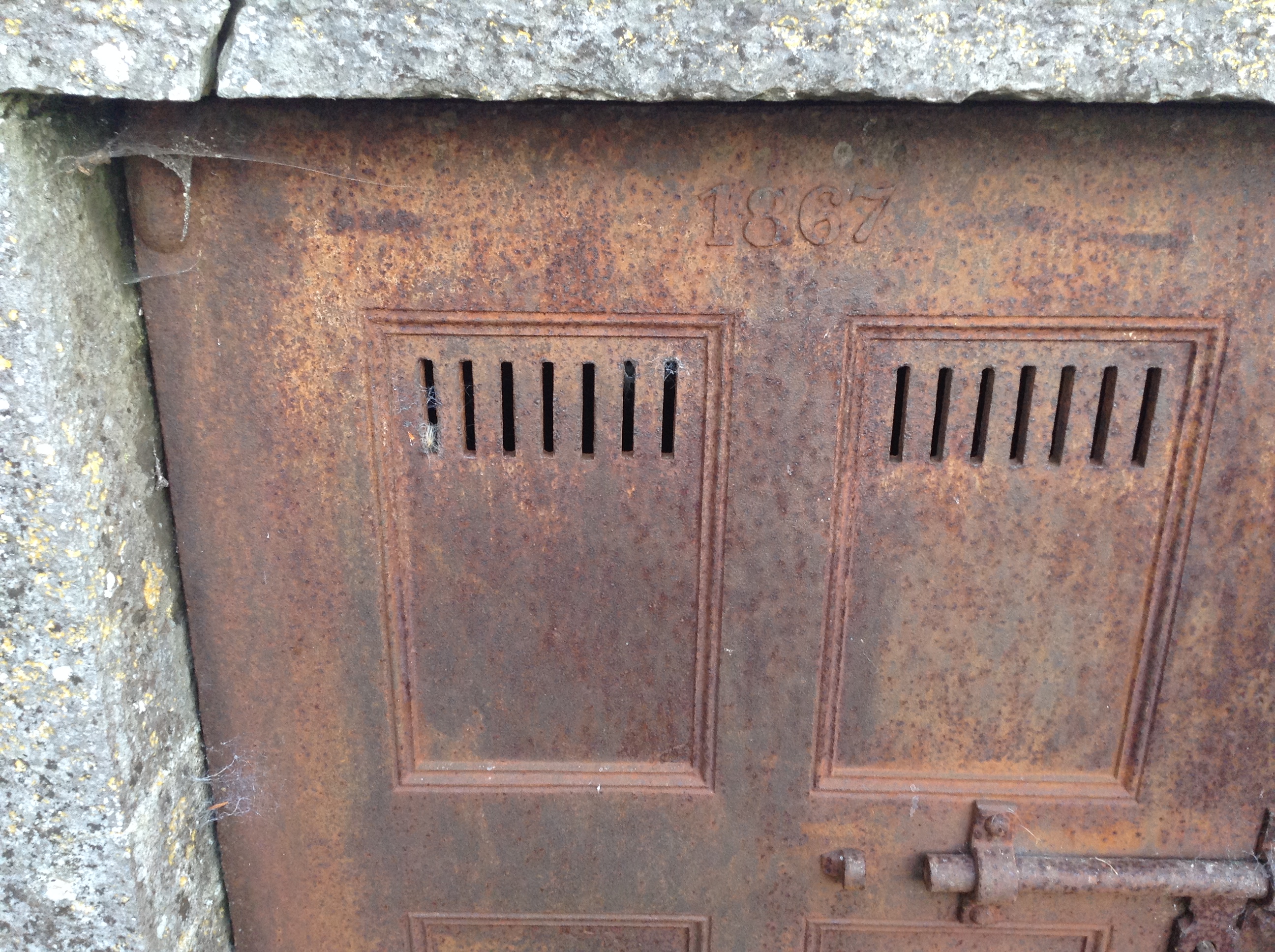 Door of the Murray Crypt and below a photograph of Graigoor Cemetery, Limerick, Ireland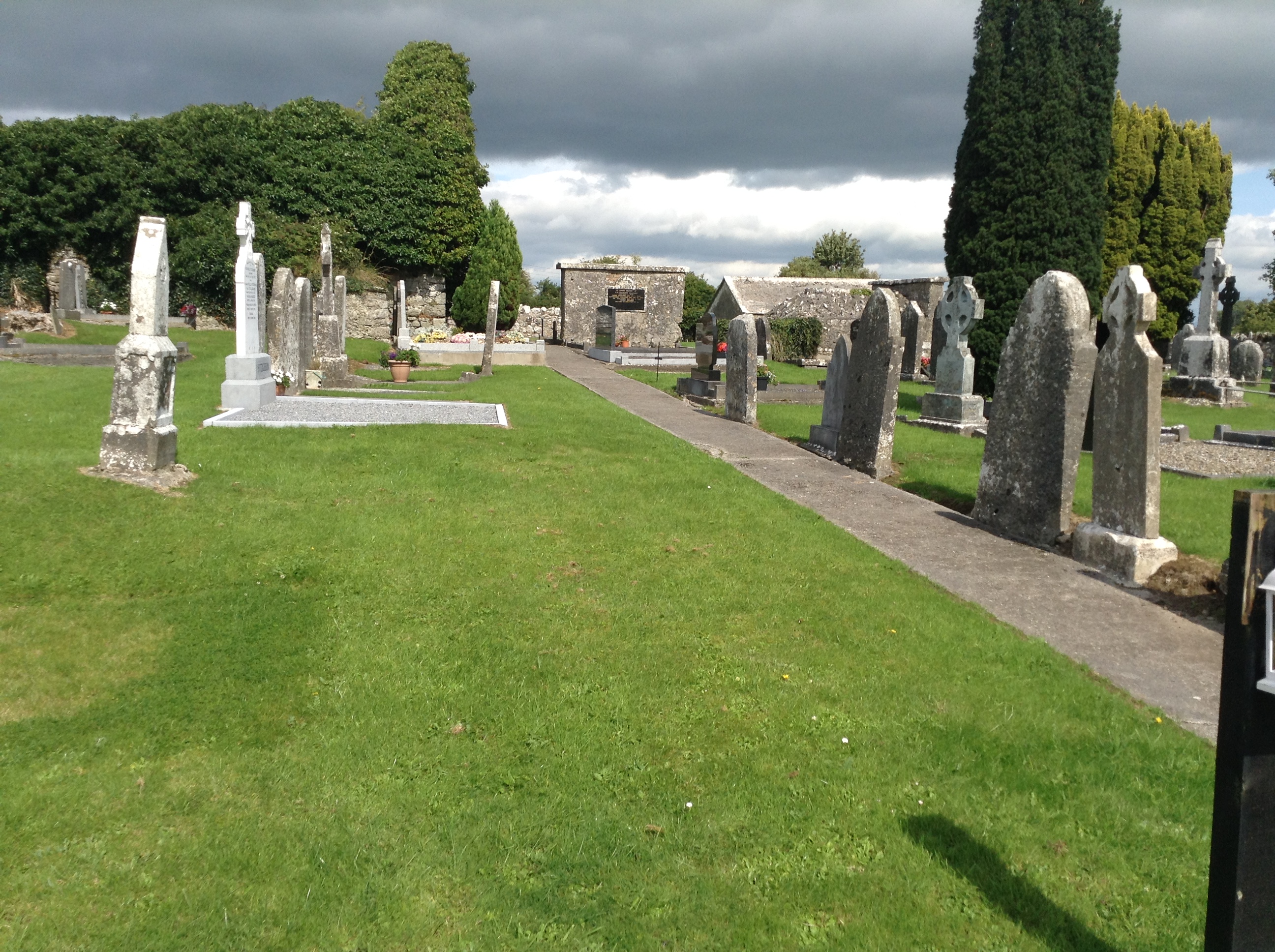 Craigoor Cemetery, Limerick, Ireland, the Murray Crypt in the distance to the right
Richard Thomas Murray, a brother to Michael Murray, also migrated to Australia from Cork,  formerly Limerick, Ireland and died in Sydney on 3 March 1857.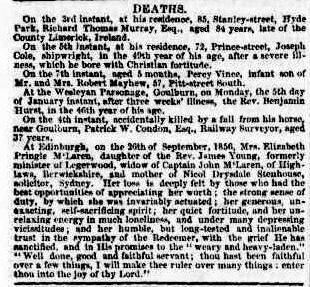 Death notice for Richard Thomas Murray Esq. Sydney Morning Herald, 8 January 1857
Australia, Death Index, 1787-1985:
| | |
| --- | --- |
| Name | Richard T Murray |
| Death Date | 1857 |
| Death Place | New South Wales |
| Father's Name | Thomas |
| Mother's Name | Bridget |
| Registration Year | 1857 |
| Registration Place | Sydney New South Wales |
| Registration Number | 294 |
Richard Thomas Murray was probably a widower when he migrated to Australia in 1833. A daughter Bridget died in Limerick, Ireland, however  another daughter Margaret Louise Murray, migrated to Australia in 1833, and married Patrick Harnett. Margaret Louise Harnett was sadly widowed in Sydney in September 1844, and she was left with a large family to care for. Hopefully Margaret was left with a pension, as her husband was the Surgeon General of Australia, and was held in high esteem. Following Patrick and Margaret Harnett's records and newspaper clippings is the death notice for Bridget Murray, Richard Thomas Murray's younger daughter, who died in Ireland.
Gwendoline Wilson in her book, Murray of Yarralumla, claims that Richard Thomas Murray arrived in the Colony of New South Wales in 1834 with his daughter Margaret. This date coincided at the same time that Anna Maria Bunn's husband George Bunn died unexpectedly. Wilson writes that Anna Maria was still "stupefied with shock" when her Irish family arrived shortly after her bereavement. Gwendoline Wilson states these travellers as Richard Murray, his daughter Margaret Louise, later to marry Patrick Harnett, and his niece Catherine "Kate" Murray, the daughter of Richard's brother Thomas Murray, who later married John Savery Rodd. Wilson also says that Kate Murray and Anna Maria Bunn were already good friends. This spurred me onto further research to try and find the shipping record for the arrival of the Murray family to Sydney. Firstly I found this shipping record for Dr Patrick Harnett, aboard the Sophia.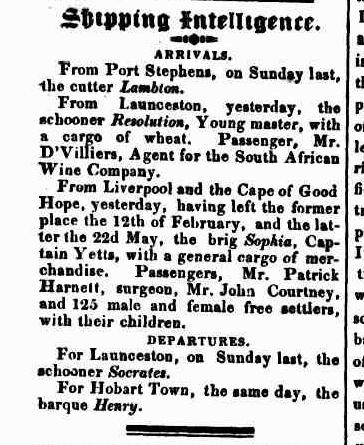 Arrival of Patrick Harnett, surgeon, from Liverpool, England, Sydney Gazette, 17 July 1832
In was one of those amazing moments in family research when I then found a ship's record for the 1833 migration of the Murray family from Ireland to Sydney in Trove Digitised Newspapers. It confirmed that several Murray family members had indeed migrated. Catherine "Kate" Murray was listed with cousins, Anne, Margaret Louise and William, three of Richard Thomas Murray's children. Also on board was Dr Patrick Harnett who later married Margaret Louise Murray, and Mr and Mrs Harnett and their children, most probably Patrick's brother and his family. Patrick must have returned to England after only a few months in Australia, perhaps he was commissioned as a doctor on board ship. Below is the newspaper clipping announcing their arrival in Hobart, Australia in 22 October 1833, en-route to Sydney aboard the Lady East. At first I had thought the Mr Murray listed was Richard Thomas Murray, however I was to later discover two letters written by Anne Murray to her elder brother Thomas Murray M.D. who was stationed with the English Regiment in Jamaica, explaining that her father Richard had arrived some months earlier after being dramatically shipwrecked on the Hibernia and then rescued off Rio De Janeiro.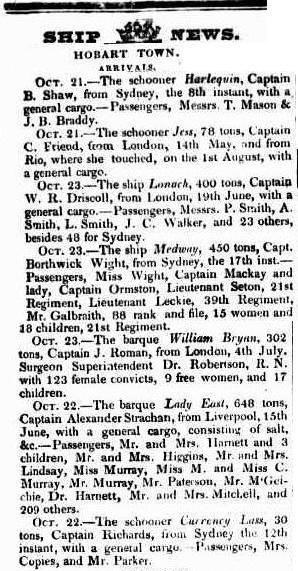 Arrival of the Murray Family aboard the Lady East, Colonist 29 October 1833
Australia, Marriage Index, 1788-1950
| | |
| --- | --- |
| Name | Patrick Harnett |
| Spouse Name | Margaret L Murray |
| Marriage Date | 1836 |
| Marriage Place | New South Wales |
| Registration Place | Sydney New South Wales |
| Registration Year | 1836 |
| Volume Number | V |
Marriage of Margaret Louise Murray and Patrick Harnett, SMH, 19 September 1836, Liverpool, NSW
Australia, Death Index, 1787-1985
| | |
| --- | --- |
| Name | Margaret L Harnett |
| Death Date | 1875 |
| Death Place | New South Wales |
| Father's Name | Richard T |
| Registration Year | 1875 |
| Registration Place | Concord New South Wales |
| Registration Number | 2965 |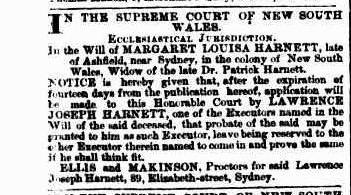 Will of Margaret Louisa Harnett, Sydney Morning Herald, 19 November 1875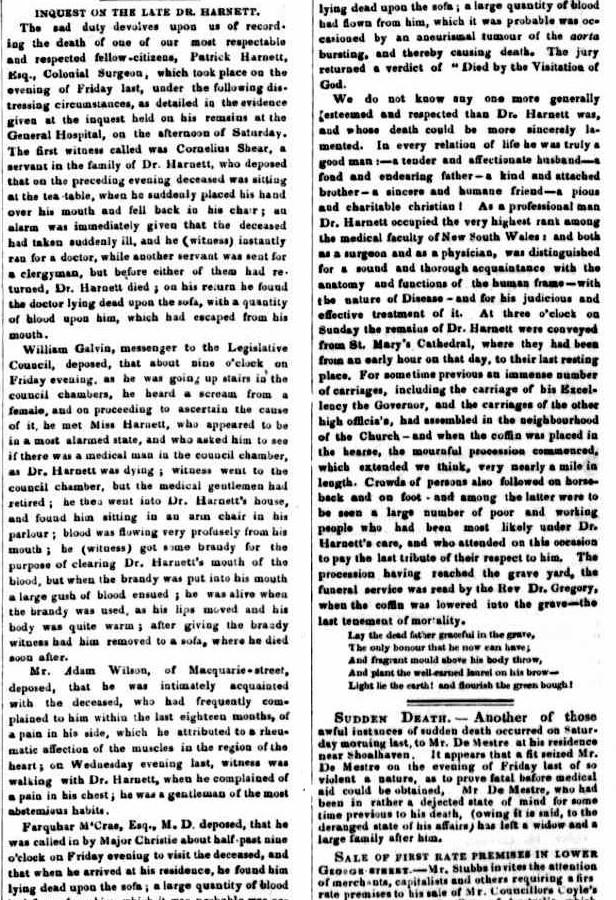 Inquest into the death of Dr Patrick Harnett, Morning Chronicle, Sydney, 18 September 1844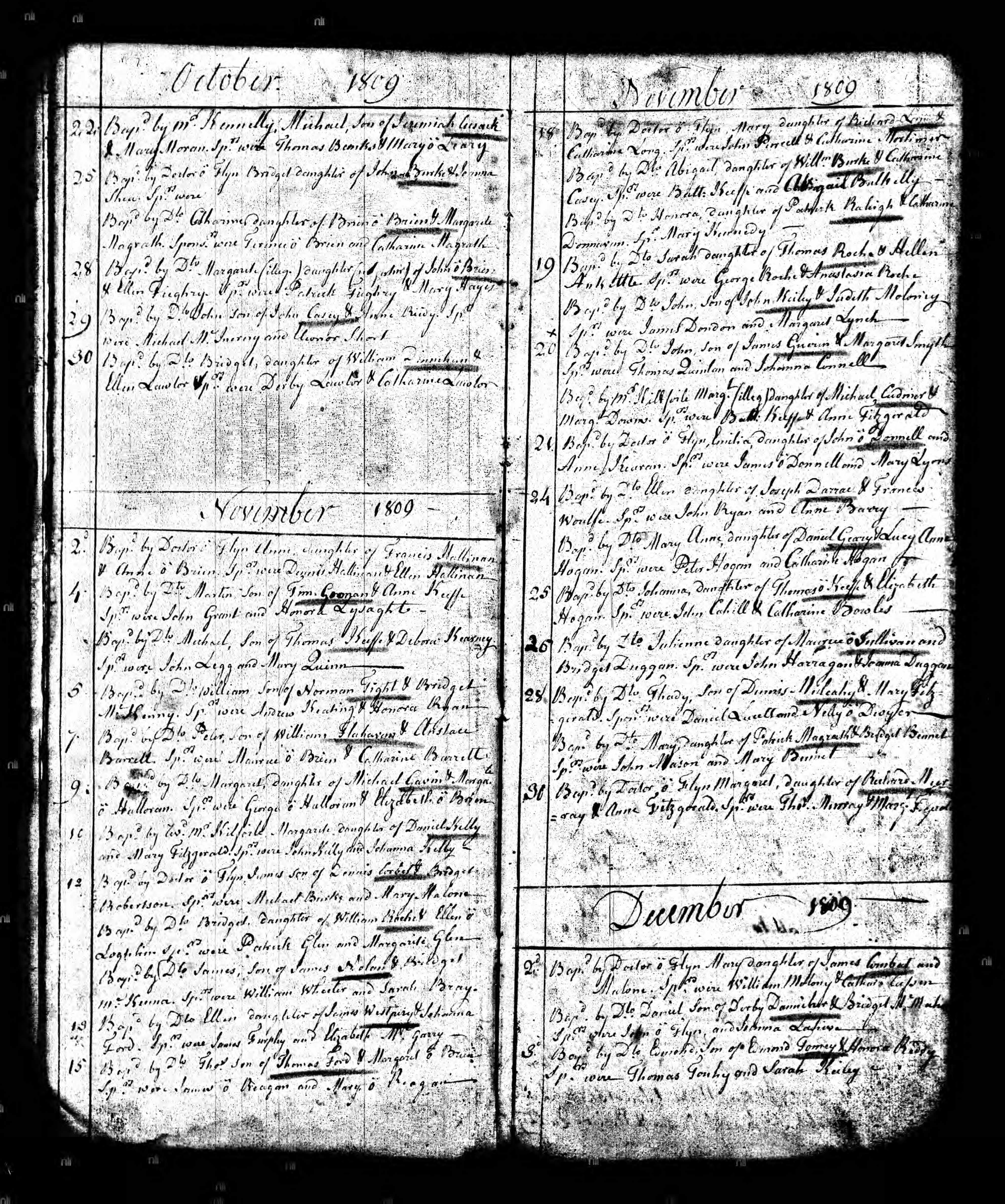 Baptism of Margaret Louise Murray, daughter of Richard Murray and Ann Fitzgerald
Sponsor was Thos. Murray and Marg. Fitzged, 30 November 1809, St Michael's Church, Limerick
It was amazing to find this baptism for Margaret, because it fulfilled my goal to find the three spirited daughters of James Fitzgerald of Movida, who married the three sons of Thomas Murray of Balliston. I also believe that Movida was actually called Moviddy House in Newcastle, Limerick as recently I found his grandson Thomas Edward Fitzgerald Esq. listed in Slater's Directory of 1846.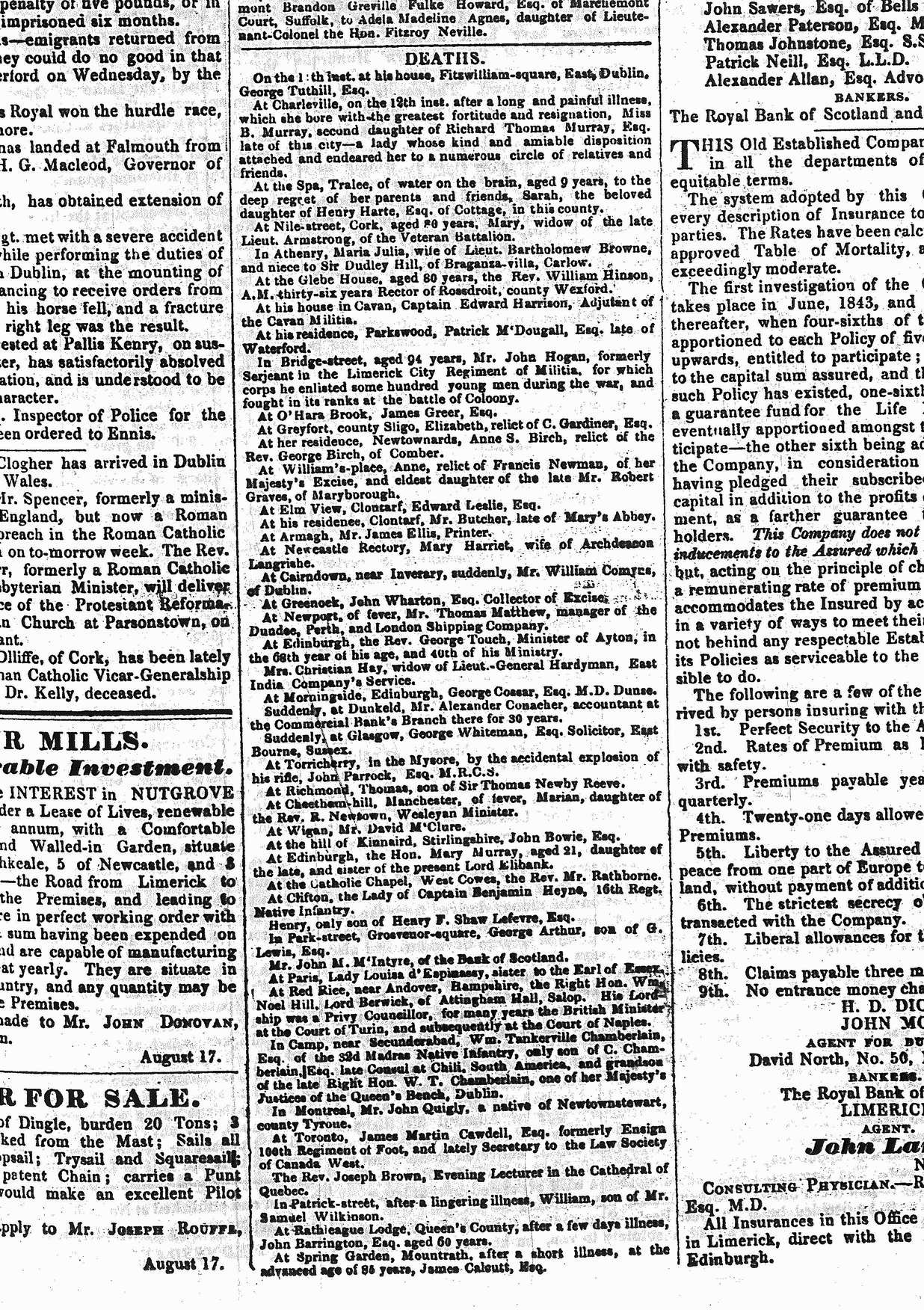 Death notice of Bridget Murray, daughter of Richard Thomas Murray, Charleville, Cork, Limerick Chronicle, 12 August 1842
During my collaboration with Robyn Garis, a very experienced Murray family researcher, she emailed me with an important discovery she had made. Whilst Robyn was surfing the internet she discovered the papers and letters of Thomas Murray M.D. lodged with the Wellcome Library in London. She and I concluded that Thomas Murray M.D. was the son of Richard Thomas Murray and Ann Fitzgerald. This was a most important discovery and the cache of letters from Thomas Murray's three uncles Patrick Murray, Denis Murray and Edward Fitzgerald, as well as letters from his sister Anne Murray, and a note from another sister Margaret writing about their trip to Australia with their younger brother William aboard the Lady East Anne's letter not only placed Richard Thomas Murray in Australia eight months earlier, it elucidated to elder brother Thomas Murray M.D. that the reason for their father Richard Thomas Murray's hasty departure from Cork was due to his distressed and very embarrassing financial problems in that city. Richard boarded the Hibernia in Cork in late December 1832, which had earlier departed Liverpool, England on 6 December 1832. It was incredible that I was able to capture newspaper clippings regarding the Murray family migrating to Australia and at the same time find records in Ireland to substantiate my findings and confirm they were one and the same family.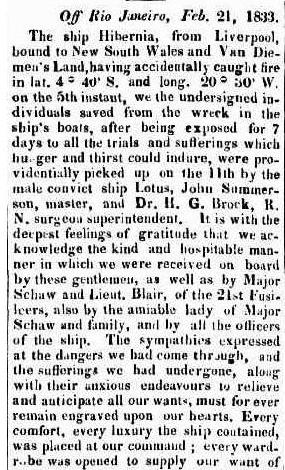 Letter from Hibernia survivors, Hobart Town Chronicle 21 May 1833
The letter in the Hobart Town Chronicle tells the tale of the harrowing loss of the Hibernia, and tragically of the 232 people aboard the vessel, only 79 survived the fire and sinking, of those who died, most were women and children. It was clearly a tale of survival of the fittest and accounts of long boats being full and survivors in the water being fended off for fear of sinking the already over loaded life boats was a terrible tale. One account mentions that one of the long boats sailed past the sinking vessel and could see survivors still clinging to the masts and sails.
Presumably the letter above was handed to the editors of the Hobart Town Chronicle upon their arrival in Hobart. It appeared on the same day as the newspaper recorded the arrival of both the Lotus and the Adelaide into port.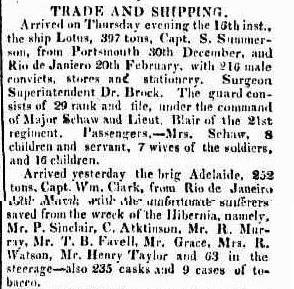 Hobart Town Chronicle 21 May 1833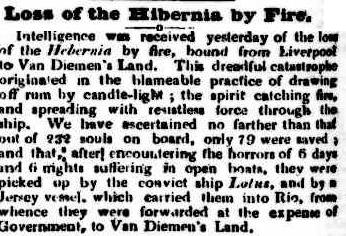 Loss of the Hibernia by Fire, Australian, 21 May 1833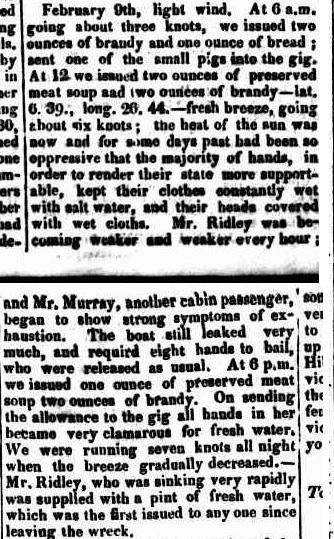 Diary of the Hibernia 9 February 1833, an account published by Hobart Town Courier 24 May 1833
During another visit to the National Library of Australia in Canberra, A.C.T  in July 2018 I again accessed the Murray Papers of Yarralumla and found another early letter of great interest. There, undiscovered amongst the many letters attributed to Anna Maria Bunn, the sister of Terence Aubrey Murray was a letter written by Anna's uncle Richard Murray of Hobart Town from 12 June 1833. Richard was a brother to Terence Murray, paymaster to the Colony of New South Wales who had arrived in Sydney aboard the Matilda. This fragile cigarette burned letter is absolutely so historic, and not only does it confirm the other letters from the Wellcome Library in London it also gives an insight into the close family ties between the Murrays.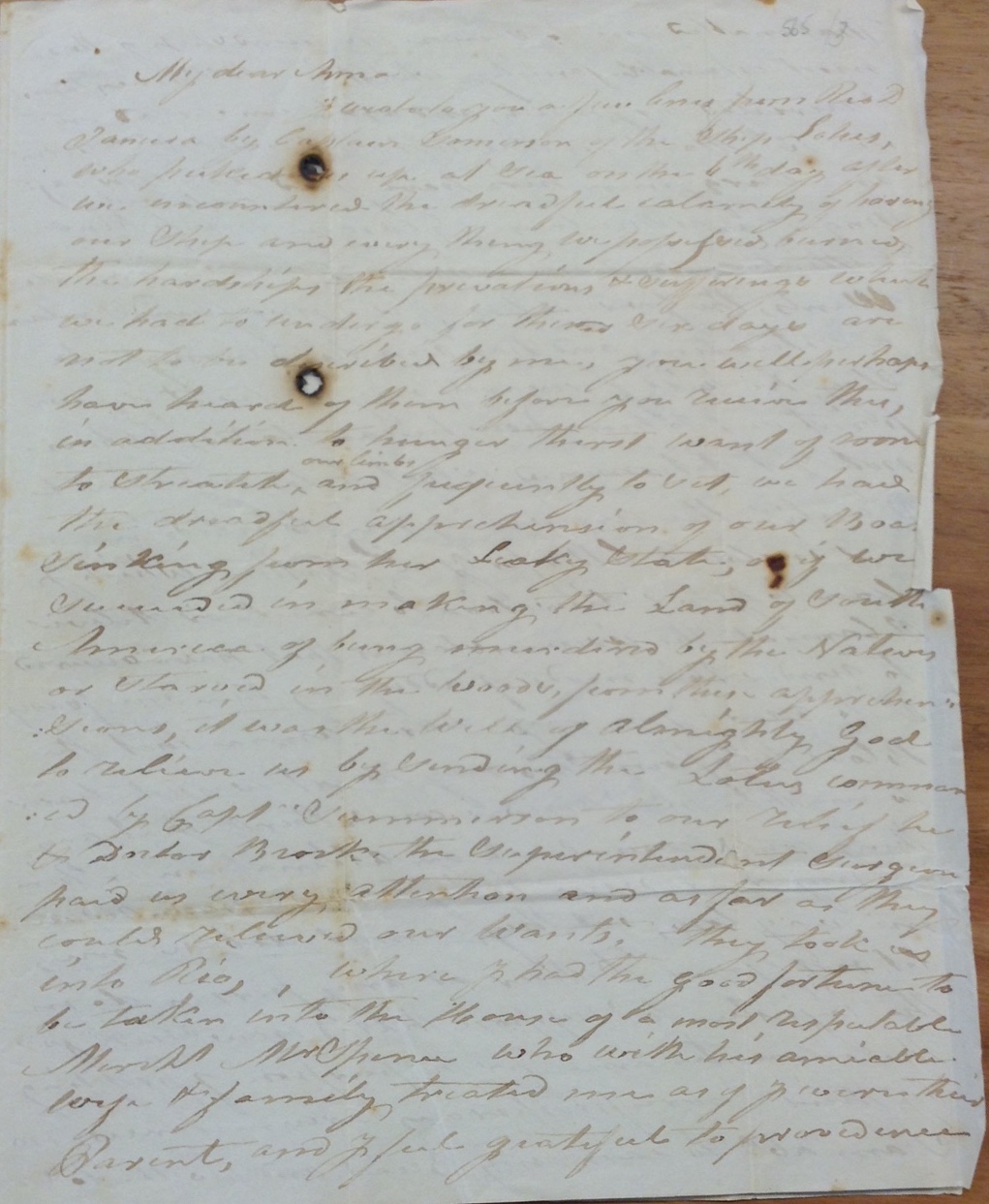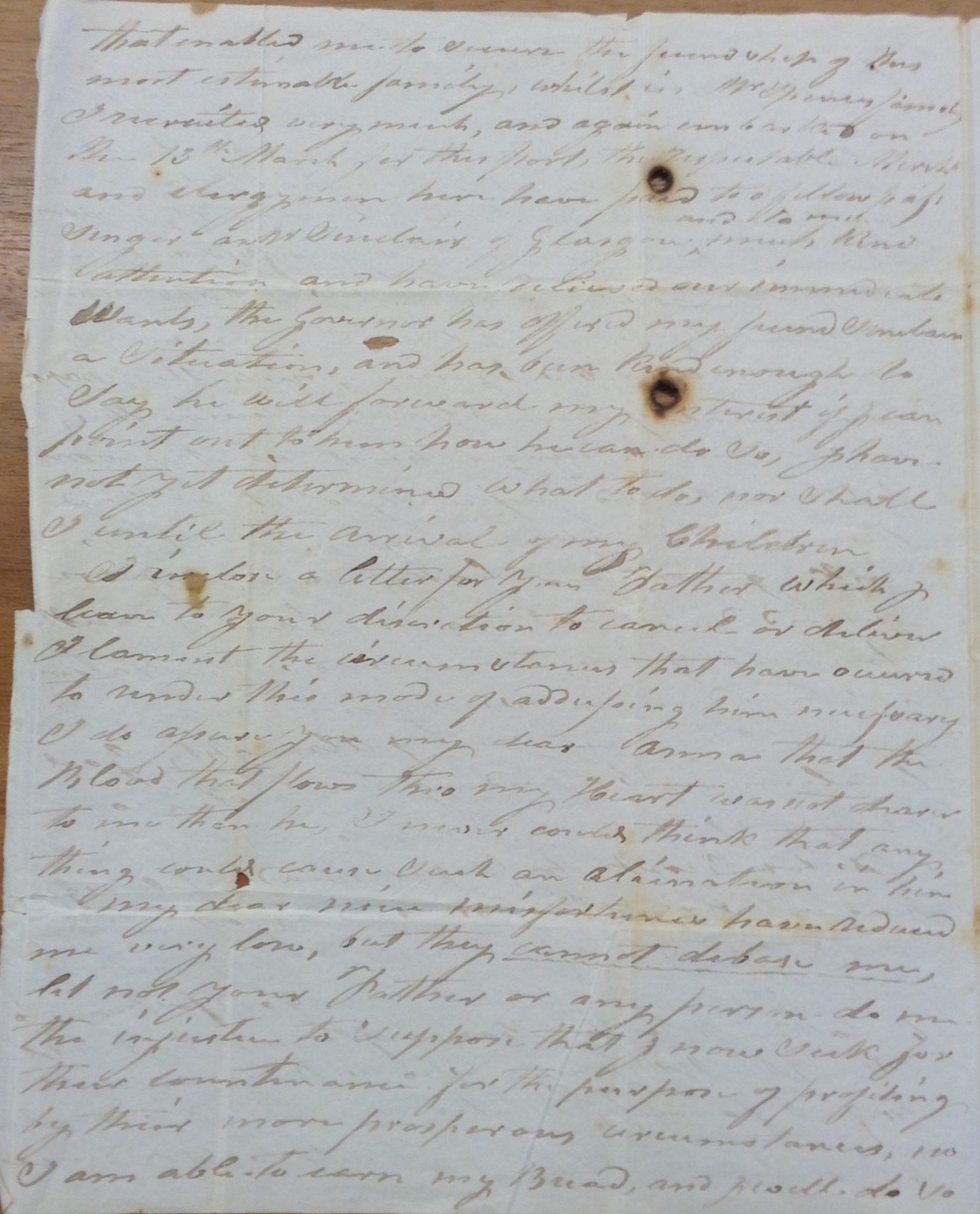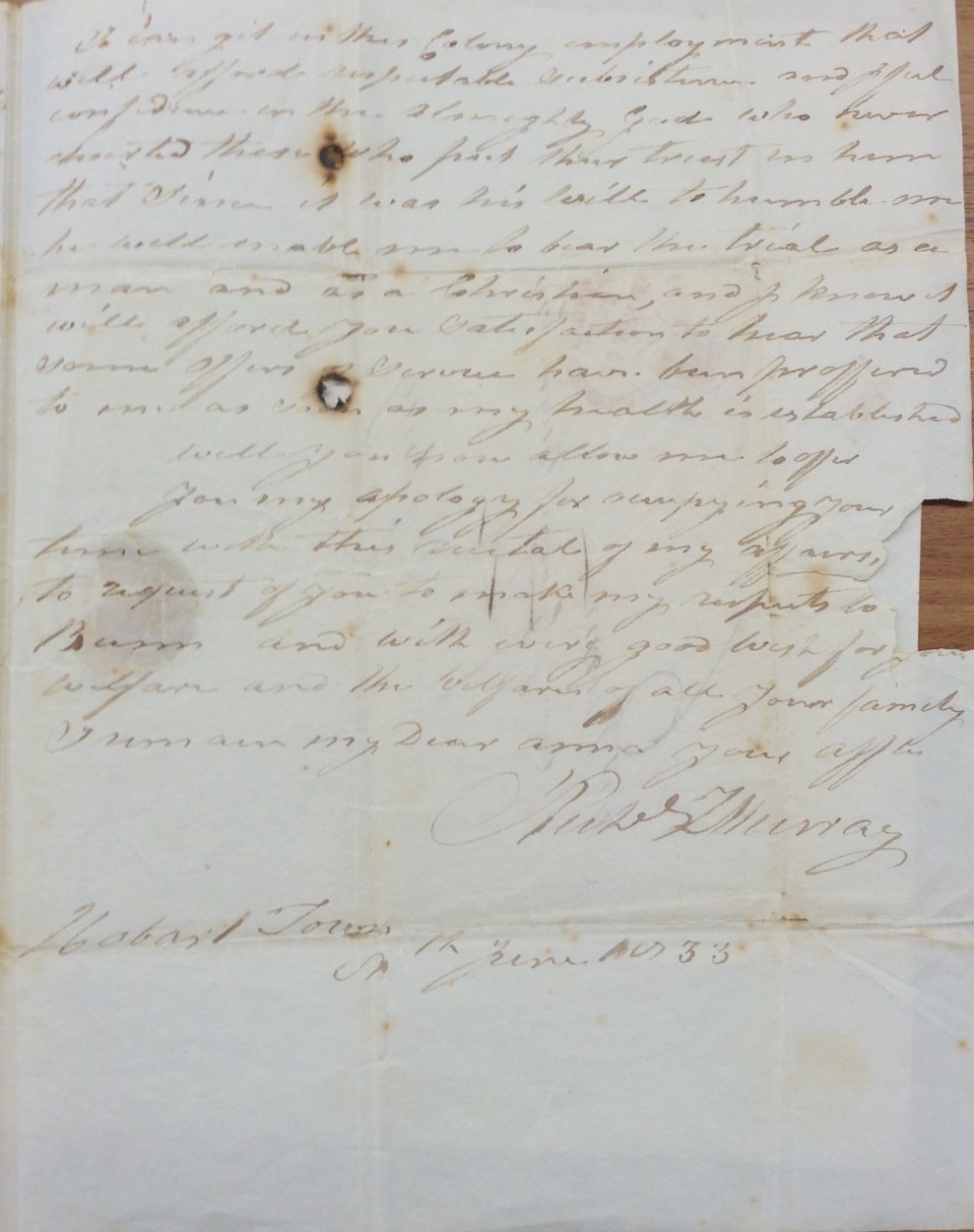 Three page letter from Richard Murray to his niece Anna Maria Bunn nee Murray written from Hobart Town, 12 June 1833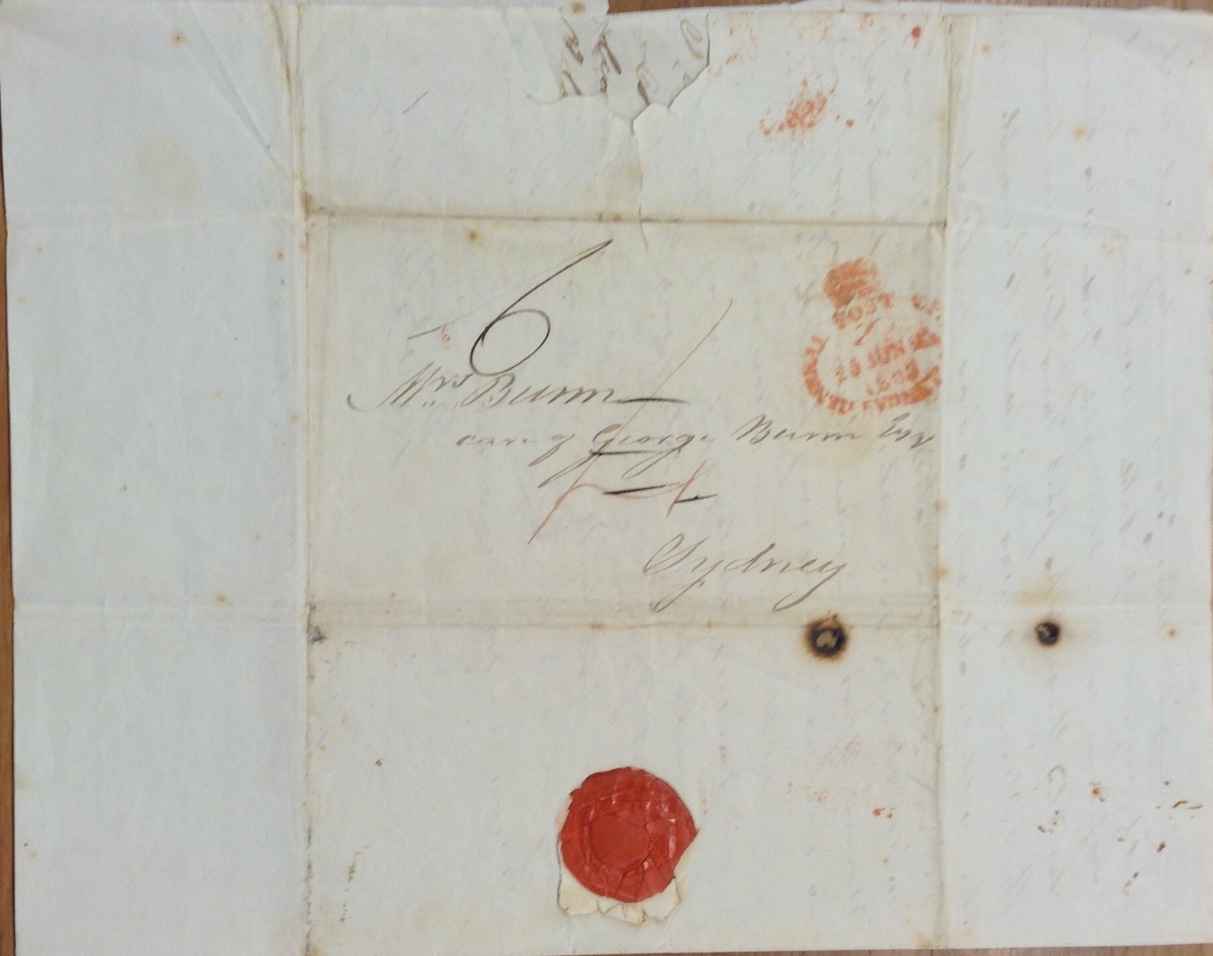 Envelope simply addressed as Mrs Bunn, wife of George Bunn Esq. of Sydney, note that Richard uses his ring and the Murray seal on this handmade envelope
Richard Murray describes the calamitous shipwreck which nearly cost him his life, his miraculous rescue by the Lotus, and his arrival in Hobart Town, awaiting his children's imminent arrival, before they sail to Sydney. I have transcribed this letter, however the letter is very faded and written in very flowery English and it is hard to transcribe. I have done by best and if anyone can help with further information it would be so appreciated.
My Dear Anna,
I wrote to you a few lines from Rio de
Janeiro by Captain Sumerson of the ship Lotus,
who picked us up at sea on the 4thday after
we encountered the dreadful calamity of having
our ship and everything we possessed  burned,
the hardships, the privations and suffering which
we had to undergo for these six days are
not to be described by me, you will perhaps
have heard of them before you receive this,
in addition to hunger, thirst, want of room
to stretch our limbs and frequently to exit, we have
the dreadful apprehension of our boat
sinking from her leaking water, and if we
succeeded in making the land of south
Jamaica of being arrested by the natives
or shoved in the woods from their apprehend-
sions, it was the will of almighty God
to relieve us by sending the Lotus commanded
by Capt. Summerson, to our relief there-
for Doctor Brock the superintendent surgeon
paid us caring attention and as far as they
could relieved our hearts. They took us
into Rio, where we had the good fortune to
be taken into the Manse of a most respectable
Marshall McPherson who with his amiable
wife and family, treated me as if I were their
parent, and I feel grateful to providence 
Page 2
that enables me to ensure the friendship of this
most estimable family, whilst in McPersons family
I recupterated? Very much, and again embarken on
the 13thMarch for this port , the respecatable Marsh
and clergymen here have paid to a fellowship
singer and Mr ____ of Glasgow, and to me much kind
attention and have actions and our immediate
wants, the governor has offered my ___
a situations, and has been kind enough to
say he will forward my interest if I can
point out to him how he can do so, I have
not yet determined what to do, nor what
until the arrival of my children.
I enclose a letter for your father which I
leave to your discretion to cancel or deliver
I lament the circumstances that have occurred
to sending this mode of addressing him uniform?
I do ___ you my dear Anna that the
blood that flows thro my heart is as not ____
to rise than he, I never could thank that any
thing could cause such an alteration in him
My dear niece misfortune hasn't reduced
me very low, but they cannot debase me,
Let not your father or any person do me
the injustice to suppose that I now seek for
their circumstances for the purpose of profiting
by their more prosperous circumstances, no
I am able to earn my bread, and will do so
 Page 3
 I can get in this Colony employment that
will afford reputable subsistence and I full
confidence in the almighty God who never
deserted these _____ past their trust in him
that ___ it was his will to humble me
he will enable me to bear the trial as a
man and as a Christian, and I know I
will afford you satisfaction to hear that
some affairs of ____ have been proffered
to me as soon as my health is established
Will you ___ all me to  offer
you my apology for occupying your
house with this recital of my affairs,
to adjust of you to make my respects to
Bunn and with doing good wish for
welfare and the welfare of all your family
From __ my dear Anna your affect
Richard Murray
Hobart Town
the 12 June 1833
Letter of Richard Murray to his niece Anna Bunn transcribed by Virginia Rundle
Some of the letters and papers of Thomas Murray M.D. lodged at the Wellcome Library in London will be reproduced at the end of this chapter Murray family chapter after they have been transcribed and further research is undertaken. Miss Anne Murray's letters, in particular, are very hard to read and, apart from their obvious fragility, they are badly faded. A further confirmation that Thomas' father Richard married a Miss Fitzgerald was found the letters of advice from Edward Fitzgerald to his nephew Thomas, which were written during Edward's time in Sierra Leone as Chief Justice of the Colony.
Geoff and I visited the National Library in Canberra in 2012 to inspect the Murray papers and letters, which were donated to the Library by Terence Murray family descendants. There, amongst the papers exists a copy of Michael Murray's family tree, albeit no mention of our Ellen Frances Matilda Murray. The papers also contained an account of the Battle of Boyne and other remembrances, written up by James Aubrey Murray and letters, newspaper clippings and many other documents. The Michael Murray Family Tree did give me a lot of information about some of the children of Michael Murray, and information that Peter and Thomas Murray never came to Australia encouraged my further research in Limerick, Ireland.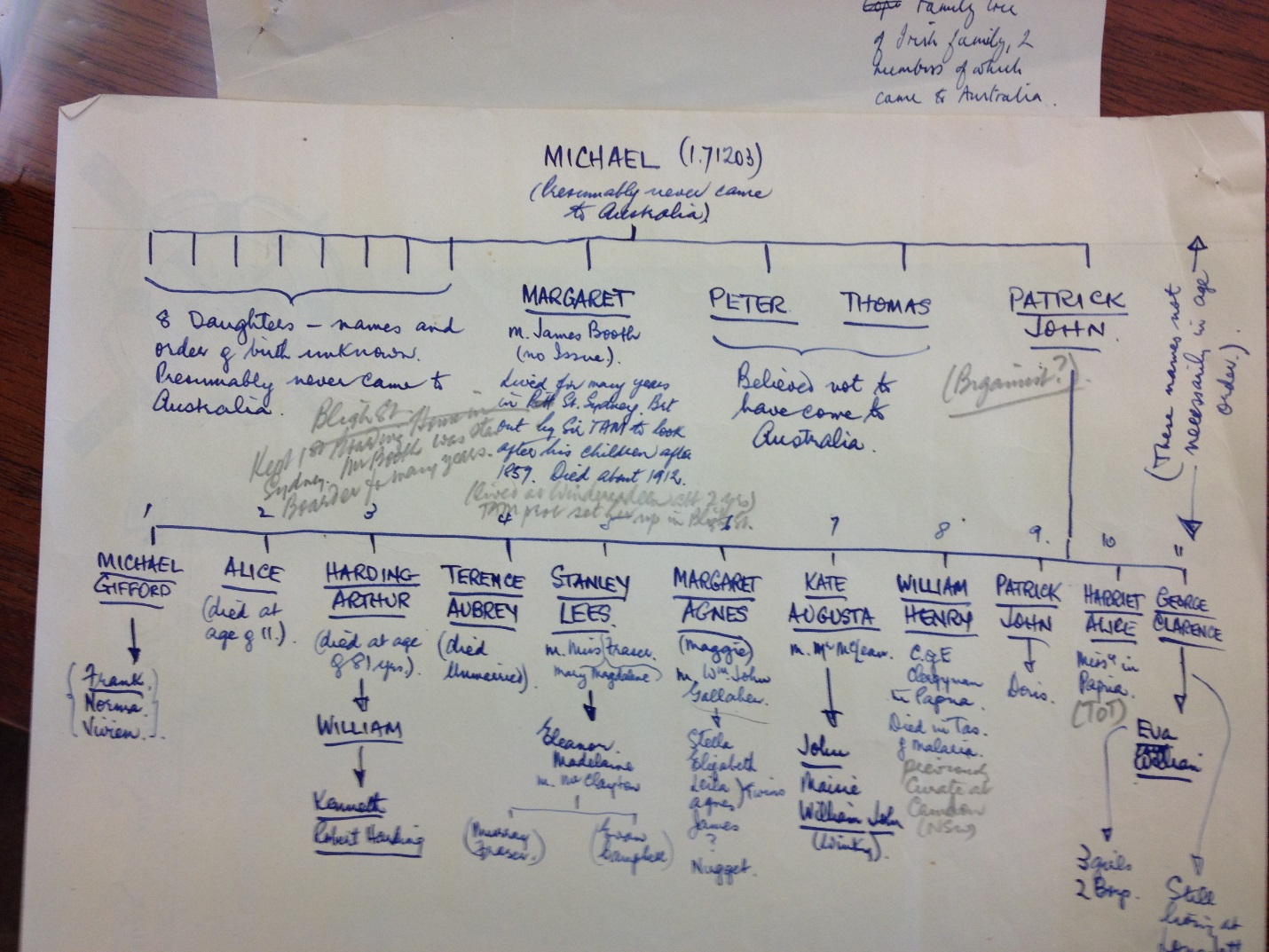 Michael Murray Family Tree from the Murray Files at National Library in Canberra ACT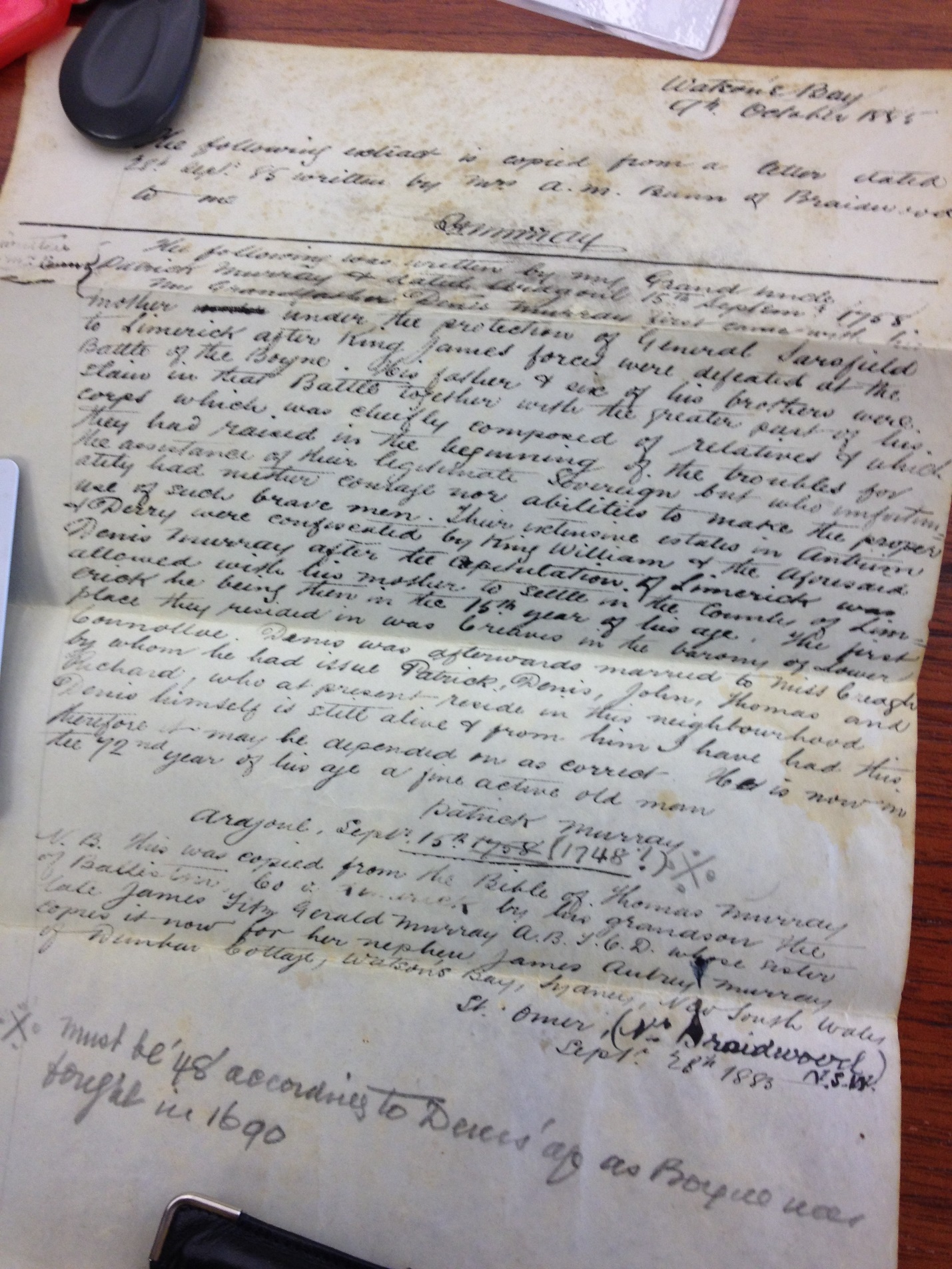 Murray Family History from the Bible of Thomas Murray of Balliston, Limerick, copied by James Fitzgerald Murray at Dunbar Cottage, Watson's Bay, Sydney on 9 October 1885, from his sister, Anna Maria Bunn's letter dated 28 September 1885. Murray Family Papers ANL Library
Another interesting inter-marrying of sisters and brothers in the Murray family occurred, this time it was the Murray and the Frazer families, two siblings of Ellen Frances Matilda Wise nee Murray married into the Frazer family. Peter Murray was born in 1820 at Prospect Hall near Patrickswell, Limerick, and died on 16 January 1904 in Tralee, Limerick, was Ellen's younger brother, who remained in Ireland. He was a veterinary surgeon in Tralee. His son, Peter Frazer Murray, who died in 1905, is recorded as dying in Nelson Street, Tralee, and most interestingly, it is listed that his former home was Ralaheen, the property of his grandfather Michael Murray. This family notice appeared in the Limerick Chronicle on 10 August 1905. I managed to capture the 1901 Irish Census, showing father Peter Murray and his two children, Peter and Madeleine living in the same home. Significantly the address on this census is Nelson Street, the same address where Michael Murray died in 1855. It gives the occupation for Peters Murray Snr. as veterinary surgeon. Peter Murray married Hannah Frazer the daughter of Dr James Frazer of Fergus, County Clare at Kilnasoolagh Church, Newmarket on Fergus, Clare. This is the same church that Ellen Frances Matilda Murray and William McOboy Wise were married.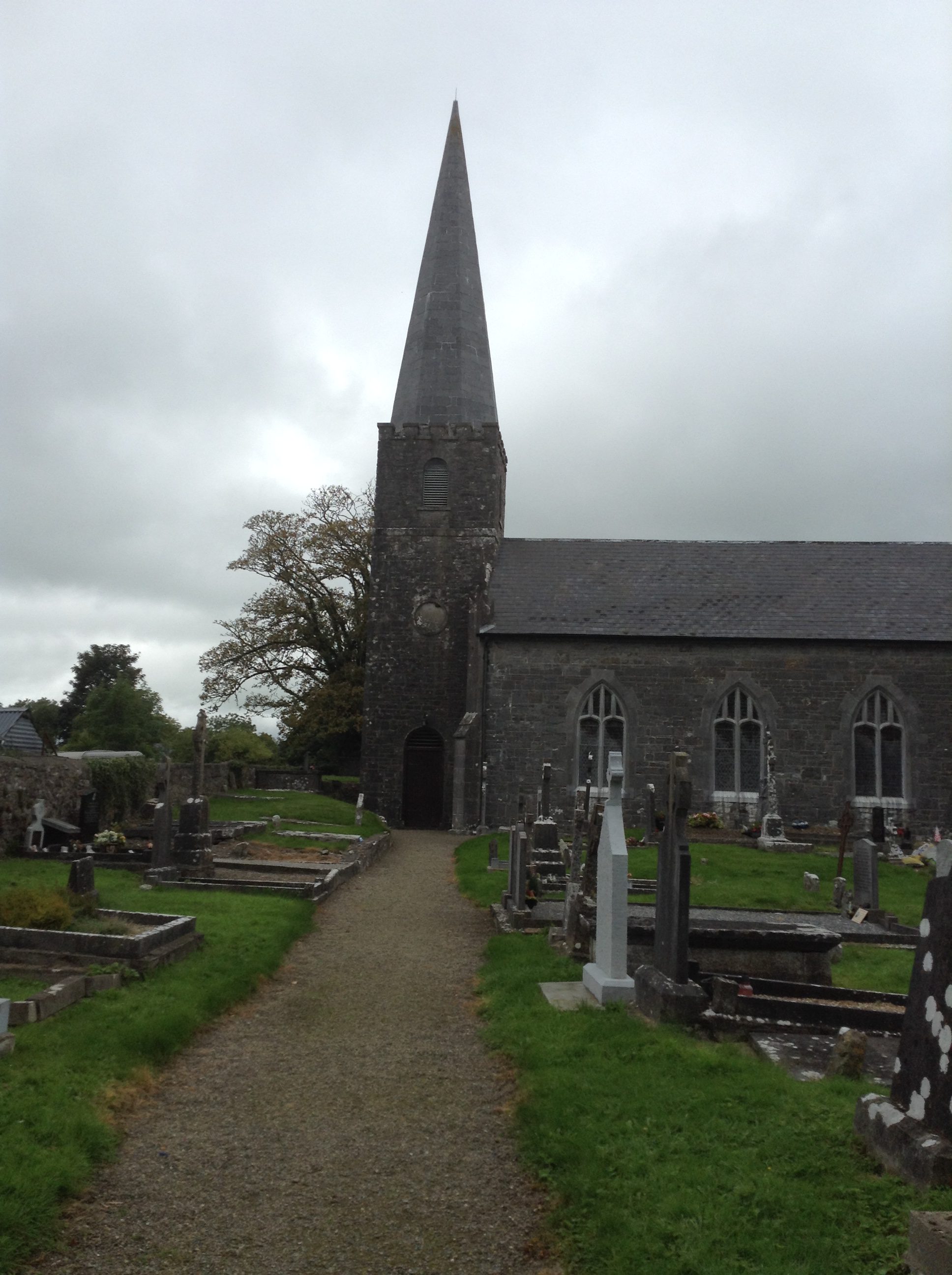 Kilnasoolagh Church, Limerick, where James Frazer married Alice Emily Murray
The Clare Journal, 6 October 1836, states that "At Kilnasulagh church, Newmarket-on-Fergus, J. Frazer, Esq., M.D., eldest son of Dr. Frazer, of Fergus View, to Alice Emily, daughter of M. Murray, Esq., of Ralahine." Alice's sister Ellen Frances Matilda Murray married William McOboy Wise in same church.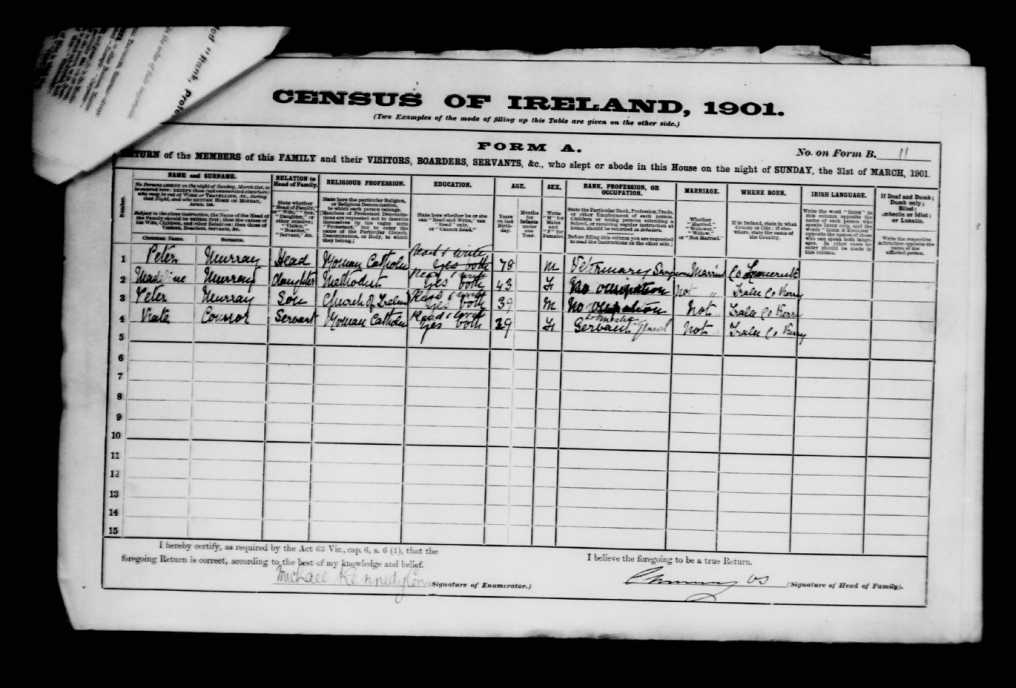 1901 Census of Ireland listing Peter Murray and his family, of Nelson Street, Tralee
Image courtesy of the National Archives of Ireland
Peter and Hannah had seven children, and on the next page I have placed a family sheet for Peter Murray showing both his siblings, and his children. Peter and Hannah baptised some of their children in Tralee, and incredibly I was able to find the record for Peter Frazer Murray, baptised 6 April 1859 and his sister Madaline(sic) Charlotte Murray, baptised 26 September 1850, on the Irish Genealogy website.
Hannah Murray died on the 13 February 1894 and her death notice was recorded in the Limerick Chronicle. I also found the touching death record for their son Peter "Paw" Frazer Murray with a mention of his grandfather, Dr Frazer of Limerick, and most importantly a reference to Ralahine. These newspaper clippings from the Limerick Chronicle, are courtesy of Limerick Library and their online resources.
A brother of Hannah's, James Fraser M.D. married Alice Emily Murray, a sibling of Ellen and Peter's, and the daughter of Michael Murray. I have found continuously through my Irish research that family intermarriage was the norm. I believe this came about to protect lands and moneys from leaving the family.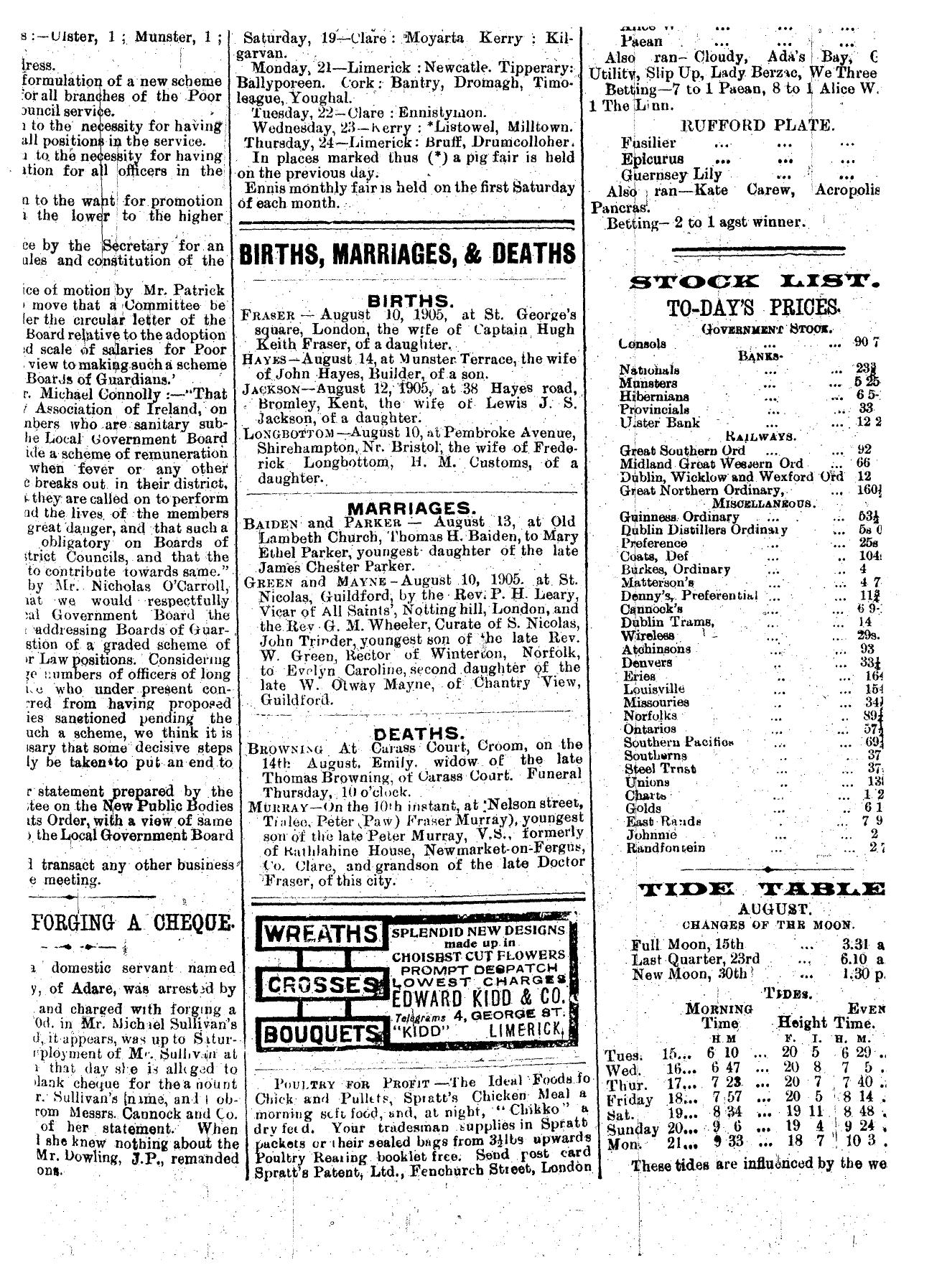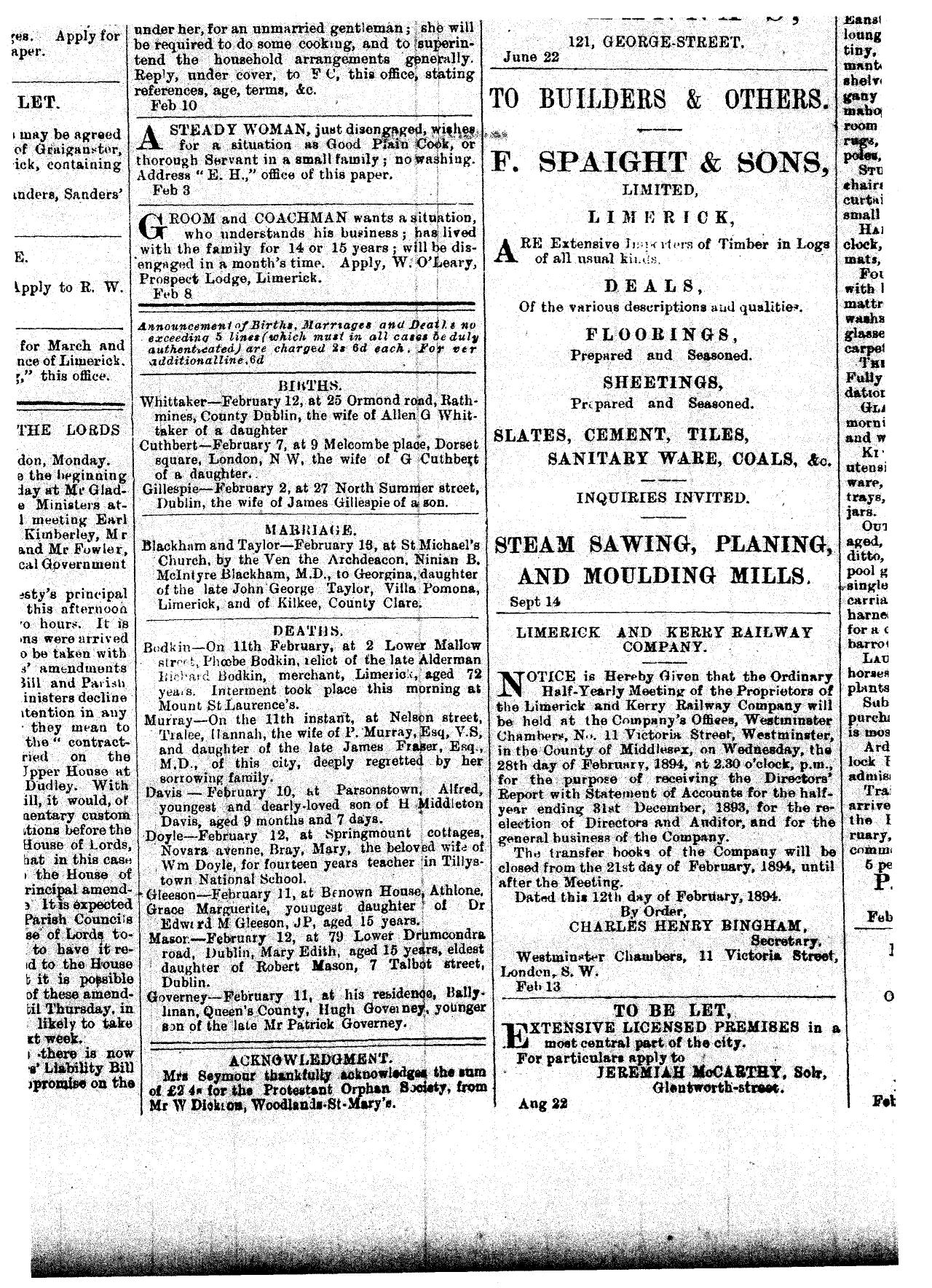 Incredibly I found a post on Ancestry.com regarding Peter Murray's ancestors who now live in Canada. Patrick Birt received many replies, including one from myself, to help find Peter's Irish family. He also knew that Peter Murray had a large family and lived in Tralee, however apparently Peter also got into considerable debt and sadly ended up in gaol for some time.
Peter Murray, veterinarian in Tralee, County Kerry, Ireland

 Patrick Birt  (View posts)
Posted: 04-02-2015 02:42PM
Classification: Query
Surnames: Murray Fraser
I am searching for information on my 3rd great grandfather Peter Murray (1820?). I don't know much about him other than he was married to Ann (Hannah) Fraser and they had 2 daughters (maybe more children). Apparently he was a veterinarian and raised wolf hounds and horses.
One of his daughters (Ellen Alice) emigrated to Canada in the late 1880s with her children. They lost contact after that.
Re: Peter Murray, veterinarian in Tralee, County Kerry, Ireland

 Patrick Birt  (View posts)
Posted: 07-23-2015 05:45AM
Classification: Query
Hi Dave,
Thank you very much for all this wonderful information and sources. The only information I have about Ellen Alice Murray was written by her grandson more than 40 years ago. It was a compilation of stories from her life. Apparently, she went to live with an uncle in Manchester when she was quite young. We have no idea why. It might have to do with Peter being incarcerated and Hannah not being able to care for all the children. I'm not sure. Her sister Madeline did live with her at one point in Wales as per a census document I discovered while researching Ellen. Once she left for Canada, she didn't have contact with any members of her family again. This makes it very difficult to trace her back. She was the one who mentioned to her grandchildren that her father was a veterinarian and raised Irish wolfhounds, which was the only clue I could go on.
She did speak about her Fraser side a bit. The uncle she was raised by owned a textiles company in Manchester. I can't find mention of his company. She also mentioned how she had another uncle who was a well-known Scottish painter by the name of Alexander Fraser. Of course, I'm not sure if any of this is true.
Once again, thank you very much for your help!
Patrick
A quick look through the English Census' soon found a correct census or 1861 for Ellen and confirmed that indeed she was living with her uncle Richard Fraser, who would have been a brother to Hannah Murray, the wife of Peter Murray VS.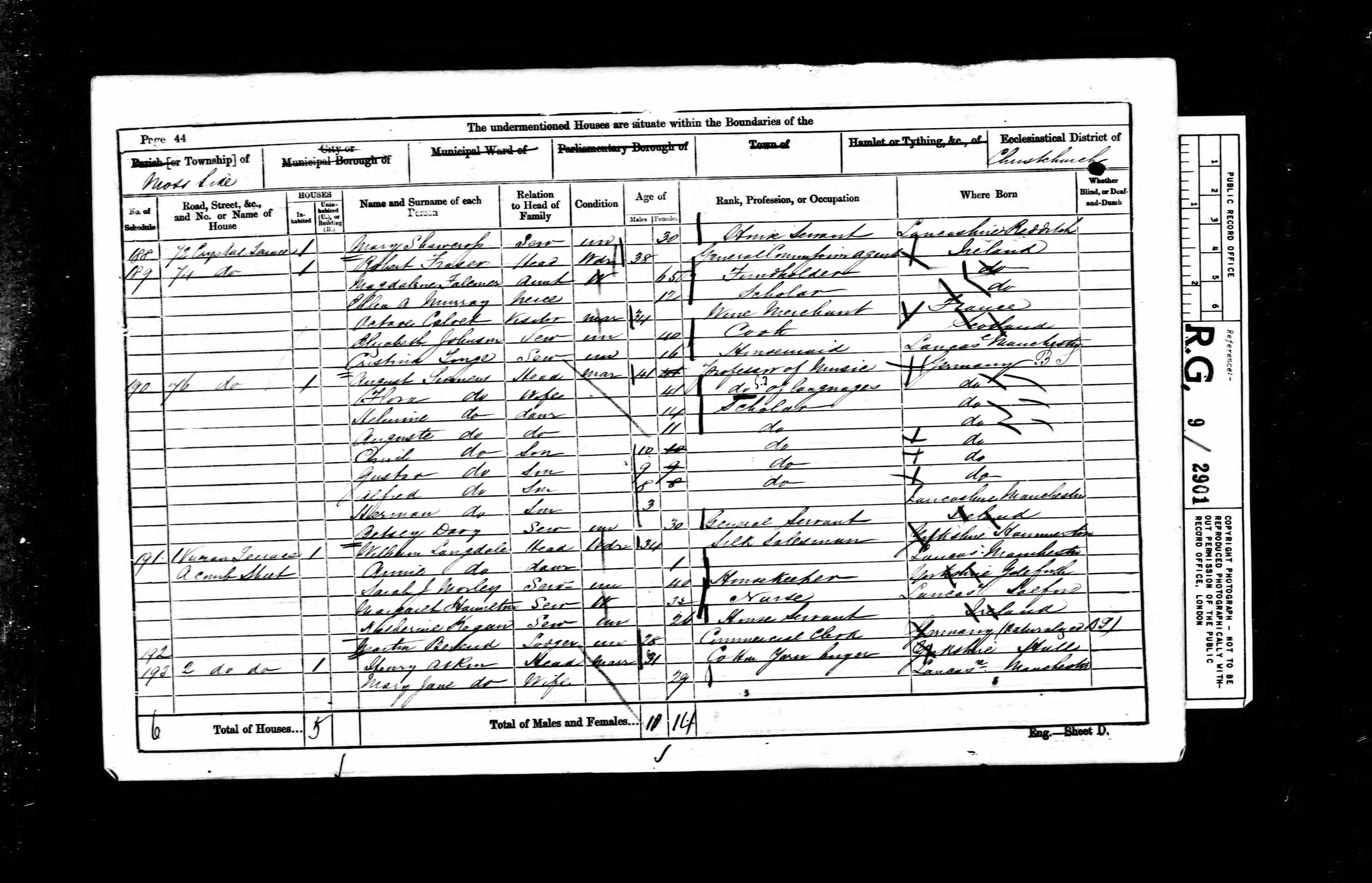 1861 English Census for Robert Fraser and his niece Ellen A Murray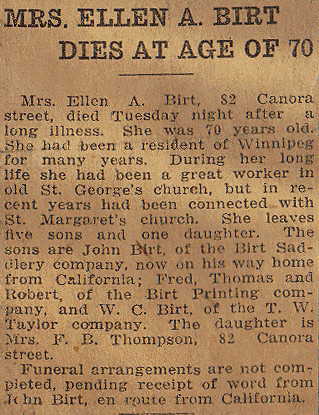 Obituary for Ellen Alice Birt, 11 February 1919, courtesy of James A Griffiths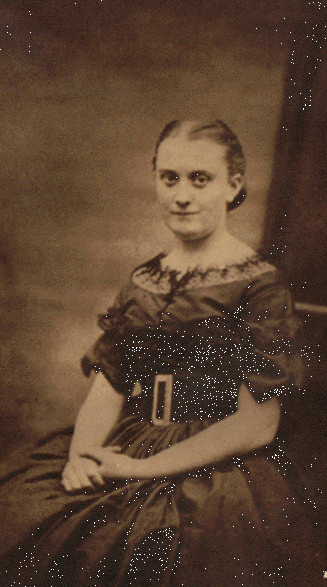 Ellen Alice Birt nee Murray, photo courtesy of James A Griffiths who has a family tree on ancestry.com
A sister of Ellen Frances Matilda Wise nee Murray had also migrated to Australia and was employed as a governess to the children of Terence Aubrey Murray. Her name was Margaret Murray, born in 1819, and, in several sources she is listed as Margaret Booth, her married name. I didn't realise the connection between Terence Murray and Margaret Booth until I went to the National Library in Canberra in 2012 to inspect the Murray papers and letters that have been lodged there by the Terence Murray family. It was here that I saw the connection in the papers and a family tree mentioning that Terence and Margaret Booth were cousins. I collected Margaret's records, unearthing the exciting fact that Margaret was undoubtedly Ellen's sister – when I found Margaret's Australian Death Index listing her parents' names as Ellen and Michael. Margaret married at the age of fifty-four to James Booth.
Australian Death Index 1787-1853:
| | |
| --- | --- |
| Name: | Margaret Booth |
| Death Date: | 1910 |
| Death Place: | New South Wales |
| Father's Name: | Michael |
| Mother's name: | Ellen |
| Registration Year: | 1910 |
| Registration Place: | St Leonards, New South Wales |
| Registration Number: | 11150 |
Australian Marriage Index 1788-1950:
| | |
| --- | --- |
| Name: | Margaret Murray |
| Spouse Name: | James Booth |
| Marriage Date: | 1872 |
| Marriage Place: | New South Wales |
| Registration Place: | Sydney, New South Wales |
| Registration Year: | 1872 |
| Registration Number: | 354 |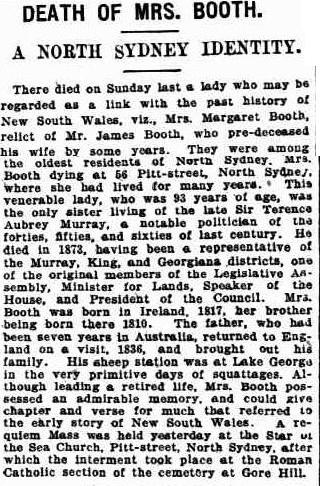 Evening News 27 September 1910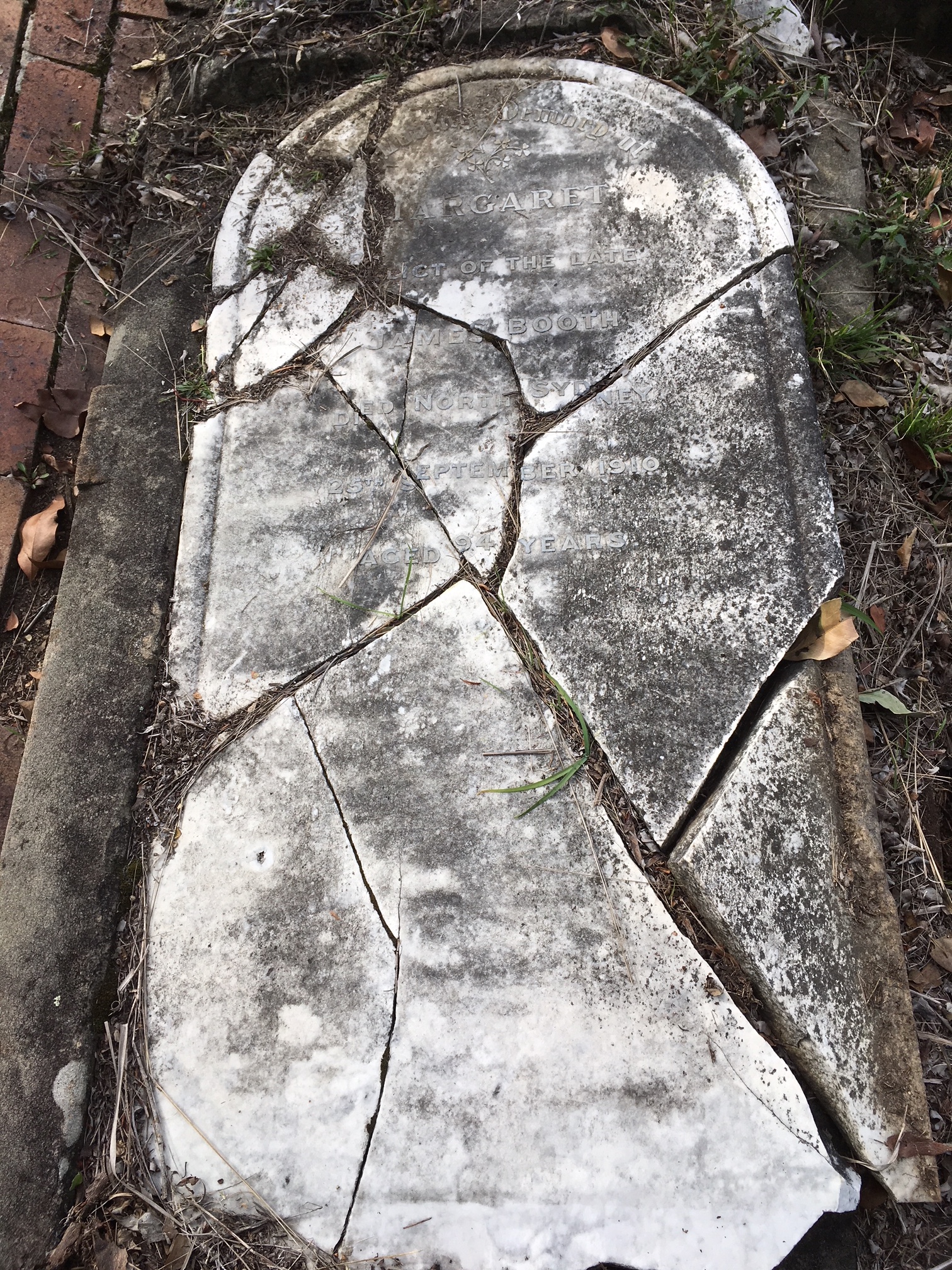 Grave of Margaret Booth,  relict of the late James Booth of North Sydney, Gore Hill Cemetery, Roman Catholic Section, photo taken by Virginia Rundle
Clearly Margaret was not Terence Aubrey Murray's sister, as their family tree is well chronicled, Margaret is of course, a first cousin of Terence, and the sister to Ellen Wise nee Murray, as can be seen in her death record stating her parents as Michael and Ellen. I believe that the newspapers had the right person, however just mixed up her family relationship. I also noticed that her age is given as 93, when in fact she was younger than this, as her sister Ellen was born in 1817, and if twins had been born, there would have been a joint baptism. I enjoyed reading this obituary about Margaret Booth as it gave some sort of insight into the person that was Ellen Wise's sister. I feel Margaret came from an obviously well educated, happy and animated family. Ellen's son George Edwin Wise settled in Sydney in 1905, and I wondered if he actually knew about his aunt, and that she was living in North Sydney? Distance and lack of information would have made it difficult to keep in touch coupled with the fact that Ellen died at 37 years of age; she may not have imparted these facts. Some years after writing about Margaret I was delighted to find her probate document which gave me the answer I was seeking, as listed on the document was George Wise.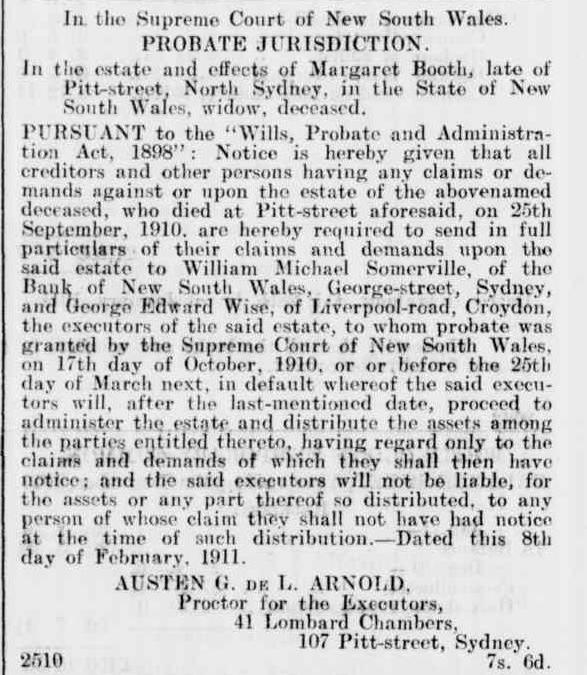 Probated will of Margaret Booth, Government Gazette of New South Wales, 15 February 1911
Even though George's name is incorrectly recorded as George Edward Wise instead of Edwin, I can see by the Croyden address at Liverpool Road, this was his home Roslyn House and it was so wonderful to see that my Great Grandfather was an executor of Margaret's will. It solved my questions wondering if the Wises and the Booths knew each other in Sydney. It was so pleasing to know that Margaret and Ellen were close to each other, even though Ellen had died so many years earlier in 1855 in outback Victoria.
A little known fact is that Ellen's younger brother Patrick John Murray, born abt.1827 in Patrickswell, Limerick, Ireland, also migrated to Australia and spent time living on the south coast near Eden before his marriage. It was during several searches for Ellen Murray in the Australian BDM records that I found the death notice for Patrick John Murray, noting the similarity in their parents' names. It was only after I found Ellen's baptism that I returned to this record and to my amazement, Ellen Lynch's name was recorded as his mother. It was an exciting find. Many research hours were spent piecing together the story of Patrick John Murray, to accurately place him in the family tree as Ellen's wayward brother. I believe this death record confirms that Patrick was the son of Michael Murray and Ellen Lynch of Limerick and later County Clare, Ireland. Now the existence of the Michael Murray Family Tree, found amongst the Terence Murray Files, a pencilled notation confirmed that Patrick was a bigamist!
It was several days before Geoff and I returned to Sydney and I could resume my research on Patrick John Murray, the father of many children. My mind was reeling with all this new information and I couldn't help wondering who else had accessed the Murray files before me, thinking that the pencil notations could have been by Gwendoline Wilson. Geoff and I had been amazed that we could actually handle these historical original papers that were in a most delicate condition in many dusty boxes.
Australian Death Index 1787-1985:
| | |
| --- | --- |
| Name: | Pat Jno Murray |
| Death Place: | Geelong, Victoria |
| Age: | 79 |
| Father's Name: | Murray Michl |
| Mother's name: | Ellen Lynch |
| Registration Year: | 1906 |
| Registration Place: | Victoria |
| Registration Number: | 5447 |
| Estimated Birth Year: | abt 1827 |
Patrick married Harriet Alice King on 17 February 1854 at Cooma, New South Wales. This was the year before Ellen died, and it would be interesting to know if William and Ellen Wise journeyed there for the marriage from Avoca, Victoria. Patrick and Harriet Murray had a large family of eleven children, and judging by their different birth places, it would seem that Patrick's employment meant that the family moved time and time again, from Cooma, Bega, Eden, Bendigo, Melbourne and Geelong. An account of the marriage of Patrick and Harriett, and their life and romance at Twofold Bay at Eden can be found in the book, A Colonial Woman, the diary of Mary Braidwood Mowle, by Patricia Clarke. Mary was the daughter of Dr Thomas Braidwood Wilson who gave the south-eastern New South Wales town of Braidwood its name, after his extensive land grants and purchases. Mary married Stewart Mowle and their romance and life in outback New South Wales is a wonderful insight into our colonial heritage. Stewart Mowle was a life long friend of Terence Aubrey Murray, who gave the orphaned Stewart a home and work at Yarralumla until he established his own career.
Australian Marriage Index 1788-1950:
| | |
| --- | --- |
| Name: | Patrick J Murray |
| Spouse Name: | Harriet King |
| Marriage Date: | 1854 |
| Marriage Place: | New South Wales |
| Registration Place: | Monaro/Manoroo/Monaroo, New South Wales |
| Registration Year: | 1854 |
| Volume Number: | V B |
I found several articles about Patrick, as was he was being reported in the newspapers, in 1859 he was appointed a Police Magistrate at Eden, and his appointment was gazetted in The Argus, Melbourne on 6 August 1859. There were also other reference in the newspapers finding him in court trying to obtain monies owed to him, and later, regarding his bigamous marriage to Catherine "Ellen" Curtin in March 1884. In April 1884 he was arrested, charged with bigamy, found guilty and sentenced.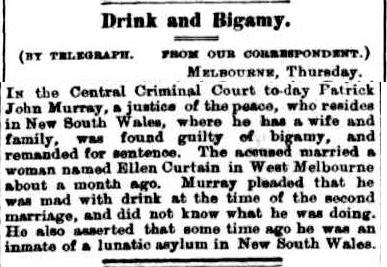 Australian Town and Country Journal, 19 April 1884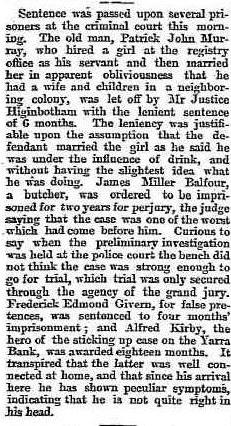 Sentence of six months gaol for Patrick John Murray, Geelong Advertiser, 25 April 1885
Pentridge Gaol transfer record for Patrick John Murray, 25 November 1884
Image kindly provided by Camilla Clarke who has a tree on ancestry.com called The Murray Family Tree. We have been in email contact regarding her direct descendant Patrick John Murray on several occasions, and it was a great delight to see this photo uploaded to ancestry.com to her tree and find confirmation that Patrick had arrived in Sydney aboard the Duchess of Northumberland.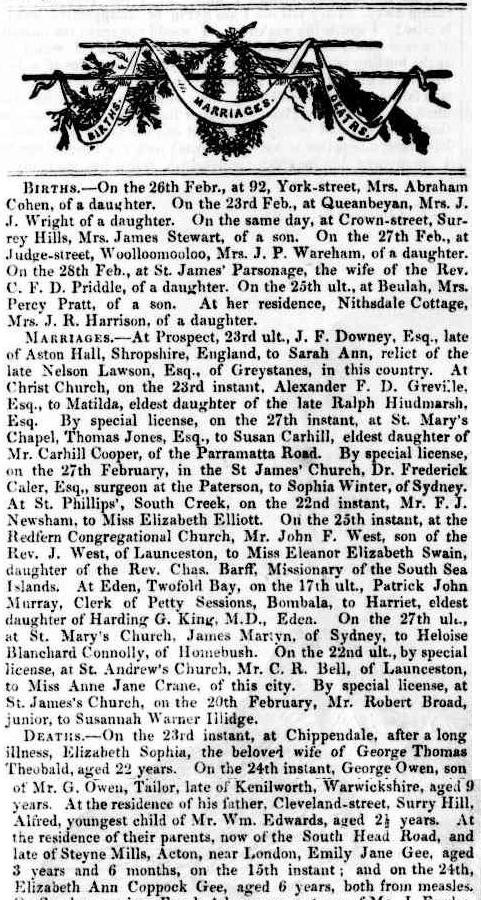 Illustrated Sydney News, 4 March 1854
Arrival of Patrick Murray aboard the Duchess of Northumberland, 31 January 1851
Patrick is listed as a farm labourer, and a native of Limerick, Ireland, a Roman Catholic who can both read and write. This document was kindly provided by Robyn Garis who has collaborated with me on our research of members of the Murray family of Limerick who came to Australia.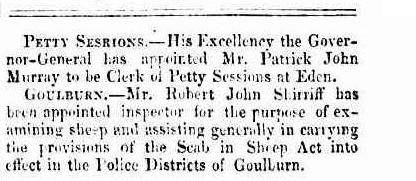 Freeman's Journal, 7 July 1855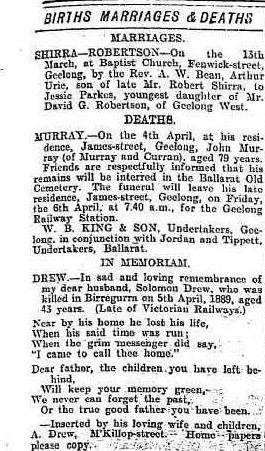 Geelong Advertiser 5 April 1906
Australian Marriage Index 1788-1950:
| | |
| --- | --- |
| Name: | Patrick John Murray |
| Spouse Name: | Catherine Curtain |
| Marriage Place: | Victoria |
| Registration Place: | Victoria |
| Registration Year: | 1884 |
| Registration Number: | 970 |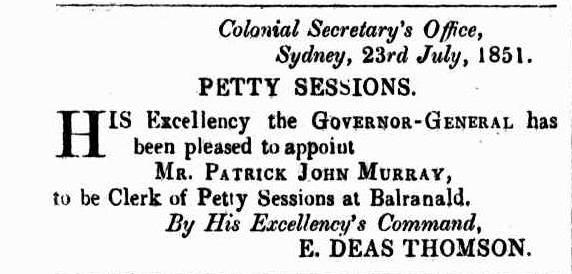 Colonial Secretary's Papers New South Wales Government Gazette, 1851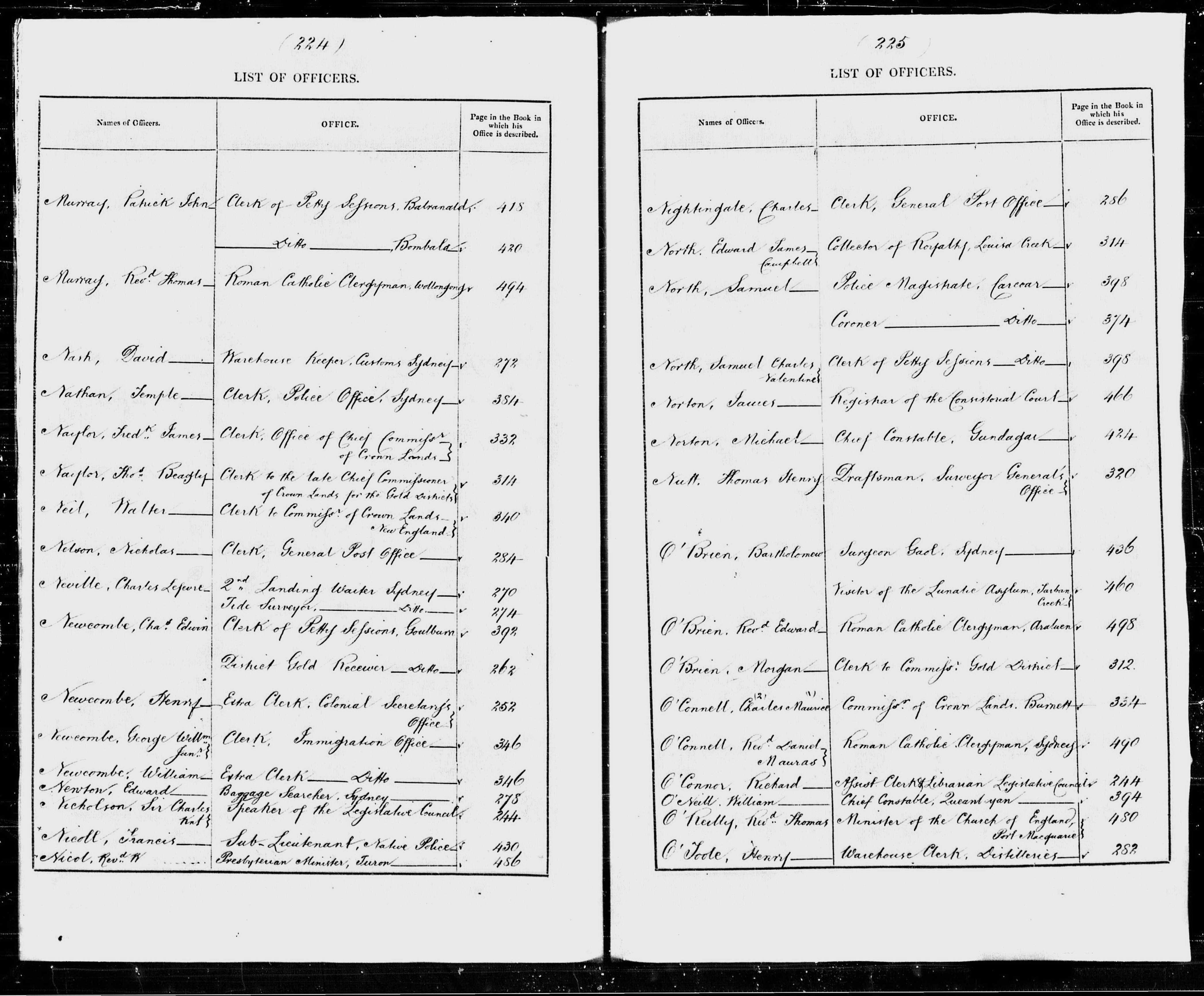 Returns of the Colony 1822-1857, Clerk of Petty Sessions, Balranald and Bombala 1853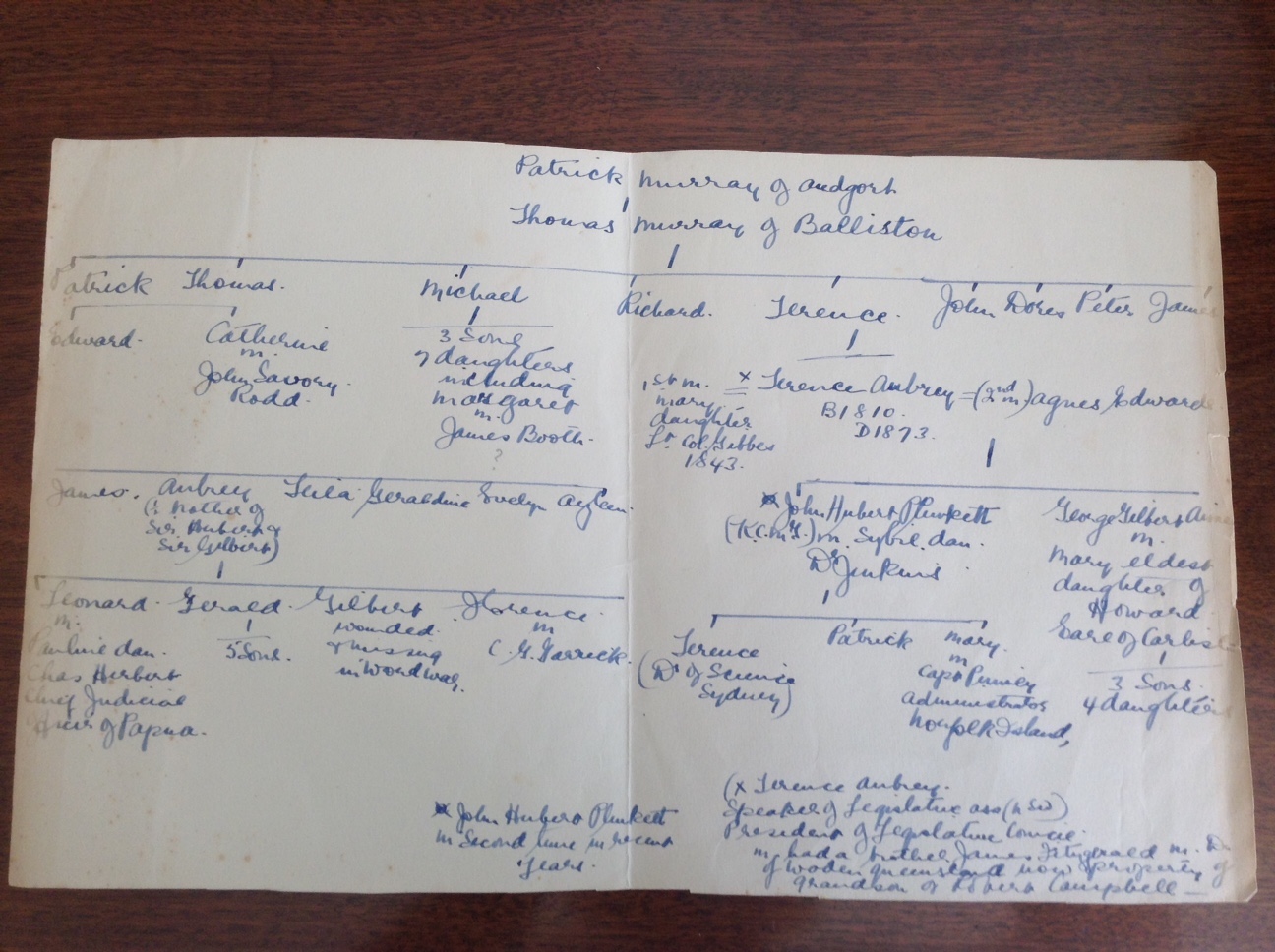 Murray Family Tree authored by Irene Borthwick of London, circa 1950, back inscribed "Reg"
Irene Borthwick has unmistakable handwriting. When I first came across the Wise family tree given to me by the Borthwicks, I was unsure of the authorship, but after finding several other articles and photos amongst my father, Reginald George Robson's papers I can now firmly identify Irene's writing. My sister has in her possession an old bible with some of the Robson family named in it, what was fascinating for me was that when it was opened this family tree fell out. It was early in my research and I didn't know the Murray relationship. I don't believe Irene did either, as much as she tried, she would not have known unless she obtained her grandmother, Ellen Frances Matilda Wise's death certificate.
There can be no doubt that Ellen Frances Matilda Wise nee Murray would have known about the existence of her uncles, cousins and siblings living in New South Wales. The fact that Ellen died so young would probably account for why there is no mention of her arrival or death in Australia in the Murray biographies, and books about Yarralumla. However, the Murray link to the Wises and Robsons was not lost in our family and it was handed down as a middle name in both the Wise and Robson families, and stories about the Murrays of Yarralumla were passed down and remembered in some branches of the family to this day.
Earlier in this chapter I mentioned Catherine Murray and John Savery Rodd. Apparently Catherine was the orphaned daughter of Thomas Murray and Catherine Fitzgerald, who travelled to Australia for a few years in the mid 1830's. It may be that she was looking to settle in Australia, however she changed her mind and boarded a ship bound for England, with the thought that she would become a nun back in Ireland. I found this story in an article on Pioneering Families, in the Sydney Mail, 6 March 1935, see illustration on the next page, and bear in mind that this was written some 100 years later; so the story needs to be seen as a flowery and romantic account of the Rodd family history.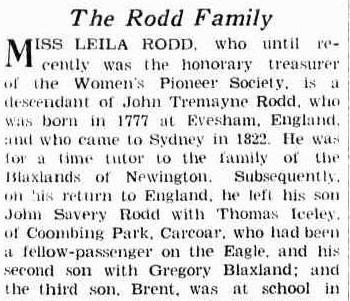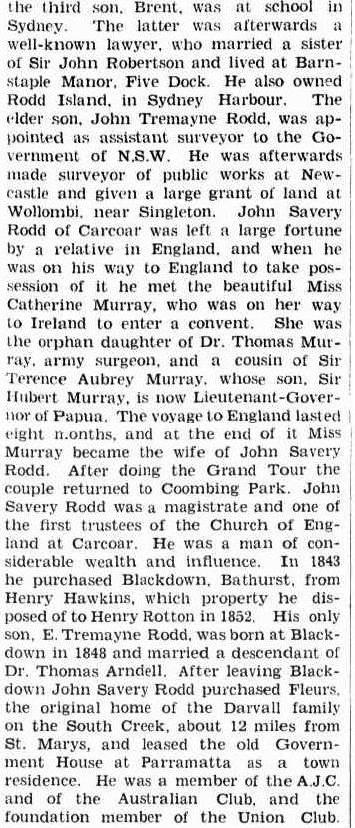 Marriage of John Savery Rodd and Catherine Murray, Westminster, London, 20 September 1837
The marriage of John and Catherine Rodd took place in London, and the information provided on this document are so helpful in confirming not only Catherine's story, but her parentage as the daughter of Thomas Murray, Surgeon in the Royal Artillary, which was also stated in her brother Edward's obituary. I had difficulty obtaining this record from my usual sources and emailed a friend and fellow researcher, Ingrid Curwood who lives in Plymouth, England who has a subscription with Find My Past. Within an hour of requesting this marriage record I found it in my mailbox, what an incredible friend! Ingrid is an editor on my ancestry.com tree has and helped me with my Rundle, Dodridge and Galsworthy families from Devon.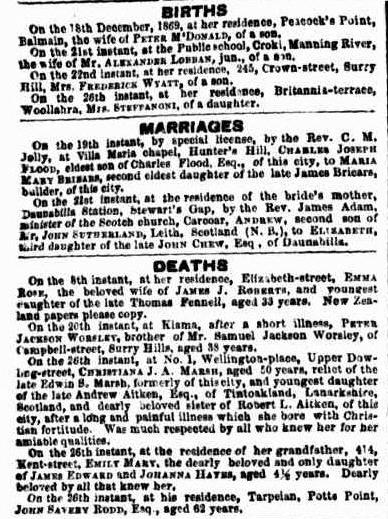 Death notice for John Savery Rodd, Sydney Morning Herald, 20 January 1870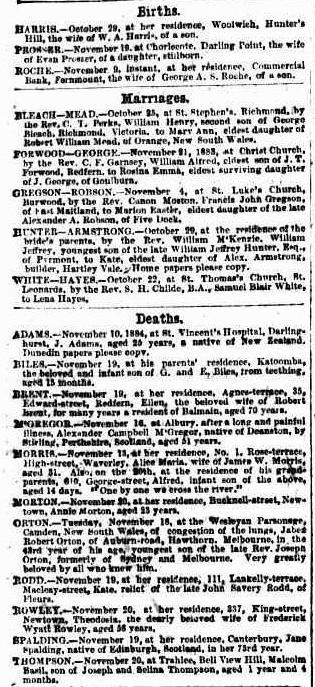 Death notice of Catherine Savery Rodd, Sydney Morning Herald, 19 November 1884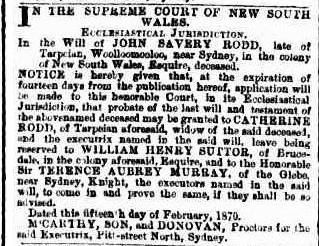 Probated Will of John Savery Rodd, Sydney Morning Herald, 15 February 1870
Note the connection here with Terence Aubrey Murray.
Death notice of John Tremayne Rodd, Sydney Morning Herald 19 August 1844

Auction notice for Tarpeian House, 18 November 1865
The Rodds lived at Tarpeian House for five years before John Savery Rodd died in 1870.
Headstone of Kate Savery Rodd, St John's Ashfield Cemetery, photograph kindly provided by PVCOW ancestry.com family tree.
Obituary for Edward Murray, Albury Banner, 29 October 1897
It is amazing how long lost articles and family history can now be found at the touch of a button on my laptop. When I keyed into Trove Digitised Newspapers looking for articles on John Savery Rodd, it was exciting to find this obituary for Edward Murray, and without a doubt the brother of Catherine Murray, Rodd's wife. He also appeared on Aunt Irene Borthwick's Murray Family Tree. Edward Murray married Mary Elizabeth Carpe Burfitt and they had a large family. It was then, collecting his family tree that I found he had named his son Edward Fitzgerald Murray, thus confirming that his grandmother, and Catherine and Edward's mother was Catherine Fitzgerald, a sister of Ellen Fitzgerald Murray who married Terence Murray and Ann Fitzgerald who married Richard Thomas Murray – three Fitzgerald sisters marrying three Murray brothers in Limerick, Ireland.
Australian Death Index 1888-1950
| | |
| --- | --- |
| Name | Edward Fitzgerald Murray |
| Death Date | 1941 |
| Death Place | New South Wales |
| Father's Name | Edward |
| Mother's Name | Mary Elizabeth C |
| Registration Year | 1941 |
| Registration Place | Liverpool New South Wales |
| Registration Number | 12503 |
Catherine Savery Rodd's romantic story, and the newspaper article spurred my research again. This time I went back to shipping records and newspaper clippings in an effort to find the ships that they travelled on, and in the space of a few hours I found a shipping record listing Miss Murray and Mr Rodd. It was about the same time I was re-reading Wilson's Murray of Yarralumla that another experienced Murray family researcher, Robyn Garis, lent me A Colonial Woman, by Patricia Clarke, based on Mary Braidwood Mowle's diary. It is a captivating story about the hardships of colonial life, interwoven between the many early pioneering families of New South Wales. In particular she gives great insights into the life and character of Terence Aubrey Murray who was a life long friend of her husband, Stewart Mowle.
The next page shows the newspaper clipping I found for Catherine Murray leaving Sydney to travel to England where she had the intention of becoming a nun and there listed was a Mr Rodd, also on board The Florentia. This was a wonderful newspaper clipping to find, and it now showed the newspaper story about the Rodds romance in a new light, and not just as a delightful story.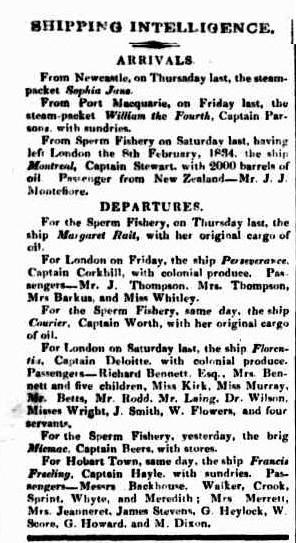 Departure of Miss Murray and Mr Rodd for London aboard The Florentia, 13 March 1837 Sydney Morning Herald
It seems more Murray family descendants came to Australia than was previously known to many other Murray ancestors. I had another look about my ancestry.com tree and found quite a few ancestry trees that descend through a family called Daly, who seem to have been a family of publicans in Sydney. It now would seem that descendants of Margaret Murray, a sister of Terence and Michael Murray, came to Australia in the early 1830's.
Several ancestry trees list Margaret Murray as marrying Edward Daly in Rathkeale, Limerick on 10 May 1809. I could find no marriage record for Edward and Margaret Daly in Ireland, however these trees have linked her as a daughter to Thomas Murray and Bridget O'Brien. Even though there is no marriage record, the interesting thing is that Rathkeale is only about 20 kilometers south of Balliston, and this does tie in with the area where some of the Murrays lived in Limerick, Ireland.
Margaret Murray and Edward Daly had five children, Terence Daly (1810-1859), Eliza Margaret Daly (1811-1870), Bridget (1812-1866), John Daly (1815-1863 and Michael Daly (1816-1852). Bridget Daly did not migrate, she married Thomas Hunt and the family lived in Lancashire, England.
Robyn Garis found a very interesting notice placed on Genealogy.com that explains that whilst Margaret's husband and some of their children migrated to Australia, Margaret must have died in Ireland before the journey.
DALY FAMILY CO. LIMERICK 19TH CENT
"My mother's family Daly hailed from Limerick, Ireland, coming to Australia in the 1830's and early 1840's. Four brothers, Terence, Edward, Michael and John as well as a sister Eliza Hunt came to Australia where they were successful as hoteliers and merchants and property owners. Their father Edward Daly, Merchant of Limerick, also followed presumably after his wife's death. Edward Daly married Margaret Murray daughter of Thomas Murray of Ballyston House, Shannagolden, Limerick. Her brother Terence Murray also came to Australia in 1816 as paymaster of a regiment. He and his family settled here and a son, Sir Terence Murray was president of the Leglislative Council of NSW, One of Sir Terence's sons was administrator of New Guinea. One of the family homes Yarralumla is now the residence of the Governor General. I am not sure of any connection of Dennis of the cycle business but believe Edward's father was a Dennis also." Genealogy.com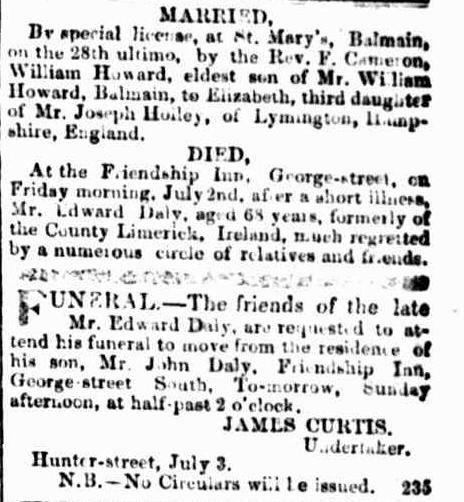 Death and Funeral Notice of Edward Daly, Sydney Morning Herald, 3 July 1852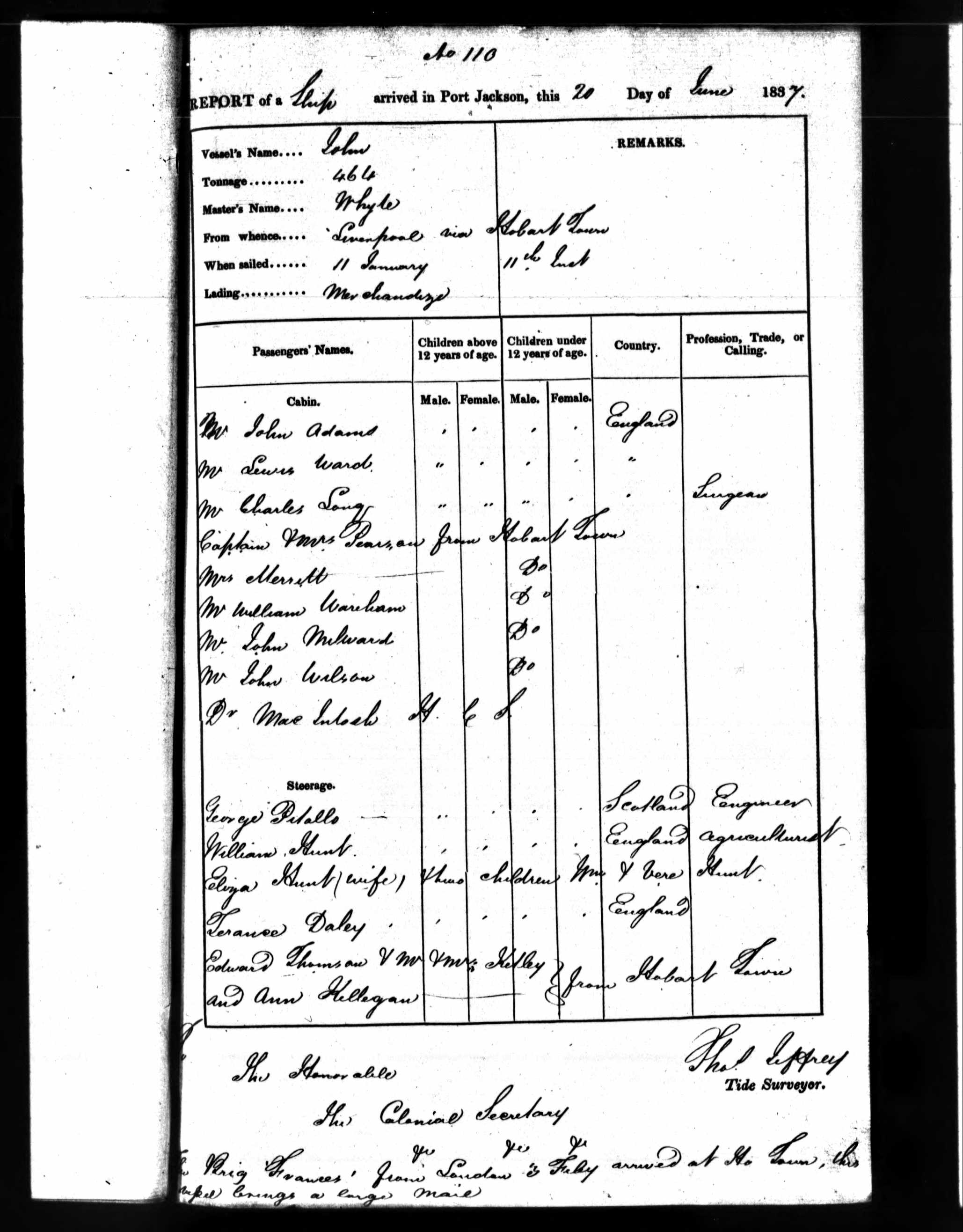 Migration of the Hunt and Daley (sic) Families to Australia aboard the John, 20 June 3 1837
Terence Daly was the brother of Eliza Hunt. Also migrating is Mr De Vere Hunt, a brother to William Hunt and also mentioned are William and Eliza Hunt nee Daly and their children all aboard the John.
This shipping record was a wonderful find, and showed the connections of the two families, Terence Daly settled in Concord: "In 1859, Terence Daly purchased over seven acres of land from the Village of Concord subdivisionwhich lay between Lloyd George Avenue (formerly Church Street) and Concord Road (Figure 4.32). This land included the area previously occupied by the Nichols' buildings on the 1843 plan. Here, by at least the 1880s, Daly had built a large house known as 'Warwillah' (Figure 4.34). The house sat near to Alexandra Street but had a Parramatta Road entrance and a Parramatta Road address. Margaret Daly inherited the property and lived there until the property was sold and subdivided in the 1920s and the house demolished". History of the Powell Estate in Concord
https://m4eis.files.wordpress.com/2015/09/m4_east_eis_volume_2h_app_s_part_2_non_aboriginal_heritage.pdf
Terence died the year the purchased the Concord land, he and his wife Sarah Linden had several children, sadly none of them survived past childhood. It would seem that his nephews, and in particular his namesake Terence Daly, the son of John and Abigail Daly, inherited Terence's considerable lands at Concord, probably after his wife Sarah's death in 1867, and then built Warwillah in the 1880's on the land.

Funeral of Terence Daly, 28 March 1859, Sydney Morning Herald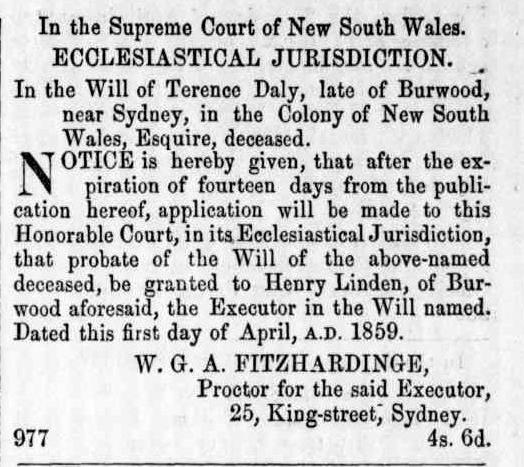 Probated will of Terence Daly, 5 April 1859, NSW Government Gazette
Death notice for Terence Daly, 27 August 1903, Catholic Press
Terence Daly, a nephew, died unmarried in 1903, as can be seen from this newspaper obituary, yet again the named and namesake are confused. However it is a wonderful reflection on this fine Irish family.
Margaret Hunt nee Murray's ancestors were obviously proud of their connections to Terence Aubrey Murray and the next two newspaper articles are regarding William and Margaret Hunt's children, both mentioning Terence Aubrey Murray in their obituaries. The Murray family was certainly connected to some interesting and famous Irish nationals. I am left to wonder if I have solved the riddle regarding the middle name taken by Terence Aubrey Murray, and the interesting family connection described below to the famous Irish poet Aubrey de Vere.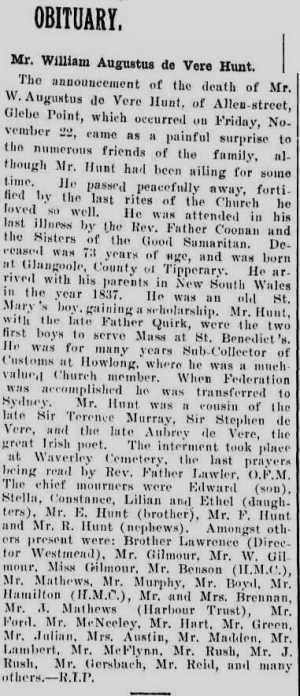 Obituary for Mr William Augustus De Vere Hunt, 28 November 1907, Catholic Press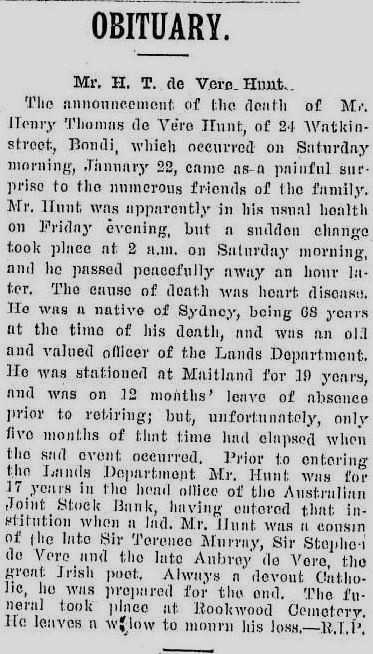 Obituary for Mr Henry Thomas De Vere Hunt, 9 February 1910, Catholic Press
Just as I was finishing up my Murray research, a few documents and newspaper death notices came to my notice for Denis Murray, brother to my 3 x great grandfather Michael Murray. Although Denis Murray never came to Australia his naval career was obviously followed by his proud nieces and nephews in Australia.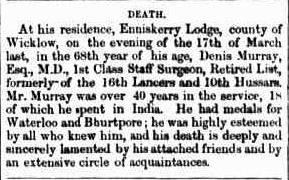 Twofold Bay and Maneroo Telegraph, 22 June 1860
This notice was possibly placed in the newspaper by Patrick Murray who was living at Twofold Bay during this time. Below is a very faded notice placed in a Sydney newspaper regarding Mrs William Hunt's connection to Denis Murray, which is precious. It also gives her full address as Bishopthorpe, Glebe.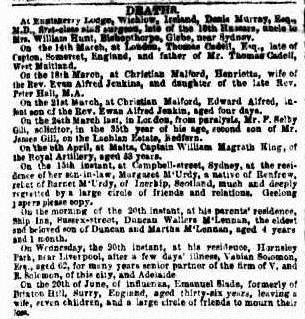 Sydney Morning Herald, 21 June 1860
My research on the Murray family of Limerick, and those of the Murray family who migrated to Australia finishes here for the time being. When I upload this chapter to my website I hope that more Murray descendants my contact me and assist to gradually connect more of our Murray ancestors in Limerick.
Geoff and I, together with my sister Lavinia Chrystal went on a journey to Avoca, Lamplough and Percydale in Victoria, Australia in August 2011. Percydale being a tiny gold mining town, and now a ghost town, where my grandmother Mabel Jackson Wise (1878-1971) lived as a small child. Her younger brother Cyril Raymond "Kelly" Wise, and sisters Irene and Ruby were all born in Percydale between the years 1883 and 1887. Their parents, George Edwin and Agnes Amelia Wise would have helped to run the Kilpatrick Wise General Stores with his brothers and their wives, in Avoca and Percydale. The stores provided every provision needed for everyday life in the outback, including groceries such as flours, grains and cereals and dairy, fresh fruits and vegetables, gold mining equipment, linens and draperies, pots and pans. They ran a butchery, an assayer's office and post office. William McOboy Wise even set up an auctioneer's house next door in the main street of Avoca, his partner James Kilpatrick was a linen draper from Dublin. All their children were employed in the business, however, it was George Edwin Wise who took the general stores to New South Wales outback and set up department stores from Wellington to Dubbo, creating a huge money making venture for the family that became known as the Western Stores. I will expand on this area of the family history another family chapter George Wise and the Western Stores.
Australian Birth Index 1788-1922:
| | |
| --- | --- |
| Name: | Mabel Jackson Wise |
| Father's Name: | George Wise |
| Mother's name: | Agtess Amelia Kilpatrick |
| Birth Place: | Avoca, Victoria |
| Registration Year: | 1878 |
| Registration Place: | Victoria |
| Registration Number: | 13011 |
We visited the grave of William McOboy and Ellen Wise at Avoca cemetery. The cemetery is magnificently overlooked by the dramatic Pyrennes Mountains, and when we saw the sad disrepair to the Wise grave fencing Lavinia and I decided to have the grave fence mended. An ironmonger from Maryborough, did a wonderful job and restored the wrought iron fencing which was badly damaged, as we were worried that it would soon 'disappear'. It is recorded on the gravestone that the townsfolk of Avoca, as a mark of respect, had the grave of William and Ellen Wise erected at Avoca cemetery in their memory. It has given Lavinia and me the greatest pleasure to visit this cemetery and see the large and impressive grave of William and Ellen Wise, and find many other Wise graves nearby. Amazingly, we discovered that we have two sets of great great grandparents buried there. Near to the back of the cemetery we surprised some merinos grazing in the next paddock, and there we found the magnificent gravestone of James and Eliza Kilpatrick and their family, the parents of Agnes Amelia Wise, mother of Mabel. However their story is included in another family history chapter, The Kilpatricks and Cranwills of Dublin, Ireland, where I explain the significance of the name Jackson as Mabel's middle name.
The Dairy, pictured below, in Percydale, Victoria is made from local slate and is probably the best of the surviving buildings. Many of the buildings have disappeared however there are plans and maps of the township and these can be viewed at the ADH Society in the Court House in the main street of Avoca.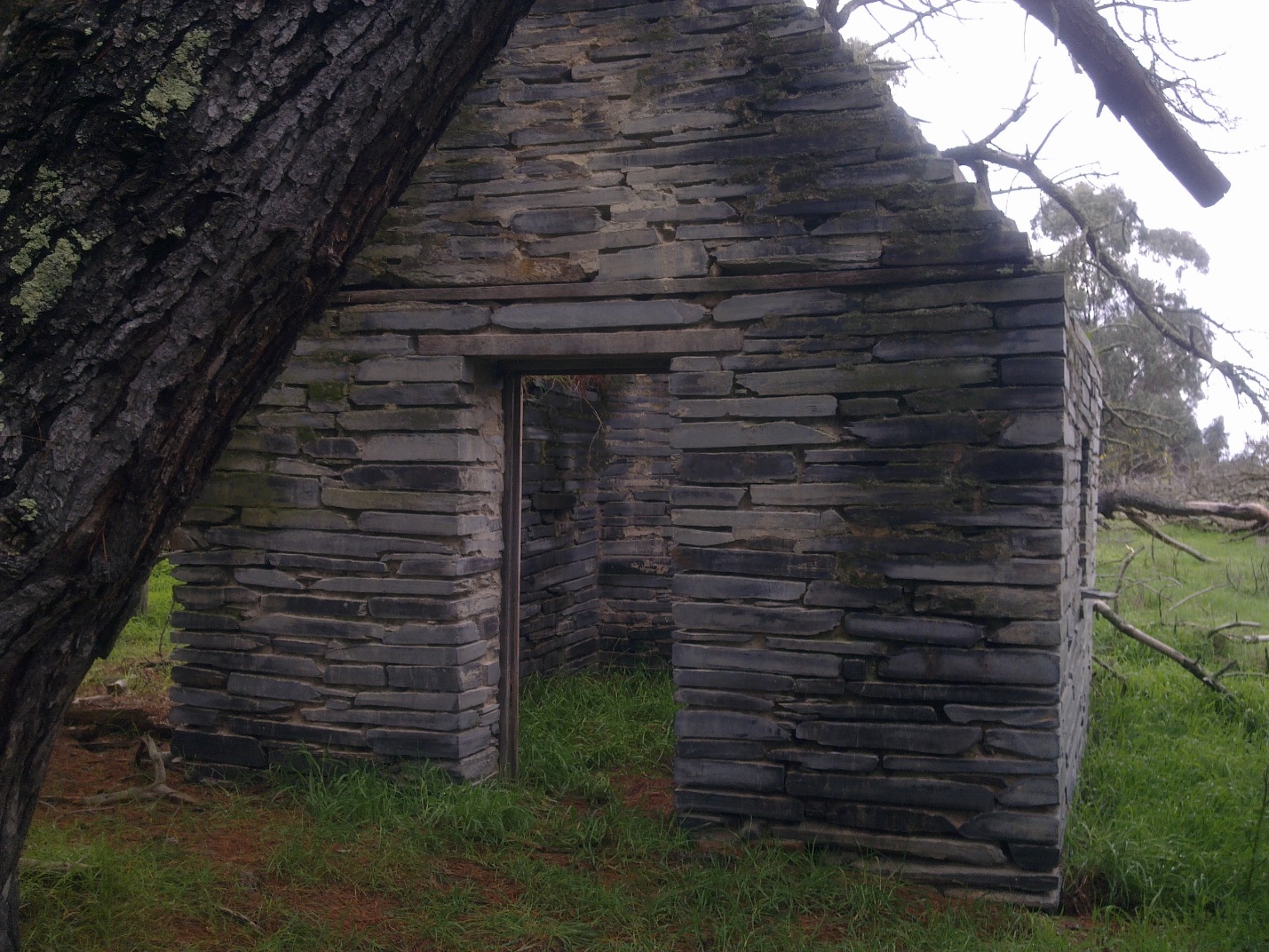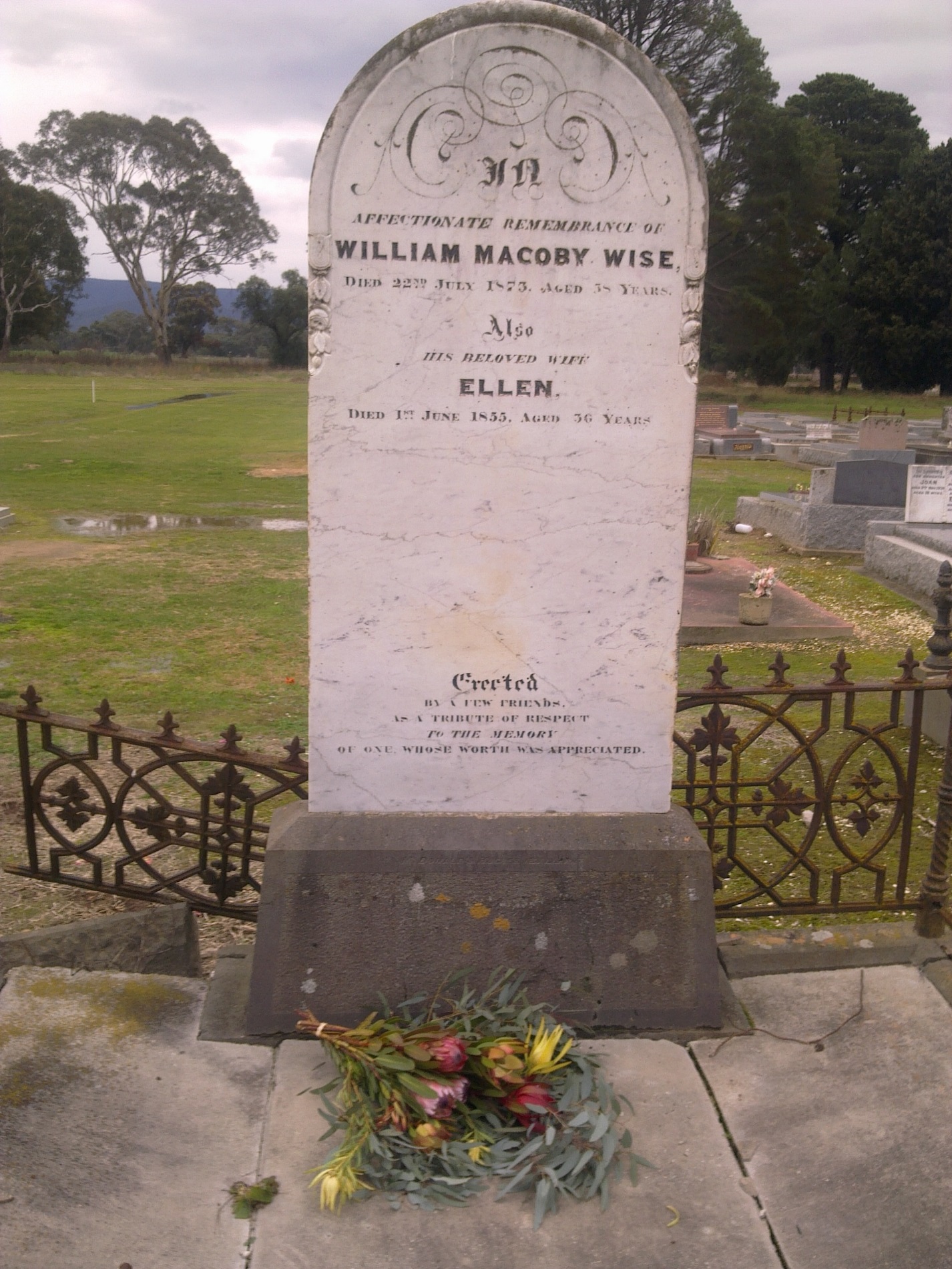 William and Ellen Wises's grave, before restoration, and below the grave after the restoration of the iron fence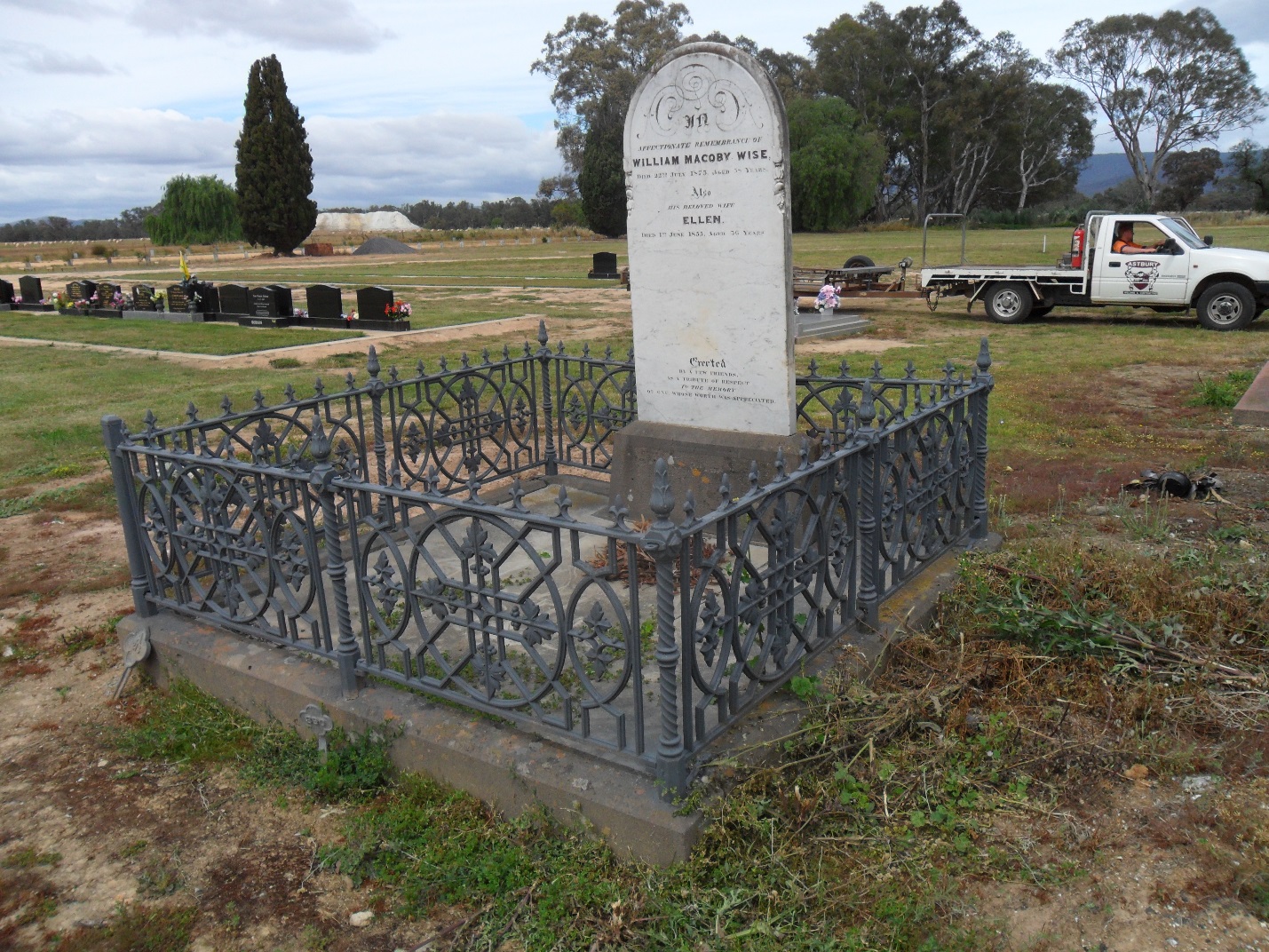 In my efforts to find out who Ellen Frances Matilda Murray was, I have discovered a courageous woman who travelled from Ireland to the other side of the world, accompanying her family for months in a wooden sailing ship in unthinkable and dangerous conditions. There she was challenged by the Australian outback, its oppressive heat, and its wilderness, and she possibly died a terrible death thinking of her homeland and family, perhaps doubting that she had made the right decision. I am grateful and thankful to Ellen Frances Matilda Murray in the knowledge that hers was a lasting legacy, made for her family, and the grateful generations that have followed.
Written by Virginia Rundle
September 2011
Updated and illustrated in June/July 2014, and again after my trip to Ireland in August/September 2016, to include my photos, and after finding more Catholic Irish Parish Records in March/April 2017 and further shipping records and newspaper clippings found when undertaking further research with Robyn Garis in May 2017.
Email: virginia@arundle.com
Further chapters on my Irish family can be found on my website:
As I complete my family chapters I will upload them to the internet, however this is a slow and laborious project. There are times when I lament that there just aren't enough hours in the day!
Appendix:
THE LAMPLOUGH NAME INDEX
WILLIAM MACOBOY WISE: W.M. WISE: WISE'S PADDOCK: Miner Avoca 1856 (ER). Manager of John O'Halloran's timber yard on site of Old Tattersall's, or Theatre Royal. Went to Woodstock Station as supervisor, leased Lamplough run. (Sutherland, P 226.) Tulla Co. Clare. Arrived Melbourne early 1852. Married his cousin, Ellen Murray. (Leask's. P 638.) Land lease. (VGG 1848 p 310.) Manager of Clough & Co before the rush. Moved to Avoca. Auctioneer and general agent. (HH letter). Of Lamplough, Avoca. Appointed returning officer for electoral district of Avoca. (CSO 22/10/1855. VGG No 106, 24/10/1855, Vol III, p 2712. Repeated with correction spelling, No 112, 9/11/1855.) Two horses stolen from Lamplough Station (VPG 29/11/1855.) Advert. W.M. Wise. general Auctioneer land and Stock Commission Agent. Sale Yard: Lexton Hotel, Burn Bank and Avoca Hotel, Avoca. (MADA 22/6/1858.) Auction notice. Avoca. (MADA 27/6/1859.) Auctioneer, Lamplough. Missing horse notice. (VGG No 23 p 356, 21/2/1860). Mr Wise scrutineer for Mr Vogel. (MADA. 7/8/1861). Gold struck at Wise's paddock yesterday morning (22/1?) (BA 26/1/1860.) About a mile and a half on the Avoca side of the business centre. Half still crown land. (Arg. Correspondent. 30/1/1860.) Centre of attraction. (BA 2/2/1860.) Partly Government and partly private land. (Arg. via BA 2/2/1860.) "A revival has taken place beyond Wise's paddock, and in the direction of the Avoca. " (MADA 6/2/1860. ) Diggers took possession of a fine garden in the middle of it. (MAA 7/2/1860.) Wise's garden rushed. Frightened out of his wits. (BS 7/2/1860. MH 9/2/1860. See also his obituary AM 25/7/1873 for description of garden.) "Continual fluctuations of the pursued course …" (MADA 10/2/1860.) 13 or 20 holes are in active operation. (MADA 15/2/1860.) "Has received instructions from the proprietors, Messrs J.H. Clough and Co., Wool~brokers, Melbourne, to sell …" (MADA 17/2/1860.) One of the stewards, Avoca Annual races. (MADA 6/4/1860). Prospecting claim on Lamplough Flat near Wise's Paddock. (MADA 24/10/1860). Auctioneers licence. Avoca. (VGG No 12, p 153, 25/1/1861.) James Bodell stayed with him for three months in 1863. House on 300 acres of land about 2 miles from Avoca. (Bodell. P 124.) Death 22/7/1873. Died at Coffey's Hotel, Moonambel Rd. Compression of the brain. Fell from horse. Age 58 years. Born Cork 1815. Emigrated 1851. President of Avoca Turf Club. Master of Avoca Hounds. 500 at funeral. Buried at Avoca Cemetery. (AM 22, 25/7/1873.) Place of abode Lamplough. House and land 1856 (ER). Wife Ellen Francis Matilda died 1/6 age 36 years at Lamplough (Argus 7/6/1855). Racing at Avoca. Wise's horses (BL via MAM 20/4/1857). To auction on 20/8/1864 full share in one and all crushing machine (AM?).
The link below takes you to the Avoca and Districts Historical Society website and it includes a link to the abbreviations mentioned in the Lamplough Name Index.
http://home.vicnet.net.au/~adhs/LetterW.html
Bibliography includes:
The Wise Family Tree kindly supplied by the Borthwick Family
Leaske's Early Australian Families, excerpt regarding the Wise Family
Murray Papers, Australian National Library, Canberra, ACT
Robson family papers, including the Michael Murray Family Tree
Trove Digitised Newspapers
The Lamplough Name Index, ADHS, Avoca, Victoria
Public Records Office of Victoria (PROV)
NSW Government Gazettes
NSW State Records Office
NSW State Archives
Murray of Yarralumla, Gwendoline Wilson
Old Irish Newspapers website
National Archives, Dublin, Ireland
Dublin Library and Archives, Pearse Street, Dublin, Ireland
Irish Records Database
Ancestry.com.au
Landed Estates of Ireland website
Roots Ireland website and database
Sydney Shipping Gazette, Volume 8
Limerick City, Limerick, Ireland, Library Archives
Concord Council Archives
Avoca and Districts Historical Society
Letters and Documents of Thomas Murray M.D. Wellcome Library, London
Slater's Irish Directory 1845
NSW Government Gazettes
History of the Powell Estate, Concord Library
A Colonial Woman, the diary of Mary Braidwood Mowle, by Patricia Clarke
Murray family information kindly supplied by Ann Loveridge, Peter Drury, Murray Robson, Robyn Garis, Camilla Clarke and Genelle Aldred.
Thanks, in particular, must go to Lavinia Chrystal and Geoff Rundle for their support in the field, and time spent editing this chapter.