William Brown was the Great-great-great-grandfather of my husband Geoff Rundle. I started my family research several years ago, and no part of our Rundle family tree has given me more interest than that of the Brown and Stewart line in my husband's ancestry. I am pleased to be able to write up the story of William Brown's life, relying on records, newspaper clippings, publications, websites and confirmation of his extended family from grave inscriptions at Camperdown Cemetery.
I admire William Brown, for his 'convict made good story' in the tough world of Sydney's markets and wharves. A self-made man, who clearly loved his family, his home and his new status as a successful business man.
William was tried and convicted of uttering and forging at the Old Bailey, London, on 12 September 1821, and was sentenced to death at the age of 16. Due to his young age, William's death sentence was commuted to life, and he was transported with 191 other male passengers aboard the Asia. Like so many other Asia convicts, prior to his transportation William may have been held on board the hulk ship Leviathan in the Thames. William Brown's transportation story is one of luck, as his time in England could have ended up so differently for him. Descendants of William Brown now consider it a lucky day that he was transported to the other side of the world, and with it came the opportunity to turn his life around, and become a new person in a new and forgiving Sydney, where money talked and where it didn't matter where you came from, as long as you were law abiding and had all the trappings and appearance of a successful business man. In this respect, William Brown was a 'new' man in the new colony of New South Wales.
Each record and newspaper article I have collected has found me admiring this man who turned adversity into a success story.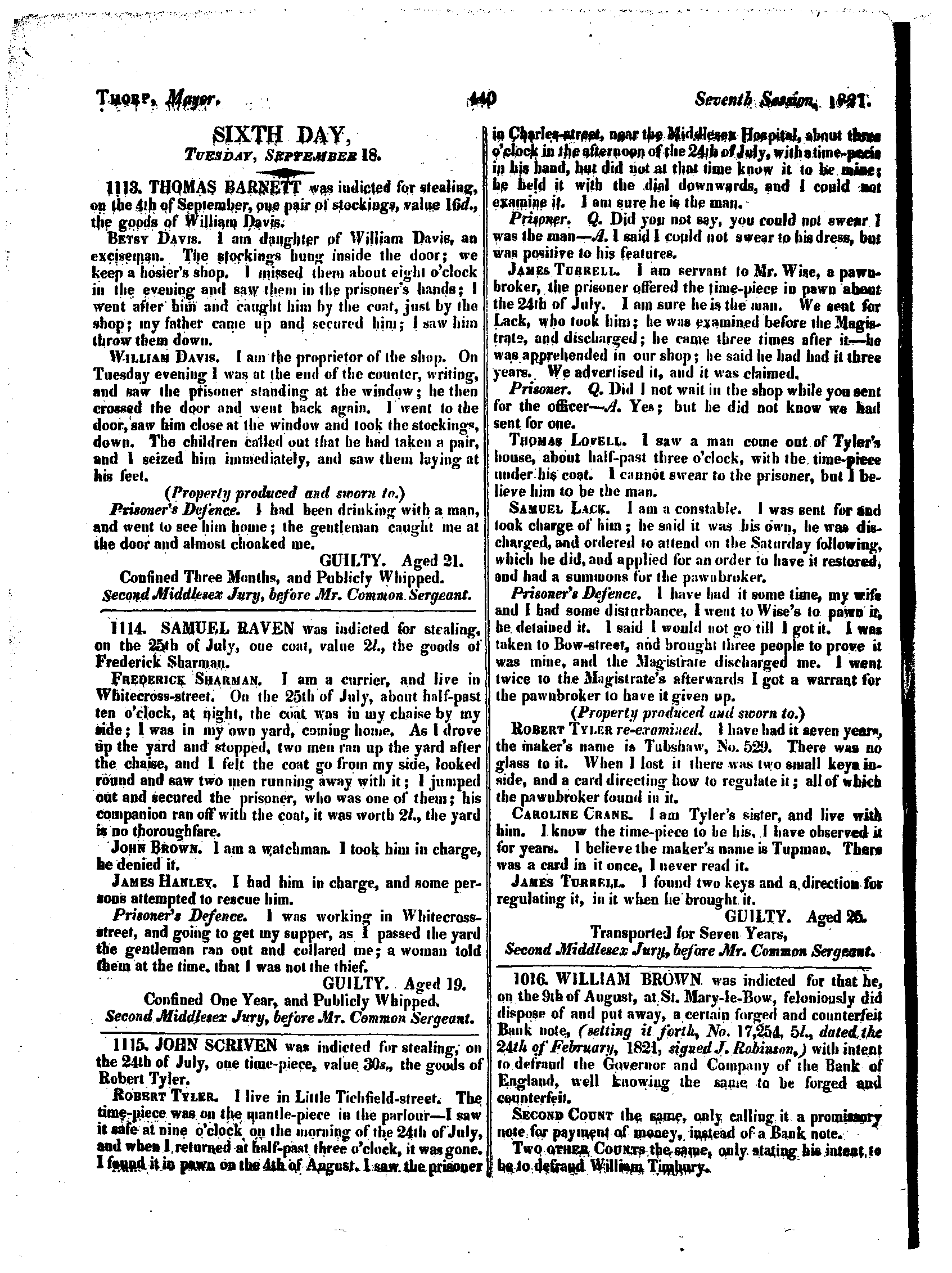 Transcriptions from the Old Bailey page 440
The transcription of William Brown's conviction comes from the Old Bailey online website:
Old Bailey Proceedings Online (www.oldbaileyonline.org, version 6.0, 24 December 2012), September 1821, trial of WILLIAM BROWN (t18210912-71).
WILLIAM BROWN, Royal Offences > coining offences, 12th September 1821.
1016. WILLIAM BROWN was indicted for that he, on the 9th of August, at St. Mary-le-Bow, feloniously did dispose of and put away, a certain forged and counterfeit Bank note, (setting it forth, No. 17, 254, 5 l., dated the 24th of February, 1821, signed J. Robinson,) with intent to defraud the Governor and Company of the Bank of England, well knowing the same to be forged and counterfeit.
SECOND COUNT the same, only calling it a promissory note for payment of money, instead of a Bank note.
TWO OTHER COUNTS the same, only stating his intent to be to defraud William Timbury,
WILLIAM TIMBURY. I am an engraver, and live in Fetter-lane. I am positive to the prisoner's identity; he came to my shop on Thursday, the 9th of August, between one and three o'clock in the afternoon, and asked for a polishing iron and a beating hammer, for a person resident in Bell-yard, a bookbinder; he mentioned the same, but I do not recollect it. I asked him what weight he wished the hammer to be, as they varied from eight to sixteen pounds – he said he did not know. I told him to return to his master and enquire. In about twenty minutes he returned, and said it might be about ten pounds. I said, the hammer was ready all but facing, and if he would call in half an hour, it should be ready; he said he would take the polishing iron, and call in half an hour for the hammer, he said he would pay for both the articles, and tendered me apparently, a 5 l. Bank note – the things came to 11 s. Not having change, I marked the note with my initials, in his presence, and sent the boy with it to Mr. Barratt, my neighbour – he brought back four sovereigns, and 20 s. in silver. I gave the prisoner the change, 4 l. 9 s., he went away, and never returned for the hammer – nobody ever came for it (looks at a note) this is the note. I put my initials on it immediately – I had no other note in my hand. I saw no more of him till the Saturday following, when he was in custody.
Cross-examined by MR. ANDREWS. Q. You recollect that it was Thursday – A. Yes; I generally dine about two o'clock. I think he came before two o'clock, but cannot be certain of the time. I am positive he is the boy. I do not remember seeing him before. When I saw him on the Saturday, he was at Guildhall, at the bar, that place distinguished him from other persons. I am almost positive that I did not speak to anybody before the Magistrate asked me if he was the person. Close was not examined in my presence, he was a stranger to me. I had not spoken to him about having taken a forged note.
Q. Are you sure of that – A. I cannot say positively; I never told anybody that I was uncertain about who gave me the note. I told the Magistrate immediately that he was the person. I invariably put my initials on all my notes, and in the same place. I had no other 5 l. note in the house that day, nor had I passed any between that and Saturday.
MR. REYNOLDS. Q. How long was he with you the first time – A. Very few minutes. I had the conversation with him myself; he came twice, and promised to come again for the hammer. On my oath, I have not the slightest doubt of his being the person.
COURT. Q. You mark all notes with your initials, how can you distinguish this from any other that passed through your hands – A. I sent it to my neighbour, who returned it, saying, he presumed it to be forged. I kept it in my possession separate from any other, being informed he was in custody. I sent my neighbour no other note that day. I kept it till I delivered it to Mr. Lees.
DANIEL BARRATT. I am a tea-dealer, and live in Fetter-lane. On the 9th of August, Timbury's boy brought me a 5 l. note; I marked it in his presence. (looks at one) this is it. I put my initials on it, and Timbury's name; I gave change, and put it in my cash-box. I took it out next morning, and knew it to be the same from the marks – I took it back to Timbury next morning. I was induced to examine this note, from Mr. Stevens, my next door neighbour having shewn (sic) me one – Close shewed (sic) me none on that day.
Cross-examined. Q. Had you many when this was brought to you – A. Not many. I am almost positive that I had no other 5 l. note. I will not positively swear it. I often change notes for Timbury and other neighbours, and endorse them generally – I always endorse 5 l. notes.
MR. REYNOLDS. Q. Did you change any other 5 l. note for Timbury that day – A. No, nor the day before. I think I had no other 5 l. note in the box. I had no other with Timbury's name I am positive. I wrote his name in the boy's presence.
HENRY CLOSE. I live in Castle-street, Long-acre. I am in the service of Mr. Hough, a gold-beater, in Fetter-lane. On the 9th of August, the prisoner came to the shop for 200 leaves of gold, which came to 12 s. – I tied it up; he produced a 5 l. note. I asked him who it was for, he said, for Mr. Rowley, a book-binder, St. Andrew's-hill, Doctor's Commons. I told him I had no change, and my master was from home, but I would see if I could get it of a neighbour. I called our lad into the shop, to remain with the prisoner while I went to Mr. Stevens's, a cheesemonger, within three doors of my master's, and shewed (sic) him the note; he said he was doubtful whether it was not a bad one; he carried it to Mr. Barratt, to look at it – this was between two and three o'clock; he returned in a minute or two and gave me back the note. I returned and told the prisoner, I thought it was not a good note. I gave it to him, and said I would put on my coat and go to his master's with him, to explain it. I went with him to St. Andrew's-hill; he stopped at a door, with the name Wakeling and Penny on it; he then hesitated, and stopped opposite, as if he was going in. I was proceeding to ring the bell, when he said, he was not sent from there, he was to bring it there; that a person met him at the corner, and told him to fetch it and bring it there. I put him against the wall, told him I was convinced he was a bad boy, and I insisted on his stopping with me – I rang the bell, and asked for Mr. Wakeling. Mr. Penny came down stairs; I asked if he knew the prisoner, (I made him go in) he said, No; nor had he sent him. I asked the prisoner for the note, he felt in his pockets, could not find it, and said he had lost it. I related the circumstance to Mr. Penny, and asked if he knew Rowley – he said there was a person of that name who lived in Wardrobe-place, Blackfriars-churchyard. I took the prisoner there – he is a bookbinder; Mr. Rowley said he had no knowledge of the prisoner, and had not sent him for the gold, and that a 5 l. note had been passed in his name at Mr. Warwick's, a gold-beater, in Fetter-lane, who had called on him about it. Rowley accompanied me with the prisoner to Mr. Warwick, they knew nothing of him there. I then gave him in charge to Kinsley, who searched him, and found no note on him.
Cross-examined. What time was this – A. Nearer three than two o'clock.
JAMES KINSLEY. I am an officer. On the 9th of August I took the prisoner in custody, and searched him, but found nothing on him, I asked what he had done with the 5 l. note; Close was not then present – he had been given him in charge for attempting to pass a 5 l. note; he said he had lost it.
Cross-examined. Q. Where did you take him to – Q. Giltspur-street Compter – I delivered him there between three and four o'clock.
RICHARD STEVENS. I am a bookbinder, in Bell-yard, Temple-bar. There is no other bookbinder there but me – I do not know the prisoner; I never sent him to Timbury's for anything.
Cross-examined. Q. Do not bookbinders lodge there – A. There may be, but I believe not.
WILLIAM SIMMONS. I am tax-gatherer of Bell-yard. There are no other bookbinders in Bell-yard.
Cross-examined. Q. You mean housekeepers – A. No. lodgers; I know of none, I have lived in the neighbourhood thirty years.
JOHN LEES. I am an inspector of bank notes, and have been so above twenty-three years. The note is forged in every respect; we have no cashier named J. Robinson – there was a signing clerk of 1 l. notes, of that name, but that is not his signature (note read.)
Cross-examined. Q. Is it done so as to impose on persons not in the habit of taking notes – A. Yes.
JAMES ROBINSON. I was a signing clerk of 1 l. and 2 l. notes, none higher – the signature is not mine – there is no other clerk of my name.
WILLIAM PENNY. I live at No. 11, St. Andrew's-hill, Doctor's Commons. On the 9th of August, Close brought the prisoner to me; I knew nothing of him, nor ever sent him for anything.
Prisoner's Defence. I was at the Compter at the time he says I uttered the note.
CLOSE re-examined. He called at my master's between two and three o'clock; he was delivered at the Compter on my charge – I did not leave him, except while I went for a constable; he was then locked up in my shop.
GUILTY. – DEATH. Aged 16.
Recommended to Mercy.
London Jury, before Mr. Baron Graham.
William Brown's conviction was thankfully commuted to transportation for life. It must have been his youth that gave the judge the opportunity to give William Brown another chance in another country on the other side of the world.
William Brown arrived on the convict ship the Asia on 24 July 1822, after leaving England on 4 April 1822. This must have been almost a record run.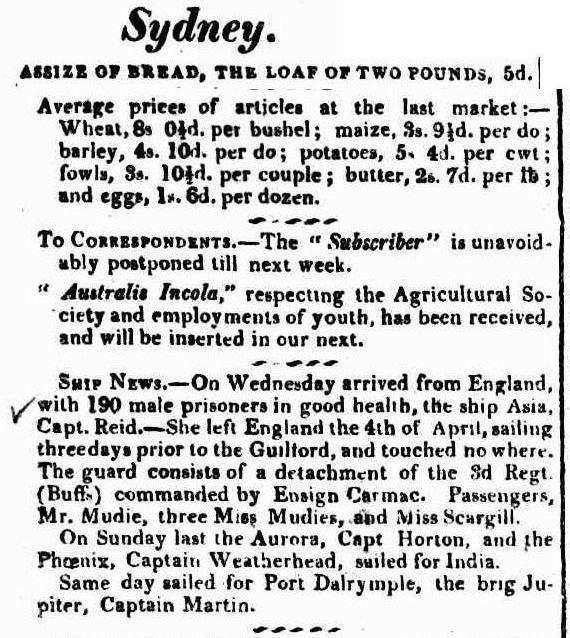 The Sydney Gazette and New South Wales Advertiser, 25 July 1822.
The Asia's ship surgeon was James Alexander Mercer. It is believed that the surgeon's log was submitted, however, sadly it does not survive today, but it is believed that there was little illness during the voyage and only one death was reported. Dr Mercer apparently encouraged the convicts to partake in dancing, as a form of exercise. The Guards on board were from the 3rd Regiment, including a sergeant, a corporal and 29 privates, there were several wives and children travelling with the Regiment.
Upon arrival, the convicts were dispersed on work assignments to Parramatta, Windsor, Newcastle, Evans, Airds and Liverpool in New South Wales.
Many documents are available from the NSW State Archives regarding the transportation of William Brown. Two in particular give information about his story and identity. One is the Criminal Register in Middlesex, London in 1821, and the other document is his Conditional Pardon in 1838.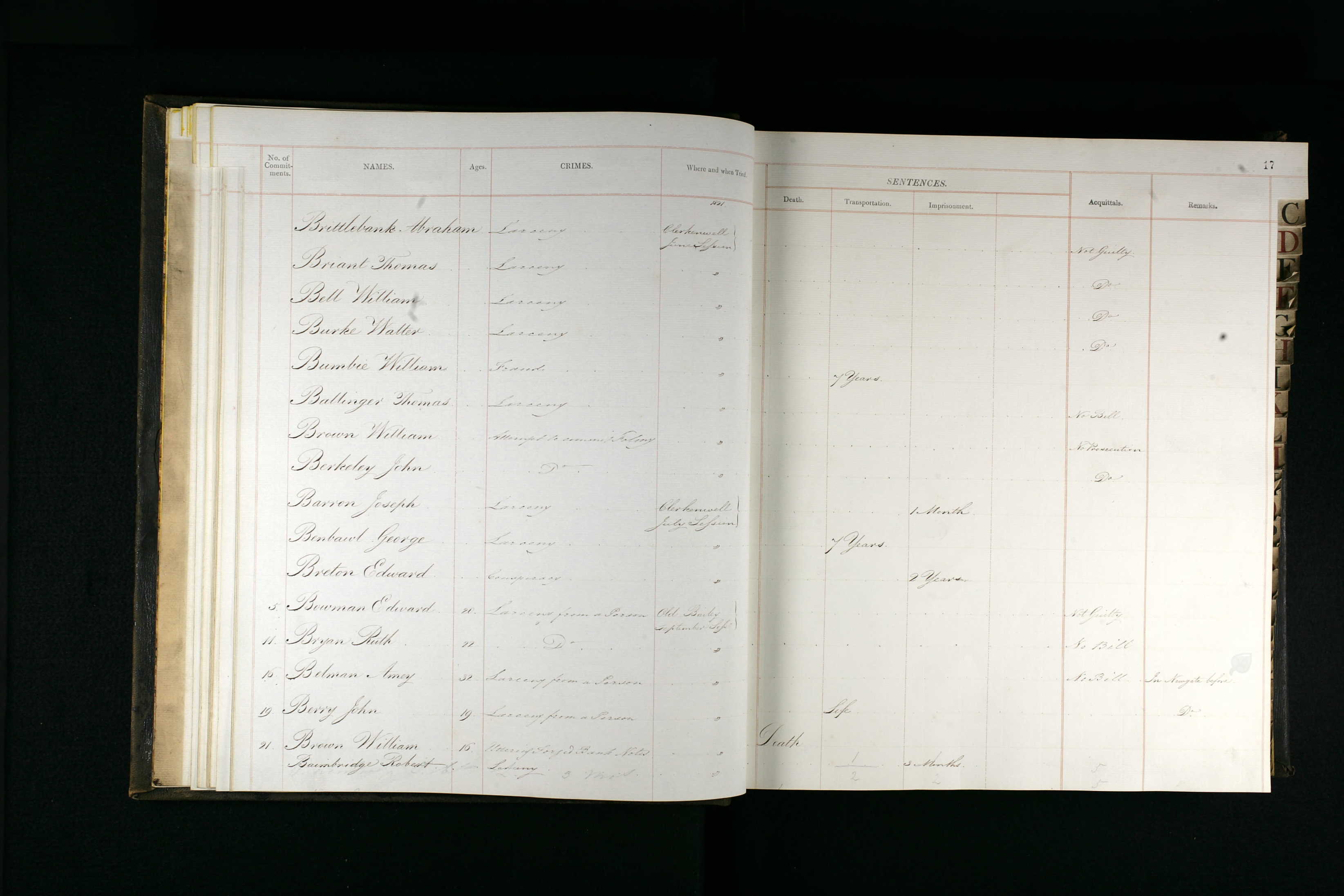 England and Wales, Criminal Registers 1791-1892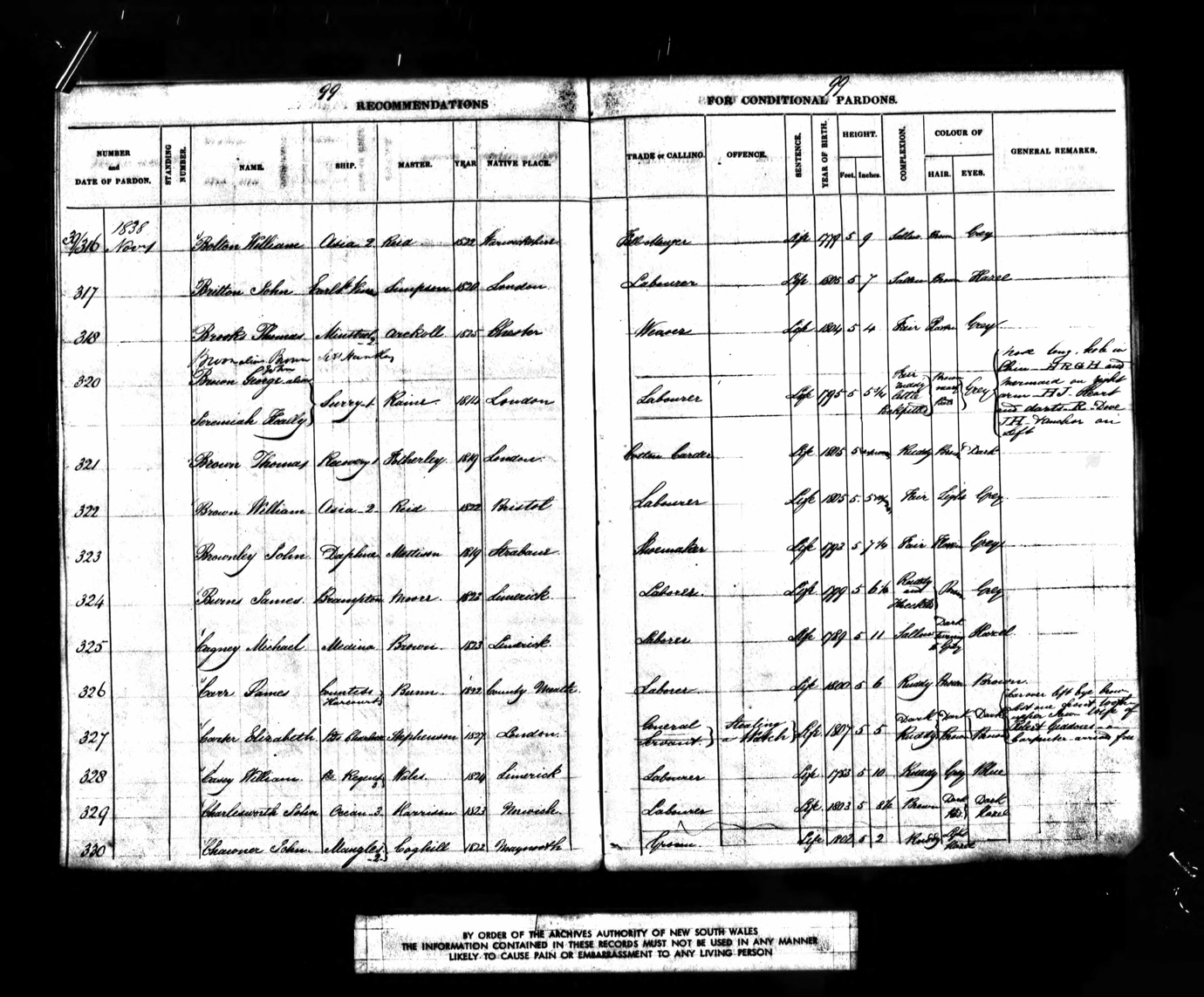 New South Wales, Australia, Convict Registers of Conditional and Absolute Pardons 1788-1870
William's origin is given as Bristol, England, in this record, and I have long searched for his family back in England, as my research goal has always been to try and place our ancestors, as far as possible, into their correct place of birth, and hopefully find their families in England, Scotland, Wales and Ireland.
William Brown's pardon document also gives a wonderful description of him – "Granted by Governor Gipps, in 1838, William Brown, life sentence, year of birth 1805, 5ft 5ins tall, Fair Complexion, Light Hair, and Grey Eyes, place of origin, Bristol, England."

Researchers dread coming across a common name like Brown and incredibly, the year before William Brown was transported in 1822, another William Brown was also transported on the Asia for a term of 7 years. Then in 1833, yet another William Brown arrived in the colony aboard the Asia. This complication has made me a little wary of collecting documents that may not be for 'our' William Brown from the Asia.
However, some convict documents are more helpful in placing the year of arrival, and the age of the felon, and his conviction. I have been able to deduce that William Brown was most probably sent to Newcastle after his arrival in Sydney and assigned to Mr W. B. Wilkinson. I found a website that dealt with immigrants and convicts working in the Hunter Valley and Newcastle areas, and I feel comfortable accepting these two listing for William Brown from Asia 1822. However, it does show that William had a bit of trouble in the early days of the colony, and that his reform took longer to achieve than I had first thought. The document provided me with reference material, and I have listed the website to help other researchers.
http://www.jenwilletts.com/index.htm
#
Surname
First Name
Ship
Date
Location
Reference
128859
Brown
William
Asia 1822
1822 September
Newcastle
Archives Office of NSW. Colonial Secretary: Misc records (4/4570D)pp1-88
On list of assigned convicts who are not mechanics. Assigned to Mr. Wilkinson
117562
Brown
William
Asia 1833
1839 30 March
Raymond Terrace
GG 1839
Locksmith aged 26 from Staffordshire. 5'4 1/2; ruddy and freckled complexion, brown hair, gazel grey eyes, tattoos. Absconded from service of John Galt Smith 18 March
117622
Brown
William
Asia 1833
1839 17 April
Raymond Terrace
GG 1839
Apprehended after absconding from John Galt Smith
34211
Browne
William
Asia 1822
1824 August
Newcastle
Colonial Secretary's Papers. Special Bundles
Assigned to W.B. Wilkinson. Sentenced to 50 lashes for receiving stolen goods
1828 New South Wales Census
This 1828 Census finds William Brown, sentenced to life, from the Asia 2 now working for Spearing in the Illawarra. The description of the life sentence reveals this to be the correct record for William Brown.
I found that James Spearing was a settler in the Illawarra employing many convicts on his property. The following information is from Lorraine Neate's book Paulsgrove:
"James Spearing was the owner of Paulsgrove, a significant and substantial property in the Illawarra. Spearing exploited the colonial system to obtain a second land grant and used convict labour to become the Illawarra's principal agriculturalist. During his tenure, Spearing had more than 100 convict assignees. He regularly complained to the Colonial Secretary about the quality of his workforce, and his complaints were later vindicated by a convict murder and an alcohol fuelled brawl on his property.
Spearing's other claim to fame was that he fathered eight illegitimate children with five women. It is probably not surprising that his poor parenting caused one daughter to run away with a convict.
While James Spearing engaged his neighbours in litigation and argued with government officials, some of his convict workers went on to become pillars of the thriving Illawarra community."
William Brown's experience working on Spearing's property, clearing the land and felling cedar trees, which were then shipped to Sydney, led to an understanding of the timber trade business and led directly to his next place of employment in Sydney. I believe William Brown was indentured to timber merchant and commission agent, Mr Edward Lee, of Bligh Street, Sydney, from about 1830 which led to his knowledge regarding the bonded warehouses and how the markets operated, and this experience led directly to his becoming a successful timber merchant at the Market Street Wharf.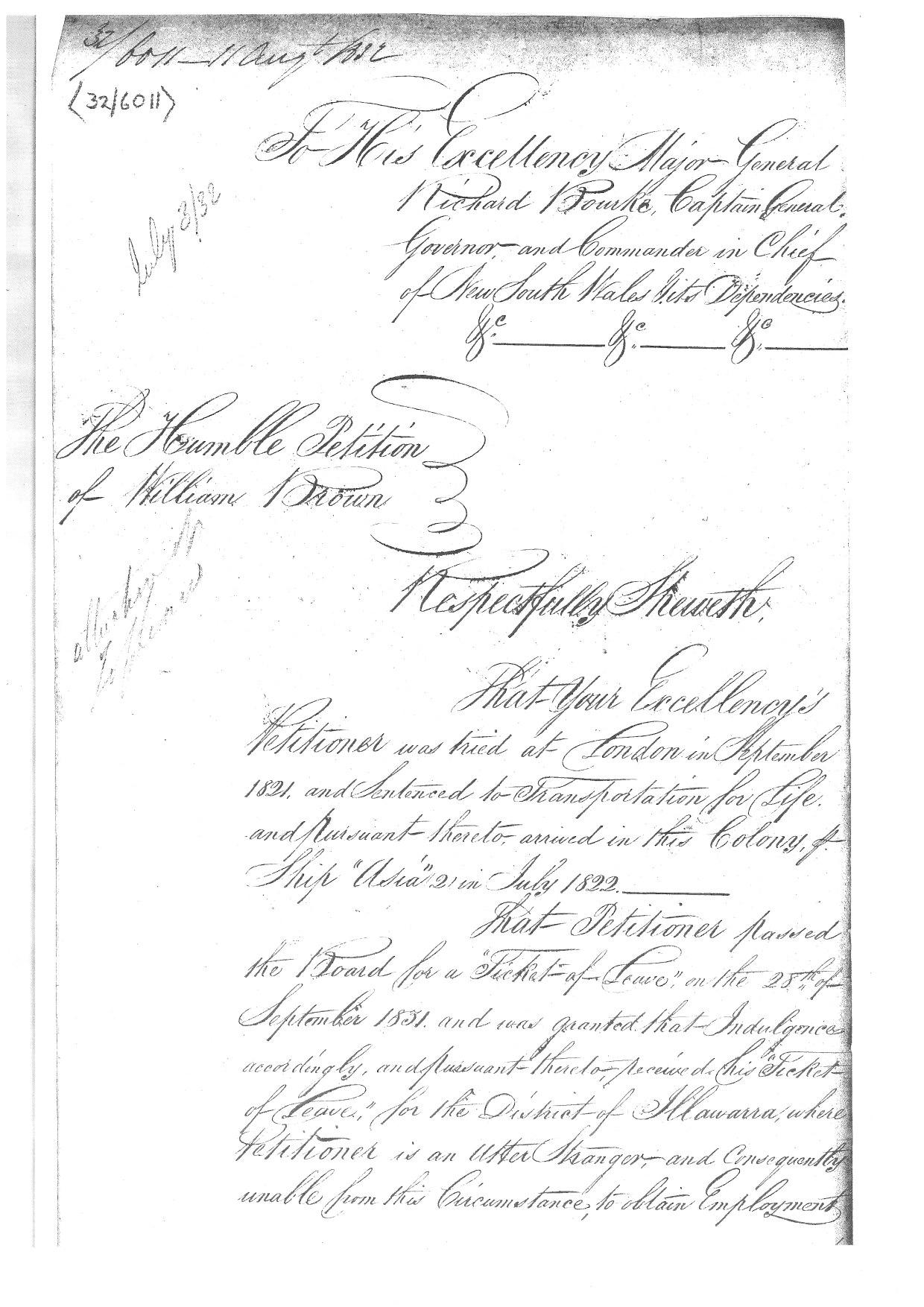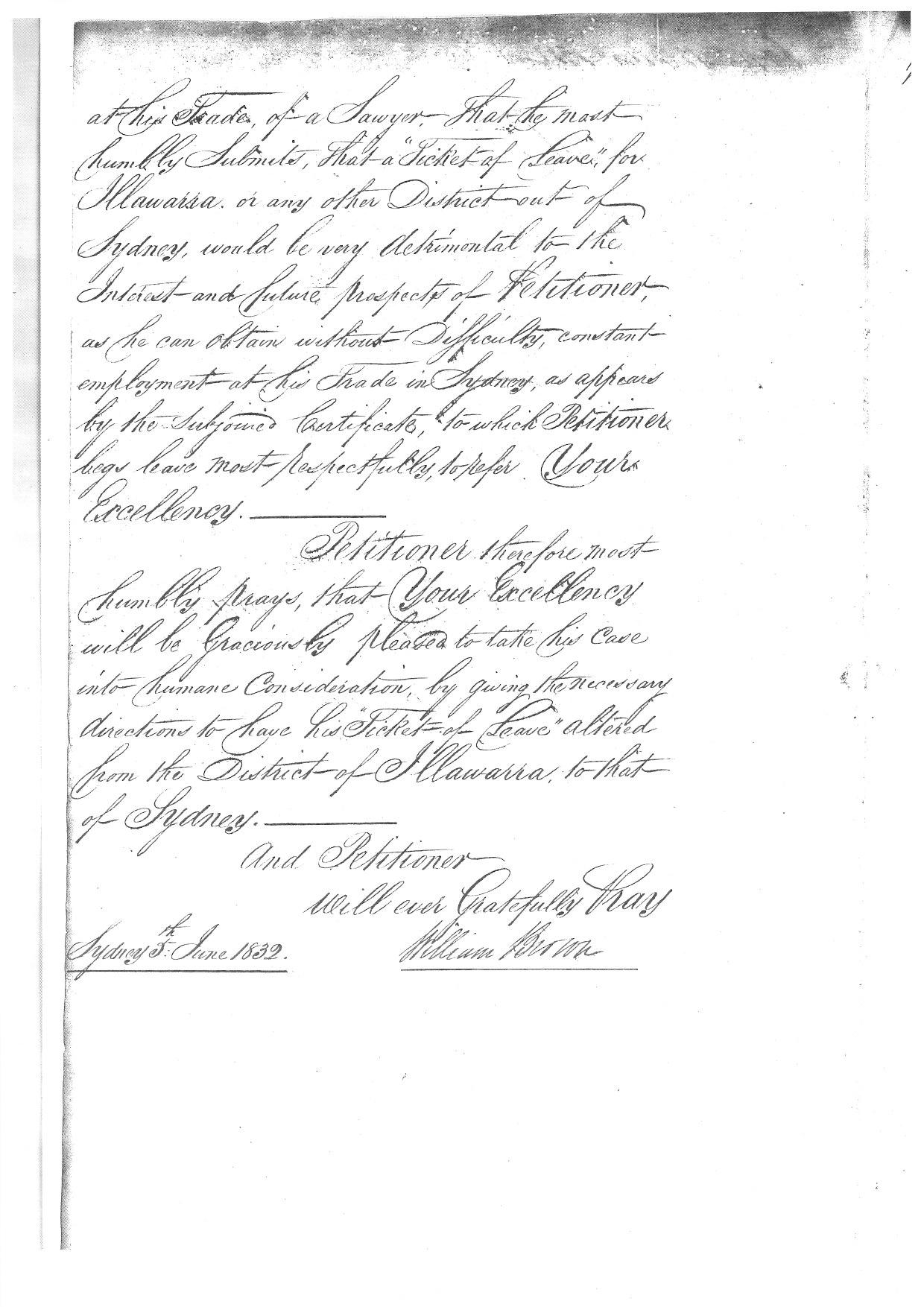 Plea letter from William Brown to Governor Burke for an Absolute Pardon 5 June 1832, these two pages kindly provided by Emma Campbell.
Letter of support from Arthur Devlin, Market Wharf, on behalf of William Brown's plea letter for an Absolute Pardon from Governor Burke. This document kindly provided by Emma Campbell.
In tracking William Brown's life from original records and newspaper articles there are always some surprises and just when I thought William Brown was a reformed man I find a Gaol description record from 1835. At this stage I don't know what the record relates to or to whether there was an offence upheld, however the original record describes William's tattoos on his arms which include an anchor, and the initals M.R. on his left arm, and the initals C.W. on his right arm, with a fair complexion, light hair, and grey eyes, the same description from previous convict records and indents. This record gave his date of birth as 1805, also mirroring earlier information.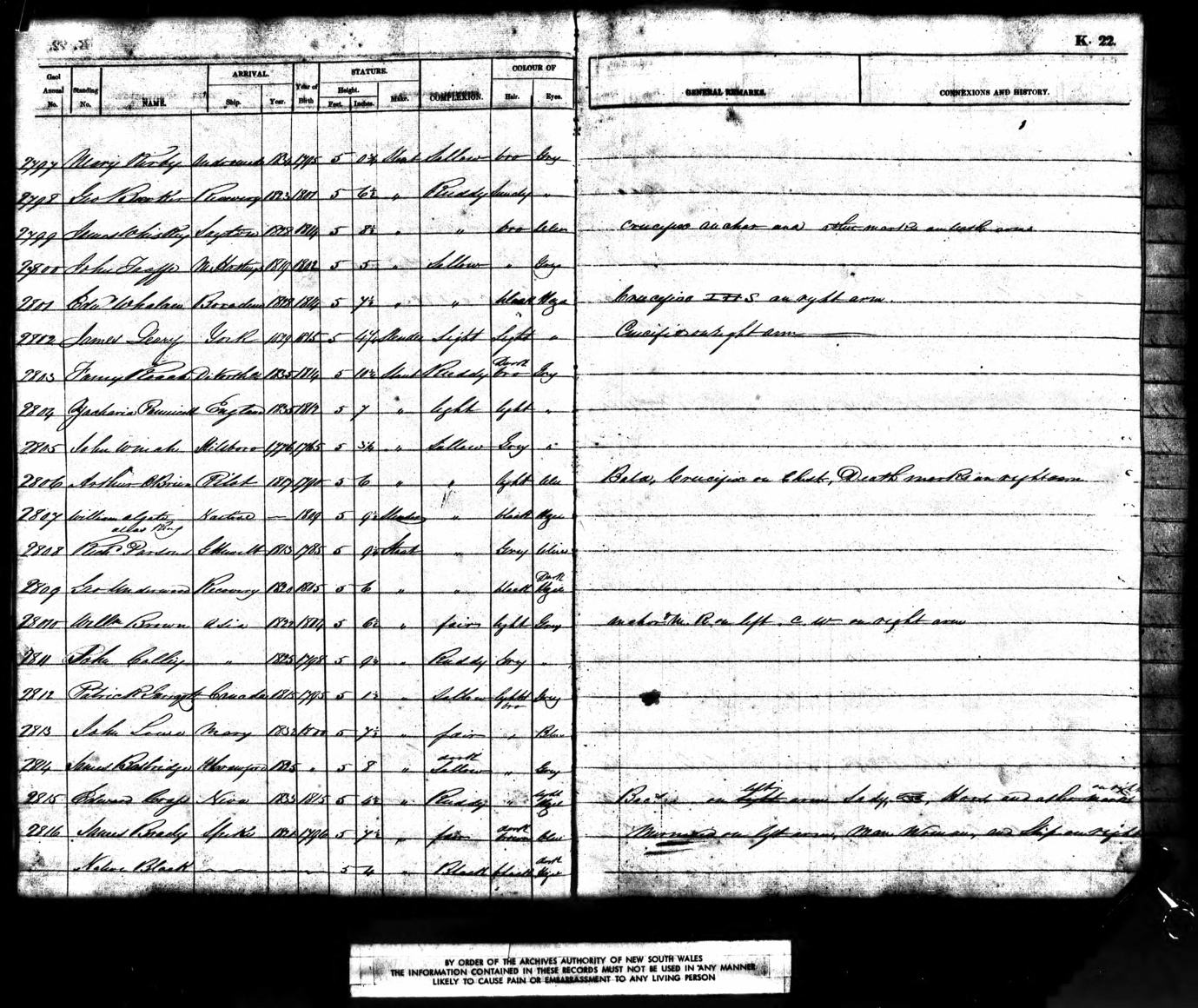 NSW Australia, Gaol Description and Entrance Books 1818-1930
I had also found an interesting newspaper article from The Australian, NSW (1824-1848), regarding William Brown and his employer Edward Lee, which serves to give an insight into their business.
The Australian 23 January 1838
This evidence was reported by the same newspaper later that same day.
The Australian 23 January 1838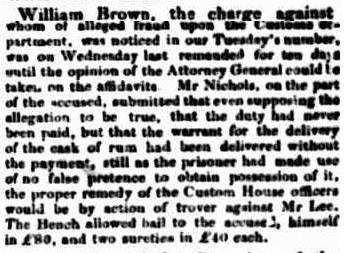 The Australian 26 January 1838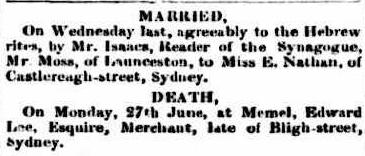 The Australian, 18 November 1842
It must have been during his time in Sydney, working for Mr Lee, that William Brown met Mary Ann Faughtley Wright. The next original document of interest was their application to marry. All convicts had to gain permission to marry and needed to be seen to be of 'reformed' character as many applications were refused. The Brown/Faughtley application was granted on 17 Feb 1834 by Rev R. Hill in Sydney and they were married at St James Church, Phillip Street, Sydney with Mary Ann using the surname Faughtley for the application and marriage record.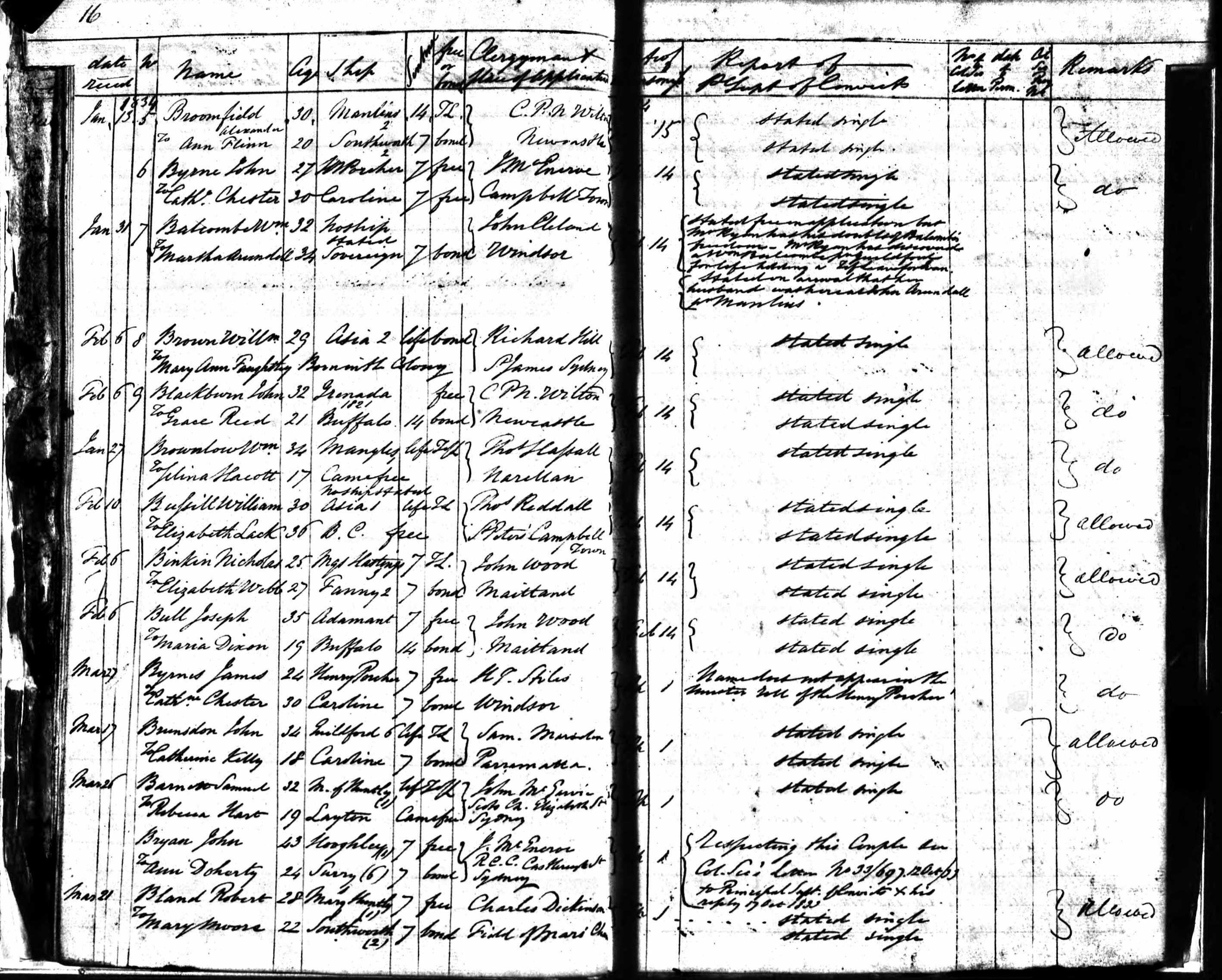 New South Wales, Australia, Register of Convicts' Application to Marry, 1826-1851
The Brown's marriage was a great success and they were blessed with 14 children. The Brown's application was supported by Richard Hill, who well may have been a relation of William Russell Hill who married Phoebe Brown n 1856, the eldest daughter of William and Mary Ann Brown.
Mary Ann Faughtley was the daughter of George F Wright AKA George Faughtley Wright, a convict who was transported to New South Wales aboard the Somersetshire, which sailed from Spithead, England on 10 May 1814, via Rio de Janeiro with 200 males on board, a journey lasting 159 days, arriving in Port Jackson on 16 Oct 1814.
New South Wales, Australia, Ticket of Leave, 1810-1869, Butts May 1829-Dec 1829
I have inspected George Wright's Ticket of Leave enough times to see how it was gained, and then cancelled several times, after more misdemeanours in the colony and whilst it is sad, in some ways it is amusing to see what an absolute scoundrel he was. I hasten to add that in my researching of George Wright, I could not help becoming very fond of this old unrepentant, unreformed ruffian!
George was committed for trial at the Old Bailey and convicted on 27 Oct 1813. His trial is well chronicled, as was William Browns, and his crime was theft of a covered plated dish and a table cloth, and he was sentenced to death, and like William Brown, his sentence was also commuted to transportation for life. George Faughtley Wright however, continued the life of a petty criminal and rogue, and never quite reformed his ways. George had four sons, some like their father, were also in trouble with the law, with mentions in the newspapers for breaches of the law at Wright's Wharf, part of the Cockle Bay complex of wharves, which is now known as Darling Harbour, which included bankruptcy problems and customs infringements. In another chapter I have written up the Wright family in a chapter which I have called Finding Mary Jones of the Broxbournbury 1814, which also deals with correctly identifying George's "wives", and the mother of Mary Ann Brown nee Wright. Exactly where the name Faughtley comes from is a mystery, and was possibly picked up by George Wright who used the name as an alias.
Wright's Wharf, Market Street Wharf, 1875, State Library of New South Wales
http://acms.sl.nsw.gov.au/item/itemDetailPaged.aspx?itemID=413577
In one particular incident George was put in leg irons and placed into one of the notorious chain gangs of the colony. He was regularly in and out of gaol, and one of his young children was fostered into Orphan's School. Mary Whitfield is listed in one of the documents I have collected regarding the fostering of George F Wright's youngest son James and her extraordinary plea for an application for Orphan School for James Wright, when George had reputedly been sent to Melville Island, is most fascinating. On turning the next page I discovered that the judge appointed to the hearing thought it doubtful that George had ever made it to Melville Island, and in the corner of an otherwise blank page his suspicions are recorded upside down. It was claimed in this record by Mary Whitfield that James' mother was deceased. I now believe this was true.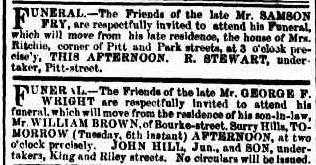 Funeral of George F Wright, Sydney Morning Herald, 5 September 1859
I think William Brown looked after George and possibly kept an eye on his Wright brothers-in-law as well. George was a plasterer by trade, and there are several more documents on ancestry.com that are interesting. The market wharves were full of rogues, con-men and thieves and Sydney, in those days was a pretty dangerous place. To be successful one would have had to have been wily, astute and observant. I have found that very old photograph of Wrights Wharf down at the Market Street wharf in the Mitchell Library, dated 1875, which could be connected to George Wright or his sons.
William Brown was a commission agent down at the Market Street Wharves and he later diversified his business interests into the timber industry and became part of building a booming Sydney in the 1840's.
It must have been during the 1840's that William Brown built up his interest as a timber merchant down at the Market Street wharves in Darling Harbour. There was a building boom going on in Sydney and good cedar was found on the north coast of New South Wales, and was so much cheaper than bringing in the wood from England. From the next newspaper article, it can be gleaned that there was boat building happening up as far as Kempsey for William Brown's expanding business.
Sydney Morning Herald, 3 November 1842
Sydney Morning Herald, 5 December 1850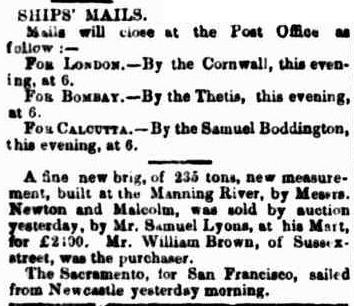 Sydney Morning Herald, 18 June 1850
Sands Directory, 1861
William Brown is listed here as a merchant, Wimbledon Hall, 642 Bourke Street
Sydney Morning Herald, 12 Feb 1863
This is a most interesting advertisement that William Brown and Son, Market Wharf placed in the newspaper. I had often wondered about the middle name of his son John James Forrester Brown who was born in 1860 and now I can draw some parallel between this man's estate and an association with William Brown.
A search for Forrester's Estate turned up two newspaper advertisements for an auction of Mr William Forrester's Estate, the previous year. I feel quietly confident that this could be the association that involved William Brown and the dates coincide perfectly for the settlement after the auction which was seemingly a valuable auction of Forrester's goods. The two auctions, on succeeding days were run by Mr Robert Muriel's Auction House.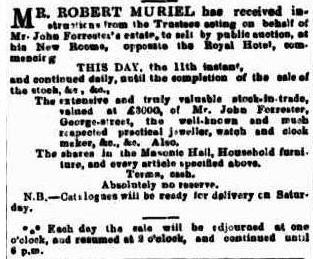 Sydney Morning Herald, 11 November 1862
Sydney Morning Herald, 12 November 1862
Sands Directory 1864
This directory shows a listing for both William Brown (Brown and Son), of Wimbledon Hall, 642 Bourke Street, and his son Jabez (Brown and Son), Murray Street, Pyrmont. This shows the connection with the two men, who are obviously in business together. Also listed is William Brown, commission agent, Ultimo and this is probably William's son, William Brown Jnr.
William and Mary Brown had fourteen children, Phoebe Mary Brown 1835-1882, Jabez Brown 1836-1909, William Brown Jnr. 1838-1888, Mary Ann Brown 1840-1928, Eliza Brown 1842-1898, Charlotte Brown 1844-1917, Thomas Brown 1846-1903, Sarah Ann Brown 1847-1933, Henry Brown 1849-1854, Emma Elizabeth Brown 1850-1885, Clara Jane Brown 1852-1947, Harriet M Brown 1853-1922, George Richard Sydney Brown 1855-1902 and John James Forrester Brown 1860-1919.
William Brown was a proud father and as his prosperity grew from his successful timber business, so did his family. William placed birth and marriage notices into the newspaper for his children, and one can see the great delight he took in his wife producing a healthy brood of children, and marrying his daughters off to eligible bachelors.
William Brown gave his children a good education and by the 1860's many of his elder children had made good marriages; one daughter, Eliza Stewart had married a business friend, Thomas Stewart. Another, Mary Ann Smithers had married a wealthy landowner.
After William's sudden and tragic death in 1864, sadly, one of his sons, Jabez went into bankruptcy several times, and another, William Brown Jnr. became an alcoholic and tragically committed suicide. William Jnr. had business problems as well, which were reported by the newspapers.
William Brown, in his will, tied up his real estate until after the death of his wife Mary Ann, and this possibly led to the stifling of his son's business prospects and may even had led to their financial woes. Jabez, I believe, was forced by his creditors to claim his portion of his father's estate and it is possibly that he may have even tried to pressure for the sale of his father's estate before his mother's death. Mary Ann Brown moved from Wimbledon Hall before her death and it was leased to the Headmaster of the Sydney Grammar School, Mr Goldie. After Mary's death in 1888, the vast land holdings of William Brown became apparent when all his property was put up for sale.  This document from the sale of his estate, listing all the estates from the Sydney Morning Herald on 17 May 1888 is reproduced later in this chapter.
I have collected many documents relating to the Brown's time at Wimbledon Hall, however a very precious document from Emma Campbell, is a map showing the ground plan of Wimbledon Hall between Dowling Streets and Burke Streets. It shows firstly how big Wimbledon Hall was, and also the fact that a stream flowed right through the property towards the Dowling Street side of the property and that the property faced Bourke Street rather than the southern exposure on Dowling Street. It also showed a substantial circular driveway accessing the property.
Many out buildings were also drawn on the plan, as well as what presumably would have been stable buildings.
Ground plan of Bourke and Dowling Streets, showing Wimbledon Hall, image, courtesy of Emma Campbell who obtained this copy from City of Sydney Archives.
City of Sydney Trigonometry Survey of 1865, including Wimbledon Hall. Image, courtesy of Emma Campbell.
Other newspaper articles are regarding the staff employed by the Browns at Wimbledon Hall, where advertisements were placed in various newspapers calling for a gardener, servant, needlework woman, cook and laundress, at various times between 1860 and 1864, indicating that the Browns were living a comfortable, affluent and obviously successful lifestyle.

Sydney Morning Herald, 24 September 1860
Sydney Morning Herald, 27 November 1863
Sydney Morning Herald, 19 September 1860
Most important of all are the newspaper clippings that relate to the untimely and accidental death of William Brown at the age of 59, on 11 July 1864, and then the death and funeral notices of his wife Mary Brown in 1888.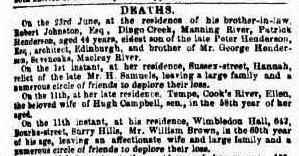 Sydney Morning Herald 12 July 1864

Sydney Morning Herald, 12 July 1864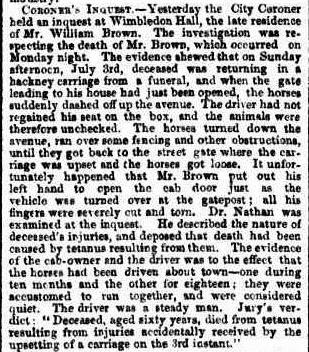 Sydney Morning Herald 14 July 1864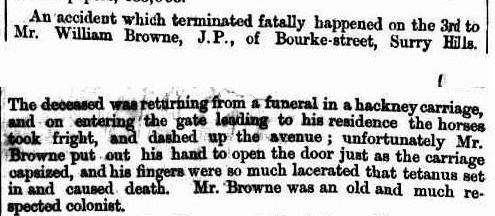 Illustrated Sydney News, 16 July 1864
Bell's Life in Sydney, 16 July 1864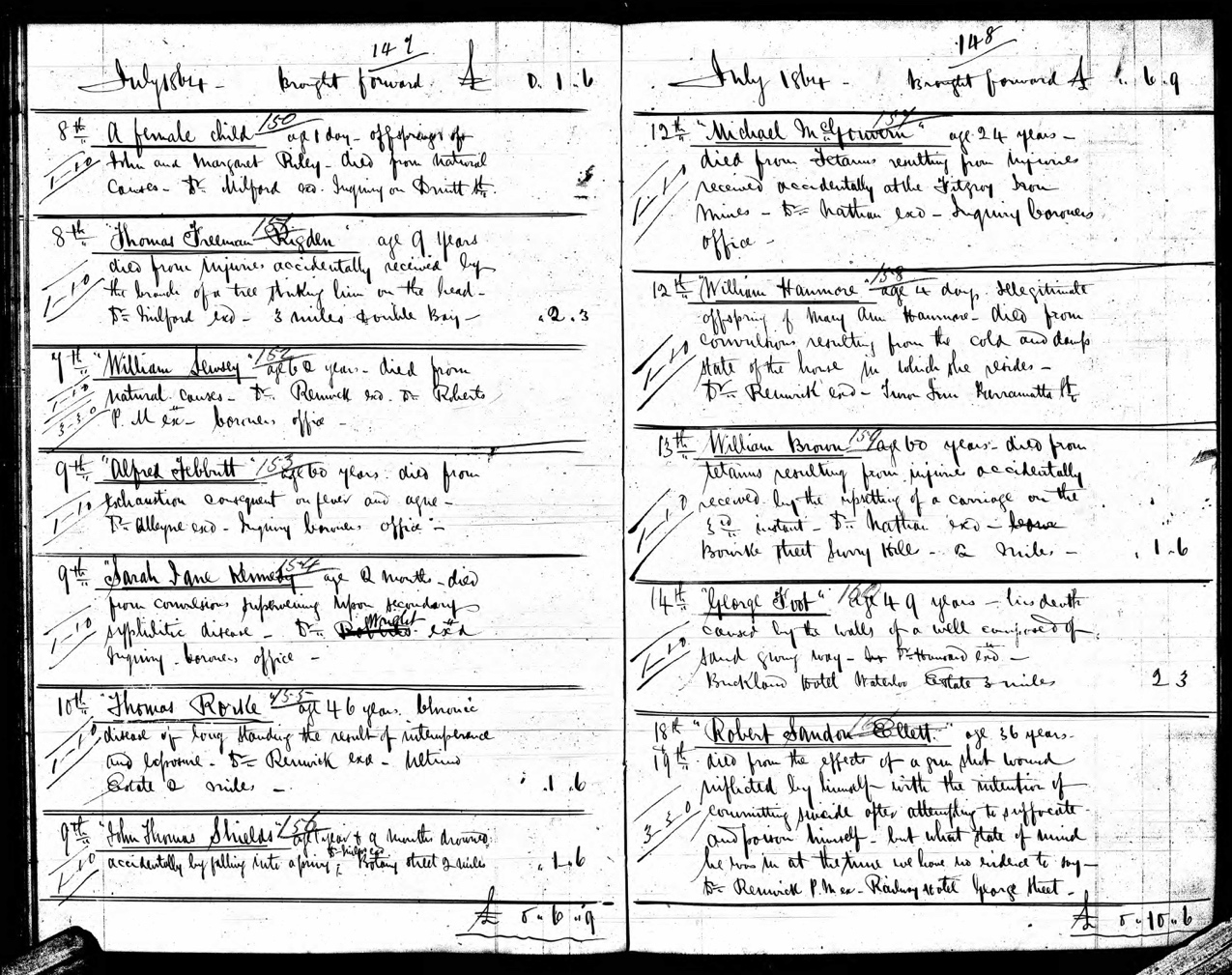 New South Wales, Australia, Registers of Coroner's Inquests, 1796-1942
William Brown, clearly, was not intending to die in 1864, and this tragic carriage accident, that led to his eventual death, was not only untimely but so unexpected, as it had seemed he would recover from his injuries, however, when he developed tetanus from his wounded hand there was no medical cure for this appalling disease. He apparently wrote his will on his death bed. In a nutshell, William Brown tied up his estate until the death of his wife, whether he thought things through properly at this stage, is uncertain and hardly surprising due to his grave circumstances. The expectation that his eldest son Jabez, mentioned in the will, was in a position to purchase a half share in their business partnership was doubtful, and this led to the business being sold and Jabez becoming a publican.
William's earnest wishes to provide for his children's education is commendable and understandable. One can almost feel a certain desperation in his deadly predicament. Having read other wills from this period of time, his statements about his wife, Mary and the possibility of a remarriage were quite a normal inclusion in wills at this time. Several of William Brown's children were already married, however many others will still in their "teens" in 1864.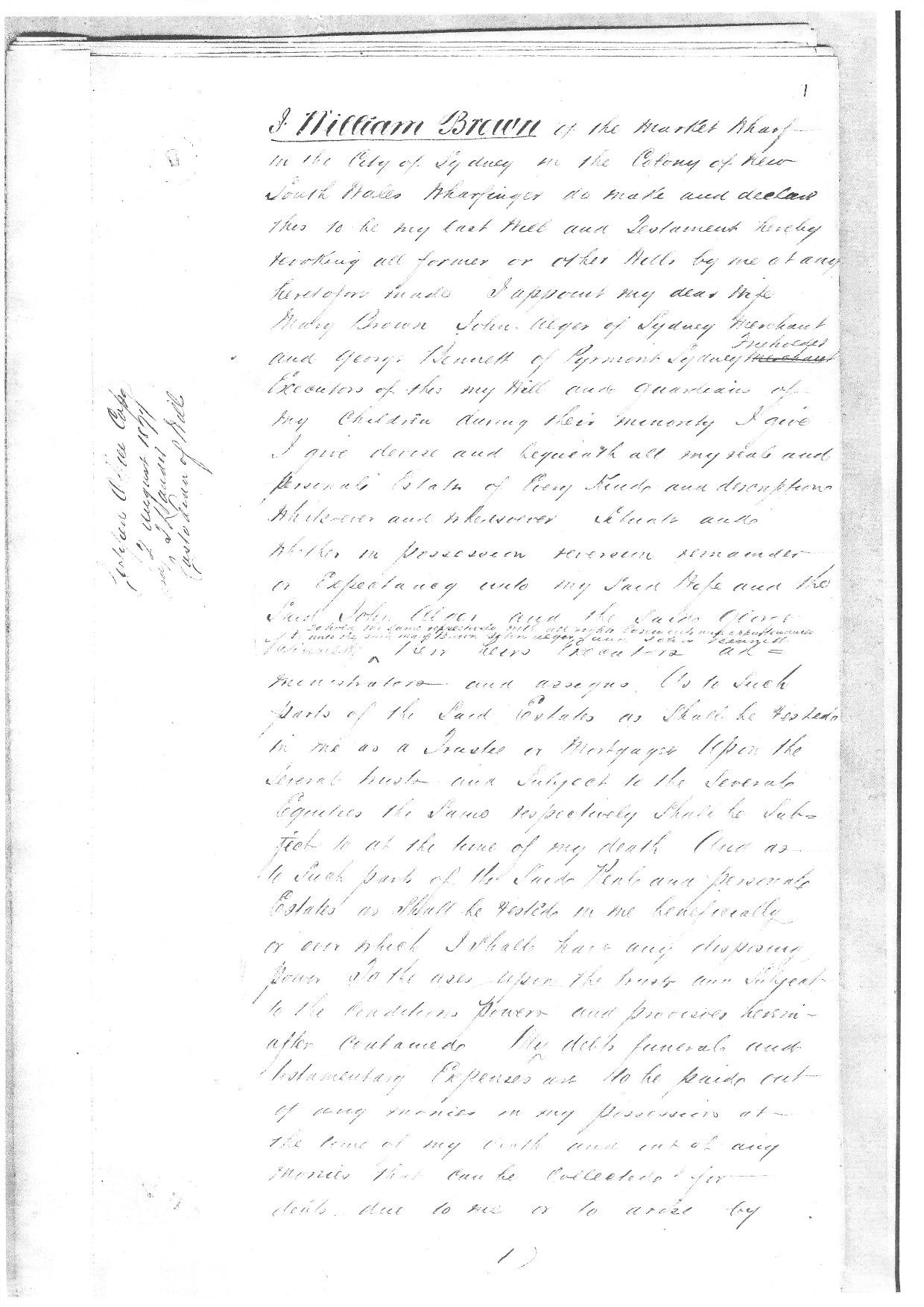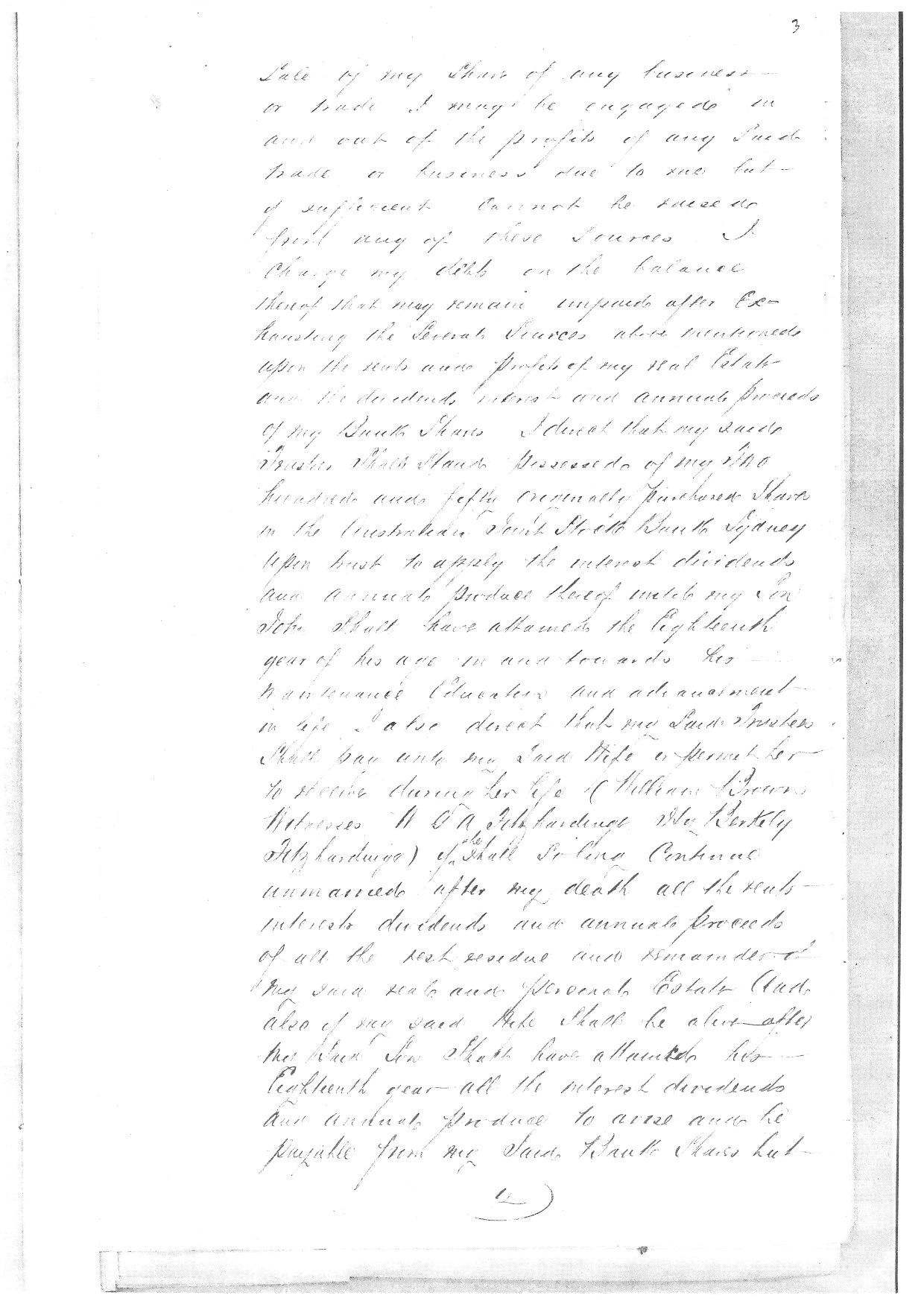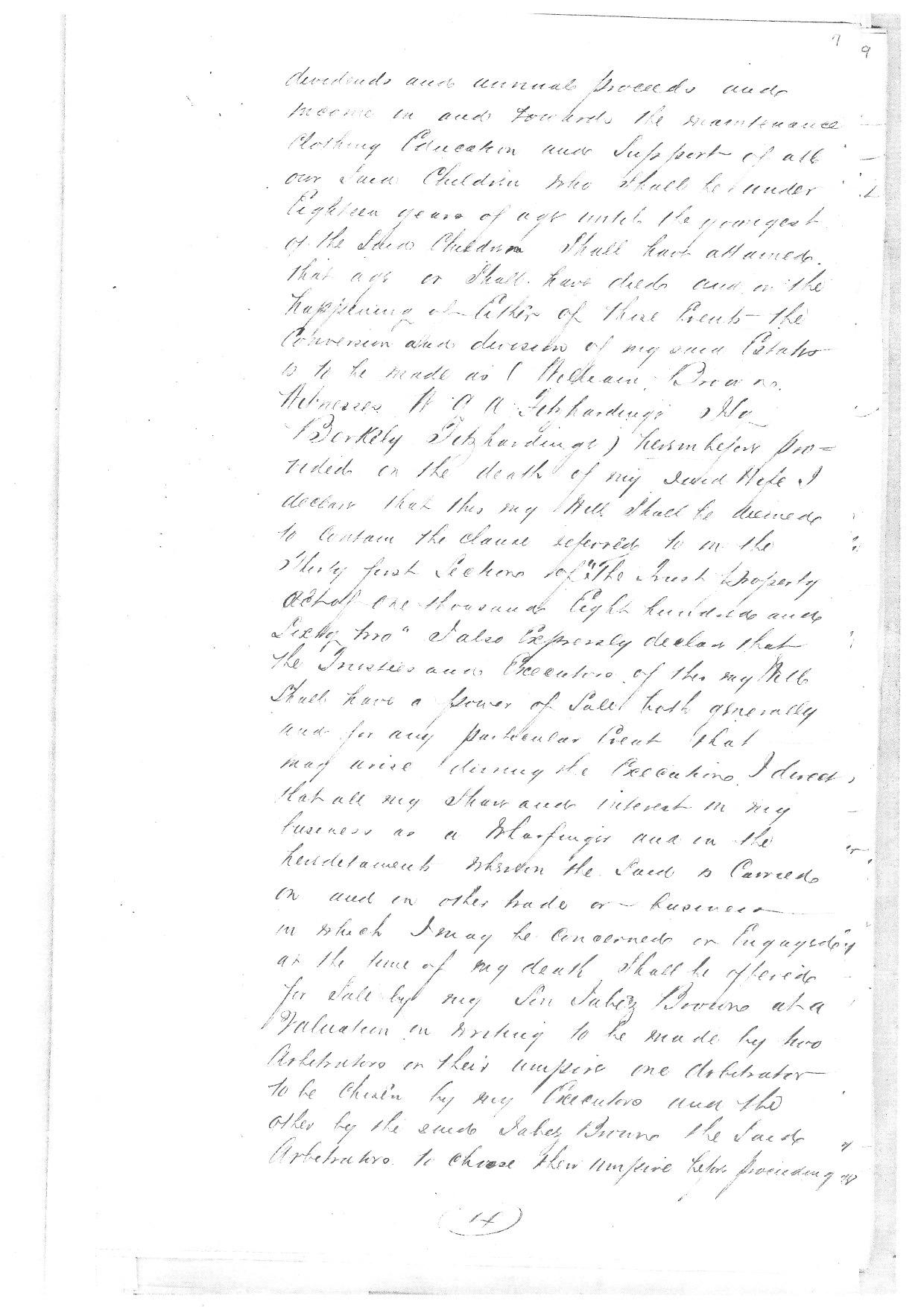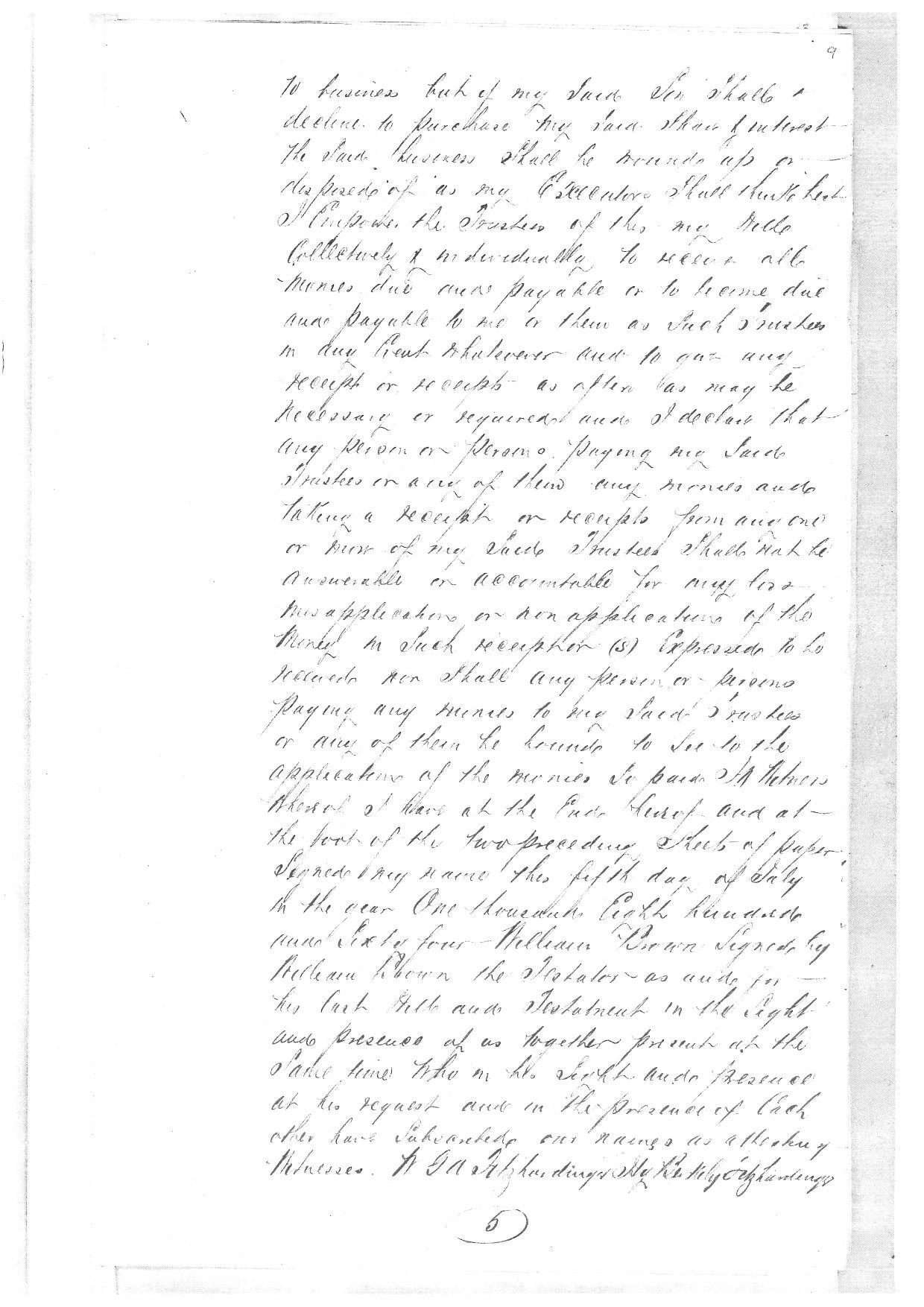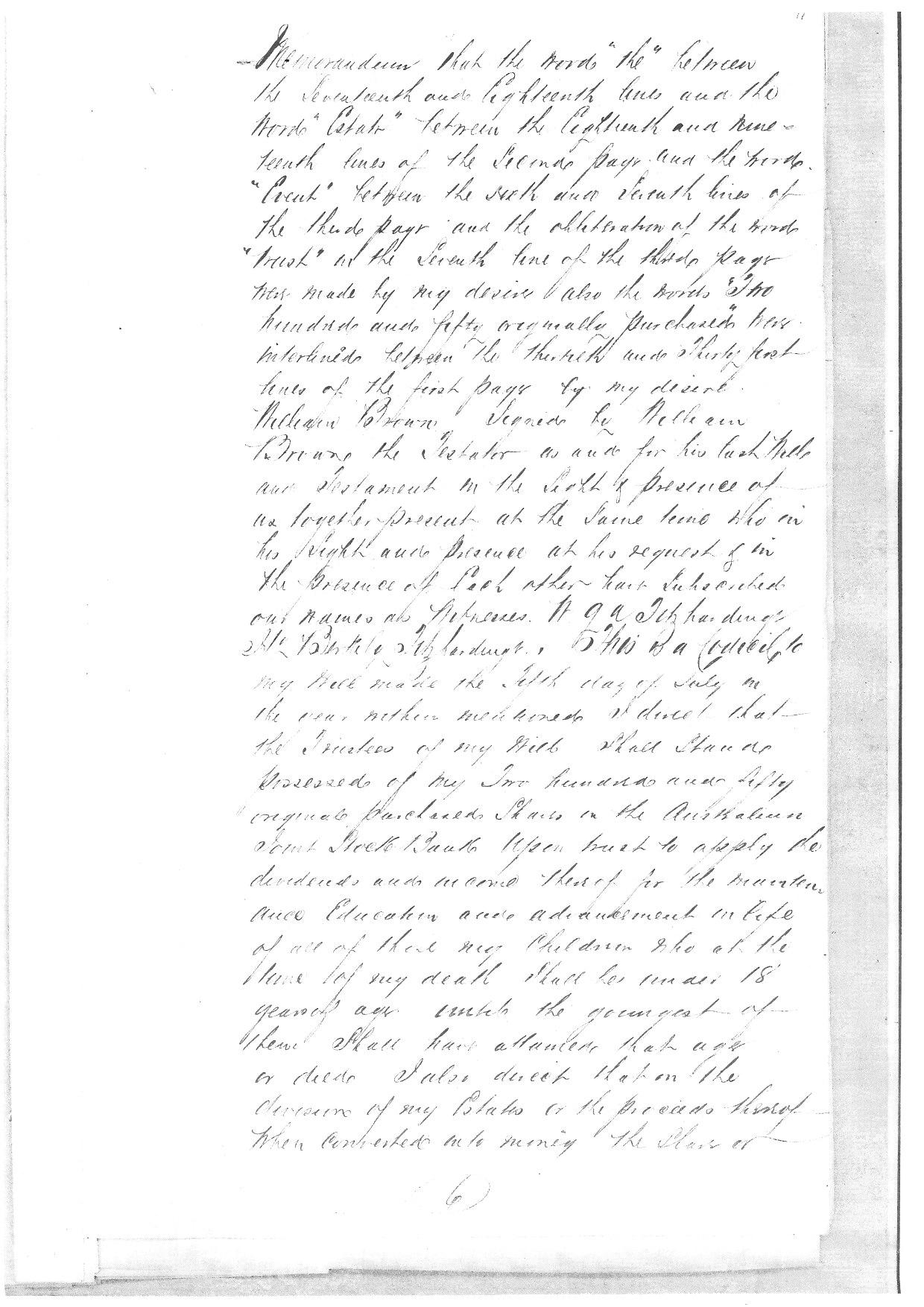 The Last Will and Testament of William Brown, image courtesy of Emma Campbell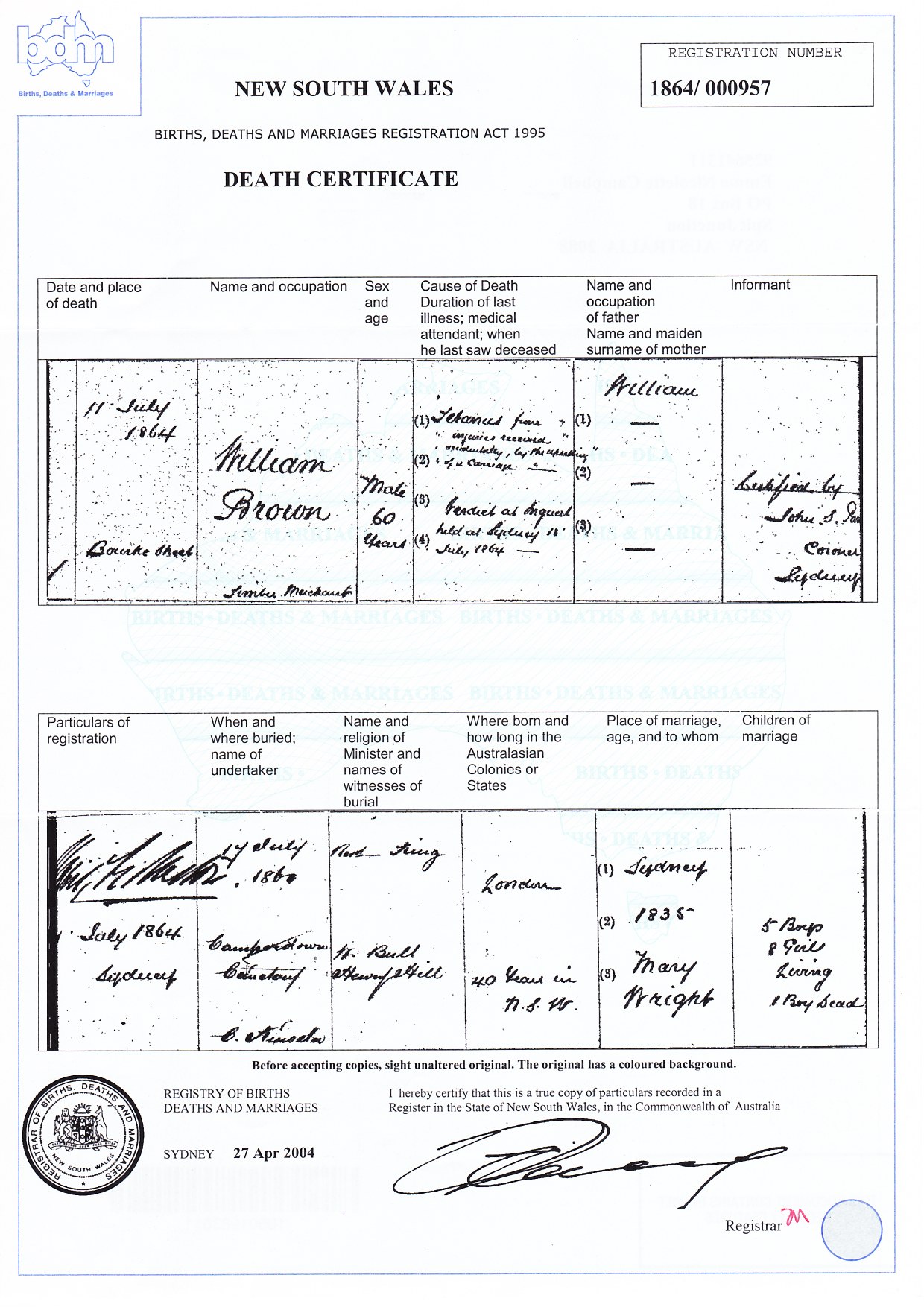 Death Certificate for William Brown, died 11 July 1864, image courtesy of Emma Campbell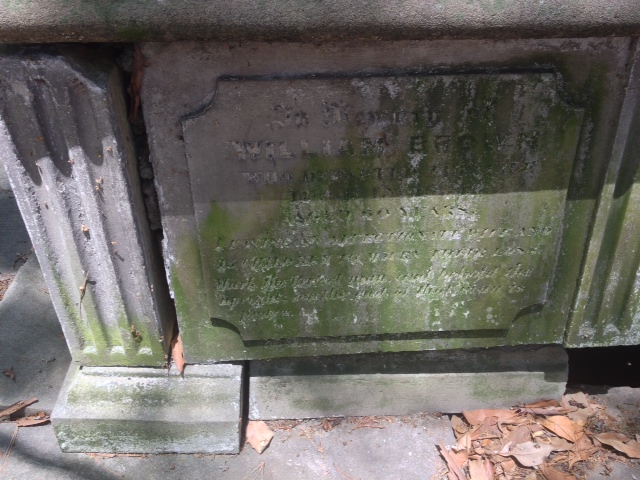 William Brown Monument Grave, Camperdown Cemetery, before and after restoration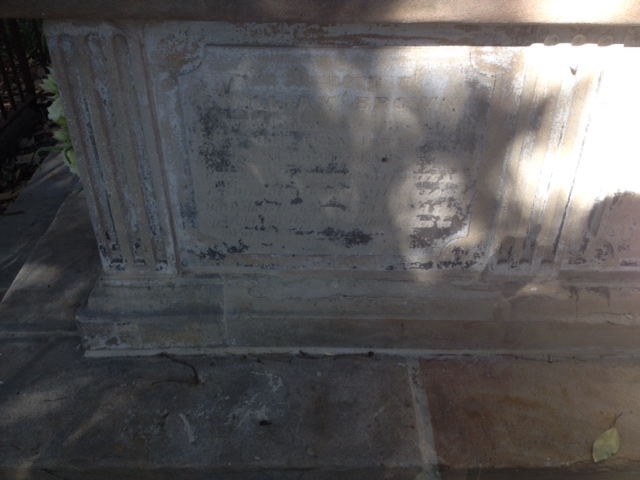 William Brown's Will Document and Death Certificate were kindly provided by Emma Campbell, another Brown family researcher who I collaborated with regarding Wimbledon Hall. We also collaborated and shared our documents which confirmed William Brown's early history in the Colony of New South Wales. Emma has been researching for a lot longer than I have and her dedication to the Brown family research has been very impressive and successful. Emma provided me with many of her family documents and for this I am extremely grateful, and without her help this chapter would not have been so comprehensive.
Mary Brown was widowed for nearly 20 years and at the time of her death she had moved out of Wimbledon Hall and was living at 16 Park Road, Moore Park. There is so much information that can be gleaned from these newspaper clippings that add so much to the William Brown story. It was only then, under the terms of her husband's will that the Estate of William Brown was put up for sale and the proceeds divided between her children.
Sydney Morning Herald 27 April 1888

Sydney Morning Herald 26 April 1888
Brown Family Monument, Shield dedicated to Mary Brown, restored, below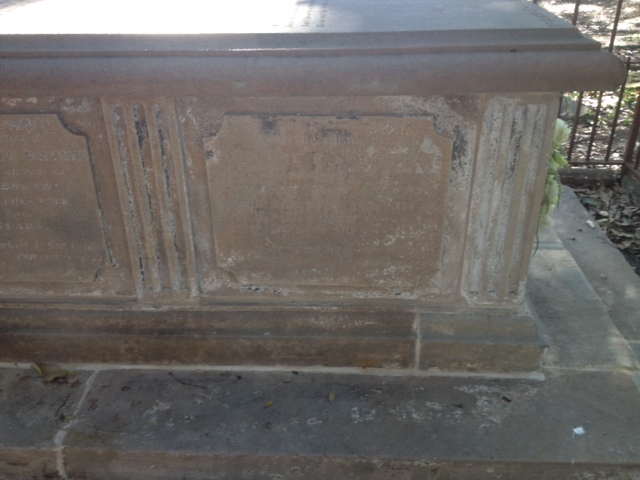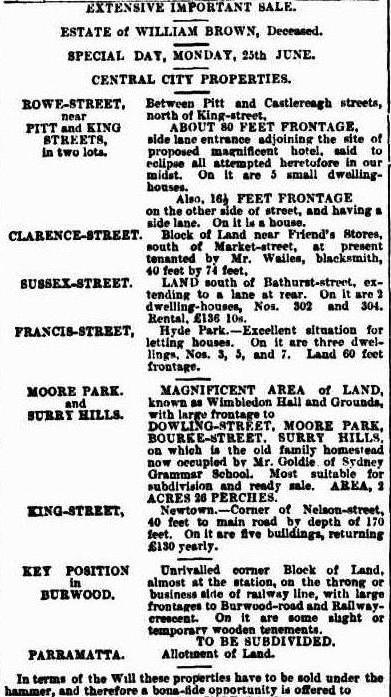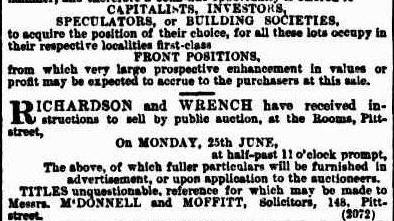 Sydney Morning Herald, 30 May 1888
I haven't yet completed my research on William Brown's land holdings and I am still to trace the exact co-ordinates of Wimbledon Hall and its gardens in what is left today of South Dowling Street after extensive roadway development, but I am certain of its large size and to the fact that it was sadly demolished in about 1889. I believe that blue print documents held by the Sydney Town Hall will explain the architectural details of the property. I was set to pursue this avenue when I was diverted from this task when my husband and I found the Brown Family vault at Camperdown Cemetery.
During my research, I had read reports that Camperdown cemetery had been reduced to a quarter of its original size when a new cemetery wall was built between 1951 and 1954, and the land outside this wall was turned into a Memorial Park. The surviving headstones from the outer area had been placed into the cemetery wall, surrounding the very oldest graves closest to the circular main driveway, which is adjacent to the church. Our first visit to the cemetery was in pouring rain and was a fruitless venture because Geoff and I were actually looking for another of his ancestors, James Kidd. On the very back wall of the cemetery we found the surname Faughtley Wright engraved onto a few headstones, all in the same area, however, as yet I have not had time to explore the link to 'our' George Faughtley Wright. However, I did take taken photos of these gravestones.
I then discovered that the Society of Australian Genealogists (SAG) had transcribed the headstones in the cemetery between 1949 -51. A visit to their Kent Street Library in Jan 2013 filled me with such excitement when I discovered that not only were the Browns buried in the remaining area of the cemetery but that they had a family vault!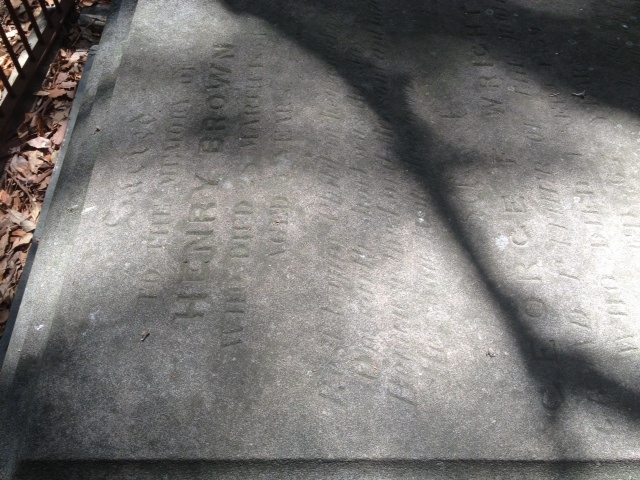 Brown Family Monument Grave with inscriptions on lid of sarcophagus, Camperdown Cemetery, Sydney, New South Wales
Brown Family Monument showing unstable lid and footings
The cemetery is a most captivatingly beautiful sanctuary right in the centre of Sydney and this treed area is open to visitors and their dogs during the day to roam amongst the ancient graves and wild grasses. In rain or sunshine, this is an enchanted place.
Here is the transcription from The Society of Australian Genealogists:
"Plot 390 x 3 Iron Rail surround to vault
Brown, Henry, death 28 Mar 1854 aged 5
Wright, George F, grandfather of above death 4 Sep 1859 aged 67
Brown William Mr father of above Henry Brown, Leaving an affectionate wife and 13 children to mourn their loss death 11 Jul 1864 Aged 60
Brown, Emma Elizabeth, dau of above Wm. Brown, 12 May 1885 aged 35
George R S, son of Wm and Mary Brown died 18 Dec 1902 aged 17 *
Brown, William died 11 Jul 1864 aged 60
Brown Mary, wife of the above Wm. Brown, b 12 Sep 1815 died 25 Aug 1888 aged 73″
* transcription error, should read aged 47 – V Rundle
Mary Brown was buried in the family vault in 1888, her son George Richard Sydney Brown who died in 1902 was the last of the family to be buried in the vault at Camperdown. I suspect, with the sale of the properties and the division of the money to the surviving family, future generations forgot about the existence of the Brown family vault. Victorian Sydney's desire to rid itself of any connection with convicts probably also accounted for the fact that nothing was handed down to later generations about the family's interesting convict connections. Until recently, and since the 1988 Bicentenary, when Sydney rediscovered its long-lost convicts, so many descendants of convicts now wear their convict connections as a badge of honour.
Geoff and I visited Camperdown Cemetery on 17 Jan 2013, with our West Highland Terrier, Roy. Here are my diary notes:
"We visited Camperdown Cemetery on 17 Jan 2013, where we quickly located the monument grave of the Browns, by the very fact that it was indicated by the SAG's description that the metal fence was still standing. It was close to the church under some shady trees and bordered the main circular driveway. It is a sarcophagus styled grave monument carved in heavy sandstone blocks with shields bearing the ancestor names. The covering sandstone plinth top of the sarcophagus has writing on the top but will need a rubbing to decipher the rather worn and moss covered wording, to confirm the SAG description.
The grave is in terrible disrepair and there are openings right down to the burial chamber. It is in a rather dangerous state of repair, bordering on unstable.
Photos were taken to record the grave and we are hoping that we can read the inscriptions from them."
Our next visit to Camperdown cemetery was to attend a cemetery tour a few Sundays later, where we met a trustee from the Camperdown Cemetery Trust (CCT), and we spoke at length about the Brown Grave and our anxiety regarding the dangerous state of the grave. The trust agreed that we would proceed to restore the Brown Family Vault and via a long process whereby a donation from my husband and myself together with a grant from Heritage New South Wales, obtained by the Trust for work to commence in April 2014. This collaboration was done over a period of fifteen months. The CCT employed Bernard Kelly from Heritage Stone Masonry to undertake this delicate operation on the Brown grave, as he has done work before on many projects in grave restoration.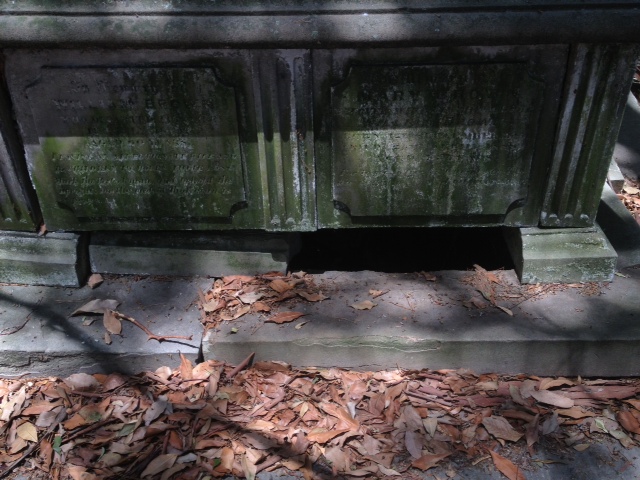 Image shows the precarious situation of the Brown Family Vault, with openings and unstable footings.
Work began on Monday 14 April 2014, to preserve the grave and a crane was bought in on the Tuesday to delicately lift the stone work by way of slings, and reinforced concrete repairs were done to stabilise the ground above the crypt. We have taken videos and photos of the operation. The grave was then reconstructed as it was, with as little change as possible to its original appearance. Due to the wet weather, work was put off for a week. On Monday morning, at the site meeting Bernard commented on the instability and rocking movement of the grave stones, and how perilous the situation had become. The deterioration was so serious that it was worrying whether the grave would cave into the huge hole that had opened beneath before work would commence the next day. The soil around the grave was so wet and boggy that Bernard and his offsider Chris constructed a wire fence to keep sightseers from getting too close.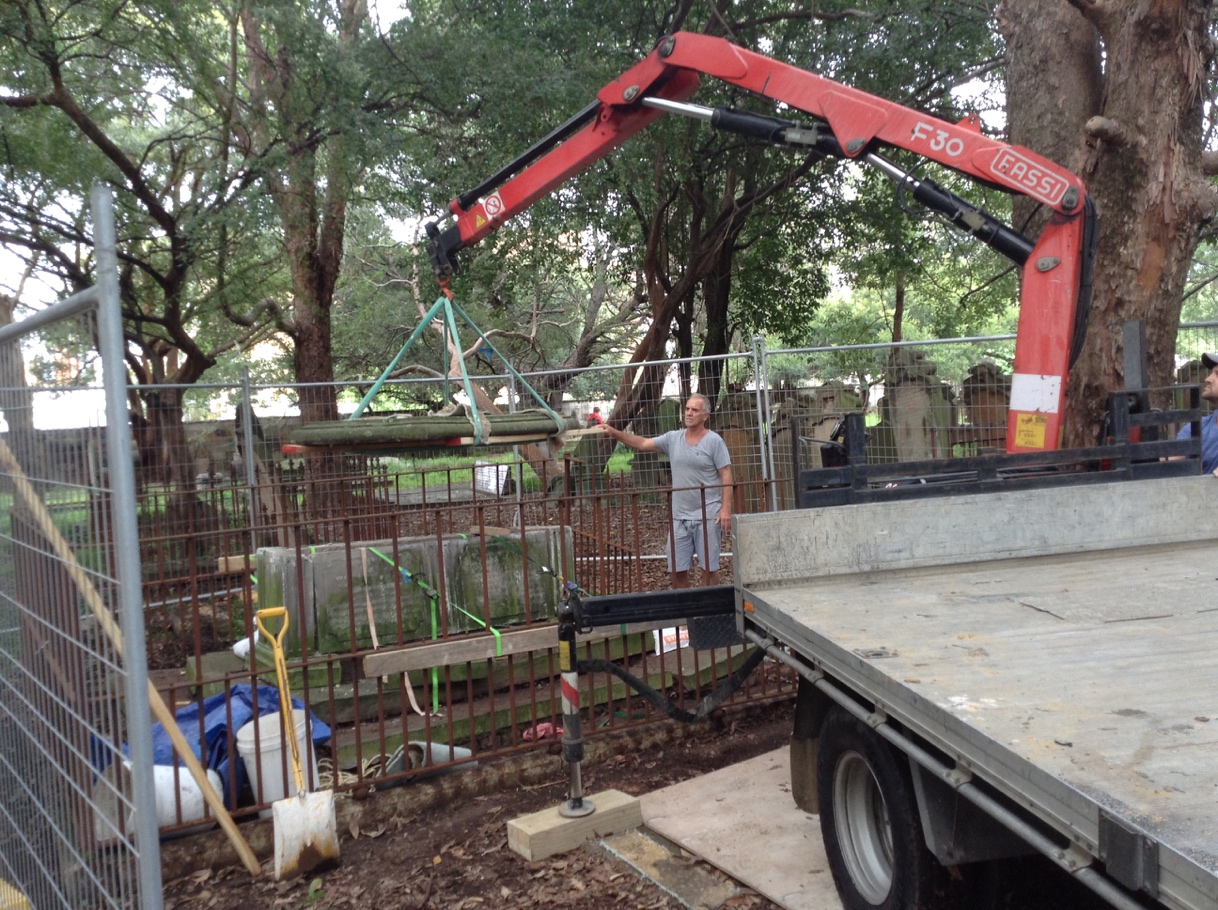 Crane Lift, with Bernard Kelly directing operations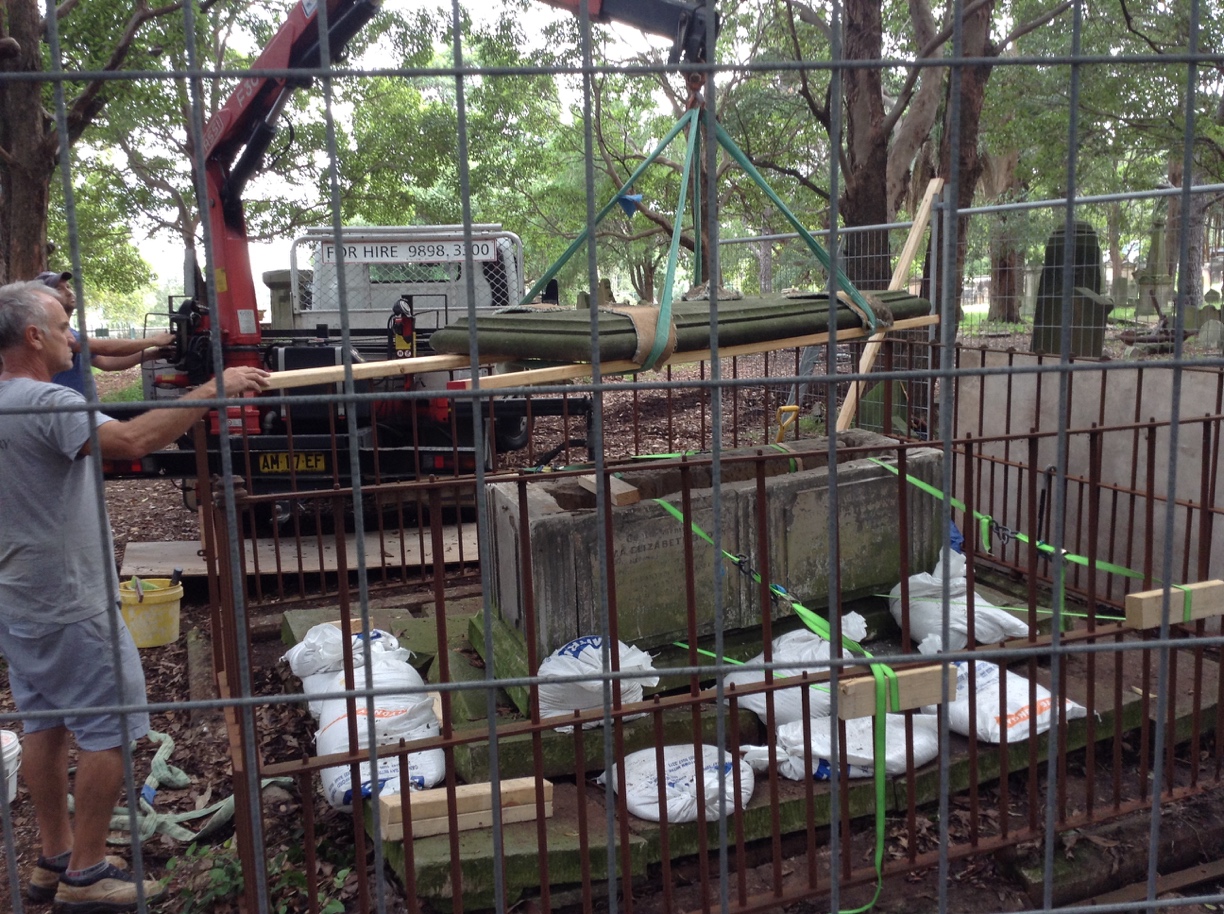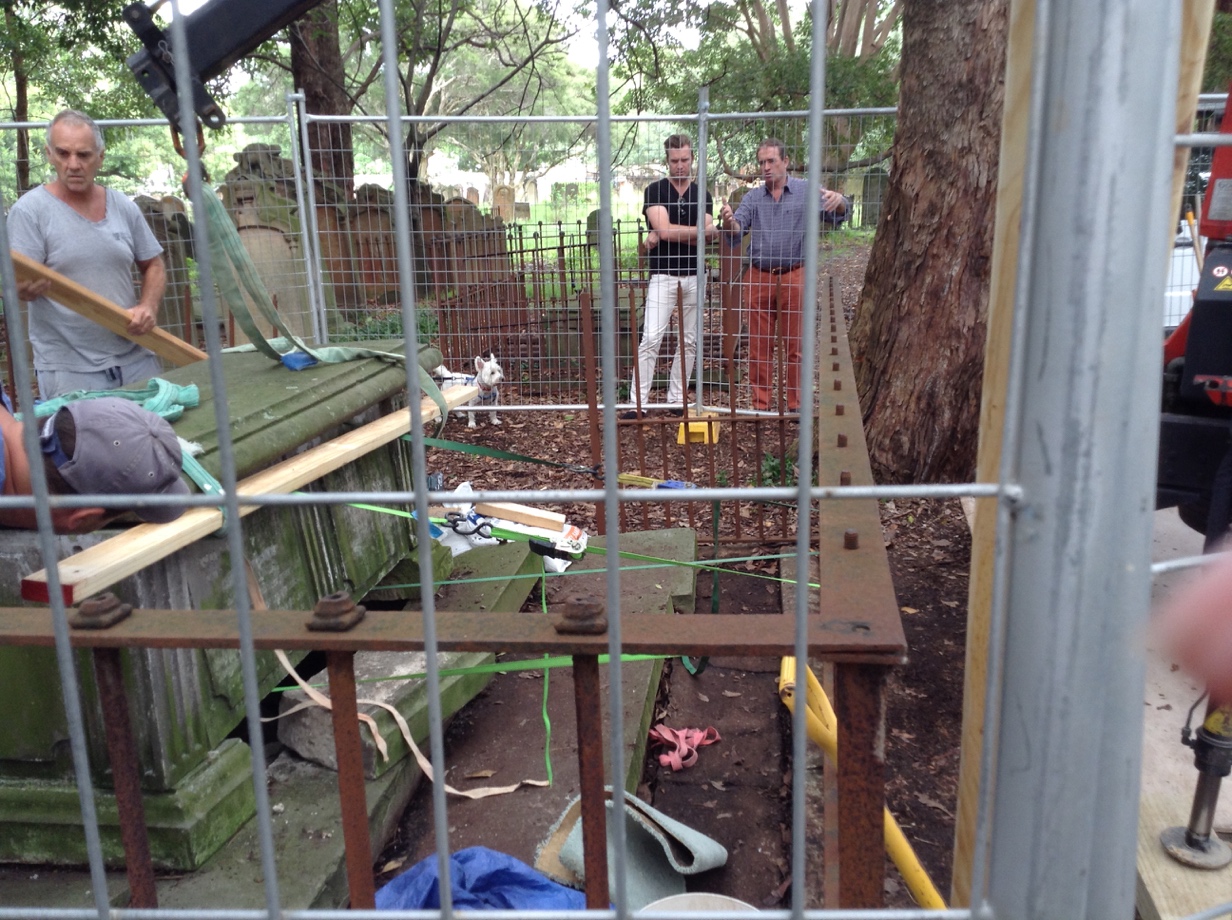 Bernard working on the grave whilst, my husband Geoff Rundle, our son Rowan Rundle and our West Highland Cemetery Scout, Roy look on.
Each piece of the sarcophagus had to be removed separately, stored and cleaned
Crypt interior showing vaulted ceiling of the Brown Family Monument above and below, showing brick construction.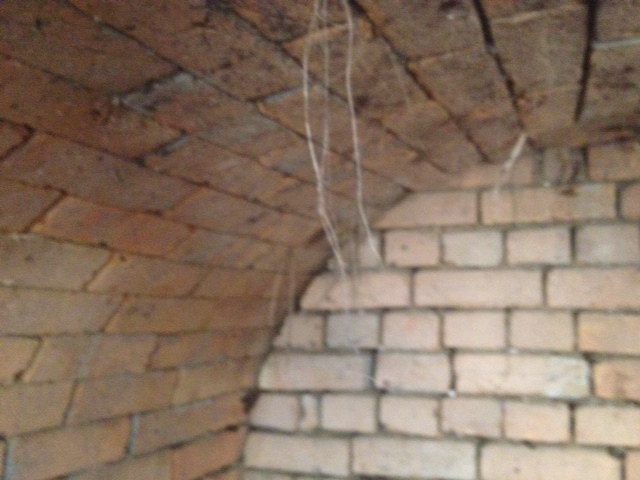 Bernard Kelly accessed the Brown grave to prepare reinforcing of the sarcophagus and at all times we admired the respectful way that he went about the restoration work.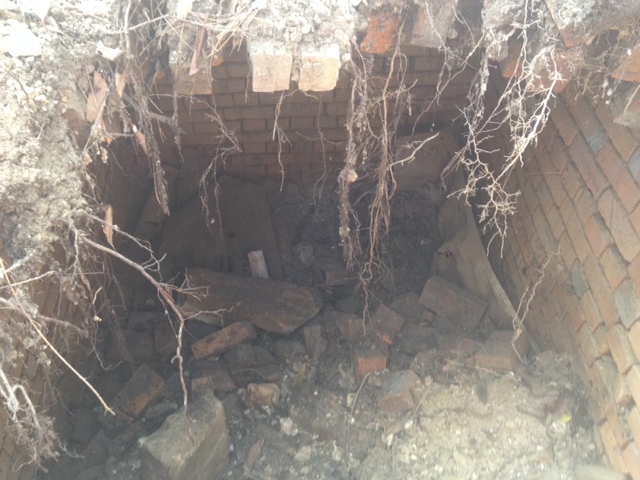 Interior of Brown Family Crypt showing collapsed lead shelves on the RHS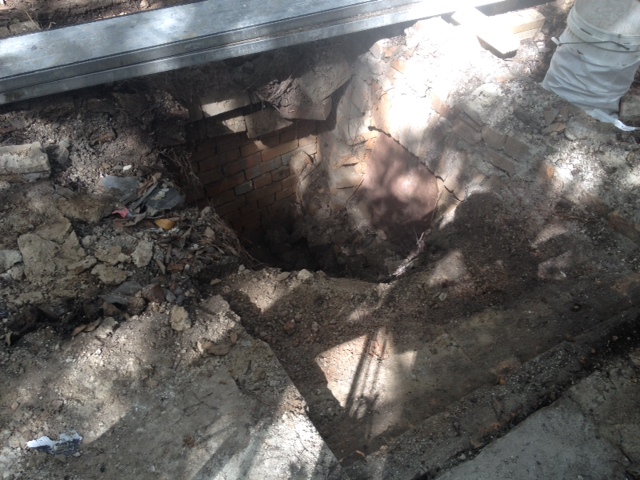 Interior of Crypt showing brick entrance which would have been used to access the grave for burials.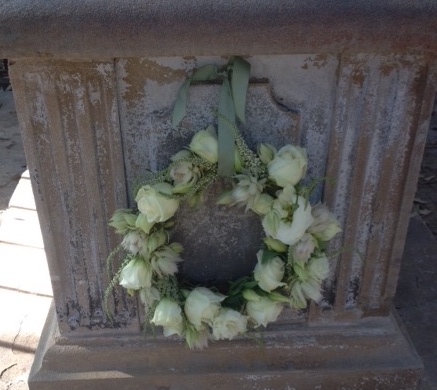 Restored Brown Family Crypt, Camperdown Cemetery, Sydney, New South Wales. We even discovered that the metal hooks that held flower wreaths were intact on all four sides the monument. My daughter-in-law very kindly created this beautiful wreath.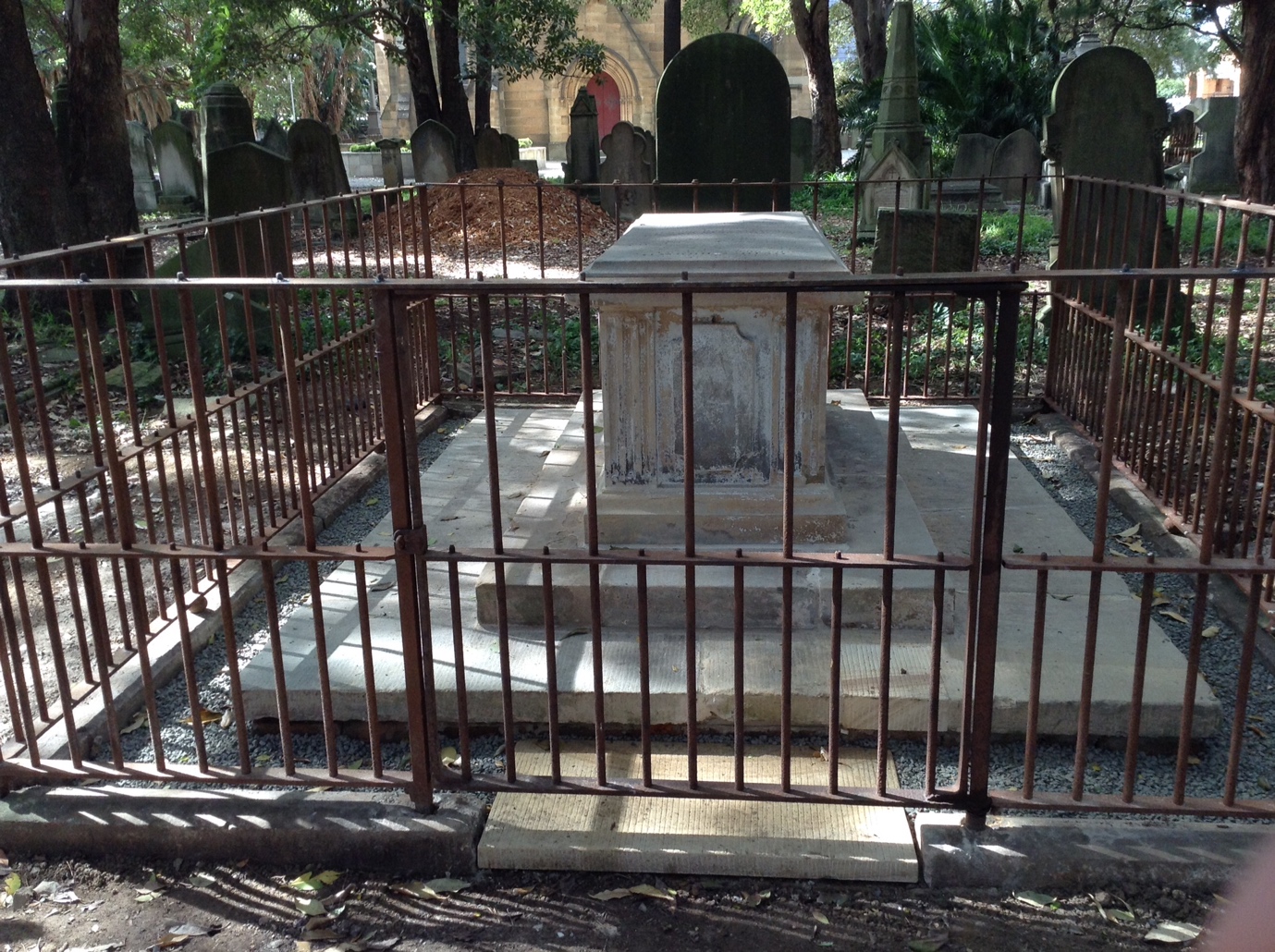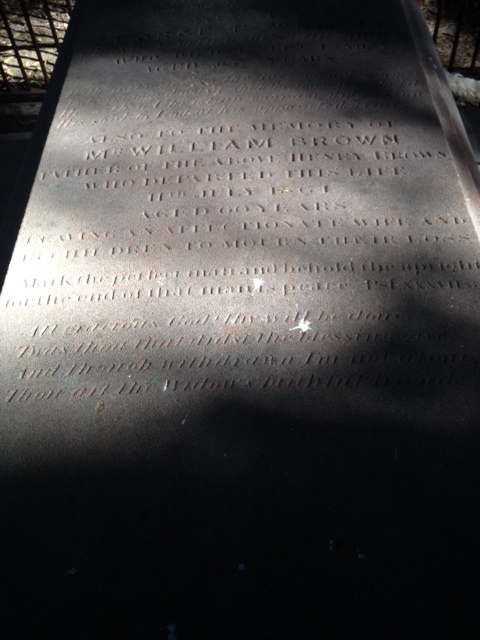 Brown Family Sarcophagus after restoration 2014
Phoebe Mary Brown was the eldest daughter of William Brown and his wife Mary Wright, and according to her death certificate she was born in Kiama, New South Wales on 1 January 1835, her birth however was registered in Sydney.
Australia Birth Index, 1788-1922
| | |
| --- | --- |
| Name | Phoebe Brown |
| Birth Date | 1835 |
| Birth Place | New South Wales |
| Registration Year | 1835 |
| Registration Place | Sydney, New South Wales, Australia |
| Father | William Brown |
| Mother | Mary |
| Volume Number | V1835563 19 |
Phoebe married William Russell Hill and they had seven children, Mary Ann Hill 1859-1942, William Stewart Hill 1860-1937, Mary J Hill 1863, Minnie Rosina Hill 1864-1942, Percy R W Hill 1867, Arthur S Hill 1869-1884, and George O Hill 1871-1931. William Russell Hill died suddenly in 1871 and Phoebe married Edward Parry in 1874 and they had an only daughter, Edith Fanny Parry 1875-1967.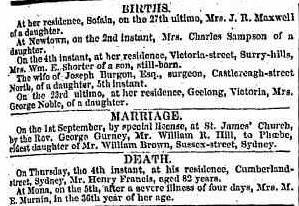 Marriage of Phoebe Brown to William Hill, Sydney Morning Herald, 6 September 1856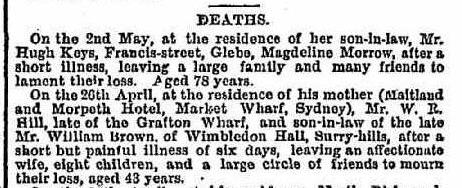 Death notice for William R Hill, Empire, 28 April 1871
Funeral Notice for William R Hill, Sydney Morning Herald 28 April 1871
This newspaper notice for William Hill is a wonderful resource for the family researcher, so many of William's brothers-in-law are mentioned as well as members of the Brown Family. Henry Hayes Smithers, George John Bond Gough and James Johnson are all listed on this notice and it was so helpful in placing these men as husbands to Phoebe's sisters.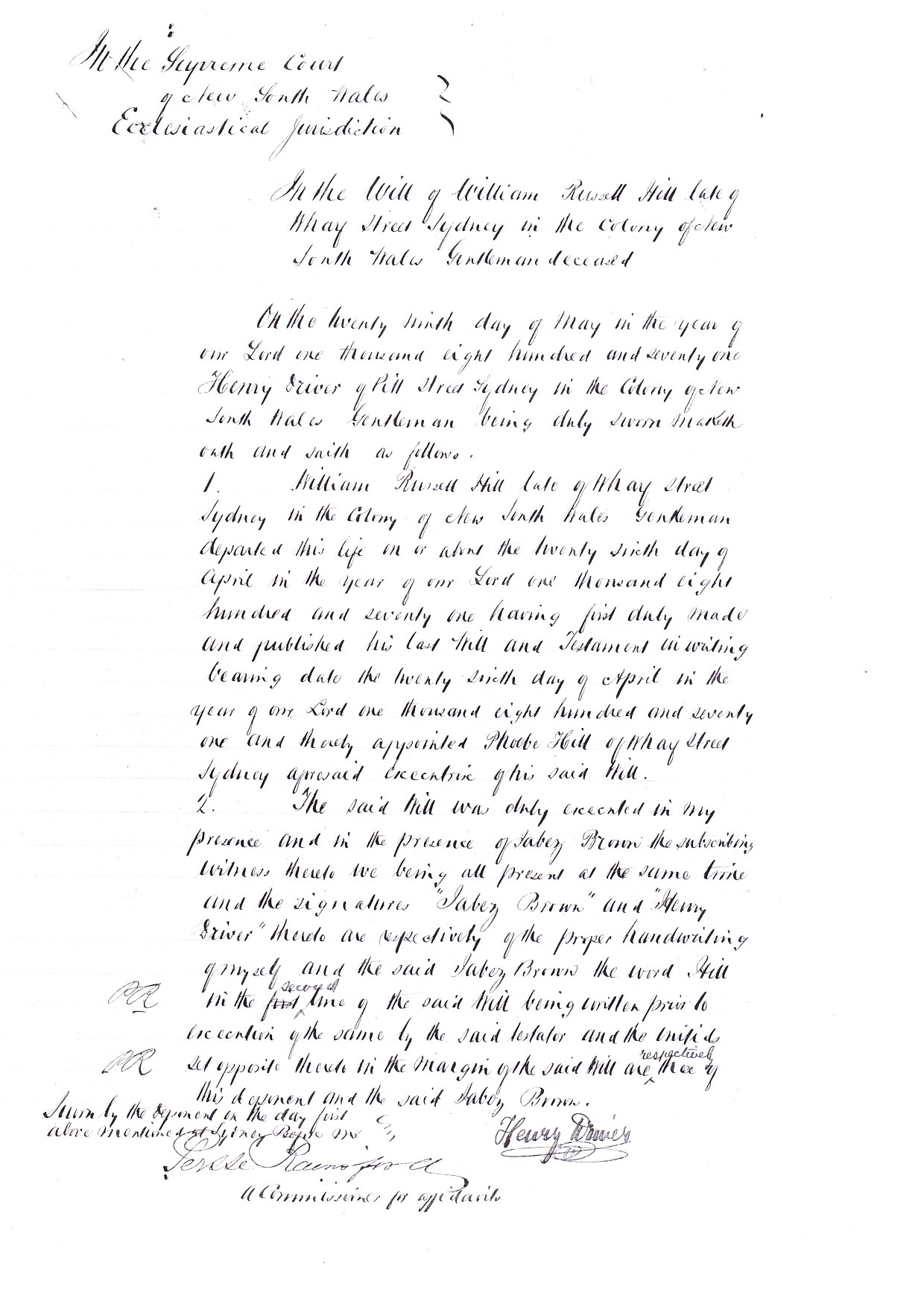 Will of the Late William Russell Hill, 6 April 1871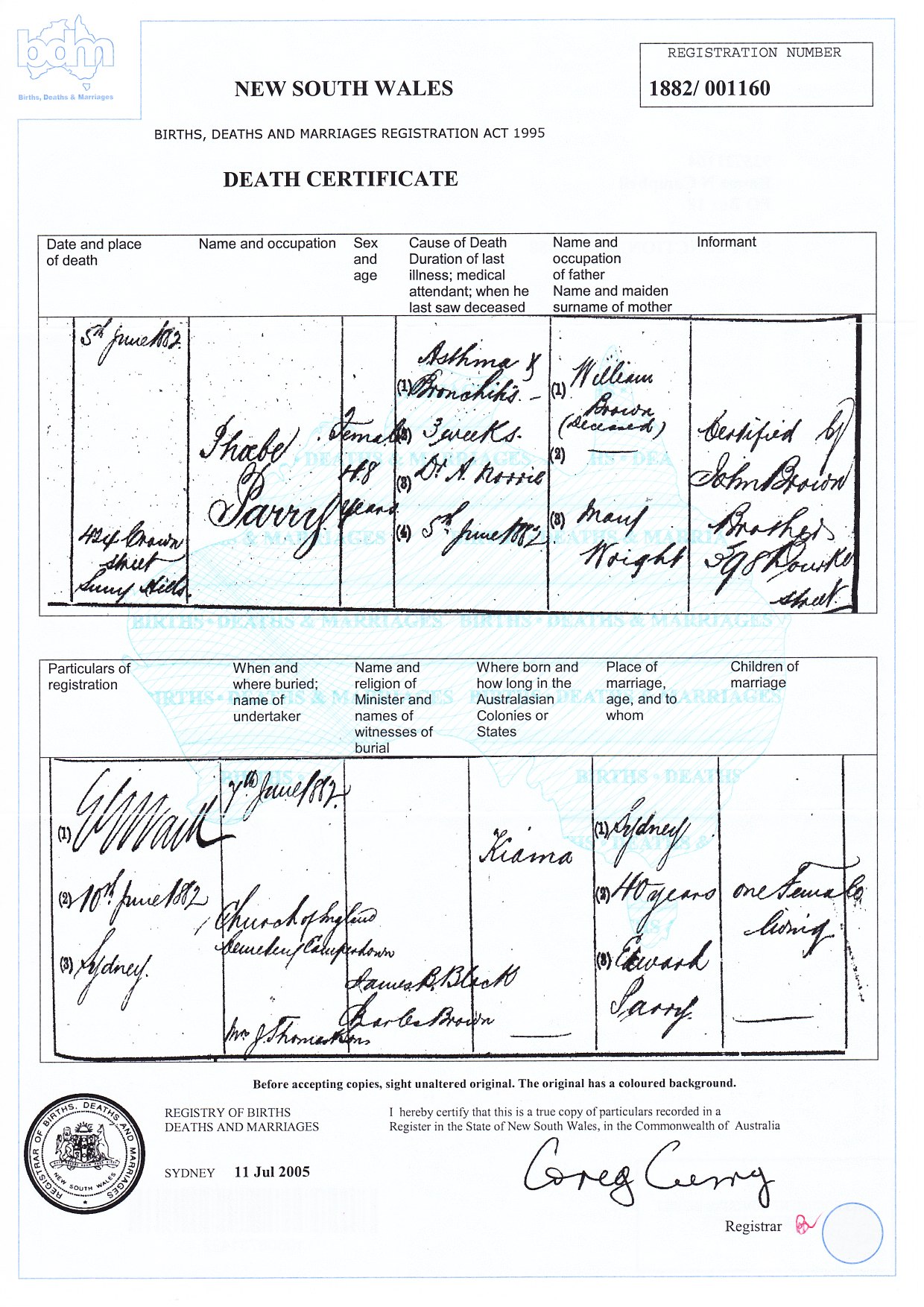 Death Certificate of Pheobe Parry, kindly provided by Emma Campbell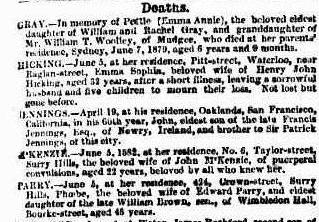 Death notice for Phoebe Parry, Sydney Morning Herald, 7 June 1882
Jabez Brown married Louisa M Samuels on 3 June 1857 and to date I have found no newspaper announcing the marriage. Jabez and Louisa had ten children, Mary Hannah Brown 1860-1920, George Albert Owen Brown 1862, Louisa Clara Hill Brown 1863-1946, Ernest Sydney Brown 1866-1868, Amy Adelaide Brown 1868-1951, Sydney Ernest Brown 1870-1921, Alfred Edward Brown 1872-1956, Baby Brown 1872-1872, and Arthur John Brown 1873-1941.
Jabez's lived in Pyrmont after his marriage, and his occupation was a Commission Agent down at the Market Street Wharves, working for his father's business. I am not sure about his relationship with his father but I believe his father's will left him hamstrung and this resulted in financial difficulties. The family moved to Randwick and Jabez briefly became a publican in 1874 he was granted a Liquor Licence for the Coach and Horses Inn.

Funeral of Ernest Sydney Brown Sydney Morning Herald 4 July 1868
It was so sad to find a newspaper clipping regarding the funeral of Ernest Sydney Brown, the two-year-old son of Jabez and Louisa, and it was interesting to see that he was buried at Camperdown Cemetery, where I had picked up other funeral notices listing this cemetery for the Brown family. This lovely grave stands next to his grandfather William Brown's large sarcophagus grave and is close to the circular driveway, which is the main road-way feature of the cemetery. Ernest is buried with his great-grandfather George Faughtley Wright, his aunt Phoebe Parry and an uncle Henry Brown, who died aged 5 years, William Hill, Phoebe's first husband and William's mother Sarah Hill are also listed on the gravestone.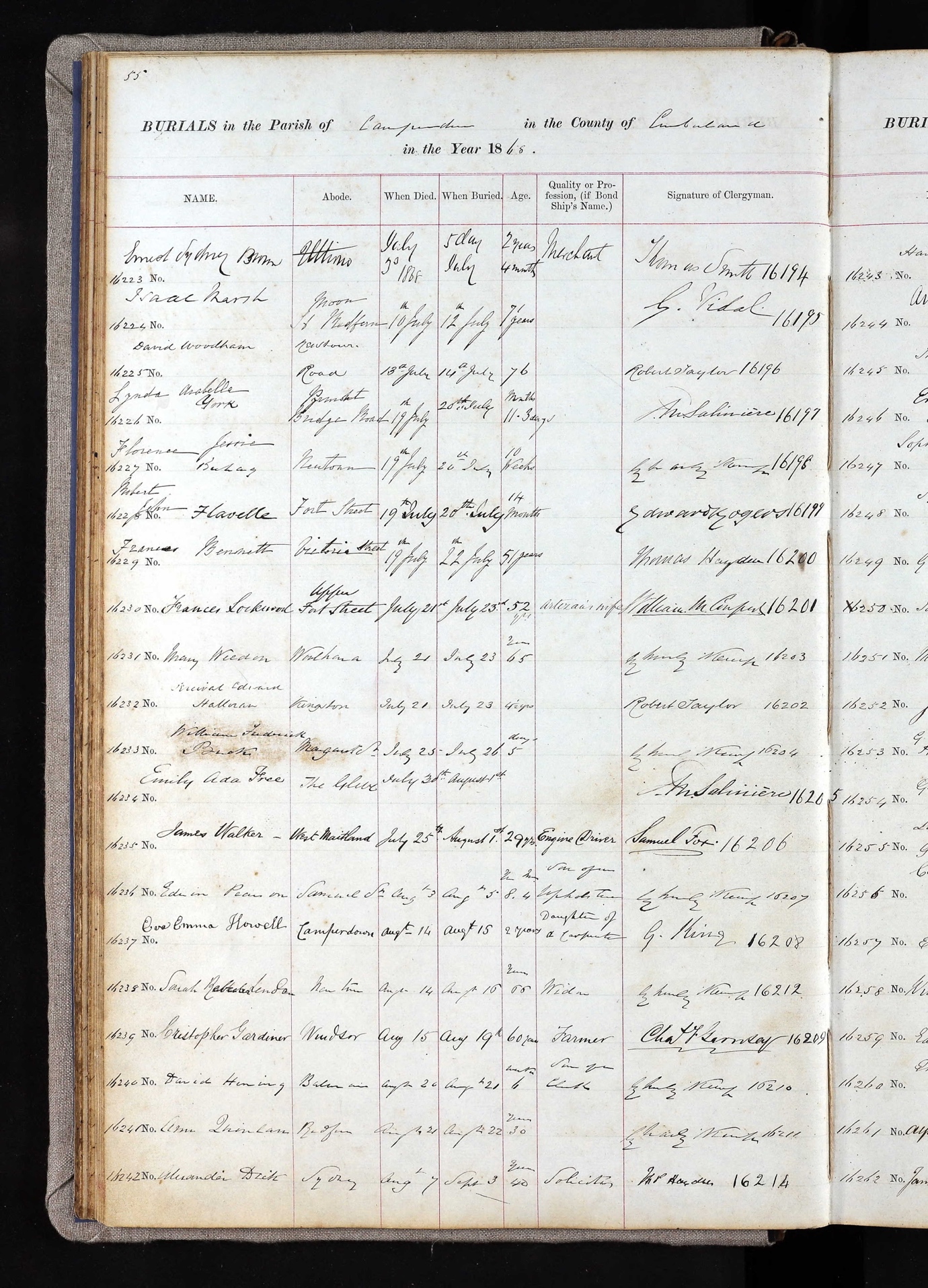 Burial of Ernest Sydney Brown, 5 July 1868, Anglican Parish Book of St Stephen's Church, Camperdown, Sydney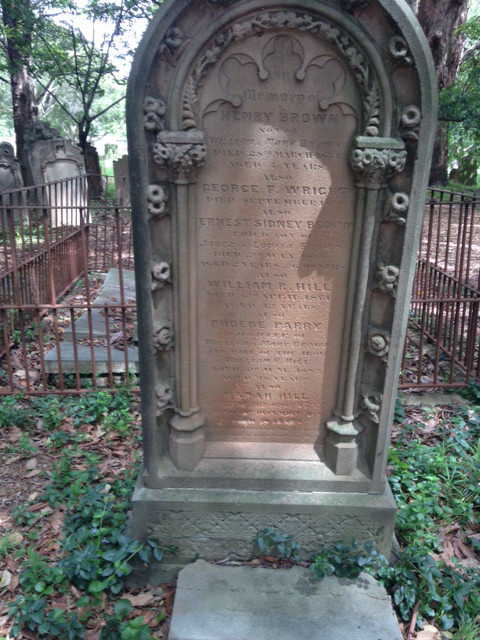 Brown, Wright, Parry and Hill Family Headstone at Camperdown Cemetery, Sydney, New South Wales
Directly behind this large and leaning headstone is the unrestored Brown family grave monument. What is interesting for me is that the bright sunshine often makes the headstones unreadable, as in this case, and it was not until I studied the photos at home, and blew them up that I could actually read them better, and it was at this stage that I could see that Sarah Hill, William Russell Hill's mother name was engraved at the bottom of the headstone. I must say that it took quite a while to work out who was who, especially when Phoebe Parry was named as the wife of William R Hill, and at first I didn't realise Phoebe's connection as William and Mary Brown's eldest daughter.
The significance of this headstone is that four-generations are listed on the headstone, Mary Brown is listed, as the mother five-year-old Henry Brown, her father George F. Wright is below, then Mary's daughter Phoebe Parry, and her grandson Ernest Sydney Brown, the son of Mary's eldest son Jabez. This very historic headstone bears out the incredible early connections that my husband, sons and grandchildren have to the early Colony of New South Wales.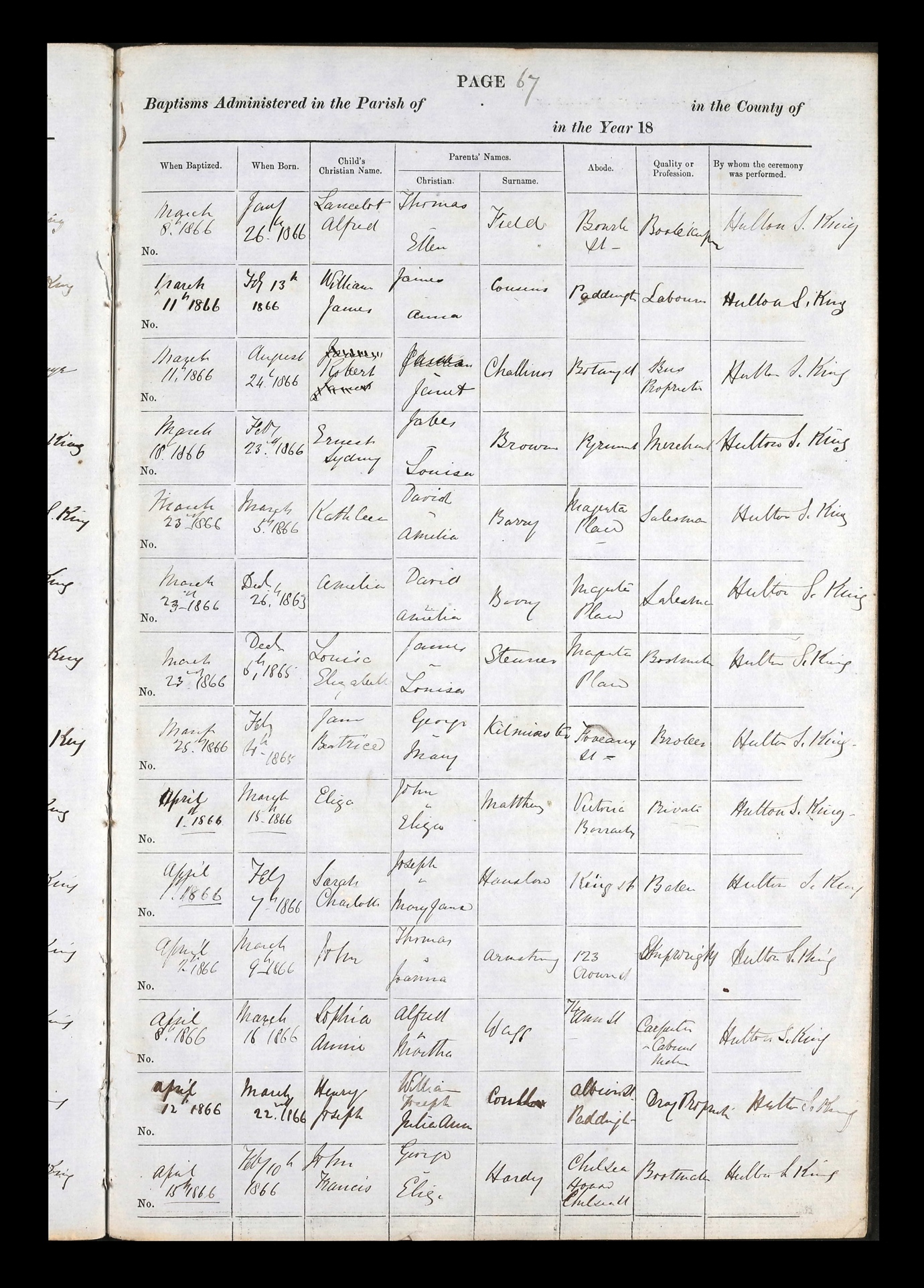 Sydney, Australia, Anglican Parish Registers, 1818-2011
Baptism for Ernest Sydney Brown, 18 March 1866, son of Jabez and Louisa, St Michael's Church, Surrey Hills, Sydney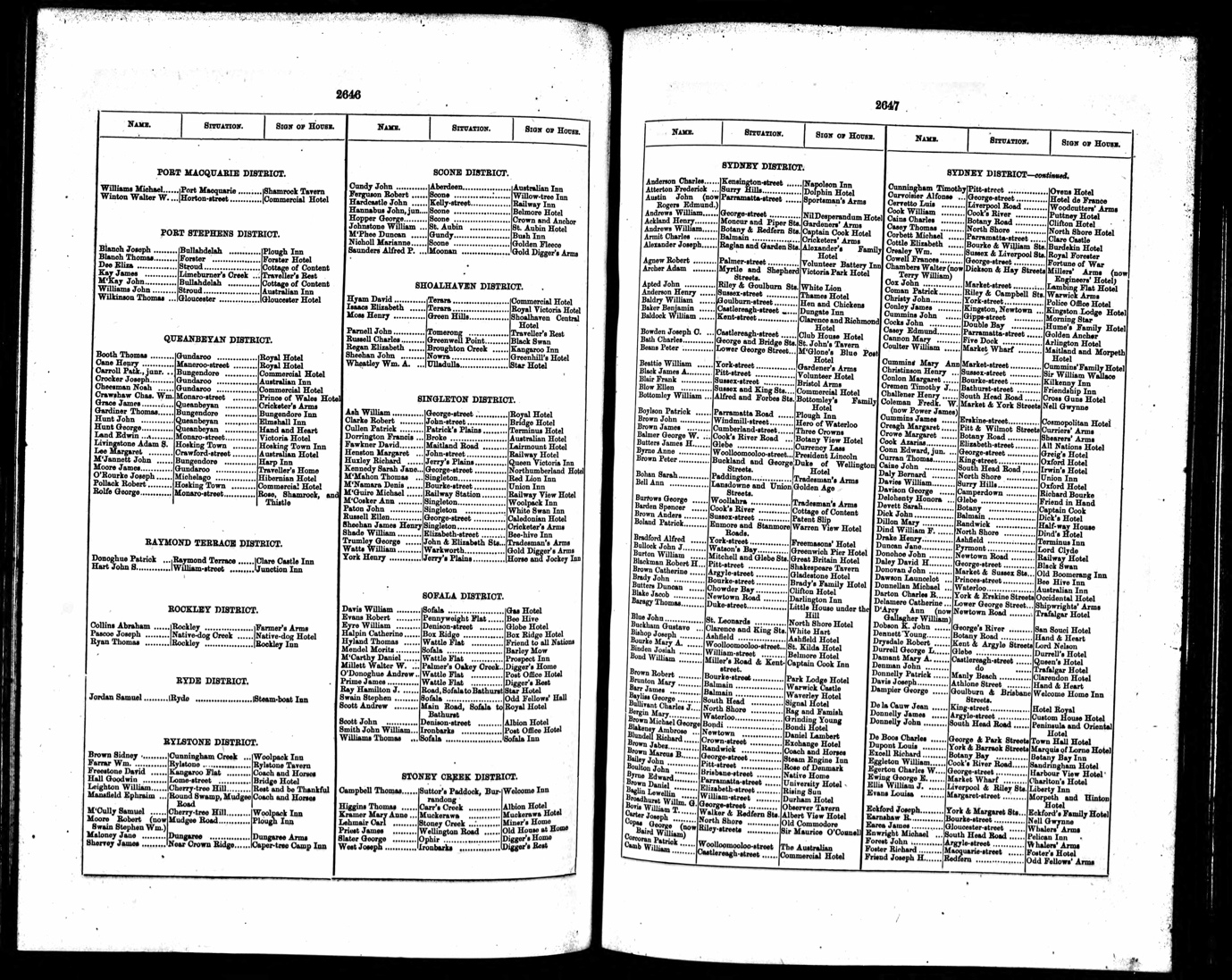 New South Wales, Australia, Police Gazettes, 1854-1930, Jabez Brown, 1874, RHS first column,12th from bottom of page, Coach and Horses Hotel, Randwick.
New South Wales, Australia, Police Gazettes, 1854-1930, Coach and Horses Hotel,1875

New South Wales, Australia, Police Gazettes, 1854-1930, Jabez Brown, 1884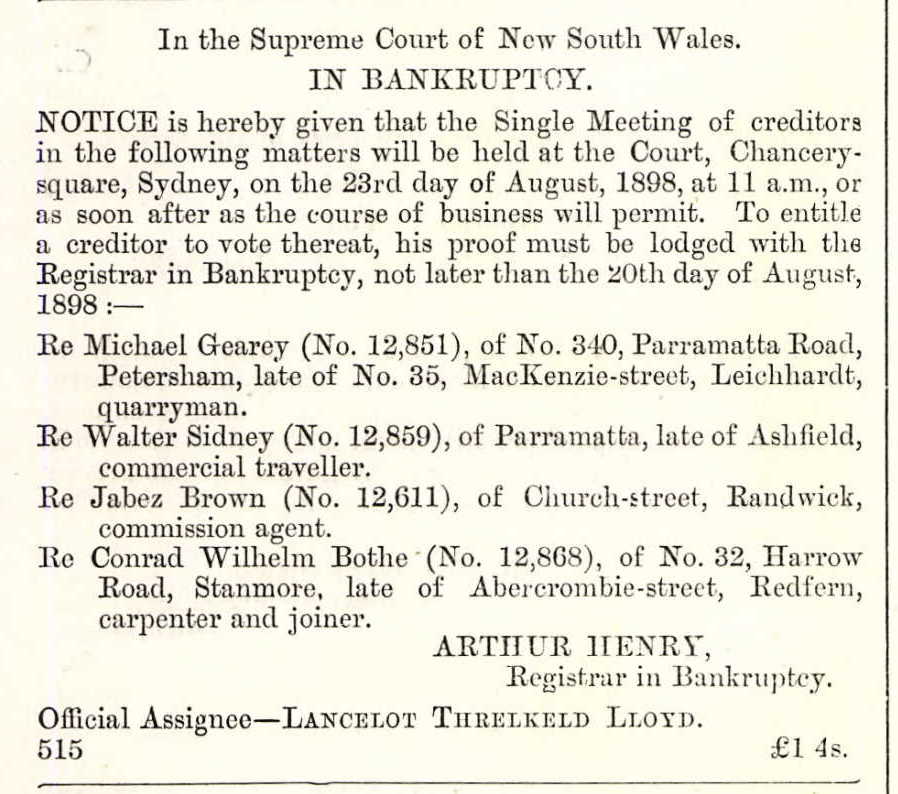 N.S.W, Australia, Government Gazettes 1853-1899 Jabez Brown, In Bankruptcy
There are multiple documents regarding Jabez Brown's financial woes and while the amounts seem to be small, and he seems to have extricated himself several times from bankruptcy, it must have been a difficult time for him and his family. This next clipping from the Sydney Morning Herald in 1887 show his dire circumstances in having to claim his inheritance from his parent's estate before the death of his mother in 1888.
Sale of Interest in Wimbledon Hall, Sydney Morning Herald 17 September 1887
Death notice of Louisa Brown, Daily Telegraph 17 September 1906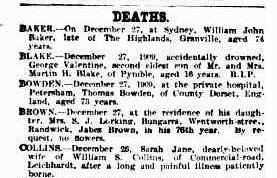 Death notice for Jabez Brown, Sydney Morning Herald, 28 December 1909
Funeral notice for Jabez Brown, Sydney Morning Herald, 28 December 1909
William Brown Junior was born at Port Macquarie, New South Wales on 22 April 1838, the second son of William and Mary Brown. He married Sarah Stephens on 22 October 1861 and they had one son, William, who was born in 1866. William later married Ellen Clare and his life was to be blighted by unhappiness and financial problems. Clearly William was suffering from depression and tragically could see no way out from his situation, other than suicide. It was really sad to collect the following records for William Brown Jnr.
Australia, Births and Baptisms, 1792-1981
| | |
| --- | --- |
| Name | William Brown |
| Gender | Male |
| Baptism Age | 0 |
| Birth Date | 22 Apr 1838 |
| Birth Place | St. Thomas Port Macquarie, New South Wales, Australia |
| Baptism Date | 20 May 1838 |
| Residence Date | 1838 |
| Residence Place | New South Wales, Australia |
| Father | William Brown |
| Mother | Mary |
| FHL Film Number | 993952 |

Bell's Life, Sydney, 5 April 1856
Empire, 24 October 1861
Australia Birth Index, 1788-1922
| | |
| --- | --- |
| Name | William Brown |
| Birth Date | 1866 |
| Birth Place | New South Wales |
| Registration Year | 1866 |
| Registration Place | Kingston, New South Wales, Australia |
| Father | William Brown |
| Mother | Sarah |
| Registration Number | 4288 |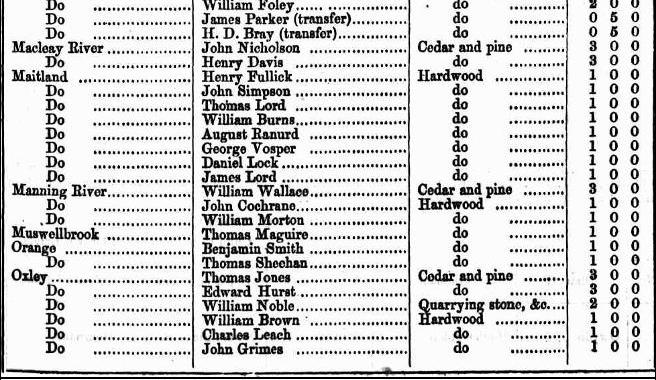 New South Wales, Government Gazette, 24 April, 1867
New South Wales, Government Gazettes, 1879
Sydney Morning Herald, 13 March 1883
Argus, 11 January 1888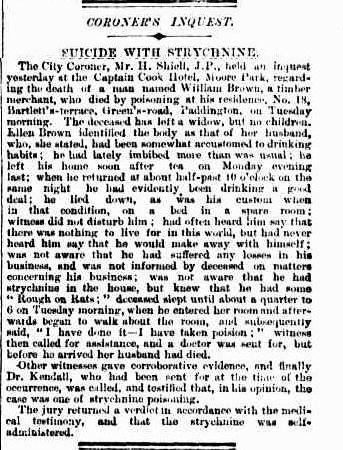 Sydney Morning Herald, 12 January 1888

Sydney Morning Herald, 11 January 1888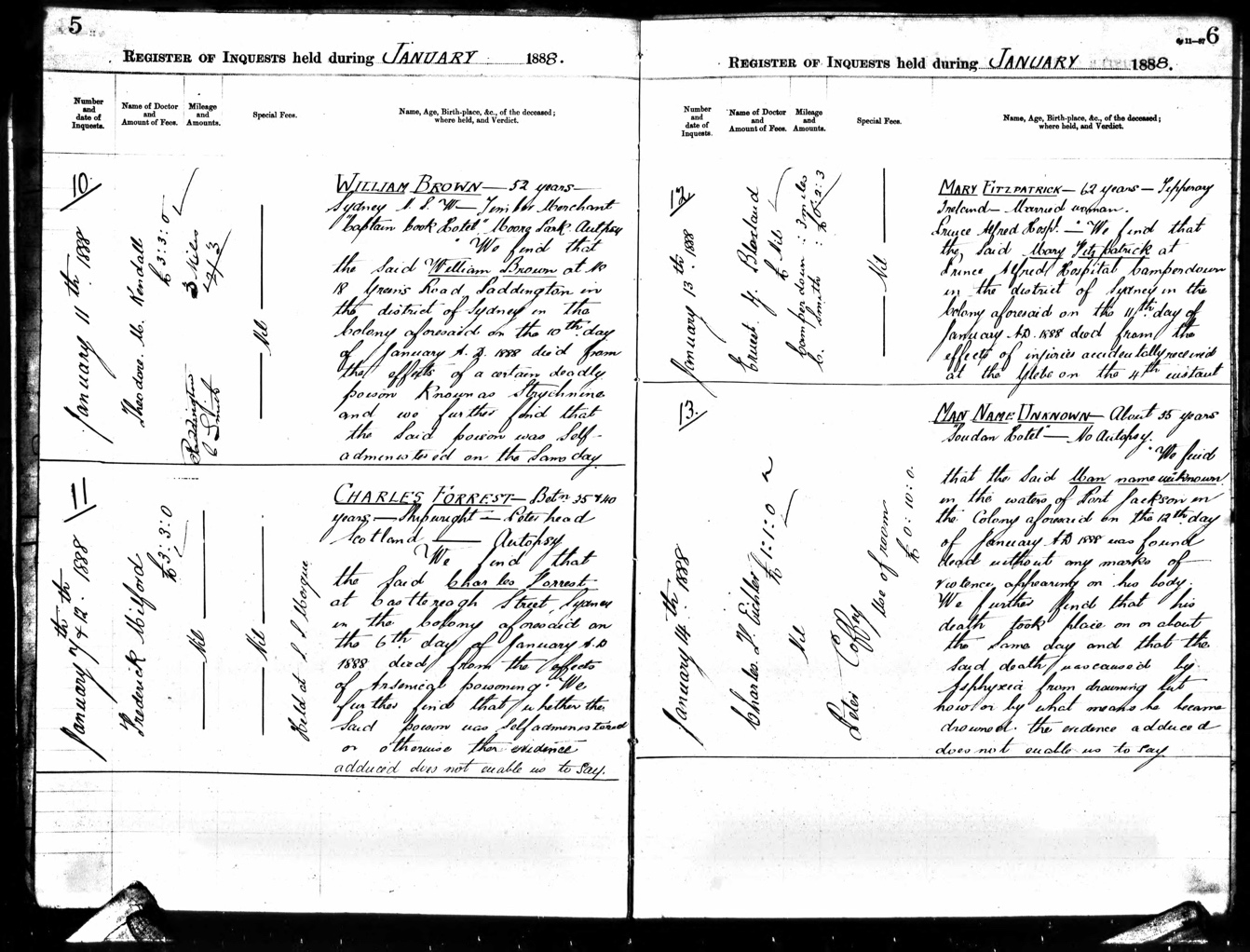 New South Wales, Australia, Register of Coroners' Inquests, 1821-1937
The Coroner's Report gives William's address as 18 Greens Road, Paddington and confirms the newspaper reports that he died from self-inflicted strychnine poisoning.
Ecclesiastical Jurisdiction, New South Wales Government Gazette 21 February 1888
Mary Ann Brown, the second daughter of William and Mary Brown was born on 28 August 1840 and she married Henry Hayes Smithers on 29 December 1863 at St Michael's Church, Surry Hills. Henry and Mary Ann Smithers had seven children, Gertrude Mary Anne Smithers 1864-1946, Ernest William Beker Smithers 1866-1935, Ada Maude Smithers 1868-1958, Henry A. G. Smithers 1871, Clara Smithers 1873-1873, Herbert John Smithers 1873-1947 and Ethel May Smithers 1877-1937.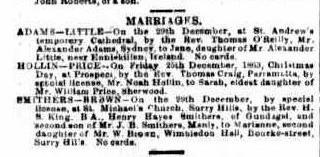 Empire, 4 January 1864
Mary Ann Smithers was obviously very proud of her early Australian heritage and I found this wonderful article, published in several New South Wales newspapers describing her father and the family home, Wimbledon Hall. A direct descendant of Mary Ann Smithers, Geoff Mason has contact me and helped in my research.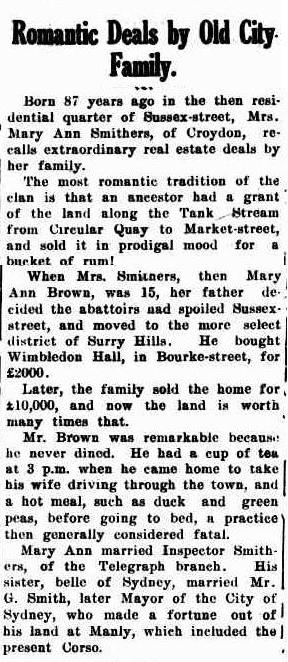 Scone Advocate, 5 August 1927
Eliza Brown, is my husband Geoff Rundle's Great-Great Grandmother. Eliza the third daughter of William and Mary Brown was born on 23 March 1842. Eliza married Thomas Stewart in 1863 and they had ten children, Florence Elizabeth Maryanne Stewart 1863-1933, Charlotte Fannie Sarah Stewart 1865-1942, Harriet Louisa Stewart 1866-1948, Ann Jane Stewart 1868-1916, Thomas William George Stewart 1869-1903, Emma Lilian Stewart 1871-1934, John Robert Stewart 1876-1945, Harold Andrew Stewart 1876-1945, Mildren Alice Stewart 1878-1957 and Leslie Smith Stewart 1879-1940.
Australia Birth Index, 1788-1922
| | |
| --- | --- |
| Name | Eliza Brown |
| Birth Date | 1842 |
| Birth Place | New South Wales |
| Registration Year | 1842 |
| Registration Place | Sydney, New South Wales, Australia |
| Father | William Brown |
| Mother | Mary |
| Volume Number | V1842410 26A |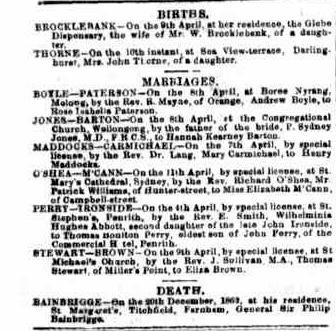 Empire, 14 April 1863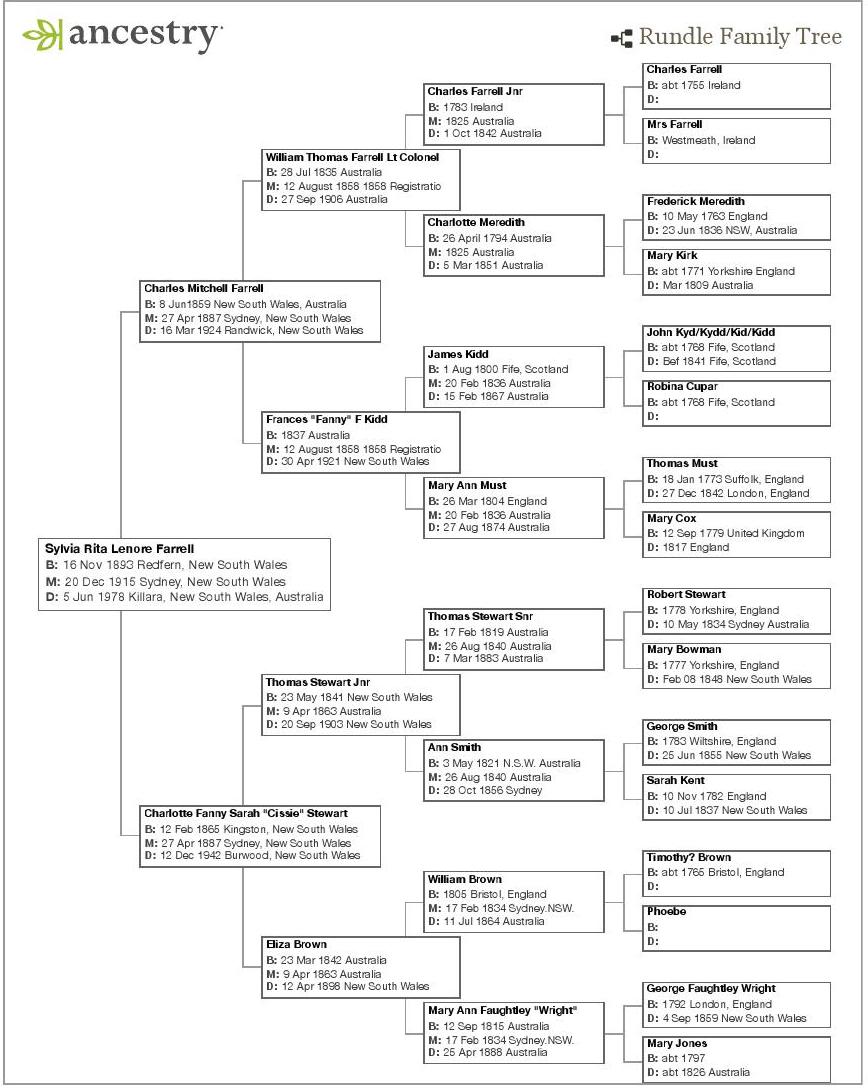 Pedigree Chart for Sylvia Rita Lenore Farrell – the maternal grandmother of Geoff Rundle 
This Pedigree Chart is possibly the best way to show the relationship of the Wright and Brown family in our family tree. Geoff's family, in all branches arrived early to the Colony of New South Wales. In fact, Frederick Meredith arrived on board the Scarborough, as steward to the captain, as part of the First Fleet. It was inevitable that sooner or later that one of Geoff's ancestors' married a convict. Indeed, take your pick, Mary Kirk, James Kidd, George Smith, William Brown, George F Wright and Mary Jones were all transported to the Colony of New South Wales. Geoff's ancestors made a valuable contribution to Australia, either free or by servitude. Their bravery in coming half way across the world, in leaky boats to a new land which they were proud to call home, is so admirable, especially after wars, religious bigotry, famine, crime, family tragedy and crisis' drove these migrations.
Sydney, Australia, Anglican Parish Registers, 1818-2011 Marriage of Thomas Stewart and Eliza Brown, 9 April 1863, St Michael's, Surry Hills, Sydney
There is wonderful information on this document, giving Thomas Stewart's address as Miller's Point and Eliza Brown's address as Wimbledon Hall, also the listing of their parents is wonderful information. Thomas Stewart's parents are listed as Thomas Stewart and Ann Smith and Eliza Brown's parents are listed as William Brown and Mary Wright. Whilst bridegroom Thomas' occupation is listed as a clerk, both their father's occupations are most wonderfully listed as "gentlemen". Witnesses to the marriage were William Brown Jun. and Mary Ann Brown, Eliza's brother and mother.

Sydney Mail 4 August 1866, birth of a daughter, Harriet Louisa Stewart. This tiny newspaper clipping shows that the Stewarts were living at Wimbledon Hall.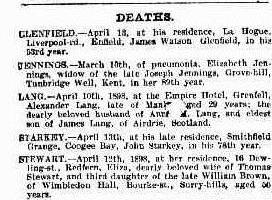 Daily Telegraph, 14 April 1898
Charlotte Brown, the fourth daughter of William and Mary Brown, was born on 1 June 1844 and she married George John Bond Gough on 1 February 1866.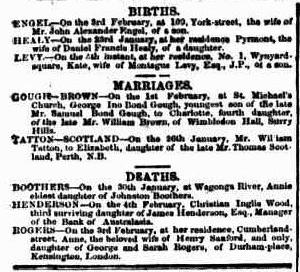 Empire 6 February 1866
Thomas Brown was the third son of William and Mary Brown, born 4 June 1846.
Australia, Births and Baptisms, 1792-1981
| | |
| --- | --- |
| Name | Thomas Brown |
| Gender | Male |
| Baptism Age | 0 |
| Birth Date | 4 Jun 1846 |
| Baptism Date | 5 Jul 1846 |
| Baptism Place | St. James Sydney, New South Wales, Australia |
| Residence Date | 1846 |
| Residence Place | New South Wales, Australia |
| Father | William Brown |
| Mother | Mary |
| FHL Film Number | 993956 |
Sarah Ann Brown was born on 29 November 1847, the fifth daughter of William and Mary Brown. Sarah married James Johnson on 3 December 1867 and they had seven children, Edith A Johnson 1868, Edward Lionel Johnson 1872-1949, Mildred Emeline Johnson 1874, Elsie Clarice Johnson 1877-1956, Leslie Cecil Johnson 1880, Ilma M Johnson 1883 and Irene Marion Johnson 1885-1963.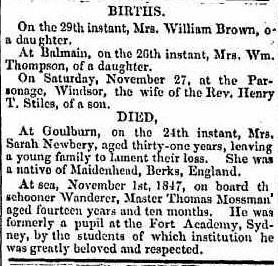 Sydney Morning Herald, 30 November 1847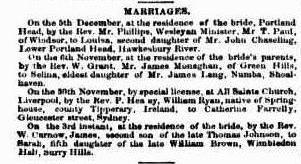 Empire, 9 December 1867
Henry Brown was the fourth son of William and Mary Brown and it was so sad to find this death notice for him in 1854 from The Empire newspaper. It gave me good information that the Browns were still living in Sussex Street, Sydney. However, the heart-breaking listing of his age as 5 years and 1 month evoked so much sadness, it could be seen that this was just such a tragedy for William and Mary Brown. It may well have been the death of Henry that spurred William and Mary to move from Sussex Street, Sydney to Wimbledon Hall, Bourke Street where there would have been better sanitary conditions. Also the size of the family must have been another consideration to move to a large home, stables and gardens.
Empire, 29 March 1854
Emma Elizabeth Brown was the sixth daughter of William and Mary Ann Brown. Emma was born on 15 September 1850 and died 12 May 1885 aged 35 years. She is buried in the Brown vault at Camperdown Cemetery, Sydney, with her own shield on the gravestone.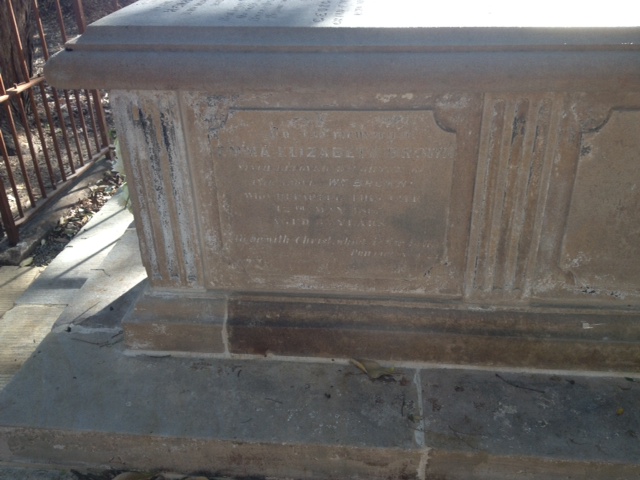 Headstone for Emma Elizabeth Brown, Brown Family Crypt, Camperdown Cemetery
Clara Jane Brown was the seventh daughter of William and Mary Brown and she was born on 29 March 1852. Clara married Frederick Buckingham Williams on 16 July 1884 at St Michael's Church Surry Hills, and died aged 94, on 8 March 1947 at 7 Duke Street, Kensington. She is buried at Randwick Cemetery.

Sydney Morning Herald, 26 July 1884
Harriet M Brown was the eighth daughter of William and Mary Ann Brown and interestingly she was named Esther M. Brown on her birth record in 1853. Harriet married the Reverend Jacob Olly at the age of 36 on 6 January 1890. It was the second marriage for the Reverend. When I traced this line, it turned out that Margaret Olley, the famous Australian still life artist was Jacob Olley's great niece.
Australia Birth Index, 1788-1922
| | |
| --- | --- |
| Name | Esther M Brown |
| Birth Date | 1853 |
| Birth Place | New South Wales |
| Registration Year | 1853 |
| Registration Place | Sydney, New South Wales, Australia |
| Father | William Brown |
| Mother | Mary |
| Volume Number | V1853297 39A |

Sydney Morning Herald, 18 January 1890
George Richard Sydney Brown was the fifth son of William and Mary Ann Brown and was born on 10 July 1855. He married Mary Anne Lynch on 23 August 1877 and they had one son George Leslie Brown who was born in 1882.
George Leslie Brown married Rose Michaels on 1 June 1905 at St Michal's Church, Surry Hills, and they had two children, Dorothy Brown and Philip Joseph Brown 1909-2004. Phillip Joseph Brown married Clarice Parker 1908-1955, on 28 March 1942 at Darling Point, and they had two sons Geoff and Graham Brown, who are most interested in the Brown family of Wimbledon Hall. I have spoken several times to Geoff Brown and he has done some excellent research and is very thrilled that his ancestor George Richard Sydney Brown is buried in the Brown family vault at Camperdown in Sydney, with his own shield, marking his grave. George is named in honour of his grandfather, George F Wright, the father of Mary Brown.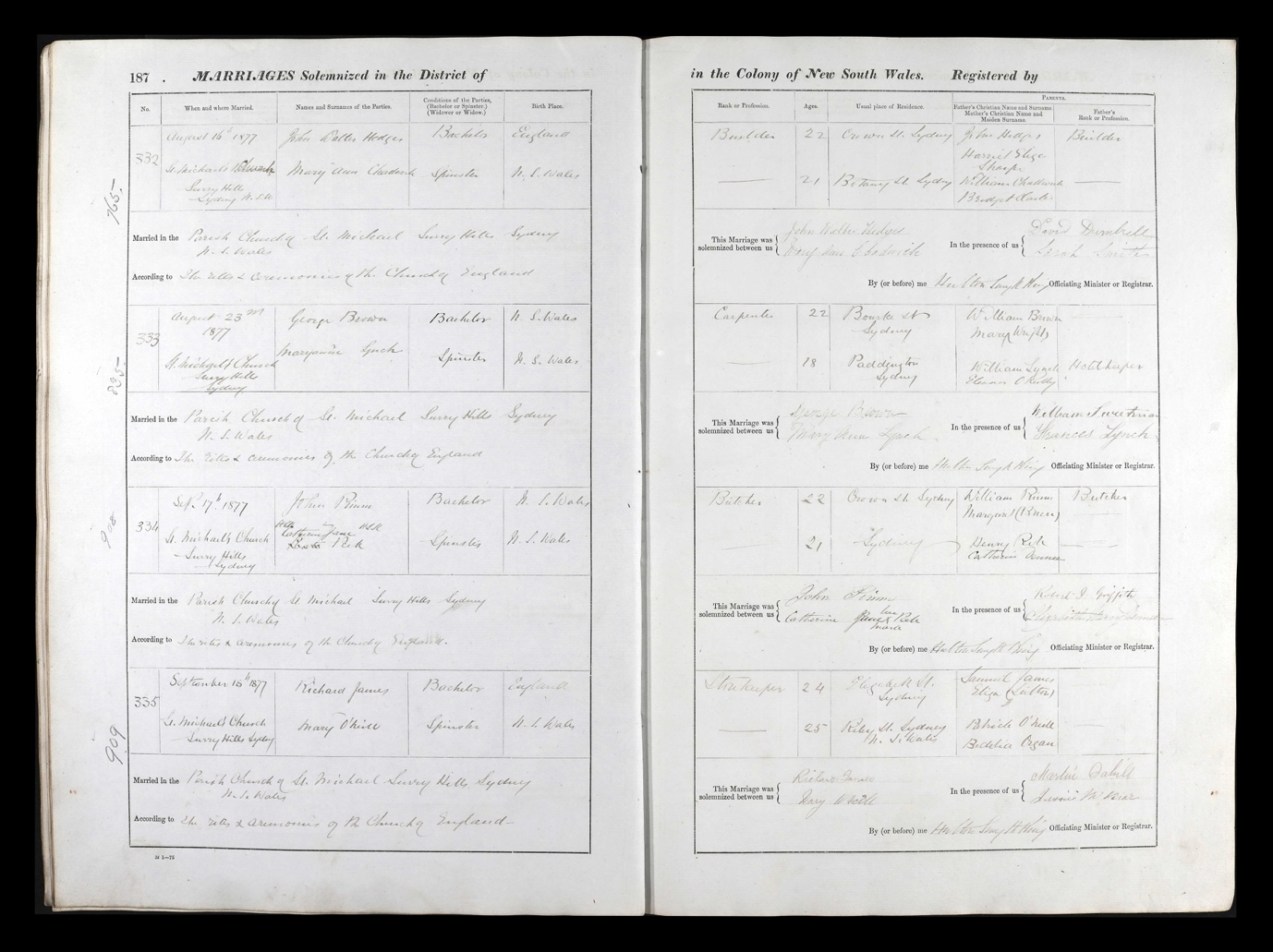 Sydney, Australia, Anglican Parish Register, 1818-2011, Marriage for George Brown and Maryann Lynch, 23 August 1877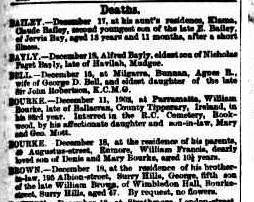 Death notice for George Brown, Sydney Morning Herald, 19 December 1902

Funeral notice for George Brown, Sydney Morning Herald, 20 December 1902
Headstone for George R Brown, Camperdown Cemetery, Sydney, New South Wales,
George R Brown was buried on 20 December 1902 in the family vault of his parents, William and Mary Brown. Note that this photograph was taken before restoration in 2013.
John James Forester Brown was the youngest son of William and Mary Brown. John was born in 1860 and died in 1919. He married Ada Beatrice Wells on 25 January 1887 and they had two children, Vera M Brown 1887-1901 and Raymond Brown 1889-1955.
Sydney Morning Herald, 29 January 1887
It was while I was standing in front of the Brown monument in early 2014 that I realised the significance of the date, it was nearly150 years since the death of William Brown in 1864.
Geoff and I then endeavoured to find as many Brown descendants as possible for a Family Gathering on 12 July 2014.
The William Brown Family Gathering 12 July 2014, Camperdown Cemetery, Sydney. Photograph taken by Virginia Rundle, outside St Stephen's Church, which stands in one corner of the cemetery.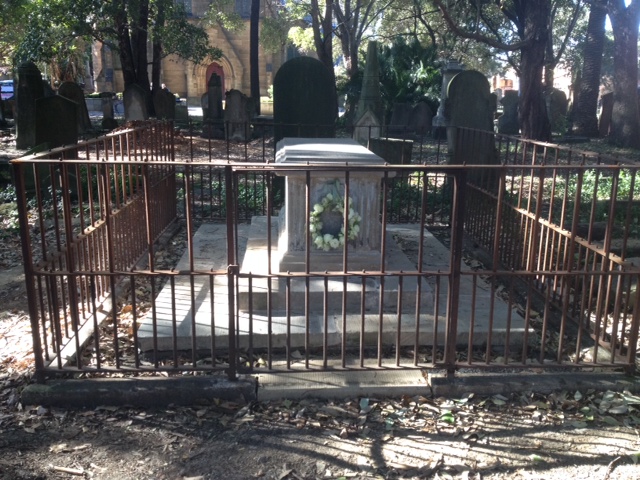 Recently I did some research on William Brown's English origin. English Christian naming rights are very traditional, and mirror those in Ireland and Scotland. Naming a first born son after the paternal grandfather, a first born daughter after the paternal grandmother. A second born son will be named after the maternal father and so on. It is not always adhered to, however it is commonplace. I therefore decided that Phoebe was a possible name for a mother to start my search for William's birth record in Bristol in England. The name William is listed on William Brown's death certificate as the father. Death records are notoriously incorrect and should not be relied on as fact. A death witness many times has simply named the deceased's Christian name on the document. In all probability, the witness may not have known the information or have known the deceased very well.
Australian Death Index 1787- 1985
| | |
| --- | --- |
| Name: | William Brown |
| Death Date: | 1864 |
| Death Place: | New South Wales |
| Father's Name: | William |
| Registration Year: | 1864 |
| Registration Place: | Sydney, New South Wales |
| Registration Number: | 957 |
When I keyed William Brown, Bristol, England and 1805 as his date of birth into the Family search website, I had a hit with the link below. It was staggering that the name Phoebe appeared straight away.
https://familysearch.org/pal:/MM9.1.1/NJSQ-T5H
England, Select Births and Christenings, 1538-1975
It would be to find the parents of William Brown, however, genealogy is also a most confounding science and without absolute proof, I cannot claim any line back to England for William. On Find My Past I also found another record that could equally be accepted as William's. Without a DNA link and the fact that Brown is such a common surname, there is no proof of family ties.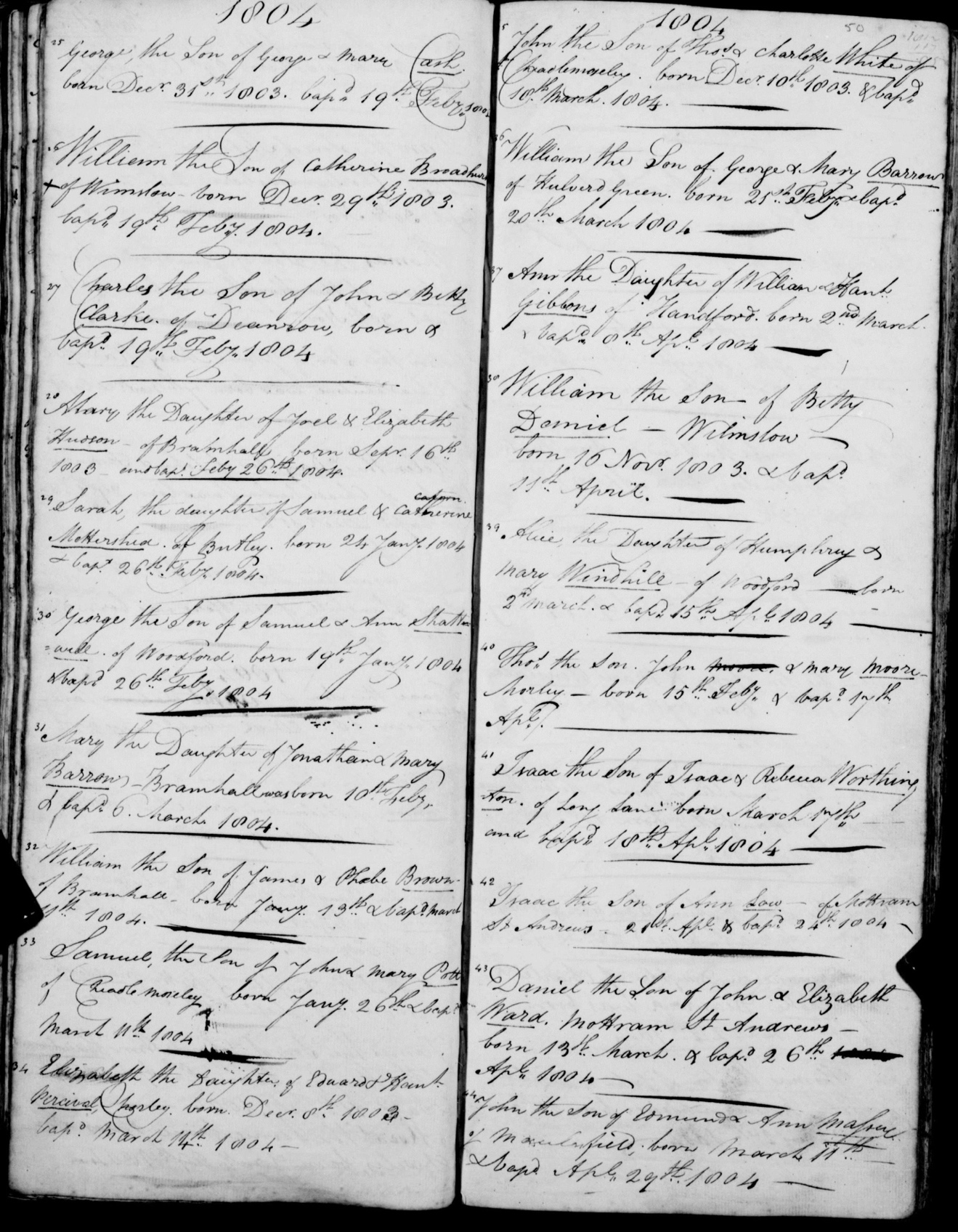 William Brown, son of James and Phoebe Brown of Bramhall, Sheffield, England, born 19 January 1804, baptised 11 March 1804 (Possible Baptism), courtesy Find My Past
Armed with this fact that one of these may be the birth and baptism records for William Brown, particularly as the date of birth 1804/1805 correctly places him at 16 years of age in 1821, when he was transported aboard the Asia. The record from Bramfield, Sheffield would seem to be less accurate, knowing that William gave Bristol as his place of birth, but again, is this place of origin correct?
More questions then come to mind.  What is a boy of 16 years of age doing in Middlesex, London, in August 1821, when he was born in Bristol, England? Why is there no Timothy named in William's large family of sons? Was there a falling out between father and son?
Does a marriage record actually exist for Timothy Brown and Phoebe?
At the moment, these baptism records for William Brown remain interesting but unconfirmed possibilities. The Family Search website has many more records than ancestry.com does, plus it is free to research. I have developed a family tree on ancestry.com which is called the Rundle Family Tree. My intention is to write up each branch of Geoff's family tree history, and to collect as many original records as possible. My training has instilled in me the importance of records and schooled me not to rely too much on family stories that have been passed down from generation to generation. In the case of William Brown, there was no story handed down by my husband Geoff Rundle's family and any convict past had been forgotten as a "door" had been slammed shut on these events when Victorian Australia developed a need for respectability.
I have written up this chapter from as many original records and newspaper articles that I could collect. There can be no doubt that I have found an honourable and proud Australian who helped shape our early nation. William Brown's story needed to be told, and I am honoured to have had that privilege.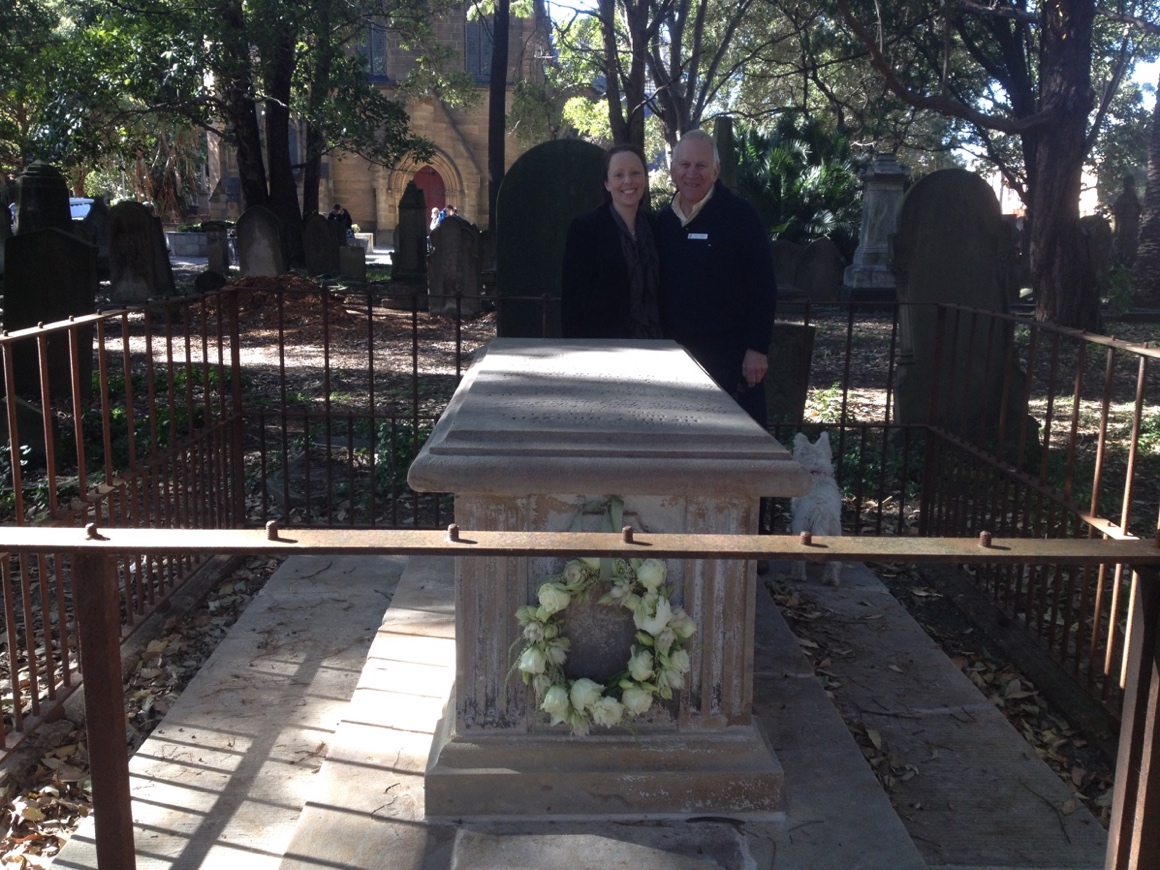 Emma Campbell and her father Grant Campbell, 12 July 2014
I want to also acknowledge my collaboration with another family researcher, Emma Campbell, whose Brown family lineage comes down from Phoebe Parry, nee Brown, the eldest daughter of William and Mary Ann Brown and her first husband William Russell Hill.
I dedicate this chapter to Emma Campbell, whose years of experience and research go back a long way further than my own and her kindness in providing her Brown family documents have been so appreciated. Indeed, without Emma, this chapter would not have been complete. I was thrilled that Emma and her father Grant Campbell were able to come to the William Brown Family Gathering on Saturday 12 July 2014, to celebrate 150 years since William Brown died on 11 July 1864.
I am happy to correspond with other family researchers and I am also happy to correct any mistakes I may have made, please let me know.
My next chapter will feature my husband Geoff Rundle's Great-Great-Grandmother Eliza Brown, the daughter of William and Mary Brown of Wimbledon Hall, Surry Hills, Sydney, who married Thomas Stewart of Miller's Point, Sydney, this chapter will be called The Stewart Family of Yorkshire, England and Sydney, New South Wales, Australia.
Virginia Rundle
BA, Sydney University 1975-78
Certificate of Genealogy Research, Society of Australian Genealogists 2012-2013
11 May 2014, updated January 2018
In my article, I have relied on records from:
NSW State Records
NSW State Archives
New South Wales Government Gazettes
Sands Directories
Records and family trees on Ancestry.com
Sydney, Australia, Anglican Parish Registers, 1818-2011
Family search.com
Find My Past
Society of Australian Genealogists including Transcriptions from Camperdown Cemetery, kindly recorded by volunteers from the Society
Jen Willetts website on Hunter Valley and Newcastle convicts
Trove Digitised Newspapers
Mitchell Library, State Library of New South Wales
Archives, Sydney Town Hall
Old Bailey Convictions online
http://www.uow.edu.au/~morgan/ilchron3.htm Michael Organ and A P Doyle, Historical Records of the Illawarra Region of NSW, Australia
Paulsgrove, Illawarra, 1825-1836 by Lorraine Neate
Information kindly supplied by fellow family researchers Emma Campbell, Geoff and Graham Brown and Geoff Mason
Bernard Kelly, Heritage Stone Masonry
Camperdown Cemetery Trust
Heritage New South Wales