In recent years both my first cousin Scott Fuller and my sister Lavinia Chrystal have visited Abney Park on several occasions to try and find our great grandmother Harriett Fuller's grave. However, her unmarked pauper's grave position in the cemetery remains lost to the family after the 1907 visit of her son Johnny Fuller. Scottie and Lavinia have poured over old maps and traipsed the cemetery in this quest.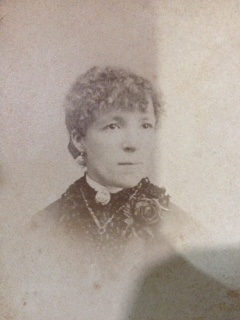 I firstly decided to find out how, when and where Harriett died, and in this quest I decided to purchase her death certificate.
It was a surprise to everyone that she had died of typhoid fever and possibly explained to some degree why Harriett was buried in a pauper's or public mass grave. It is possible that Harriett had to be buried immediately due to the fact that she had died of a contagious disease.
The death certificate was so poignantly descriptive, telling of the heartbreaking information that she died of exhaustion on 29 May 1889, after 20 days of illness with her husband John Fuller Snr at her bedside, at 36 Newington Green Road, Hackney.
No information is more moving than the diary entry of Johnny Fuller from his World Tour in 1907, when he and his first wife Gertie visited London, and Johnny visited his mother's graveside.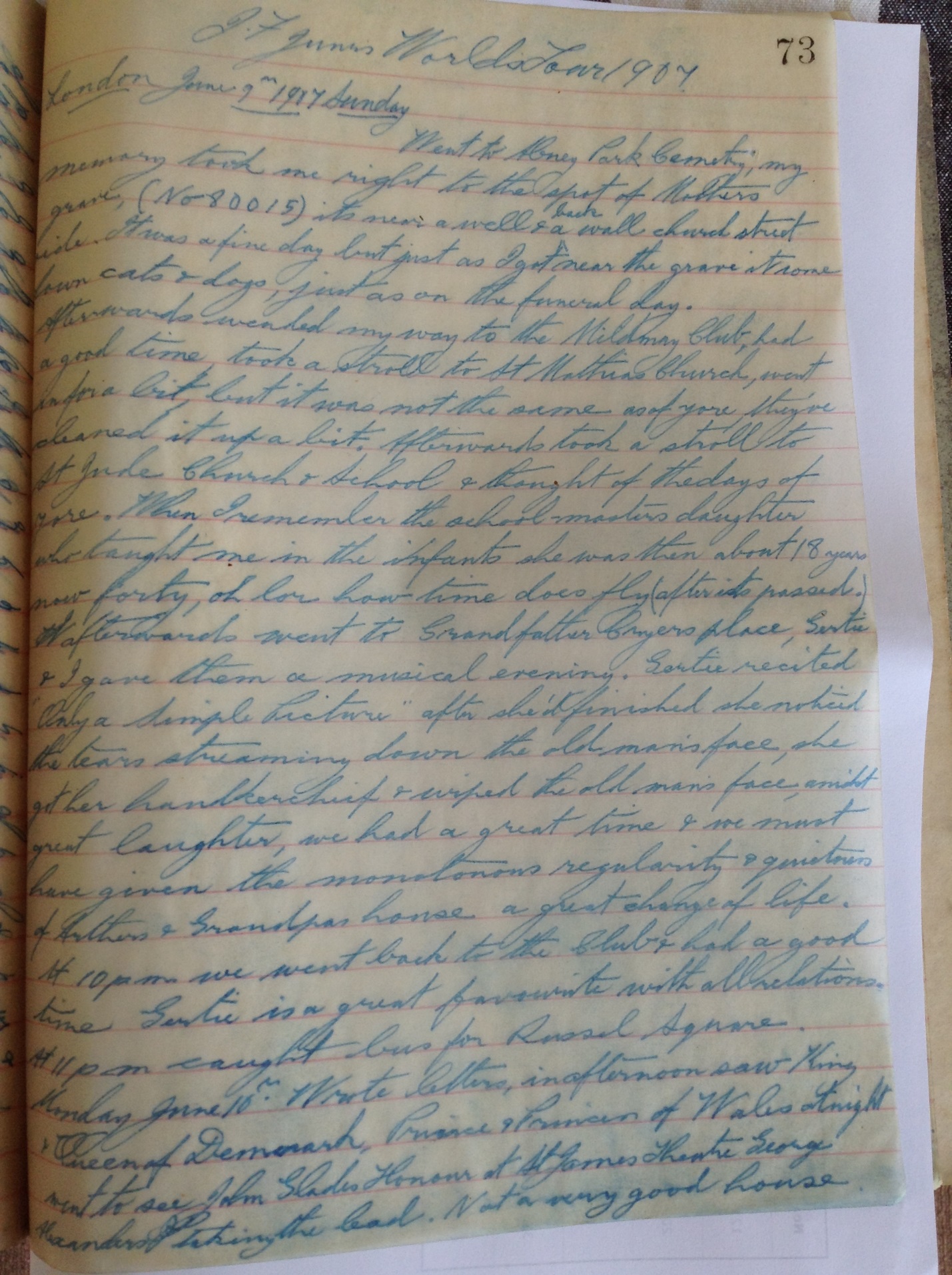 Page 73 of Johnny's Tour of the World 1907 mentions his visit to Abney Park Cemetery to find his mother's grave. Incredibly the same plot information is still available today online, and shows the public grave listing all those buried within.
The old maps for the burial records are missing and nothing correlates to this number on new maps of the park. It is very sad that there has been this mix up, however Johnny gives such amazing directions to the grave that I am confident, once we find the well, we will know within a few metres where Harriett is buried. As Johnny wrote, "it's near to a well, and a back wall, church street side." Lavinia and I are quite convinced that there must be an old map of Abney Park showing the well. Once we locate this we will be close to the grave. Johnny explains he was present at his mother's burial, and he must have been so miserable standing in the rain that day as a small child. Johnny would have just turned 8 on April 20 and had probably spent his birthday in misery, knowing his mother was grievously ill. I was surprised such a young child was present at his mother's burial, however Victorian England did mourn deeply for their dead.
The dates below would indicate that Harriett was buried towards the top of this very large public grave, and we have to be thankful for that, at least.
The online database gives these details for burials in Abney Park:
PUBLIC GRAVE NO: 080015
Donoghue, James (aged 75)
1812 – 1887 (buried 31/03/1887)
Hilton, Eliza (aged 68)
1819 – 1887 (buried 31/03/1887)
Coleman, John James (aged 73)
1814 – 1887 (buried 02/04/1887)
Woollard, John (aged 83)
1804 – 1887 (buried 04/04/1887)
Dancer, Ann (aged 74)
1813 – 1887 (buried 04/04/1887)
Hart, Louisa (aged 63)
1824 – 1887 (buried 07/04/1887)
Smith, William (aged 36)
1851 – 1887 (buried 09/04/1887)
Phillips, William (aged 41)
1846 – 1887 (buried 16/04/1887)
Lewis, Susan (aged 40)
1847 – 1887 (buried 27/04/1887)
Bull, Thomas Raymond (aged 10)
1877 – 1887 (buried 30/04/1887)
Major, William (aged 11d)
1887 – 1887 (buried 02/05/1887)
Fuller, Harriett (aged 35)
1852 – 1887 (buried 03/05/1887)
Cole, Henry Edward (aged 62)
1825 – 1887 (buried 05/05/1887)
Dawson, Eric Arthur (aged 2w)
1887 – 1887 (buried 10/05/1887)
Webb, Frederick William (aged 50)
1837 – 1887 (buried 10/05/1887)
Hawkins, Matilda (aged 53)
1834 – 1887 (buried 11/05/1887)
In September 2016 I firstly visited Hackney Library and obtained the death record of Harriett and this is the first time it was disclosed to the family that Harriett was buried in section M5.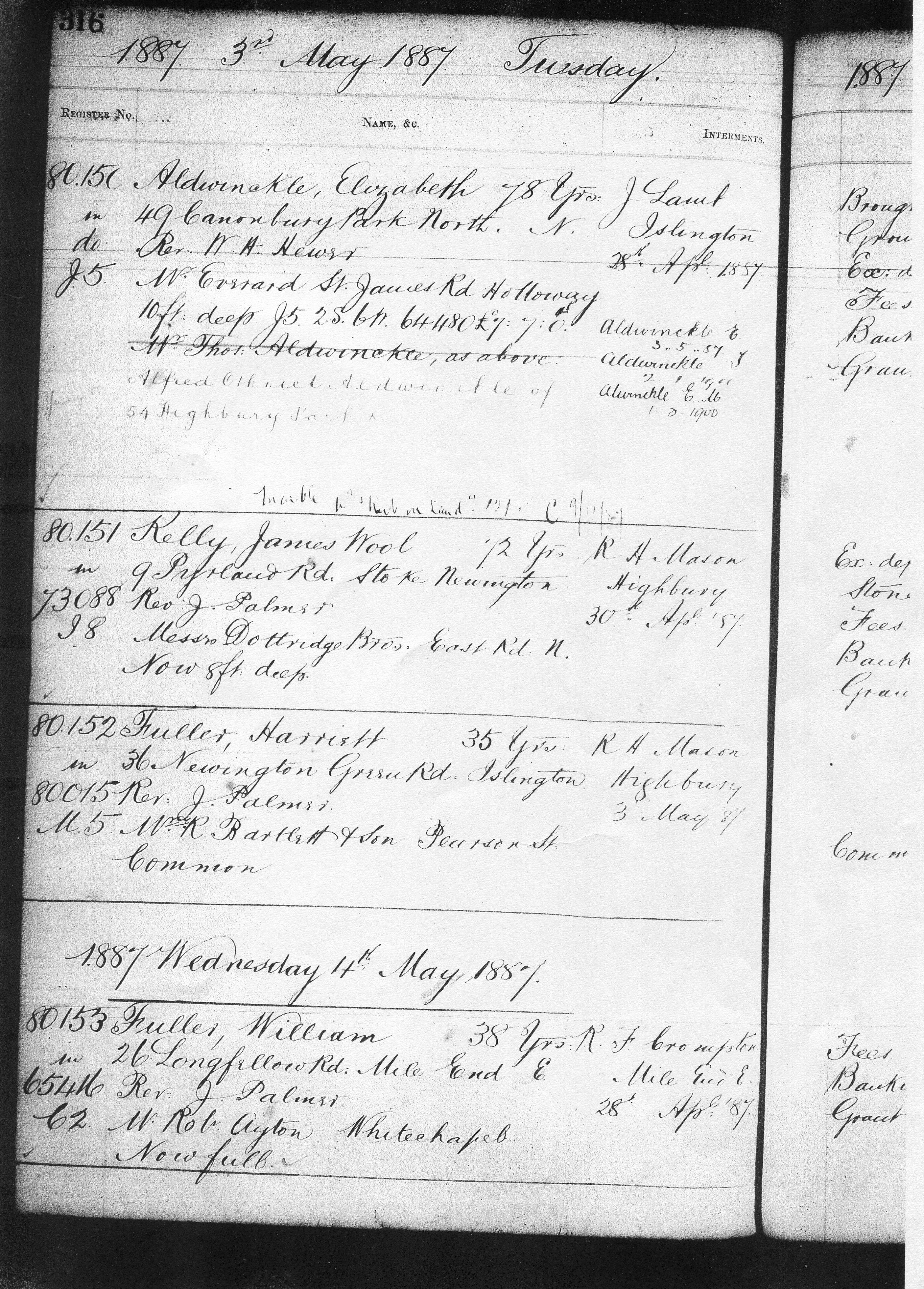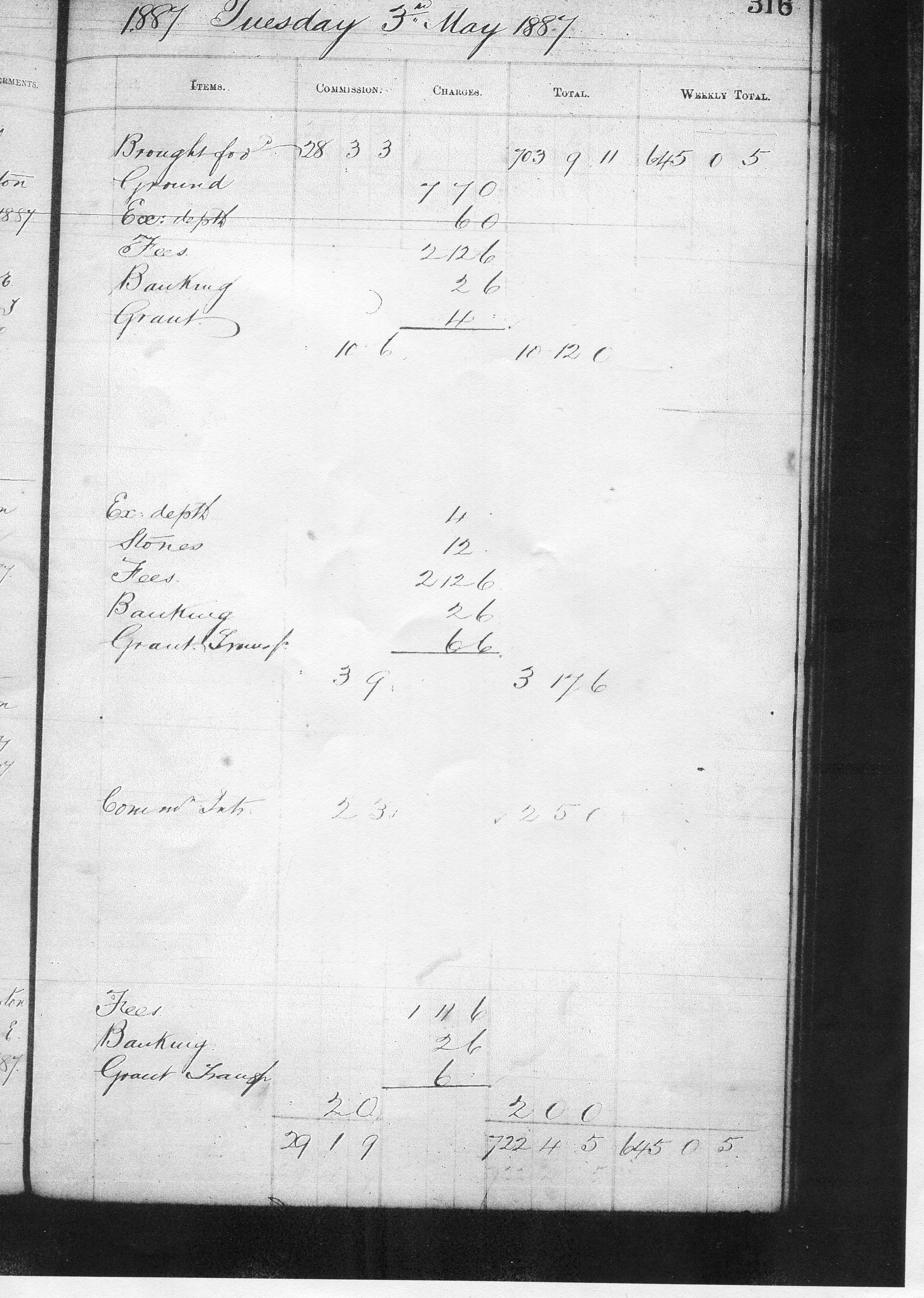 Harriett had died on a Friday and was buried the following Tuesday, so this wasn't as hurried as I had expected for someone who died of typhoid fever, however with the weekend before him John Fuller Snr may have found it difficult to arrange her funeral and burial, taking into account his heartache and tragic loss. Harriet had a funeral service, probably at St Leonard's Shoreditch, but at this stage I have found no record of this. Johnny mentions her funeral in his diary.
Visiting Abney Park Geoff and I went firstly to the Cemetery Office, which is found at the main gates, here we met with Haydn, our tour guide, who was most helpful. After we explained we had just come from Hackney Library I showed Haydn the burial record for Harriett, who then corrected the Public Grave database, adding Section M05, to help others who are looking for their ancestor. M5 and M05 are the same. This was something they didn't know about the grave's location, and I think they were grateful for my input, and they gave me a photocopy of the updated burial record.
The new print out gave the mass grave details, including both Burial and Section Numbers: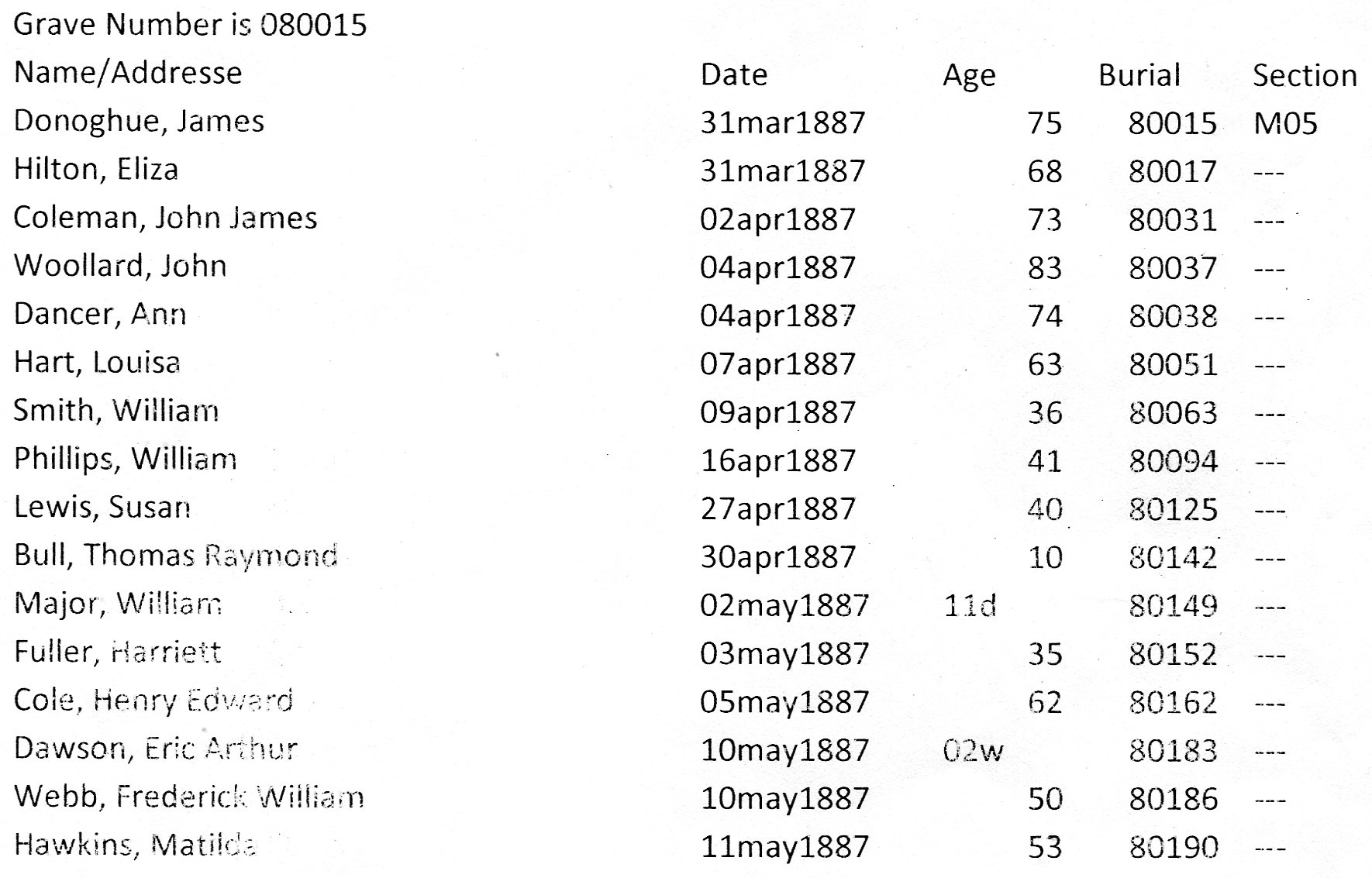 Then Haydn printed off Map Section M5 of Abney Park, and immediately I noticed that quite prominently there were water pipes indicated on this section of the map. Hadyn agreed that this was not common on other map sections. This intrigued me as water possibly meant the old well was in this vicinity. The image, illustrated on the next page needs to be turned around to see "water pipes" written on the map. Also I spotted that a large square area on M5 did not contain any graves. Could this be our well?
View the map on the next page, and note the area is south of Road B. I was hopeful of finding a numbered grave in this area, as an identification between the map and the grave area.
Hadyn very kindly offered to take us to M5 and was I think, as intrigued as Geoff and me about trying to find an old well.
The next few pages are photos of Abney Park from our 2016 trip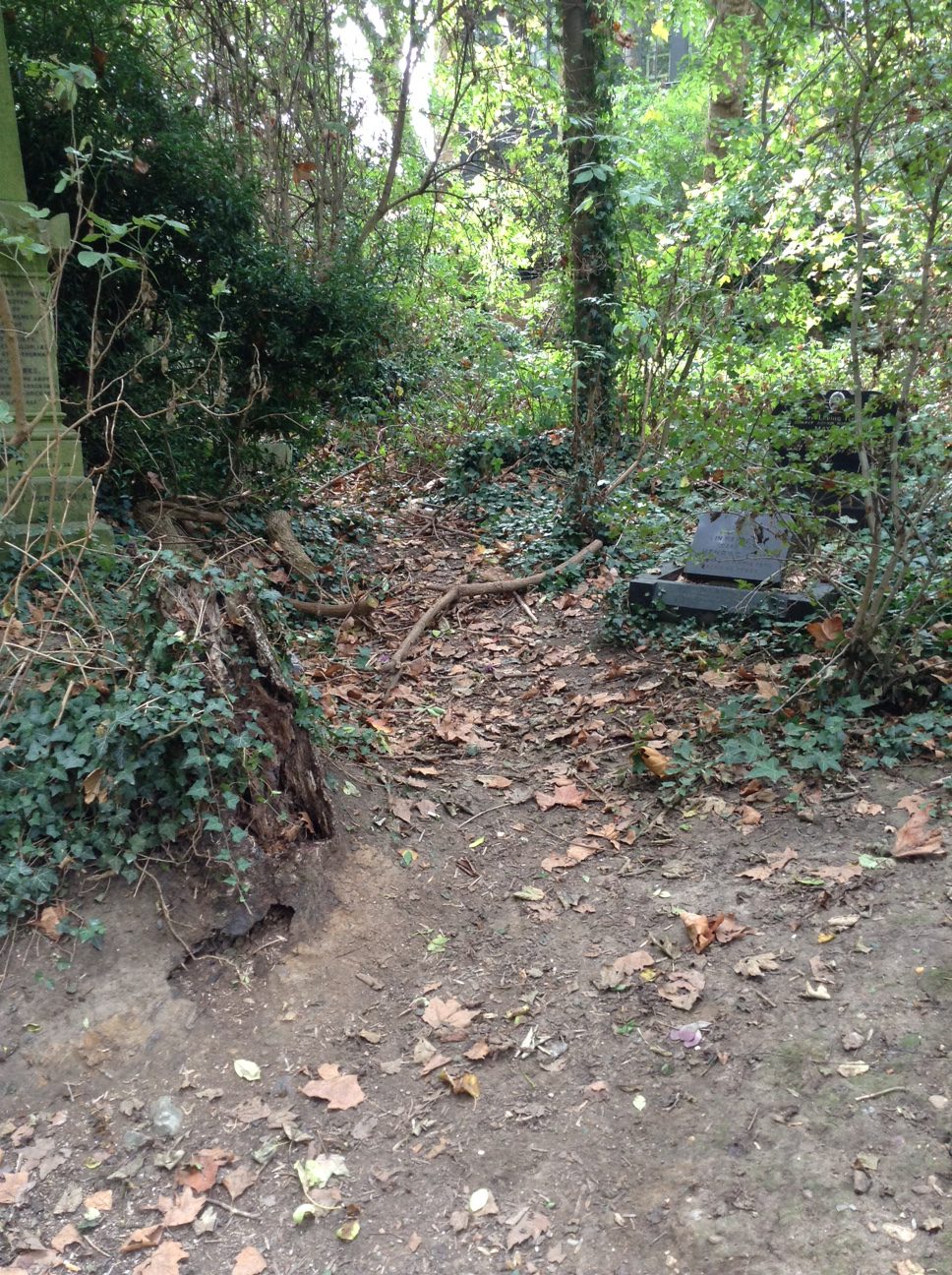 Here is the water pipe area as indicated on M5, where it meets Road B, the next photo follows the track turning sharply left to slightly higher ground, the area is distinctly eroded where the pipe is indicated on the map. I suspect that on a rainy day this area might become a watercourse.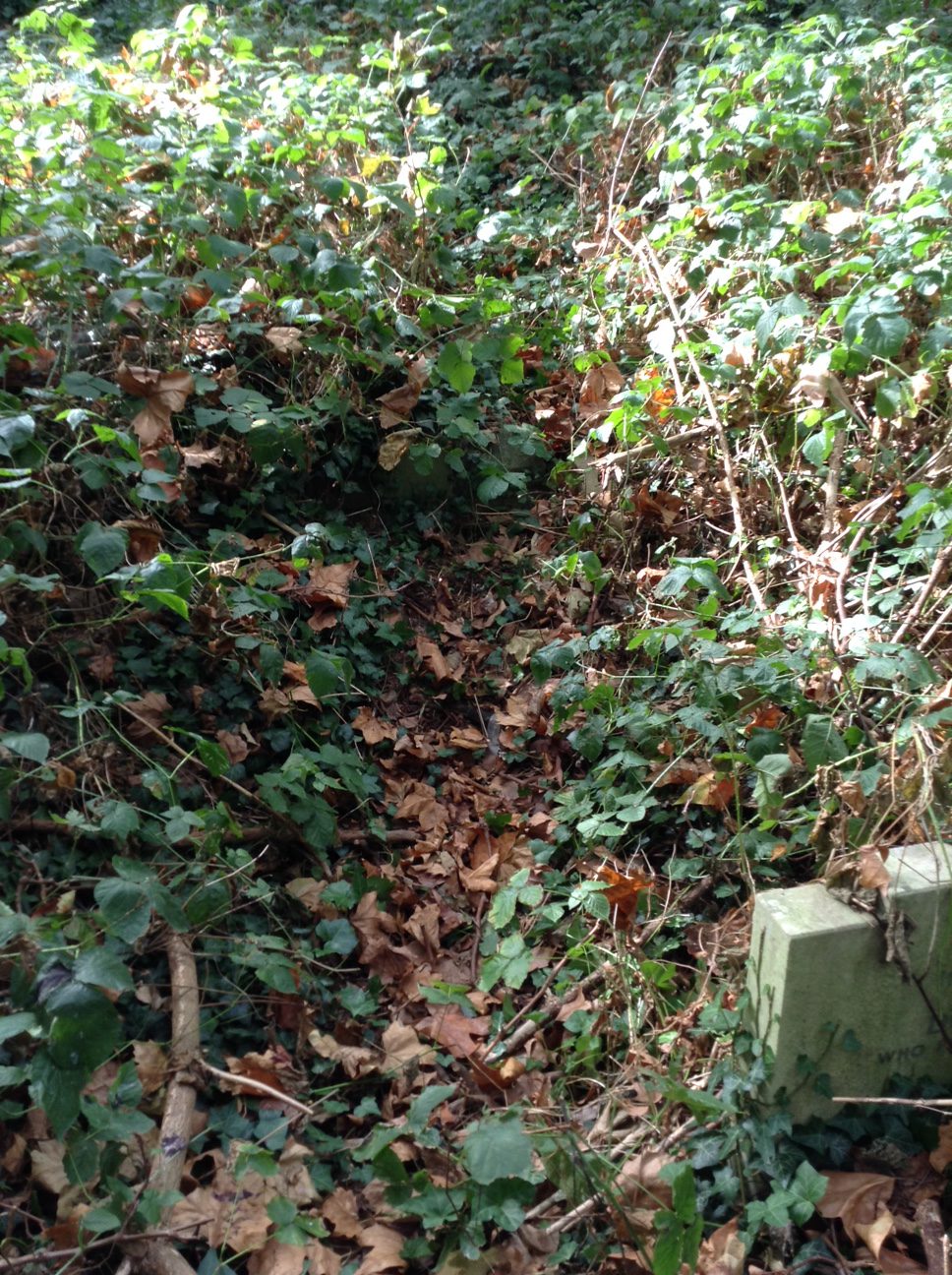 There is so much undergrowth that when one walks in this area the leaves beneath the ivy gives way until your feet touch the hard ground beneath.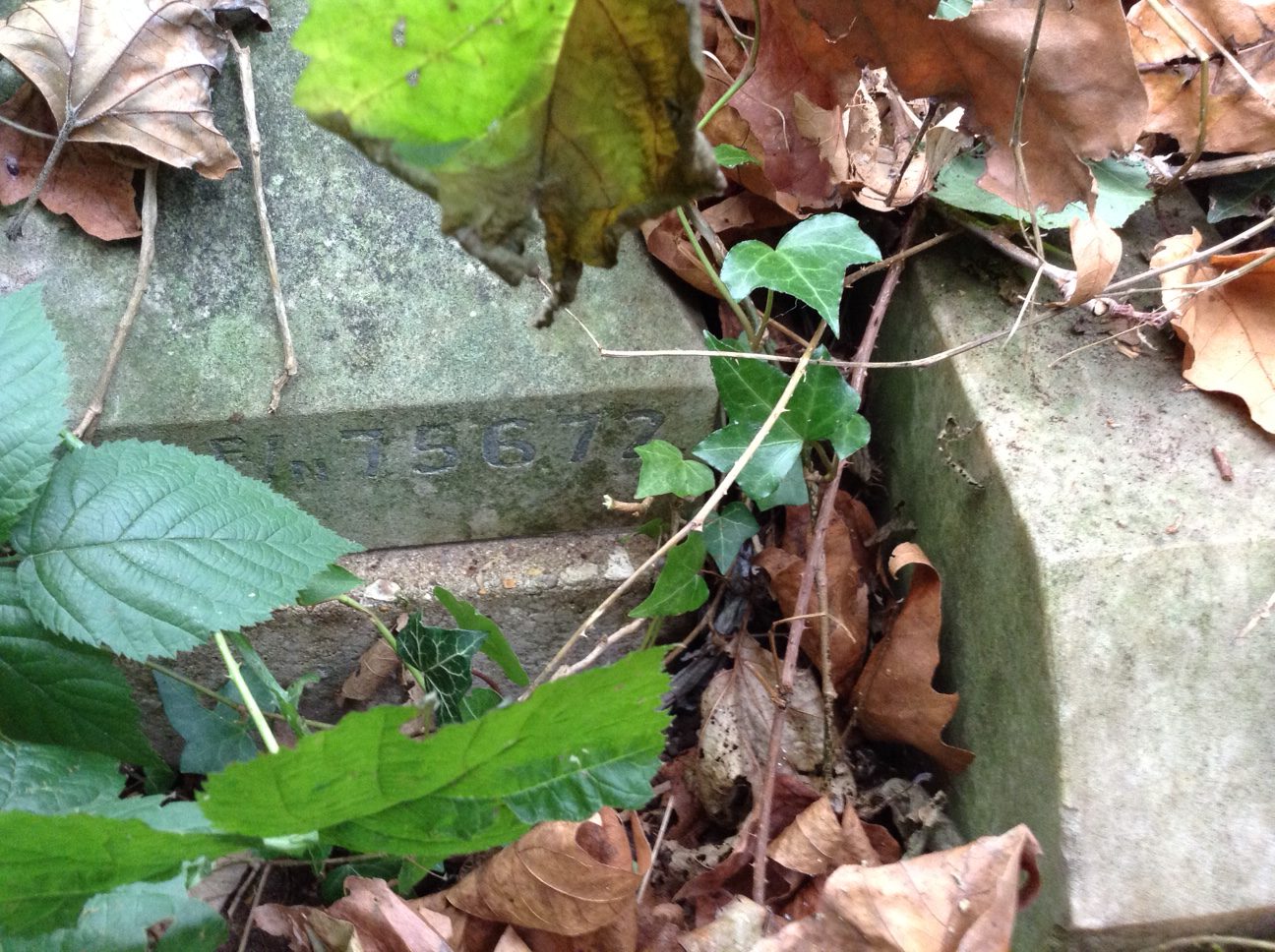 I came across this numbered grave 75672 at the back of the circular area where I was standing. It correlates with a number on the M5 Map bordering the large square area, which contains no graves, now I had my bearings.
It occurred to me that Harriett's pauper's grave must have been a vast pit. The very idea that there was an outbreak of typhoid must have meant that burials occurred quickly and without too much ceremony. These pits must have been large and deep. Try to imagine that rather than the grave being dug vertically, it was actually dug out as a huge rectangular pit, many metres wide and deep. Each body being laid, across the floor of the grave, side by side, and then covered with lime and soil. The position of each person was then recorded vertically in a grave of several hundred people. Then it was built up layer by layer. In the case of Harriett, her public grave was sixteen bodies deep, for Abney Park records her grave is recorded as 80015. This was the number given to the person at the bottom of the vertical grave. This pit was probably surrounded by other equally large pauper pits making up the map area M5.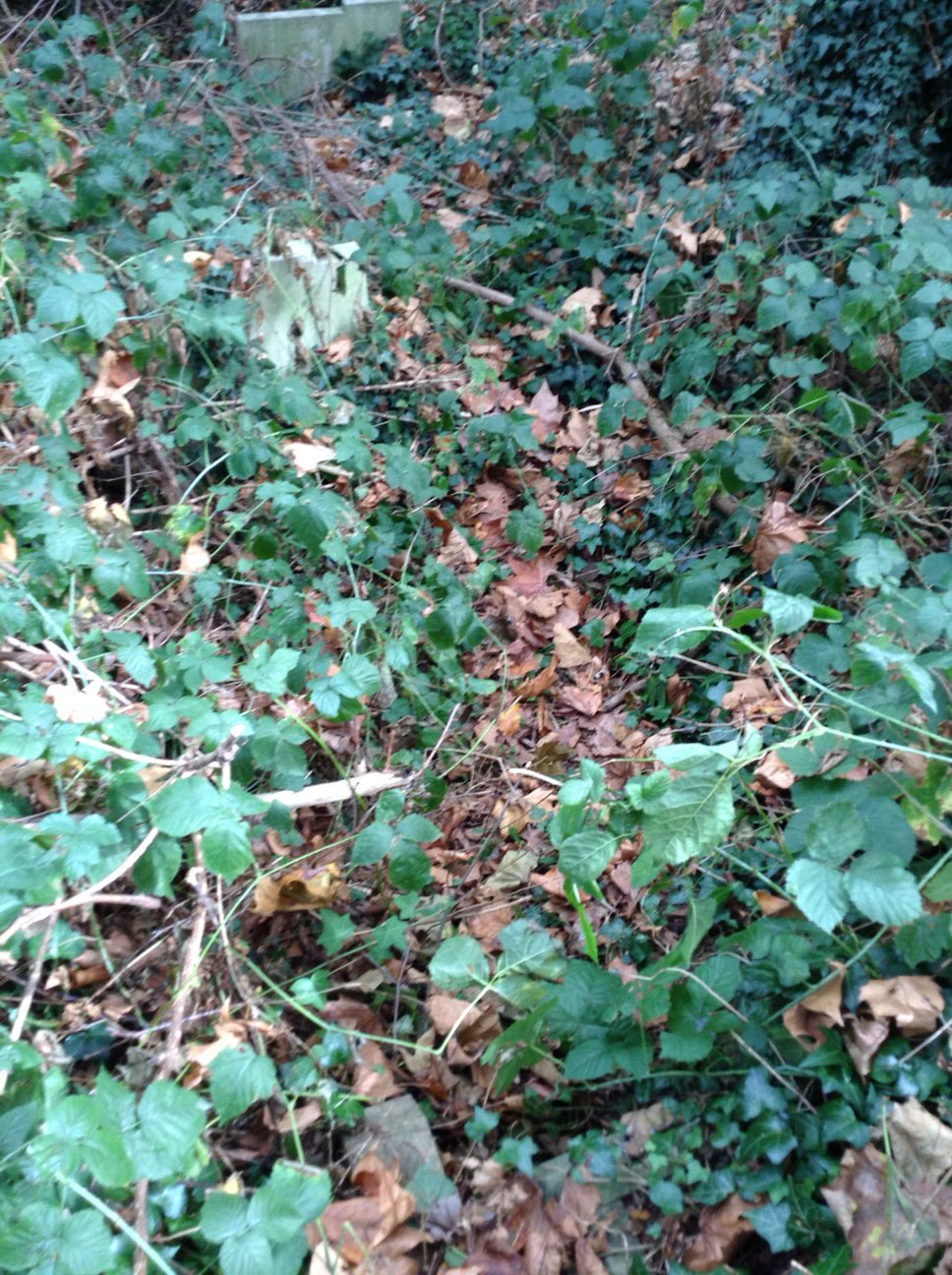 This is the eroded area nearby, however the photo above doesn't properly show how deeply depressed it is in comparison to the surrounding land. There were many fallen headstones in this area and the area towards Church Street had some standing headstones however they were completely engulfed by ivy.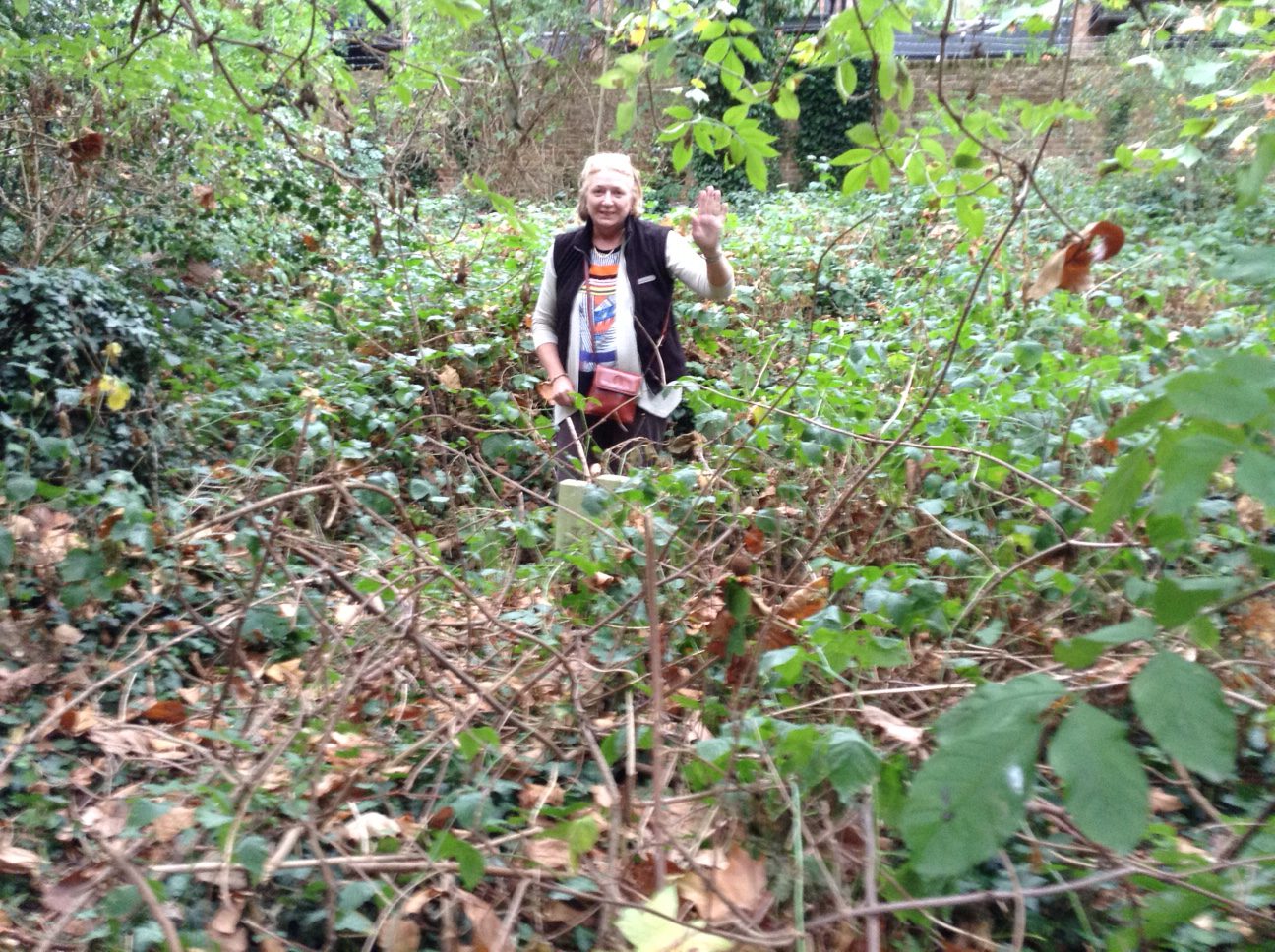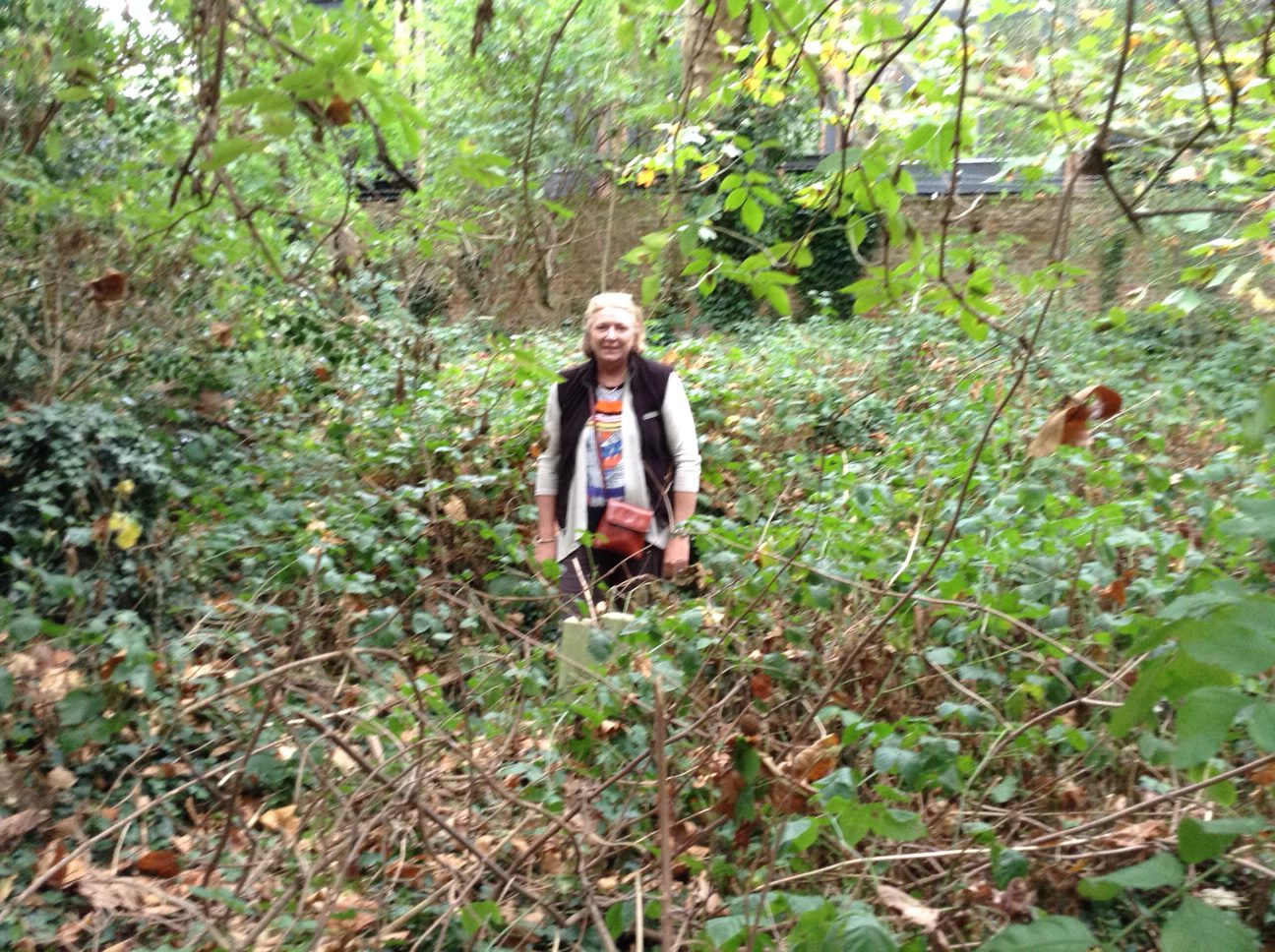 I realised it was better to stand in this depression which came up to the top of my legs and get Geoff to take a photo of me at this point. In the background one can see the old wall that Grandpa John described in his diary of 1907. Only a severe cut back of the undergrowth would reveal this circular depression. For now it must remain one of my most exciting discoveries in my family quest to uncover the past.
Finally my thoughts turned to Johnny Fuller's trip to London in 1927, with his second wife Lavinia, and their three young children John, Lavinia and Malcolm. I knew the story from my mother about how crestfallen Johnny was not to be able to locate his mother's grave in 1927. I asked Haydn about this problem – how was it that in the space of twenty years things had changed so much that Johnny couldn't locate his mother's grave or the well? He certainly would have known the whereabouts of Church Street.
Hadyn explained that all the numbers on M5 exist under a new numbering system. Therefore the grave number I had found and photographed was a re-numbered grave – 75652 which bore no correlation to 80015. I was confused. More explanation followed whereby it was explained that this area was a re-graved area. In 1916 the Trustees considered this entire M5 area available for re-graving, and it was sold off as private plots to other families, possibly unaware of the circumstances of the area. As a public grave there was no ownership by relatives, and there was no possible way that the Trustees could inform relations of their intended actions.
The Fuller family would have had no idea that this would have happened, or had any idea that there was not even a fifty-year moratorium of the site.
The area was re-graved from about 1916 onwards, and new graves were dug over the old mass grave areas, and headstones were constructed. It occurred to me that they would have still been very new when Johnny visited Abney Park in 1927. The area Johnny knew would have had new graves and the place must have looked so different and the well must had been razed and filled in. The only marker for Johnny would have been the "back wall" Church Street side. It is no surprise now that Johnny could not locate his mother's grave in 1927.
The only original area left today may indeed be the water pipes coming from this round and the eroded area in exactly the spot where the un-graved area of M5 is shown on the map. It would stand to reason that even the curators of Abney Park would be unwilling to sell off the old well area, simply because it could have been unstable ground. The more I think about it, the more I am convinced that I have now found an area that I consider to be close to where Harriett was buried.
The tragedy of this story may be further explained by the fact that Johnny was very conflicted about his mother being buried in a pauper's grave, far away in London. My mother, Johnny's daughter Lavinia, believed that he had wanted to commission a headstone for Harriett in 1927, but when he found the area re-graved and totally different to what he had remembered as a young boy and later as a young man in 1907, he was unable to achieve this desire because he could not locate the area anymore.
The next few photos show some of the magnificent graves and also the non denominational Memorial Church, which is central to the entire cemetery.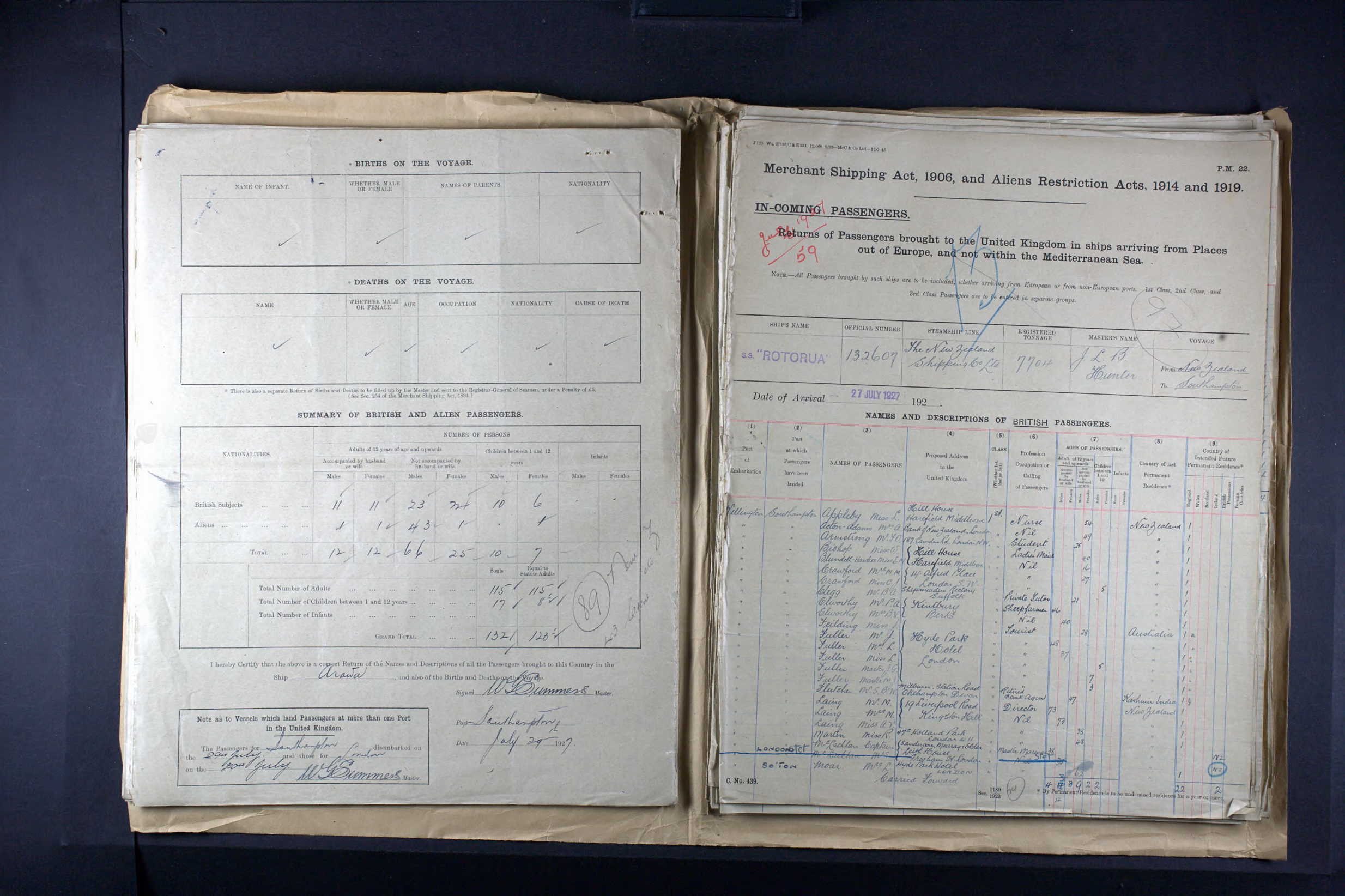 Fuller family arrive in Southampton aboard the Rotorua, 27 July 1927
It must have been a wonderful 39th birthday for my grandmother, arriving in London that very day. Gran would never have travelled before to London, and it must have been a most exciting time. Perhaps it was here in London, for her birthday, that Grandpa John bought Gran her beautiful sable mink coat?
By 1927 Johnny Fuller, a theatre proprietor, was a man of considerable importance and wealth. He had transported his family across the world for a six month holiday, travelling first class aboard the Rotorua, they stayed at the Park Lane Hotel in London, the Ritz in Paris, and the Hotel le Provencal in Juan les Pins. Apart from his family, they had a retinue of others, namely his mother-in-law Lavinia Moar, and his daughter Phyllis Fuller from his first marriage, a nanny Josie and a chauffeur, and at some point during the tour his sister-in-law Ethel Moar joined the family group. The family later left London bound for Paris and then spent some time on the French Riviera. In Paris Lavinia Fuller purchased many pieces of antique furniture and collectables from French auction houses, to furnish what was to become their new home, Caerleon in Bellevue Hill.
My mother always told an hilarious story about one night at the Ritz in Paris. Auntie (Aunt Ethel Moar) had purchase some indoor fireworks, and she and Phyllis decided to let them off for the children. It was apparently a fabulous display, which went disastrously awry, when the curtains caught fire and the hotel had to be evacuated. Johnny Fuller had to pay for a total redecoration and refurbishment of their hotel suite, and probably compensation. It was not one of Aunties greatest ideas! It was possibly my mother's birthday, 19 August, because mum always told us one of her best memories was turning six in Paris.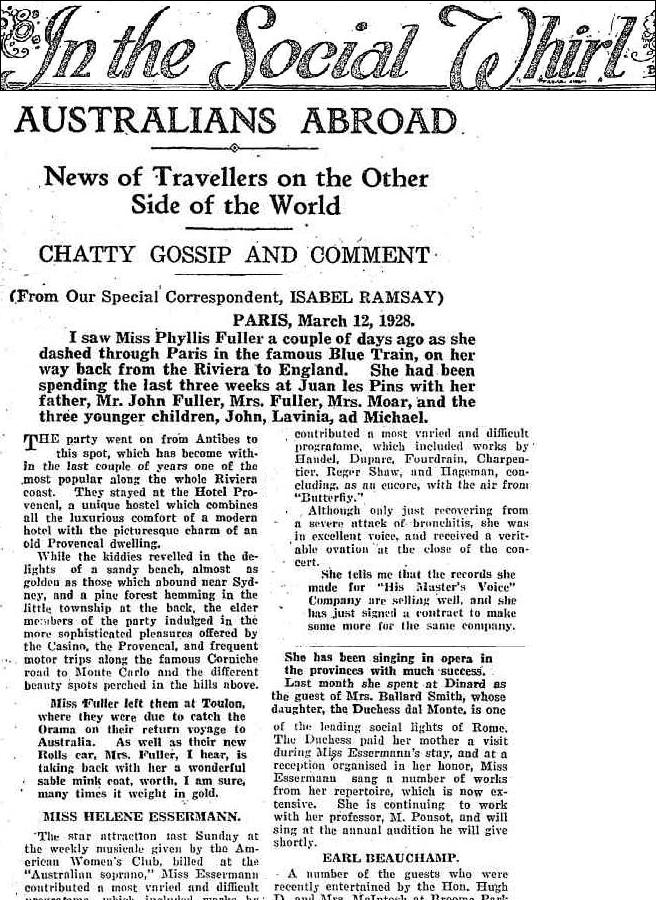 The Fullers on the Riviera, Sunday Times, 28 April 1928.
Johnny purchased a Rolls Royce in London, which was later shipped back to Sydney. Mum also told the story about being left in London with the nanny while her mum and dad and grandmother travelled to Cornwall in the Rolls Royce. What a grand spectacle it must have been travelling back to Cornwall where Lavinia Moar, Gran's mother had grown up – the daughter of a tin miner from Kenwyn near Chacewater. I wonder if she found any of her Northey relations, and I wonder what they must have made of Gran, Great Gran and Grandpa? Undoubtedly Gran would have been wearing one of her favourite minks for these occasions! Scott Fuller still has a momento of the Cornwall trip, Johnny purchased this bronze lighthouse together with flashing light for his son John George.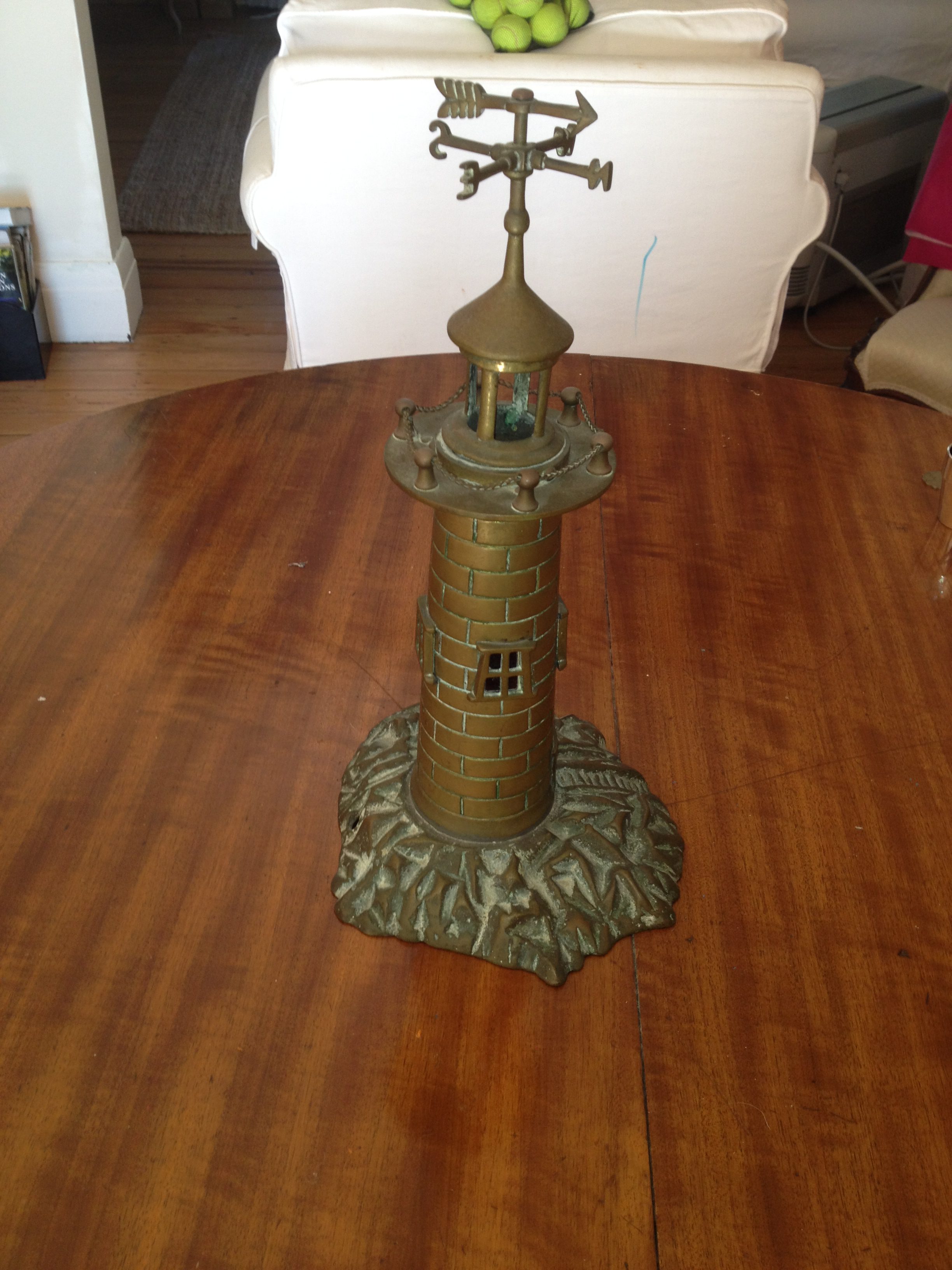 This grand tour is all part of another family history chapter about the Fullers migration to New Zealand and Australia, and the establishment of a theatre conglomerate by Johnny Fuller, his father John and brother Ben, called Fuller's Earth.
Virginia Rundle
January 2017