The Wise branch of the family was amongst my earliest research endeavours. My paternal grandmother was Mabel Wise, married to William Elliott Veitch Robson, who died at Waverley Nursing home on 18 Sep 1971. I can clearly remember a phone call from my dad, Reginald George Robson, telling me that Granny Mabel had passed away. My sister, Lavinia Chrystal and I were at a skiing camp down at Perisher Valley during the September school holidays, and by the time we returned to Sydney, Mabel's funeral had already occurred.
I didn't really know Mabel well, as she was very old and frail when I was young, and always used a walking stick. She had a lovely smile, a twinkle in her eye, and was kind and very proper. Funnily enough one of my earliest memories was when Granny Mabel took my sister, Lavinia and me to the Museum in College Street, Sydney, on 4 Sep 1961. We caught the bus into the city and I can remember seeing an enormous dinosaur suspended from the roof. We attended a film at the museum and when we got up to leave, I promptly walked the wrong way, and got lost. I burst into tears and can remember a feeling of absolute terror for the few minutes before being found by Granny, and my less than impressed elder sister. I was only four years old, and was turning five the next day, and I can remember telling Granny how excited I was about my forthcoming birthday. I can't remember my birthday, but I can remember getting lost! In her last years Granny was confined to a chair on her enclosed verandah at her apartment at The Chilterns, 593 New South Head Road, Rose Bay, where Dad used to take my sister and me to visit her on weekends. She lived right opposite the Pier, more famously known as Doyles, and had a pretty view across Rose Bay.
Our Dad had always told us that the Wises were from Cork, Ireland and that his grandpa George Wise was a bit of a raconteur and his favourite Grandpa. Dad used to tell us the story about his grandfather's clock, which he was expecting to inherit from his Aunt Ruby. Ruby Wise was a sister to Mabel Robson. Ruby died on 3 May 1980, and I can remember coming home from work one day in late May 1980 to find dad in our dining room at 64 Wunulla Road, Point Piper holding an envelope and an open letter. He looked really disappointed, and I asked him what was wrong, and he explained that he was informed by the executors of Ruby's will that he had been left $100 by his aunt, and that the clock was not to be his. I felt his disappointment as we walked to the front hall and he pointed to the spot where he had always imagined the clock would be. In an extraordinary twist of fate, my dad was dead within another month, dying on 30 June 1980, after a sudden three week illness from lung cancer. It was a shattering time for our family and really tragic for our mother Vena, as theirs had been a truly happy marriage. My mum was devastated and it would take many years for her to adjust to widowhood. Only now, when I have become interested in the family history, do I perceive how much history has been lost, and how important it is to write up our family stories. I sometimes find an original document and despair with how little was recorded, when there were so many opportunities for our ancestors to give us just a little bit more information about themselves.
It was quite a surprise when I collected Mabel's birth record to find that she was born in Victoria. I can remember going to Google maps and looking down on the tiny towns of Avoca and Percydale where she had spent her childhood, wondering how and why her family were living in that desolate part of Australia.
Australian Birth Index 1788-1922:
| | |
| --- | --- |
| Name: | Mabel Jackson Wise |
| Father's Name: | George Wise |
| Mother's name: | Agtess Amelia Kilpatrick |
| Birth Place: | Avoca, Victoria |
| Registration Year: | 1878 |
| Registration Place: | Victoria |
| Registration Number: | 13011 |
I was so excited to find this birth index because for the first time, I was finding my way back to a further generation, and with the surname Kilpatrick for Mabel's mother being listed on her birth record, it was key to opening a way to the past. I was also interested in the name George, as this was my father's middle name. Clearly he had been named in honour of his maternal grandfather. Researchers always look to the next generation with excitement when a mothers surname is included and I was quickly learning this thirst for these new clues. I spent quite a deal of time searching for the birth of Agnes Amelia Kilpatrick in the Australian birth records, and gave up to concentrate on the Wises. A further chapter the Kilpatricks and Cranwills of Dublin will expand this part of our family history.
It was interesting to see the birth of Ethel Wise, the youngest daughter of George and Agnes being born in Paddington. This was my latest clue, finding out when the Wises moved from Percydale to Sydney. I now know that they must have gone via Wellington, New South Wales, where George started the Western Stores. I also noted the middle initial for George now.
Australian Birth Index 1788-1922:
| | |
| --- | --- |
| Name: | Ethel I Wise |
| Birth Date: | 1890 |
| Father's Name: | George E Wise |
| Mother's name: | Agnes |
| Birth Place: | New South Wales |
| Registration Year: | 1890 |
| Registration Place: | Paddington, New South Wales |
| Registration Number: | 27348 |
My next search was to find the death record for George Wise, and this record I very nearly rejected because of the listed death place as Queensland. However a search through old Australian newspapers resulted in finding George Wise's obituary and funeral notice, which mentioned George Wise's sudden death in Townsville, Queensland. It was exciting to find George's parents listed as William Macaboy (sic) Wise and Ellen Murray on his death record. I had never heard of these names before and little did I realise that I was on the verge of unearthing the most amazing and exciting piece of family research which would take me back to Cork in Ireland. It was to be a challenge, as Irish records are scant and mostly unavailable, or destroyed as a result of the tumultuous and turbulent history of this fascinating country. See below for reports of George Wise's death from the SMH 4 September 1933, including a photograph of George, and of his funeral on SMH 6 September 1933 which my dad attended. This photograph in the newspaper showed an incredible likeness to Dad, even down to his white moustache! George Edwin Wise's story will be expanded in George Edwin Wise and the Western Stores, and a further chapter on the Wise Merchants of Cork which takes the Wise family back to Ireland and places them into their Wise branch in Blarney Lane, now Street, in Cork. For the very first time I realised that the oval portraits that had hung in our dining room at 64 Wunulla Road, Point Piper, were of George Wise and his wife Agnes Amelia Kilpatrick. After my mother's move from our family home in 1996, they went missing, and in 2011, just after I began my family research, Ann Loveridge nee Drury, my first cousin, very kindly gave me another set, which I absolutely treasure. Ann's mum Kathleen Drury nee Robson, was Dad's sister.
Australian Death Index 1787-1985:
| | |
| --- | --- |
| Name: | George Edwin Wise |
| Death Date: | 28 Aug 1933 |
| Death Place: | Queensland |
| Father's Name: | William Macaboy |
| Mother's name: | Ellen Murray |
| Registration Year: | 1933 |
| Registration Place: | Queensland |
| Registration Number: | 003688 |
| Page Number: | 1802 |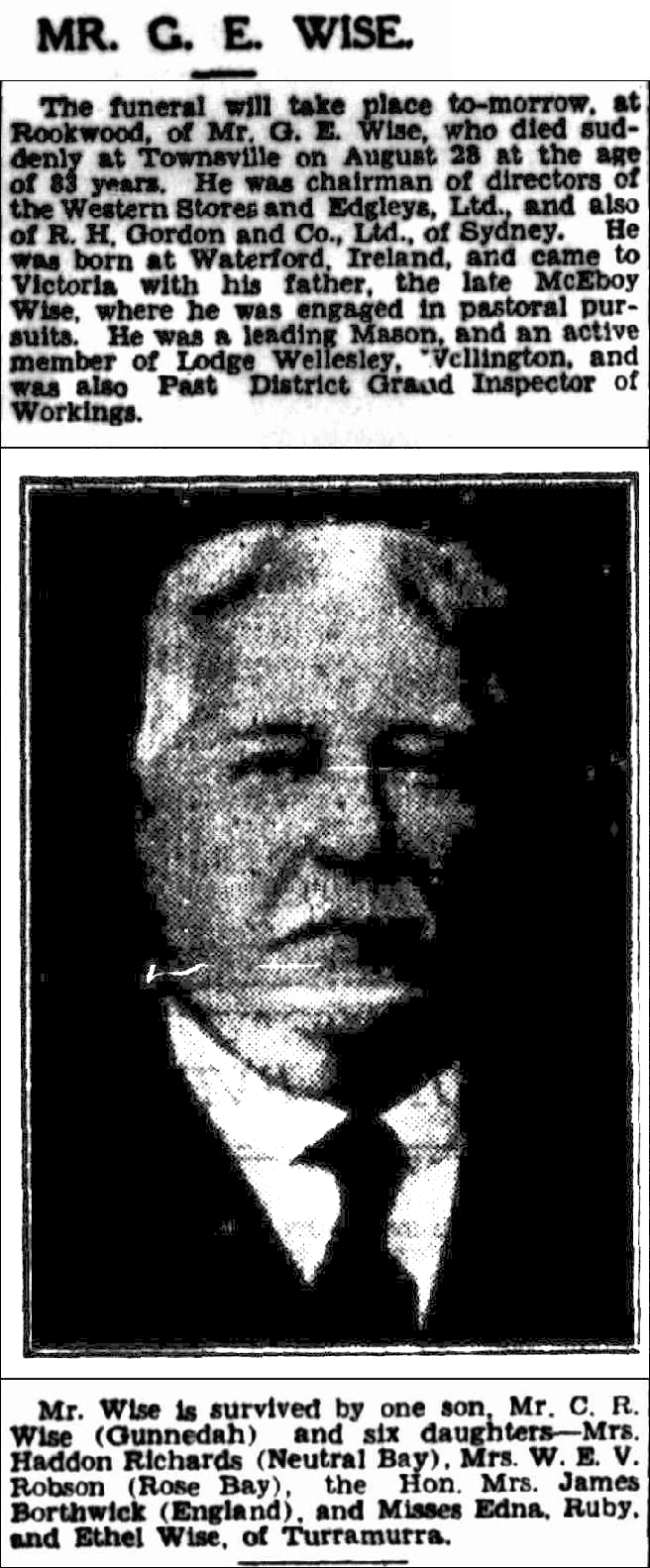 Previous Page, Sydney Morning Herald Monday 4 September 1933, page 8 (note the mention of Waterford)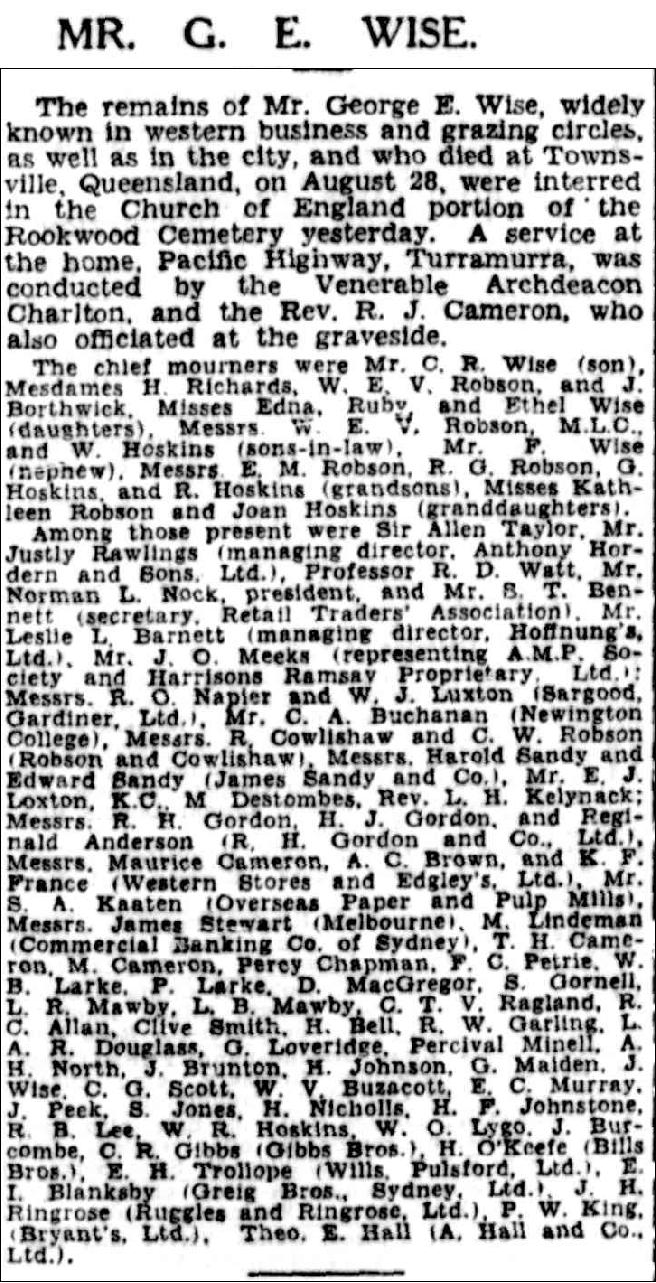 The Sydney Morning Herald, Wednesday 6 September 1933, page 17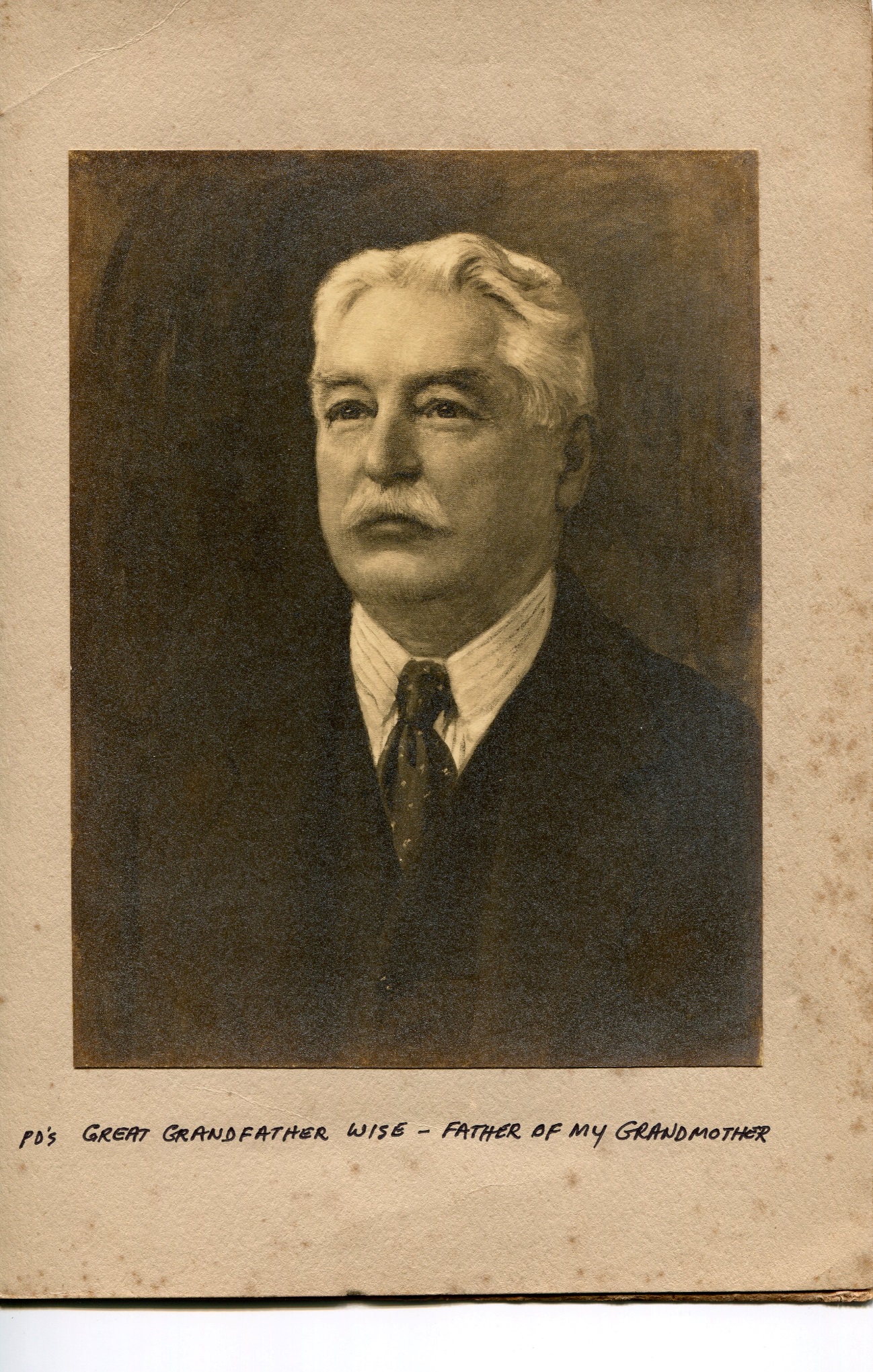 Photo – George Edwin Wise, courtesy of Peter Drury son of Kathleen Drury nee Robson
I was proceeding at a fast pace now. I had collected all of the birth records of Mabel's siblings, as a result of seeing so many sisters in George Wise's funeral announcement. I always knew about Aunt Irene, Ethel and Ruby, and about Uncle Kelly MC, our famous war hero, however I did not know about Edna, Lily or Ellen Wise, and as such, did not really understand beforehand how the Hoskins and Richards' families fitted into the Wise family. The collecting of these birth records for the family quickly extended my Ancestry family tree with each successive generation. It gave me a more complete understanding of the Wise family in Australia. I then concentrated on Avoca and the surrounding areas of Percydale and came up with a nest of Wise records that were quite overwhelming. It took a great deal of time to work out the brothers and sister of George Edwin Wise, not to mention the brothers and sisters of William McOboy Wise, his father. I spent days pouring over these records trying to make sense of the names, particularly middle names and dates, together with other records with similar parents listed. This collection of records that I added, enlarged the Wise family tree enormously, and led for the first time for me to see on Ancestry.com other Wise family researchers collecting similar records. However, no one had attempted to place the Wise family back to Cork or Waterford in Ireland.
After finding the death records of some of the brothers of George Wise, I had a sense of empowerment and understanding of my past. In particular I was intrigued and most pleased when I collected the death record for George's brother Michael Murray Wise, realising that I was on the right track in concentrating my research on Victoria. It was also confirmation that this was a large family. What did come as a surprise was the fact that there was a bit of a hillbilly thing going on with Michael Murray Wise marrying his first cousin Kate Wise, the daughter of George Henry Wise, who was the brother to William McOboy Wise. See the death and marriage records listed below, and also the death record for Catherine "Kate" Wise, the daughter of George Henry Wise, confirming how it came about that two Wise first cousins married in the isolated outback of northern Victoria.
Australian Death Record 1787-1985:
| | |
| --- | --- |
| Name: | Michl Murray Wise |
| Death Place: | Avoca, Victoria |
| Age: | 59 |
| Father's Name: | Wise Wm McOboy |
| Mother's name: | Ellen Fran Murray |
| Registration Year: | 1903 |
| Registration Place: | Victoria |
| Registration Number: | 128 |
| Estimated birth year: | abt 1844 |
Australian Marriage Index 1988-1950:
| | |
| --- | --- |
| Name: | Michael Murray Wise |
| Spouse Name: | Catherine Wise |
| Marriage Place: | Victoria |
| Registration Place: | Victoria |
| Registration Year: | 1870 |
| Registration Number: | 9 |
Australia Death Index 1788-1985:
| | |
| --- | --- |
| Name: | Kate Wise |
| Death Place: | Avoca, Victoria |
| Age: | 43 |
| Father's Name: | George Henry |
| Mother's name: | Elizabeth Humphries |
| Registration Year: | 1888 |
| Registration Place: | Victoria |
| Registration Number: | 4433 |
| Estimated birth year: | abt 1845 |
Below are listed two Australian Death records that confirmed George Henry Wise as a brother to William Mcoboy Wise:
Australian Death Index 1787-1985:
| | |
| --- | --- |
| Name: | William Mcoboy Wise |
| Death Place: | Victoria |
| Age: | 58 |
| Father's Name: | Henry George |
| Mother's name: | Mary Mcoboy |
| Registration Year: | 1873 |
| Registration Place: | Victoria |
| Registration Number: | 5973 |
| Estimated Birth Year: | abt 1815 |
| | |
| --- | --- |
| Name: | George Henry Wise |
| Death Place: | Victoria |
| Age: | 63 |
| Father's Name: | Henry George |
| Mother's name: | Mary Mcoroy |
| Registration Year: | 1875 |
| Registration Place: | Victoria |
| Registration Number: | 9486 |
| Estimated birth year: | abt 1812 |
Whilst collecting the records for the Wise brothers, I came across Ellen Wise's death record, and was saddened and intrigued regarding the early death of my great great grandmother.
Australian Death Index 1787-1985:
| | |
| --- | --- |
| Name: | Ellen Frances Matilda Wise |
| Death Place: | Victoria |
| Age: | 36 |
| Father's Name: | Murray Michael |
| Mother's name: | Elllen |
| Registration Year: | 1855 |
| Registration Place: | Victoria |
| Registration Number: | 5035 |
| Estimated Birth Year: | abt 1819 |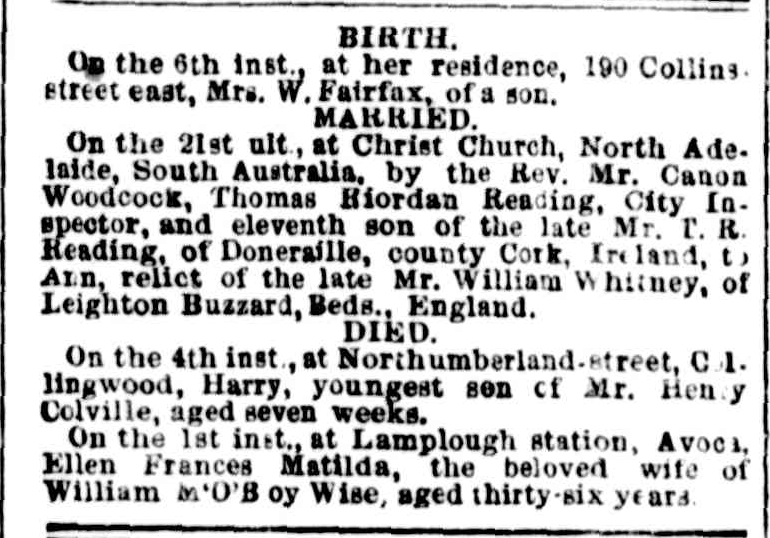 The Argus, 7 June 1855
One can only imagine what caused Ellen's untimely and tragic death at the age of thirty six, leaving six young children to be bought up by her husband William McOboy Wise, a property manager, in the tiny country town of Avoca, Victoria. William never married again. His employment is described below in this excerpt from the "Lamplough Name Index" at the Avoca District Historical Society (ADHS) which I discovered online, and found a most helpful resource.
"Manager of John O'Halloran's timber yard on site of Old Tattersall's, or Theatre Royal. Went to Woodstock Station as supervisor, leased Lamplough run. (Sutherland, P 226.)" Alexander Sutherland. "Victoria and Its Metropolis. Past and Present". Vol 2. 1888.
On a visit to the ADHS I was told that William McOboy Wise's huge profile in the Lamplough Name Index was a testament to his active and outstanding involvement in his local community. William McOboy Wise's obituary recorded that over 500 people gathered to mourn him at his funeral, after he received fatal head injuries, when thrown from his horse on 22 July 1873, at Coffey's Hotel near Avoca. William's profile in the Lamplough Name Index is included at the end of this article, however information about his early life in Cork, Ireland, are included in a further chapter, Wise Merchants of Cork. The Lamplough Name Index allowed me to discover the extent of William's involvement in Avoca and was relevant in suggesting articles and records to further my research. William was involved in the community as a property manager, auctioneer, gold assayer, Land Assessor, Voting Returning Officer for Avoca, Master of the Hounds, President of the Avoca Turf Club, Post Master, Volunteer Fireman, Steward at the Avoca Annual Races and local butcher and grocer, when he partnered James Kilpatrick, father to Agnes, to found the Kilpatrick Wise General Stores in Avoca and Percydale.
It was from this website that I began to get a real understanding of Avoca, Lamplough, which is about three kilometres out of town, and easy to miss, as there is no town to see on the main road, and of Percydale, a ghost town another twenty minutes away, and the history of this gold mining area during the late 1850's. There were several references to newspaper clippings regarding gold being found at Wise's Paddock at Lamplough. The following Trove digitised newspaper transcription is from The Argus, Monday 30 January 1860, whilst lengthy, it does explain much about William McOboy Wise and the conditions he and his family faced during the gold rush. Its social commentary regarding the township of Lamplough is fascinating, particularly today as, on a side road, a ramshackle home, purported to have been William McOboy Wise's old homestead, and an old school house are all that is left to show any remnants of this incredible time.
THE LAMPLOUGH RUSH.
(FROM OUR SPECIAL REPORTER.)
"Entirely concurring with the late lamented Lord Byron's maxim-that "there's nothing so difficult as a beginning,"- I propose "changing ends," as the bowlers say, and starting with Lamplough instead of Melbourne. Suppose me, then, after making a considerable detour from Maryborough, where I put up the night after leaving town, actually on the new diggings. I was fortunate enough, having followed all sorts of what appeared to me to be eccentric tracks, to strike the junction of Commercial and Amphitheatre streets. These cut each other at right angles and there in are transacted all the buying and selling of Lamplough. Streets they are not, at least in the Melbourne acceptation of the term, being mere sandy avenues with an occasional dry creek intervening. One's horse, as he canters labouringly along, looks right and left for a chance of escape into the firm ground on either side, which is not yet out up by incessant traffic. Heading for the Avoca, from which the tail end of the pre-sent mining operations is distant about three miles, a sagacious quadruped would escape much hard travelling by taking the " off side," for on the right of Commercial-street the ground is still tolerably firm, running as it does over low quartz ranges. The same might be said of the extreme left, but, unfortunately, for fully a mile back in the bush, there are more 40 foot claims, worked out, working, being sunk, or under pastoral occupation, than could be readily counted in more days than your reporter wash ours upon Lamplough.
The Lamplough station, lately in the occupation of Mr. Hodgkinson, and now in that of Mr. Wise, gives the name to the present diggings. A public-house, called the Clare Castle, about four miles from Avoca, on the Burn Bank road, and erected for the accommodation of travellers long before this rush, or rash -whichever is the fitter term for the sudden congregation of 25,000 persons -broke out, lies in about the business centre of Lamplough. Some shallow sinkings were enacted not far from here, and certain gold was obtained. This happened many months ago. The line of the present diggings extends fully four miles. Commencing at 14 feet sinking, the gold-bearing claims on the different leads –if leads they can be called where the connection breaks off abruptly every now and then –have already deepened to 60 feet, and it is an ascertained fact that between two and three years ago holes were sunk on the Avoca side of the rush to the depth of 70 and 75 feet. The water then came in, and swamped out the miners. The District Surveyor, Mr. English, from whom I received the greater portion of my information, says that for a mile and a half the shallow ground pays, in some places as much as 20 chains wide, the average width of payable ground being 10 chains. There are two leads as yet quite disconnected, but which he believes will run into each other. Besides these, there is a small run on the outside, of which no great opinion is entertained. Upon what is termed the middle lead, the diggers who have hit it are chiefly occupied in fencing in their ground. They drive in the bottom a mica schist (easy to work), and knock down the wash-dirt when safe from encroachment. The payable stuff does not average more than 4 inches in thickness. Of course, an occasional "run in the roof" will help the paddock not a little; more particularly where the soft nature of the medium permits a nugget to find a convenient resting-place. The gold that was shown to me at the branch banks is certainly the finest sample of the raw material I have yet seen in the colony. It is all nuggetty, bright, and compact; weighs well, and I am given to understand carries very few impurities. It is bought at £3 17s, 6d. per ounce, and I do not suppose the banks lose by trading at Lamplough.  
The first prospectors-in fact, the men who started the rush, for there are several prospecting holes besides-have been granted 200 feet square, nearly tho whole of which ground is remunerative. Their last washing, only this week, of five loads, yielded 91b. of gold. They are still doing well. In their immediate neighbourhood such a thing as grumbling is unknown. A few get from21b. to 31b. weight to the tub, a few more as many ounces, and the majority the same number of pennyweights. This must not, however, be considered a criterion of Lamplough generally, for I have no hesitation in saying, that of the15,000 diggers who have set up their tabernacles there, not more than one-third are engaged in actual mining. To count the number of shepherds would be to try to number the trees on Mount Macedon, and the name of the abandoned holes is legion. The weekly yield has been estimated variously at between 4,000 and 4,500ounces, about half of which is bought by the London Chartered and National Banks, the only corporations of the kind at present represented at Lamplough. An agency of the Bank of Victoria is, I was given to understand, about to be stablished. The want of water is a great draw
back to the realisation of capital, the only available washing-places being a few holes in Rutherford's Creek and the Bet Bet, the latter being distant about four miles, and the  former two. Water fit for drinking costs from 7s. to 10s. per load, and is chiefly obtained from springs in the above-mentioned creek, which, unless rain falls speedily and heavily, must soon fail. It is raised by the common lift pump into canvas reservoirs, which leak nearly as much as they discharge into the carts backed up to them. These receptacles are as religiously respected by the diggers as are storks in Holland, the adjutant bird in India, or the laughing-jackass by old Australian colonists. Tho whole of Lamplough might be artificially supplied with water from the Pyrenees, the fall from which has been estimated at 30 feet in the mile, so that besides the recognised gold-fields there may not unlikely be another claimant for a portion of the £50,000voted on Thursday night. Of course contour drains would have to be cut, and reservoirs made. I cannot conscientiously, though of an enthusiastic temperament, endorse the view taken by the correspondent of a local paper, who says -"There is no fear of any diminution in our population for many months to come;" that though many failures are recorded, "golden holes predominate;" and that "a party having a little funds can afford to sink a duffer or two, as they are sure to get gold at last." The population, in the first place, is certainly not on the increase, but the contrary; more " duffers" than golden holes have been bottomed, and what moneyed diggers are on the ground, not in luck, and moneyed diggers are rarae aves at a new rush now-a-days, I believe -wish they were back again at their puddling, sluicing, quartz-mining, or whatever steadily-remunerative occupation they left to visit the new El-Dorado. For the age of the place, Lamplough has shot far ahead of all rushes in its building sand conveniences. The streets are not only well laid out, the line of road being rigidly conserved, but the stores, public houses, and theatres would do no discredit to a long-established dig-gings. Prices, too, both for necessaries and luxuries, are not at all out of the way. For in-stance, one pays half-a-crown for a feed for his horse, and only sixpence more for the satisfying of his own interior. This latter, be it remembered, is not the old salt beef and stale bread arrangement, with a dirty cloth and a dirtier waiter, or perhaps no cloth and no waiter, but a well-appointed, civilly served repast, which any man, whose peptics are in tolerable condition, may reasonably enjoy. At least so I found it, although fully an hour late, at host Mylrea's, of the Lexton Hotel. Here were staying some of the greater and lesser stars of the theatrical world: Of the former was the great G. V. B., who has entered into a week's engagement with the proprietor of the Royal. His Iago, to Mr. Neil Warner's Othello, is expected to set Lamplough in at additional blaze. Miss Avonia Jones took  
amazingly, as that sort of actress must do with  such audiences as usually assemble in unsettled localities. She was supported by a good stock company. Besides its theatres and local correspondents, Lamplough boasts of its Advertiser, the fourth issue of which I had the honour of perusing while eating my mutton at the Lexton. The leader is, of course, in very large type, and severely leaded. The burden of its strain is a solicitation for support, put in the most naïve and undisguised manner. I sincerely trust the appeal may not be in vain, particularly as the sheet of foolscap, printed on one side only, is distributed gratis. In my early digging days Ihave a vivid recollection of a gratis print of the same size, and containing very little more matter, termed the Trumpeter, bursting upon Ballarat one fine morning, and shortly afterwards becoming almost a recognised organ of opinion. I am not sure it was not finally incorporated with one of the present dailies of that great mining city. In that case, however, the proprietor, editor, printer, reader, and collector (for I believe all the functions were performed by the same individual) was indefatigable in all the departments. I hope this little anecdote will be taken in good part by the gentleman who attends to the Lamplough Advertiser, and that he will not snuff me out in a single article, for my unwarrantable impertinence.
Wise's Paddock was the great centre of attraction when I was at Lamplough. This lies about a mile and a half on the Avoca side of the "business centre" before spoken of. A strong impression prevailed a few days ago that the lead would run through the paddock, and as half of it was still Crown land, the place was rushed. Almost as little respect was shown to the purchased portion, in which fully a moiety of the garden was included. The fruit, chiefly peaches and all but ripe, was unblushingly stripped from the well-laden boughs, claims were marked out amongst the potato rows, favourite trees made corner-pegs of, and a serious proposal was entertained of cutting up a favourite willow into  lengths for " logging up" a hole. This willow, be it known, was originally a slip from that which still waves over the grave of Napoleon, at St. Helena, and cuttings from it have accordingly been much sought after by the squatters in the Avoca district. The sacrilegious proposal aforesaid, I am happy to say, has not been carried into effect, for the diggers, though "somewhat coarse of touch," like Tennyson's Talking Oak, are yet as liable to have their "sap stirred" as other mortals. Perhaps the fact of the willow being situated on the purchased portion of the garden may have had something to do with their continence, but at any rate the woodman spared the tree. Since the garden was rushed, boundary lines have been "drawn by the Mining Surveyor, marking off the half section bought by Mr. Hodgkinson. This has a frontage to Rutherford's Creek of half a mile, and runs a mile back to the west, crossing the Government road between Avoca and Lexton. A hundred claims, more or less, have been marked out in the private property portion of Wise's paddock, for each of which 5s. is paid upon pegging off, and £1when actual work is commenced, so that Mr. Wise may not, after all, have taken his peaches to a very bad market. The Surveyor's perquisite is 2s. per claim. Disputes are rare, a small "barney" between a noisy Celt and a quiet but determined Anglo-Saxon, which occurred during my visit, being, I was told, the first that had occurred for a week in the neighbourhood. I did not hear the end of it, but John Bull's phlegm was evidently getting the best of the argument. On the Avoca side of the paddock, as I have before said, some holes were sunk two or three years ago upwards of 70 foot in depth, not bottomed, so that as the last claim getting gold above is not more than 50 feet deep, there is an excellent chance of a lead running through the fenced ground. On the west side, and at no great distance, a considerable quantity of the precious metal has been extracted, from what were termed tho Mosquito and Speck Gullies. A general impression accordingly prevails that the Lamplough Diggings will be permanent. At the same time, all Avoca and Back Creek diggers know how patchy the ground is throughout the district, and that no single deep lead there has been found to last any length of time. Even the famous Alma and Adelaide leads are no exception, for they both ran out, or, at any rate, were lost before attaining any very great depth. As the sinking at Lamplough deepens, the cement characteristic of Avoca mining is found more abundant, and gives infinite trouble in the excavating. Perhaps the presence of this objectionable element, which necessitates both gadding and blasting, may account for the enormous number of gentle shepherds who are just now assisting each other to do nothing in what has been facetiously named Perseverance Flat.
A township was in course of being surveyed  during my short visit on Mr. Hodgkinson's purchased ground, which, I understand, will be put up to auction in lots, and sold at an early date. Though singularly devoid of adventure, my short trip to Lamplough has, I think, furnished me with sufficient material for another paper about the length of the present, which, as it will not be necessary to go so much into facts and figures again, may, I trust, prove a little more readable than this."
The Argus Monday 30 January 1860 Page 5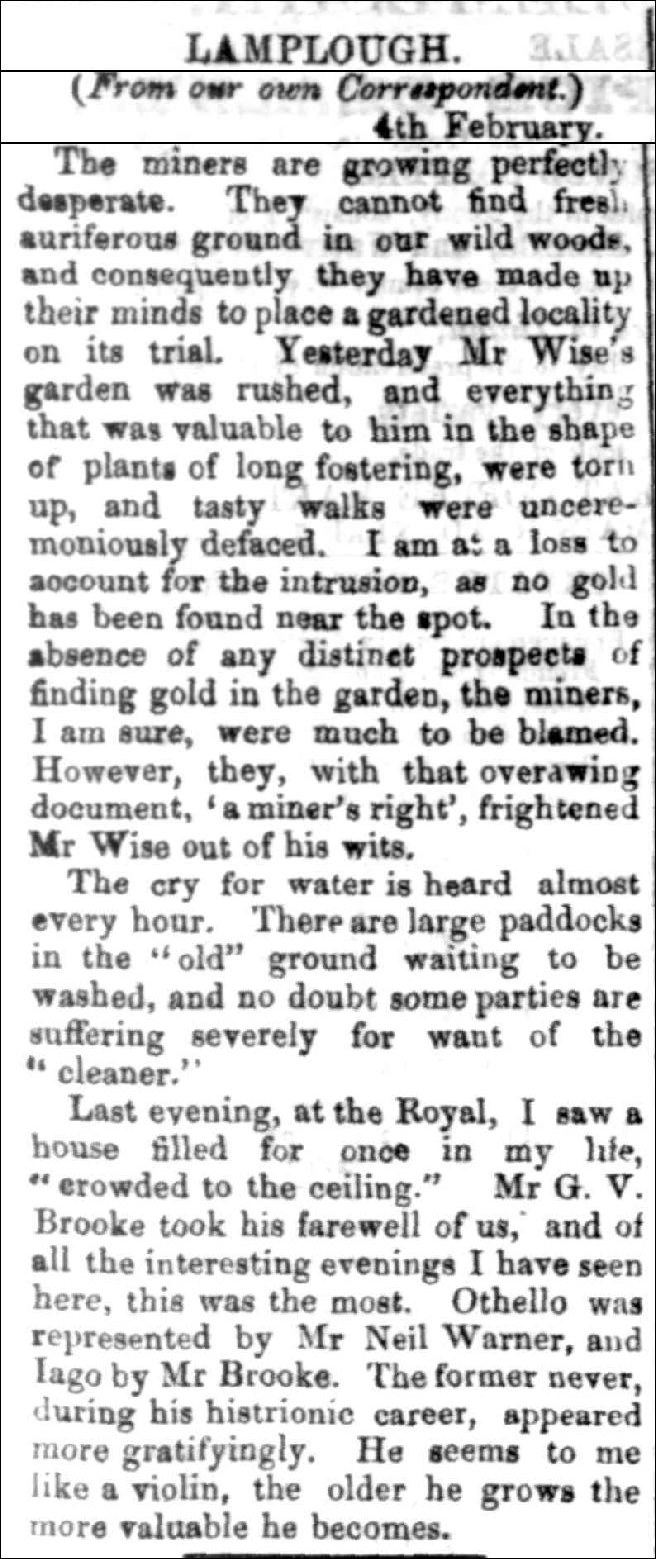 The South Australian Advertiser, Saturday 21 January 1860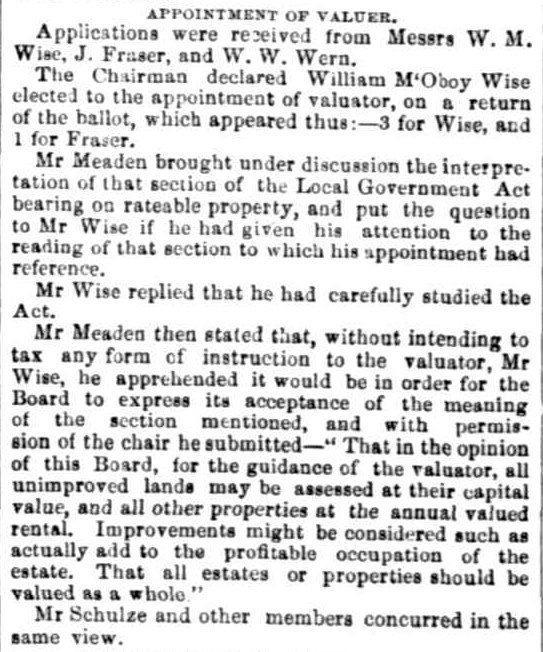 The Star (Ballarat, Victoria) Friday 23 October 1864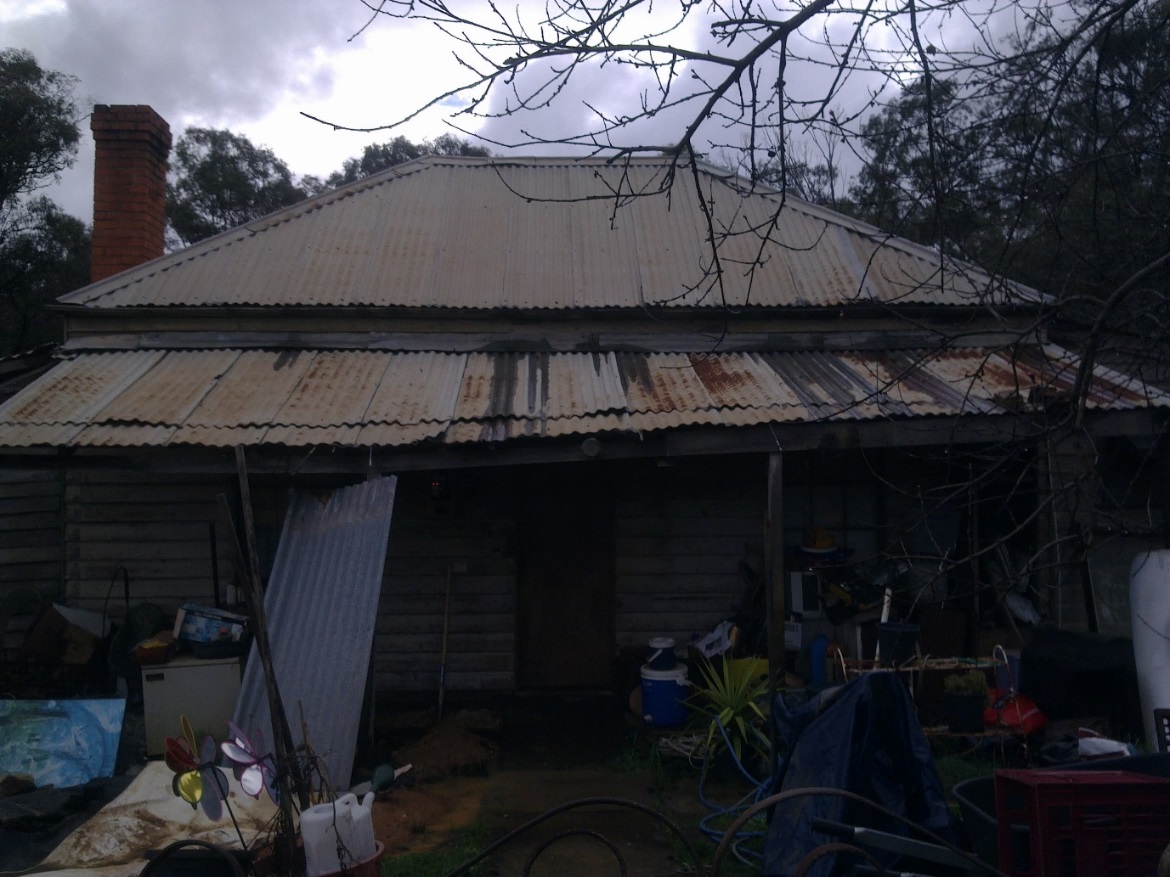 William McOboy Wise's homestead at Lamplough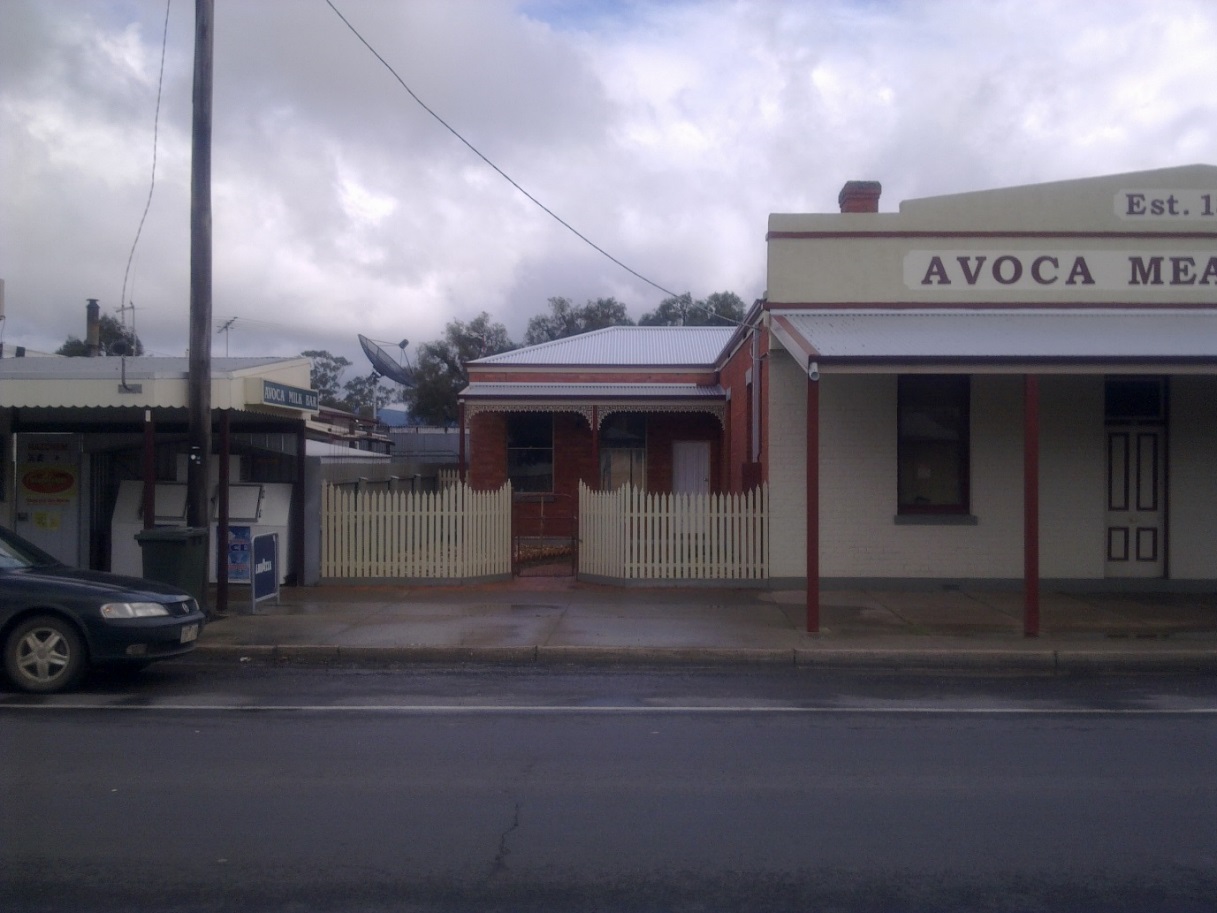 The Avoca Meat Market was founded and run by William McOboy Wise in 1854. Beside this shop was the Kilpatrick Wise General Store and apparently to the left hand side of this building William ran his auctioneer business. Main Street, Avoca. These photos were taken by Virginia Rundle during her visit to Avoca, Victoria.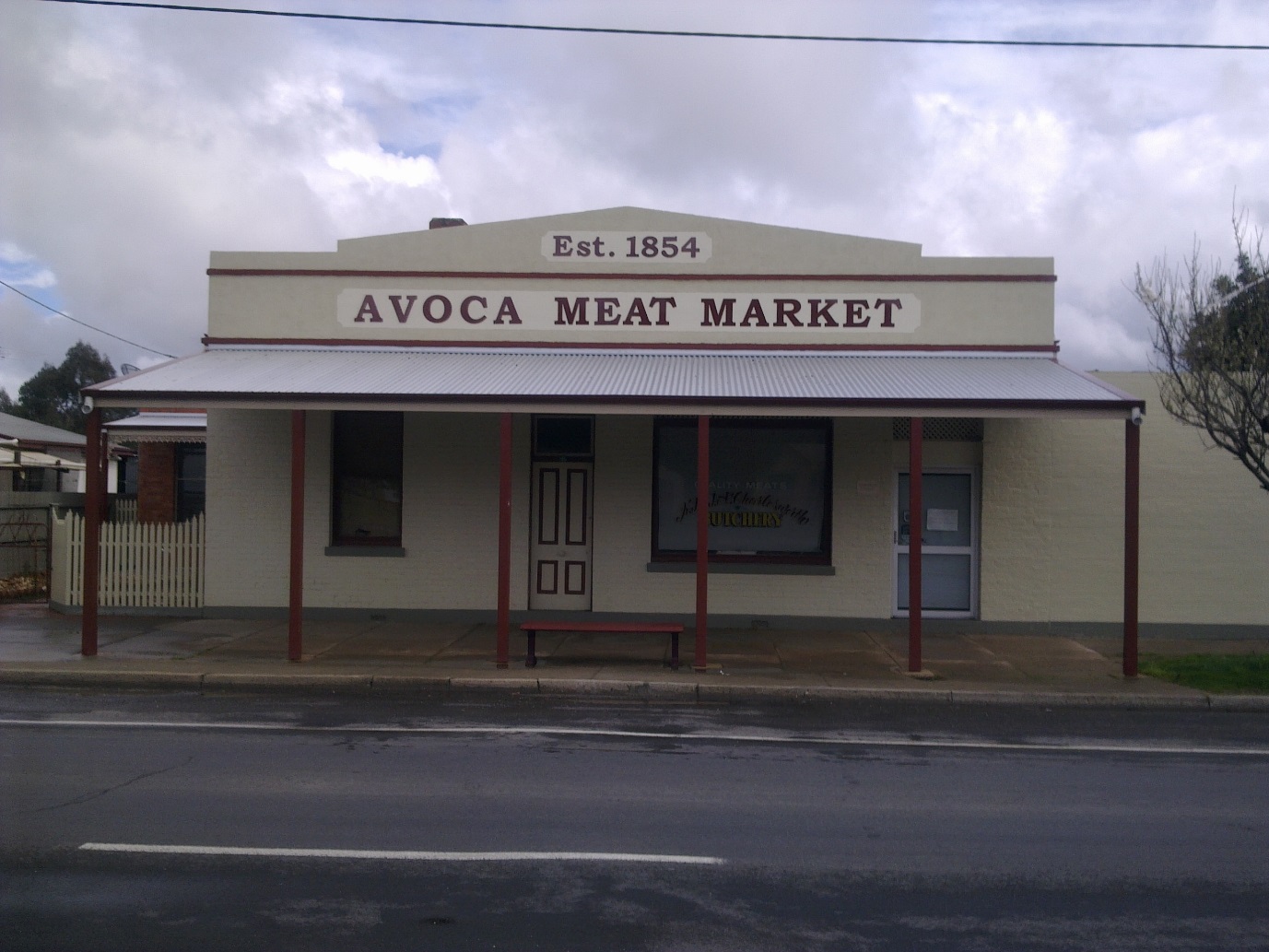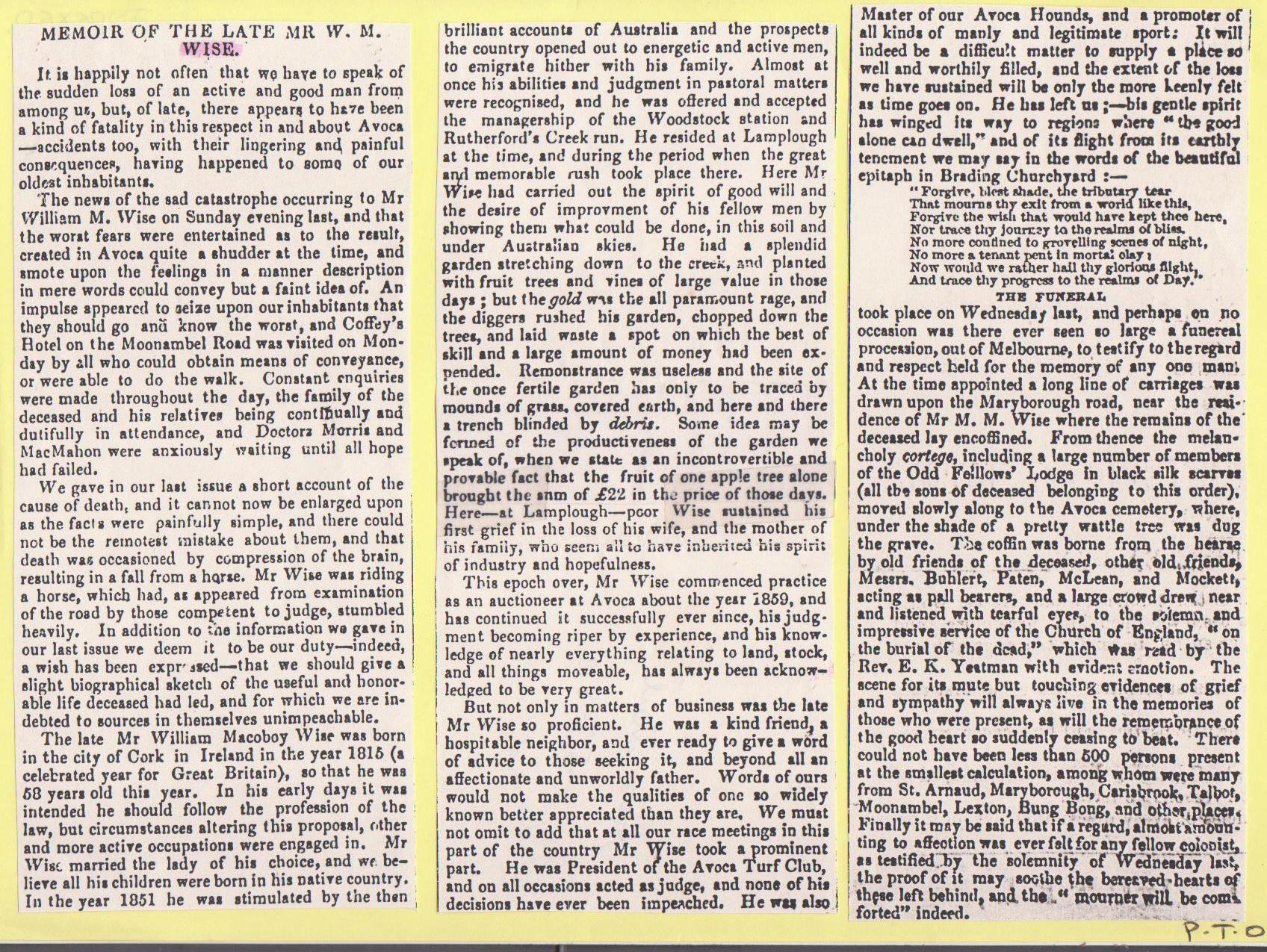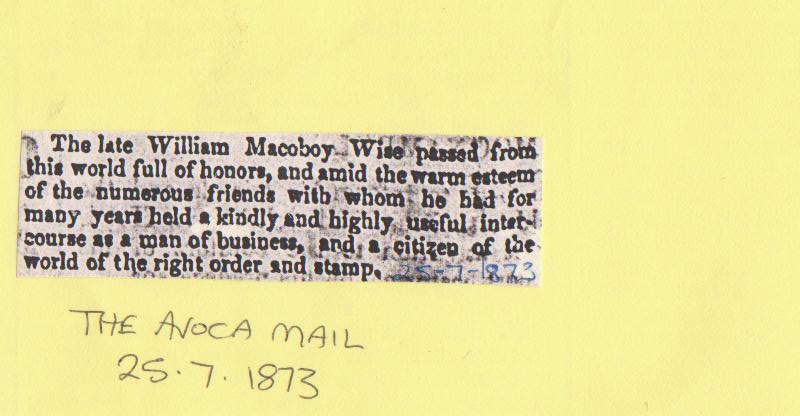 Avoca Mail Friday 25 July 1873 reporting the obituary and funeral of William McOboy Wise which took place on 23 July 1873, newspaper cutting kindly supplied to Virginia Rundle by ADHS.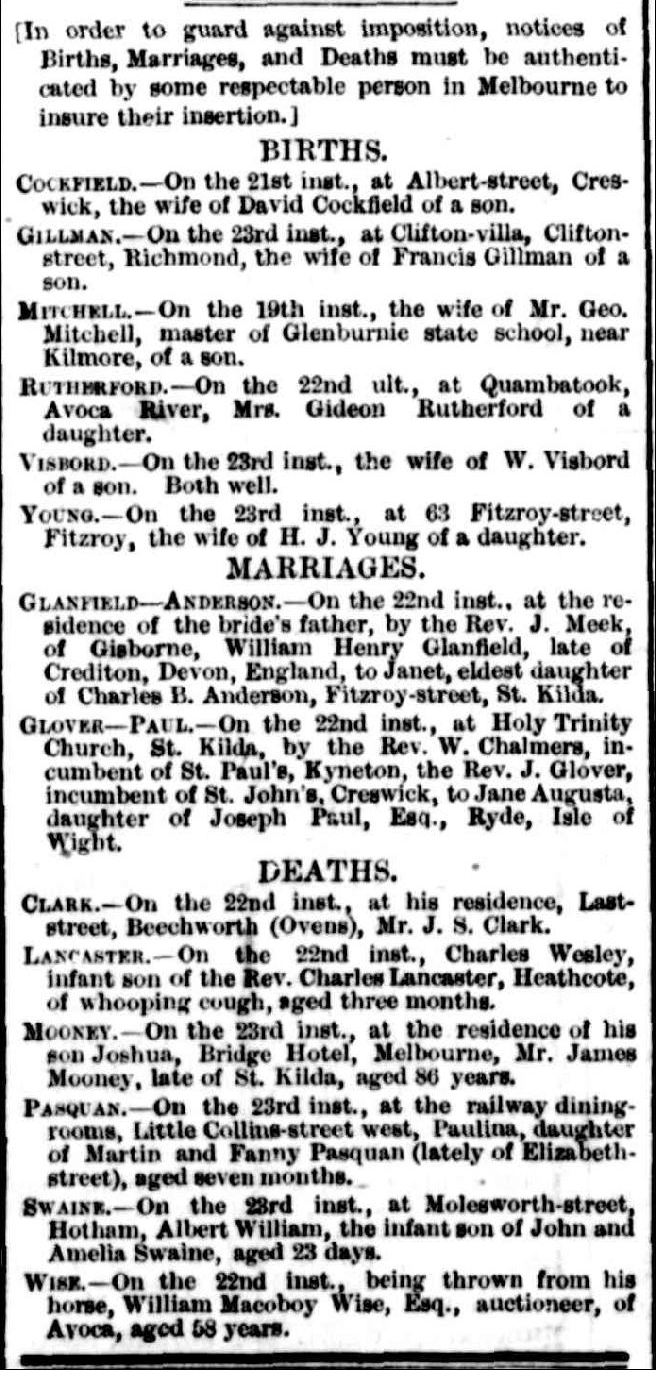 The Argus, Thursday 26 July 1873
It was with a most profound pride that I read the account of William McOboy Wise's death, his obituary and the report of his funeral. William was indeed a remarkable man, and he obviously had a magnetic personality, becoming involved with so many people and their community enterprises. I am sure he was a competent horse rider and it must have been a terrible shock to the community that this was the way he met his death, when he was thrown from his horse. William was obviously not expecting to die any time soon, and as such was ill prepared for his death, and he died intestate. The documentation which I obtained from the Public Record Office of Victoria is a lengthy but interesting legal document of his intestate will which was managed by William Wise Jnr, William's McOboy Wise's fourth son, who gave his occupation as a butcher. It is a valuable family history record, which helped me place William firmly in his family.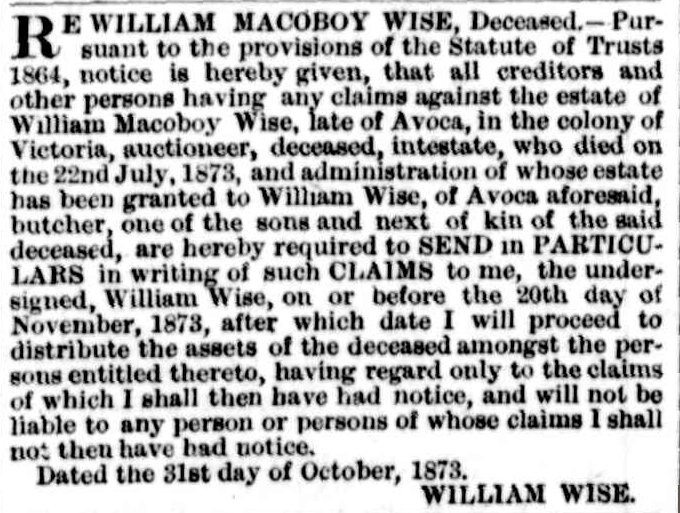 The Argus, 4 November 1873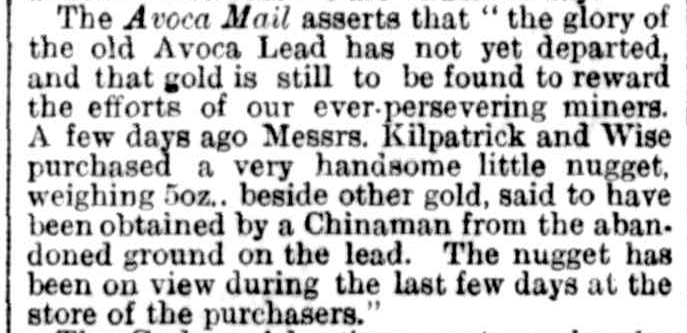 Excerpt from the Avoca Mail printed in the Argus Newspaper Friday 13 February 1874
This article appeared in the Avoca Mail and the Argus newspapers after William McOboy Wise's death, and presumably the store was taken over by his sons who were active in the business. An interesting fact is that in the same year of William's death in 1873, two sons of William McOboy Wise married two of the daughters of James Kilpatrick. George Edwin Wise married Agnes Amelia Kilpatrick and Henry Wise, George's eldest brother married Jane Isabella Kilpatrick, an elder sister of Agnes Amelia. At this stage I do not have the exact dates of their marriages, and do not know if they were married before William's untimely death. Another son Michael Murray Wise was active in both the stores in Avoca and Percydale and he married Kate Wise in 1870. At the time of William McOboy Wise's death he was grandfather to two of Michael and Kate Wise's children, Elizabeth Kate and his namesake, William McOboy Wise.
Earlier I had found records for another son of William and Ellen Wise living at Avoca, this was James Wise, who married Mahala Reed on 10 Aug 1872. I found their marriage record, which was registered in Maryborough, a township about 20km from Avoca. It was about this time that I linked into another ancestry tree online and received a message from John Lee, whose Wise family tree concentrates on George Henry Wise (William McOboy Wise's elder brother) and his wife Elizabeth Humphries and their large family. We corresponded and John informed me that his ancestors were part of the Wise Flour Mill branch of the family. More regarding the Wise Flour Mills will be dealt with in the chapter on George Edwin Wise. It was John Lee who kindly gave me a photo he had from his album of James Wise and his wife Mahala, which came from the photograph collection of Felicity Gabrielli, and an old photo of the grave of George Henry and Elizabeth Wise from Avoca cemetery. John Lee is a direct ancestor to George and Elizabeth Wise through their son Thomas Walter Wise, see their Family View Report listed later in this chapter.
I have searched extensively for the grave for James and Mahala Wise and I am convinced that the large space next to William McOboy and Ellen Wise's grave at Avoca is that of their unmarked grave.
Australian Death Index 1787-1985:
| | |
| --- | --- |
| Name: | Jas Wise |
| Death Place: | Avoca, Victoria |
| Age: | 49 |
| Father's Name: | Wm Mcoboy |
| Mother's name: | Ellen Murray |
| Registration Year: | 1894 |
| Registration Place: | Victoria |
| Registration Number: | 8132 |
| Estimated birth year: | abt 1845 |
It was quite by chance that I came across the Wise Family Tree, a detailed unsigned document which dates to the early 1980's. I caught up with my second cousin Peter Borthwick and his wife Helen in 2011 at a family gathering, and when I explained that I was researching the family tree, they told me they had a Wise family tree which was authored by Peter's grandmother, Irene Borthwick. Aunt Irene was my great aunt, and sister to my grandmother Mabel Robson, both being the daughters of George Edwin and Agnes Wise. The contemporary Australian content is a testament to the diligence of Irene Borthwick, as she lived in England, and I think she used the tree as a way of keeping in touch with the Wise family back in Australia, jotting down each branch and adding in new names as the Wise family descendants grew. It remains a valuable family document, and whilst not complete or entirely accurate, it is an amazing piece of family history at a time when communication was by letter, and the purchase of BDM (Birth, Death & Marriage) records would have been expensive and difficult to obtain.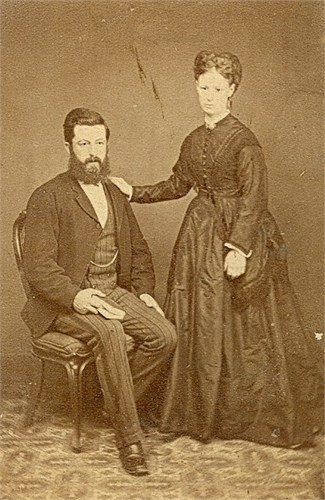 James Wise and Mahala Wise nee Reed, courtesy of John Lee, from the photo collection of Felicity Gabbrielli, who is a descendant of the Reed family of Avoca.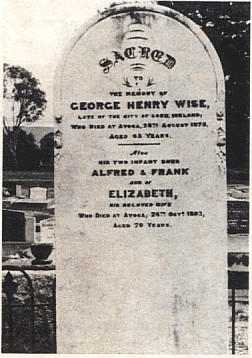 George Henry and Elizabeth Wise headstone also listing the deaths of their infant sons Alfred and Frank, Avoca Cemetery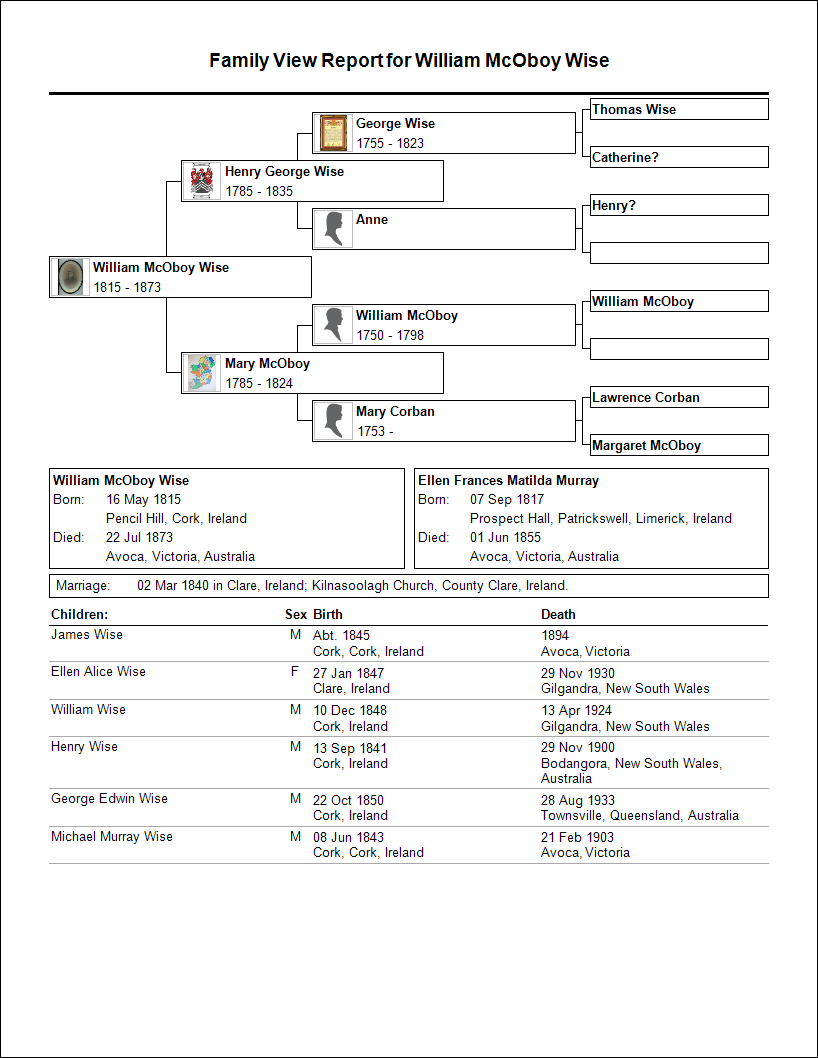 Note: For some reason the chart from ancestry.com does not list children eldest to youngest.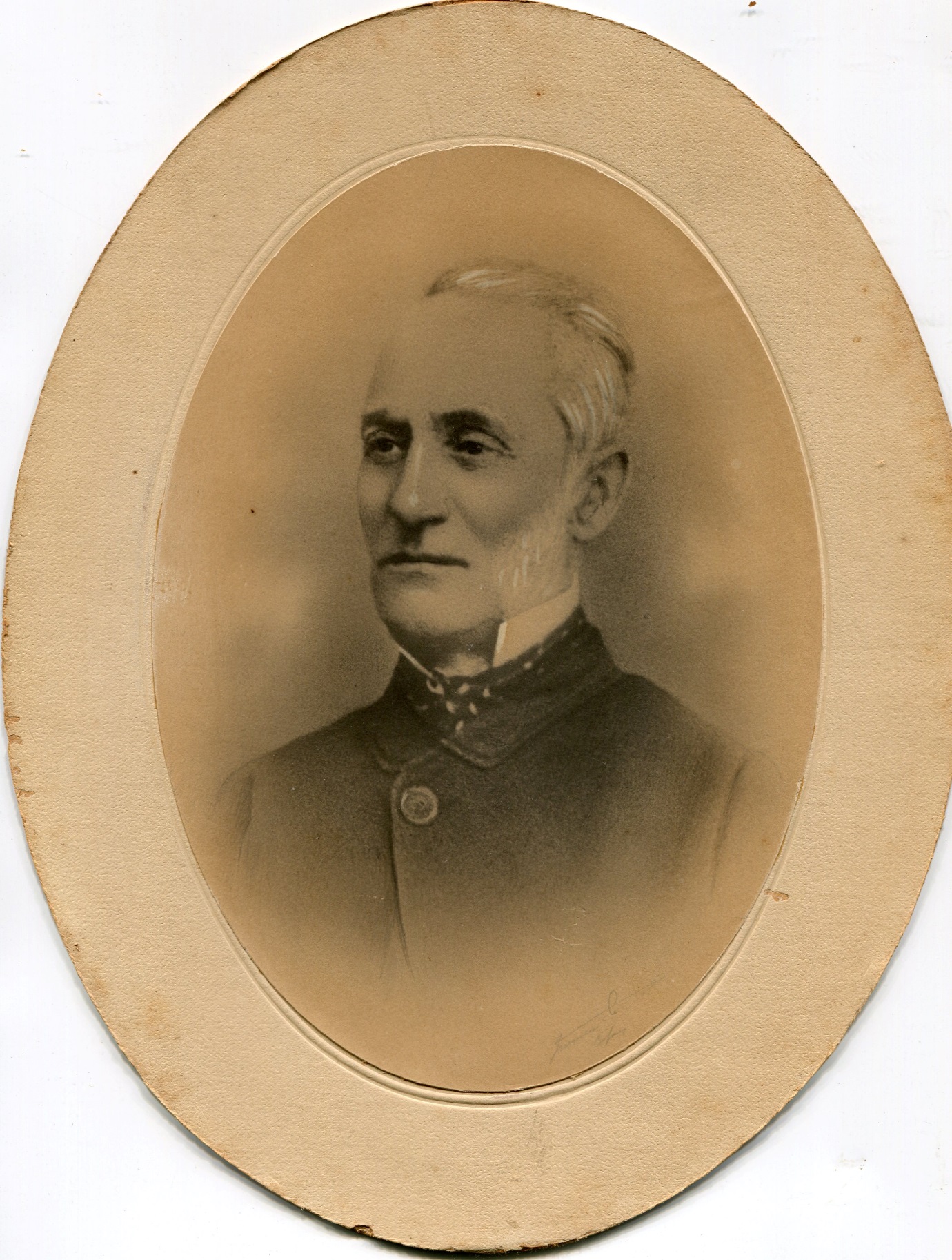 Photo of William McOboy Wise circa 1870, courtesy of Ann Loveridge.
The photo above is of William McOboy Wise, and I believe it must have been taken just a few years before his death. At about the same time that I saw the Borthwicks, I also saw Ann Loveridge, a first cousin, and daughter of Kathleen Drury nee Robson, elder sister to my dad. Ann had some fascinating memorabilia which included photographs which she very kindly shared with me.
One of the other sources that I have used to help place our family into the correct Wise line was a book published in 1930 called Leaske's Genealogical Guide to some Australian Families. Leaske prefaces his book by explaining that he relied mostly on family members to provide his information. It is a masterpiece of its time, and was a very helpful and interesting document, that also has its inaccuracies. What piece of family research doesn't? It is not possible to be one hundred percent correct with family history, and information that is handed down verbally by family members will quite understandably leave out anything that could put the family into a bad light. Leaske's book is out of print, however it is held in several public libraries. I firstly tried to obtain it at the NSW State Library, where they had two copies of the book listed in their collection, and found them both missing. Likewise, on a trip to Newcastle Library, I was unsuccessful, and my last avenue of opportunity in New South Wales was at NSW University, and knowing how difficult it is to park, I enlisted my sister Lavinia for the journey. After a quick search we found a dusty and untouched book on a back shelf and it was with great excitement we discovered that our Wise family of Victoria was listed in great genealogical detail.
It is sad that this out of print book is being pilfered by reseachers from our Libraries. Leaske based his family reporting in the style of Burke's peerage and at first glance it seems a complicated method, however with practice it is happily conquered. It is a simple way of showing several generations in a concise style starting with one ancestor, much the same way that genealogists create a descendant chart. Through Leaske I was able to discover the existence of William McOboy's sister Mary "Maria" Wise, who had married her first cousin, George James Spratt Wise, "the son of James George Wise and ? Spratt of Pencil Hill, Co Cork, Ireland". James George Wise being a younger brother of Henry George Wise (William McOboy Wise's father). I spent a great deal of time placing the family information from Leaske into my Ancestry online family tree in an effort to take the Wises back to Ireland, and place the family into their correct place in Irish social history. The Australian Death Index of William McOboy Wise's which I had found earlier was helpful in identifying William's father's full name and his mother's maiden name. As a novice genealogist, it was also comforting that Leaske also confirmed these names in his book. I collected many records to confirm Leaske's information. One of them that was pleasing was the death record of George James Spratt Wise confirming his Irish parents from Cork. It was Leaske who indicated the maiden name of James's mother as Spratt, and the record below that gave me Martha as her Christian name.
Australian Death Index 1787-1985:
| | |
| --- | --- |
| Name: | George James Wise |
| Death Place: | Victoria |
| Age: | 50 |
| Father's Name: | James George |
| Mother's name: | Martha |
| Registration Year: | 1865 |
| Registration Place: | Victoria |
| Registration Number: | 63 |
| Estimated birth year: | abt 1815 |
I have also included the family group sheet for James and Maria Wise showing James' most interesting lineage from several distinguished Protestant Irish families. For some reason the chart does not list the children from eldest to youngest.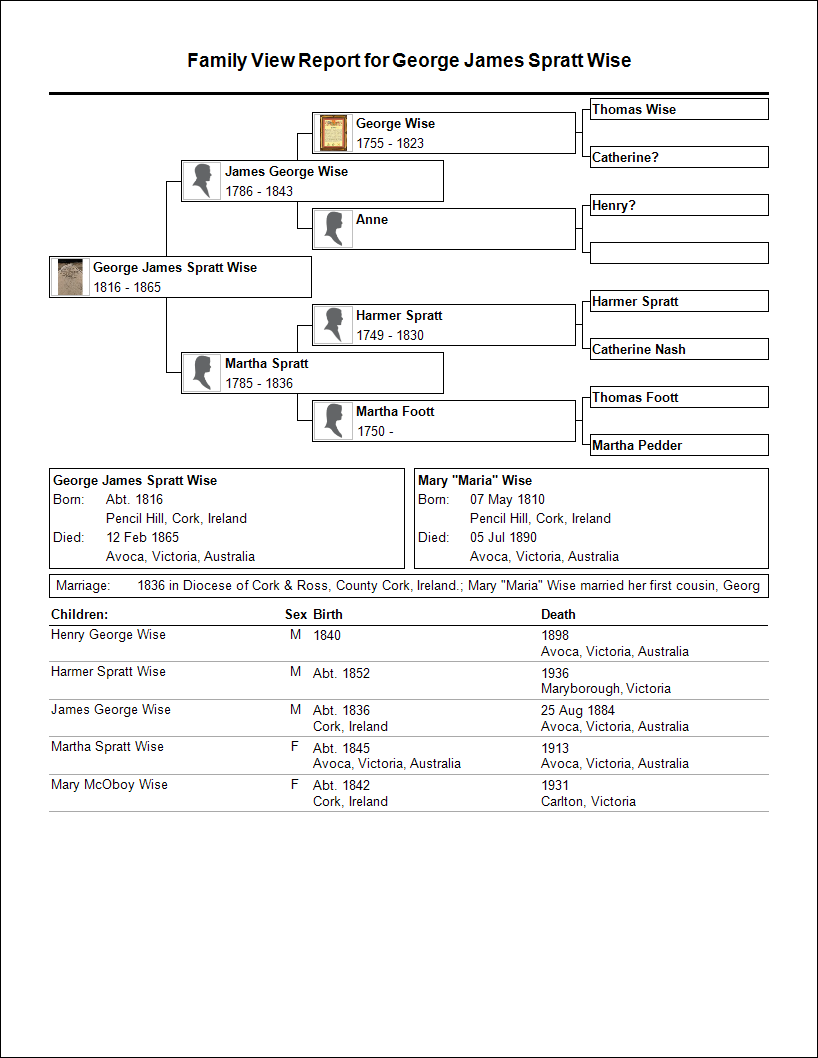 Irish naming patterns traditionally mean that the eldest son is named after the paternal grandfather, and the second son will be named after the maternal grandfather, thereafter a son will be a namesake of his father and the fourth son will usually be named after a favourite brother or uncle, thus keeping familial names repeating down the generations. Naming patterns for the female side follow the same traditions. James and Maria Wise's family demonstrates this tradition extremely well. As you can see from the Family Report View above, George James Spratt Wise was the elder son of James George Wise. George James Spratt Wise then named his son James George Wise in honour of his father, his second son was named Henry George Wise in honour of his wife Maria's father and their third son was named Harmer Spratt Wise after his maternal grandfather. Their daughters were also given significant middle names. Their elder daughter Mary McOboy Wise was named in honour of her maternal grandmother and their younger daughter Martha Spratt Wise was named in honour of her paternal grandmother.
Likewise William McOboy Wise's elder brother was named George Henry Wise and his father was Henry George Wise. William McOboy Wise was Henry George Wise's second son and he was given his maternal grandfather William McOboy's name as his first and second names. Another name that was impressive was William and Ellen Wise's second born son, who was given his maternal grandfather's name, Michael Murray Wise. It is these names that allow the genealogist to take a considered guess as to the names of parents of the previous generation. I was therefore fairly confident that Henry George and James George Wise's father was George Wise – a simple deduction, however it needed confirmation. This also applied to women, and very often they will be given a mother's maiden surname as their middle name, often linking them back to the maiden name of their grandmother. In particular, it has been our Irish heritage that has been traced back to further generations by using these naming patterns. Records in Ireland are scarce and hard to come by, coupled with hundreds of years of unrest, a terrible famine and a depression, a less than diligent tradition for record keeping and the fact that in 1922 the Dublin Public Record Office (PRO) burnt to the ground by an English offensive against the newly formed Irish Republican Army (IRA), taking with it precious records of our past ancestors. The English had decided that deep within the building the IRA was hiding their ammunition, and apparently there was a great blaze. It has therefore been a struggle to find any surviving records for our Wise and Murray families.
The record below belongs to George Henry Wise, who was William and Maria's elder brother who travelled to Australia in 1861 on the Great Tasmanian, and started up the Wise Flour Mills of Victoria. He migrated with his wife Elizabeth Humphries and their large family of nine children. Migrant and shipping records were more readily available after 1860 and the immigration of George Henry Wise and his family was easily picked up. The fact that there is not a shipping record for James George Spratt and Mary "Maria" Wise and their family leads me to think that they arrived somewhat earlier than 1860 but after 1855. From Irish records I have collected I believe that James was heavily in debt in Ireland, and their migration would have signalled a new start for their family.
Victoria, Assisted and Unassisted Passenger Lists 1839 – 1923:
| | |
| --- | --- |
| Name: | George Wise |
| Estimated Birth Year: | abt 1814 |
| Age: | 47 |
| Arrival Date: | 16 Oct 1861 |
| Arrival Port: | Melbourne, Australia |
| Departure Port: | Liverpool |
| Ship: | Great Tasmania |
| Nationality: | Irish |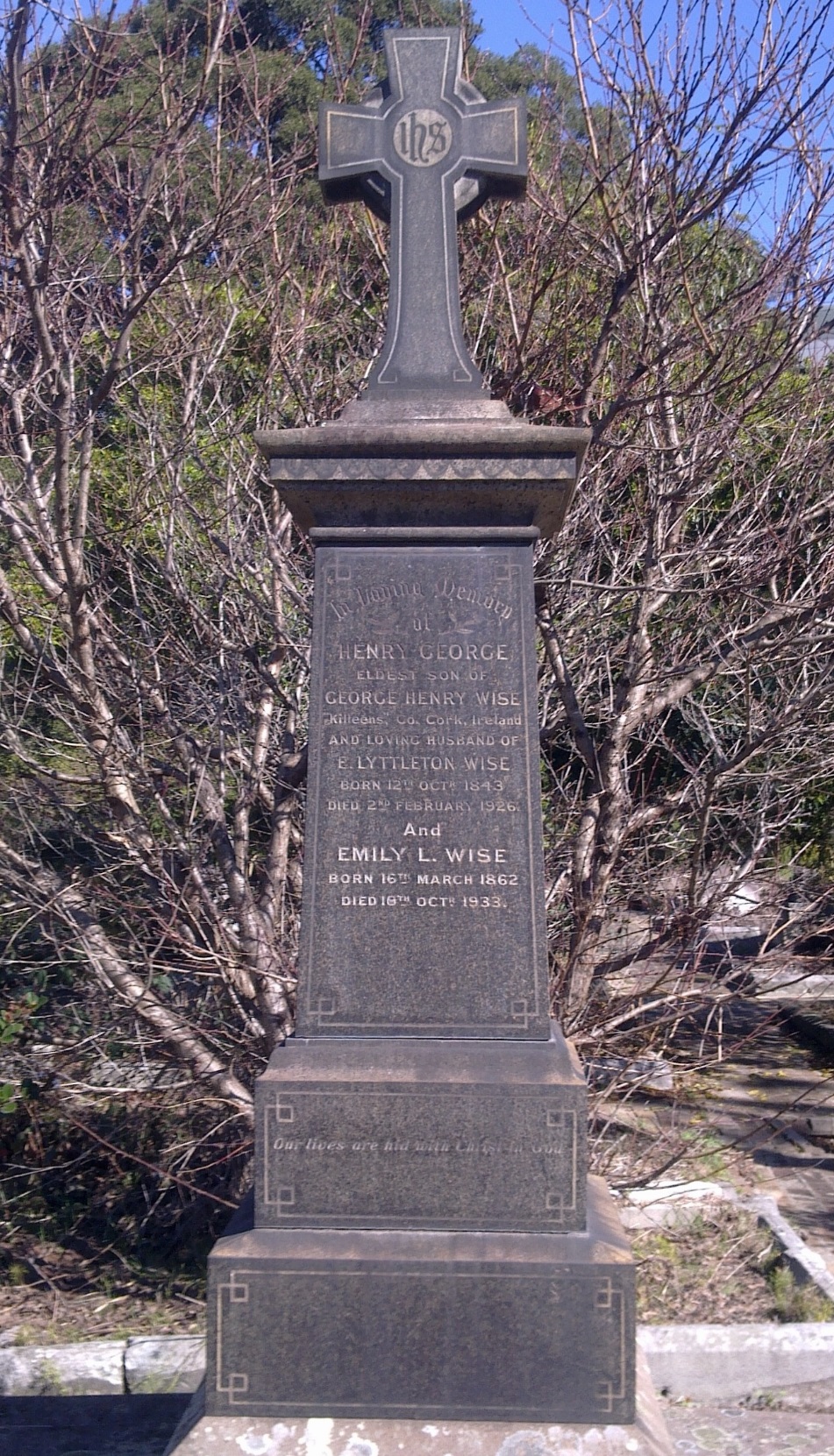 Grave of Henry George Wise, son of George Henry Wise, Gore Hill Cemetery, N. Syd. Note the mention of Killeens, Cork
The above gravestone I discovered online whilst doing a Google search for Henry George Wise. I must admit it came as quite a shock to see this photo, which was listed amongst "Irish headstones of note from Gore Hill Cemetery, North Sydney". This information led to a visit to Gore Hill one fine morning shortly thereafter, together with sister Lavinia and armed with nothing more than this gravestone image. Upon arrival we found a most wonderful, although very neglected cemetery hidden away beside the Pacific Highway, much of it in dense undergrowth. The main road through the cemetery is still in good condition and the layout is described in various maps, dividing the cemetery into religious denominations. A fruitless search found my sister and I talking with a groundsman, who gave us a phone number of a volunteer group, and within minutes we had phoned, received co-ordinates and were standing in front of this most impressive monument.
Leaske also claimed that William McOboy Wise married his first cousin Ellen Murray. This statement I find difficult to accept, for the reason that Ellen came from Prospect Hall in Limerick, a fact recorded in the Wise Family Tree. It also claimed and noted on the tree that Ellen Murray was a Roman Catholic and an understanding upon her marriage was that her children to William McOboy Wise would be bought up in the Church of England faith. I think Leaske confused the marriage of Michael Murray Wise who married his first cousin Kate Wise, the daughter of George Henry Wise and Elizabeth Humphries, with William McOboy and Ellen Wise. Another interesting comment on the Wise Family Tree was the fact that William McOboy Wise had a falling out with his father over his marriage to a Catholic girl, and after his migration to Australia, he lost touch with the family. I think the falling out may have been a result of his business enterprises going badly in Ireland, more than anything else, as I now have information that Henry George Wise actually died on 23 June 1835, well before William's marriage to Ellen Murray in 1840. The marriage of William and Ellen and the family of Henry George Wise are dealt with in the chapter, Wise Merchants of Cork. Another chapter deals with the Murray Family of Limerick, Ireland.
William McOboy Wise is regarded by the extended family as our founder here in Australia, having arrived in Australia with his wife and children in about December 1851, after leaving Cork in September 1851. Exhaustive searches have not found a shipping record for their immigration. I believe that they were unassisted migrants, and as such these records are rarely found. Sometimes newspaper reports of 'Shipping Intelligence' list families arriving into Australian ports. Convict and assisted migrations are almost always available, as was the case for George Henry Wise and his family in 1861. The Wise Family Tree states that the Wise family arrived in Sydney, and I have collected a newspaper clipping listing a Mr Wise and his three sons arriving on the Roman Emperor on 6 Jan 1851. Recently I found a newspaper advertisement which gives the first information confirming William McOboy Wise's approximate arrival in Australia. It is by no means a record or even correct, but it is an interesting article, and at this stage I don't know anything about Jeremiah Clifford. I can only presume that Jeremiah was from Ireland himself and obviously knew William and his family before his migration, and had information or a letter from Ireland for him, or he recently arrived in Australia and wished to renew his acquaintance with William.
WILLIAM M'AVOY WISE, who left Cork in September, 1851, is requested to send his address to Jeremiah Clifford, Beechworth. Advertising, The Argus Saturday 27 January 1855
A quick search yielded the following newspaper transcription from The Argus 21 May 1904 confirming that Jeremiah Clifford was indeed an Irishman and his association was from William's time in Kerry, Ireland, although it was no other help:
CLIFFORD.—On the 18th May, at her residence,
Timor Hotel, Timor, Ellen, the beloved wife of
Jeremiah Clifford, native of Miltown, County Kerry, Ireland, aged 67 years R.I.P.
The Wise Family Tree also claimed that George Edwin Wise was born on board ship during the Wises voyage to Australia. This is an interesting fact, although I believe it to be incorrect. George Edwin Wise's obituary claims he was a native of Waterford, Ireland. I have no record which supports the claim from this newspaper article either, other than presuming that his wife and children gave the newspaper the information. However, I have collected a birth record from Ireland which I believe is correct, although as yet this record does not confirm the names of his parents. In the future I would like to access this record to see if there is further information naming his parents and their address, as I believe this is possibly George's birth just before the family migrated to Australia. This more correct date then negates the arrival of the Wises in Sydney in January 1851 due to the length of time of voyages from Ireland to Australia.
Private Sources at the National Archives
Small Private Accessions
1972–1997
999/1–999/850:
999/565 EXTRACTS FROM PARISH REGISTERS:
No 81.
22 Oct. 1850
George E. Wise
Cork
George's birthdate above is supported by his entry in Wise family bible which is owned by Geoff and Anne Wise of Dubbo. Geoff Wise being the great grandson of Henry Wise, William McOboy's eldest son. I found Geoff Wise and his Dubbo address listed in the Wise Family Tree as the son of Allan Frederick Wise. I have not yet met the Wises of Dubbo, however Geoff and Ann very kindly emailed photographs of the family bible, a pipe and stand, tie pin and ring, which belonged to William McOboy Wise, after I chatted with them on the telephone. It was so exciting to speak to them and they had great knowledge of William McOboy Wise, George Edwin Wise and Kelly Wise.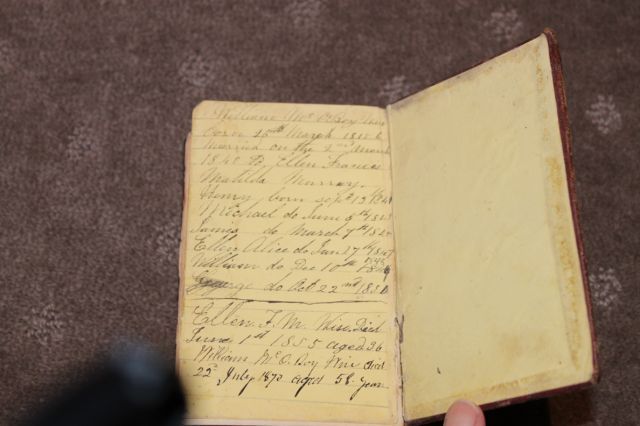 Wise Family Bible showing family tree page, owned by Geoff and Anne Wise of Dubbo.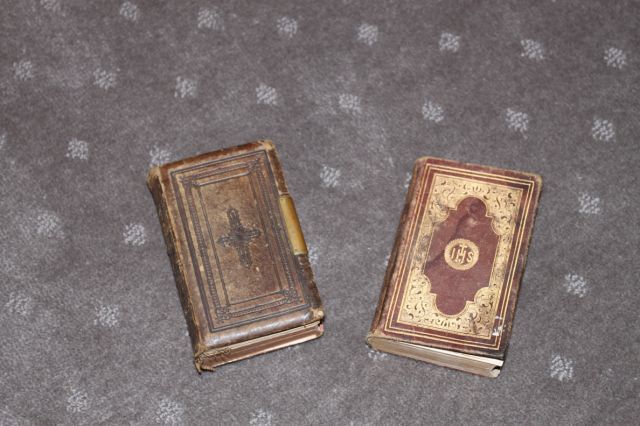 Wise family Bible and Prayer Book, courtesy of Geoff and Anne Wise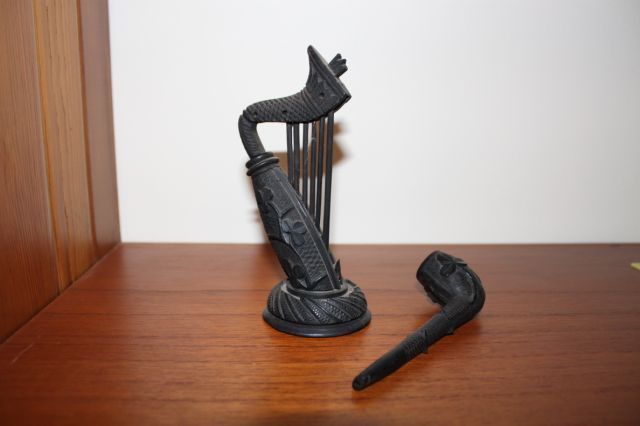 William McOboy Wise's pipe and stand, above, and tie pin, below, courtesy of Geoff and Anne Wise.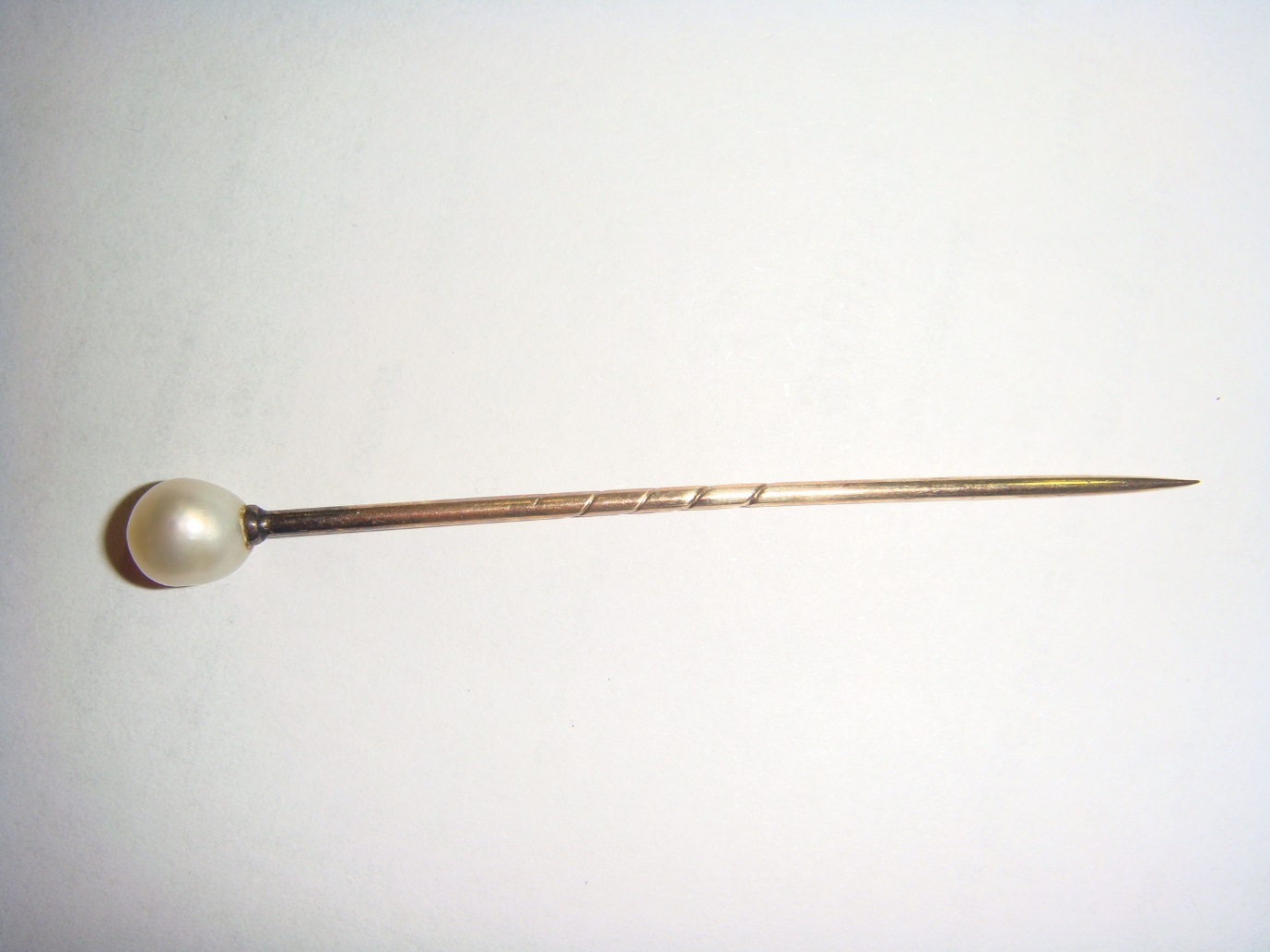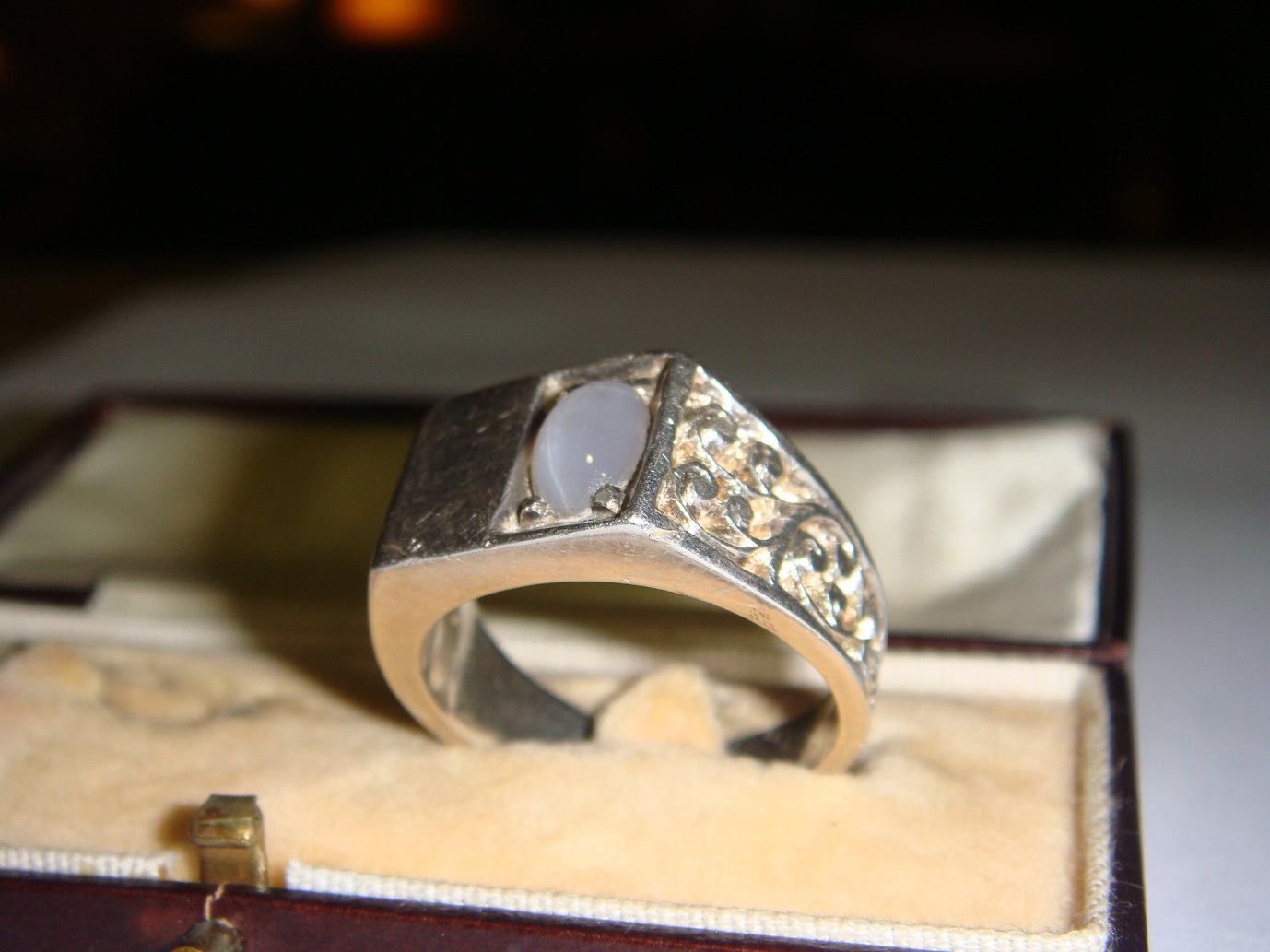 William McOboy Wise's Dress Ring, courtesy of Geoff and Anne Wise
I have no records regarding the migration of George James Spratt and his wife Maria Wise, however I believe that they migrated in the late 1850's with some of their children who are buried at Avoca. I was however able to confirm Maria as William's sister from the following record, showing her parents listed as Henry George and Mary McOboy. I don't think they were long in Avoca before George's death at the age of forty nine, hence there is no information regarding him at ADHS. I also believe that Maria's husband George James Spratt Wise was a victim of the Irish famine and political instability, being a farmer his livelihood must have been in jeopardy. Sadly I have collected several Irish records that show he was sent to a debtor's prison in Cork. A situation which must have been extremely hard on his health and his family situation.
Australian Death Index 1787-1985:
| | |
| --- | --- |
| Name: | Mary Maria Wise |
| Death Place: | Avoca, Victoria |
| Age: | 80 |
| Father's Name: | Hy Geo |
| Mother's name: | Mary Mcoby |
| Registration Year: | 1890 |
| Registration Place: | Victoria |
| Registration Number: | 10383 |
| Estimated birth year: | abt 1810 |
Ireland, Prison Registers 1790-1924:
| | |
| --- | --- |
| Name: | George James Wise |
| Role of Individual: | Prisoner |
| Event Type: | Prison |
| Event Date: | 1852 |
| Event Place: | Cork County, Cork, Ireland |
| Age: | 40 |
| Birth Year (Estimated): | 1812 |
| Prison: | Cork County |
| Offense: | Debtor |
| Item Number: | 4 |
| Book Number: | 1/8/5 |
| County: | Cork |
GS Film number: 2356519 , Digital Folder Number: 004492626 , Image Number: 00873
Family Search Website
After searching the online ADHA site again, I came across some information about a website managed by a volunteer husband and wife team, George and Carol Judkins, keen cyclists, who have combined their sport with photography and have recorded and transcribed graveyards throughout country Victoria. Luckily on their list was Avoca Cemetery, which they had photographed with an offer to send photographs for free, if any were of interest. I immediately found listed the gravestones of William McOboy and Ellen Wise, their son, Michael Murray and Kate Wise, and William's siblings Maria and George James Spratt Wise and Henry George Wise and Elizabeth Humphries, amongst a long list of other Wise graves, that I was still unsure about placing. I emailed Carol for photos and she replied within a day. It was tragic to read the gravestone of Michael Murray and Kate Wise where many children had died in infancy, and see that in 1888 Kate Wise and her youngest child, also Michael Murray Wise died in infancy. It would seem that Kate had died shortly after childbirth.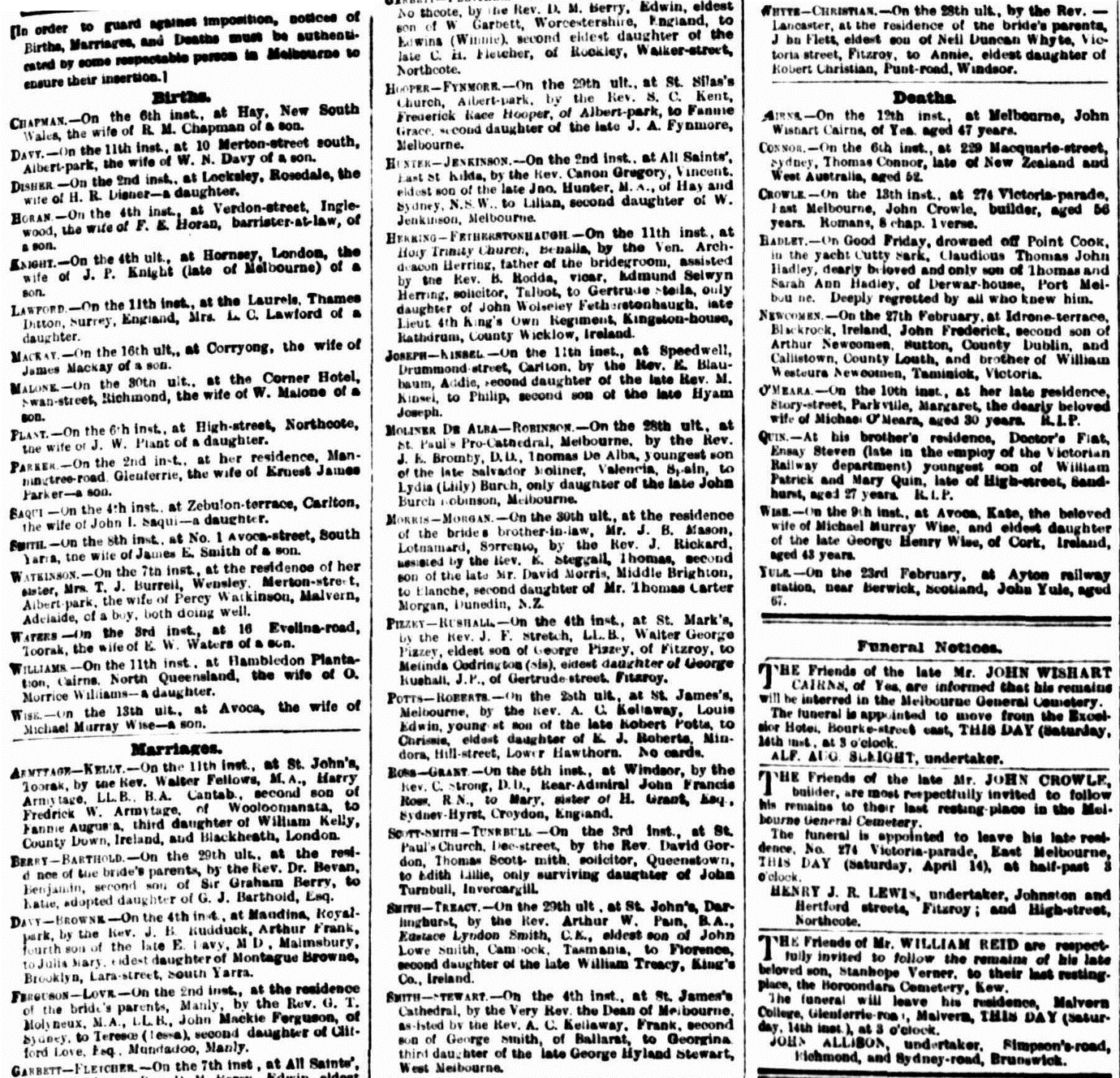 The Argus, 14 April 1888, Birth of Michael Murray Wise Jnr and Death of Kate Wise are listed in this newspaper clipping.
George and Carol Judkins sent four photos of the Wise graves, which are all in a long row at Avoca cemetery, which I have placed in that same order, also see below for the link to their website:
http://www.rootsweb.ancestry.com/~ausvsac/Avoca.htm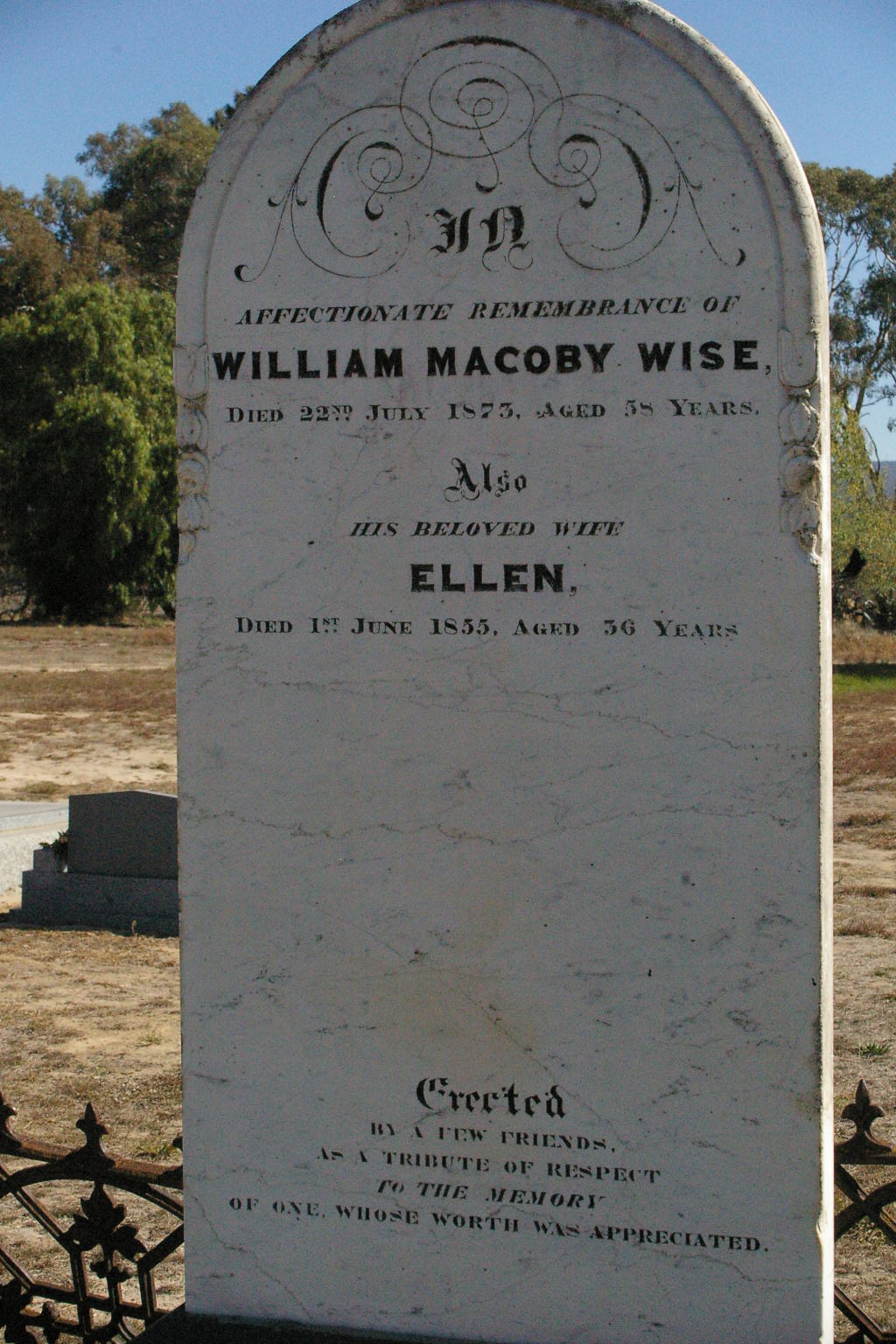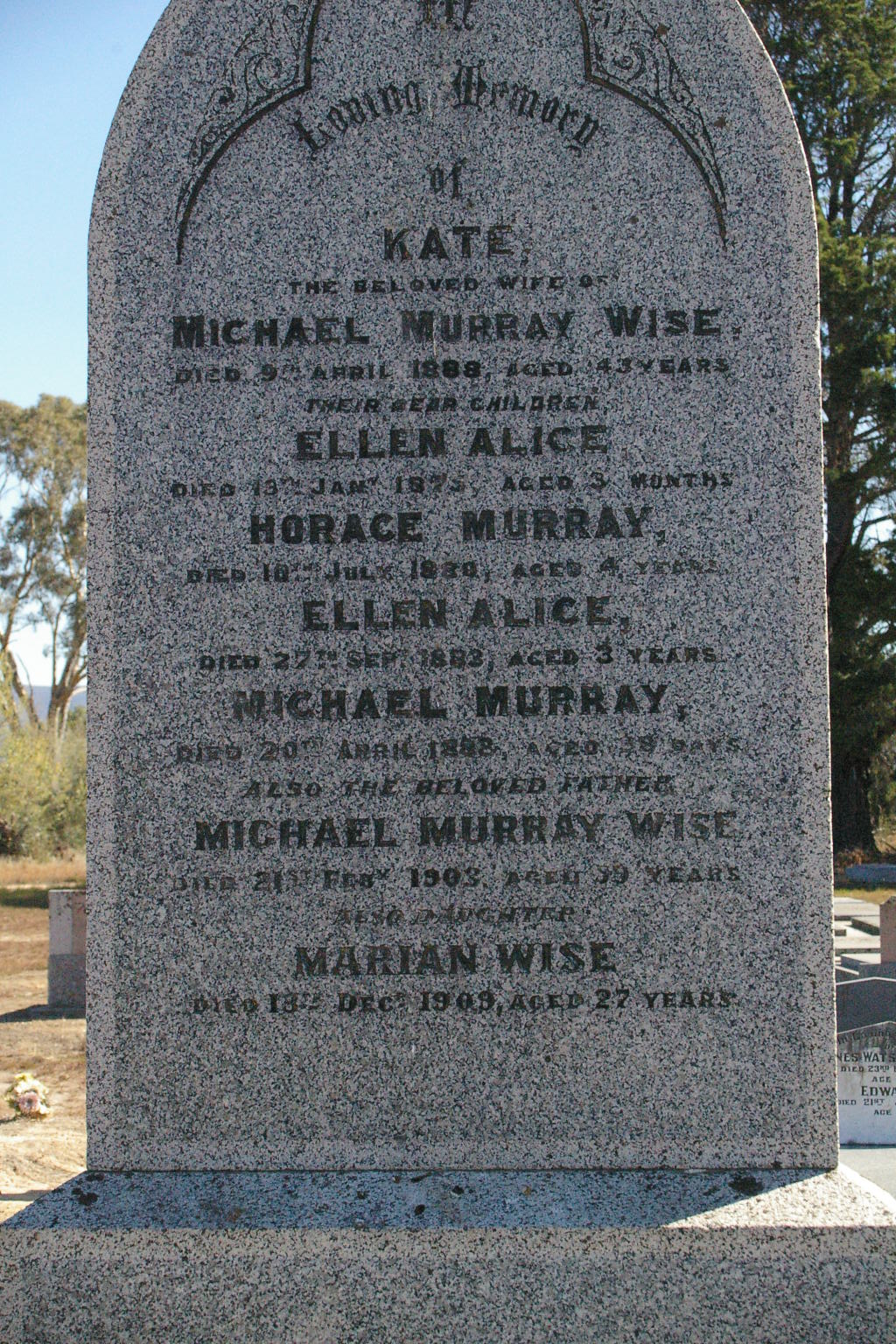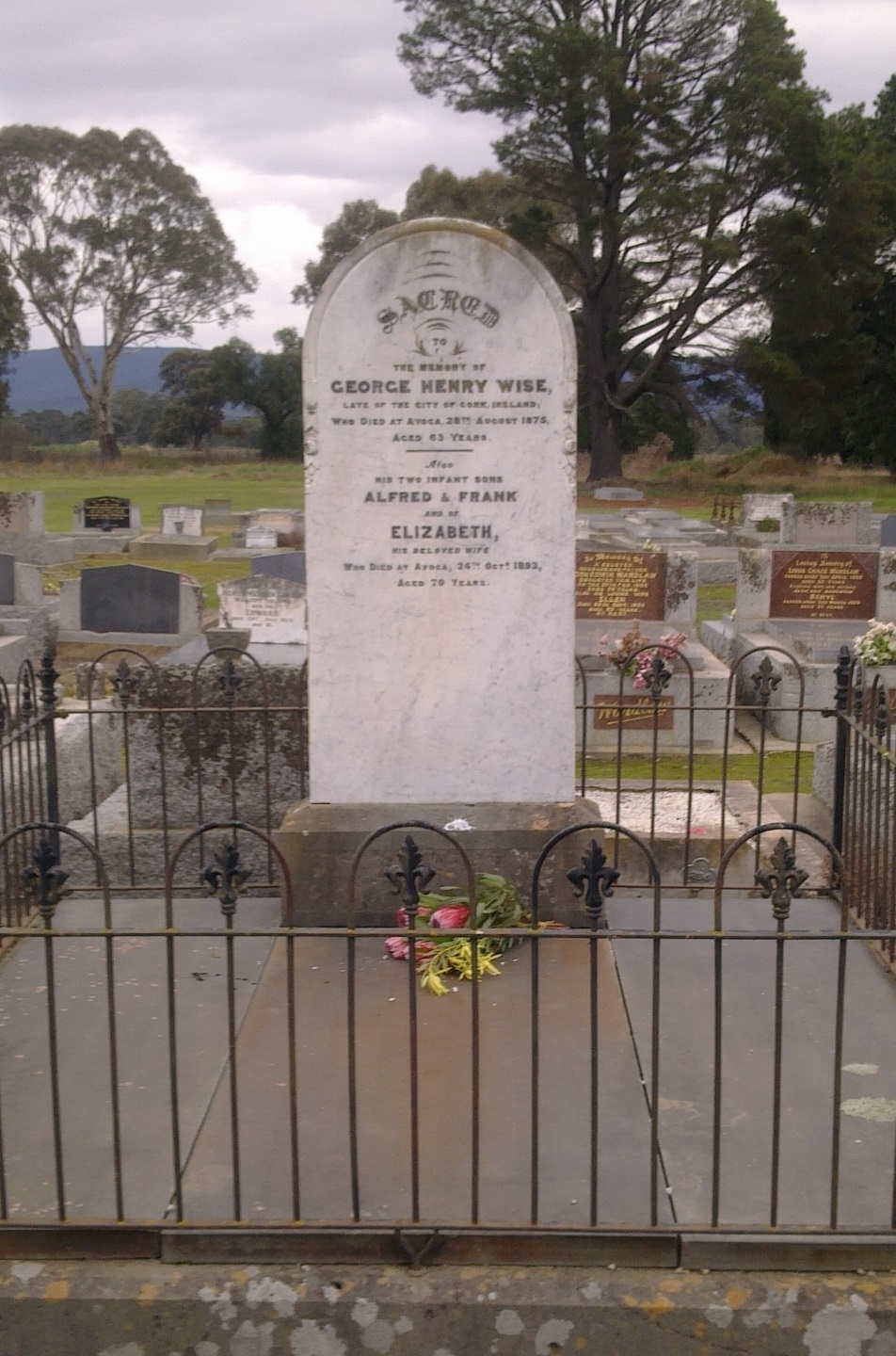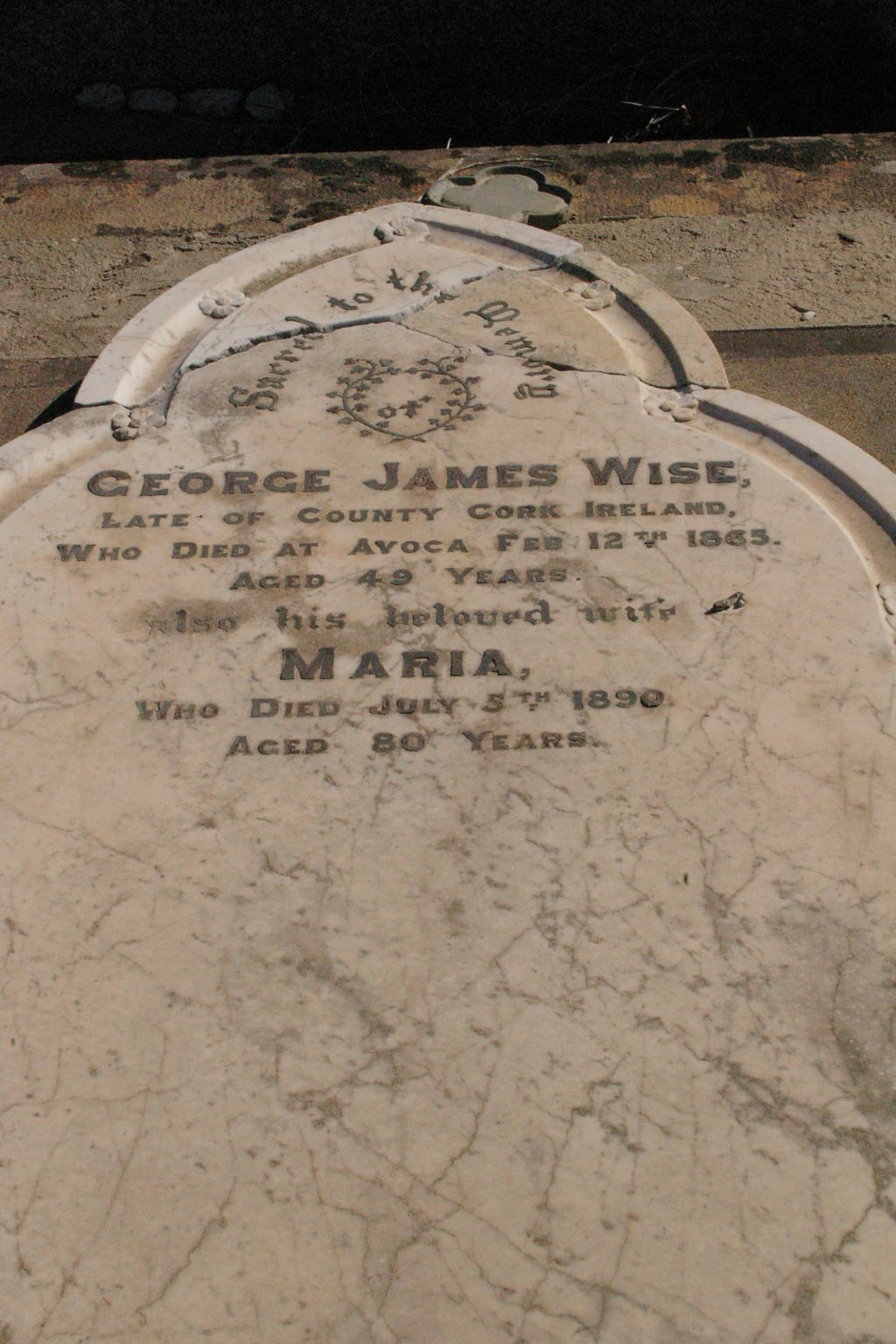 Upon receiving the photos above I decided my next venture was to visit Avoca and see for myself the towns, visit the ADHS rooms in the Old Courthouse in the main street of Avoca and visit the Avoca Cemetery and Lamplough and Percydale townships.
Geoff and I, together with my sister Lavinia Chrystal went on a journey to Avoca, Lamplough and Percydale in Victoria in August 2011. Percydale being the tiny gold mining town – and now a ghost town, where my grandmother Mabel Jackson Wise (1878-1971) lived as a small child. Her younger brother Cyril Raymond "Kelly" Wise and sisters Irene and Ruby were all born in Percydale between the years 1883 and 1887. Their parents, George Edwin and Agnes Amelia Wise, helped to run the Kilpatrick Wise General Stores with his brothers and their wives, in Avoca and Percydale. The stores provided every provision needed for everyday life in the outback, including groceries such as flours, grains and cereals and dairy, fresh fruits and vegetables, gold mining equipment, linens and draperies, pots and pans. They ran a butchery, an assayer's office and post office. William McOboy even set up an auctioneer's house next door in the main street of Avoca, his partner James Kilpatrick was a linen draper from Dublin. All their children were employed in the business, however, it was George Edwin Wise who took the general stores to the New South Wales outback and set up department stores from Wellington to Dubbo, creating a huge money making venture for the family that became known as the Western Stores.
Virginia Rundle
BA Sydney University 1979
Certificate Diploma in Genealogical Research, Society of Australian Genealogy (SAG) 2013
Wise Family of Avoca, Victoria article written, 31 March 2012, updated 24 November 2014
Maps on the previous pages are courtesy of ADHS Library.
Bibliography and Acknowledgments:
*Leaske's Genealogical Guide to some Australian Families, Wise Family Extract
Avoca and Districts Historical Society Library, Maps and Files (ADHS),
*Lamplough Diggers Name Index (ADHS)
*William McOboy's Intestate Will Documents, courtesy of the Public Records Offices of Victoria (PROV)
Trove Digitised Newspapers
Public Records Office of Victoria (PROV)
Ancestry.com.au
Shipping Intelligence, NSW State Archives
*Wise Family Tree, courtesy of Peter and Helen Borthwick
Grave Photos of George and Carol Judkins
Photos from Geoff and Ann Wise of William McOboy's Treasures and Family Bible
Flicker photograph website, grave of Henry George Wise, Gore Hill Cemetery
Family Search Website
Photographs from Ann Loveridge and Peter Drury
Photographs from John Lee and Felicity Gabbrielli
National Archives of Ireland
*will email if anyone is interested