John Fuller Snr, my Great Grandfather and his second wife May Matilda "Ma" Cryer, are married for a little over a year when John leaves London for Australia, after being offered a place in the touring London Pavilion Company, organised by F. E Hiscock of Sydney. John had apparently been offered a position with the Company a few years earlier, but due to his difficult family situation, after being recently widowed, he had reluctantly turned down the offer. Now with his new marriage and his domestic situation settled, he was in a position to accept the invitation in 1889.
John left England on board the Cuzco bound for Australia with the London Pavilion Company in May 1889, after finishing a season in London with the same Company where he had performed at the Royal Albert Hall in Piccadilly Circus.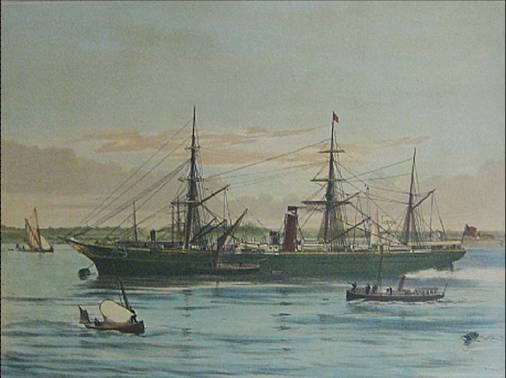 Cuzco, The Master of the Cuzco was James Nixon, watercolour image
It is probable that the London agent J. Saville Smith organised the London Pavilion Company to entertain the passengers, supplementing their journey, by putting on performances during the sea voyage.

The Argus, 3 August 1889
This article, although not wonderfully clear, writes about the interesting life onboard the Cuzco and the entertainment that was enjoyed on board during the voyage.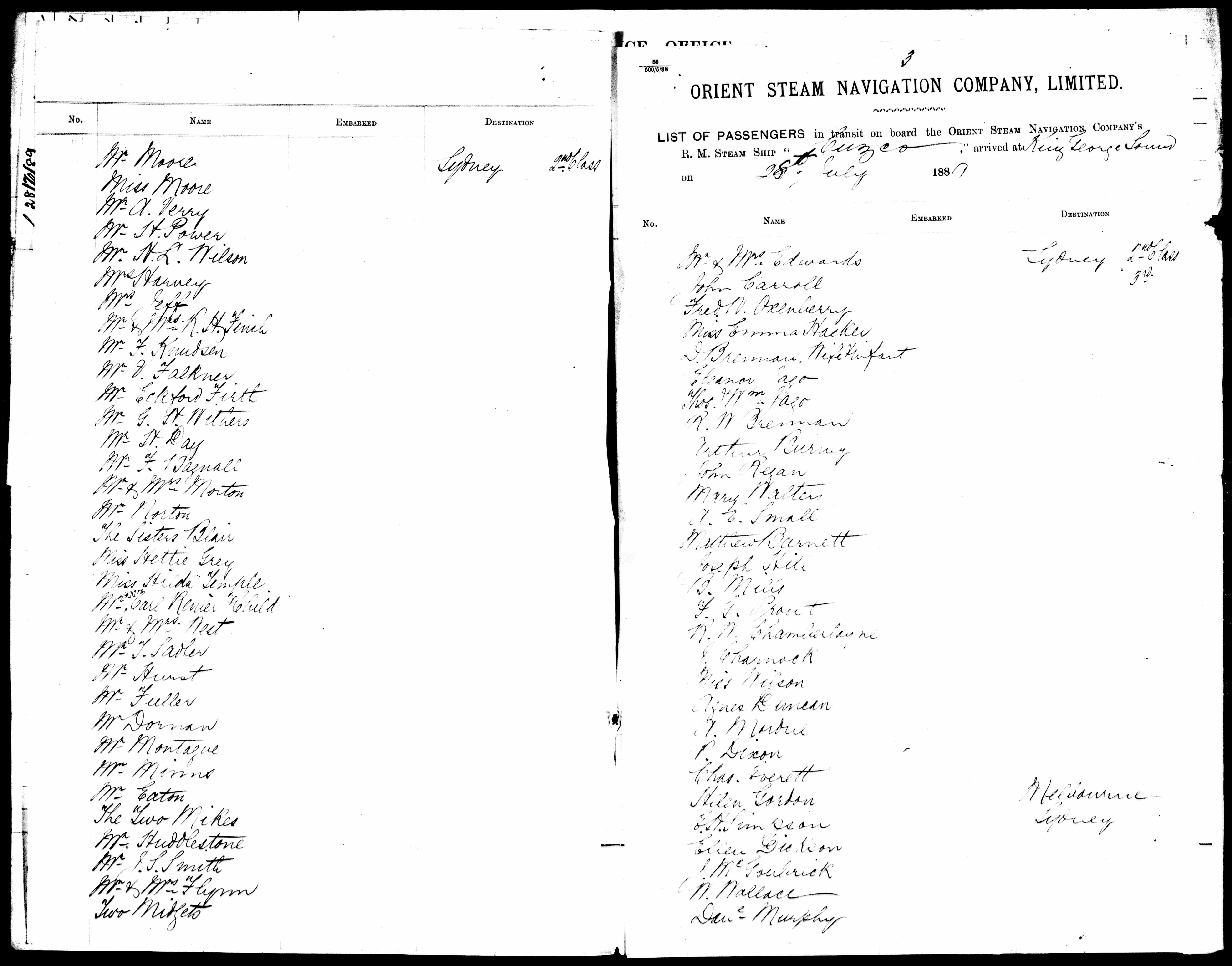 Orient Steam Navigation Company Ltd, arrival of the Cuzco, King George Sound, Albany, Western Australia, 28 July 1889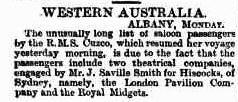 Leader, 3 August 1889
Finally I found a newspaper clipping which mentioned some of the passengers including a J. Fuller.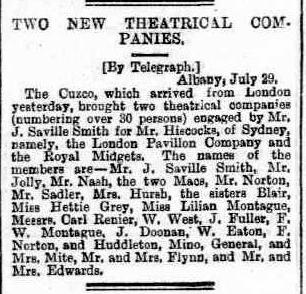 Express and Telegraph (W.A.) 30 July 1889
The tour began in Melbourne in August 1889 and by December the Company was performing at the New Sydney Opera House.
"The London Pavilion Company, which was known in Australia as Hiscocks' London Pavilion Co., opened in Melbourne in August 1889, and followed this by a season at the Opera House in Sydney in early October. In addition to Fuller, who was billed as "the celebrated tenor from St. James' Hall, the company also included "imports" J. Whitworth, Jolly John Nash ("Old England's Greatest Comique") and "Grotesque Ethiopian Character Delineators" Morton and Sadler; along with several well-known Australian performers, including Harry Clay, W. Horace Bent, George Turner, Beaumont Read (SMH: 5 Oct. 1889, 2). One of the more popular features of the entertainment was a double quartet which comprised Fuller, Harry Clay, Beaumont Reade, George Turner, J.V. Doran, W.H. Harrison, J. Whitworth and a Mr Smith. Two of the songs they are known to have performed were "The Cruiskeen Lawn," and "A Soldier's Love" (SMH: 4 Nov. 1889, 4). Fuller also appeared in the pantomime The Barber's Daughter; or, the Great Kan-Kan Dance (adapted and localised by John W. Morton from Rossini' The Barber of Seville)."
https://ozvta.files.wordpress.com/2011/03/fuller-john-snr-2992014.pdf
The tour then played in Brisbane, Adelaide and Broken Hill to very good reviews, however history has branded the tour a failure because of mismanagement which left its mark on John Fuller Snr after he was left out of pocket 50 pounds, a debt that Hiscock promised to repay but never did.
John Fuller immediately made his mark on the Australian public and was rewarded with good reviews.  The Brisbane Courier wrote, "Mr J. Fuller, a tenor singer who has a good London reputation" and mention of his two signature tunes We Don't Know how we Love them till they're gone and Geraldine.

Brisbane Courier, 26 November 1889

Brisbane Courier, 6 December 1889
This wonderful advertisement for the London Pavilion Company at Her Majesty's Opera House, Brisbane. The Brisbane Courier states, "Mr John Fuller, The Splendid Tenor, Again Bought the House Down."

Daily Telegraph, 25 December 1889
Farewell Performances of Hiscock's London Pavilion Company at the New Opera House in Sydney, starring Jolly John Nash, Morton and Sadler, The Two Mikes, John Fuller, Horace Bent, John Dornan and their Splendid Double Quartette.
Quiz Newspaper, Adelaide, 8 January 1890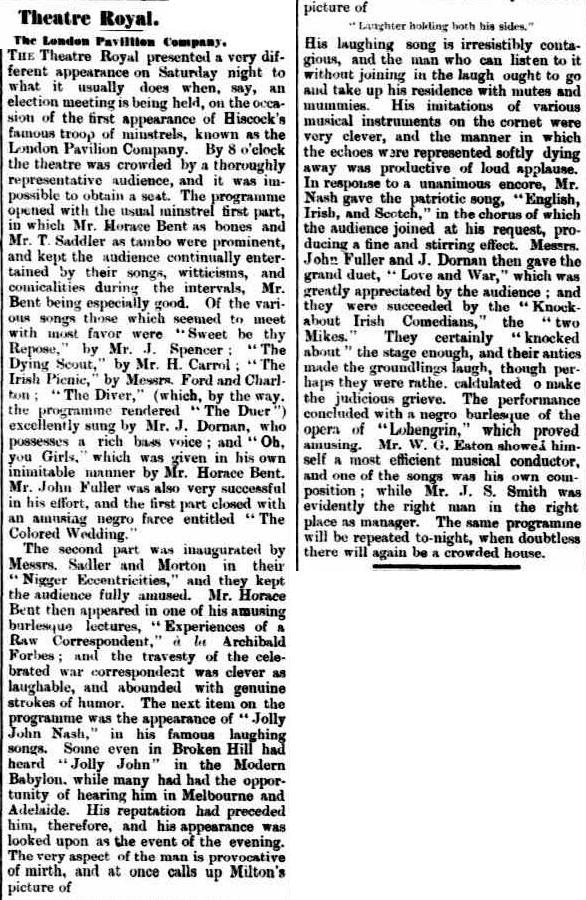 Barrier Miner (Broken Hill), 25 January 1890
Australian Star 20 June 1890
John was now in a serious quandary, stranded in a foreign country without money or a job, he was now to make the decision of a lifetime. Instead of applying to sing for his supper on a London bound ship, he decided to remain in Australia and seek his fortune. He had made some good contacts during the tour down under and he started to make contact with these people. At the time John was living in Sydney. I found an advertisement he had placed in a newspaper and very soon he had found work singing at the Coogee Aquarium.
John was a voice for hire and during this period he took on anything that paid him including a trip to Cootamundra, Junee, Narandara and The Riverina, which would have afforded him yet another glimpse of the New South Wales countryside. John was beginning to feel more secure and was becoming aware that this was a land of opportunity. His sunny personality, his good looks and sense of humour held him in good stead during this period of isolation and longing for his family. John may have been knocked down, but he was able to get back up with the knowledge that he had a gift, not only a spectacular tenor voice, but he had also had charisma and charm, and it was a combination of these valuable attributes that opened doors when opportunities came his way.
The following newspaper articles I found on Trove Digitised Newspapers, has enabled me to find out exactly where John Fuller was during 1890.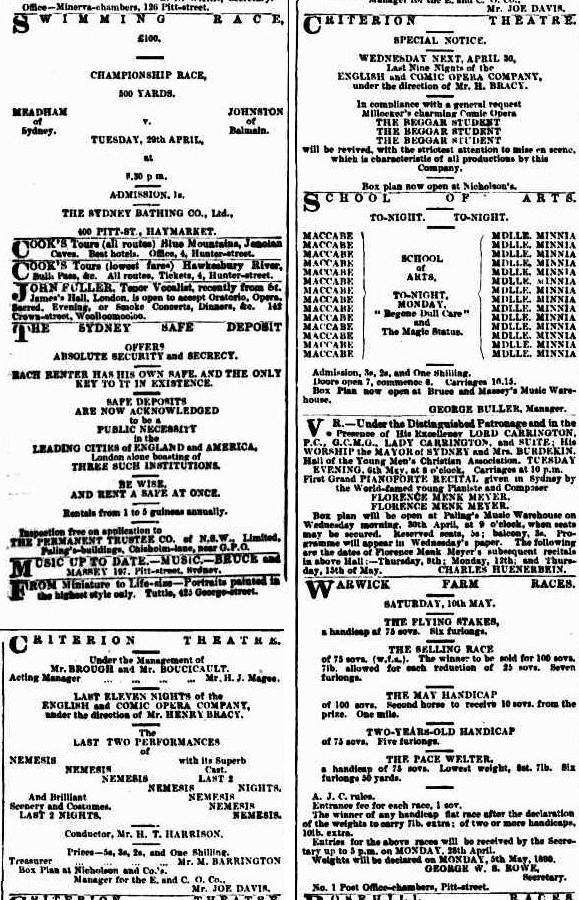 Sydney Morning Herald 28 April 1890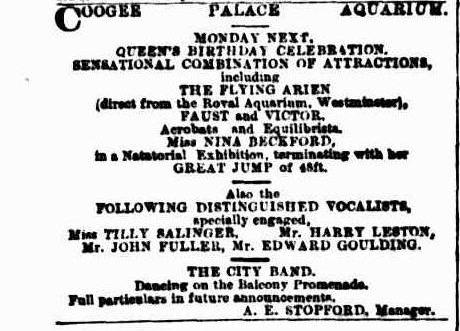 Sydney Morning Herald 22 May 1890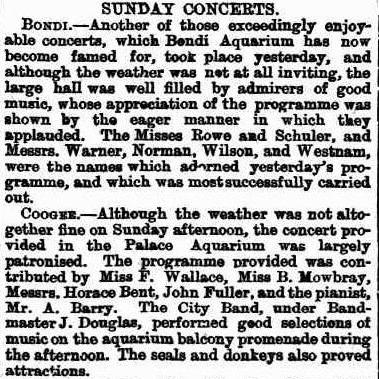 Sydney Morning Herald 12 May 1890
The Cootamundra Herald, 18 June 1890

The Riverina Grazier, 24 June 1890
In June 1890, newspaper clippings find John Fuller employed by the Sherwin Company. "Mr John Fuller is a gentleman possessed by a light ad flexible tenor voice which has been finely trained, and in his last night's efforts he was eminently successful, rounds of applause rewarding his several numbers. "He sang Alice where art Thou", "The Last Watch" and "There is a Flower that Bloometh."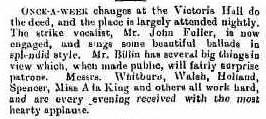 The Melbourne Punch 3 November 1890
John Fuller Snr was getting good reviews, and he was certainly seeing New South Wales. As can be seen from the previous article in November John Fuller can be found in Melbourne newly engaged by Mr Bullen at the Victoria Hall and accorded the new title of "Strike Vocalist" for the company of performers.
It can be assumed that John kept in touch with his family in London. I am sure that John used telegrams as well as sea mail to communicate with his wife and children. During this period, the older children were eeking out their own separate existences in show business.
Walter Fuller, John's oldest son was a gifted musician, he could play not only the piano but the organ. I am sure he learned these skills from his local church where I imagine most of the family would have been involved in the parish choirs. It was no accident that John Snr discovered his voice, he would have known he possessed a strong and powerful tenor voice from these humble beginnings. Like wise both Walter and his brother Ben had discovered that they possessed similar talents as musicians and singers.
Newspaper clippings have been a constant source of most interesting Fuller family history. Previous unknown and unclipped newspaper articles have come to light with the advent of online digitized newspapers. In Australia the source is the Australian National Library's service called Trove and in New Zealand an equally excellent resource is Paper's Past and both these websites are efficient and free. Unfortunately, the same can't be said about old UK newspapers, which have been purchased by family history websites which charge a hefty price for this precious information.
An article from the Star Newspaper, Christchurch, 9 May 1904, produced a valuable interview profiling John Fuller Snr's children and their early careers, and while not totally accurate, it does indicate that the Fuller children were musical and entrepreneurial at a young age. This newspaper concentrated on their life before they arrived in New Zealand. It is not clear whether the information in this article came from the children or from their father.
It was wonderful information about Walter Fuller's career in London, singing with the Mohawk Minstrels, he had sung Ave Maria at their Good Friday Concert and later at the Brompton Oratory he sang Inflammatus against a full orchestra, hitting top C which rang out clear and distinctly.

Star Newspaper, Christchurch, 9 May 1904
In my family history, I have used several research areas, Alistair Duncan's book Actors Blood written about the Fuller dynasty has been extremely helpful, informative and thorough, and is well illustrated. I can clearly remember Alistair Duncan and Virginia Fuller visiting mum back in the mid 1990's when she was still living at 64 Wunulla Road, Point Piper. We sat on the sun verandah having afternoon tea as Alistair explained that he was keen to borrow Grandpa John Fuller's scrapbooks, photo albums and his precious diary Johnny Fuller's World Tour 1907, as well as listening to mum's reminiscences of her life. These resources have also been a constant source for my own Fuller Family History. Actor's Blood has never been far from my reach during my own research and writings on the Fullers. To a great degree Alistair's book concentrated on Sir Benjamin Fuller's wonderful theatrical and entrepreneurial career.
My interest in the Fuller family history lies with John Fuller Snr and his son, my grandfather John Jnr, known as Johnny, and their families. The internet has opened windows that were not available to Alistair Duncan, online old newspaper websites have taken my research to another level, whereby I can capture, on an almost daily basis the lives of the Fullers in both New Zealand and Australia. Their theatre advertisements, their performance reviews, their travels, their personal lives, as well as letters to the editor of various newspapers, and Johnny's community service as a Wellington City Councillor, is all revealed. The newspapers followed the family as if they were modern day celebrities, and at a time when the paparazzi did not exist.
Fullers Theatres took off swiftly and successfully, they found a niche in a new world, and they entertained the masses. This was a time when there was no television or movie theatres; the Fullers found themselves on the cusp of a revolution in theatre. A time between live vaudeville and variety entertainment, and the world of moving pictures. They were pivotal in developing traditional theatre into the imaginary and visually incredible world that opened up with the advent of the very popular myriorama projectors. A development whereby mirrors that were inside a small machine would project bright light on a large screen. The Fullers used these so called magic lanterns much like a slide show, and projected light onto a flat theatre screen and bought the wonders of the world right into the theatre, with visual effects as well as sound effects and a learned narrator telling fantastic stories supported by incredibly realistic images of famous cities, landmarks, jungles and desert landscapes – all seemingly bought to life within the theatres. It also must be remembered that many of the new generations in both New Zealand and Australia were born in their home countries, and had only heard tales and seen picture books about distant lands. The Fullers bought these tales and scenes to life in front of their audience who were spellbound and often gasped with surprise and clapped with pleasure at their shows. It was a money making recipe that in a few short years made the Fuller family multi millionaires beyond their dreams, an especially incredible family story, since they all came out of the slums of Shoreditch in London just ten years earlier.
By the December of 1890 John Fuller had saved enough money to send money back to England for the boat fare to bring Ma Fuller and his youngest children Johnny and Hettie to Melbourne. John continued to work in Melbourne and occasionally Sydney during this period while he awaited their arrival. The next page shows an advertisement in the Melbourne Herald for John working for Frank M Clark and his Frolicsome Folly Company, at the Gaiety Theatre, 23 May 1891.
.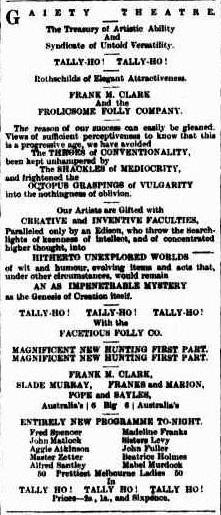 Melbourne Herald 23 May 1891
It must have been a huge undertaking for Ma to pack up the house in London, offload furniture and organise the passage. During this same period Johnny's sister Lydia was also marking out a singing career in the drawing rooms of London. John would have been disappointed that only Ma, Hettie and Johnny would be travelling to Australia. John apparently wanted all his children to come to Australia, and in this endeavour over the next few years he was able to convince all his children to finish their contracts and work commitments and take up his offer of passage to Australia, so they could all be together again.
I captured the 1891 English Census for the Fuller children living at 112 Shakespeare Road, Stoke Newington with their step-mother Matilda Fuller, who appeared on the previous page as head of house. Benjamin J Fuller's occupation is listed as an Iron Merchant's Clerk, so clearly his aspirations of singing and acting on the stage was possibly only part-time at the age of 16. Lydia aged 14, Harriet A aged 13 and John Fuller Jnr. aged 11, are all listed. Walter is the only sibling missing and clearly he was employed elsewhere in England, possibly working with Poole's Myriorama. Interestingly, the tiny Victorian terrace, 112 Shakespeare Road still survives today, the traditional red brick working class terrace has been whitewashed since the Fuller's lived there.
1891 English Census listing the Fuller children living at 112 Shakespeare Road, Stoke Newington, London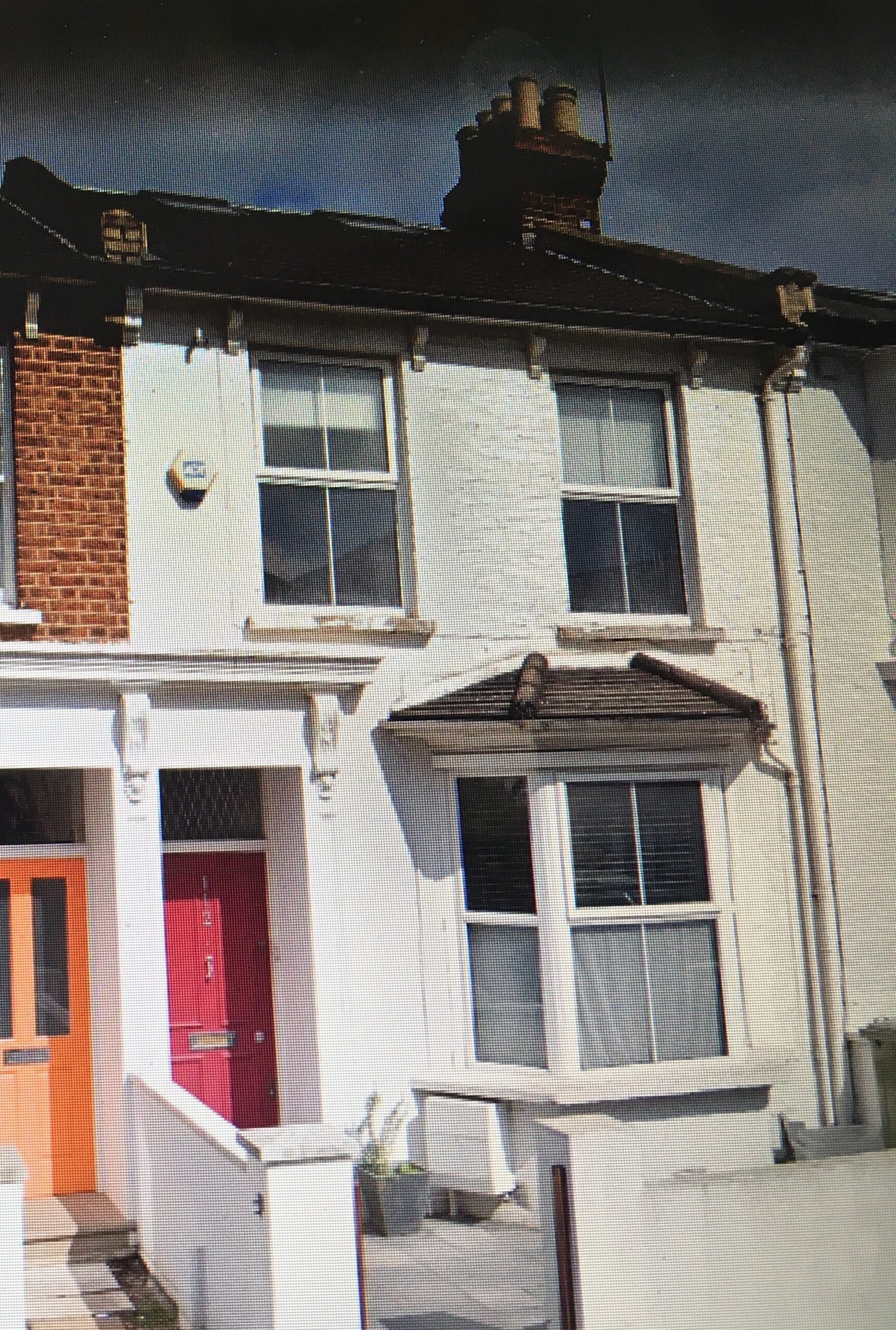 112 Shakespeare Road, Newington Green, London
According to Actor's Blood, Johnny, 12, Hettie, 14, and Ma Fuller arrived in Melbourne on 31 July 1891 aboard the Oratava. When I searched for their shipping records I picked up The Argus Newspaper clipping first and could see no mention of Hettie on the passenger list, however another newspaper The Adelaide Advertiser had a more complete list and she is clearly listed there along with her brother and their step-mother.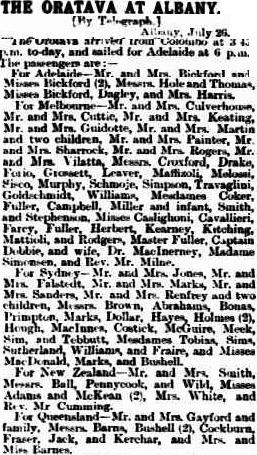 Adelaide Advertiser 27 Jul 1891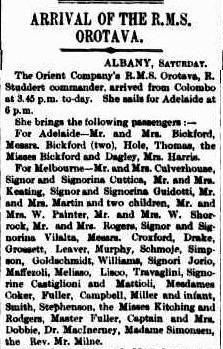 Argus, 27 July 1891
The Fuller's settled into a Victorian weatherboard bungalow at 14 James Street, Abbotsford, not far from Melbourne's theatre district and Johnny was enrolled at Collingwood Public School. Perhaps the disruptions and distractions of his past upbringing led Johnny to absent himself recurrently from school, when only two months later, he took up a position as sword bearer to "Koko" in J.C Williamson's production of The Mikado. Following on from this Johnny was employed as a callboy in Williamson's Royal Comic Opera Company. Lucky for Johnny that Ma assisted with his education, prompting his reading of books and instilling in him sound common sense, the importance of manners and paying attention to minor details. Hettie, being now too old for school was enrolled in Ballet and Dancing classes in Melbourne. She was also taught singing and elocution, to further enhance her career as a soloist.
John Fuller was very happy to have his family around him again. His busy life continued, as did his constant touring, and he was much in demand with many top billings as a popular tenor vocalist.
On 10 May 1892 Johnny had a new baby sister, with May Emily Victoria Fuller being born at their home in Collingwood, and very appropriately being called May.
Australian Birth Index 1788-1922:
| | |
| --- | --- |
| Name: | May Emily Vic Fuller |
| Birth Date: | Abt 1892 |
| Birth Place: | Collingwood, Victoria |
| Registration Year: | 1892 |
| Registration Place: | Victoria, Australia |
| Father: | Jno Fuller |
| Mother: | Emily Cryer |
In April of 1892 Johnny became under contract to Frank M. Clark took up an offer to tour Adelaide with the Silk Stockings Company, where they toured to great acclaim. I was intrigued and delighted to read that their performances also included "an entertainment to the inmates of the Lunatic Asylum."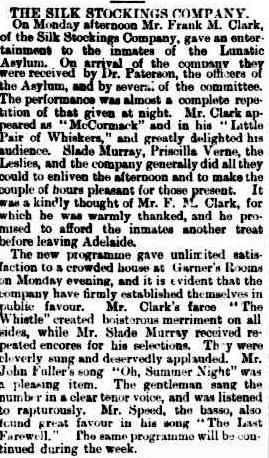 South Australian Register, 12 April 1892
The following page is a review in the Adelaide Advertiser, 25 April 1892, of John's performance with Clark and his Company in Adelaide, and for the first time I have found John Fuller singing Geraldine, a song that became synonymous with the name John Fuller.
It is not clear if John made it back to Melbourne in time for little May's birth, but I feel it probable that John was still performing with the company until the end of May, when he returned to Melbourne. John took no further performance work until July when I found him back in Melbourne appearing in his own complimentary performance at the Exhibition Hall, Brunswick Street, Fitzroy. This is the second illustration to follow, from The Age, 30 July 1892. By September John was appearing at the Garrick Theatre in Sydney with The Alabama Minstrels reviewed by the Sydney Morning Herald, 6 September 1892, see following pages for these newspaper clippings from Trove Digitised Newspapers.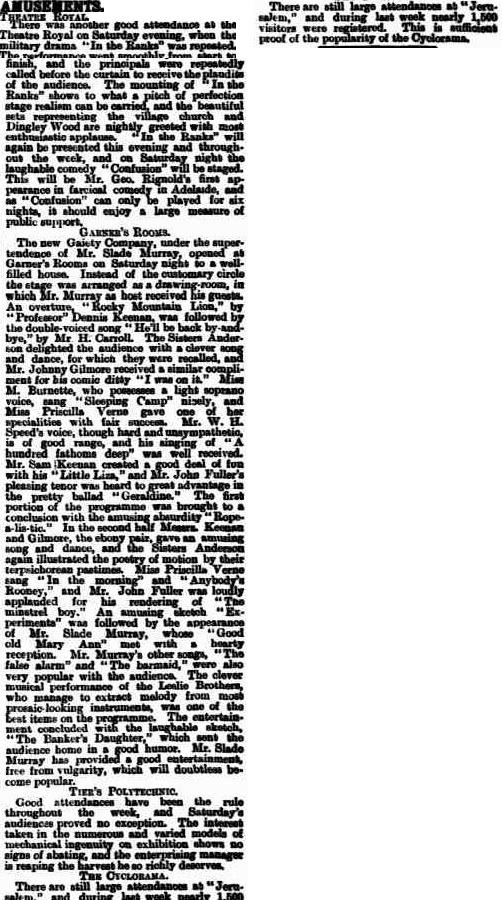 Adelaide Advertiser, 25 April 1892
The Age, 30 July 1892
At the Exhibition Hall, Brunswick Street, Fitzroy, John Fuller was part of a Sunday Sacred Concert, also billed as a Grant Complimentary Concert, singing If with All your Hearts and The Message by Blumenthal and joined W. H. Williams and P. C. Josephs in a trio singing the glee, The Red Cross Knights as well as a trio with Miss A Mitchell and Miss Vincent with We Pray For thee, Father.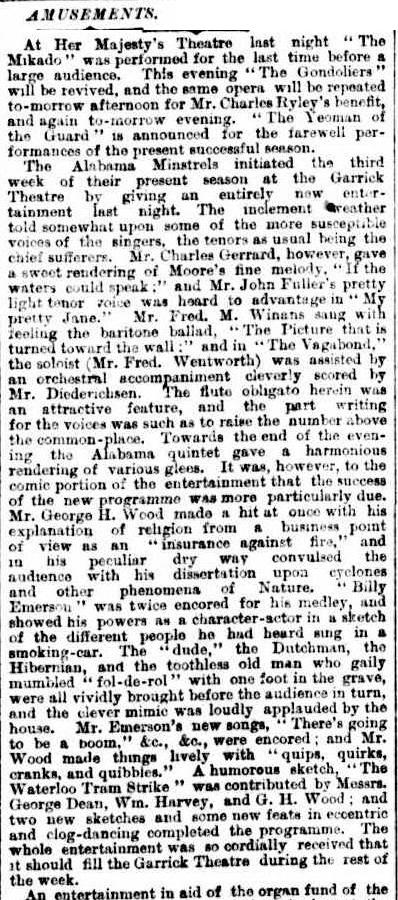 Sydney Morning Herald, 6 September 1892
John Fuller was also found singing with the Alabama Minstrels at the Garrick Theatre, the Sydney Morning Heraldreported "Mr John Fuller's pretty light tenor voice was heard to full advantage in "My Pretty Jane".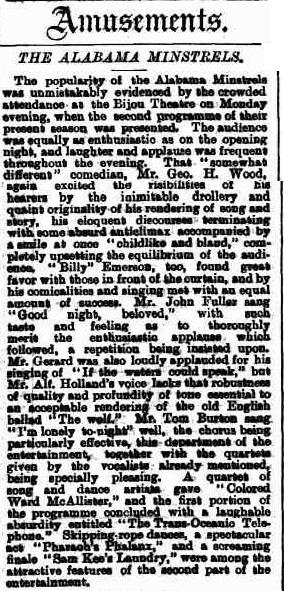 South Australian Register 24 December 1892
A few months later in Adelaide, still with the Alabama Minstrels on Christmas Eve, the South Australian Registerstates "Mr John Fuller sang "Good Night Beloved" with such taste and feeling as to thoroughly merit the enthusiastic applause."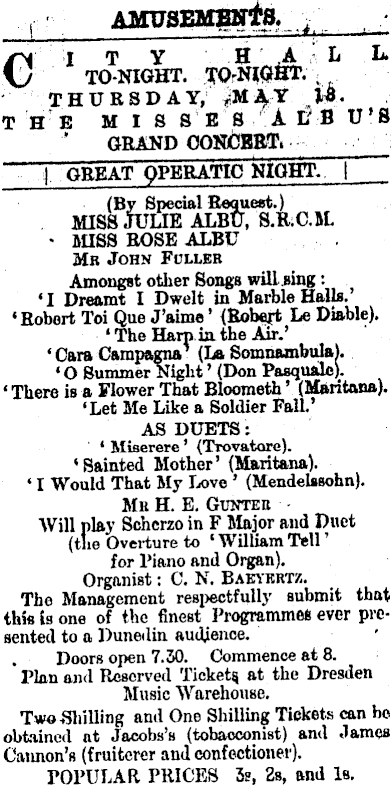 Evening Star, 18 May 1893
I then captured an advertisement in the Evening Starfor John Fuller with Julie and Rose Albu, singing at the Wellington City Hall on 18 May 1893, a repertoire of solo songs including, I dreamt I dwelt in Marble Halls, Robert Toi Que J'aime, The Harp in the Air, Cara Campagna, O Summer Night, There is a Flower that Bloometh and Let me Like a Soldier Fall, and duets Miserere, Sainted Mother and I would that my Love.
The Albu Sisters, Miss Julie and Miss Rose, engaged John to tour with them to New Zealand in 1893, and this decision by John was unwittingly the pivotal change in his fame and fortune. John wasn't to know how much the New Zealanders would welcome him to their country, and his singing was so acclaimed that he became a star of the stage. Auckland in particular suited John for health reasons as well as the homage he was paid. John had apparently developed a heart and lung condition possibly incorrectly diagnosed as asthma. However the warmer climate of Auckland seemed to do his body and soul a great favour. After the Albu Sisters engagement, he and Ma, Johnny, Hettie and baby May settled in Auckland permanently.
The two Albu sisters were sopranos, and the combination of John's tenor voice was a most successful partnership. They were famous European singers, and had performed in Austria, Italy, France and Spain. I found many clippings from newspapers as they toured both the North and South Islands. They began their tour in Dunedin, which was the former capital of New Zealand. It was famous for its Scottish settlement, and its reputation as being a hard nut to crack in the theatre business. However the Albu Sisters and John Fuller, who had hired the Garrison Hall for a seven-day stint, seemed to have a very successful time there.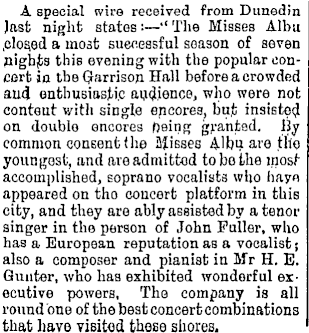 The Wanganui Chronicle, 27 May 1893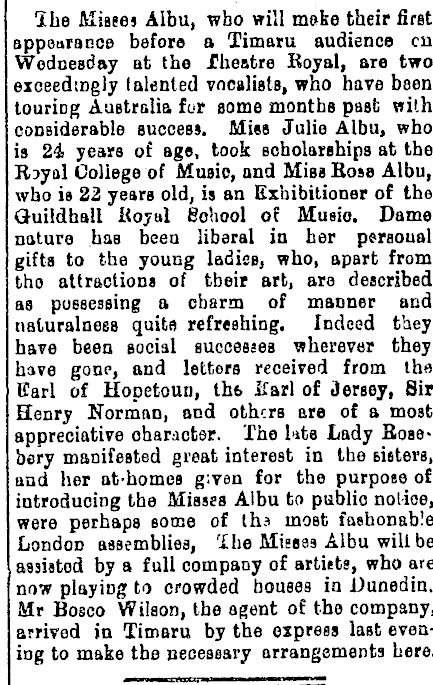 The Timaru Herald, 25 May 1893
The Albu Sisters' Concerts moved on to Christchurch, Wellington and Auckland, and this was where John was left after the tour in late August of 1893 when the sisters departed for Europe. John singing his ever-popular signature song, Geraldine, written especially for him by W.C. Levy.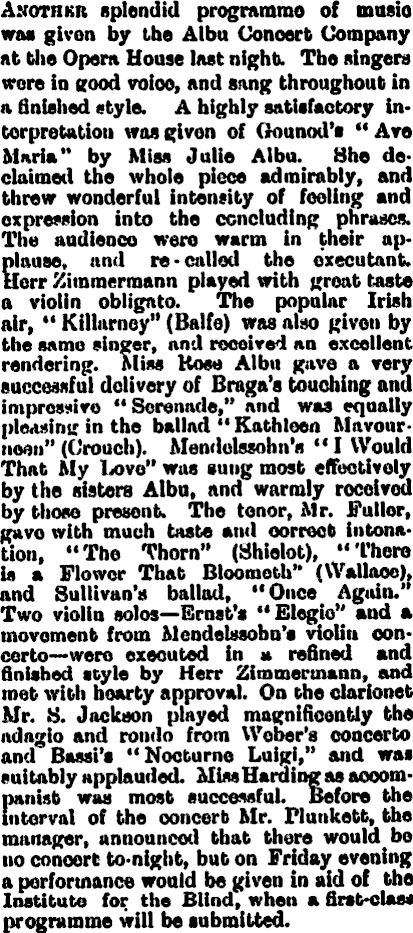 New Zealand Herald, 17 August 1893
Singing at the Auckland Opera House, the New Zealand Herald reports that "Mr Fuller gave with much taste and correct intonation The Thorn (Shielot), There is a Flower that Bloometh (Wallace) and Sullivan's ballad, Once Again."
ALBU SISTER'S FAREWELL CONCERTS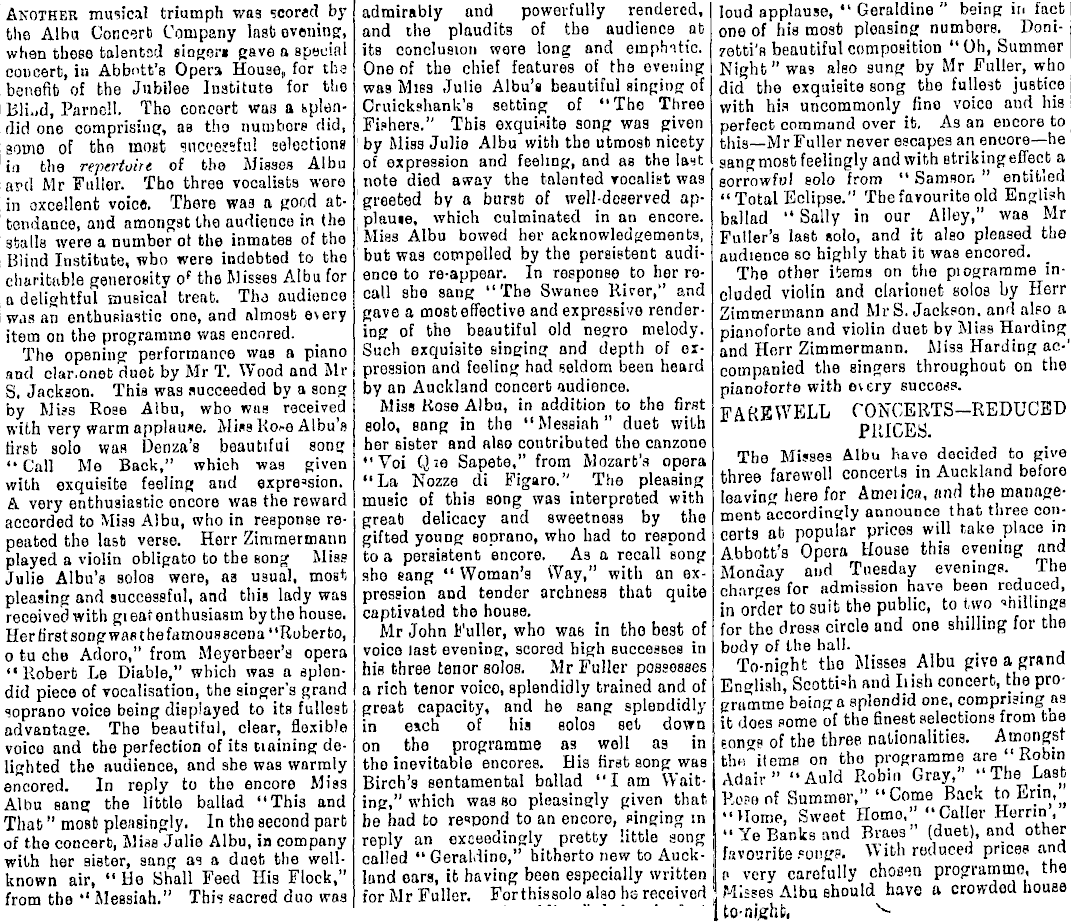 Auckland Star, 19 August 1893
This farewell concert for the Albu Sisters, John Fuller is complemented by the Auckland Star for his three tenor solos. "Mr Fuller possesses a rich tenor voice , splendidly trained and of great capacity", singing Birch's sentimental ballad,I am waiting, Geraldine and O Summer Night, encoring with Total Eclipsefrom Samson and Sally in our Alley. Geraldinewas lauded as a song written especially for John Fuller, new to Auckland's ears and the most pleasing number of the evening.
John possibly converted his ticket back to Melbourne in exchange for bring Ma, Johnny, May and Hettie to Auckland. He had some money left in his pockets, but not enough to feel that the tour had been as successful as he would have liked. Auckland was a large and busy seaport and apart from its good weather, it was also the most populous city in New Zealand. What better place to start his own company of singers? Even in those early days he possibly had the idea that his own family was the most talented group available, and he began to encourage all his family to give up what they were doing, finish their contracts and get themselves to New Zealand as quickly as possible.
Financially John realised that the only way he would ever make any real money in the colonies was, if he ran his own company. John put on a most inventive advertising campaign during this period, after he managed to hire the Auckland City Hall in September, and began giving weekly performances in which he starred. It is possible that he gained this hire cheaply, as it is known that John was very careful with the little money he had earned. John was still a voice for hire as well, and any gigs he could get would supplement his new commercial business, and he adopted the title, The Peoples Popular Concerts.
This is probably one of the busiest and happiest times in John Fuller's life, the starting of his own business must have seemed long overdue, but the possibility of his doing this in either London or Melbourne would have simply been too much of an expense. Auckland offered John the opportunity of a lifetime and he was busy recruiting his singers and musicians, organizing publicity by placing small advertisements in the papers and presumably writing to his children to come home, above all he wanted his family together and once this happened, his life would be so happy.
John also realised that he would have to tour, Auckland was large but he would have to go around the entire New Zealand seaboard if he was to truly make his business flourish. At the age of 43 John Fuller was finally fulfilling his dreams.
Not only was he managing a theatre he was also taking to the waves of Auckland Harbour and singing on Sunday afternoons as a money making exercise.
Auckland Star, 1 December 1893
A small advertisement placed in the Auckland Star on 9 December 1893 gave a full programme of events which was headed up by a full military orchestra of 12 performers under the baton of Mr A. R. Hunter. John Fuller sang The Holy City by S. Adams,Sweethearts by Sullivan, The Star of  our Love by Cowen and Good-bye by Tosti.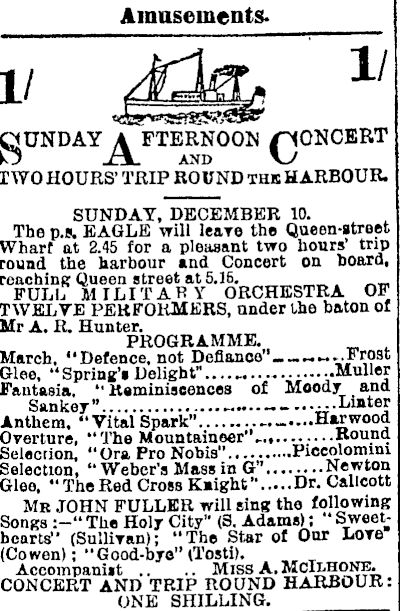 Auckland Star 9 December 1893
However being a theatre producer did not come without its complications. John found there were copyists afoot and slick business dealings behind his back, which he was not happy about. There is an interesting Letter to the Editor of the Auckland Star that John penned on 1 October 1893.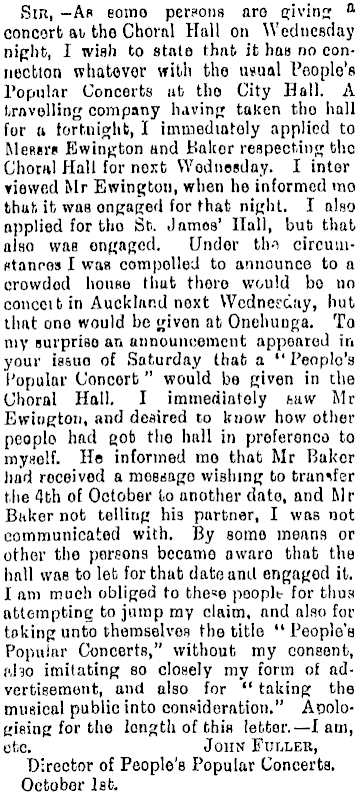 Auckland Star 2 October 1893
More interesting is that the editor of the New Zealand Star printed a letter from Mr Abbott, thereby weighing into the argument. Another newspaper made a very positive and supportive response, which was entitled The Theatre Monopoly.
                      The Theatre Monopoly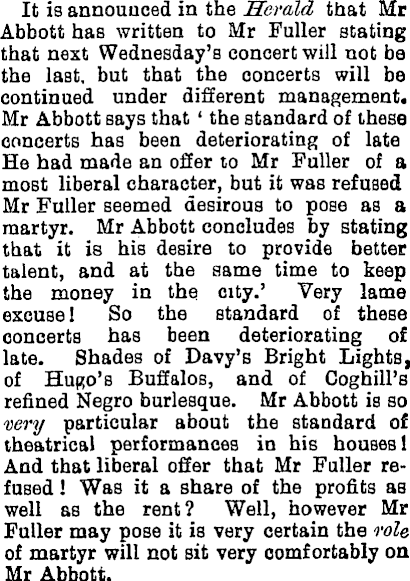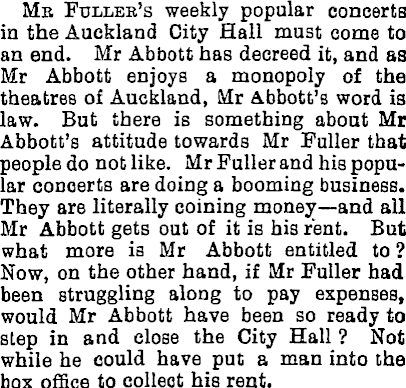 The Observer 4 November 1893
As can be seen, his lease on the Auckland City Hall came to a halt after the Auckland City Council rented the premises to another competitor, and John Fuller objected heartily to their business practices.
He soon moved on to a new lease at the St James Hall in Auckland, in the happy knowledge that there were plenty of halls up for lease.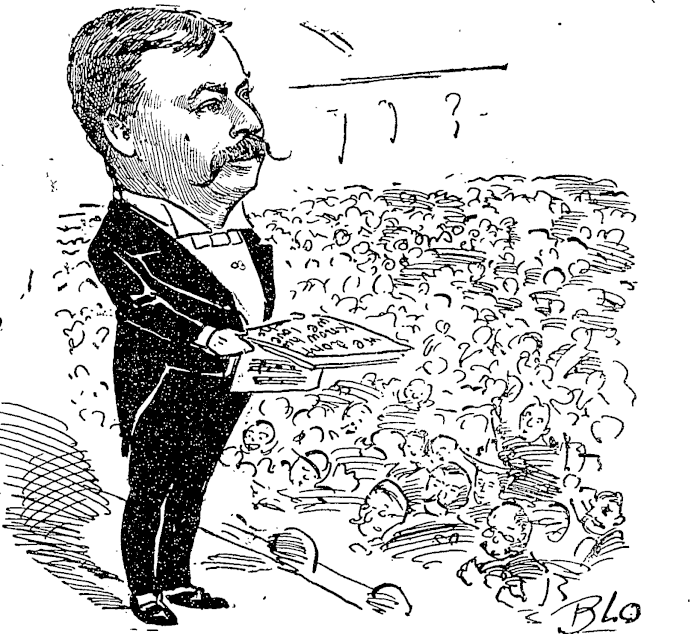 Auckland Observer, 11 November 1893
An historic review of his early success as an entrepreneur came from the Auckland Star, 14 December. John received rave reviews, the concert hall was full and he was showing his flair for variety performances, known widely in the theatrical business as vaudeville entertainment.
It was exciting for me to discover that Master John Fuller was now appearing with his father on stage in a supporting role as a singer as well as comedy and other variety acts. It is a fact that my grandfather was the first of John Fuller Snr's children to appear on the stage in New Zealand with his father. It means such a lot to think that Johnny was there right from the start of Fuller's Theatres.
The Auckland Star 5 December 1893
The announcement in The Auckland Star marked the "First appearance of Master John Fuller who will sing a child's song, "Tell me Mother Where is Minnie?", the cast included Mr. E. L. Lees, Miss Lizzie Warren, Miss Clarice Brabazon, Mr Hawksworth Brown, Mrs. Kilgour, Herr Zimmermann. John Fuller sang I Seek for Thee in Every Flower, The Holy City and We Don't Know How to Love them Till we Lose Them, a duet with Miss Lizzie Warren, With this Treasure and with Mr E. L. Lees, Larboard Watch.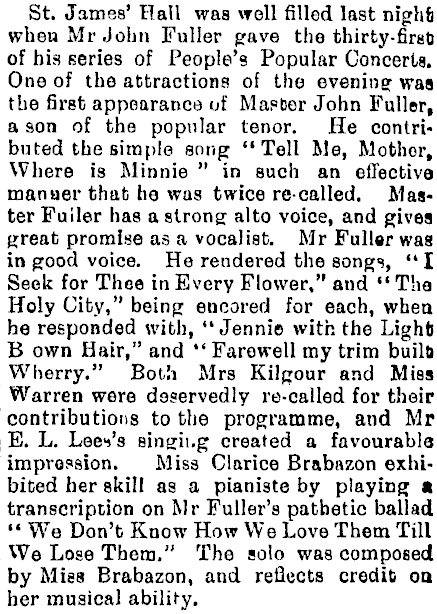 Auckland Star 7 December 1893
John Fuller Snr and Johnny Fuller had created a bit of history in December 1893 by being the first Fullers to team up together in New Zealand, predating by more than a year the rest of the family's arrival. This is something that is not generally known today, and my discovery came about due to my relentless surfing and reading of Papers Past, the New Zealand free online website which has the most extraordinary information just waiting to be found.
Auckland Star 14 December 1893
John Fuller was now mounting weekly concerts at the St James' Hall in Auckland, producing what he called his People's Popular Concerts. The Auckland Heraldreported "My Little Sweetheart" received full justice at the hands of  Mr Fuller, who responded with an imperative encore and his second contribution, "Margaretta"….one of the features of the evening was the singing of Master John Fuller. Although only a child, his songs were not at all rendered in that expressionless fashion which usually accompanies young perfomers, and his items were very pleasant surprises. His rendition of "Love's Old Sweet Song" with a vocal accompaniment by his father was exceptionally good… likewise "Tell Me Mother Where is Minnie?"
Others in the company were Mr H Stebbing, Miss J Pollock, Miss Rose Lye, Miss Clarice Brabazon and Mr W. Davis.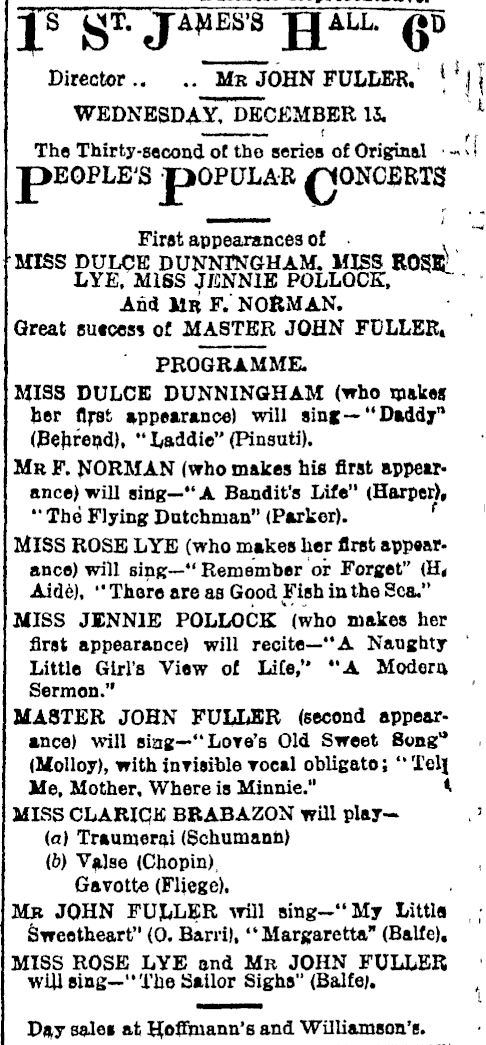 The Auckland Star 12 December 1893
The advertisements introducing Master Johnny Fuller and another recording his great success were just part of the masterstroke of the incredible showman and business man that was John Fuller Snr. Both advertisements are from Paper Past, New Zealand's online old newspaper website, The Auckland Star 5 December 1893 and again 12 December 1893.
There was no end to John Fuller Snr's inventiveness and dedication to his new business. That Christmas both John and his young son Johnny sung at midnight mass at St Benedicts Catholic Church, John sang Et Incarnatus and Johnny sang Dona Nobia in his strong alto voice, and both received great acclaim, after it was reported in the New Zealand Herald on Boxing Day 1893. For John it was important to be seen and to be seen giving back to his community. He was clever mixing his business with his community service and it was a recipe he refined and passed on, and it was one that his son Johnny would never forget.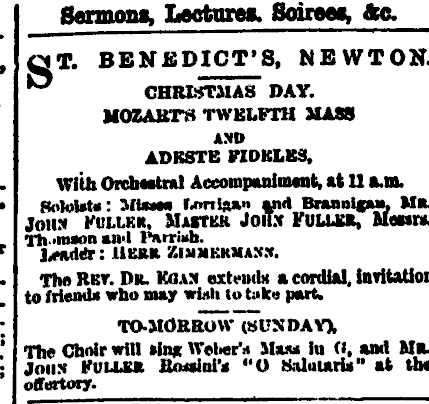 New Zealand Herald 23 December 1893
John Fuller took his son Johnny on tour in February 1893, they went to Waikato, a province just north of Auckland with Capt. Fred Thomas and his Company.
Two Hours of Mirth and Music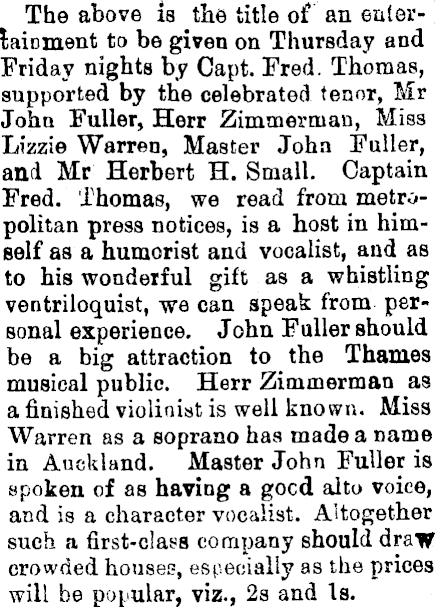 Thames Star 12 February 1894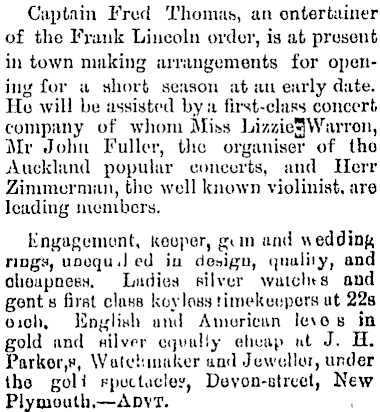 Taranaki Herald, 21 February 1894
This tour shows how tenuous and fickle the theatre business could be for John Fuller Snr who, although branching out into management, was also just keeping his head above water. It was necessary to take up every opportunity to work and earn money for the family. It must have been a marvellously happy time for John and Johnny, today we would call it a father/son bonding session, but I can just imagine the two of them on the road, happy and content together, off on an adventure, where John wasn't managing, just assisting the tour, and the two were just simply part of the cast. John must have been so proud of his young son.
It was also a time just before Johnny's voice would break, and John Snr would have known that when this happened, his voice had to be nurtured and rested until his adult voice matured. He would have been watching for the signs.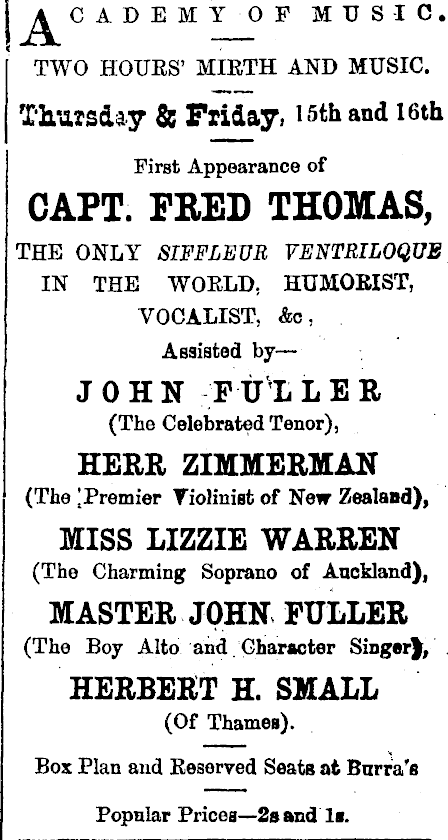 Thames Star 14 February 1894
Now for the first time I capture a small advertisement for Hettie Fuller and am interested that she is now a ballerina working for Frank M. Clark's Alhambra Company, and is listed along with a number of other ballerinas. It mentions that the show has come straight from Melbourne. It is possible that Hettie stayed in Melbourne and took up a contract with the Alhambra Company. Now that Hettie has arrived in New Zealand her father John Fuller will ask her to complete her contract and then stay on and join his new entertainment venture.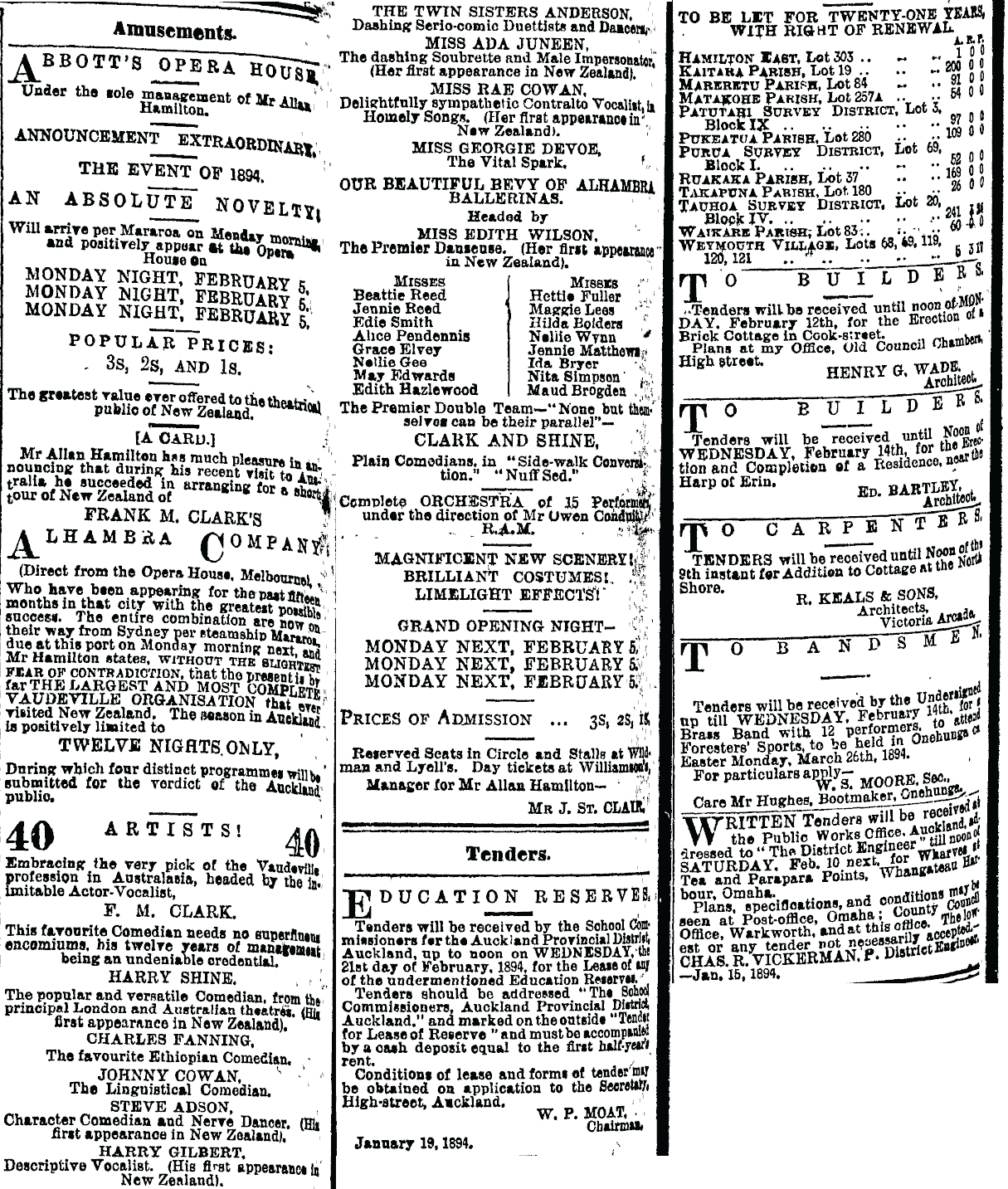 The Auckland Star 3 February 1894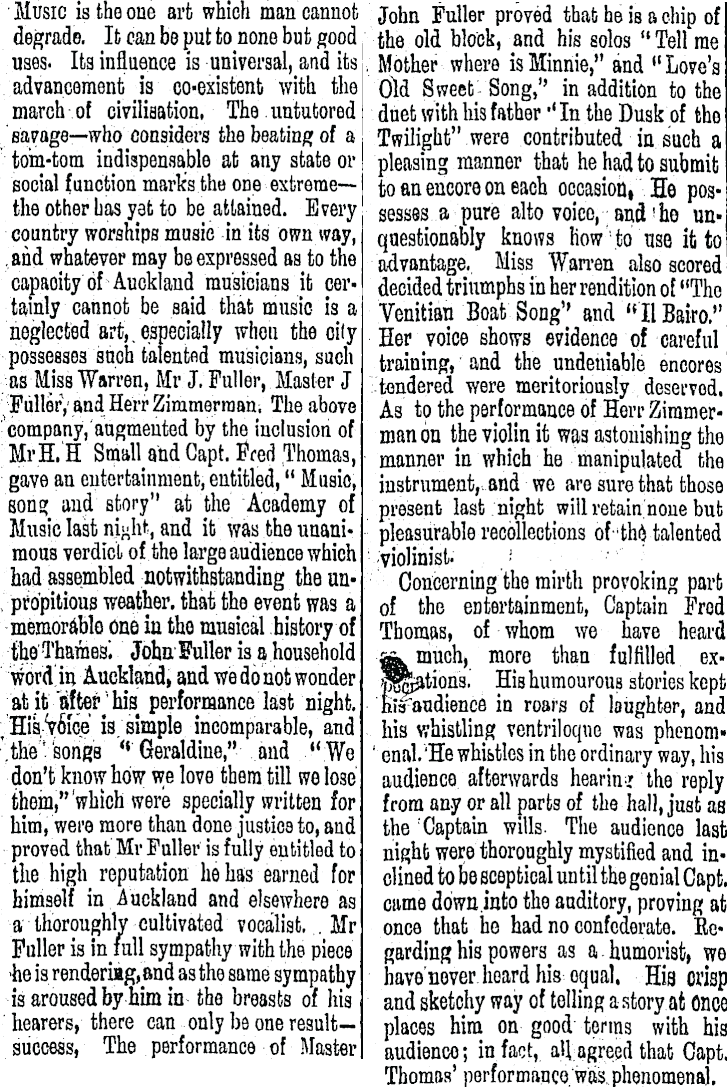 The Thames Advertiser 16 February 1894
This review is historically important as it so capable describes John's incredible voice and his abilities as a singer. Reading about my grandfather, Johnny, is amazing too.
The Thames Star states that "John Fuller is a household word in Auckland, and we do not wonder at it after his performance last nice. His voice is simply incomparable and his songs, "Geraldine" and "We Don't Know Howe we Love Them Till We Lose Them" which were specially written for him, were more than done justice to and proved that Mr Fuller is fully entitled to the high reputation he has earned for himself and elsewhere as a thoroughly cultivated vocalist…. The performance of Master John Fuller proved that he is a chip off the old block and his solos, "Tell me Mother Where is Minnie?" and "Love's Old Sweet Song" in addition to a duet with his father "In the Dusk of the Twilight", were contributed in such a manner that he had to submit an encore on each occasion."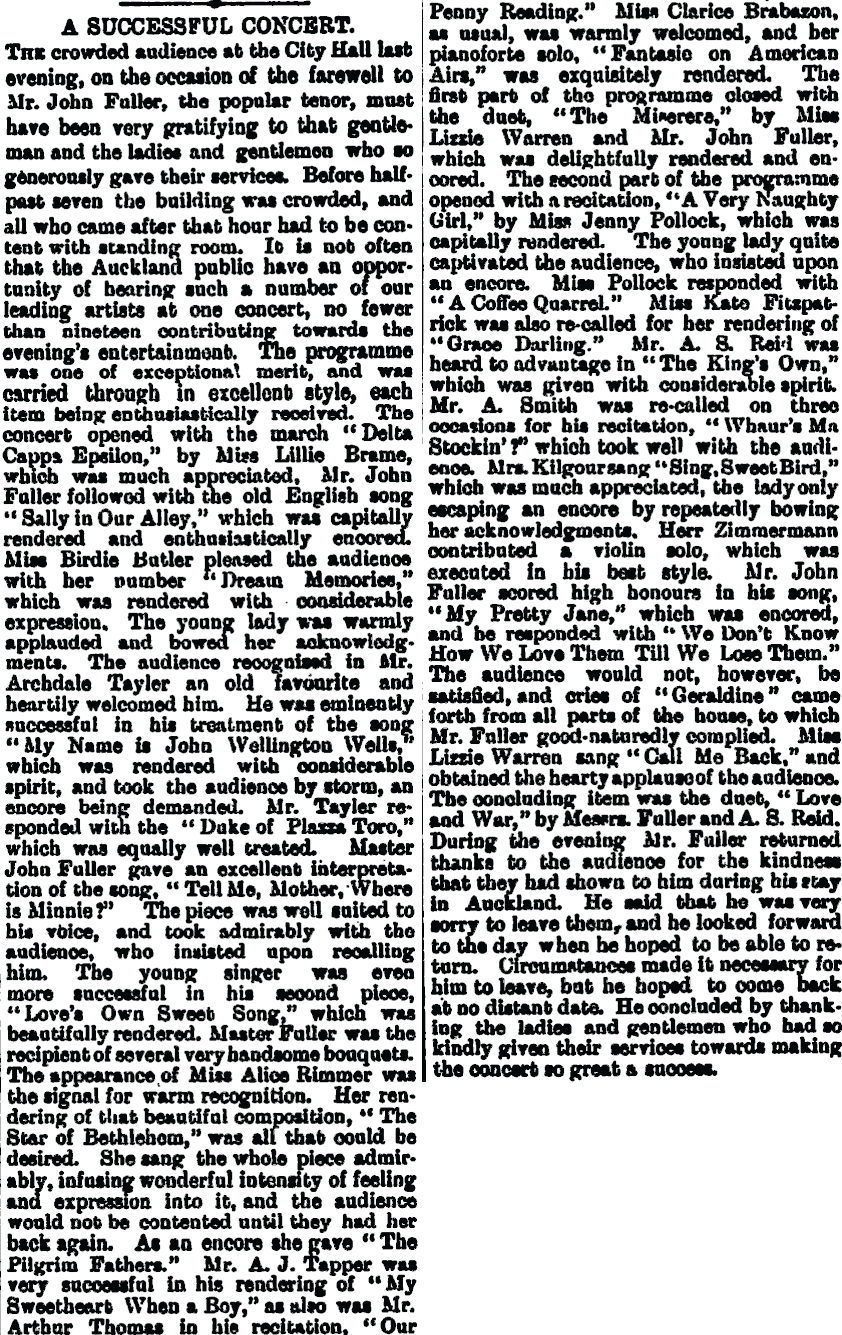 Farewell to Mr. John Fuller, The New Zealand Herald, 1 May 1894
It was with some interest that I searched and collected the next few months adventure in 1894 for John Fuller. I was expecting him to travel to Australia at the very least, however he and Johnny turned up in Dunedin.
John and Johnny Fuller had taken their Peoples Popular Concerts to Dunedin and the article on the following page in The Evening Star, 4 June, the reviewer said there was disappointment that audiences were small. However the reviews themselves were most complimentary.
John must have contracted his players, singers and musicians and having exhausted the Auckland audiences for the while, he turned to other places to take his Company. They probably all boarded a boat, first call was Christchurch, where their concerts were held at The Tuam Street Theatre, and then they moved onto Dunedin. A small snippet in The New Zealand Herald, 23 April 1894, in a column entitled Personal Items, gave their departure day as 9 May 1894.
What is so marvelous about the previous article is the knack John Fuller had for place, publicity and performance. He never missed an opportunity for self promotion either. He could build a story out of nothing at all! However his fans loved it all, and this way they would have to wait to see him again and when he reappeared in Auckland it would be to an enthusiastic crowd. He knew the old adage, too much of a good thing is bad for you, and he milked it by the absences.
Clearly 1894 was a busy year for John and it must have been exhausting both mentally and physically, organising his Concerts and travel arrangements, keeping his players and singers happy, and keeping himself in good health and voice, not to mention, being able to be in a financial position to support his young family. Young Johnny must have been indispensable to him at this period. By day Johnny would take around advertising flyers, check up on ticket sales, and then turn his attention to the theatre, making sure it was clean, the lighting was organised, the musicians were on time, and the players readied for their performances. Johnny was learning the business, his astute mind was absorbing everything, and his financial brain understood that behind every good concert was the need to make a good profit, and that meant getting bums on seats.
I used to hear my mother talk about her father, and his incredible energy, she said he never stopped. It was a mix of mental and physical energy, which seemed to pound through his body. The other wonderful thing about Johnny was that he always kept in good humour, never doing his block. Johnny's sense of humour was contagious, fun and famous. Similar to his dad, people were drawn to Johnny like a magnet, people just wanted to be around him. Johnny had what was known as charisma; today we call it "star quality".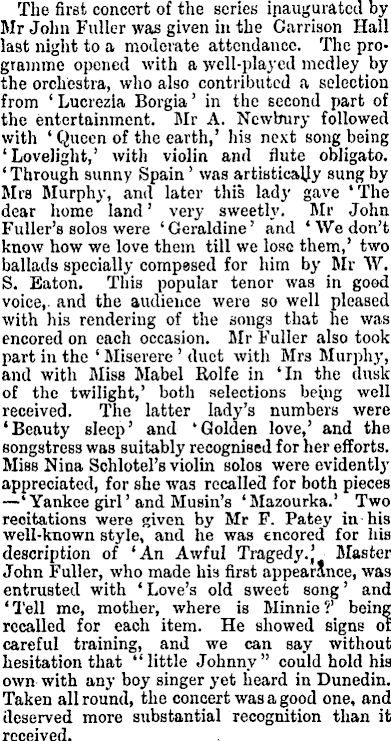 The Evening Star, 4 June 1894
John Fuller has taken his company to Dunedin, The Evening Starreports, that John Fuller sang two solos, Geraldineand We Don't Know How we Love them Till we lose them,and two duets Misererewith Mrs Murphy and  In the Dusk of the Twilightwith Miss Mabel Rolfe. Master Johnny Fuller was also part of the Company with his two songs, Love's Old Sweet Songand Tell me Mother Where is Minnieboth being encored. Others performing that night were Miss Nina Schlotel, a violinist, Mr F. Patey, and Mr A. Newbury.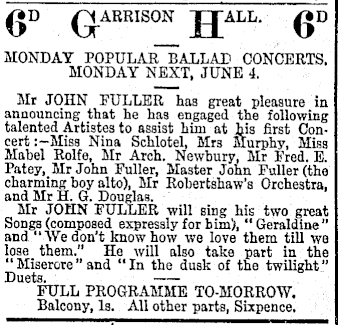 The Otago Times, 1 June 1894
John is advertising in various newspapers to announce his concerts, hoping to drum up a good audience.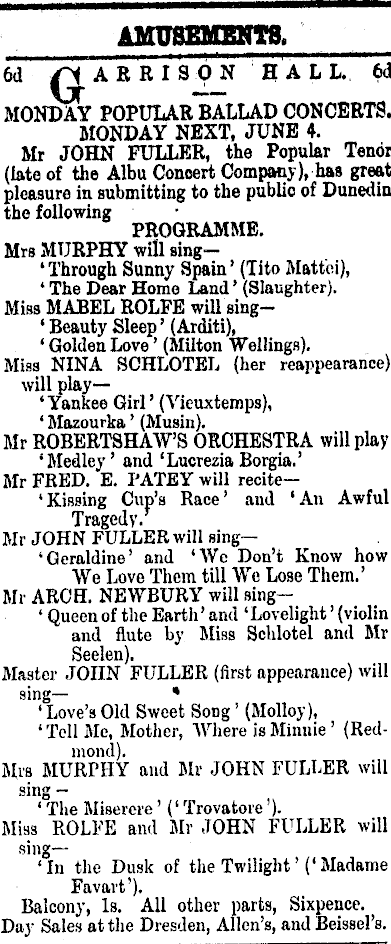 The Dunedin Evening Star 2 June 1894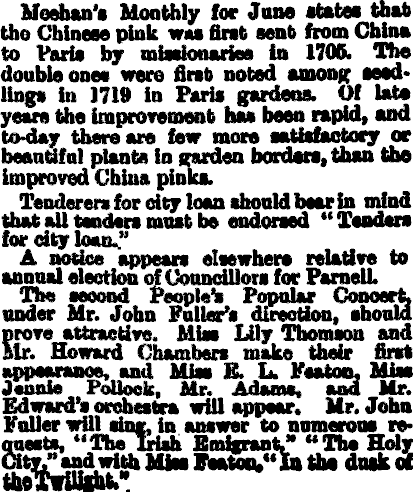 New Zealand Herald 24 August 1894
John has now arrived back in Auckland for the start of his second series of the People's Popular Concerts; changed attractions with new stars will draw enthusiastic audiences.
This newspaper clipping from the New Zealand Herald is a most interesting notice as Miss Lily Thomson and Mr Howard Chambers are recorded as making their first appearance for Fullers People's Popular Concerts. Lily later became the second wife of John's son Sir Benjamin Fuller. Howard Chambers also becomes a fixture on the Fuller's circuit and his wonderful and strong bass voice perfectly offset John Fuller's silvery tenor voice when the two were billed singing duets together on stage.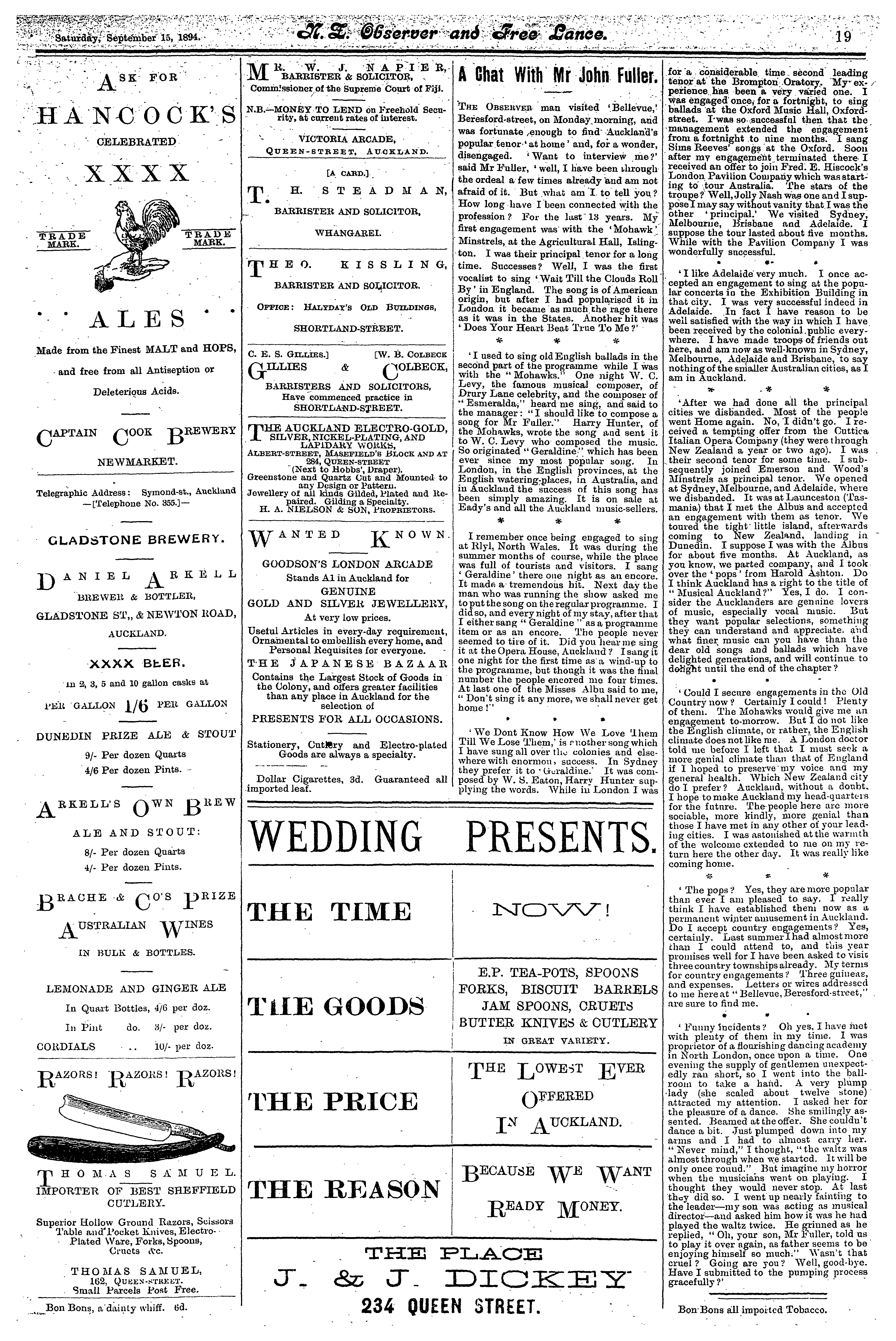 The New Zealand Observer 15 September 1894
The interview given by John Fuller Snr is the culmination of nearly 20 years on the stage in England, Australia and New Zealand. It was taken at a pivotal time in John's life, and is an incredible insight into the man who was to become one of the most famous and successful entrepreneurs of his time.
The Colonist, 11 October 1894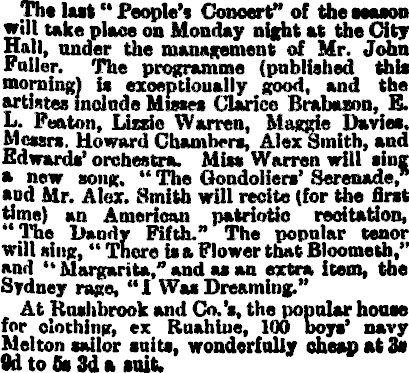 New Zealand Herald 17 November 1894
                  CLOSE OF THE SEASON

New Zealand Herald, 20 November 1894
John Fuller  finishes up 1894 with three popular songs, There is a Flower that Bloometh, I Was Dreaming, Margarita and encored with his audience's favourite song, Geraldine.Miss Brabason was accorded a good send off with a special performance planned the following week.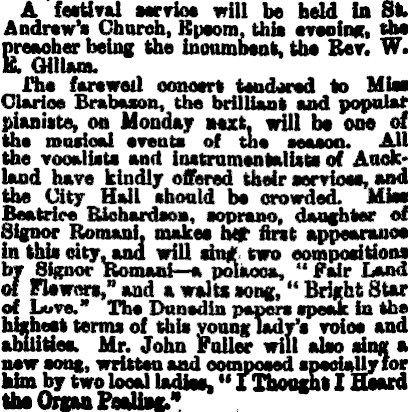 The Sun Herald 30 November 1894
This article from The Sun Heraldshows yet another song composed for John Fuller Snr,I Thought I Heard the Organ Pealingmusic by Ellen Wilson and lyrics by Miss Gillett. The only copy of this sheet music is lodged at Wellington Library in the Alexander Turnbull Collection, and on my trip to Wellington in March 2017 I was lucky enough to gain a copy of this sheet music to add to my growing collection of digital sheet music that was sung by the Fuller family. I have spent a considerable amount of time trawling through digitized music lodged in University and Library Collections around the world. We are lucky these collections exist, because without them, some of this old fashioned sheet music may have disappeared altogether.
I am not sure that I Thought I heard the Organ Pealingbecame a favourite for John Fuller because 1894 seems to be the only year I could find references in old newspapers listing John singing this song at his concerts. 
A FAREWELL TO MISS BRABAZON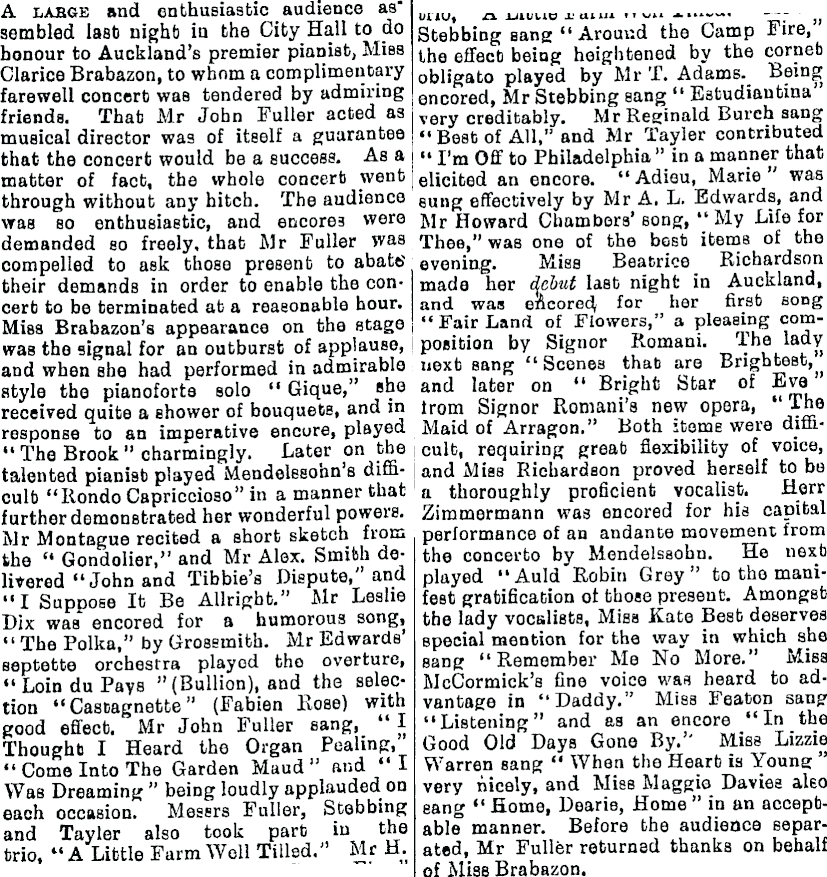 The Auckland Star, 4 December 1894
Johnny is no longer appearing on stage and I think I can confidently say that Master John Fuller's voice has finally broken. The next important phase in Johnny's life is that of comedic actor, singer, elocutionist and master technician/operator of Fuller's Myriorama.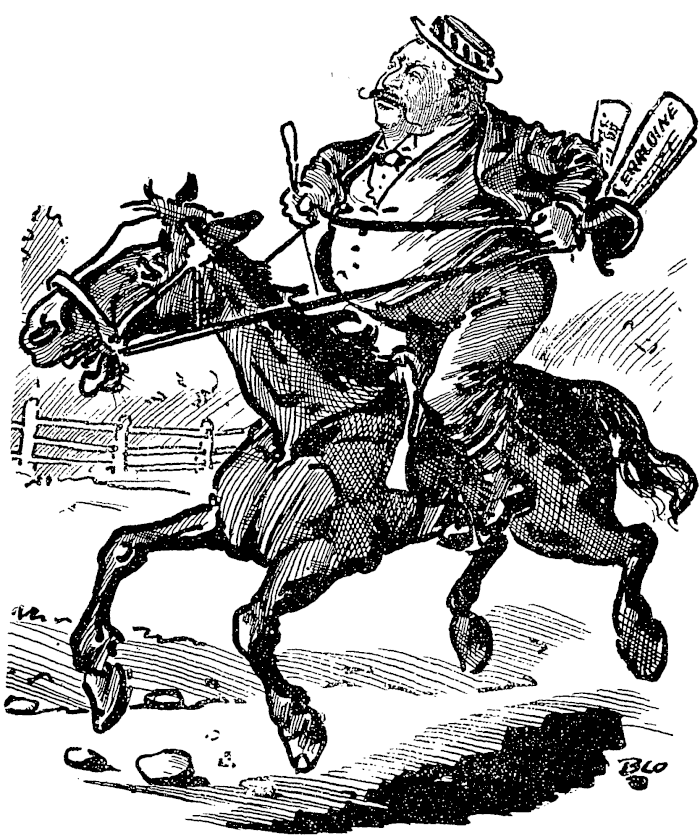 The Observer, 8 December 1894
My next chapter on the Fuller family history called  The Fuller's Myriorama Company 1895- 1899, deals with a Fuller family reunion with Ben, Walter and Lydia Fuller all arriving in New Zealand to take their part in what is to become an incredibly successful business venture, which became known as Fullers & Sons Theatres.
Virginia Rundle
5 November 2016