I have discovered so many interesting characters whilst writing up the family history, admittedly some have given me grief, after discovering their convict past however I must add that most of them redeemed themselves with the chance of new opportunities in a new land. Others have given me great pride in the way they lived their lives, some bravely migrating from their native homelands, only to be met with terrible hardships as they pioneered a new country, others were impressive business contributors to Australia's development as a nation. As I write each chapter I have come to know and understand the character of so many of our ancestors and it has been such an honour to now have this opportunity to become the family historian. My husband Geoff Rundle challenged me to write up the family history as he could see how interested I was in my research whilst developing the family tree. I then set myself the goal to try and take each branch of our family back into their country of origin and find the townships from where they came.
No ancestor has given me more interest than Catherine Ellen Ackers Lindsay, just when I think I know her, I find out something more about this extraordinary woman that totally surprises me. Her incredible and adventurous life, her birth just a few weeks after her father's tragic drowning, her tumultuous childhood, a disastrous first marriage, followed by a successful second marriage which saw her combine a large family and a business venture. Many of these facts have already been well documented, but I don't believe all aspects of her life story have ever been presented together as I hope to accomplish. Please see my chapter on The Rundle Family of Newcastle to find the continuing story of Catherine Ellen Ackers Lindsay.
Philip Alan Rundle and Valmae Lenore Patterson were my husband Geoff Rundle's parents. Philip was the youngest son of Richard Thomas and Catherine Rundle, nee Lindsay, formerly Moloney. Catherine died before Philip and Val Rundle were married. I often envied Val that she had never had to deal with her mother-in-law, because if she had, just perhaps, she may have been a little better handling her relationship with me. I take solace from our relationship failure in the knowledge that my difficulties with Val Rundle have made me better equipped to be a mother and a mother-in-law. l have learned from Val's mistakes and with the help of my friends and husband, I vowed I would be a good mother-in-law. In a perfect world, had Catherine Rundle lived long enough to have met Val Rundle, it would indeed have been a most interesting collision of two headstrong and very difficult personalities.
As I have mentioned in my previous chapter on The Rundle Family of Newcastle, Philip Rundle never spoke about his mother and now, after researching Catherine I find this fact so surprising, because she must have been such an interesting and intelligent person. I qualify my thoughts on Catherine by my understanding that she would also have been most difficult to get on with and I could see that she had high ideals and huge ambitions, not only for herself, but for her husband and for her children. I see in Richard Thomas Rundle a gentler style of character, who possibly allowed his strong willed wife to dominate their life, but I also see a contented family man, who was happy to work hard and let his wife make the more complicated family decisions. Catherine wasn't a person to deal with failure, she had high ideals and she expected the same from her children. Now when I look back on her early life, I can see how she struggled and how she had made some bad decisions and how this gave her the resolve to survive. Catherine's tribulations helped her shape a new life with fortitude and made her strive for excellence and success above her own life, and for these qualities I admire Catherine Lindsay.
Early on in my research I discovered from Catherine Rundle's obituary that her maiden name was Lindsay and I was then able to collect her birth record to determine her birthdate and the whereabouts of her birth.
New South Wales Birth Registration for Catherine Ellen Ackers Lindsay
Interestingly, this record shows Bridget's maiden name as Lake, rather than Tobin. At the time of collection I wasn't aware that Bridget's mother Ellen Lake, had been married twice. Ellen Dillon had firstly married James Tobin, who was the father of Bridget. The name Lake was actually her surname from her second marriage to William Lake, if indeed she was actually married to William, as I can find no marriage record for this union.
I searched old newspapers to see if I could find anything about Catherine Lindsay's childhood. Knowing that her mother had married again to another seafarer, Benjamin Lafiura and had moved to live in Redfern near to where he managed a pub I was curious to find out what her life must have been like living with a stepfather and half siblings. It was wonderful to be able to collect a few clippings about Catherine's education in Sydney. It was also interesting to see that Catherine had adopted the name Katie Vincent Lafiura. The migrant ship St Vincent had bought out Catherine's grandmother, Ellen Lake, nee Dillon, formerly Tobin to Sydney from Cork in Ireland. Whether this was the reason that Catherine had adopted the middle name Vincent, one cannot be certain.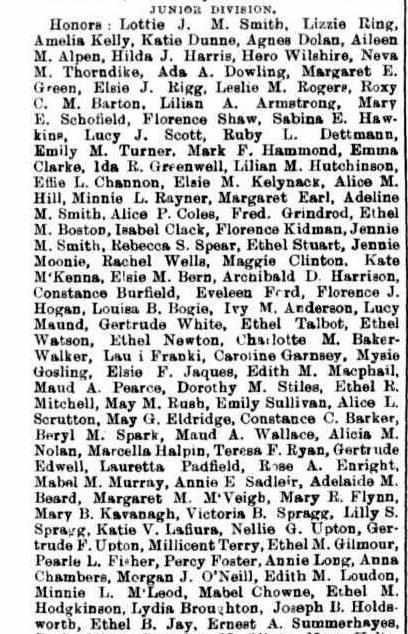 Music Award for Katie V Lafiura, 23 September 1893, Australian Town and Country

Final Examination Results for Katie Vincent Lafiura 7 October 1893, Sydney Morning Herald
This next record for Catherine Lindsay threw up so many more interesting facts that I had to work through, I could now see that Catherine had used her mother's married surname Lafiura from her remarriage after Captain Lindsay was drowned, the very quizzical name Tineent as a middle name is a typo and I think it is meant to be Vincent and it is comforting to see that she also included the name Lindsay. I cannot explain the Beyrout, Cyria inclusion  on the certificate.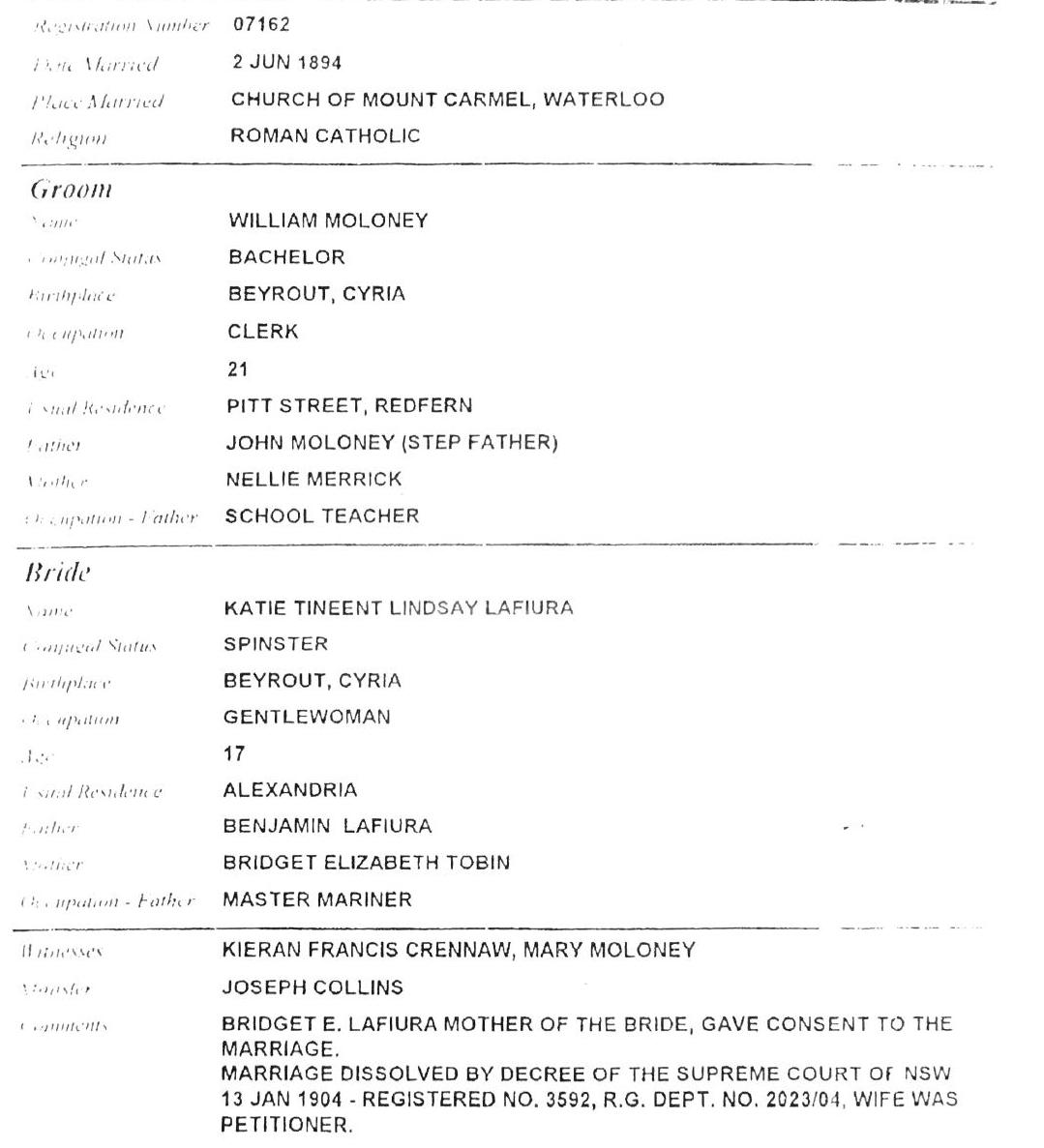 Australian Marriage Transcription 1788-1949 for William Moloney and Katie Tineet Lindsay Lafiura (note the extraordinary listing for the couple's birthplace as Beyrout, Cyria)
I was very grateful to Peter Rundle after he kindly lent me an excellent publication called Beneath the Southern Cross, The Story of Ellen Dillon and her Australian Descendants, compiled and written by David Michael and Marie Ray, March 2006, which included many documents, facts, photos, newspaper clippings for Catherine Rundle's ancestors. It was an excellent source for me to understand the family interconnections. Peter Rundle had told me some of the tale of the Lafiura family and had explained that Kate's mother had given birth to several more daughters from her second marriage to an Italian mariner. It must have been difficult for Catherine to grow up without a father and this may have been the reason for her marriage to William Moloney at such a young age.
William Moloney (1872-1916) and Catherine Ellen Ackers Lindsay (1876-1948), AKA Katie Lafiura married on 2 June 1894 at Mount Carmel Catholic Church, Waterloo, Sydney, and they had two sons, John Moloney (1895-1973) and William Joseph Moloney (1898-1959). William and Catherine divorced on 22 December 1903. Richard Thomas Rundle (1869-1936) and Catherine Moloney nee Lindsay (1876-1948) married on 3 April 1904 had seven children, Irene 'Rene' E Rundle (1904-), Iris E Rundle (1905-1905), Richard Lindsay Rundle (1906-1996), Francis Felix Rundle (1910-1993), Elsie Enid Rundle (1912-1970), Nelson David Rundle (1914-1969) and Philip Alan Rundle (1917-1993).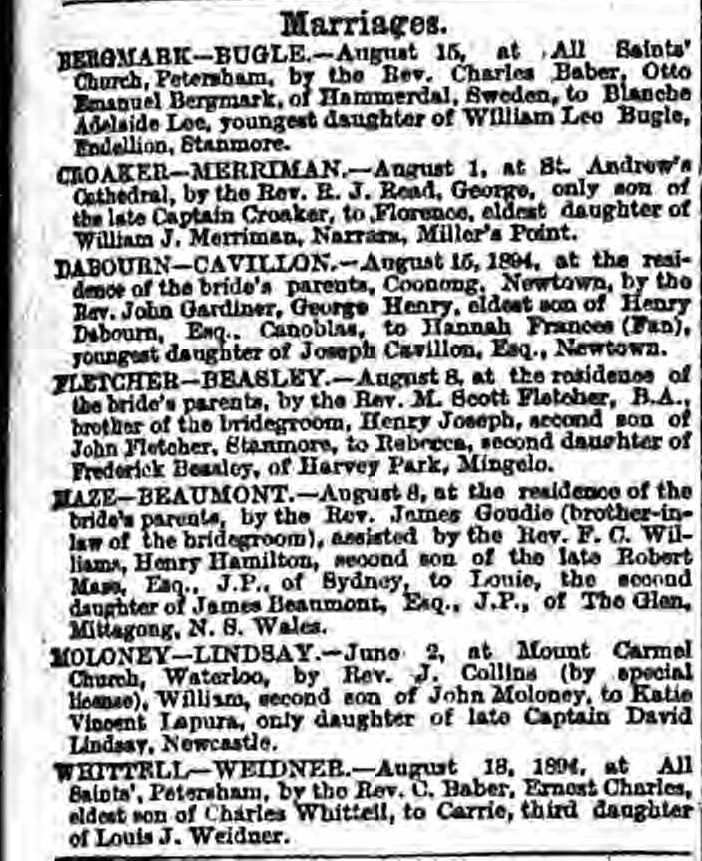 Marriage of William and Catherine Moloney, Sydney Morning Herald, 25 August 1894
Australia Birth Index, 1788-1922
| | |
| --- | --- |
| Name: | John Moloney |
| Birth Date: | 1895 |
| Birth Place: | New South Wales |
| Registration Year: | 1895 |
| Registration Place: | Redfern, New South Wales, Australia |
| Father: | William Moloney |
| Mother: | Catherine E |
| Registration Number: | 36151 |
The next record is for the birth of William Joseph Moloney, the second son of William and Katie Moloney. It can be seen that the family had moved from Redfern to Nundle in New South Wales and had settled at Bowling Alley Point, which is now the site of Chaffey Dam after the Peel River and the surrounding valley and village was flooded in 1979. This area was the site of a large gold rush settlement in the mid 1850's when the gold rush was at its peak, there were about seven hotels in the township. However, I imagine that by the late 1890's that this area was fairly sparsely populated as the gold miners, hoteliers, publicans and suppliers had drifted away from the town. William Moloney's occupation was listed as a clerk.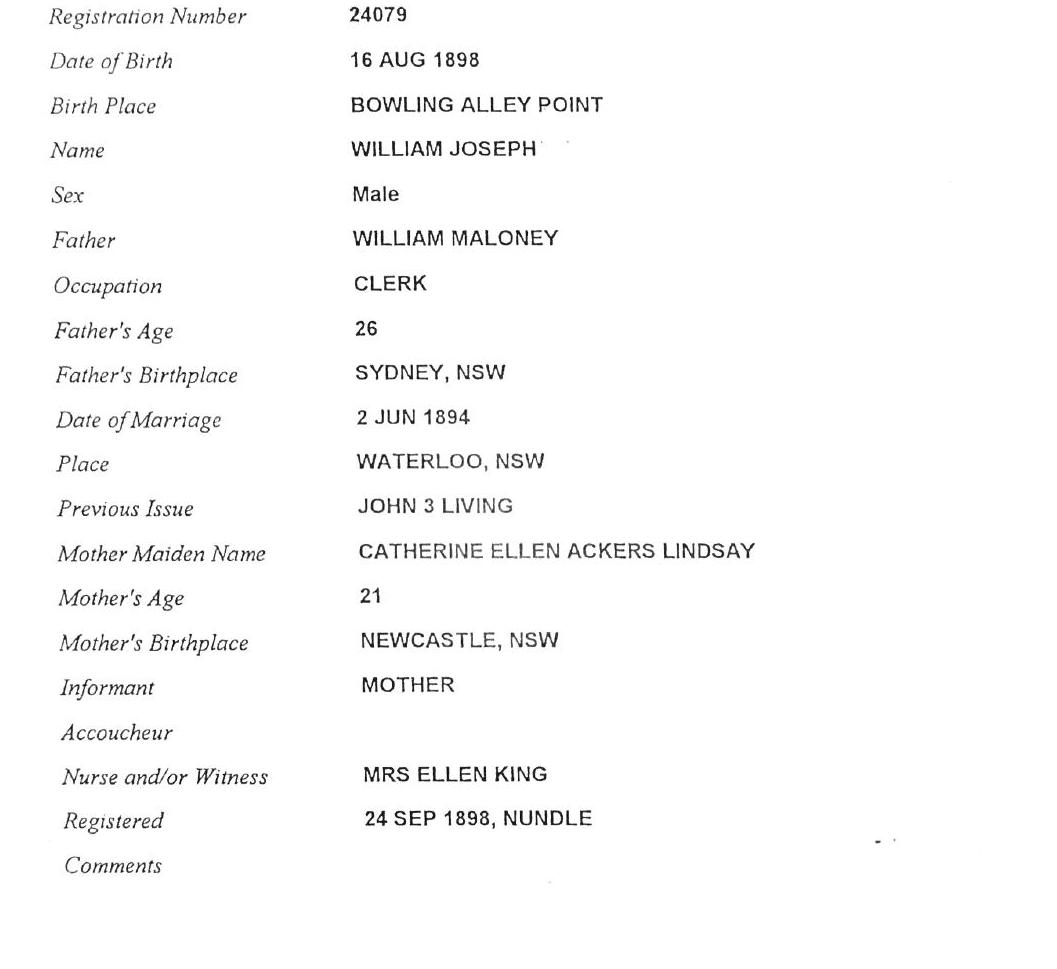 Australian Birth Transcription 1788-1922 for William Joseph Moloney
This new information I placed onto Catherine E A Lindsay's profile on ancestry.com as I expanded the family tree to include the Rundle, Lindsay, Lafiura, Tobin and Dillon families. I was hoping for a connection with others researching the same families.
I decided to search early Australian newspapers for anything I could find on William and Catherine Moloney and it was quite a shock that I came upon the couples tumultuous relationship with Catherine's mother Bridget Elizabeth Lafiura nee Tobin, formerly Lindsay, before their marriage. It would seem that Bridget Lafiura was extremely unhappy with the thought that her seventeen year old daughter Catherine had developed a relationship and wanted to marry twenty two year old William Moloney.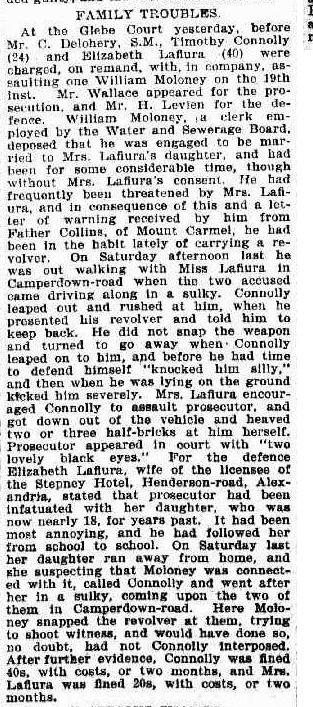 24 May 1894 Daily Telegraph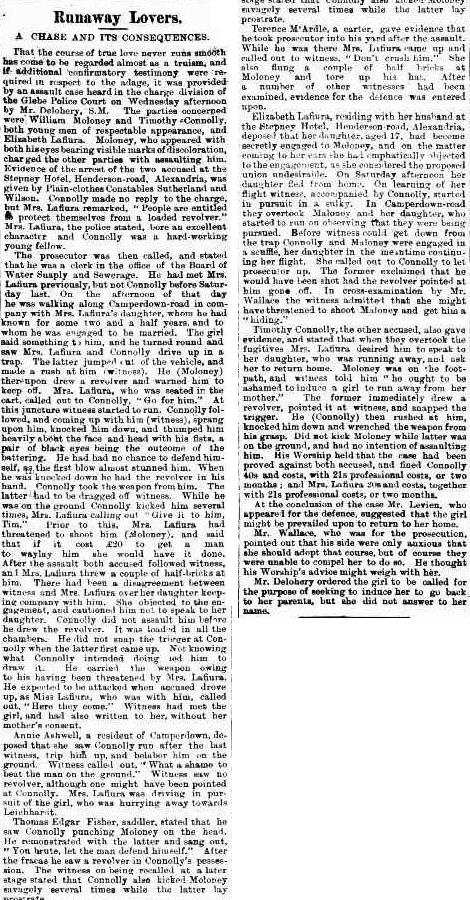 24 May 1894 Evening News
It was staggering that this episode had been reported so publicly in the newspapers. Both newspapers had lurid descriptions of the runaway couple and Elizabeth Lafiura's violent attempts at stopping her daughter's liaison with Moloney was unbelievable and gripping reading.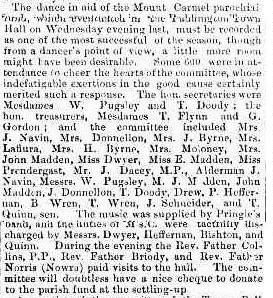 9 May 1896, Freeman's Journal
I was pleased to see that by 1896 mother and daughter had clearly resumed their relationship and things appeared normal for a time after the Moloney marriage. It would appear that after the couple moved away from Sydney and settled in Nundle, New South Wales that William resumed his heavy drinking and the marriage broke down.
It was even more distressing to collect newspaper clippings about William and Catherine's very public divorce. Divorce was rare and newspapers picked up the salacious stories of unhappy couples desperate to divorce. This was a time when the fault of one party had to be proved to a judge in a courtroom and there was absolutely no privacy afforded to them. It was probably even rarer for a Catholic couple to seek a divorce as it was frowned upon by their church.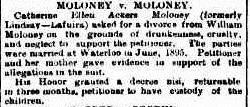 5 June 1900, Sydney Morning Herald

5 June 1900, Australian
I am unsure why there was a period of three and a half years before the court granted the Decree Absolute for the Moloney marriage.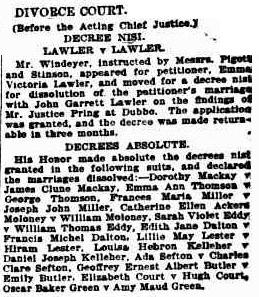 14 January 1904, Sydney Morning Herald
The History of Matt is a blog website that I found while researching the Moloney family in 2011 and I found it quite fascinating. It is authored by Matt Hall, an Australian living in America. Like my own website, it has recently been included in the Australian National Library Pandora Project which collects and protects family history websites for posterity.
http://thehistoryofmatt.blogspot.com/2010/01/william-moloney-1872-1916.html
I was able to extract the following part of his history:
"Tuesday, January 12, 2010
William Moloney (1872-1916)
William was a son of my ancestors John MOLONEY and Ellen nee MERRICK. He was born in Sydney in 1872.
I'm not sure why he died relatively young, but he certainly had a tumultuous life. He married Kate LAFIURA (birth name Catherine Ellen Ackers LINDSAY) in 1894, had two sons before being divorced in 1900 – quite the shameful act for a Catholic family of good standing at the time. Kate took the youngest son, William Joseph MOLONEY (1898-1959), with her to Newcastle after she married Richard RUNDLE (1869-1936 and already known for their tailoring business) in 1904, and for some reason abandoned the elder son John MOLONEY (1895-?) who was brought up by other Moloney family members including my HALL family.
My great grand-father described 'Will' in a letter as follows:
"Anyhow WILL was a real dashing type – a real lady killer – a hale fellow well met – with devil a care in the world. He soon got into bad company and hit the 'grog'. His father came to his aid many times – even starting him in business as a photographer – however the camera & gear soon went into 'Uncle' at the THREE BALLS round the corner – in other words he pawned it."
"About this time he got hold of himself, met a girl called KATE LAFURA who had a very bigoted Protestant mother. Notwithstanding he and Kate were married. They had two children John, whom we all called "MOLO" and William Joseph who later changed his surname to Rundle"
Norman managed to pick up a lot of family gossip as a youngster which he distilled into his letter. Clearly the divorce was discussed in the family:
"I'm afraid WILL'S drinking, devil may care habits eventually brought his downfall. His wife (KATE) left him, then started divorce proceedings (It was one of the very earliest divorce cases in Australia) and obtained her divorce. When she left WILL she took the younger of the boys, abandoning "MOLO" (young young John Moloney)……  he would argue on ANYTHING – he had no manners – in fact he was a difficult character. He and I fought like tigers – on one occasion taking bullock whips to each other. I never recall who won!!!!!!!!!"
"Once, on my own mother's advice he wrote to his mother (who by now had remarrried – she married a tailor at Maitland named Randall & Molos brother also took the name 'Randle') – 'Mrs' Randle replied that she completely disowned him. Poor MOLO, it must have had a teriffic effect on him."
I left in some comments on 'Molo' to demonstrate the difficult time he had as a result of his parents difficulties and divorce. It was thought that William MOLONEY went to Western Australia to follow the gold and his sister's COLEMAN family there, however this has recently been disproved and it is not clear what William did from his divorce in 1900 till death in 1916 aged 40.
His death and funeral notice in the Sydney Morning Herald indicates he died at the Coast Hospital which was then located at Little Bay on the coast of Sydney and handled many of the infectious disease outbreaks, though there was not an outbreak in 1916 (the 1918 flu pandemic reached Sydney in 1919). I think that most interesting among the funeral announcements is that his two sons – apparently parted by the mother – apparently placed a single funeral notice together. It would be interesting to know whether they both attended. I believe William is buried with his parents." History of Matt blog

Death Notice for William Moloney, 2 May 1916, Sydney Morning Herald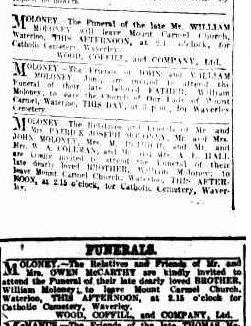 Funeral Notices for William Moloney, 2 May 1916, Sydney Morning Herald
John "Molo" Moloney (1895-1973) married Marjorie Edith Cooper (1903-1978) in Sydney in 1919 and they had four children Eric Thomas Moloney (1922-1989), Marjorie Therese Moloney (1927-1999), Jack Moloney and Jessica Moloney.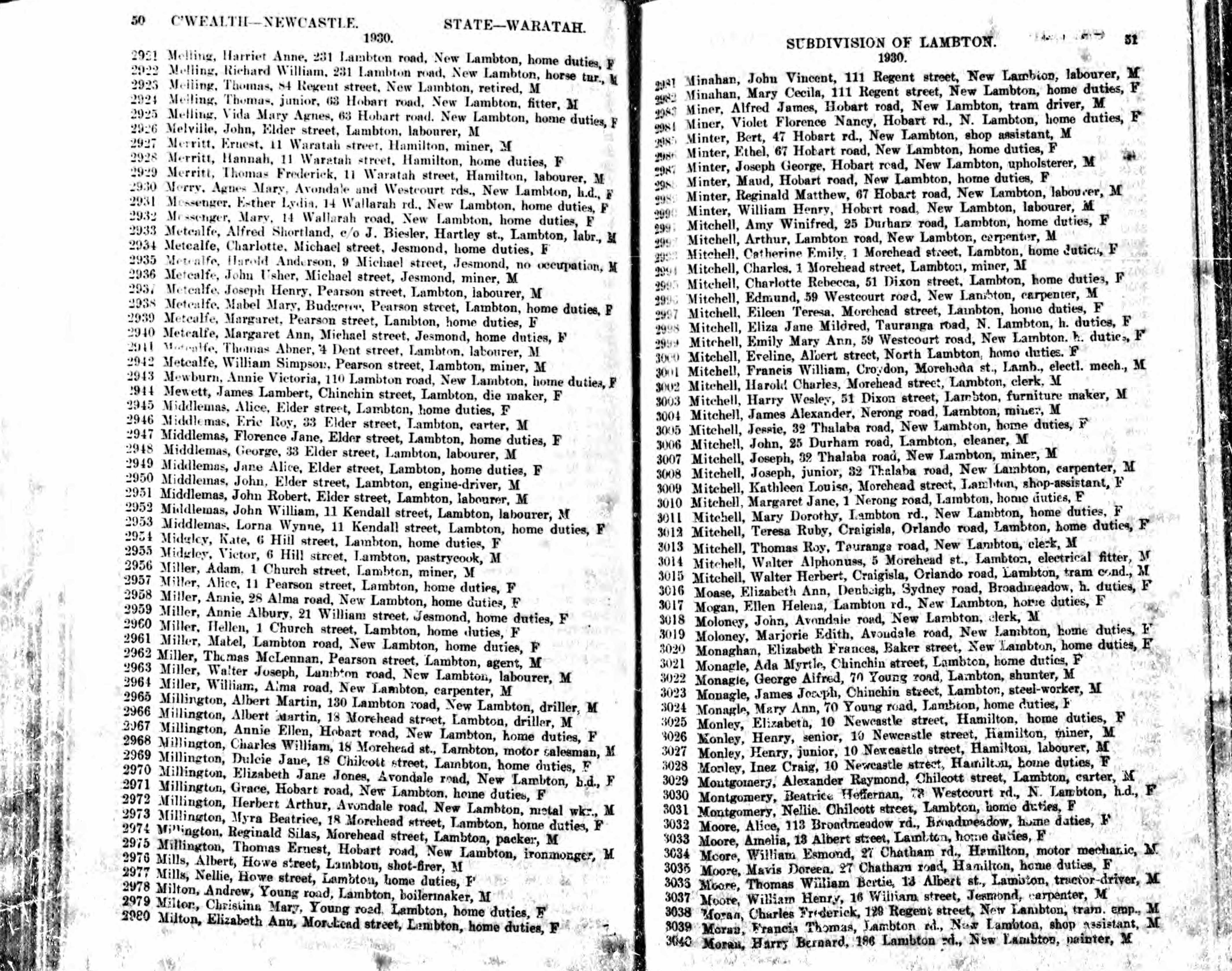 Australian Electoral Roll for John and Marjorie Moloney, New Lambton, Newcastle, 1930
I found this Australian Electoral Roll listing John Moloney, a clerk and his wife Marjorie Edith Cooper living in Avondale Road, New Lambton in 1930 and I must admit it did surprise me that he was living so close to his mother, Catherine Ellen Ackers Rundle in Newcastle. John Moloney seemed to be living a respectable life and had a solid career. I wondered if they had any contact and if Catherine had any contact with her grandchildren. I had always read that Catherine had shunned her first born son. It was a curious record to find and it will always leave one wondering.
Later Electoral Rolls find John and Marjorie Moloney living at Francis Street, Carlton. John Moloney died in 1971 and is buried in the Catholic Section of  Woronora Cemetery, Sutherland (RC-90546).
In my chapter on The Rundle Family of Newcastle I take up Catherine Moloney nee Lindsay's life story with Catherine's marriage on 3 April 1904 to Richard Thomas Rundle, a tailor, who founded Rundles, a men's tailoring business in Hunter Street, Newcastle.
Later, in a further chapter, The Tobin and Dillon Family of Ireland and Australia I will deal more thoroughly with Catherine Lindsay's mother Bridget Elizabeth Tobin who remarried another seafarer, Benjamin Lafiura, after the drowning death of her first husband David Lindsay and together they had a large family of five daughters. I will also include the migration from Ireland and the family history of James Tobin and Ellen Dillon, the parents of Bridget Elizabeth Lafiura nee Tobin formerly Lindsay.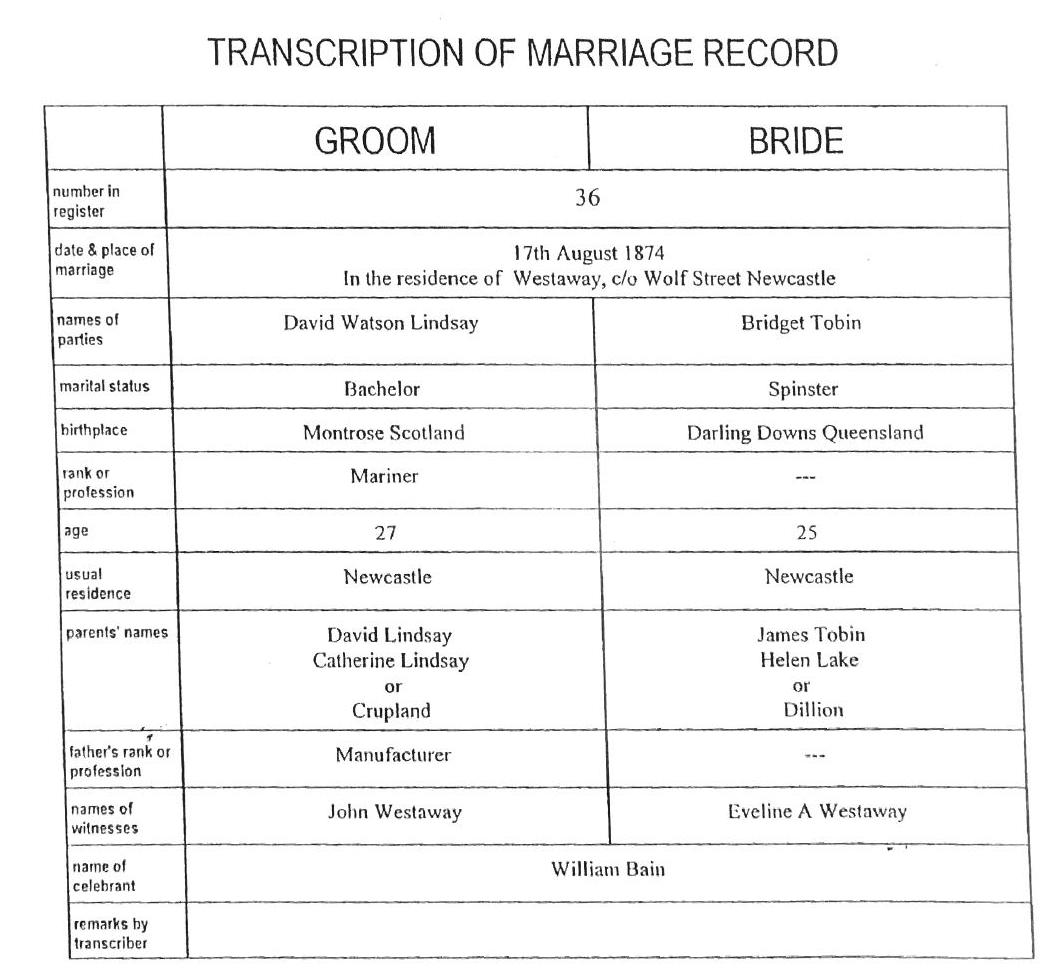 New South Wales Marriage Transcription Record for David Lindsay and Bridget Tobin
David Watson Lindsay (1846-1876) and Bridget Tobin (1847-1919) married in Newcastle, New South Wales on 17 August 1874 and had one daughter Catherine Ellen Ackers Lindsay (1876-1948).
There is so much wonderful information included on this marriage record for David and Bridget Lindsay. The most precious information given is that about their parent's names which also includes their mother's surnames and the fact that Lindsay was a mariner. Also for the first time I could see confirmation that David Lindsay had been born in Montrose, Scotland and that Bridget was born in the Darling Downs, Queensland. The marriage was witnessed by John and Evelyn A Westaway. I was also fascinated by the fact that David and Bridget Lindsay had been married in the home of the Westaway family at Wolf Street, Newcastle. I enjoyed doing some research on John Westaway and his family. Keen readers will have also noticed that the widowed Elizabeth Lindsay gave birth to her daughter Catherine Ellen Ackers Lindsay in Wolf Street, undoubtedly in the home of the Westaway family. I must say it was comforting to know that at this difficult time in Elizabeth's life, that she had friends to care for her.
John Westaway was born on 17 May 1838, at Sticklepath, Devon, in England. He arrived on the Hornet in 1859, formerly living at 2 Higher St. Devonport, Devon. After John Westaway came to Australia he settled in Newcastle, New South Wales where John had his own tailoring business, but unfortunately it burned down and he went to work for the Rundles of tailoring fame as their head cutter. In 1870 he was living in Pitt St ( a tiny little street in the oldest part of the city) and in 1874 he was in Wolf St. He died in Newcastle 21 March 1904. He married Mary Ann Lemoine and they had one daughter Eveline Amelia.  After Mary Ann's death he remarried to Elizabeth Cheers, who was born on 12 July 1846 at Hexham, New South Wales and died in 1936 in Raymond Terrace on 1 February 1886. They had three children, John, Leonie and Ruby.
http://www.red1st.com/axholme/getperson.php?personID=676723124&tree=Axholme
http://westaway.tripod.com/documents/sheilayeo.htm
I now searched for the death of David Watson Lindsay and through early New Zealand newspapers I was able to find several references about the wreck of the William Ackers ship which went down off the Foveaux Strait on the southern most point on the south island of New Zealand. I can remember clearly the shock when I first discovered that David Lindsay had died in a shipwreck. It was early in my research and I had connected with an ancestry.com tree which gave his death simply as Foveaux Strait, 1876. Having noted the unusual name of Ackers given to his daughter Catherine on her birth record. I then searched for the name Ackers and that was when I discovered the shipwreck of the William Ackers in New Zealand.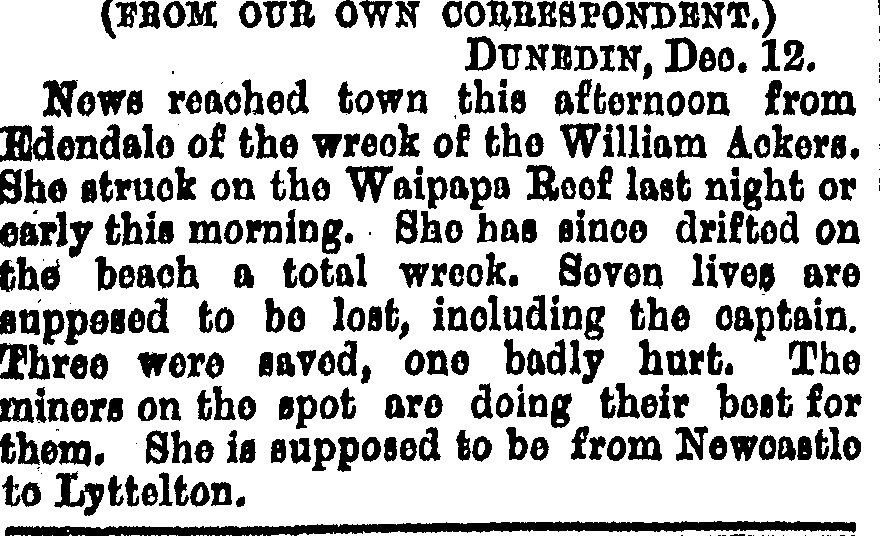 13 December 1876, Star, New Zealand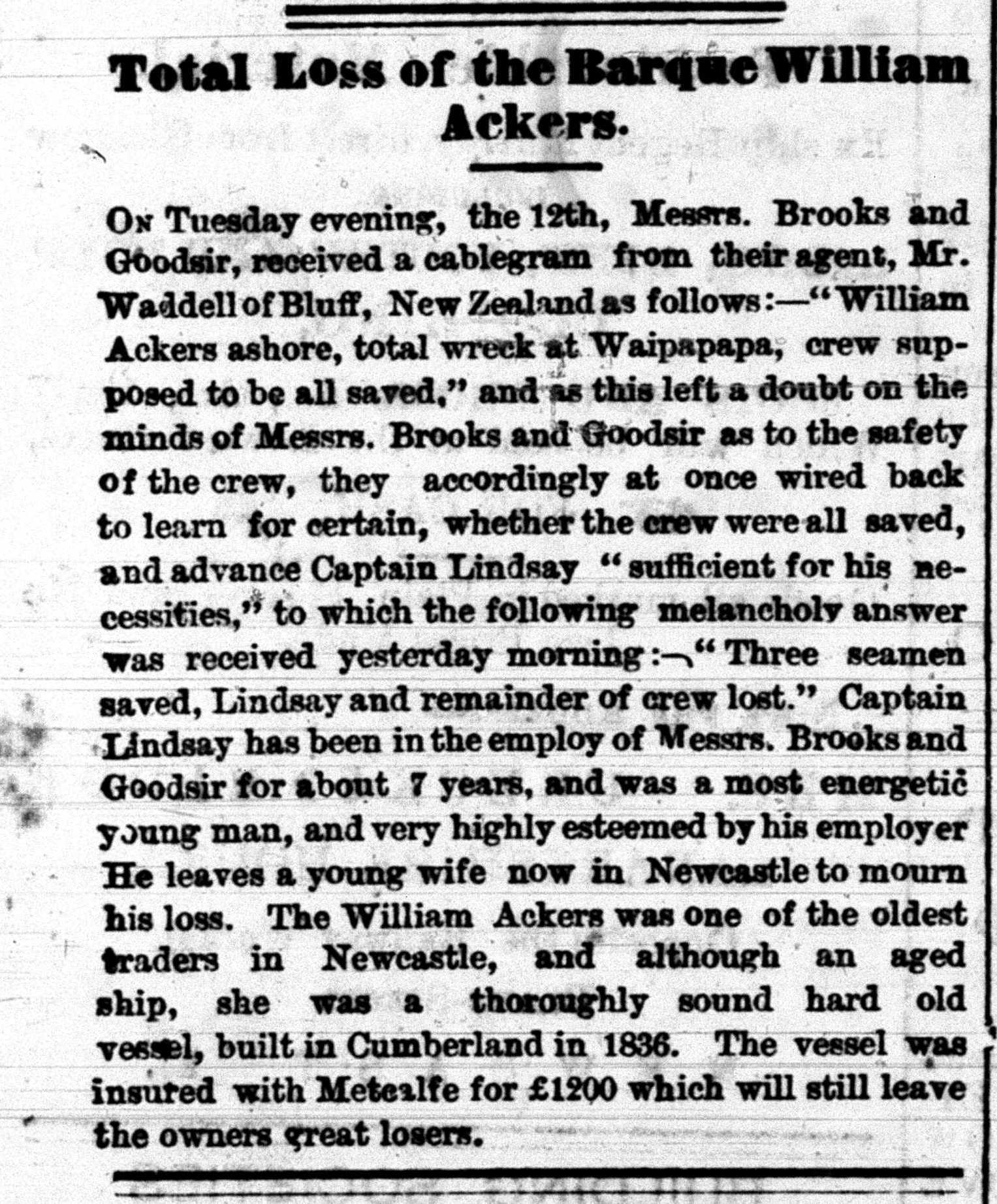 15 December 1876, Newcastle Morning Herald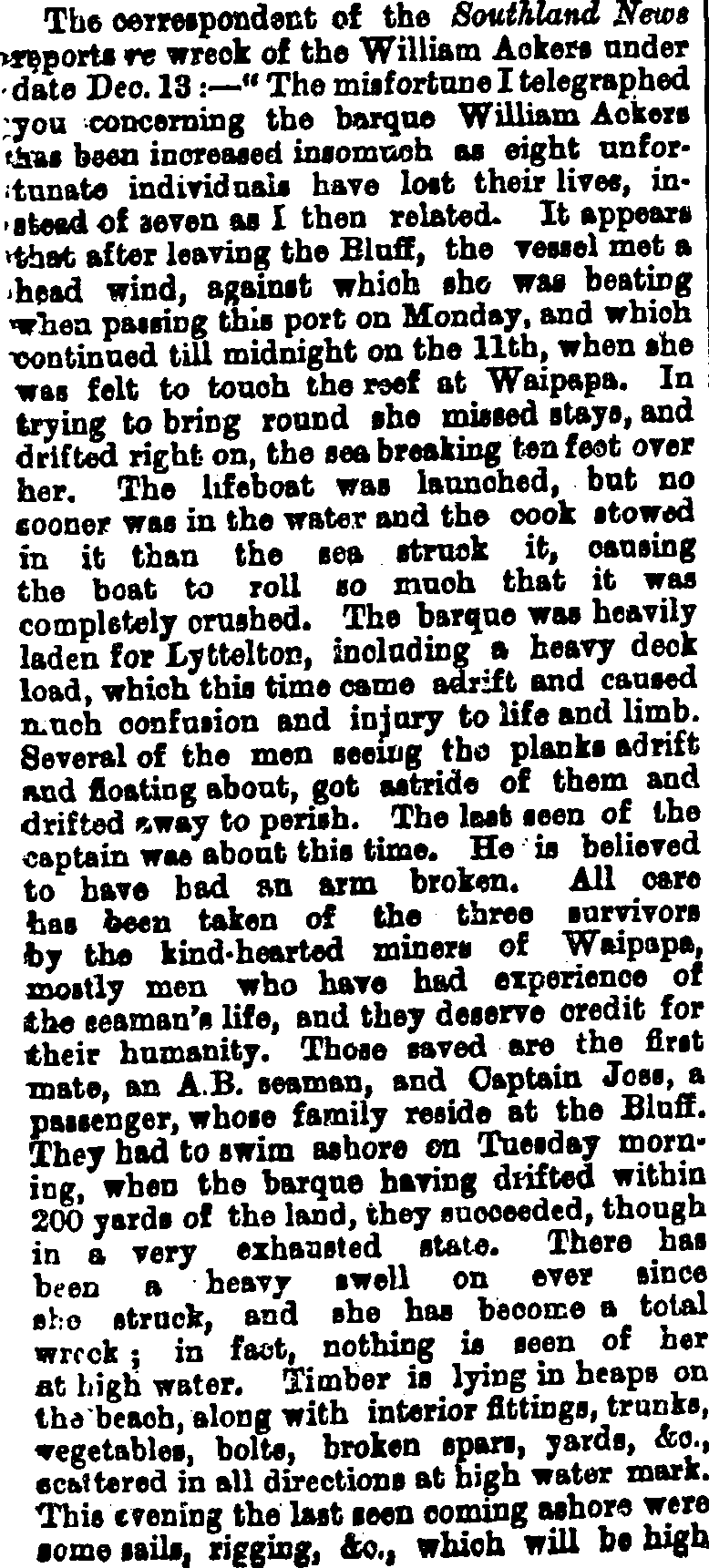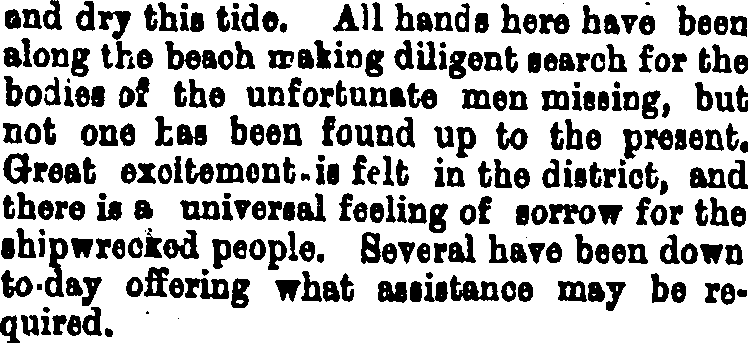 17 December 1876 Lyttelton Times

19 December 1876, Otago Daily Times
It must have been a shocking time for poor Bridget Lindsay, a month prior to giving birth to her first child she must have received this dreadful news from New Zealand. One can only imagine her grief and terrible sadness. It was at this point in my research in early 2012 that Geoff and I resolved that on our next holiday we would go on a road trip to the South Island of New Zealand and visit Waipapa Point and find David Watson Linsday's grave at Fortrose Cemetery.


26 December 1876 Press Newspaper, New Zealand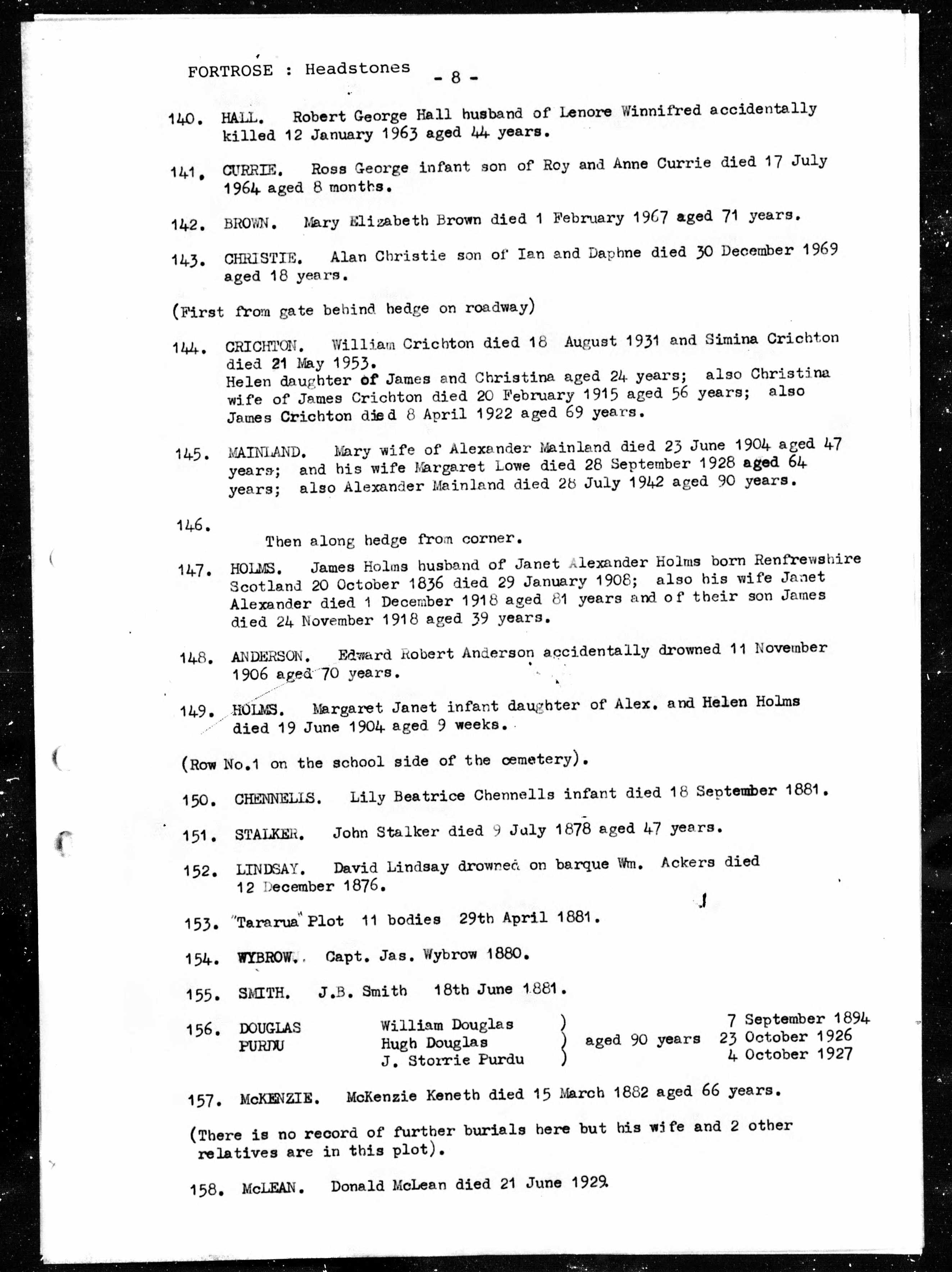 Fortrose Cemetery Record for David Lindsay, died 12 December 1876
Note also that there were 11 bodies buried in Fortrose Cemetery on 29 April 1881 for some of the victims of the Tararua maritime shipwreck. Apparently after the wreck of the William Ackers the townsfolk of Fortrose had called for a lighthouse to be built because of the dangers to shipping off Waipapa Point, but it had to take the loss of 131 soles from the Tararua for swift action to be taken to build a lighthouse on Waipapa Point.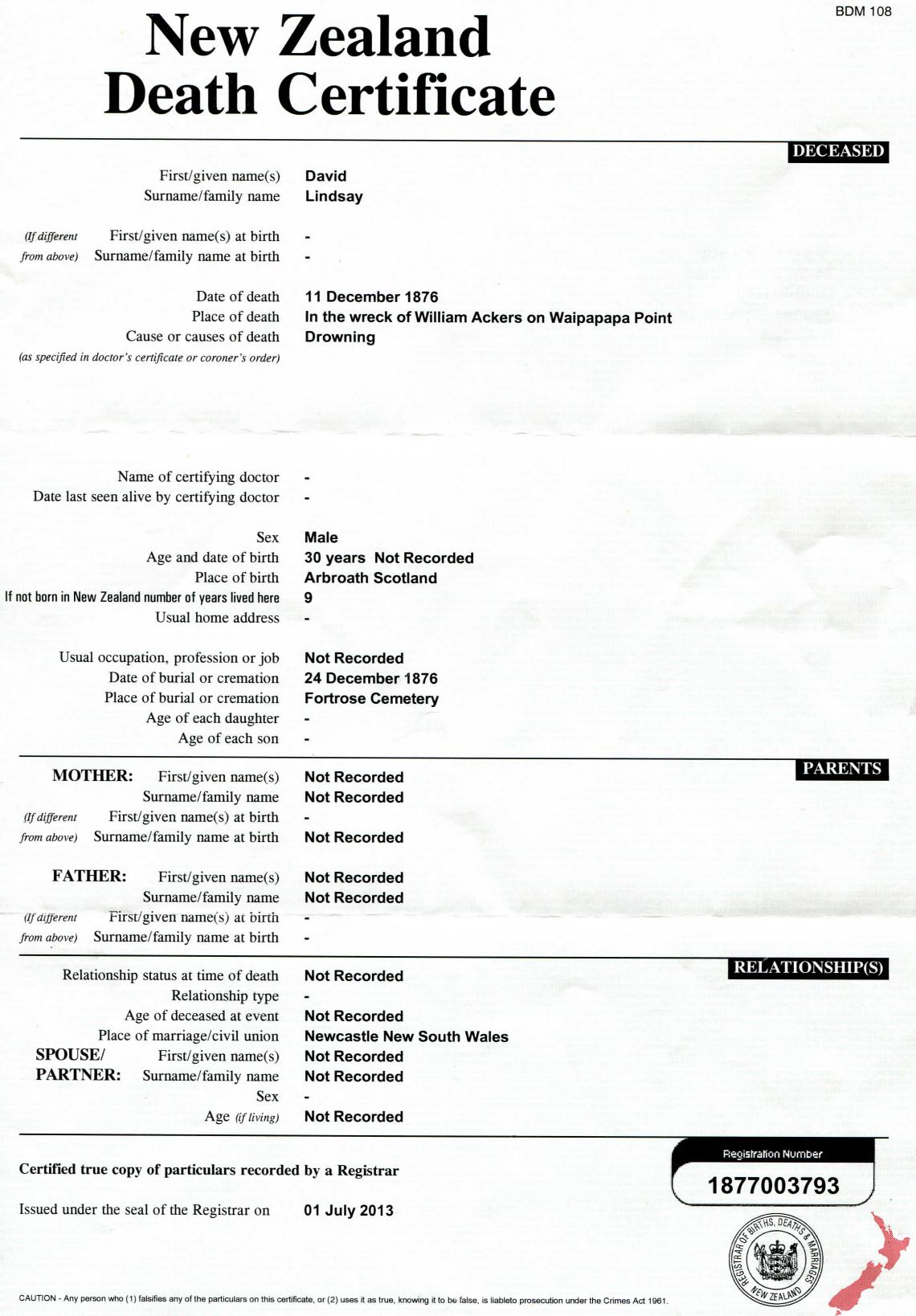 Death Certificate for David Lindsay, died 11 December 1876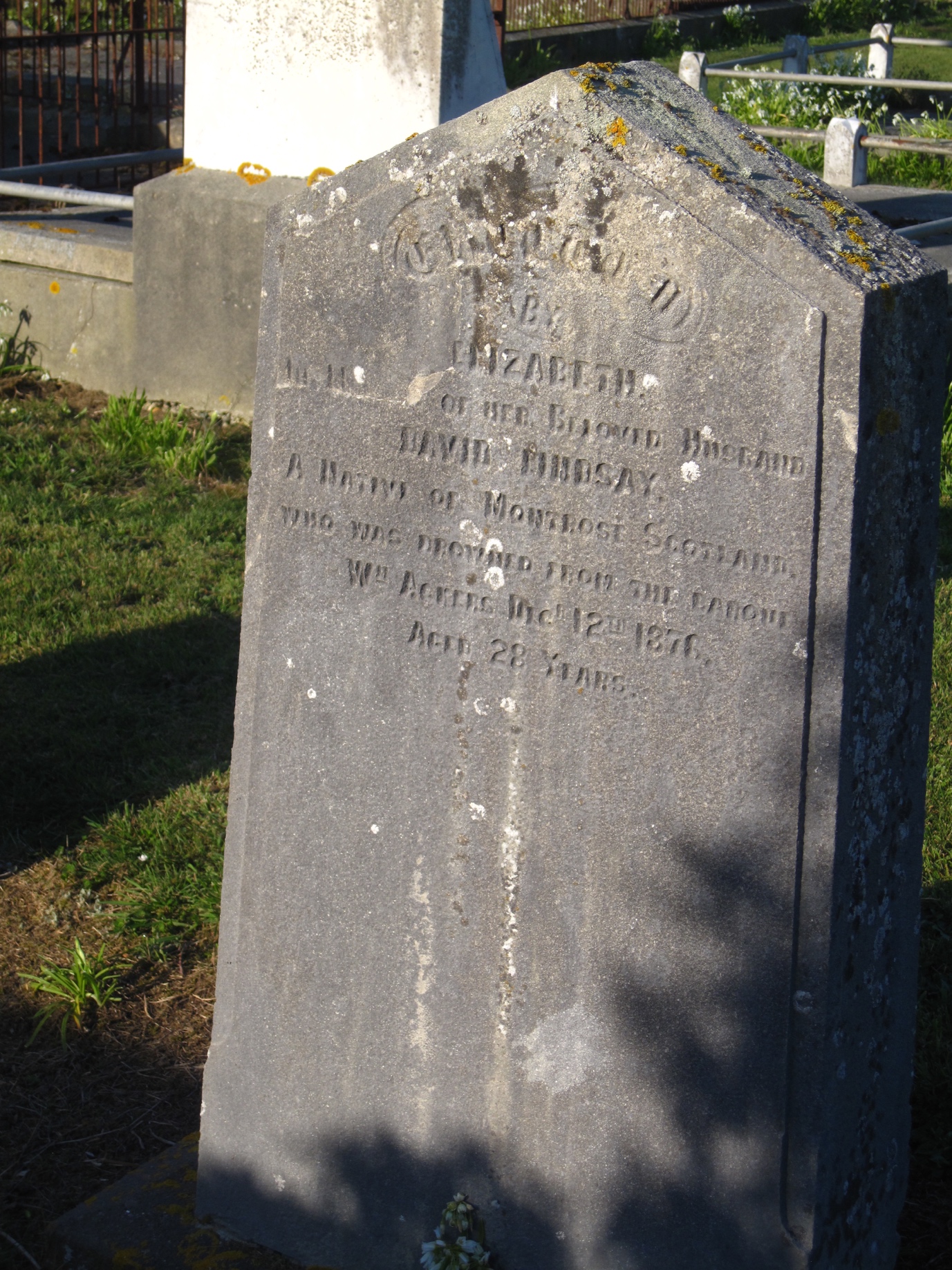 Headstone for David Lindsay, Fortrose Cemetery, New Zealand, died 12 December 1876, aged 28 years
Fortrose Cemetery is on the hilltop a few kilometres from Waipapa Point and is quite easily found on the outskirts of the tiny township of Fortrose.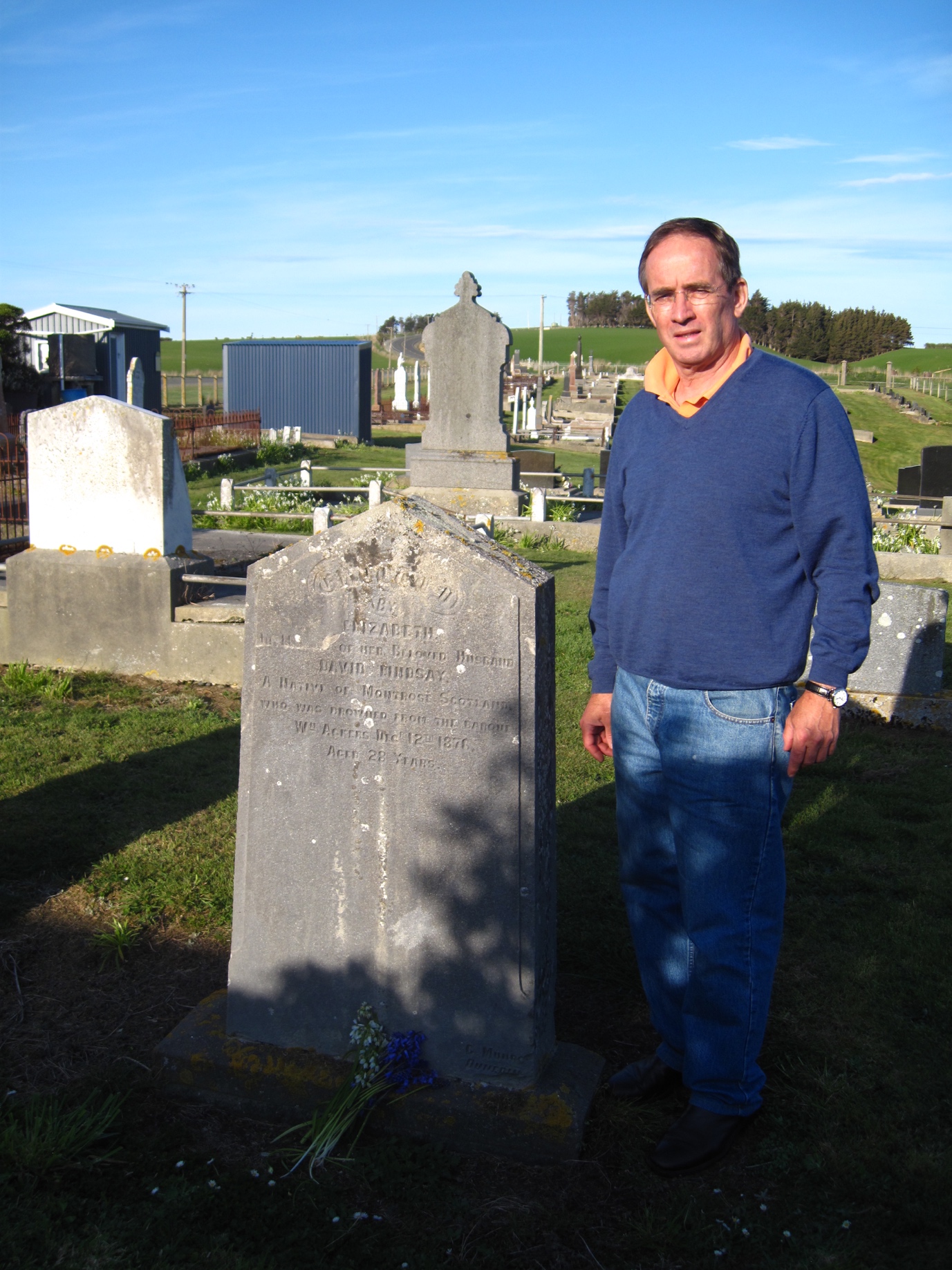 Geoff Rundle standing beside his great grandfather David Lindsay's gravestone at Fortrose Cemetery, New Zealand, September 2012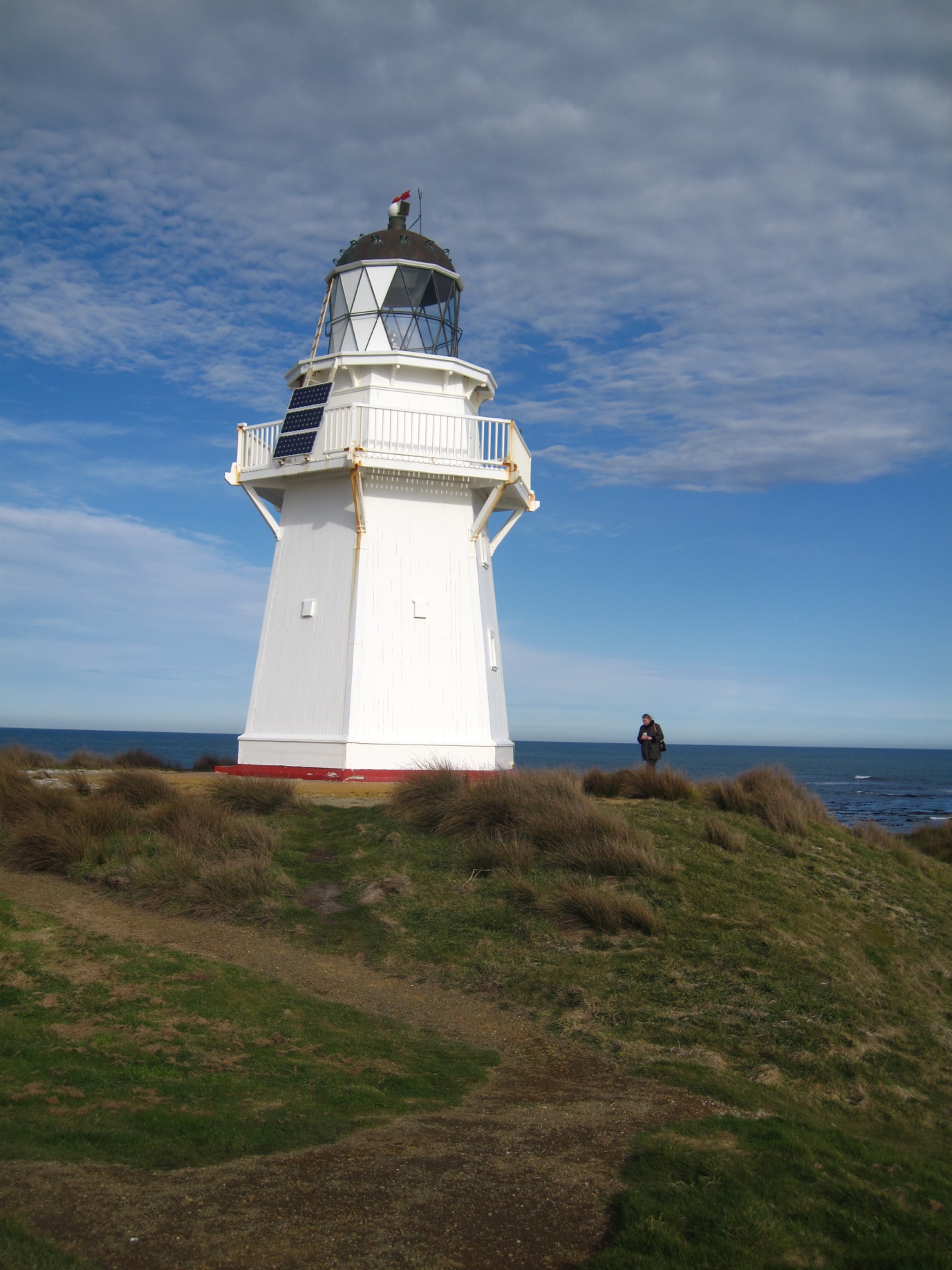 Waipapa Point Lighthouse, South Island, New Zealand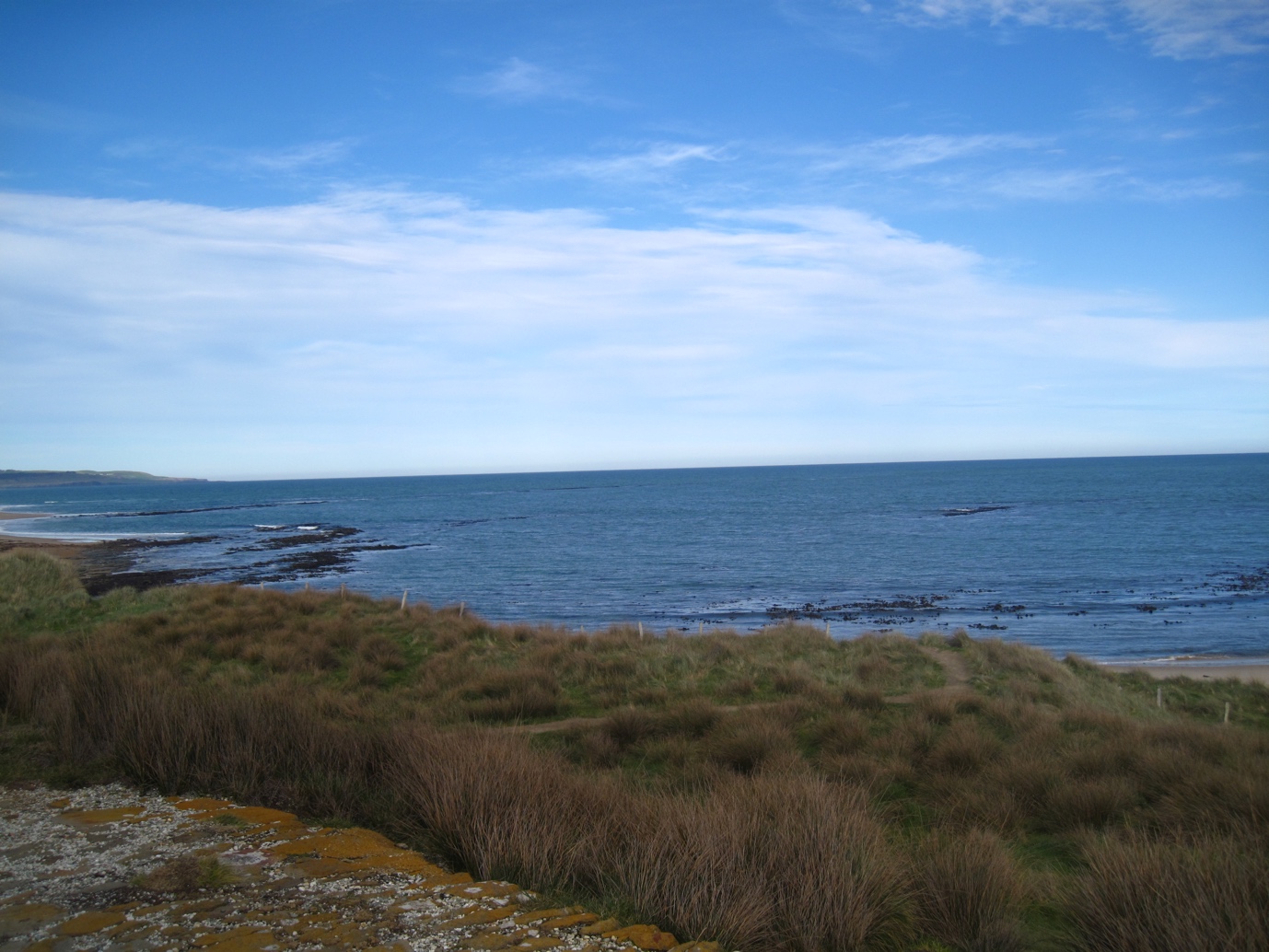 Waipapa Point Shoals, South Island, New Zealand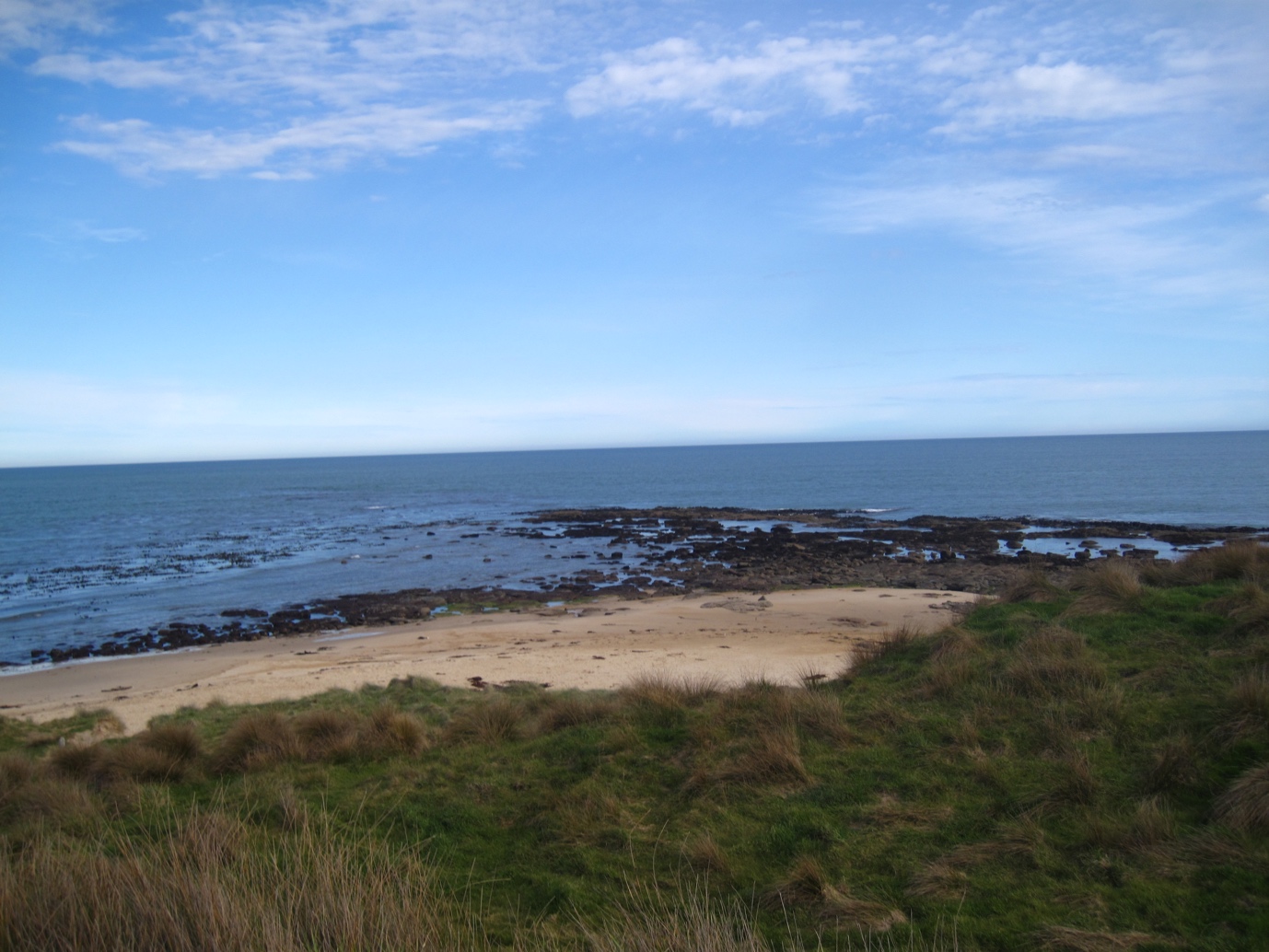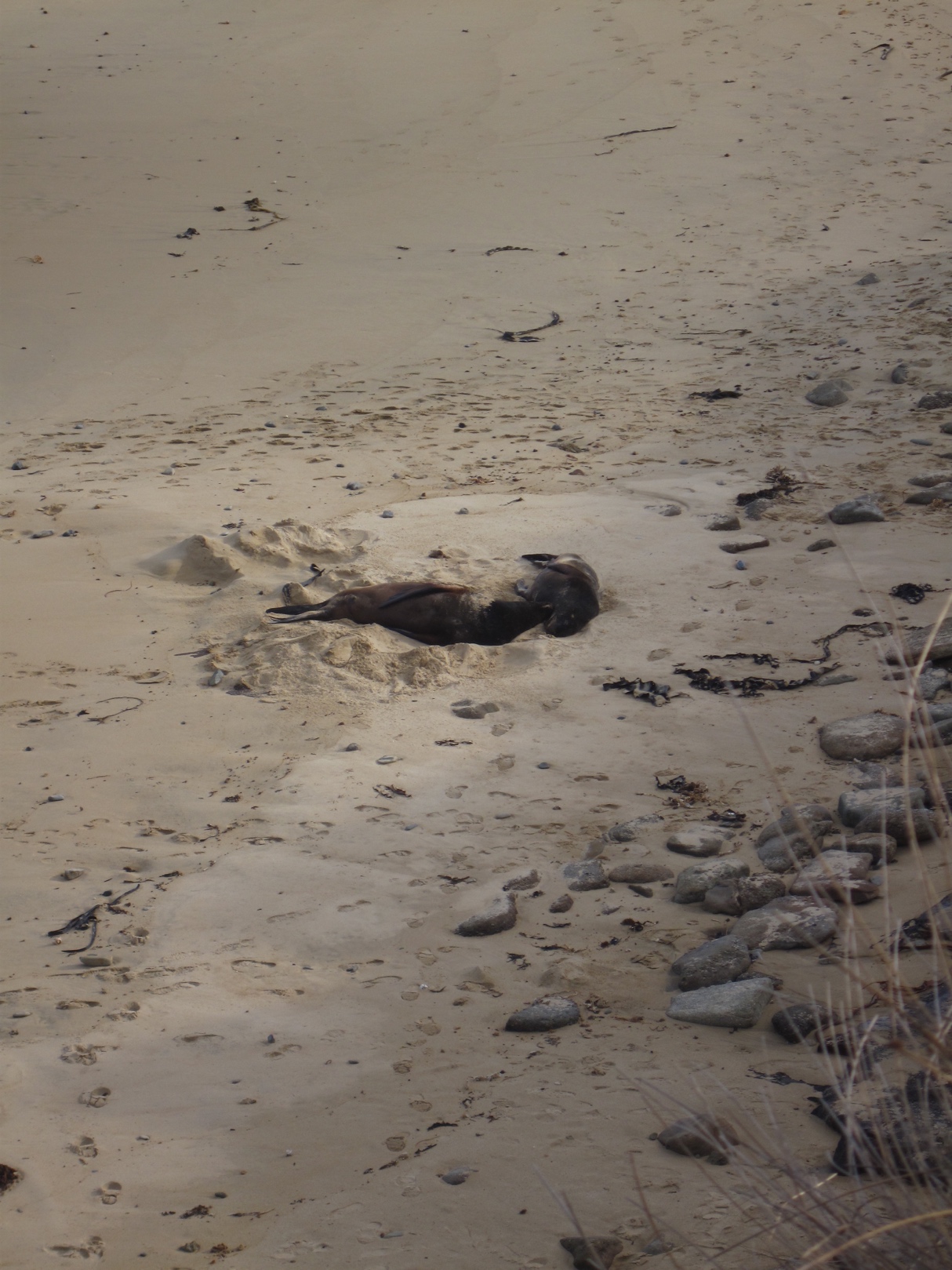 Sea Lions, Waipapa Point, South Island, New Zealand
Whilst Geoff and I were at Waipapa Point we could see that just a few years after the total loss of the barque William Ackers on 11 December 1876 there was the tragic loss of the S.S. Tararua on 21 April 1881 there was an even more tragic wreck on the very same shoal with the loss of 131 lives, it was considered to be New Zealand's worst civilian shipwreck. Whilst we were at Fortrose Cemetery we noted that there was a section of the cemetery where some of the first victims of the disaster were buried. It quickly became clear to the rescuers that there was not enough room in the cemetery and so a section of land nearby to the disaster area was set aside as a mass burial area.
The Tararua Acre Cemetery, Waipapa Point, South Island, New Zealand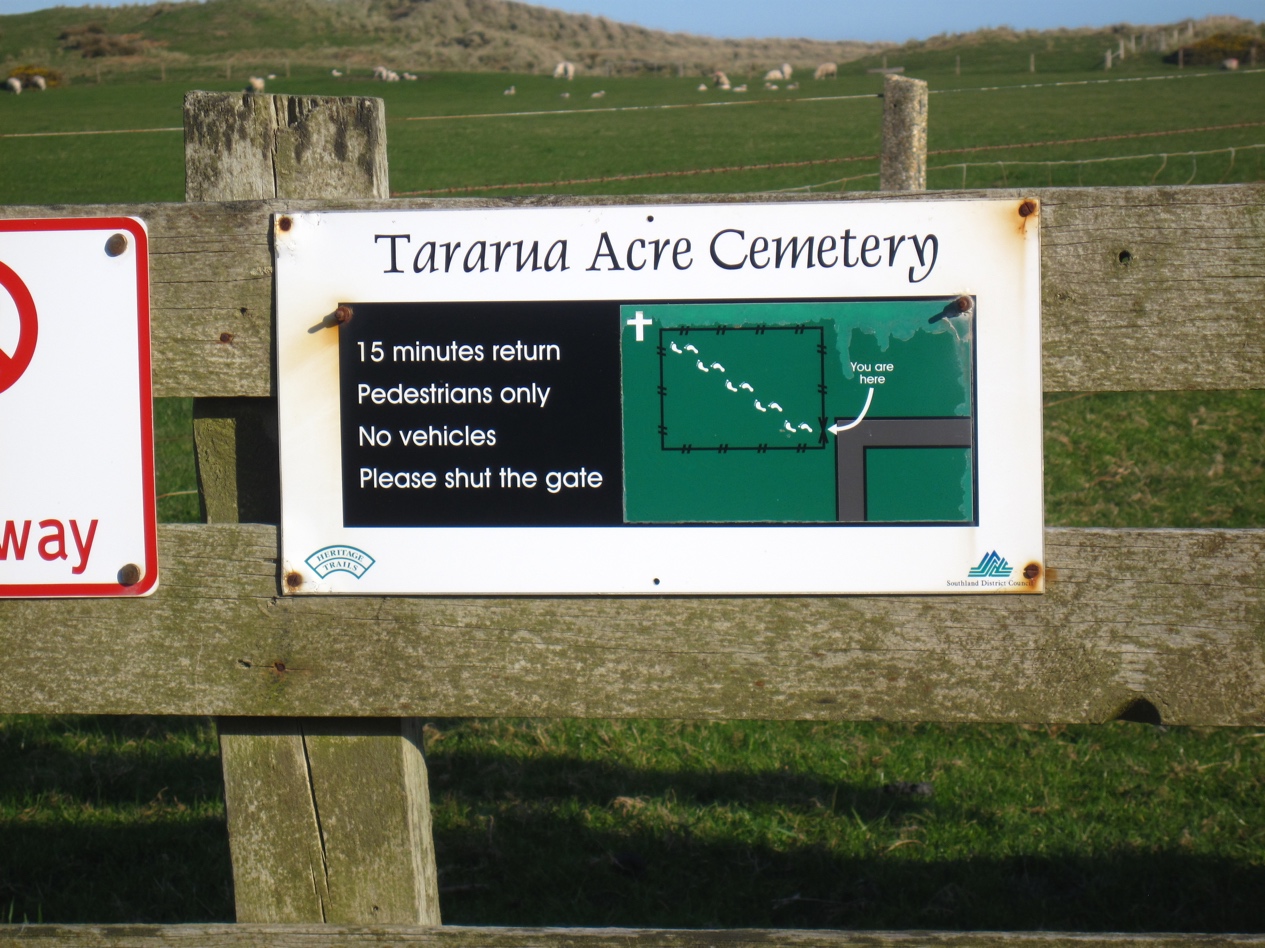 It was lambing season when Geoff and I visited Tararua Acre Cemetery and we respected the request by farmers for privacy.
Waipapa Point Lighthouse Information Board, South Island, New Zealand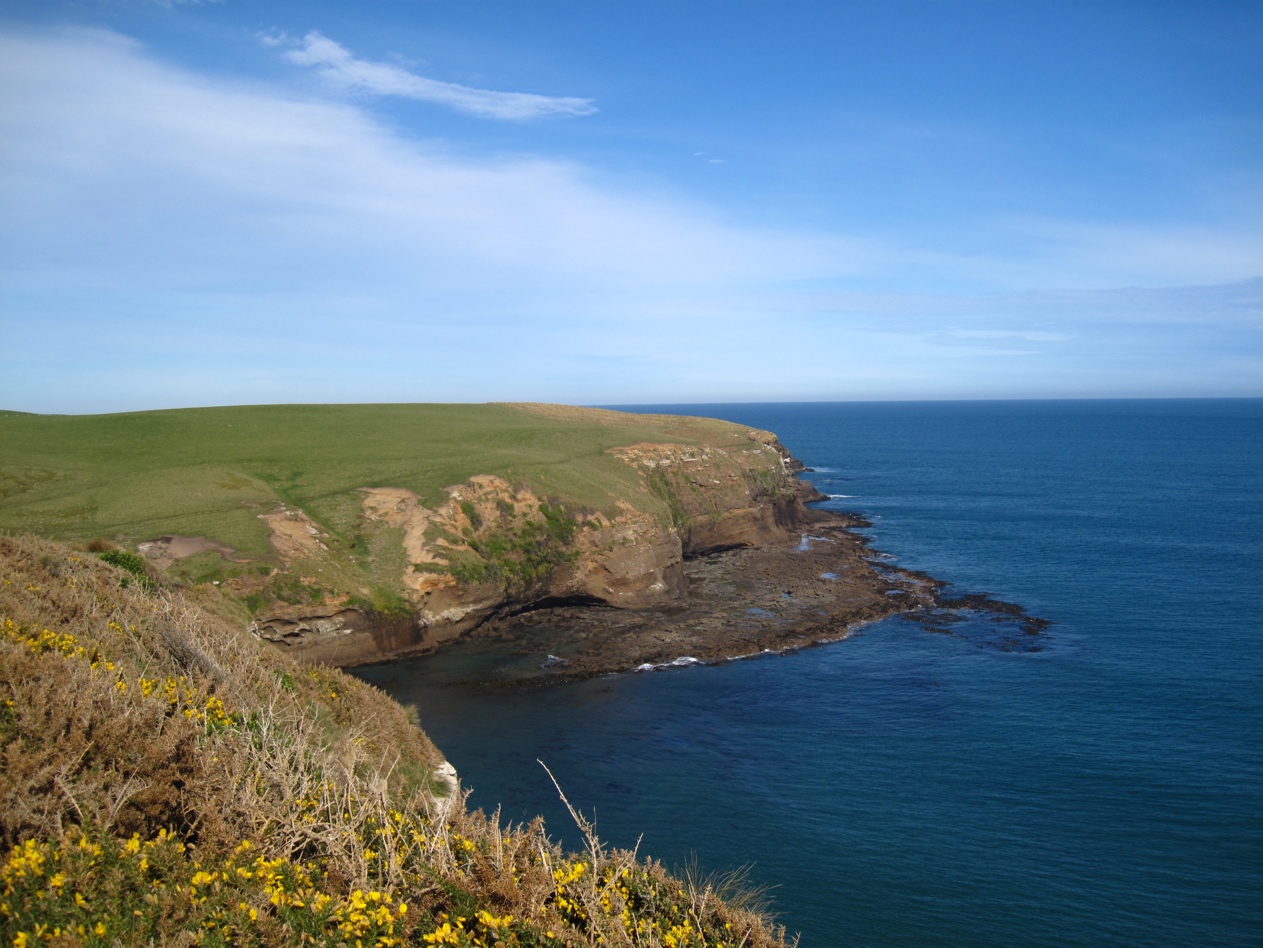 Slope Point where Geoff and I enjoyed our picnic at the southern-most point of New Zealand, on a glorious spring day.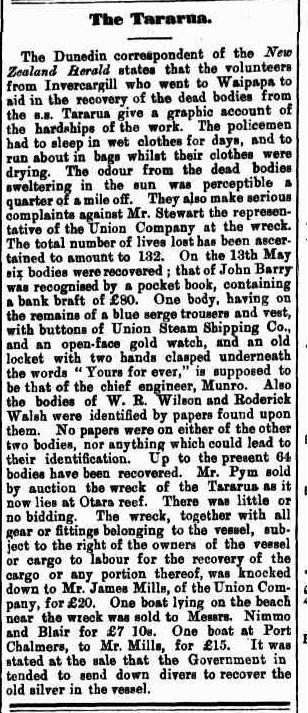 9 May 1881, South Australian Advertiser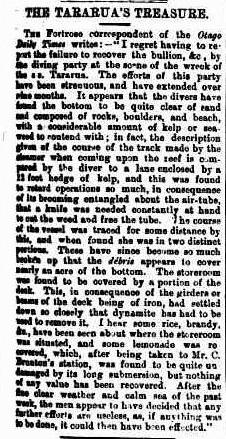 20 May 1882, Brisbane Herald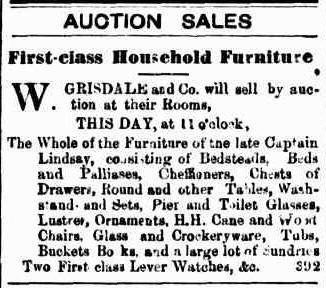 20 January 1877, Newcastle Morning Herald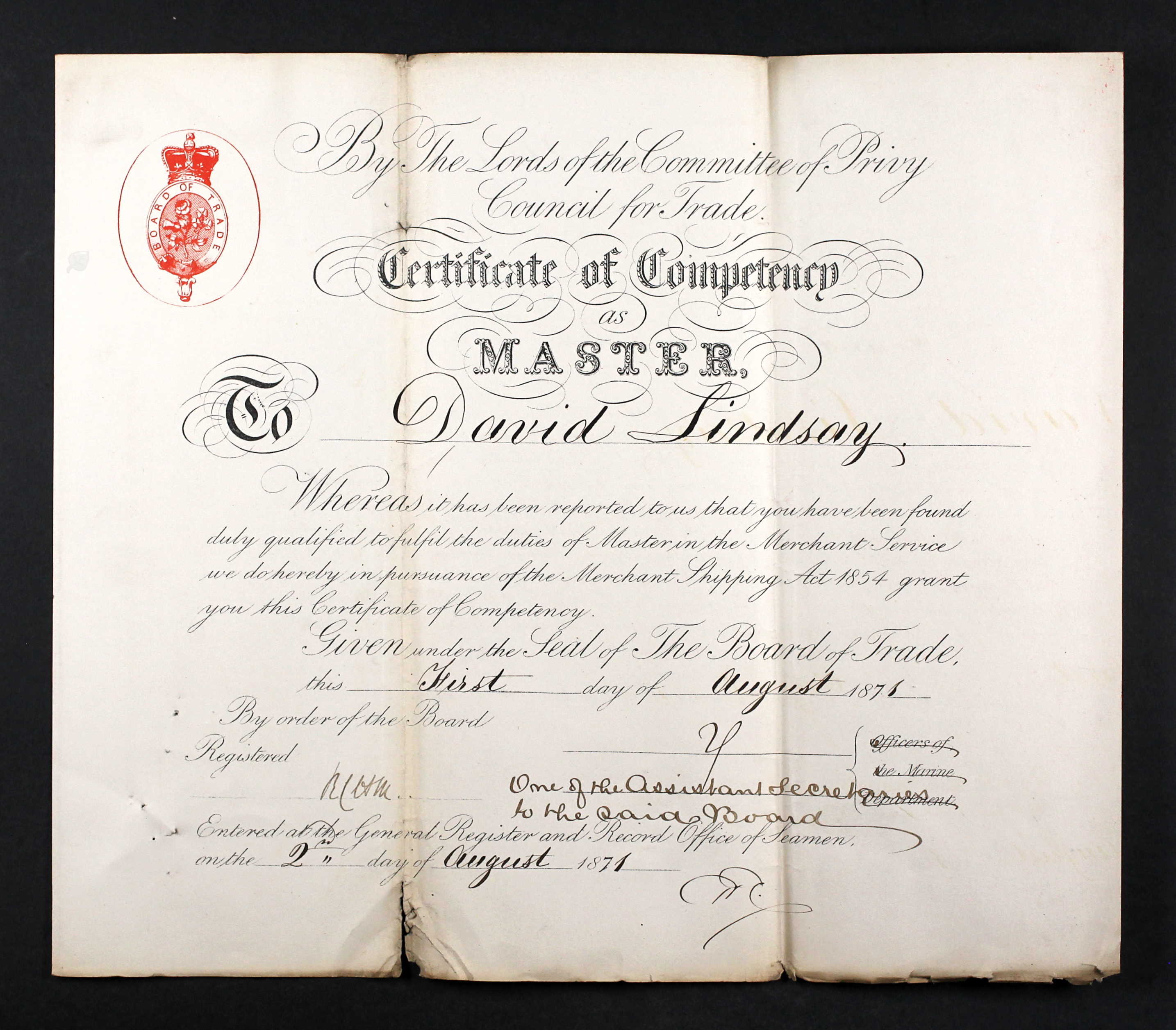 UK and Ireland, Masters and Mates Certificates, 1850-1927
Previously I had collected David Lindsay's Mate Certificate, issued on 3 July 1868 at the Port of Montrose and then in the same bundle of certificates was his Master's Certificate, issued on 1 August 1871.
New South Wales, Unassisted Migrant Passenger List 1826-1922, Crew List aboard Pat the Rover, 11 Nov 1864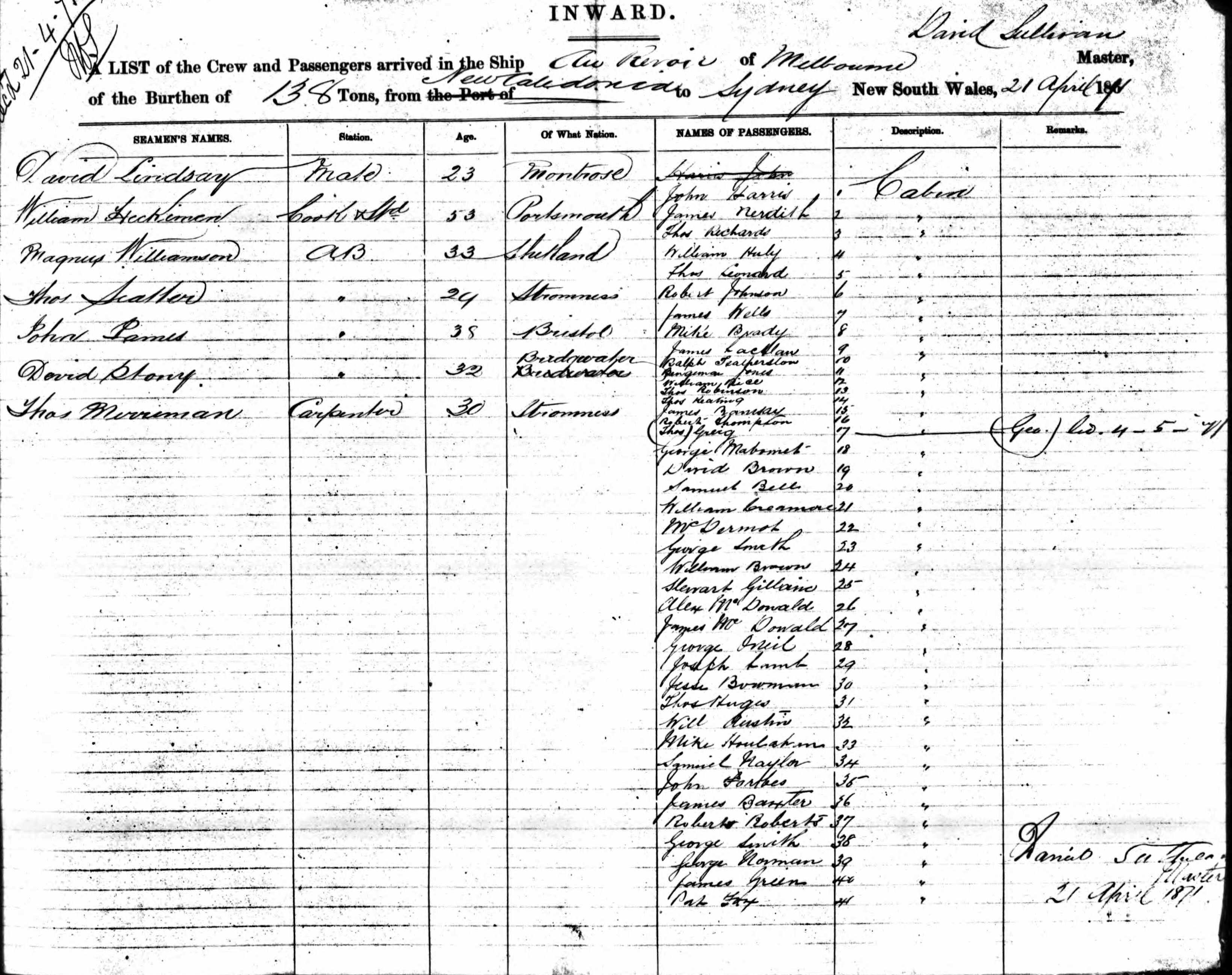 NSW, Unassisted Passenger List 1826-1922, Crew List aboard the Au Revoir 24 April 1871
Armed with the information that David Lindsay had listed his parents as David Lindsay and Catherine Crupland on his marriage certificate, I searched the Scottish census records for his family. Whilst the census are only released as transcriptions by the Scottish authorities they still provide excellent family information. Almost immediately I could see David Lindsay's family living in Montrose, Scotland in 1851 and 1861. It was exciting for me to see that David had several siblings, Helen, Frank and Catherine. I accepted these two census records and placed his new family into my ancestry.com tree in the hope that I might get a connection with another family tree. Almost immediately I was able to see that other trees were collecting the same census'.
The ancestry.com family connection was through the descendants of David Lindsay's elder sister Helen Lindsay. I could see David Lindsay listed on several family trees, but none had his Australian/New Zealand link. The Thorne Family Tree was well managed, so I made an initial message contact to explain that I felt I had found a family tree connection with them. I only had to wait a few days for a wonderful and most exciting reply from Maggie Fenton. Maggie is an experienced researcher and she was very thrilled to finally have a connection for David Lindsay and she was shocked and delighted to find that David Lindsay had descendants. Later in our research I obtained the death record for David Lindsay and Maggie decided to order his brother Frank Lindsay's New Zealand death certificate, after I found Frank Lindsay's death notice from old newspapers in Lyttelton, New Zealand, while searching through Paper's Past, the New Zealand website which allows free online access to early New Zealand newspapers. Maggie and I feel it is probable that Frank and David Lindsay must have been in touch during their time in Lyttelton, which is the main port of Christchurch.
1851 Scottish Census
| | |
| --- | --- |
| Name: | David Lindsay |
| Age: | 3 |
| Estimated Birth Year: | abt 1848 |
| Relationship: | Son |
| Father: | David Lindsay |
| Mother: | Catherine Lindsay |
| Gender: | Male |
| Where born: | Montrose, forfarshire |
| Parish Number: | 312 |
| Civil Parish: | Montrose |
| Phillimore Ecclesiastical Parish Maps: | View related Ecclesiastical Parish |
| County: | Angus |
| Address: | 15 Patons Lane |
| ED: | 21 |
| Page: | 5 |
| Household schedule number: | 21 |
| LINE: | 12 |
| Roll: | CSSCT1851_68 |
| Household Members: | |
1861 Scottish Census
| | |
| --- | --- |
| Name: | David Lindsay |
| Age: | 13 |
| Estimated Birth Year: | abt 1848 |
| Relationship: | Son |
| Father's name: | David Lindsay |
| Mother's name: | Catharine Lindsay |
| Gender: | Male |
| Where born: | Montrose, Forfarshire |
| Registration Number: | 312 |
| Registration district: | Montrose |
| Civil Parish: | Montrose |
| County: | Angus |
| Address: | 20 India Lane |
| Occupation: | Flax Dresser |
| ED: | 21 |
| Household schedule number: | 112 |
| LINE: | 19 |
| Roll: | CSSCT1861_45 |
| Household Members: | |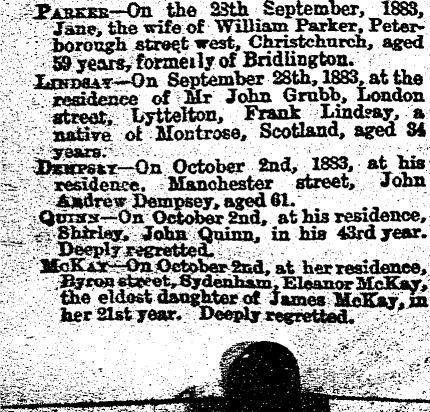 Death notice for Frank Lindsay, 3 October 1883, Press

Death Certificate, Frank Lindsay, 28 September 1883, Lyttelton, New Zealand
What is wonderful about this death certificate for Frank Lindsay is that listed on the document are his parents, David Lindsay and Catherine Lindsay formerly Copeland, confirming the same information from his brother David Lindsay's marriage certificate. Frank's father was listed as a foreman of works. It was also listed that Frank was a native of Montrose, Scotland and had been living in New Zealand for 13 years. London Street, Lyttelton is the main street of Lyttelton. Sadly, during the earthquake in February 2011 both Lyttelton and Christchurch were badly damaged and much of London Street's well preserved Victorian streetscape had to be demolished. Most importantly, it was exciting corroboration for Maggie Fenton and myself to have confirmation regarding both David and Frank Lindsay's parentage confirming their connection to Maggie's great grandmother Helen.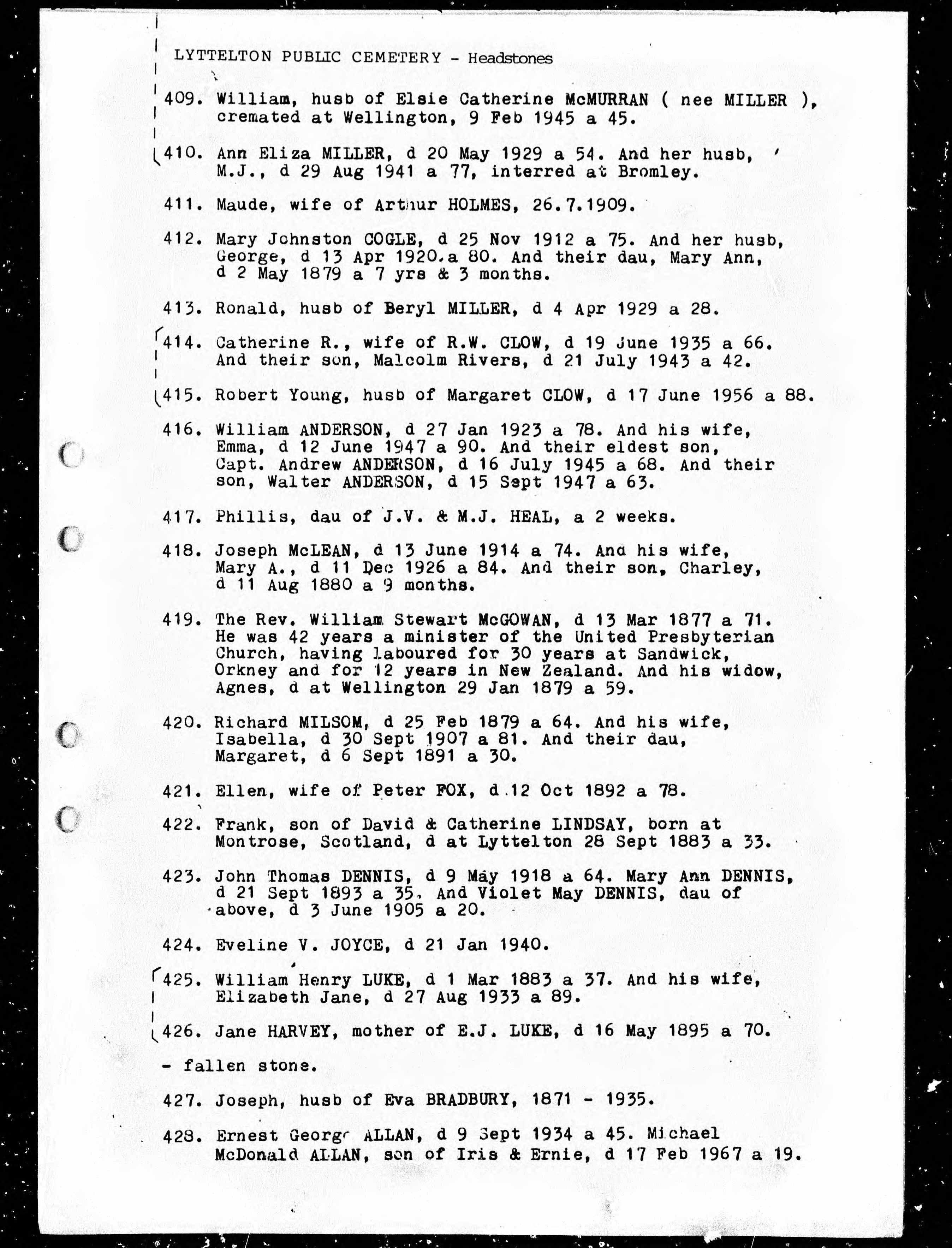 Lyttleton Public Cemetery Headstone Transcription, New Zealand, for Frank Lindsay
"Frank, son of David and Catherine LINDSAY, born at Montrose, Scotland, died at Lyttelton, 28 Sept. 1883 aged 33"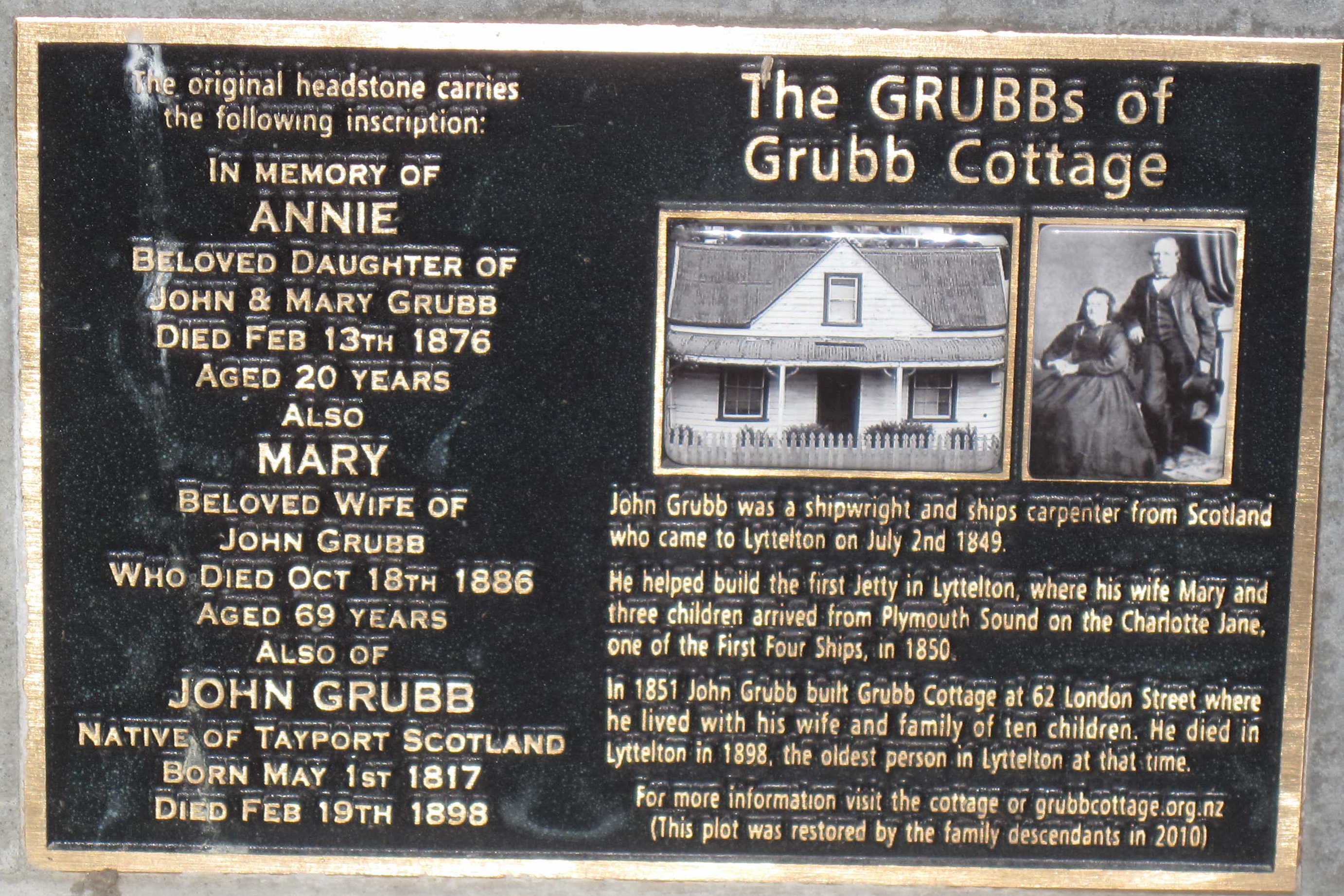 Photograph taken by Virginia Rundle at Lyttelton Anglican Cemetery of the Grubb Family Plaque, 2012
Helen Brown Duncan nee Lindsay, sister of David and Frank Lindsay, image kindly supplied by Maggie Fenton
Hilda Duncan, daughter of Helen Brown Lindsay, image kindly supplied by Maggie Fenton
Helen Brown Lindsay (1846-1926) married William Duncan in Montrose, Scotland on 22 July 1865 and they had six children, Mary H Duncan (1867-1902), William Lindsay Duncan (1872-1928), David Duncan (1875-1944), James Duncan (1877-1884), Frank Duncan (1883-) and Hilda Duncan (1890-1950).
For many years Maggie Fenton had guessed that Helen Brown Lindsay's two brothers had "gone to sea" and she was able to help me fill in so much new information to extend our Australian tree including the fact that their Uncle James Lindsay, a brother to David Lindsay Snr., had emigrated to Massachusetts in America. Like myself, Maggie was sceptical about the middle name of Watson that had appeared on David Lindsay's marriage certificate to Bridget Elizabeth Tobin. However, this adopted name is handy to differentiate father and son and I have often seen the adoption of a middle name in my extended Australian family and for one reason or another the name has been used in Australian records.
"I have to say I was a bit dubious about our David's being one & the same – the Watson middle name doesn't seem to fit in anywhere – so really really thrilled about the marriage Cert (Oz records really hard to obtain here & I suspect Frank is in Oz too)!! I suspect my g.grandfather William Duncan was probably responsible for the seafaring. He was brought up in the Glen Clova which although stunningly beautiful must have been a hard life with subsistence farming. He moved to Montrose where he was a ship's pilot & master mariner. He married Hellen Brown Lindsay in 1865. Her 2 brothers were in menial jobs in the flax industry & I suspect he encouraged them to go to sea. Between 1867 & 1877 Hellen & William lived in Mauritius where he was the harbour pilot. He survived into old age but one of their sons William Lindsay Duncan was captain of the Asiatic Prince which was lost at sea in 1928, 200 miles north of Hawaii. Great Uncle James Stephen was also a Master mariner & harbour master." Maggie Fenton email, 26 November 2011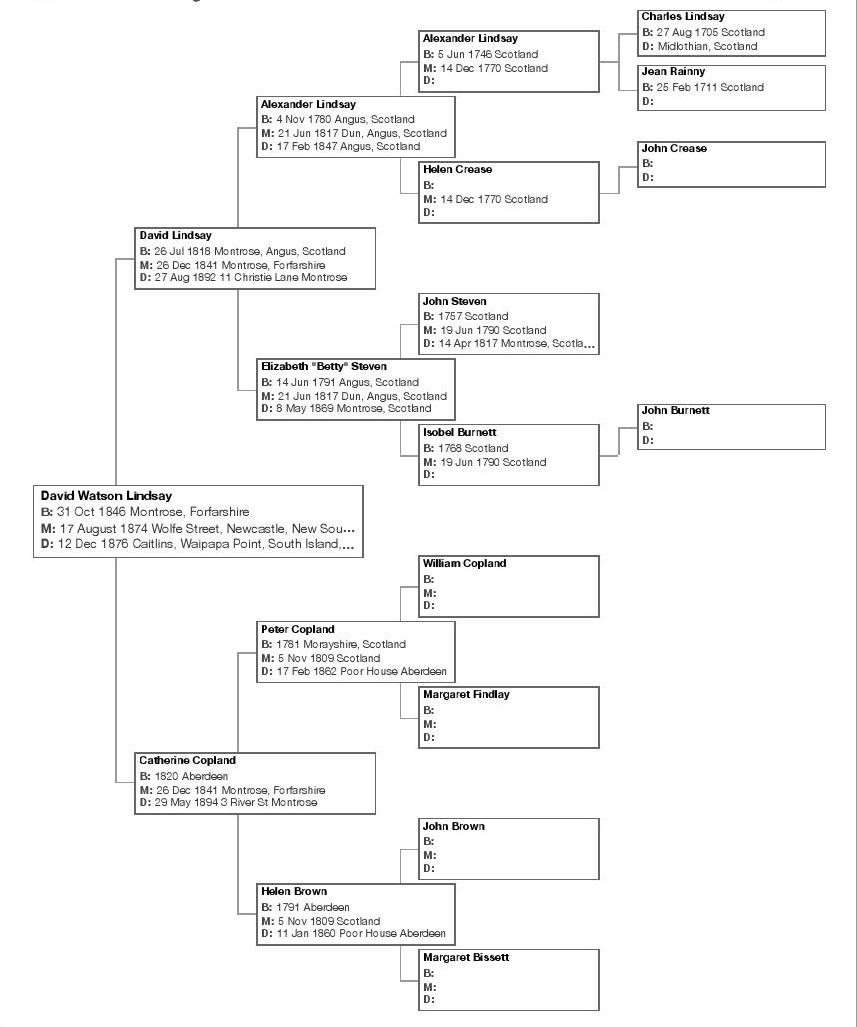 Pedigree Chart, a five generation chart for David Watson Lindsay (1846-1876)
David Lindsay Snr. (1818-1892) married Catherine Copland (1820-1894) on 26 December 1841 and they had five children, Hellen Brown Lindsay (1946-1926), David Watson Lindsay (1846-1876), Frank Lindsay (1849-1883), Catherine Lindsay (1852-1914) and William Gouk Lindsay (1857-1858).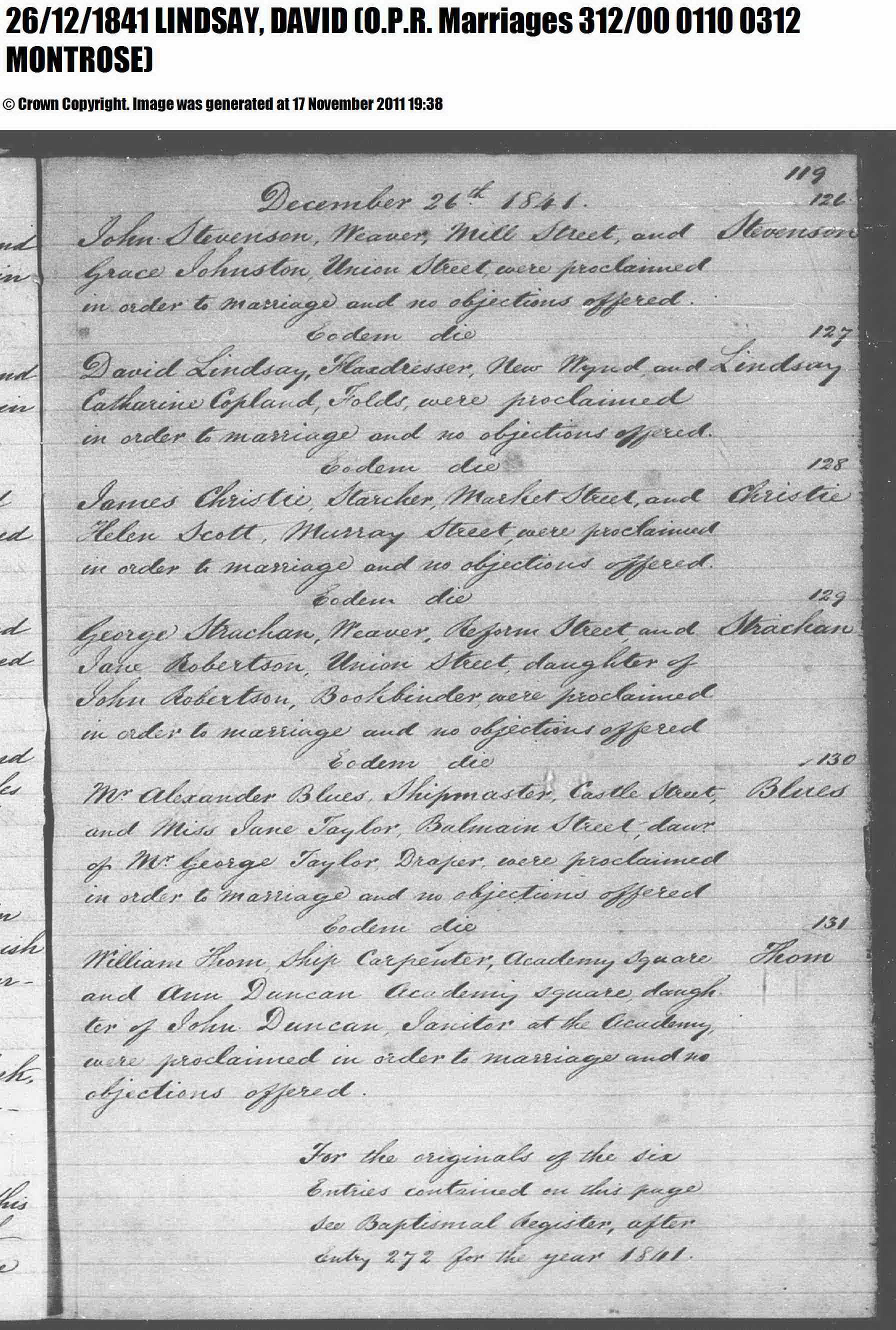 Marriage of David Lindsay, Flaxdresser and Catherine Copeland 26 December 1841
Image courtesy of the ancestry tree of Martibell1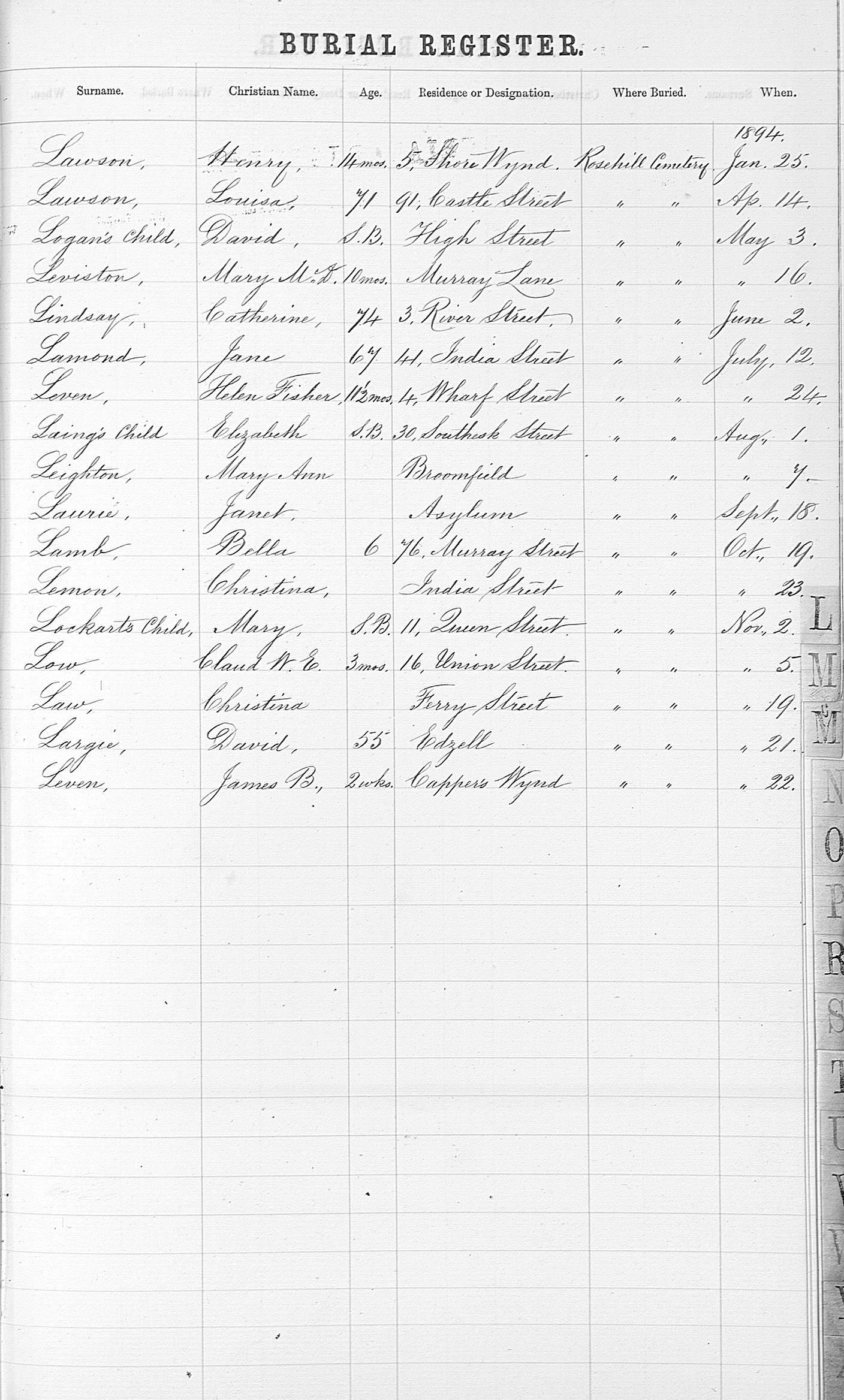 Burial Register for Catherine Lindsay nee Copeland, 2 June 1894 Rosehill Cemetery, Montrose, Scotland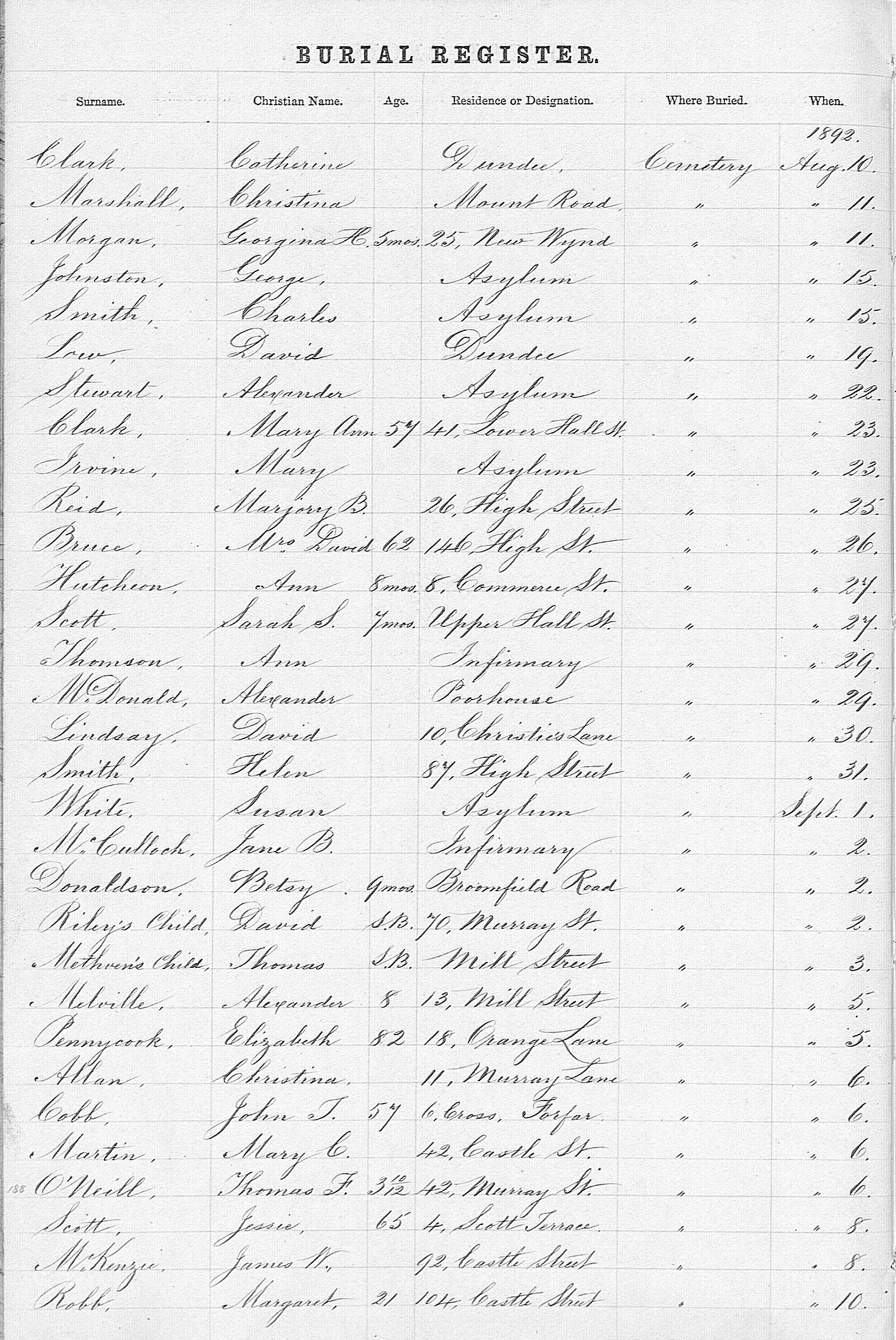 Burial Register for David Lindsay, 30 August 1892, Rosehill Cemetery, Montrose, Scotland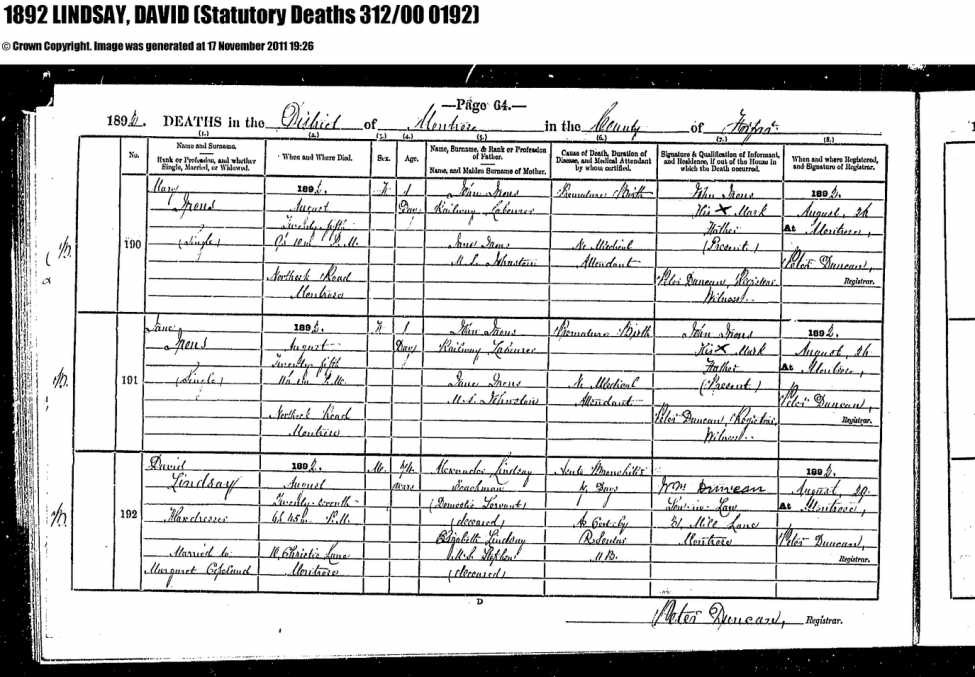 Death Record for David Lindsay Snr. 27 August 1892, District of Montrose, Scotland
Image courtesy of Martibell1 ancestry.com family tree
This record for David Lindsay Snr. gives so much information including the naming of his parents as Alexander and Elizabeth Lindsay nee Stephen which for the genealogist is such wonderful information which opens up the next generation of the family.
David Lindsay's elder brother was James Lindsay who married Ann Scott in Angus, and they migrated to the United States of America in 1872 with three of their children. It was so helpful to have had another researcher on ancestry.com, Martiebell1, who had excellent and accurate information on her family tree and I am so appreciative of this help for our extended Lindsay family.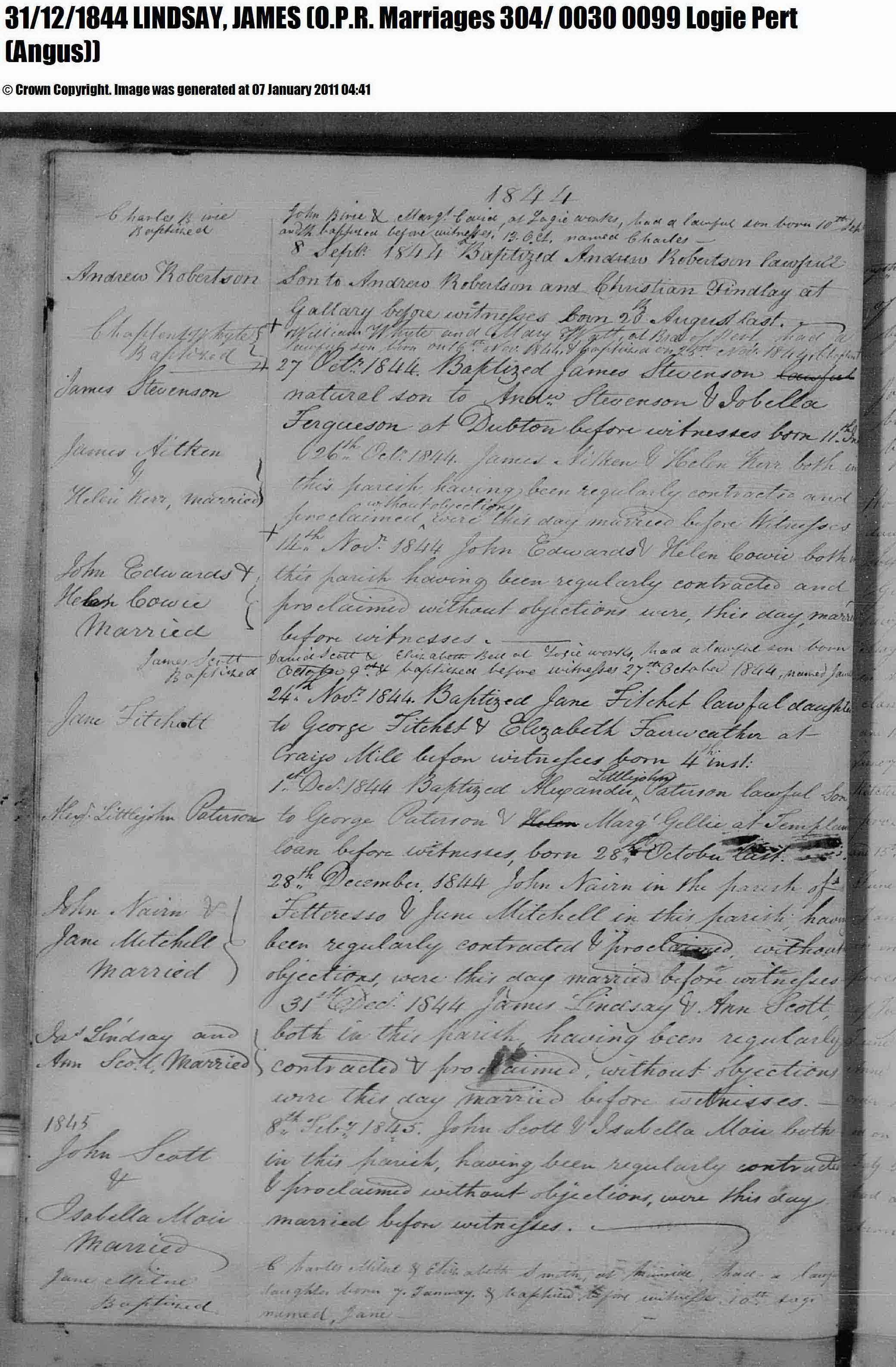 Marriage Record for James Lindsay and Ann Scott, Angus, 31 December 1844, image kindly provided by Martiebell1 ancestry.com family tree
James Lindsay (1823-1881) and Ann Scott (1824-1902) married on 31 December 1844 at Logie Pert, Angus and they had nine children, Adam Scott Lindsay (1845-1876), Alexander Lindsay (1847-1876), Elizabeth Lindsay (1849-1922),  James Robert Lindsay (1852-), Isabella Lindsay (1854-1899), Mary Weir Lindsay (1856-1916), Wilhelmina Lindsay (1859-1861), David Scott Lindsay (1860-1930) and Williamina Lindsay (1863-1937).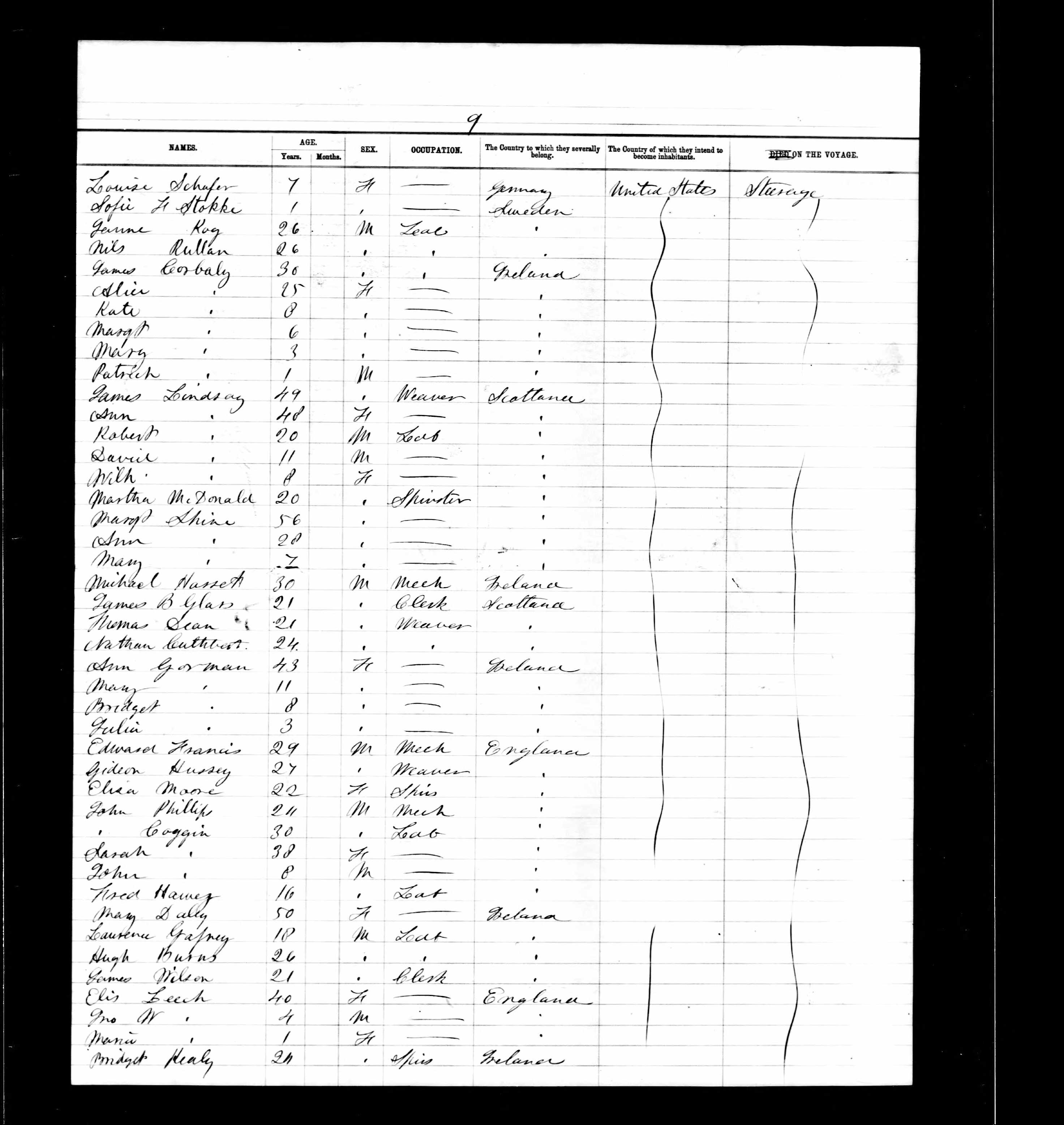 Massacheusetts, Passenger and Crew Lists, 1820-1963, for James and Ann Lindsay and their family aboard the Hecla in 1872
In 1872 James (49) and Ann Lindsay (48) boarded the Hecla, and migrated to America arriving in Boston harbour on 4 June 1872, with their three of their children, Robert (20), David (11) and Williamina (8).
Geoff and I decided to visit Scotland for a month in August 2013 to celebrate Geoff's 60th birthday. It was the most wonderful holiday and we were blessed with the most glorious weather. Everyone we met told us it was going to be cold and miserable, but despite these warnings we pushed on with our plans and the weather could not have been better. In the entire month's holiday we only encountered one day of rain on the Island of Arran. Geoff and I based our trip around our ancestry trail and visited Edinburgh and St Andrews Fifeshire for Geoff's Kidd family. We then went to Dundee for my Robertson ancestors and then after visiting Montrose we took a ship to the Shetland Islands for my Moar family. Whilst in Montrose Geoff and visited Rosehill Cemetery on the wonderful advice of Maggie Fenton who explained that the grave of David and Catherine Lindsay could be found there. Maggie was so kind, she gave us a map of the cemetery and directions. Poor Maggie and her mother had visited Montrose in a torrential downpour and all attempts at photos were thwarted by the weather. It was Geoff's and my absolute pleasure to be able to send Maggie photos of the Lindsay and Duncan grave from Rosehill Cemetery, Montrose.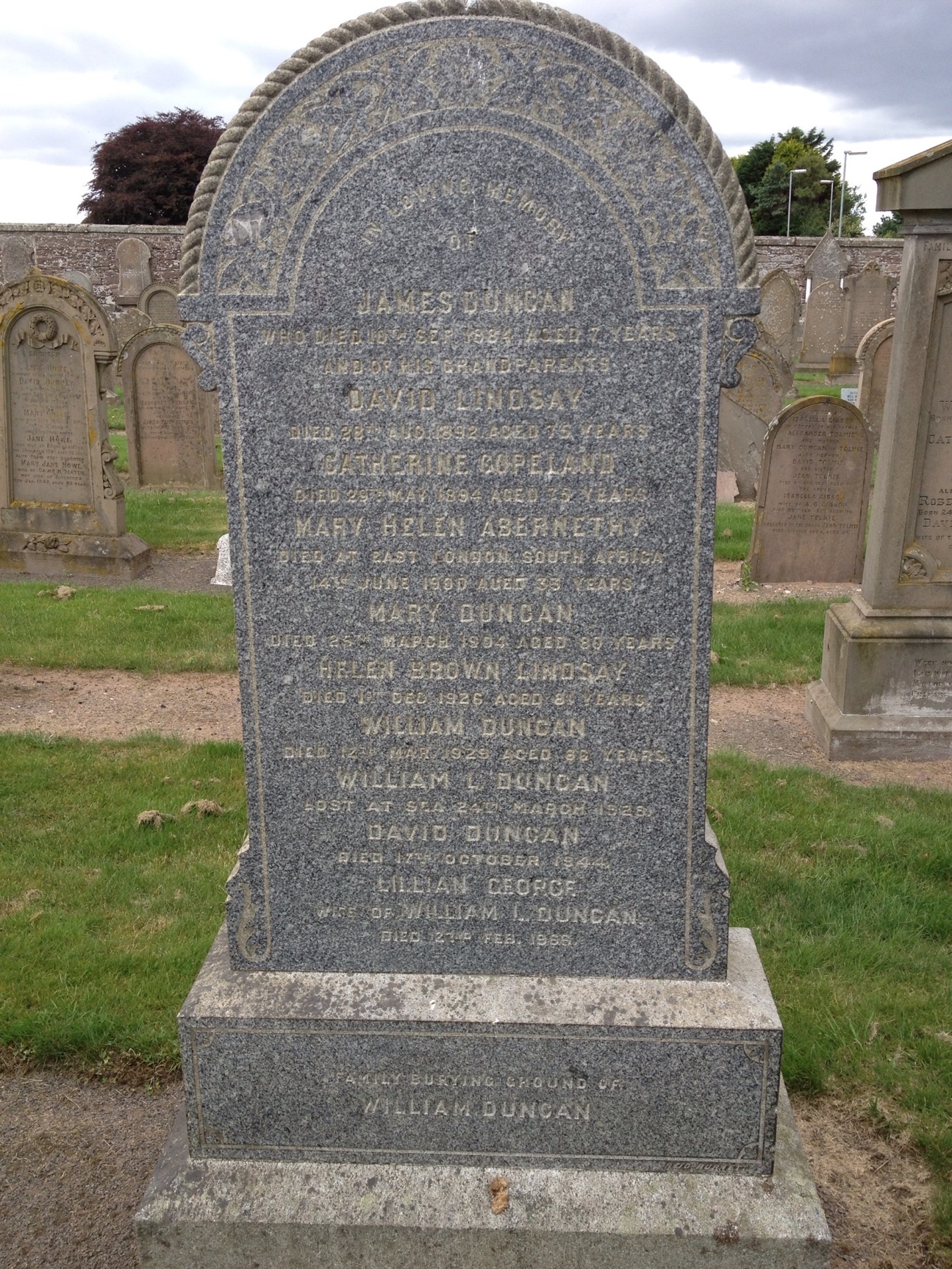 Headstone and Burying Ground of William Duncan, Rosehill Cemetery, Montrose
"James Duncan, died 10 September 1884, aged 7 years, and of his grandparents David Lindsay died 27 August 1892, aged 75 years, Catherine Copeland died 29 May 1894 aged 75 years, Mary Helen Abernathy died at East London, South Africa, 14 June 1900 aged 33 years, Mary Duncan died 25 March 1904, aged 80 years, Helen Brown Lindsay died 1 December 1926 aged 80 years, William L Duncan lost at sea 12 March 1829, Lillian George wife of William L Duncan died 21 February 1966".
Alexander Lindsay (1780-1847) married Elizabeth "Betty" Steven on 21 June 1817 at Dun, Angus, Scotland, they had four children, David Lindsay (1818-1892), Jean Lindsay (1820-),
James Lindsay (1823-1881) and Margaret Lindsay (1826-1884)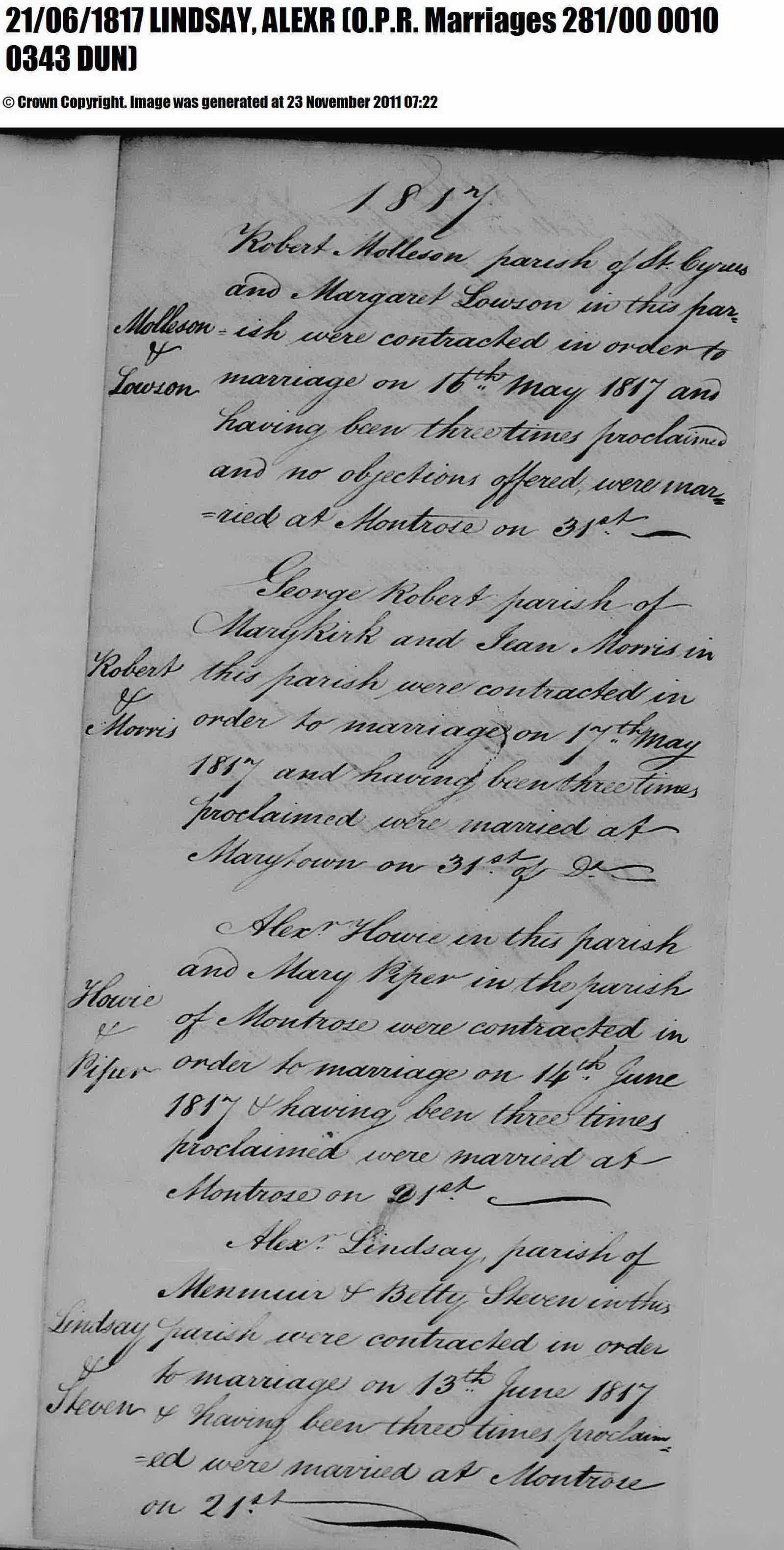 Marriage of Alexander Lindsay and Betty Steven, 21 June 1817, Montrose
Image courtesy of Martiebell1 from her ancestry.com family tree.
I then decided to go back to Scotlands People, an online search engine and purchase the marriage contract for John Stephen and Isabelle Burnett's, the parents of Betty Steven.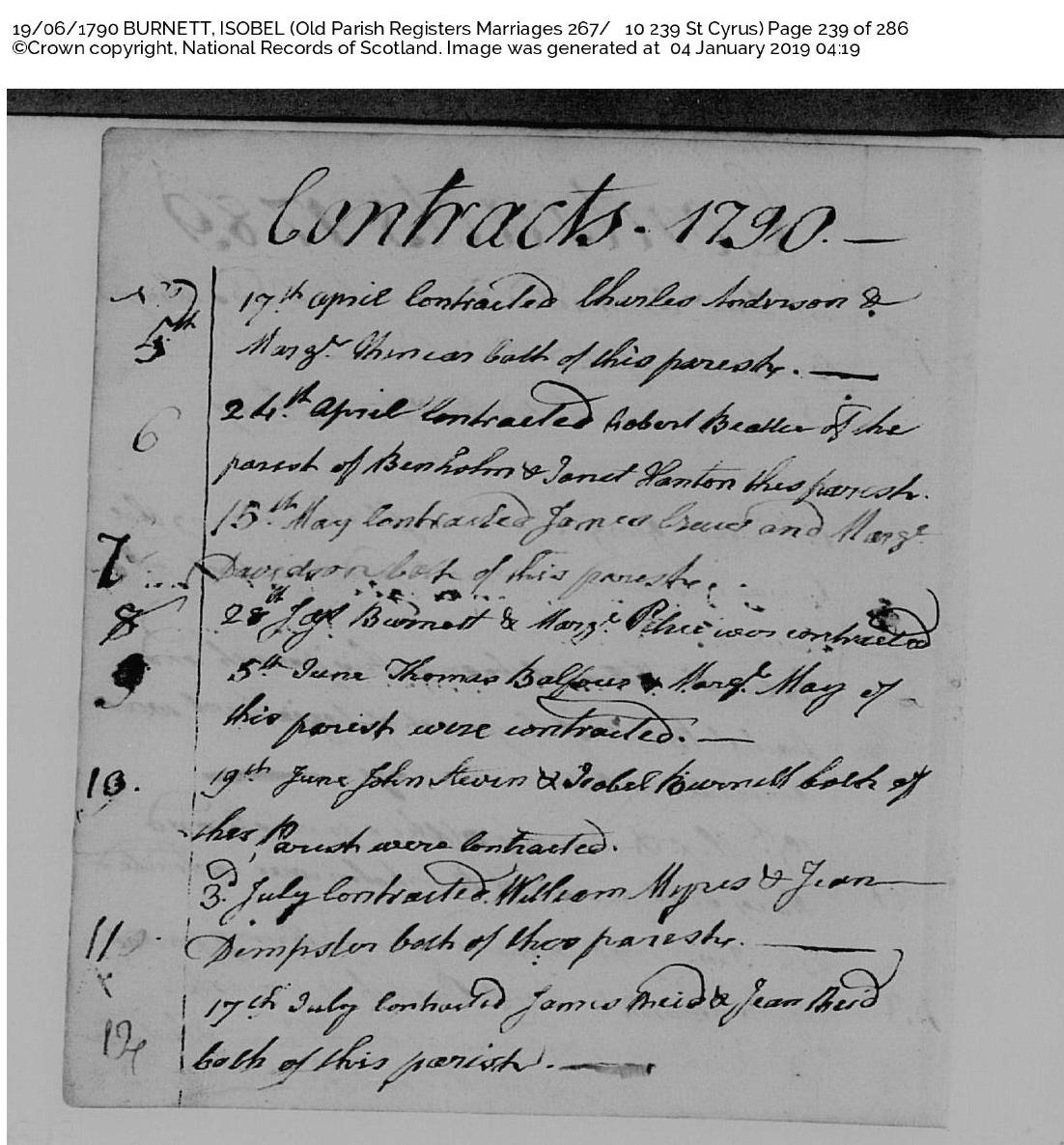 Marriage contract for John Steven and Isabel Burnett, 19 June 1790, St Cyrus, Kindcardine
I have also been able to trace Betty Steven's line due to the fact that a photograph of Betty's father John Steven's gravestone was placed onto ancestry.com. John Stephen is buried in Montrose and it is such a sad headstone to read that John's only son James Stephen is also buried in the same grave with the sad epitaph "the only son of his sorrowful mother", who was Isabell Burnett.
John Steven and Isabel Burnett married on 19 June 1790 at St Cyrus, Kincardine and had four children, Elizabeth "Betty" Steven (1791-1869), Margaret Steven (1794-1855), James Steven (1804-1822) and Ann Steven (1807-)
Headstone for John Stephen, Residenter in Montrose, died 11 April 1817 aged 60 and his son James, died 30 November 1822 aged 18.
Photograph kindly provided by Kassy Daggett – ancestry.com and the Daggett Family Tree
Note the name is Stephen and not Steven, these misspellings are commonplace, especially when many parishioners could not read and write to give the stonemasons the correct information.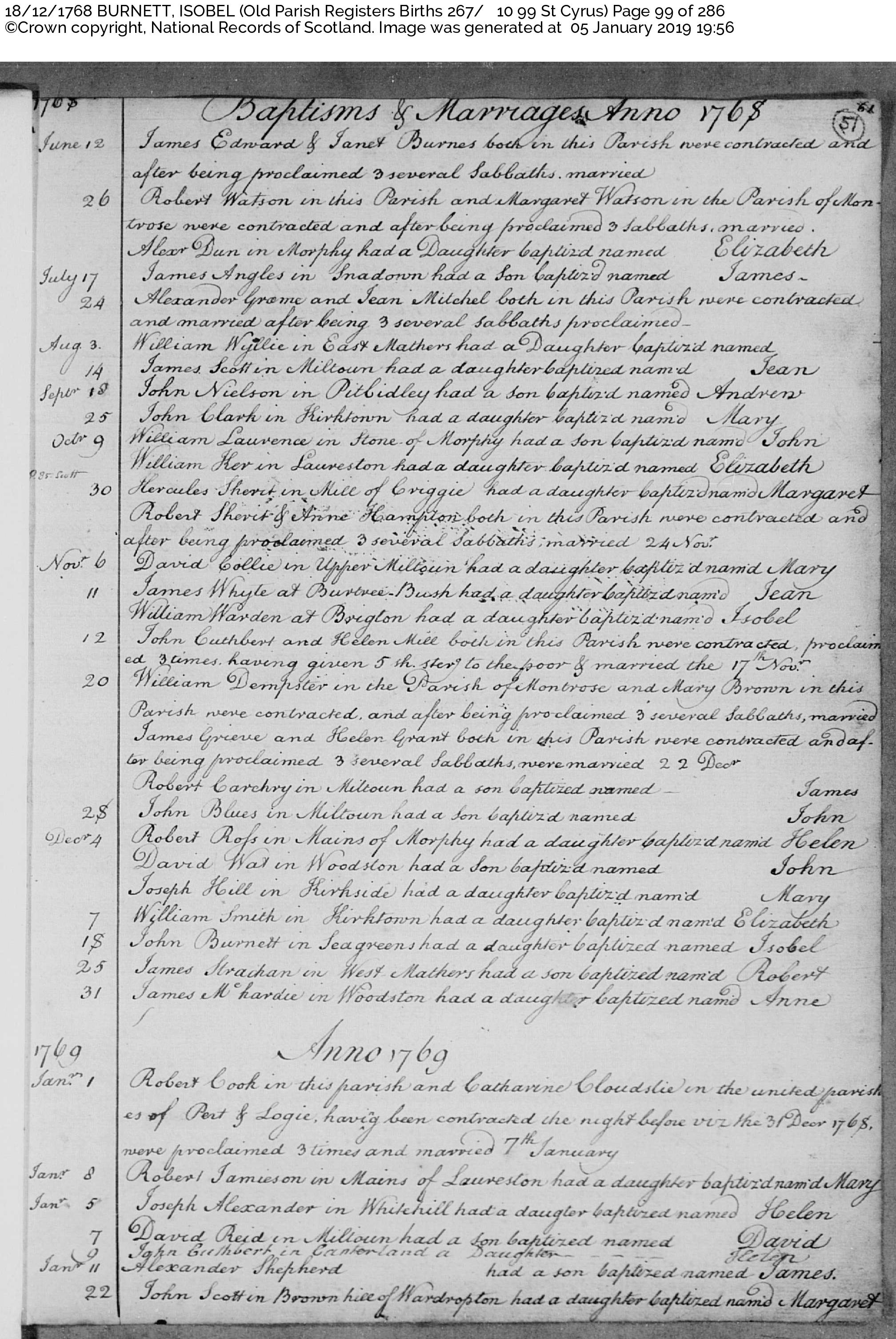 Baptism of Isobel Burnett 18 December 1768, St Cyrus, daughter of John Burnett of Seagreens
History of the Lindsay Clan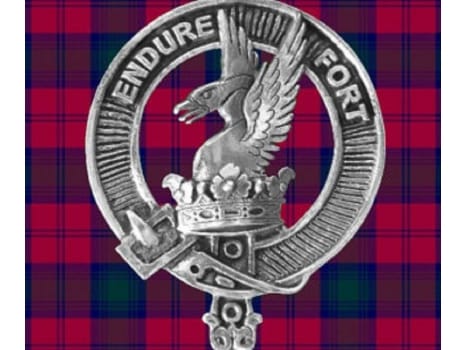 "The Lindsays came to prominence both in England and Scotland in the late eleventh century. Sir Walter de Lindissie, noble and knight accompanied David, Earl of Huntingdon, brother of Alexander I, to Scotland to claim his throne. His great grandson, Sir William de Lindesay, sat in the Parliament of 1164 and was afterwards a justiciar. He acquired considerable wealth through his wife, Ethelreda, a granddaughter of the great Cospatrick ruler of most of Northumbria. His son, Sir David, married Marjory, a member of the royal family, and on his death in 1214 he was succeeded as third Lord of Crawford and High Justiciar of Lothian by his son, David.. His grandson, another Sir David, succeeded to the estates as Lord of Crawford.
On 21 April 1398 Sir David de Lindsay was created Earl of Crawford. He was Lord High Admiral of Scotland in 1403 and sent as ambassador to England in 1406. Alexander, the fourth Earl, joined in the rebellion against James II and fought at the Battle of Brechin in 1452. The fifth Earl rose high in royal favour and was successively Lord High Admiral of Scotland. The sixth Earl fell at Flodden, in close attendance on his king, James IV.
Another prominent branch of the family were the Lindsays of Edzell, who descended from a son of the ninth Earl of Crawford. Although Edzell Castle to the north of Brechin is now largely ruinous, it is famed for its magnificent renaissance garden which has been completely restored, and is unique in Scotland. The Lindsays have also contributed another unique aspect of Scottish heritage through the work of Sir David Lindsay of the Mount. His play, Ane Satyre of the Three Estaitis, satirising the corruption in Church and State, was first performed in 1540 and still has relevance today.
The present chiefs still reside at Balcarres in Fife, where they are prominent in local affairs. The earldom of Lindsay has also been revived, although this line now bear the compound surname of Lindsay Bethune."
SomerfieldC from ancestry.com kindly posted this summary of the Lindsay Clan online.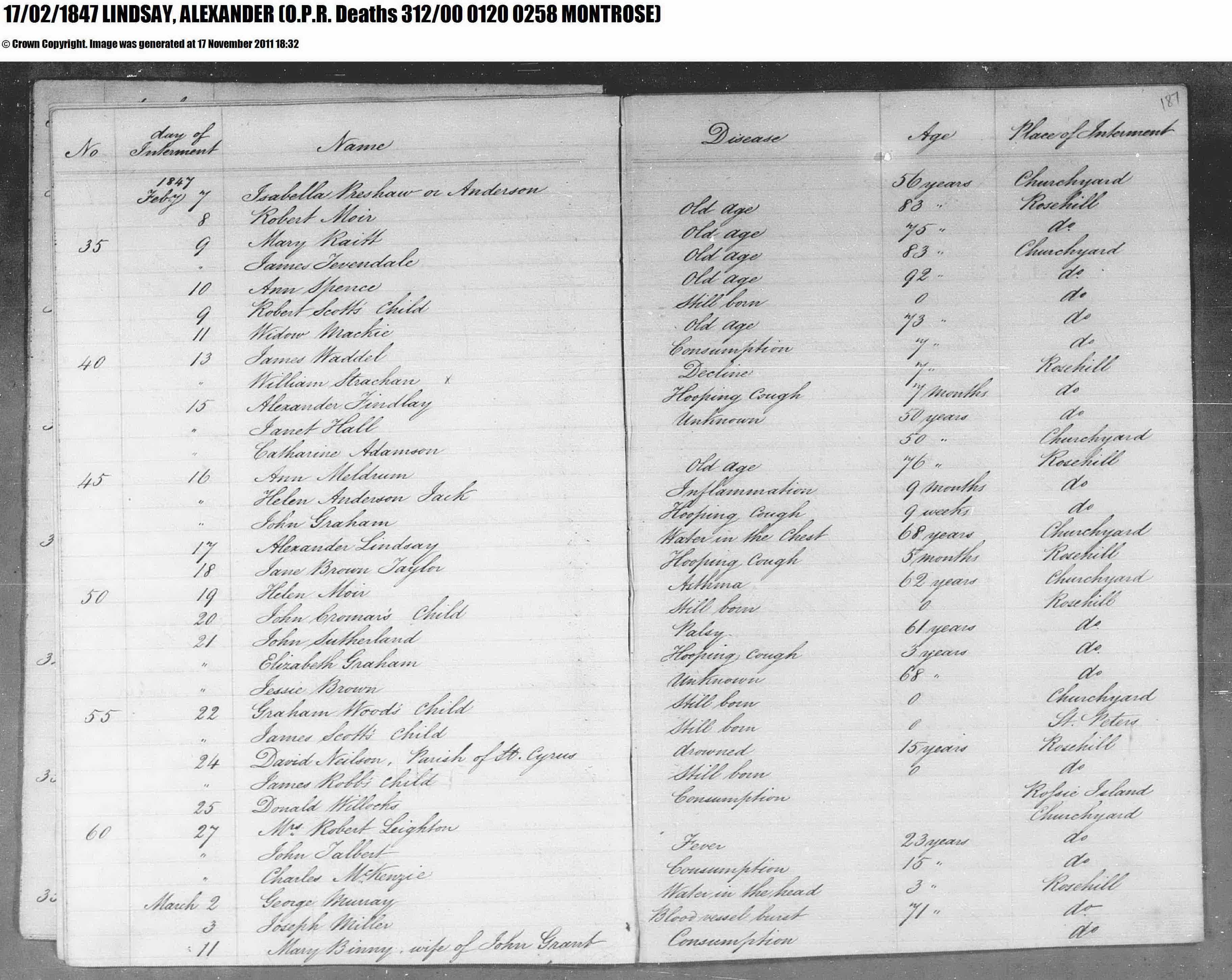 Death record for Alexander Lindsay, 17 February 1847 from water in the chest, 68 years
Image courtesy of Martiebell1 from her ancestry.com family tree.
Alexander Lindsay was married to Betty Stevens. I now resolved to return to Scotlands People and find some clear evidence that could take the Lindsay family tree back further and see if I could fit the family into the famous Lindsay Clan. It would be a matter of finding baptisms and marriages which corresponded to the Montrose area. There were ancestry.com online trees that indicated a line back several generations and there were transcriptions indicating a generational line which could be traced back, but there was no documentary evidence. So again, I decided to go it alone and see if I could locate and purchase these documents. I had done a similar project for my Robertson family of Dundee with great results, the only problem was the website gobbles up your online credit coins and if you hit the wrong button you are stuck with someone else's document. It is therefore a careful process and not for the faint hearted!
I already had a "wish" list of seven documents that I was hoping to locate. The first one was the baptism of Alexander Lindsay, son of Alexander Lindsay and Helen Craise, which was indicated as 14 November 1780 in the parish of Dalkeith. It was a good start when I located this baptism which gave Alexander's birth as 4 November 1780. I would then pursue the marriage record for his parents and so on until the online record trail ended. I would then put these records onto my ancestry.com Rundle Family Tree to enable other researchers to upload these documents and hopefully many of them will acknowledge my endeavours!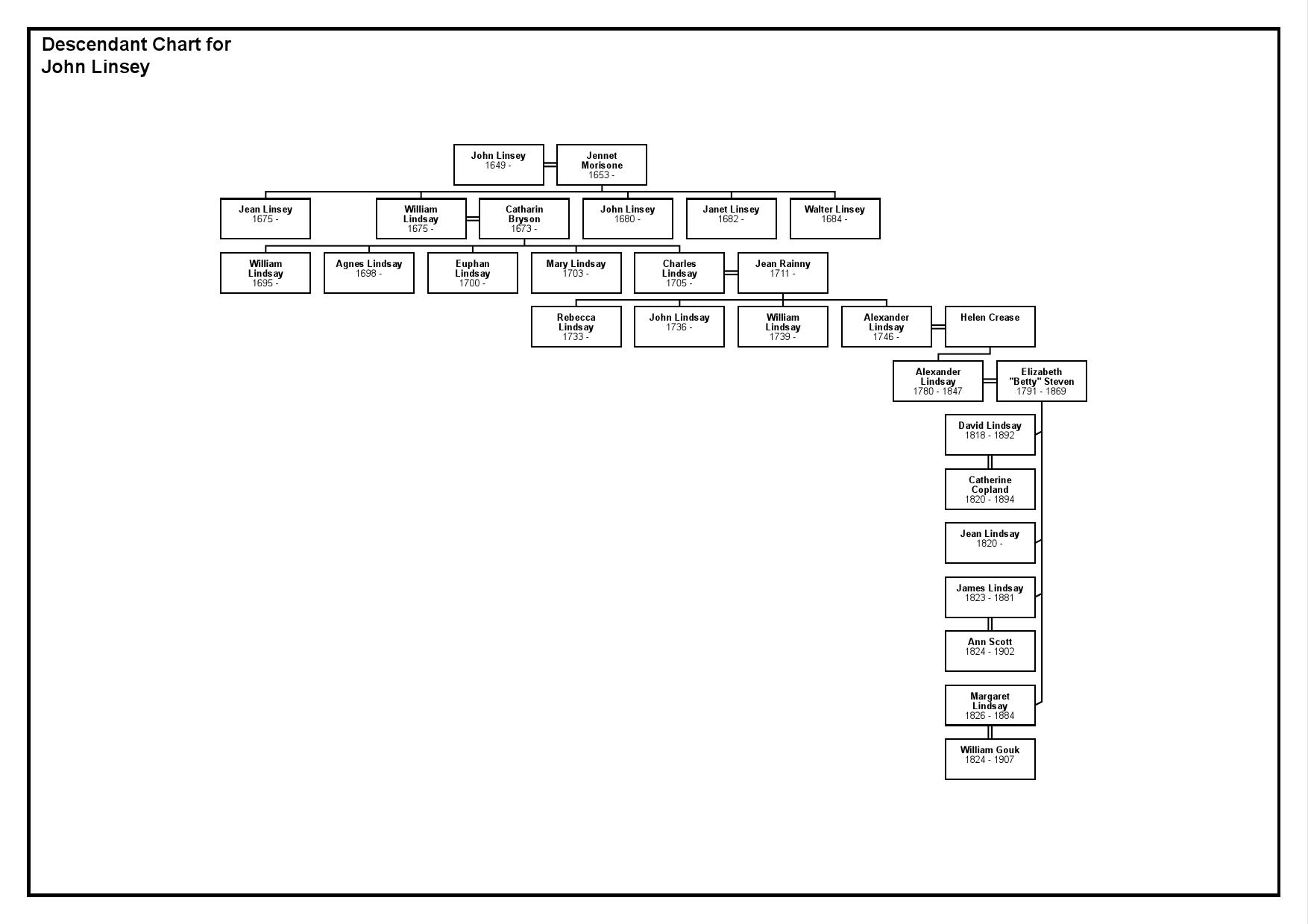 Five Generation Descendant Chart for John Linsey/Lindsay and Jennet Morisone, courtesy of Family Tree Maker
This Five Generational Horizontal Chart of the Lindsay Family shows not only the spouses of each of the Lindsay children but also in the fifth generation, Alexander Lindsay and Betty Steven, is shown vertically. This fifth generation shows the parents of David Watson Lindsay, namely David Watson Snr and Catherine Copland but also his aunts and uncles and their spouses.
This chart is in effect a ready reckoner for all the records that I recently found taking the family back those four generations. It helps to show how the people listed in these documents all fit into the family.
This chart is part of the Family Tree Maker publishing sources that allows for a more complete way of showing the family history. I use the Family Tree Maker as a more complete way to copy my ancestry.com Rundle Family Tree onto my own laptop which includes all people listed and all their documents. It is a back-up to my tree in the event that it was ever deleted.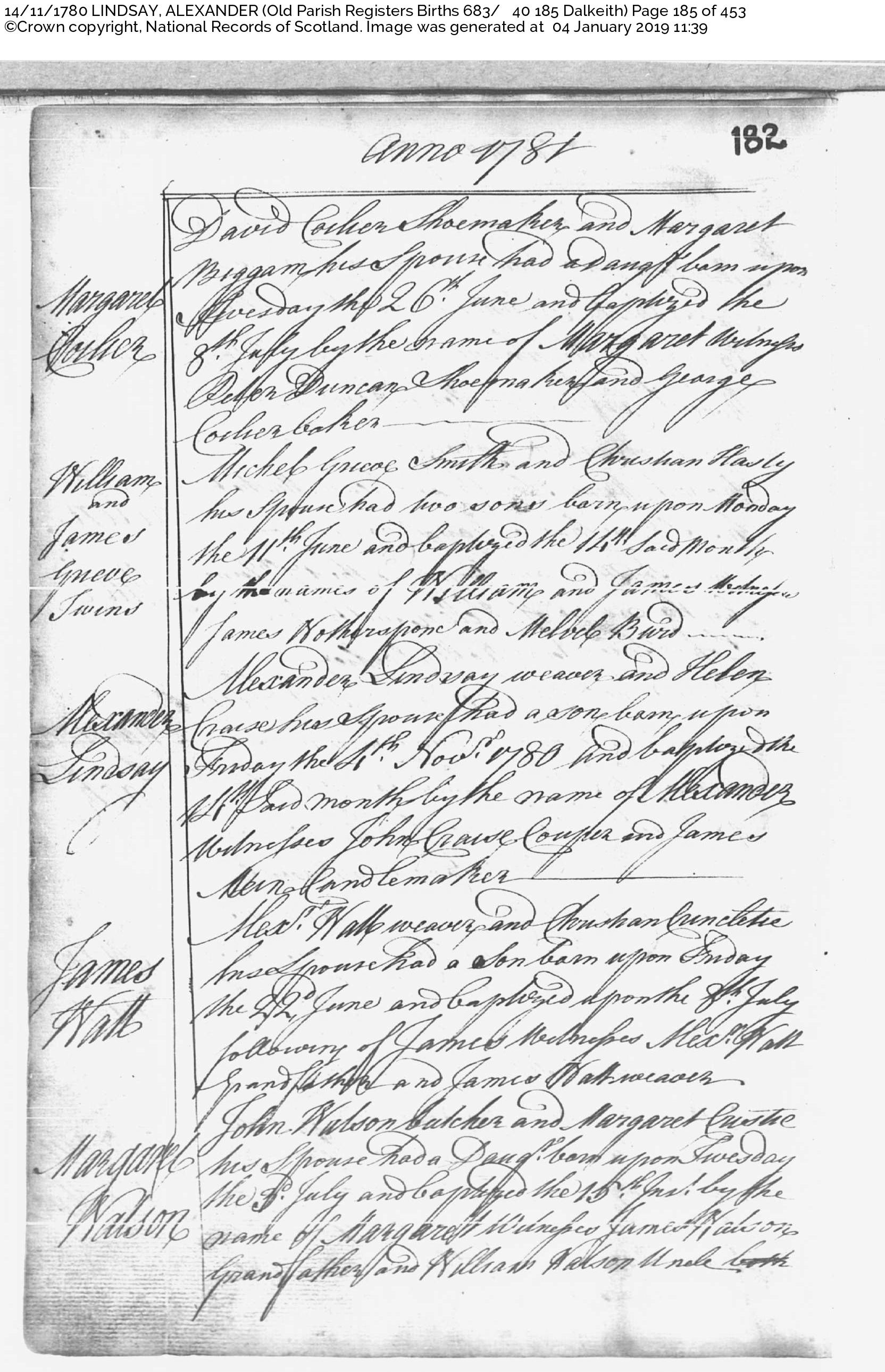 Baptism of Alexander Lindsay 14 November 1780, born 4 November 1780, son of Alexander Lindsay and Helen Craise, Dalkeith, Scotland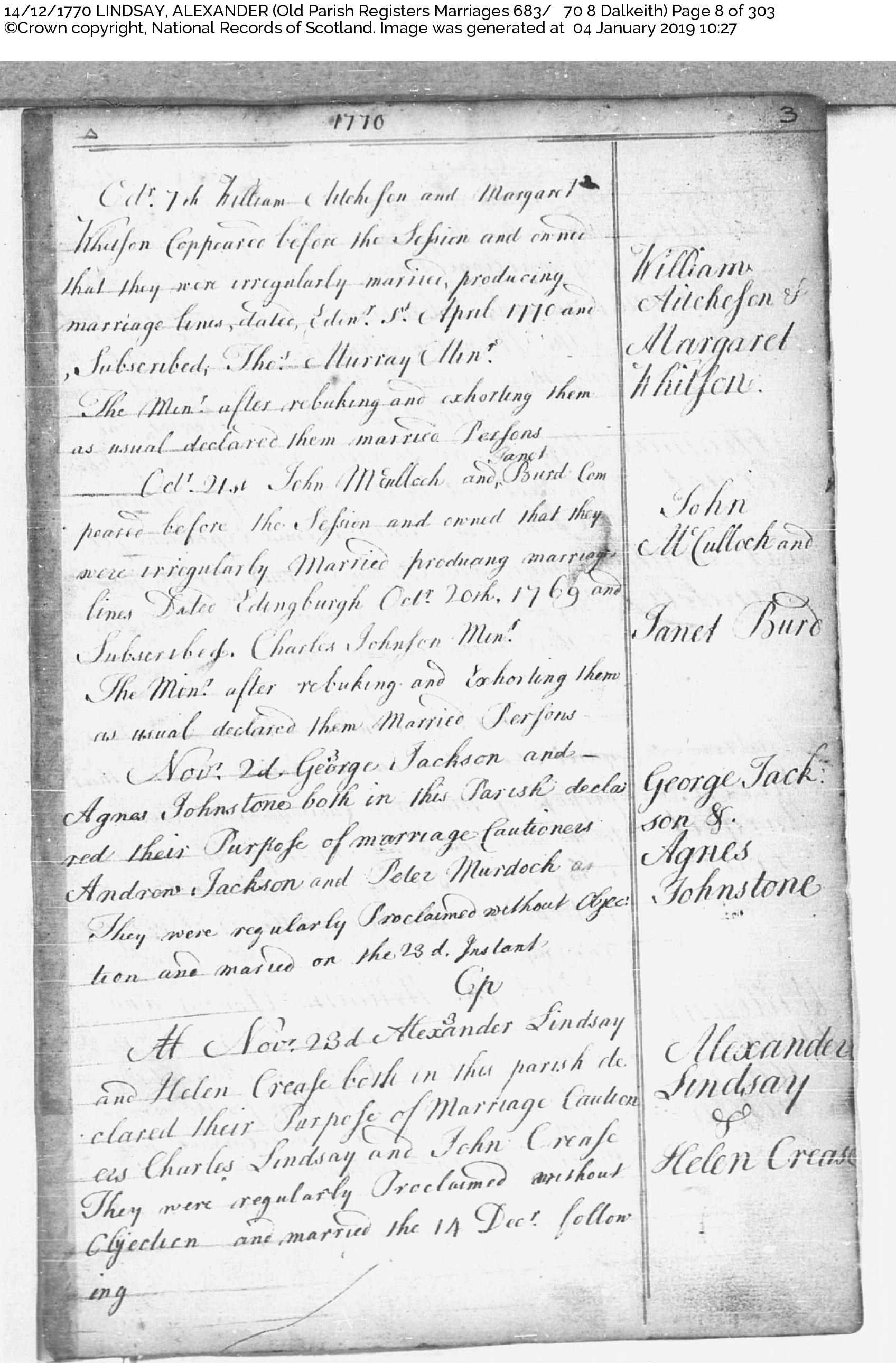 Marriage of Alexander Lindsay and Helen Crease 14 December 1770, Dalkeith, Scotland, witnessed by Charles Lindsay and John Crease, their parents.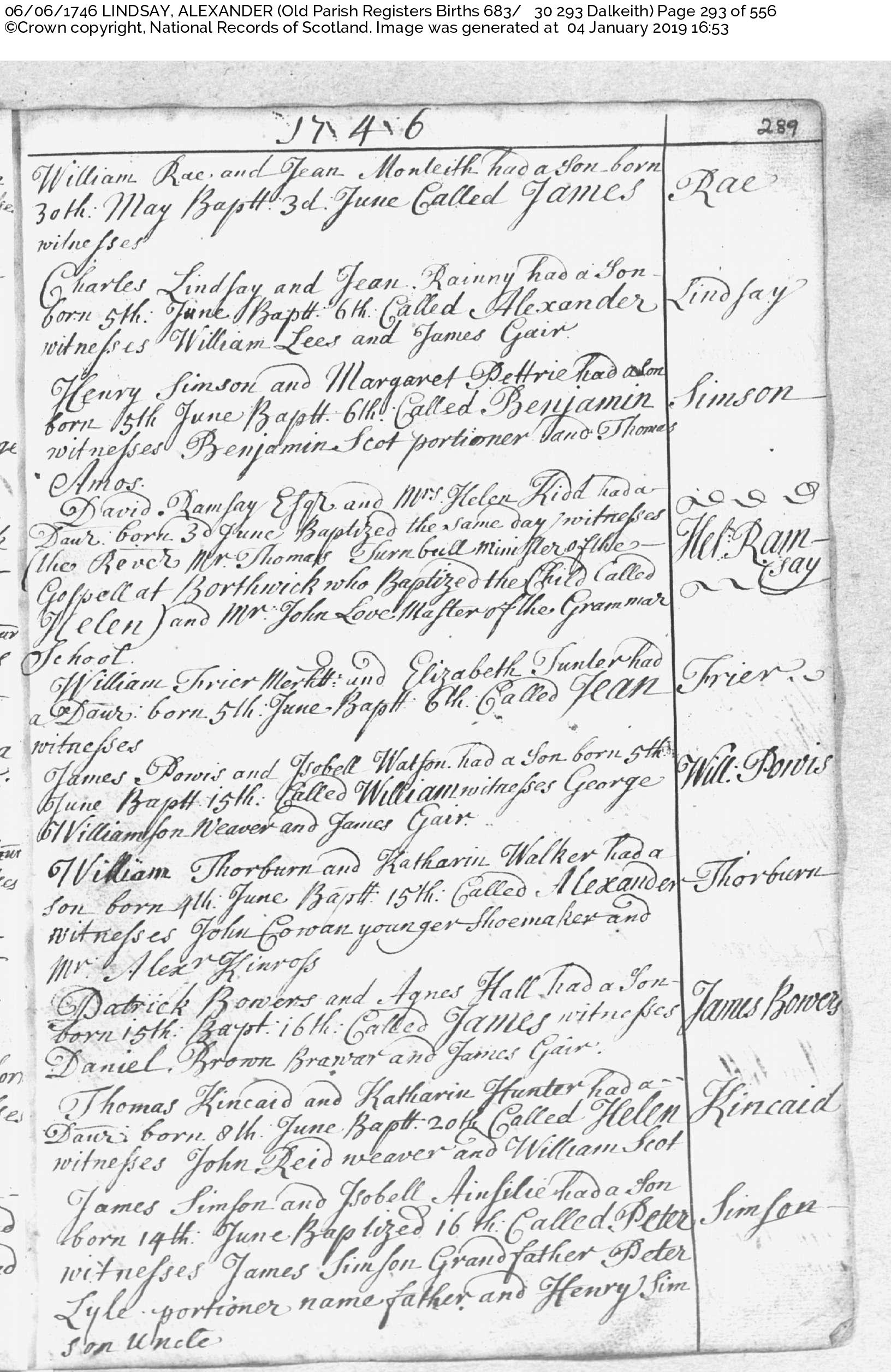 Baptism of Alexander Lindsay, 6 June 1746, born 5 June 1746, son of Charles Lindsay and Jean Rainny, Dalkeith, Scotland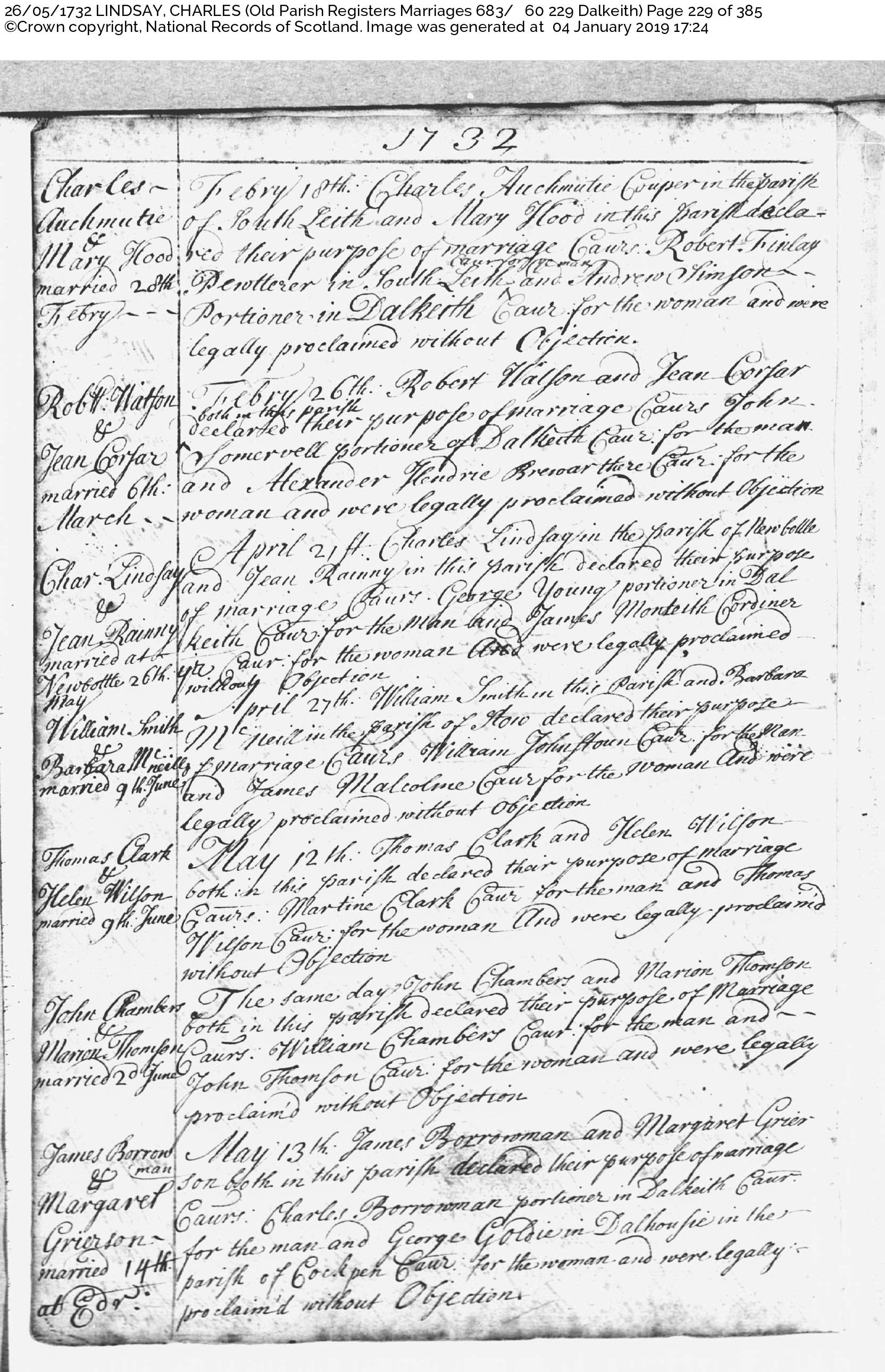 Marriage of Charles Lindsay and Jean Rainny, 26 May 1732, Newbottle, Dalkeith, Scotland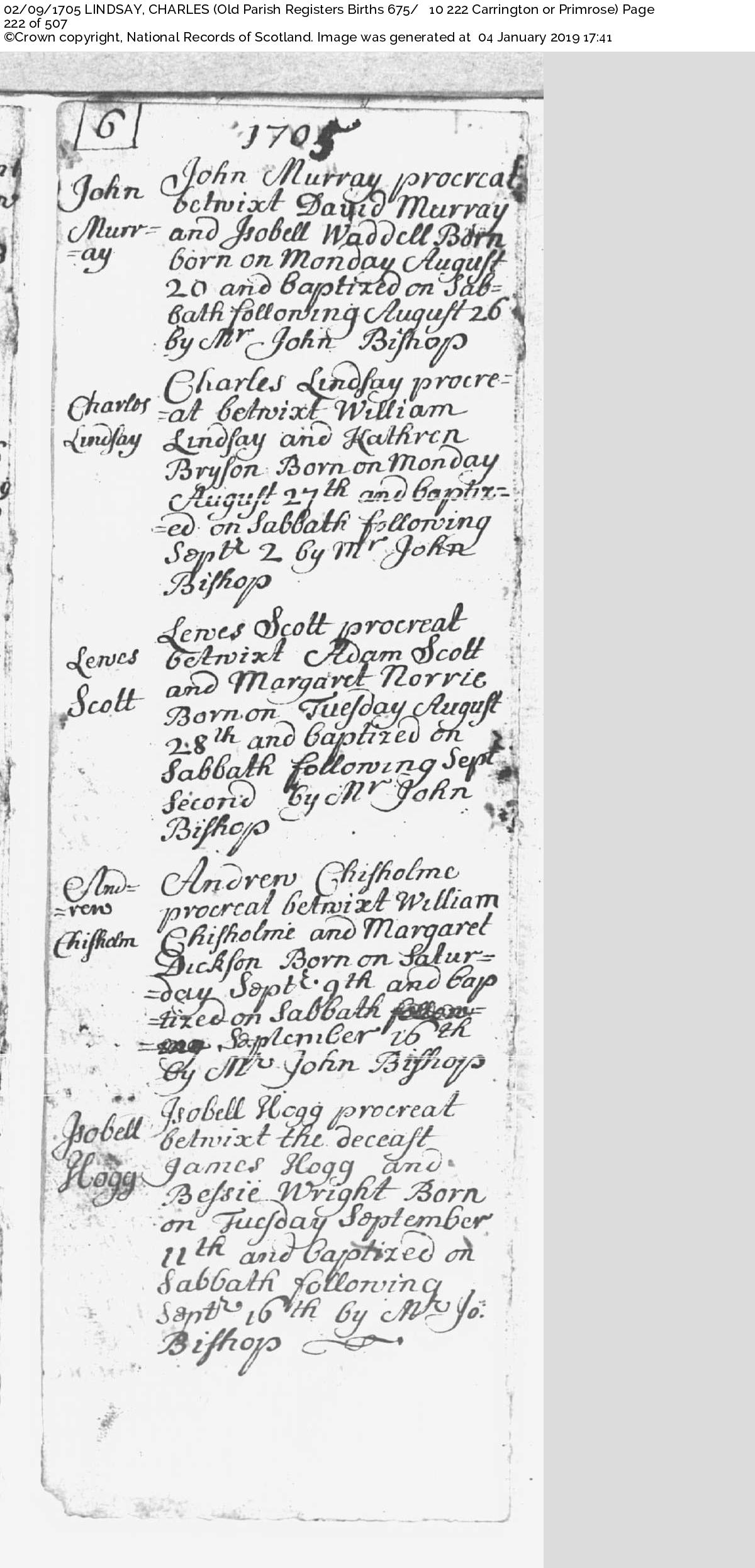 Birth of Charles Lindsay 27 August 1705, son of William Lindsay and Kathren Bryson, Baptised 2 September 1705 at Carrington or Primrose, Scotland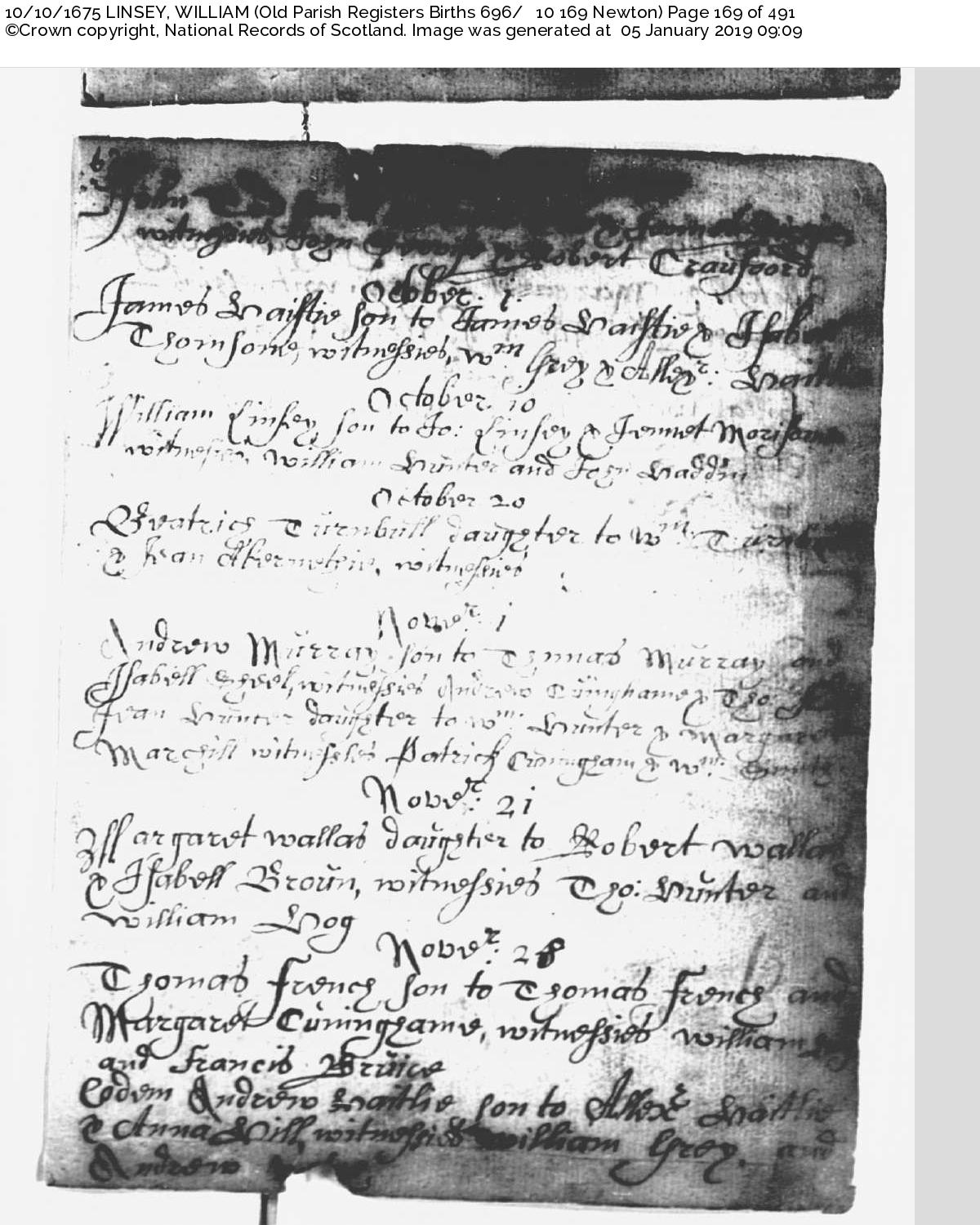 Baptism of William Linsey, son of John Linsey and Jennet Morisone 10 October 1675
Sadly the birth and baptism original record for William Linsey son of John Linsay and Jennett Morisone, 10 October 1675 was the end of the online records at Scotsland people. However, I was pleased to have been able to find six out of the seven original records on my wish list. I was also delighted to be able to explore the Steven and Burnett branch of the family and find a few original records for the family. I have no doubt that there are more original records to be found and it just might be I will have to either attend the National Archives in Scotland, which I have done before when we accessed the Kidd papers, or I will have to employ one of their onsite researchers to gain the final records I am seeking, which I am sure are available, but possibly just not digitised yet.
Millennium File:
| | |
| --- | --- |
| Name: | William Lindsay/Lindsey |
| Gender: | Male |
| Birth Date: | 10 Oct 1675 |
| Birth Place: | Newton, Midlothian, Scotland |
| Father: | John Lindsay/Lindsey |
| Mother: | Janet Morrison |
| Spouse: | Katherine Bryson |
| Children: | Charles Lindsey |
| Spouse Father: | John Bryson |
| Spouse Mother: | Margaret Brown |
Millenium File from ancestry.com
It is extremely disappointing that so many ancestry.com trees are misleading. On several occasions I came across Lindsay family trees which made claims about their descent from the Earls of Crawford, the Chief of the Lindsay Clan. However, a quick check of these facts online show the Lindsay Clan descent line has so many flaws due to the fact that on many occasions the line finished with no issue and another "Laird" of the Lindsay clan had to be appointed, thus the lines do not flow in a father to son succession.
So many ancestry.com family trees give "our" John Lindsay of Newton the title of 19th Earl of Crawford, however this is clearly not the case, due to a few obvious flaws inconsistencies between John Lindsay, 19th Earl of Crawford and John Lindsay of Newton.
"John Lindsay, 19th Earl of Crawford and 3rd Earl of Lindsay (died December 1713) was a Scottish peer and politician. He was born before 1672, the eldest son of William Lindsay, 18th Earl of Crawford, and succeeded to the earldoms in 1698 on the death of his father. His mother was Lady Mary Johnstone. On 6 March 1698 he succeeded to the title of 12th Lord Lindsay of Byres. He married Emilia Stuart daughter of James Stuart, Lord Doune around 1700. Trained as a lawyer, in 1702 he rose to the position of Privy Counsellor for Scotland. He was Colonel of the "Troop of Horse in the Grenadier Guards from 1704 to 1714. Following the Treaty of Union in May 1707, he was elected as one of the first representative peers for Scotland (to serve in the new United Kingdom), and served until September 1710. He died in London on 4 January 1714.[1] He is buried in the family vault of Ceres, Fife churchyard in central Fife. He was succeeded by his oldest surviving son, John Lindsay, his first-born son, William, having died. John Lindsay, the 20th Earl of Crawford married Lady Jean Murray, daughter of Sir James Murray, 2nd Duke of Atholl in 1747 who died only nine months after their marriage. John Lindsay, died in 1749 from a leg wound received at the Battle of Krotzka in 1739 and they had no issue. He was the last member of the Lindsay family to be buried in the mausoleum in the cemetery at Ceres, Fife, Scotland."
Wikipedia
I have found ancestry.com to be a wonderful resource, it has good records and it has a great place to create and store the family tree which can then be uploaded as a gedcom file or descendant file and then downloaded to a laptop or printed out as a hardcopy. On the downside, many trees are incorrect and are copies from one to another without anyone checking the facts. Some of these trees will never be corrected because the creator may only have taken out a month's subscription or even taken up the free subscription offer, created their tree and then disappeared. These trees remain and will always be misleading, which is a great shame. Other people collect records without carefully checking they are correct for their family and many of these trees are a mess. However, I must defend many other ancestry.com trees which are wonderful family history resources and are genealogically correct. They contain many records and uploaded original documents which help other family members to connect with other "cousins" from previous long lost generations.
I have also used the free online search engine, FamilySearch.org and the subscription online search engine FindMyPast. Another amazing online community research area is WikiTrees, which will only allow more expert researchers access to their site, and only this after you have accomplished tests to check your knowledge and have also made several contributions and suggestions which are then deemed by the administrators as acceptable. I am also grateful to the help from another website which has a comprehensive Lindsay Clan Gedcom upload which thankfully stopped at John Lindsay and Jennet Morison without trying to incorrectly link our family to the Earls of Crawford:
http://www.chestnut-blue.com/Chestnut%20Blue-o/p787.htm#i44422
I have no doubt that our Lindsay line is related to the Lindsay Clan, but just where to fit the family in to the actual lineage of the Earls of Crawford will for the present, remain elusive. I am sure when I find more records, I will finally be able to find that family branch.
I am sure Catherine Ellen Ackers Lindsay was very proud of her Scottish lineage as she named one of her sons Lindsay Rundle, in recognition of her Scottish heritage. The fact that the Lindsay family came from the lowland area of Montrose and lived in that same area for many generations is very solid evidence of their connection to the Lairds of Montrose and Lindsay. I would be thrilled to hear from any Lindsay researcher who can help in my quest to correctly place our Lindsay family into this Scottish descent line.
For now, this is where I must leave my research, as I continue writing up other branches of the family history.
Virginia Rundle
6 January 2019
Bibliography:
Scotland's People online website
National Archives of Scotland
Ancestry.com
Family Tree Maker
Material from martiebell1, Kassy Daggett and the Daggett Family tree and SomersetC on ancestry.com
Find My Past
http://thehistoryofmatt.blogspot.com/2010/01/william-moloney-1872-1916.html
Family Search.com
http://www.chestnut-blue.com/Chestnut%20Blue-o/p787.htm#i44422
Wikipedia
Lyttelton Cemetery Records, New Zealand
Fortrose Cemetery Records, New Zealand
Rosehill Cemetery, Montrose, Scotland
Papers Past, New Zealand
Trove Digitised Newspapers, Australian National Library, Canberra
Births, Deaths and Marriages Register, New Zealand
Beneath the Southern Cross, The Story of Ellen Dillon and her Australian Descendants, compiled and written by David Michael and Marie Ray
Thanks to Peter Rundle for his information and material about his Newcastle family.
Thanks must go to Maggie Fenton for all her help and collaboration over our ancestry.com family trees, for her help regarding the Duncan/Lindsay Grave at Rosehill Cemetery, Montrose, Scotland and for providing me with photographs of her Duncan family from Scotland.
Finally, to my very patient husband Geoff Rundle, thank you. Geoff has accompanied me on every journey, every cemetery search and has to put up with my constant absences while I spend time writing up our family history. Often, whilst on one of my family "jags" he will ask me, "What century am I in now!?" as I put together the chapters that complete my research. For me, it is has been a constant pleasure, an absorbing experience and honour to be the author of our family history.