Geoff and I visited Auckland in March 2019 and I imagined visiting the Fuller's grave would probably have been our first destination, however as things turned out, it actually became our last, but no means least important place to visit. Scottie Fuller gave me excellent directions and also gave me a wonderful photo that he had taken on his visit some years ago.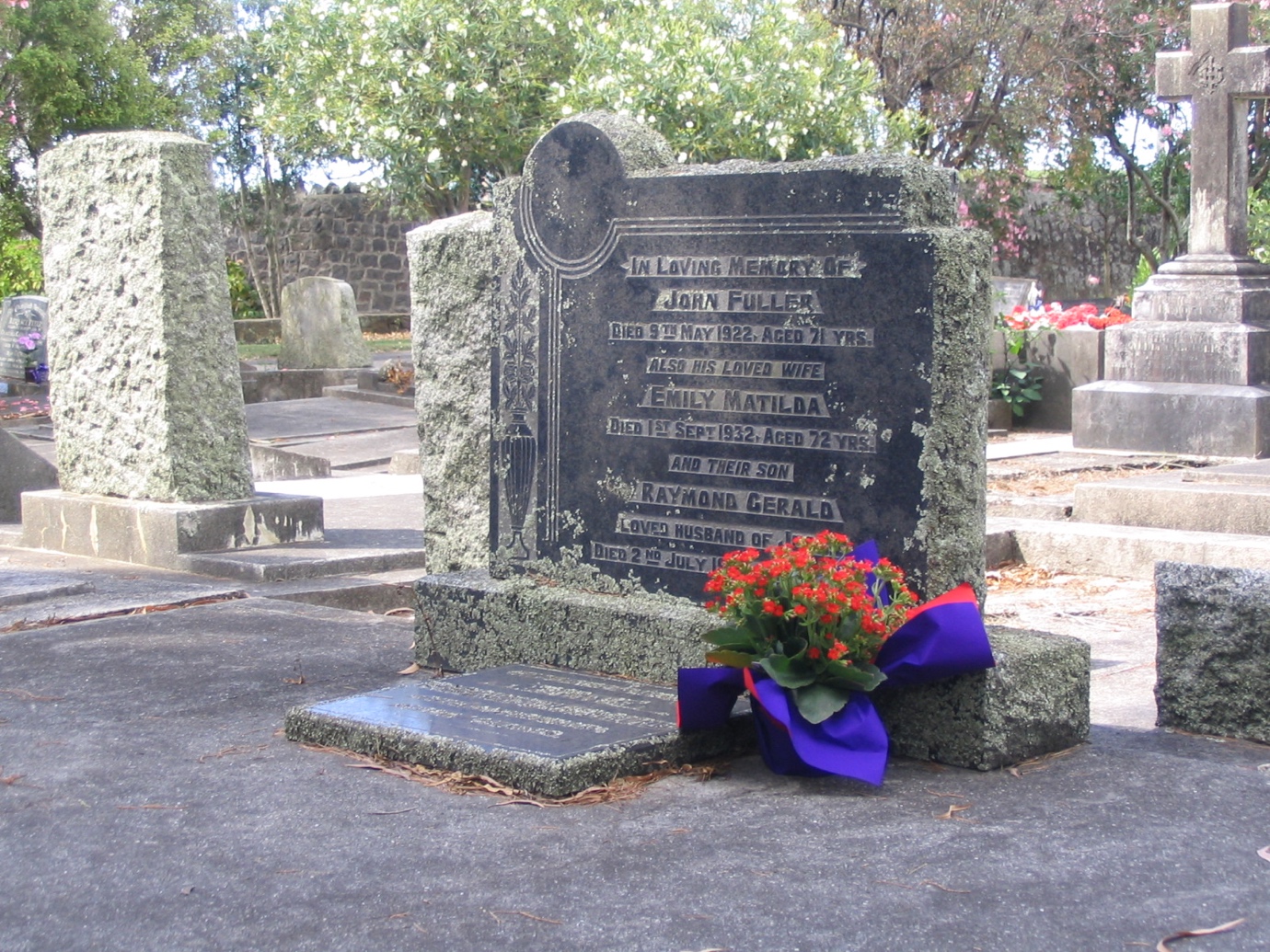 Waikaraka Cemetery Auckland, image courtesy of Scottie Fuller
Email from Scottie Fuller March 2019:
Hi Virginia,
Onehunga Cemetery now known as Waikaraka Cemetery is off the main road
leading to and near the airport.
Google Maps.   https://goo.gl/maps/m11vYaiJBMu    Phone   +64 9-818 5615
You will drive in and come to a small stone wall wall in the carpark.
Office is to the front right.
As you walk in the gate, the grave is to the LEFT within the first  row
near  the cemetery wall about 5-10 rows deep.  If you look at the picture
you will see the cemetary wall of the carpark and the big cross behind.
Good luck.  Say hi to the old fella and family.
Scottie Fuller.xxxx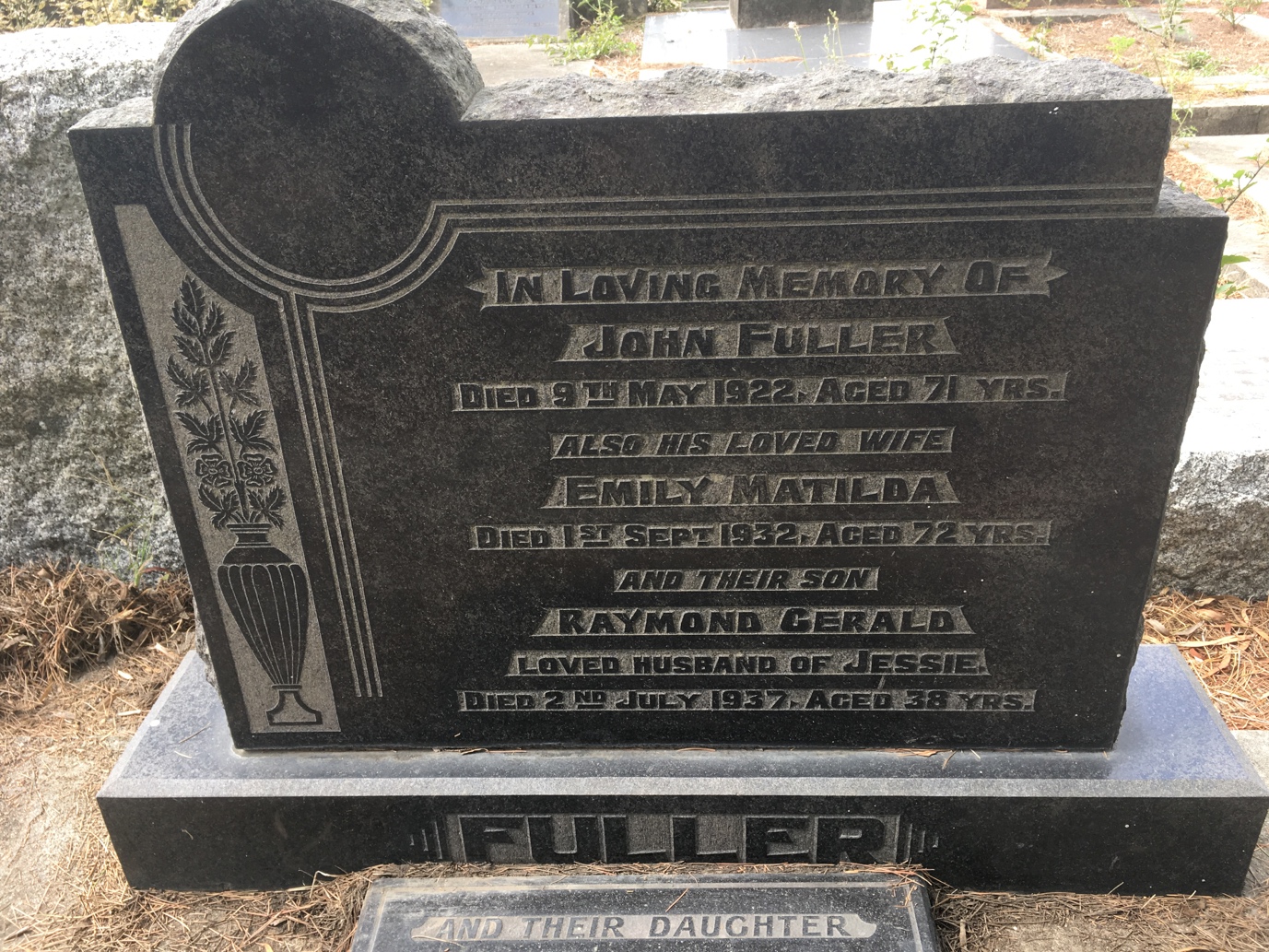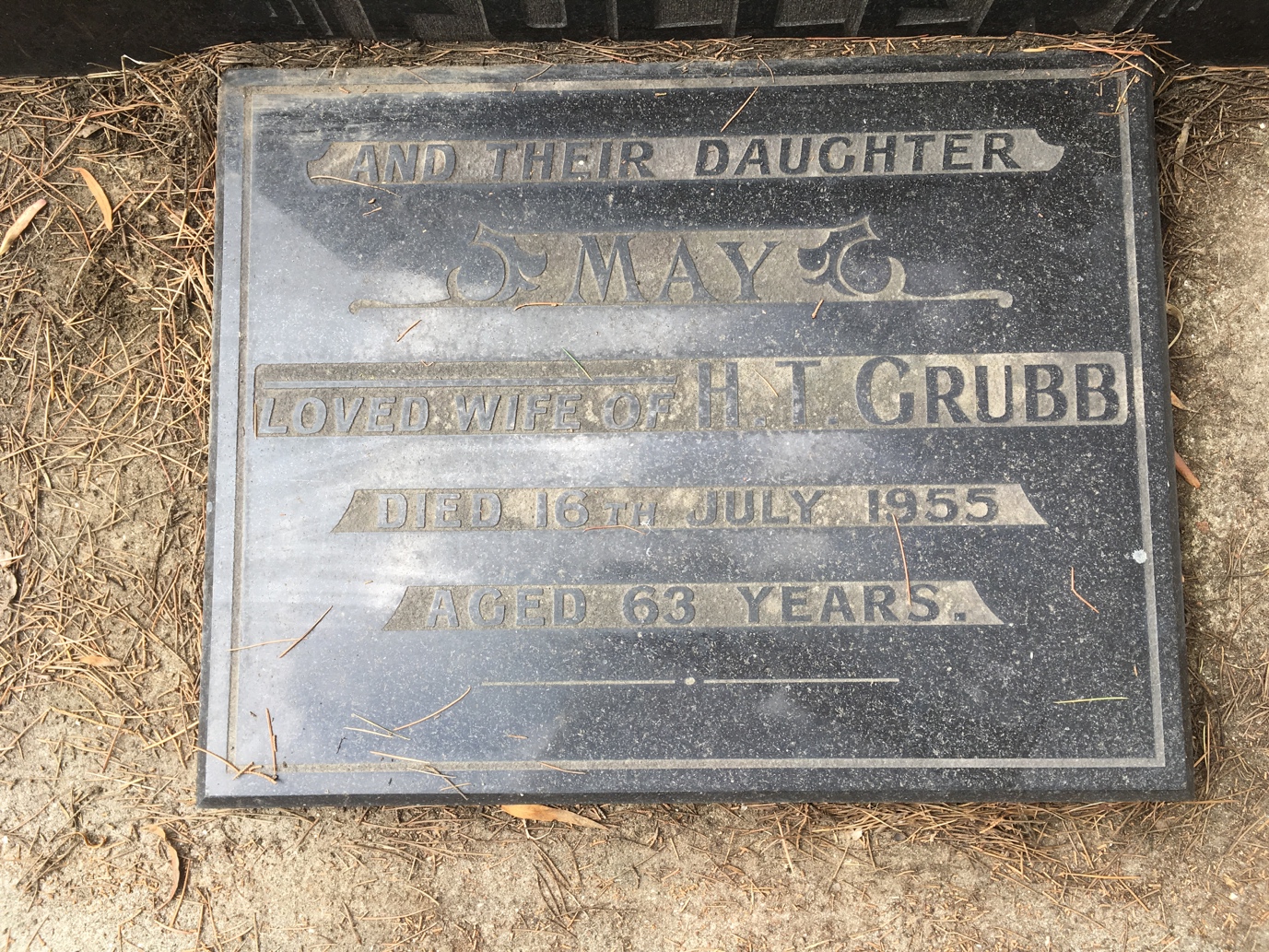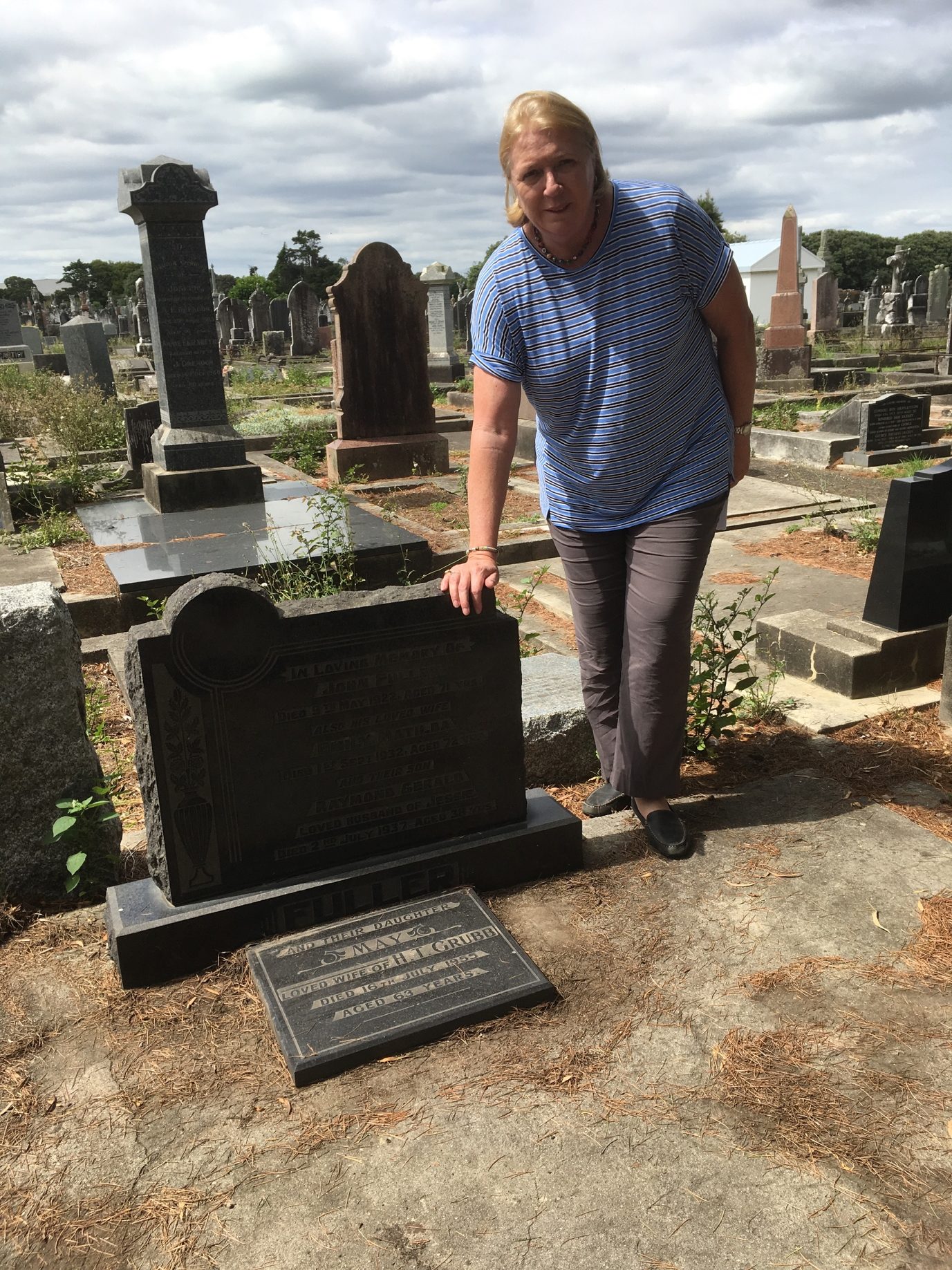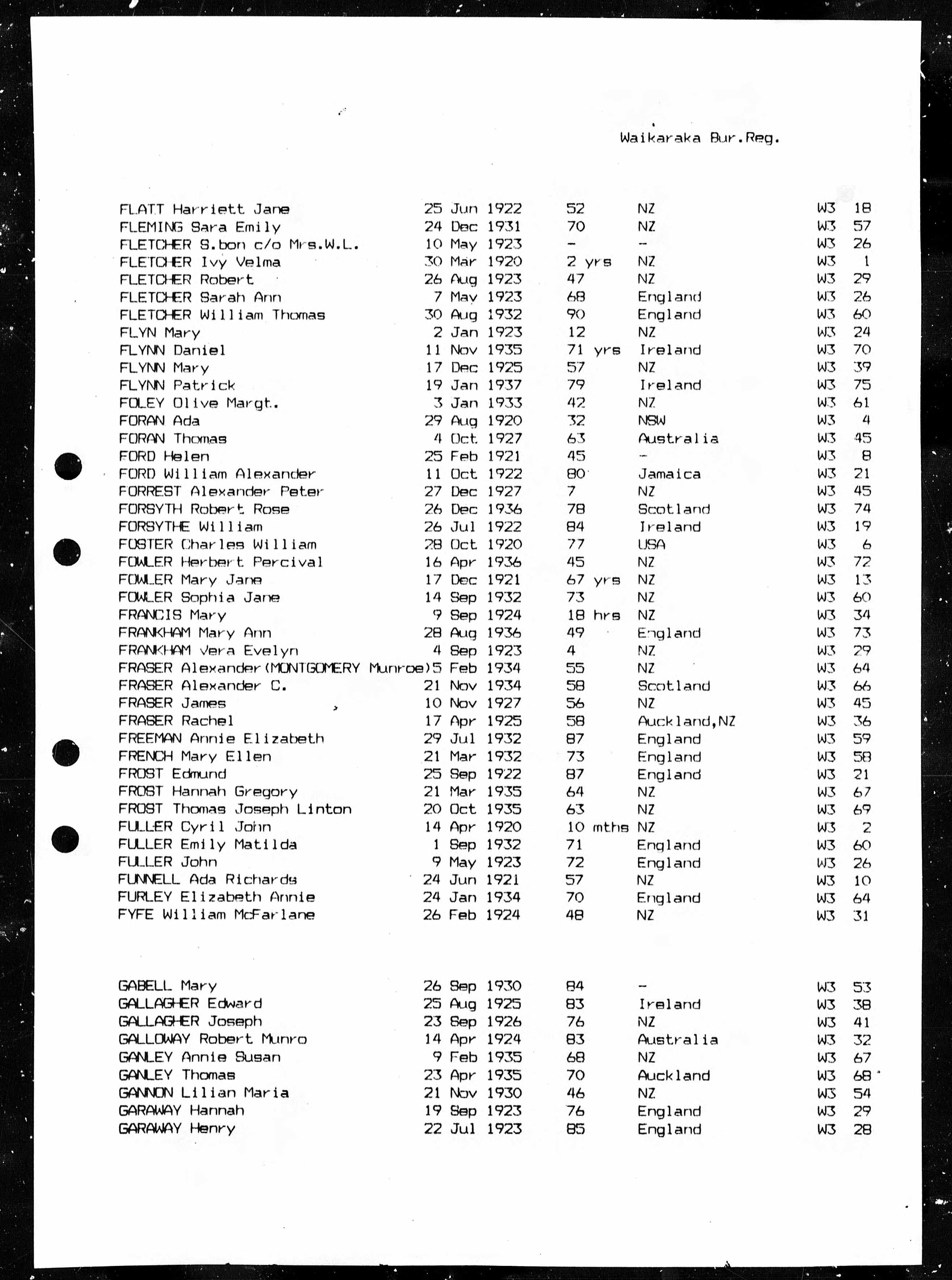 Waikaraka Burial Register, Auckland
Before my visit to Auckland I discovered that two theatres, the Mercury and the St James Theatres had actually survived the almost certain demolition fate that had befallen so many other theatres during the 1970/s and 1980's. The Mercury Theatre, formerly the King's Theatre was built for John and Benjamin Fuller in 1910 by architect Edward Bartley at 9 Mercury Lane, Auckland.
"The Mercury is the oldest surviving theatre in Auckland. This English Baroque styled building was constructed in 1910 as the Kings Theatre for Sir Benjamin Fuller. When it was converted into a cinema in 1926 a new entrance on Karangahope Road was built (now the Norman Ng building). Between 1962 and 1990 this was the location of the Mercury Theatre Company. The street's name, France Street, was changed to Mercury Lane in the 1990s in memory of the Theatre Company. Currently owned by a church, it is occasionally used as a theatre." Cyclopaedia of New Zealand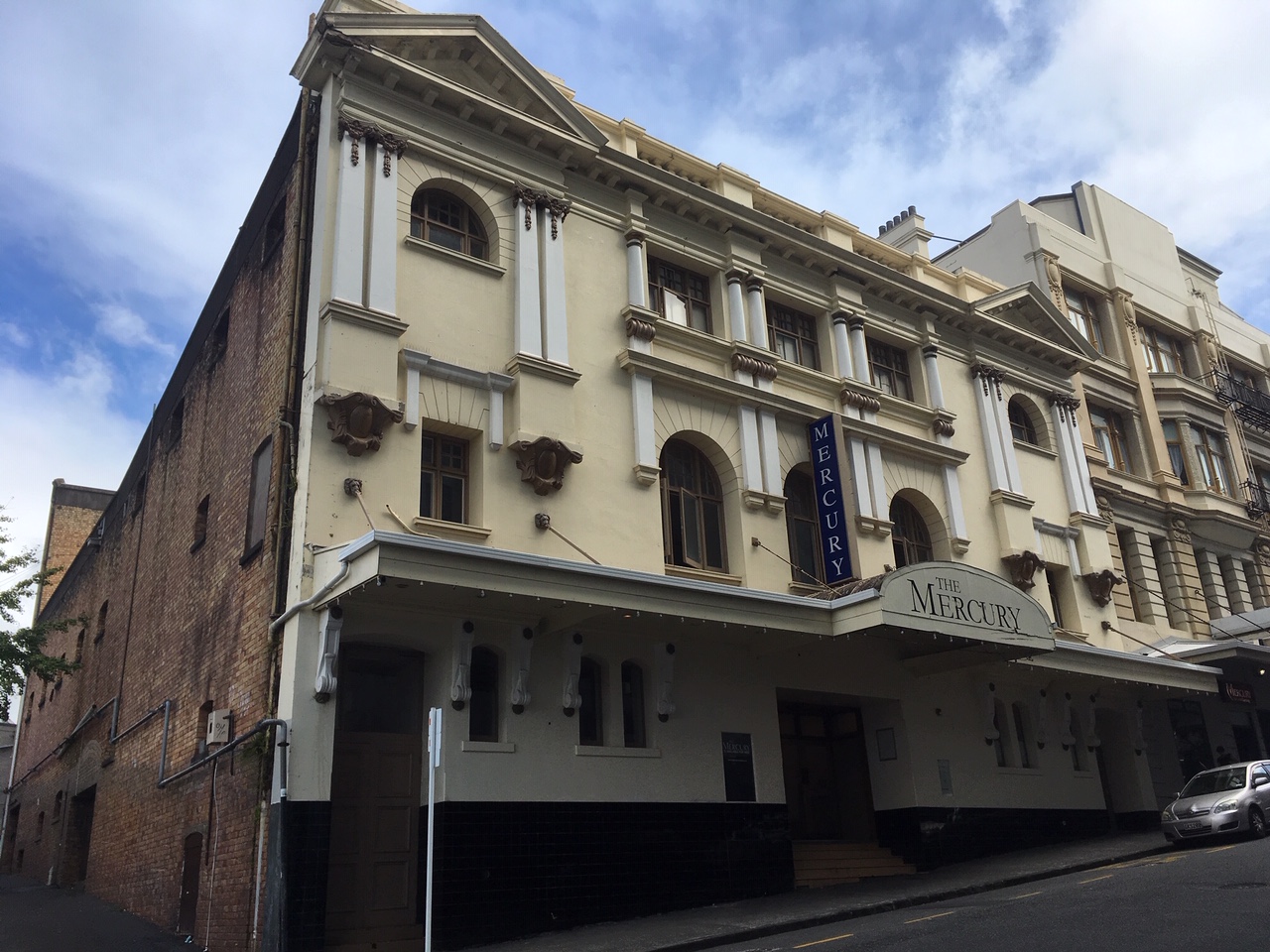 Mercury Theatre, formerly King's Theatre, image taken by Virginia Rundle March 2019
When Geoff and I arrived at Mercury Lane, the Mercury Theatre was closed but I had noticed upstairs windows were wide open, so I decided to ring the bell, but after waiting some time with no response we left and started walking back up the street, only to hear a whistle from a man which startled us, Geoff then noticed that the person then walked up the steps of the theatre and disappeared. So we returned and rang the bell again, but again had no answer, we had all but given up, when finally someone appeared and after introductions we were invited in for a tour of the theatre by a very helpful and delightful person called Adam Peters.
"Norman Ng Building – 256 Karangahape Road. 1926 entrance to the Prince Edward Picture Theatre (previously the King's Theatre) designed by Daniel B Patterson for Sir Benjamin Fuller. After the cinema closed in 1959 this building was sold off and purchased by Norman Ng who ran a fruit & vegetable shop here. A popular café called Brazil was located here for almost two decades from the early 1990s, a succession of cafes has succeeded it. The renovated interior boasts many original Art Deco features. The Norman Ng Building, a former entrance to the Mercury Theatre, retroactively added when it became clear that having an entrance to the local main street would be useful." Cyclopaedia of New Zealand
Norman Ng Building, formerly The King's Theatre Entrance, Karangahope Road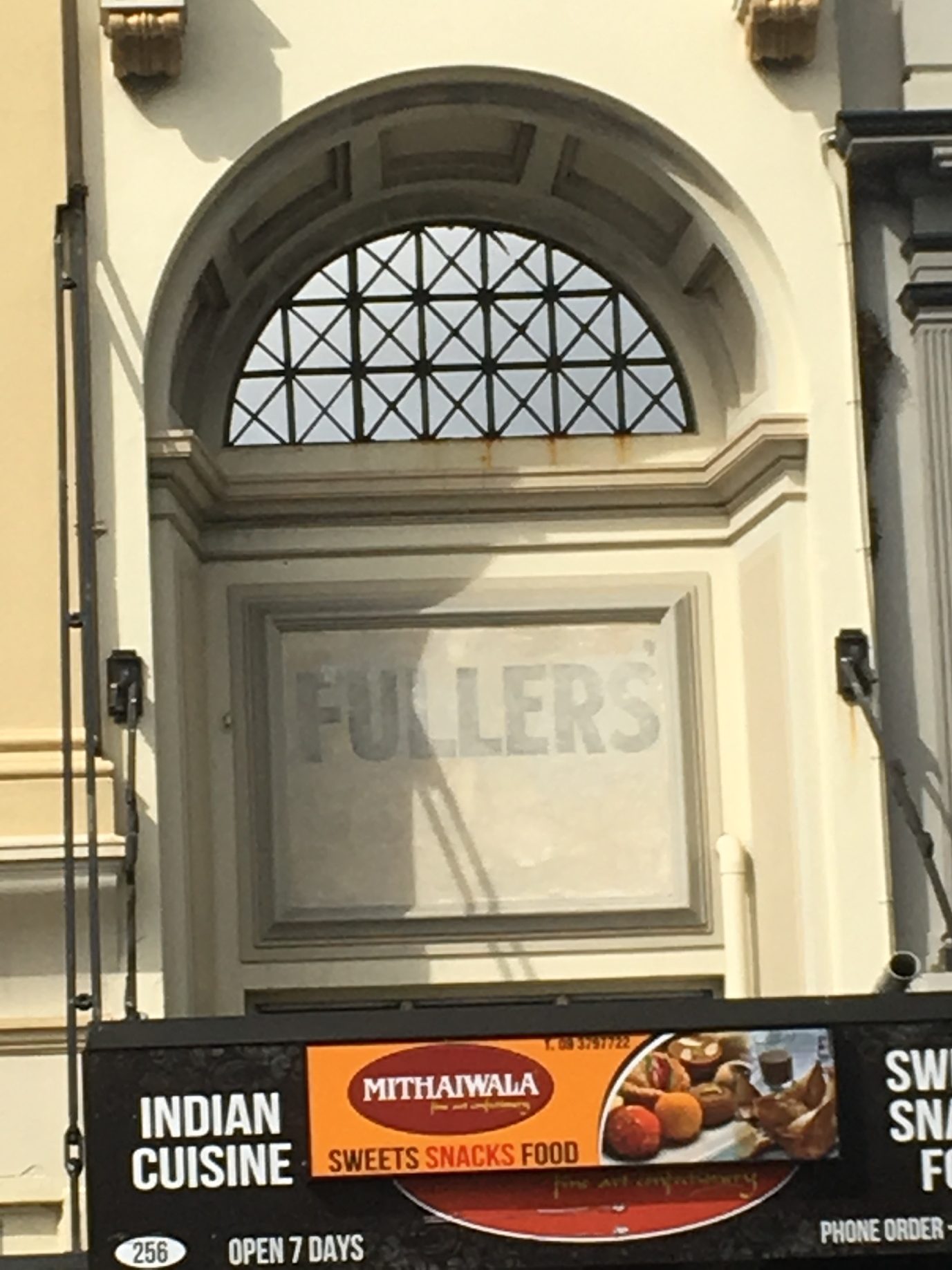 Image taken by Virginia Rundle March 2019 clearly showing the old "Fuller'" sign above what is now an Indian Restaurant, however the interior retains its very classic Art Deco style.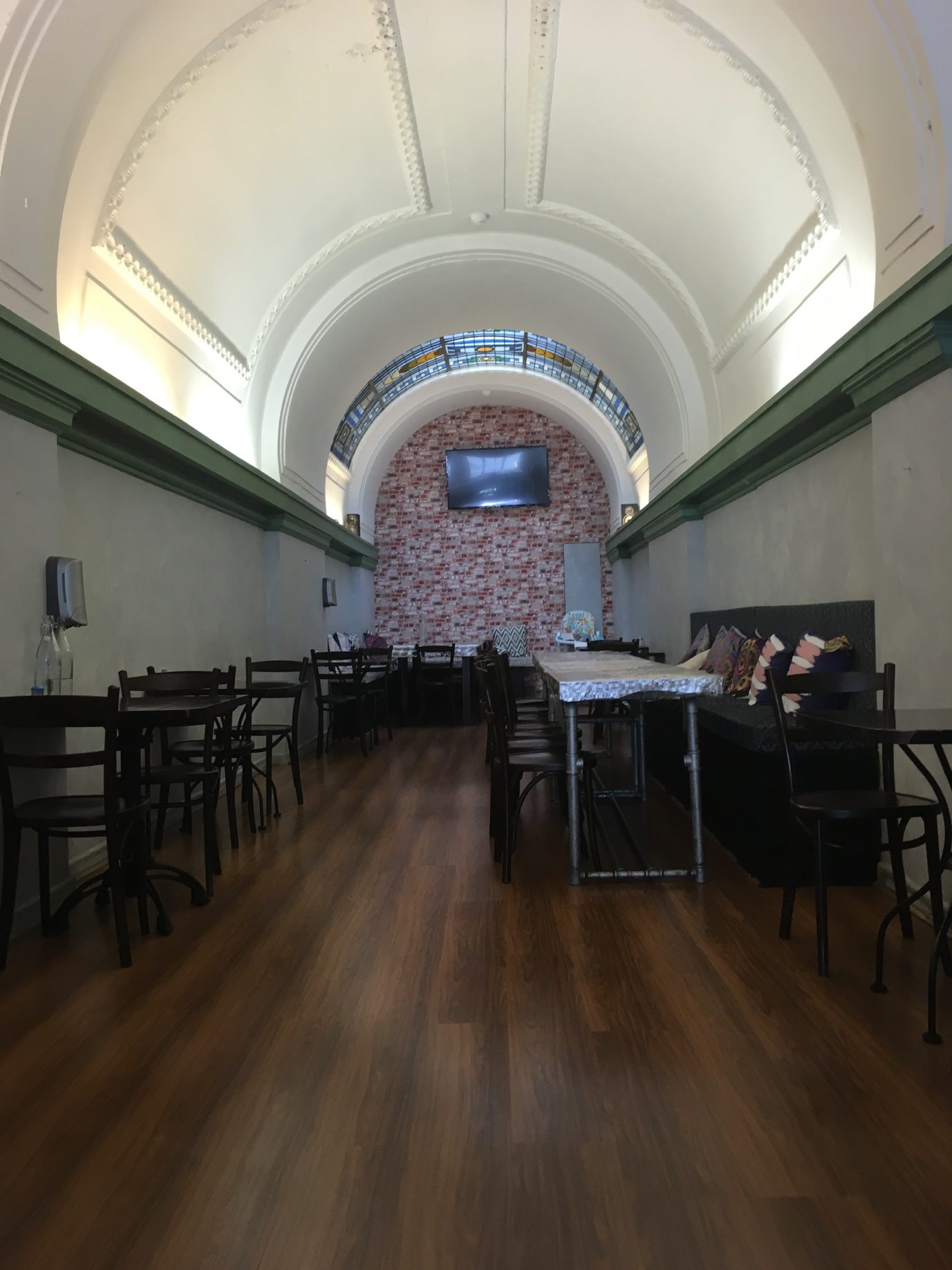 Interior, Norman Ng Building, now an Indian Restaurant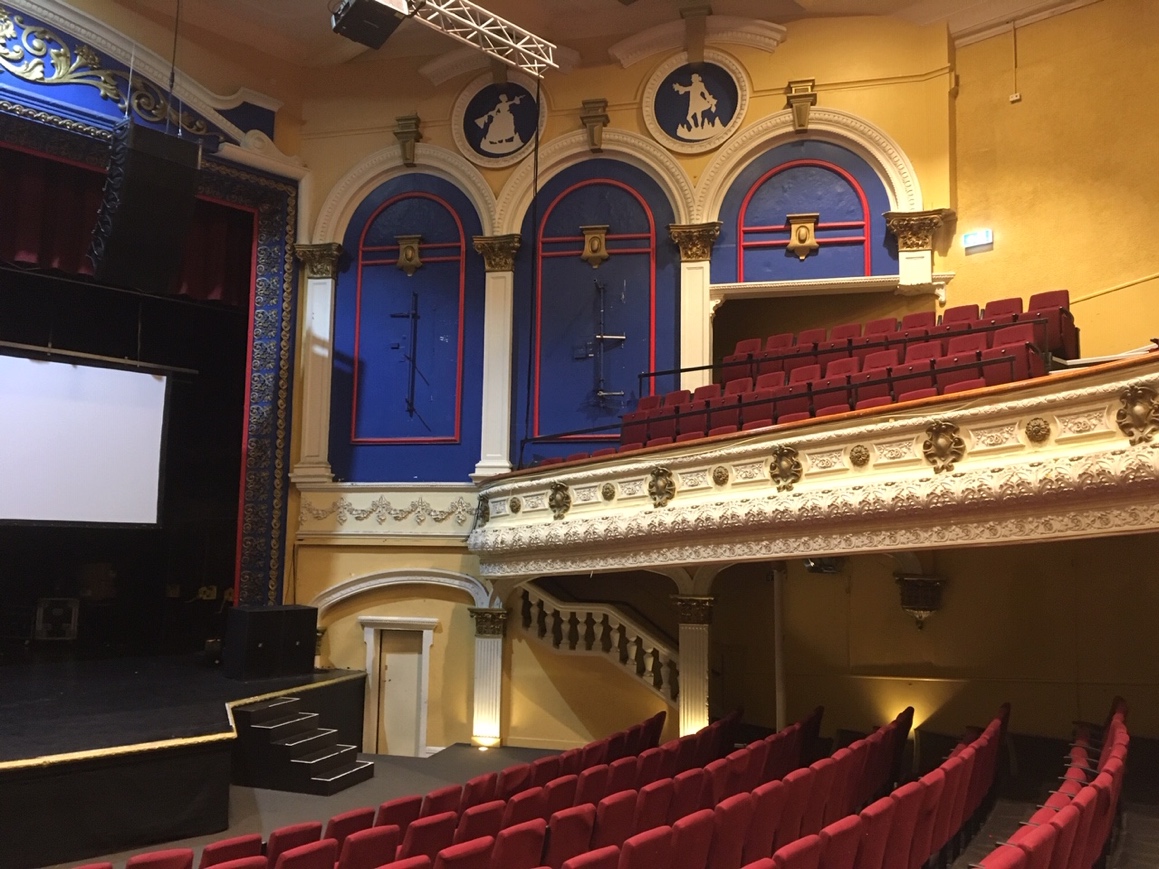 Interior of Mercury Theatre, formerly the Fuller's King's Theatre, March 2019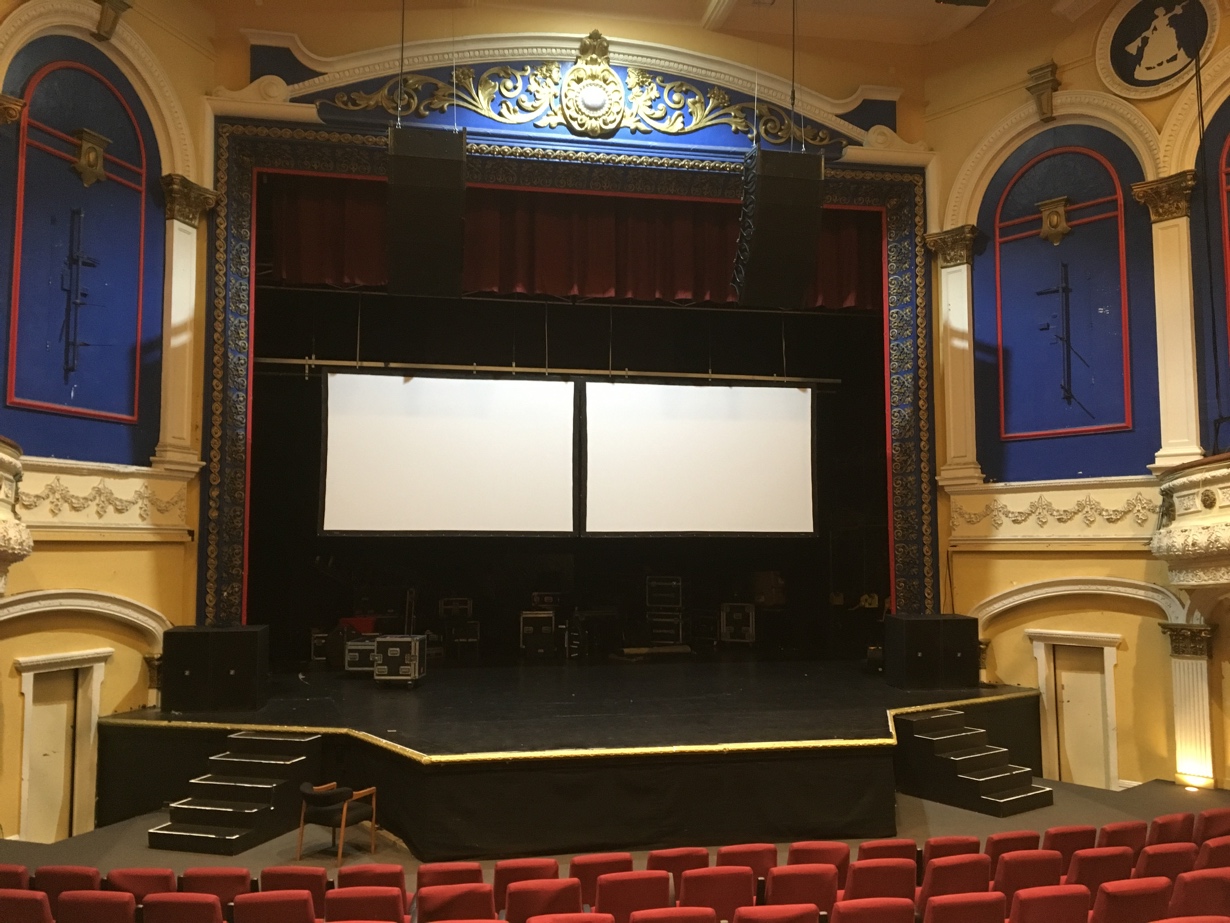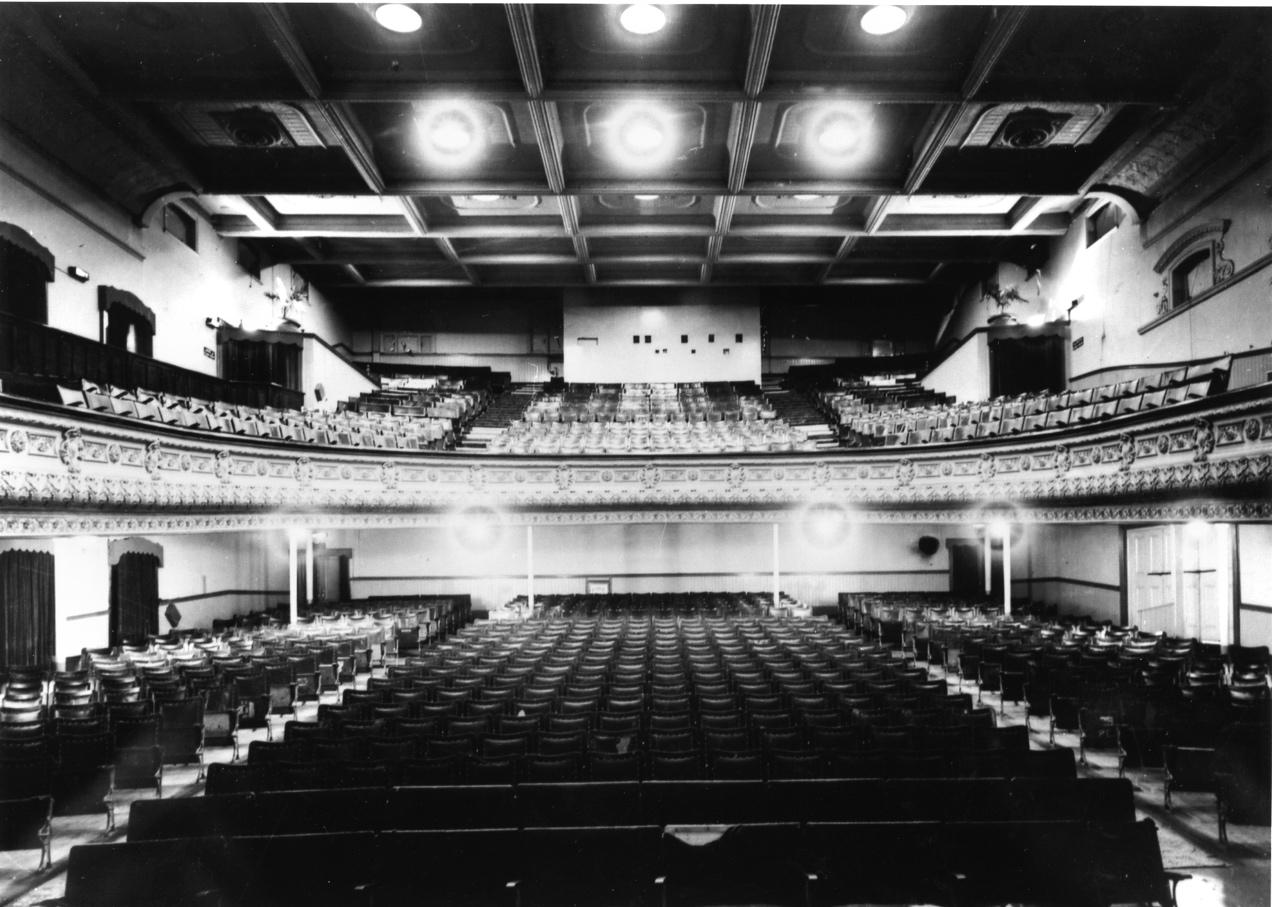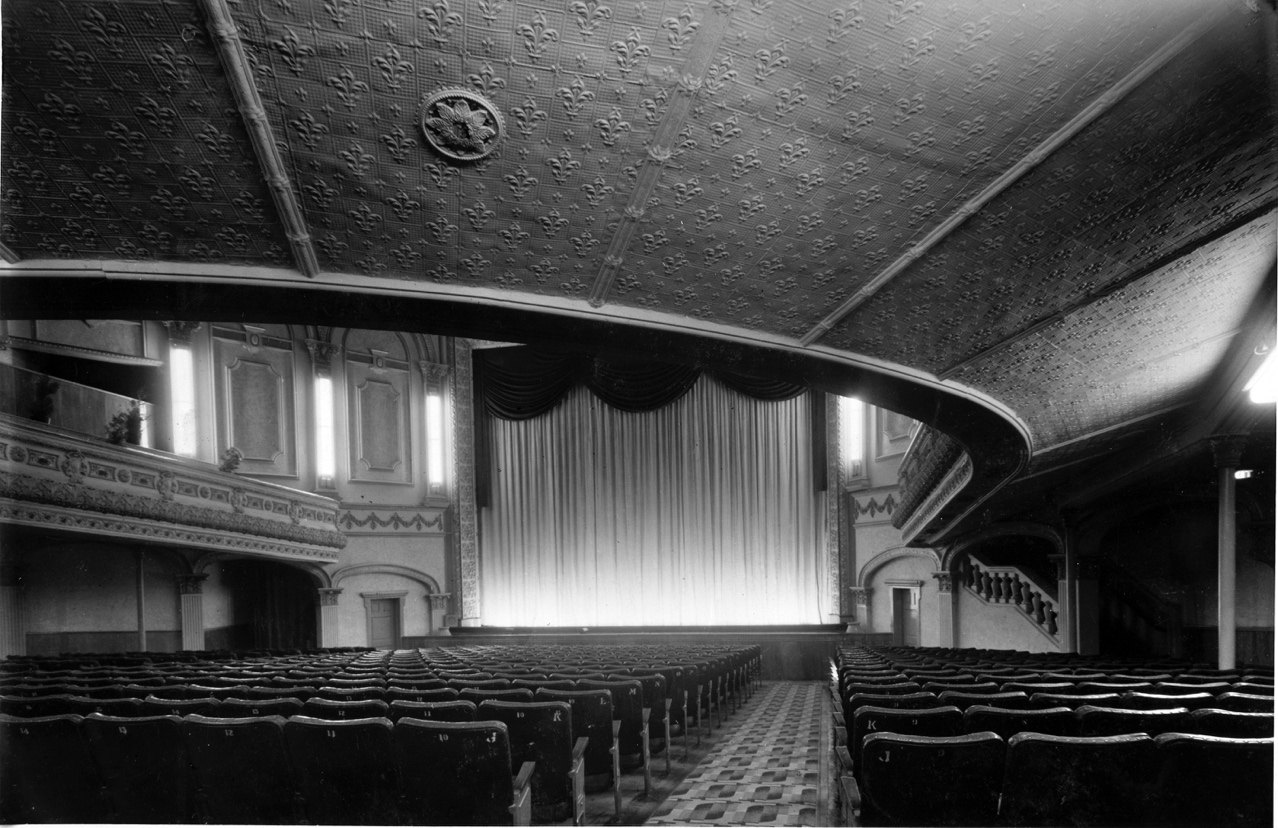 Interior of Mercury Theatre, two images courtesy of Adam Peters and Allan Webb
Adam Peters also very kindly forwarded me these photos of the Mercury Theatre, taken some years ago before the theatre was divided into two cinemas. They were sent to him from another Fuller Theatre researcher, Allan Webb. From the emails from these two men I understand that the theatre was subdivided into two cinemas and the foyer of the present theatre is now actually the underside of the old dress circle of the old theatre and above the foyer another theatre has been created. However sound proofing problems has prevented the two theatres from operating at the same time, thus negating the two cinema complex re-design. It is to be hoped that in the future the interior can be restored to its former glory.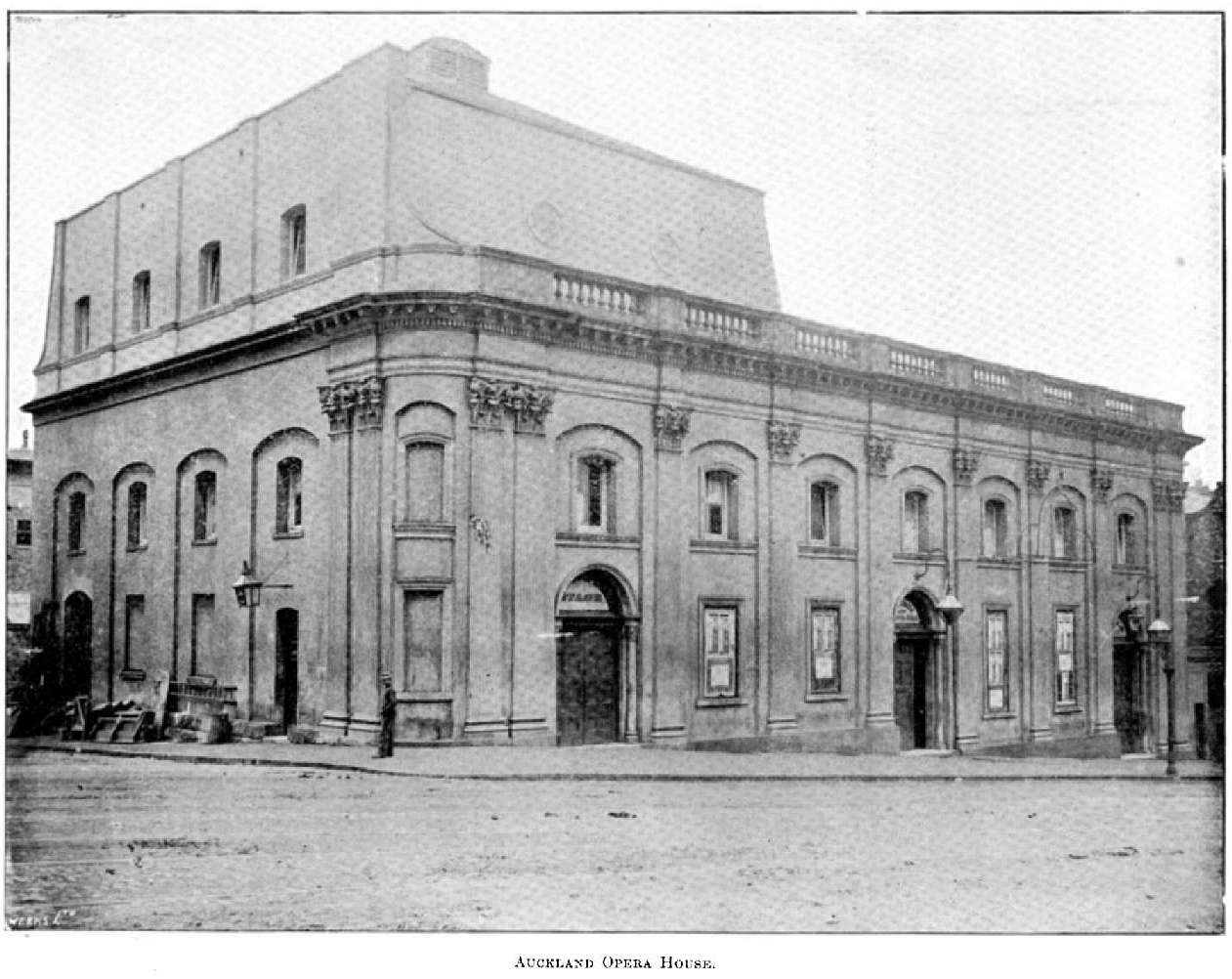 Auckland Opera House, Cyclopaedia of New Zealand
The Auckland Opera House, Wellesley Street, burnt to the ground in a dramatic fire in December1926.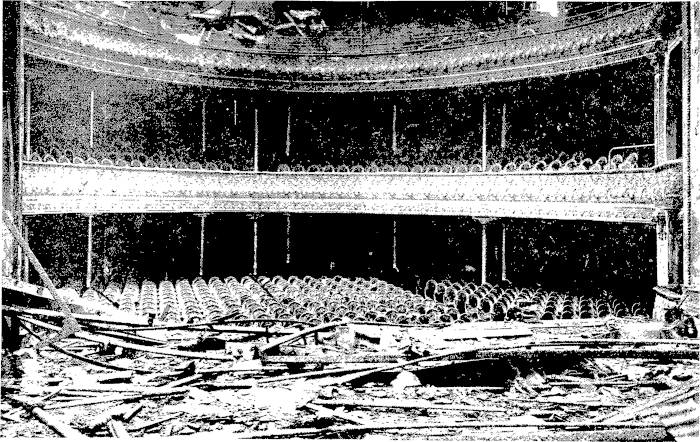 Auckland Star, 4 December 1926

New Zealand Herald, 6 December 1926
This amazing photograph from 1926 shows the exterior of the burnt out theatre and surrounding streets.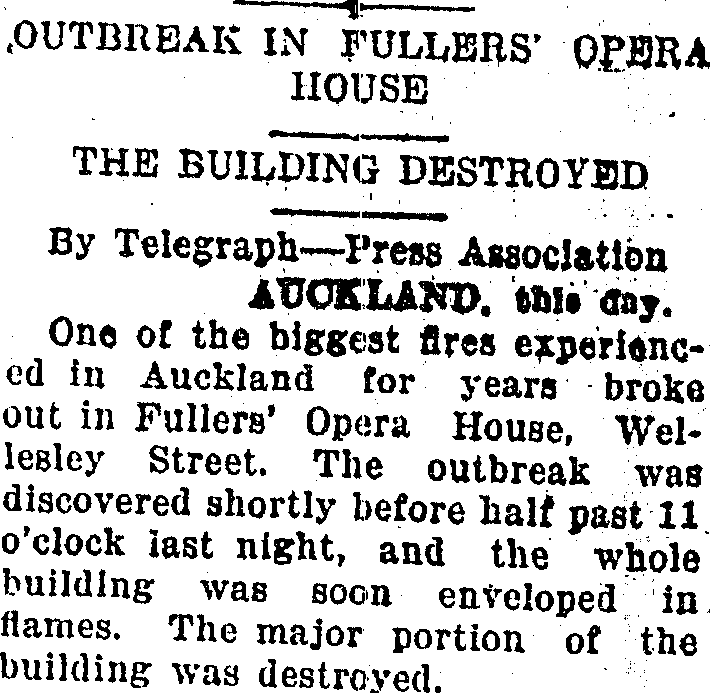 Waihi Daily Telegraph 4 December 1926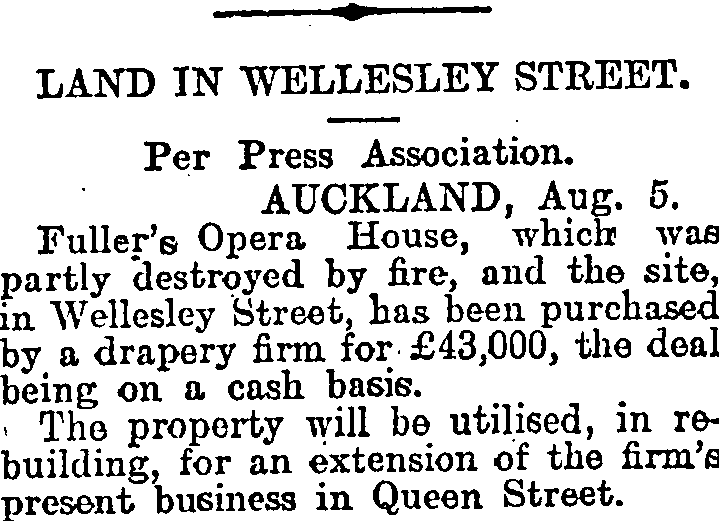 Manawatu Standard, 6 August 1927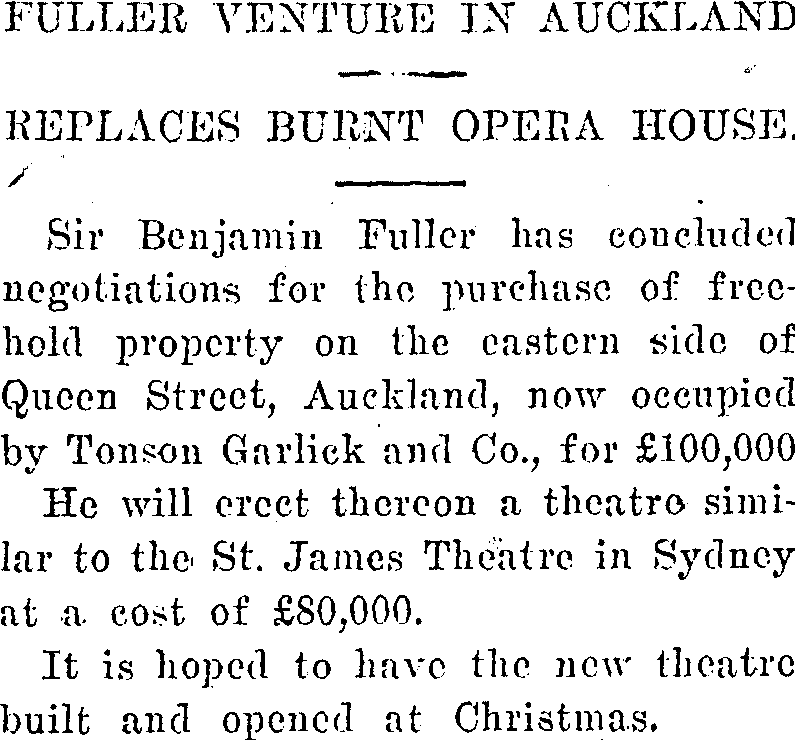 Patea Mail, 4 April 1927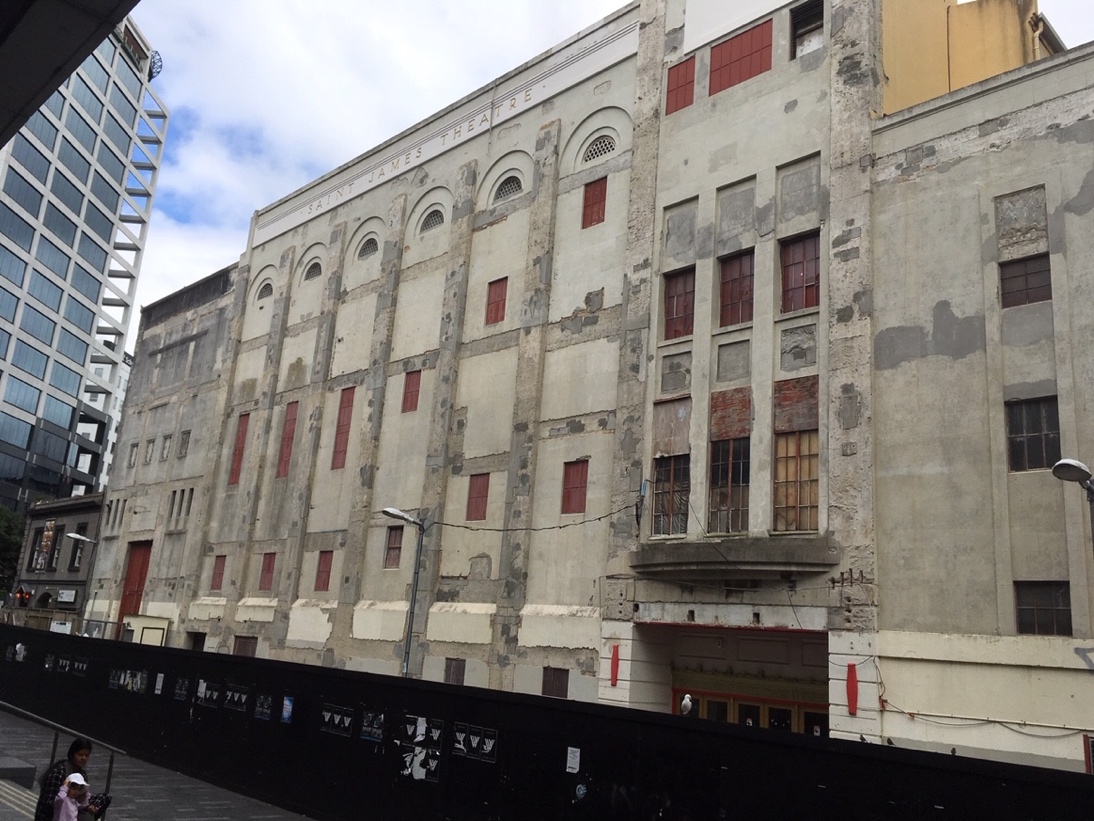 St James Theatre, Lorne Street, Auckland, behind hoardings, restoration on hold for the time being, March 2019
St James Theatre has now had its restoration suspended. However it is graded as an A1 historic building which is the highest rating for important preservation. See link below:
https://www.nzherald.co.nz/business/news/article.cfm?c_id=3&objectid=12042637
St James Theatre, Elizabeth Street, Sydney, Australian National Library, circa 1960
The St James Theatre in Sydney was demolished in the early 1970's to be replaced by a modern hard edge building. At the time of its opening on 1 April 1926 with the popular production of No No Nanette, the St James Theatre was the tallest building in Sydney. It was a clever combination of theatre, leased office space and retail and it was to become the Fuller's flagship theatre. Images of the St James in Sydney are hard to come by and I would appreciate anyone who could forward me a less grainy photograph. It's location in Elizabeth Street was right next door to David Jones, Market Street store.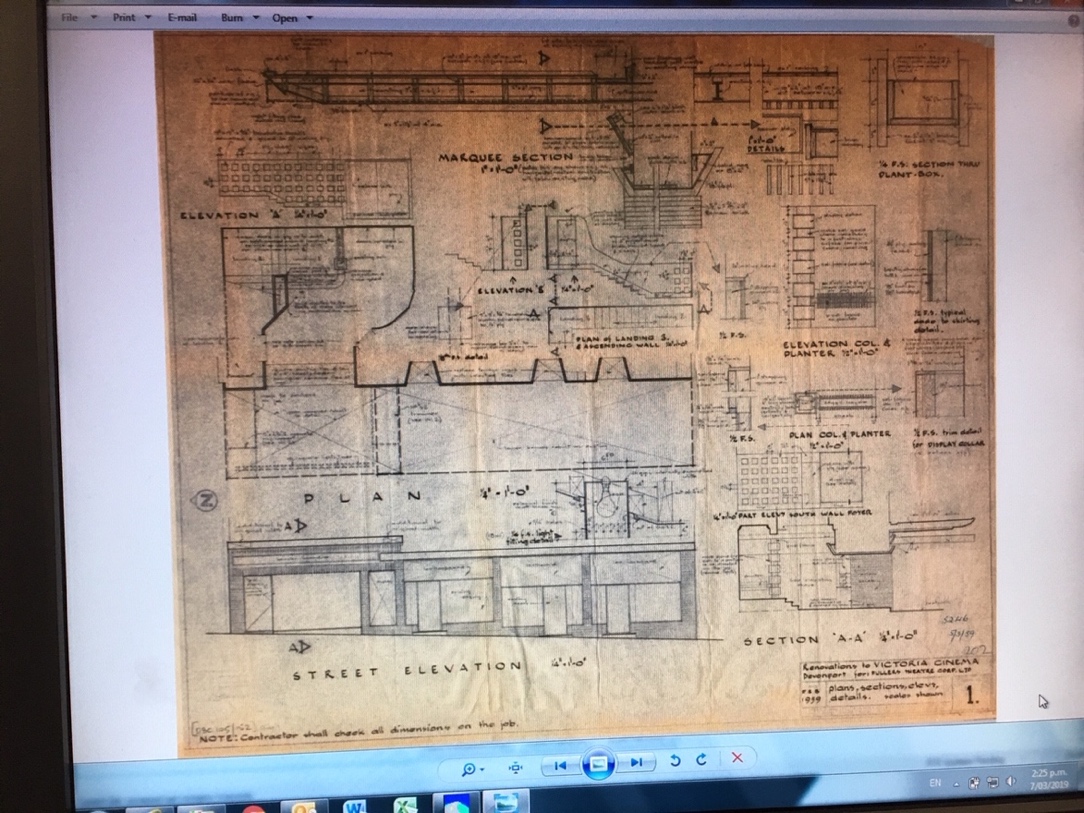 Blue Print of The St James Theatre, Auckland Archives
The Auckland Archives are found below the Auckland Library and by a separate entrance and are only open from 2pm to 5pm daily. In an amazing co-incidence we discovered that the entrance to the Auckland Library and Archives is just opposite the St James Theatre.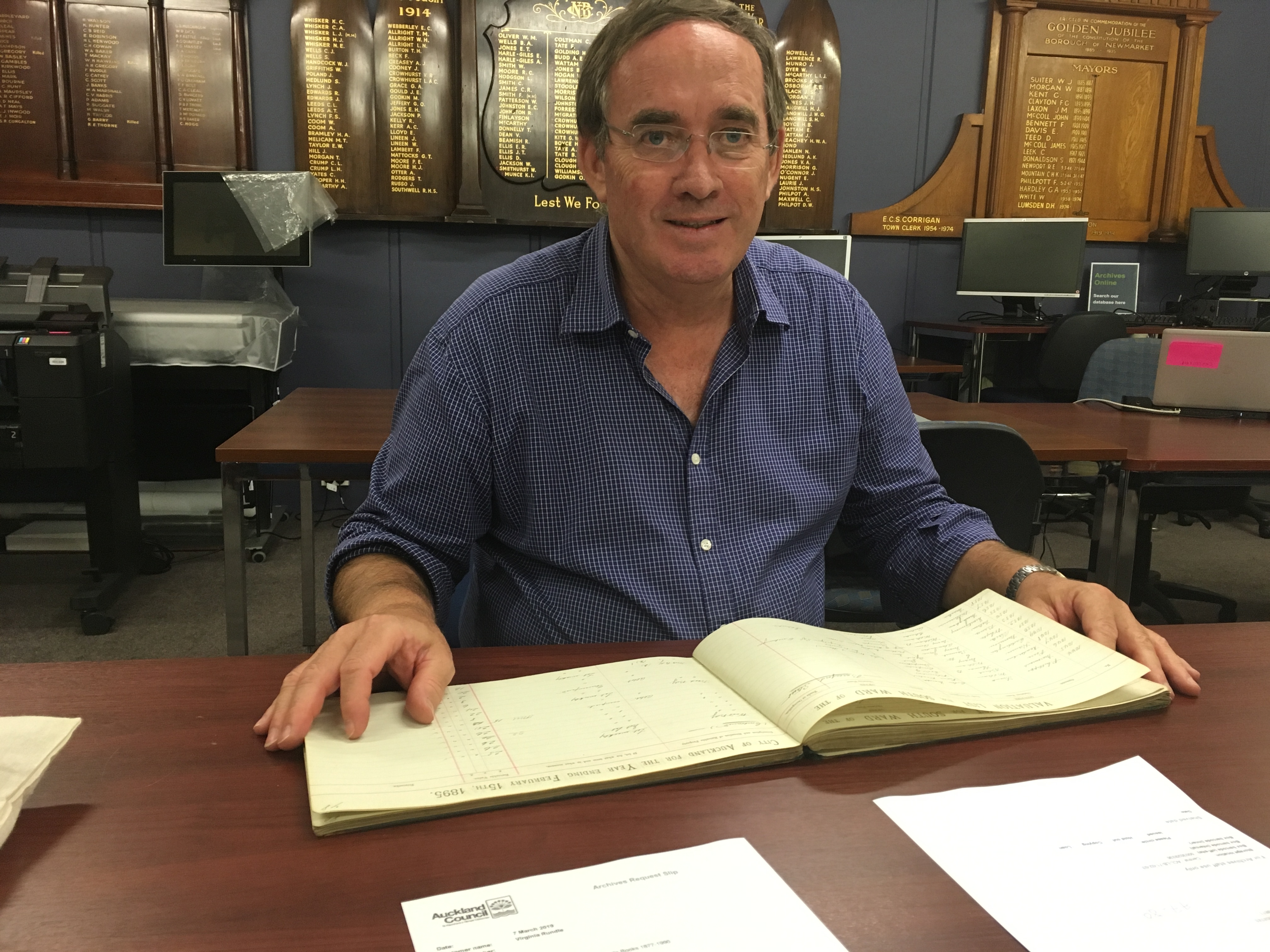 Geoff Rundle at the Auckland Archives, New Zealand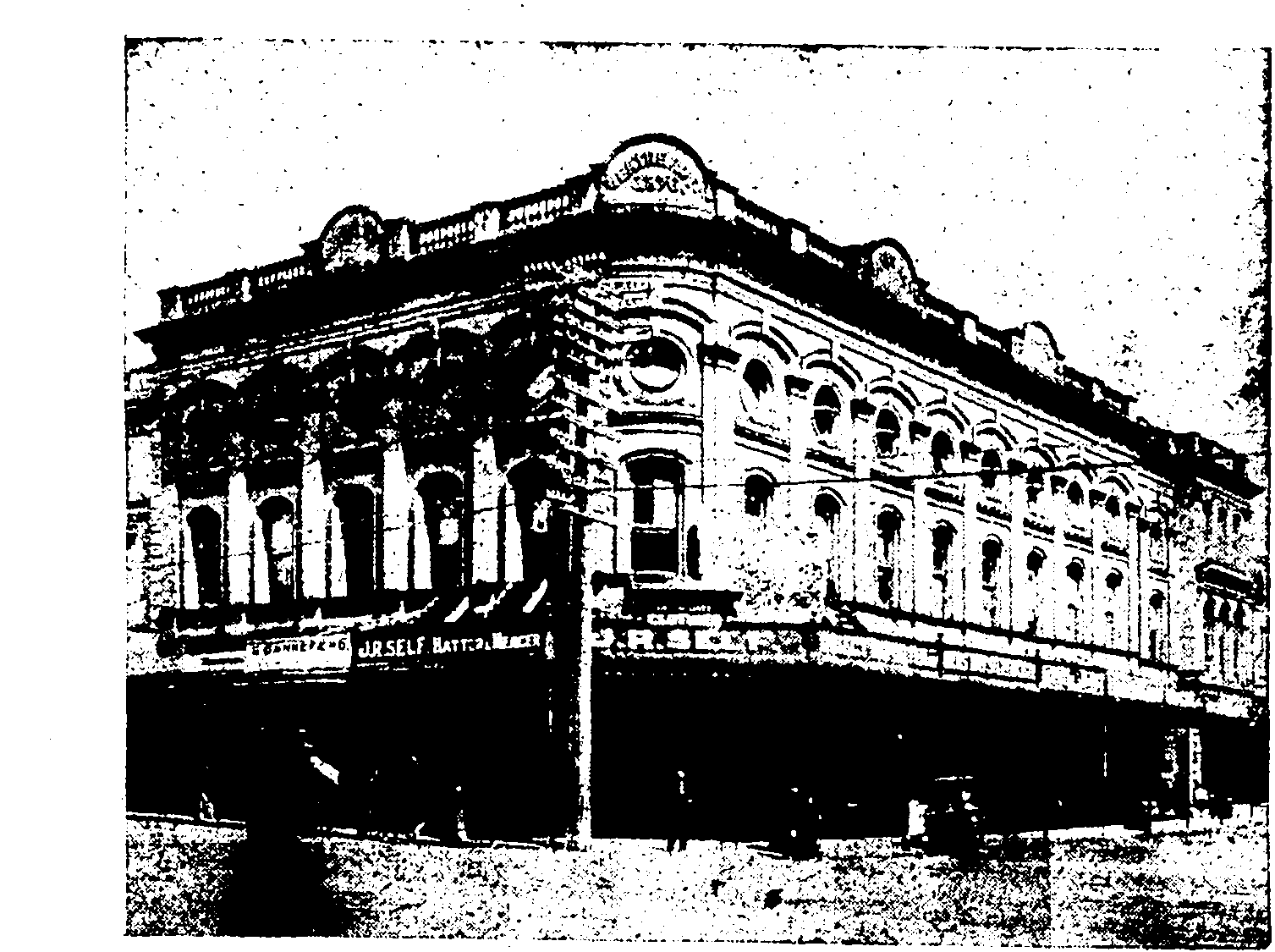 Auckland City Hall, formerly Dix's Theatre, which John Fuller first leased in the mid 1890's when he produced his Popular People's Concert Series. Demolished for the erection of the Auckland Town Hall. Image courtesy of New Zealand Cyclopaedia.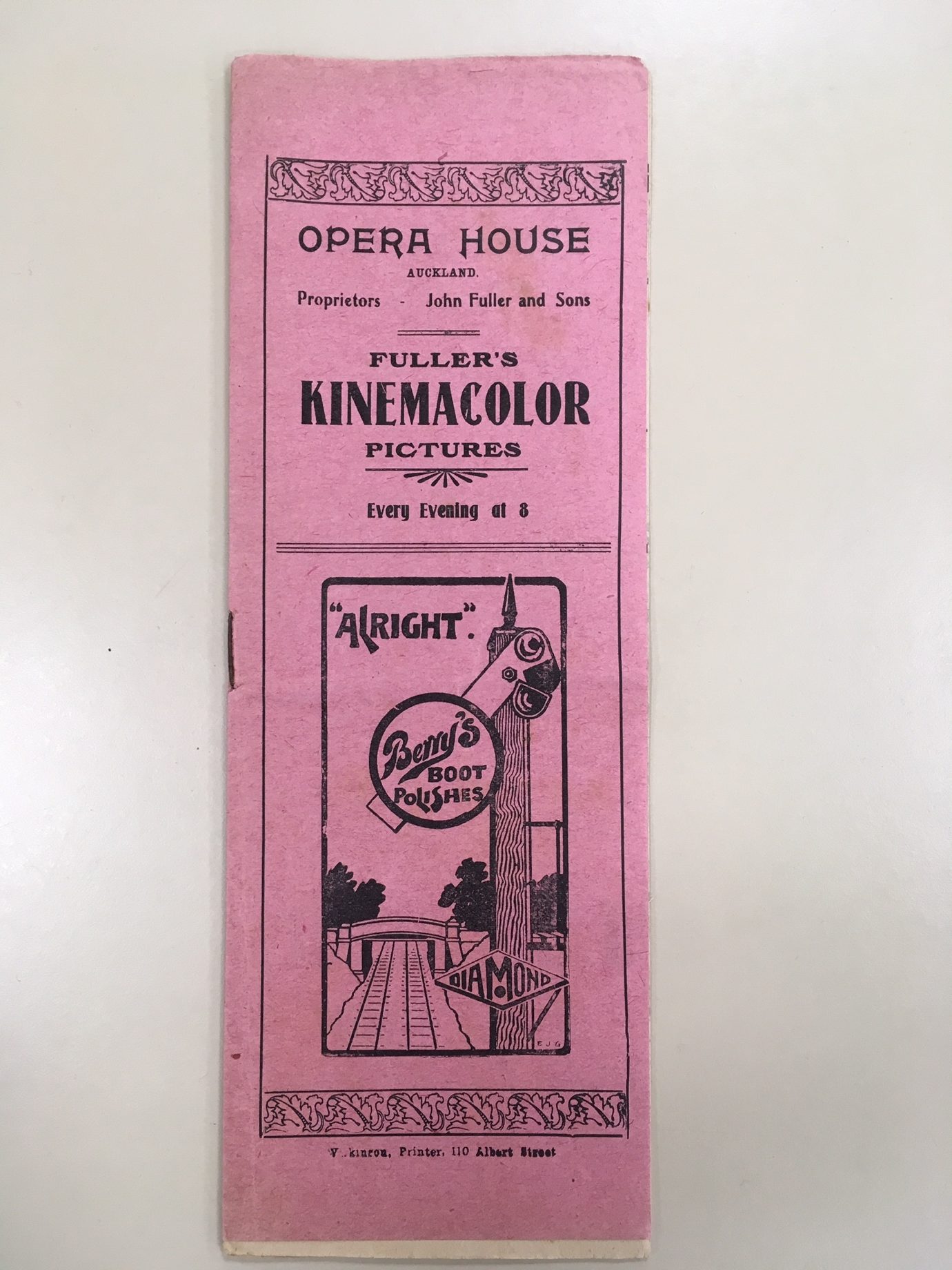 Auckland Library, Special Collections, Memorabilia, Opera House Programme, 1909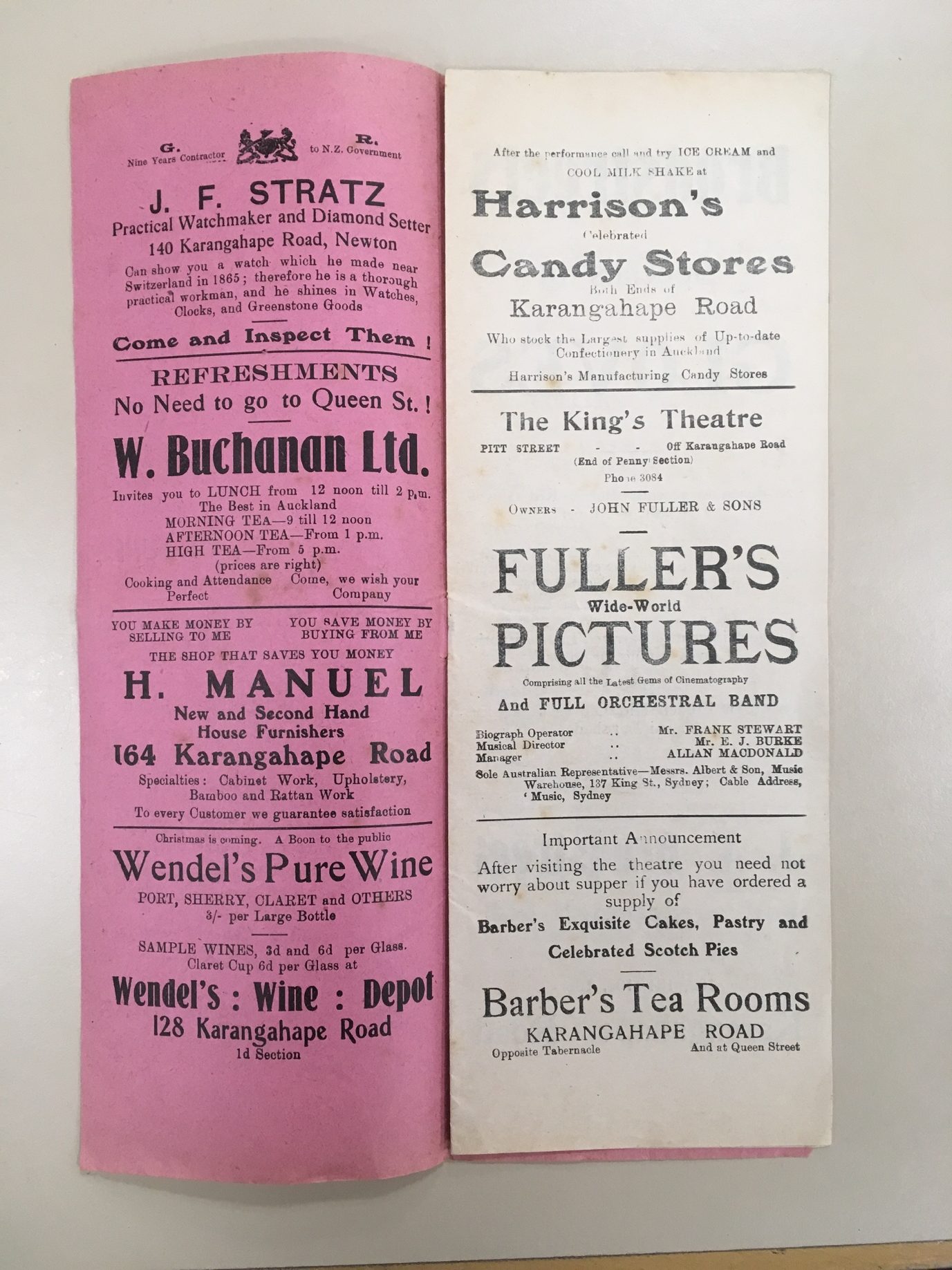 King's Theatre Programme, circa 1910, Auckland Library, Special Collections
King's Theatre Programme, circa 1924, Auckland Library, Special Collections
This historic listing of the theatres owned and operated by the Fullers in New Zealand was found amongst the Fuller programmes in Auckland Library. It is a wonderful list of theatres and is so helpful for me in my research into the whereabouts of the theatres owned by the Fuller family; so often I have collected newspaper clippings and they don't mention which city, not give any address,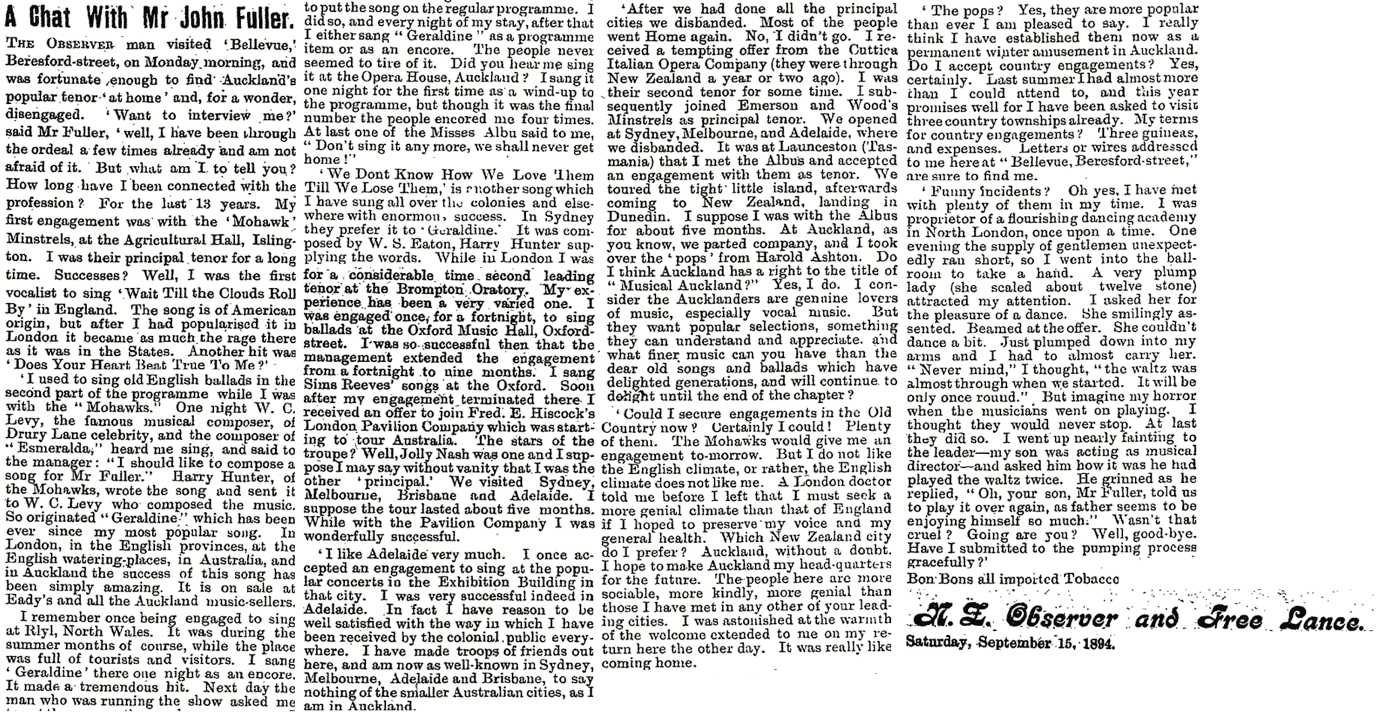 "Bellevue" Beresford Street, Auckland 15 September, 1894
Beresford Street is in the harbourside suburb of Bayswater and has sweeping views across Auckland Harbour to the city. It is also very close to Queens Parade in Devonport where John Fuller settled permanently into the home he lived in for over twenty years. I am sure John would have enjoyed catching the ferry across the harbour to the city. Later he moved his family to Newton Street, which was right in the hub of the city's entertainment quarter.
Auckland Electoral Roll, 1896, Newton Road, John, Emily Matilda and Ben Fuller, the two men's occupations are listed as music teachers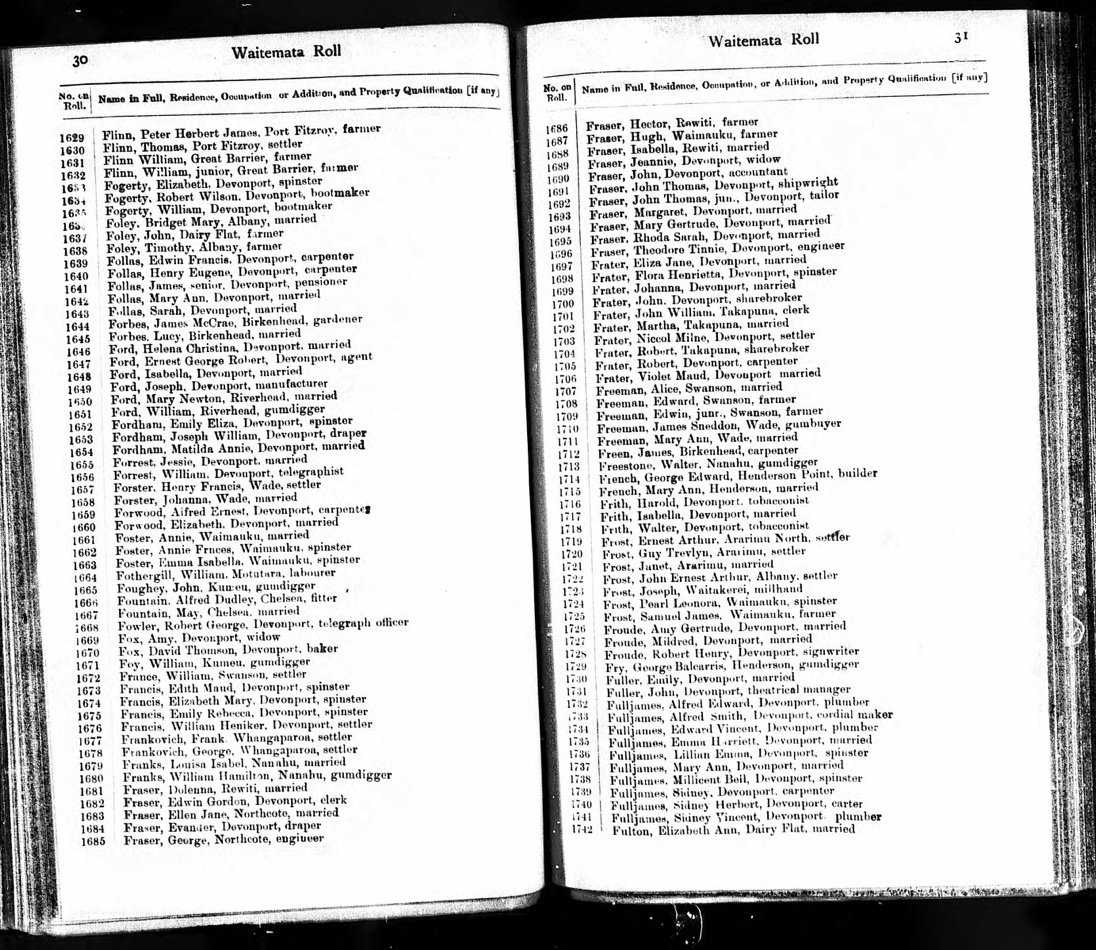 1905 New Zealand Electoral Roll, John and Emily Fuller, John is a theatrical manager, Devonport, Waitemata, Auckland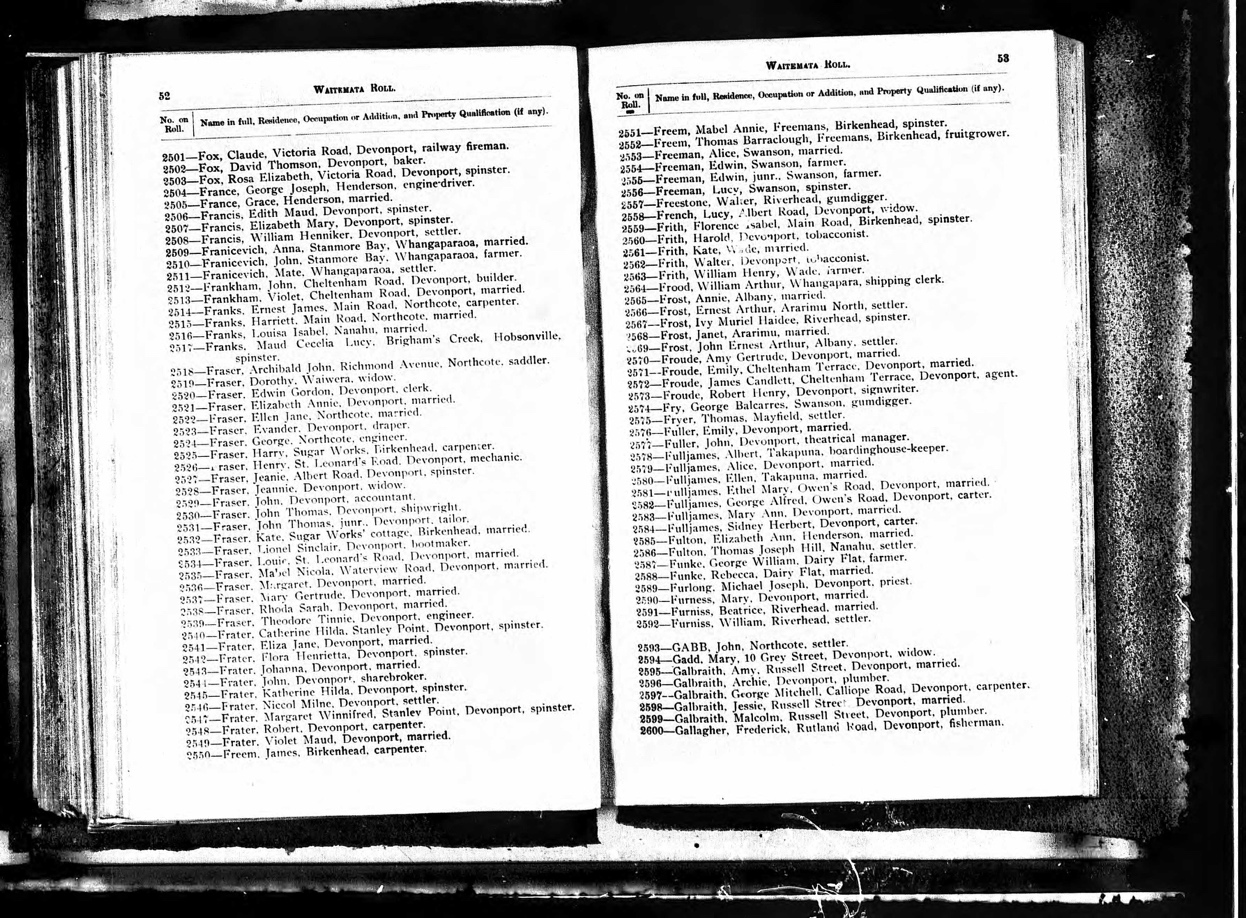 1911 NZ Electoral Rolls for John and Emily Fuller, Devonport, Waitemata, Auckland
1914 New Zealand Electoral Roll for John, Emily and May Fuller, theatrical producer 20 Queens Parade, Devonport, Waitemata Auckland.
Wise's Auckland "Street Directory", 18 Queens Parade, Devonport, John Fuller is listed as a Theatrical Manager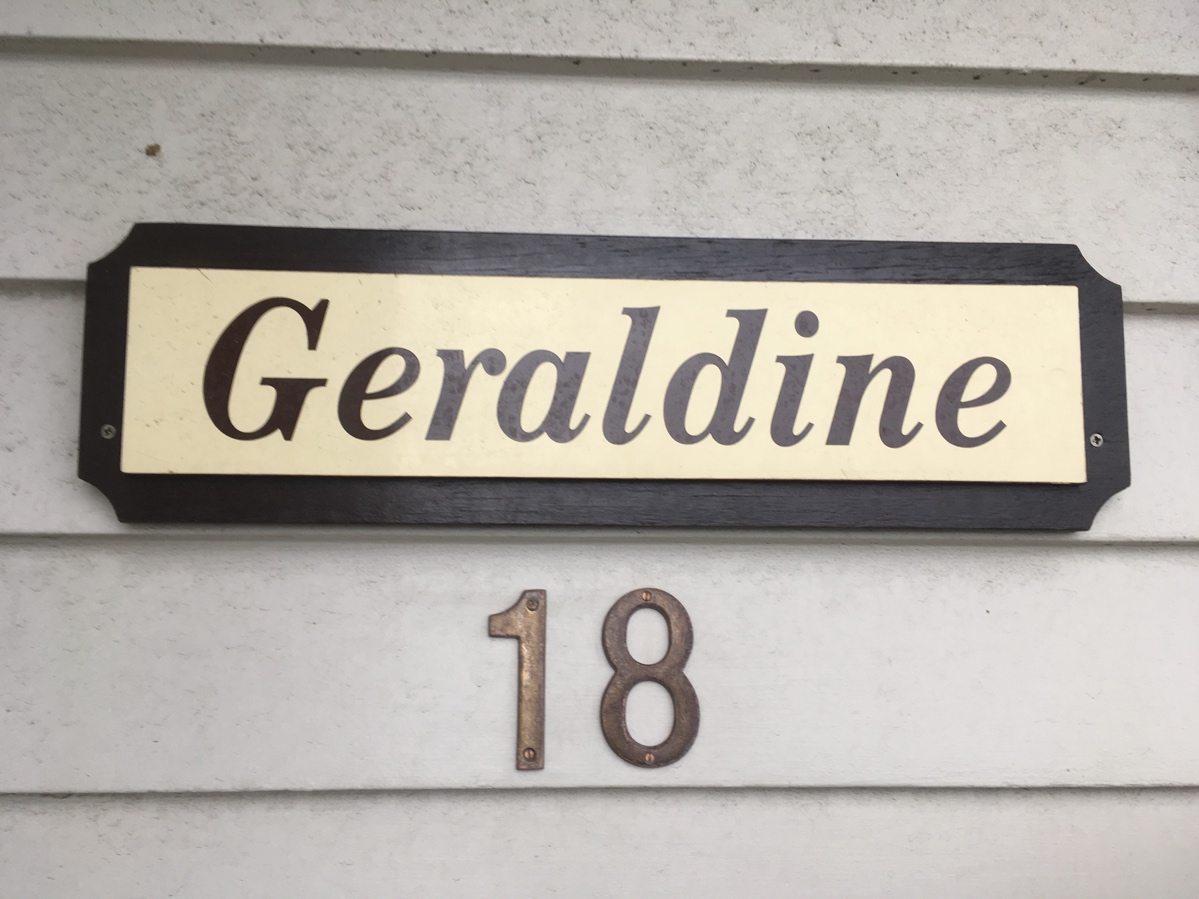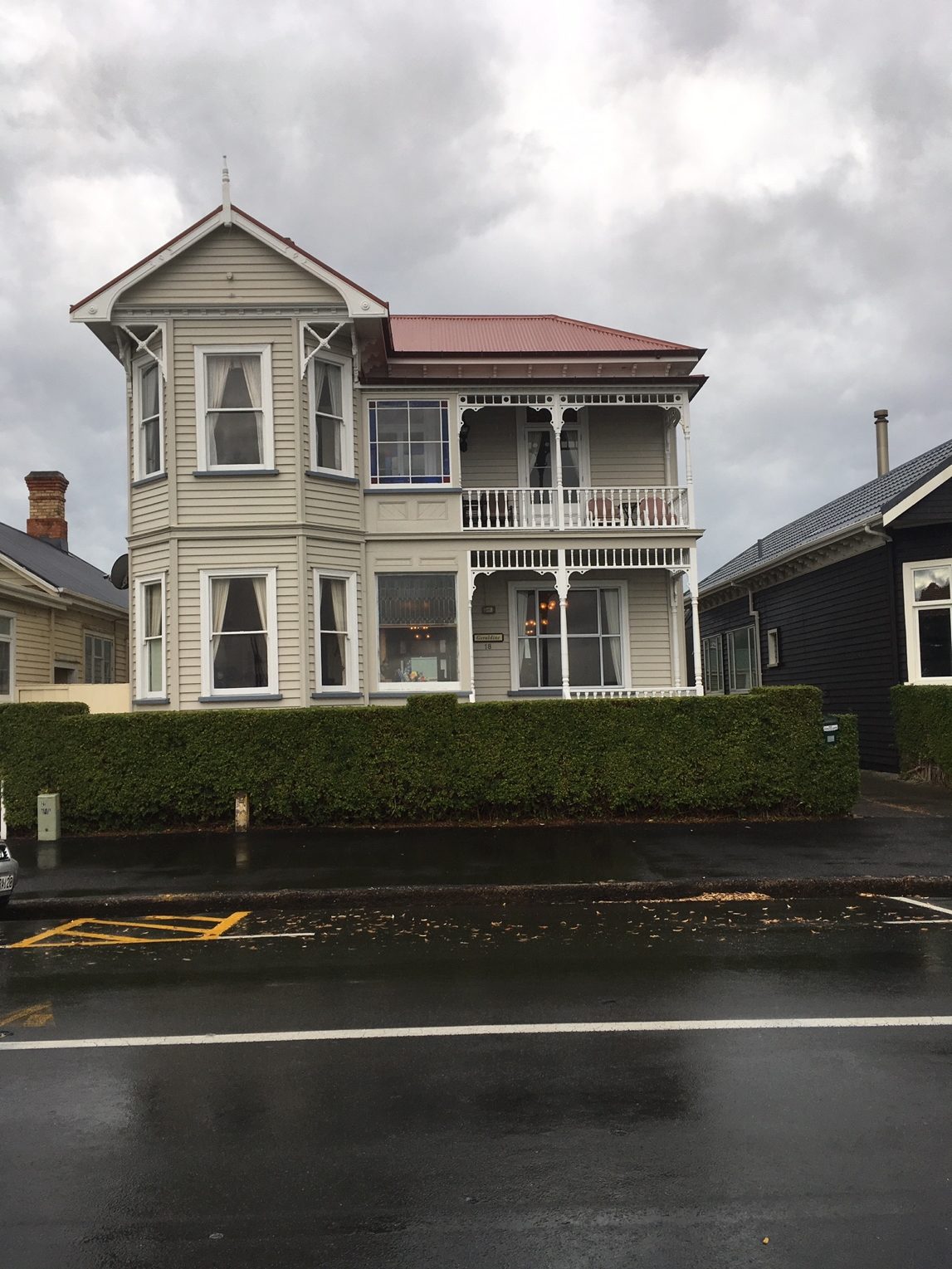 Geraldine, 18 Queens Parade, Devonport, New Zealand
David and Marjorie Thompson have lived in Geraldine, 18 Queens Parade, Devonport for 35 years and have lovingly restored the old Fuller home. They feel that John Fuller was the first owner, and apart from the Hay family whose owner was a skipper, they think they are only the third family to have ever resided in the old home. They very kindly invited Geoff and me inside to show us their lovely home. David and Marjorie have collected quite a bit of memorabilia from the time of the Fullers and back in 2008 they had other Fuller visitors, descended from May Fuller, who married Henry Grubb, visit their home. It was whilst I was there that Marjorie showed me an email from one of May's grand-daughters and this was to be the long sought after connection that Scottie Fuller, Lavinia Chrystal and I had been looking for to try to find and connect with other descendants of John Fuller. In fact Lavinia recently reminded me that whilst she was in New Zealand last time she trawled through the Auckland phone book and "cold called" several numbers, without success.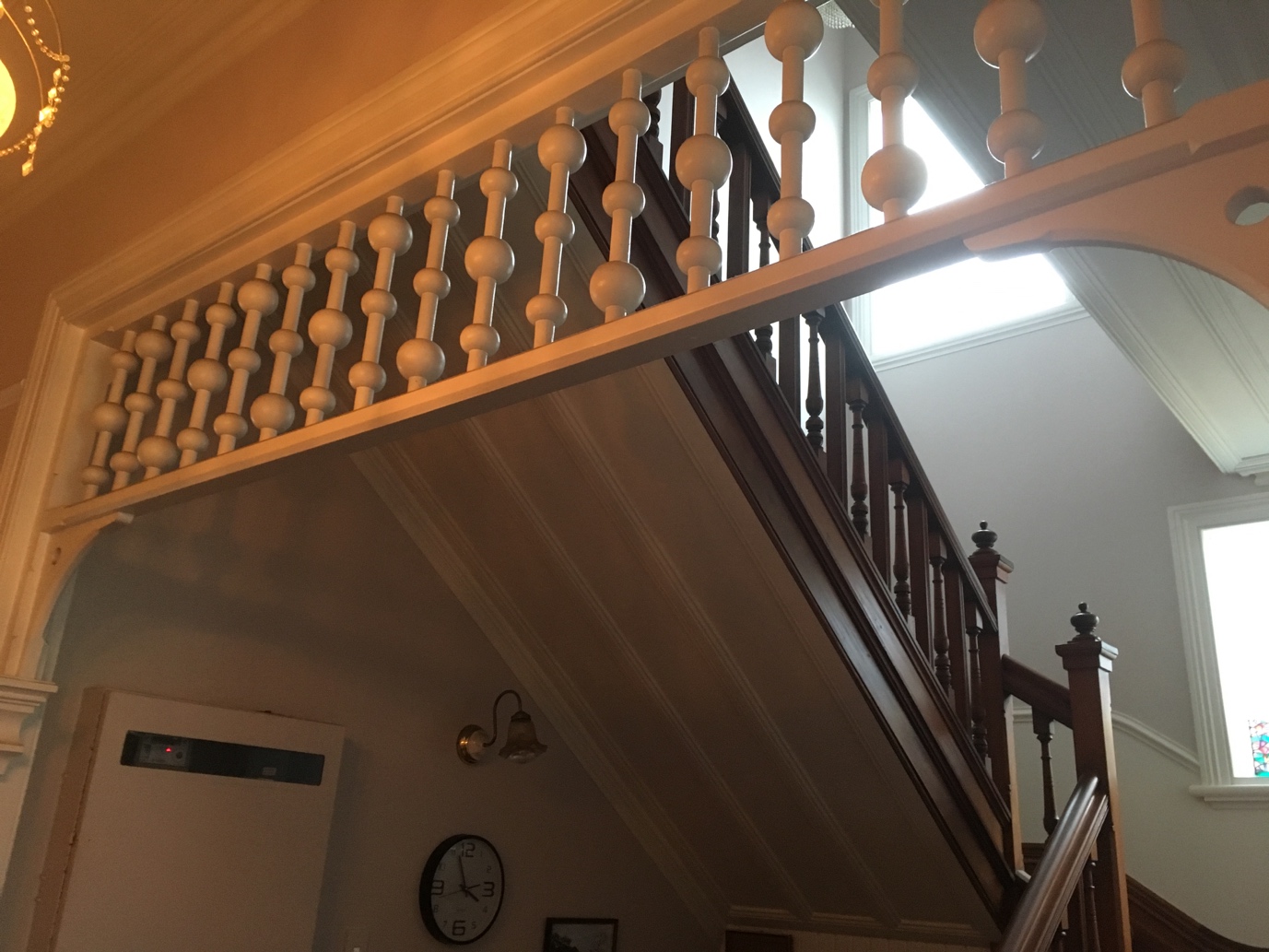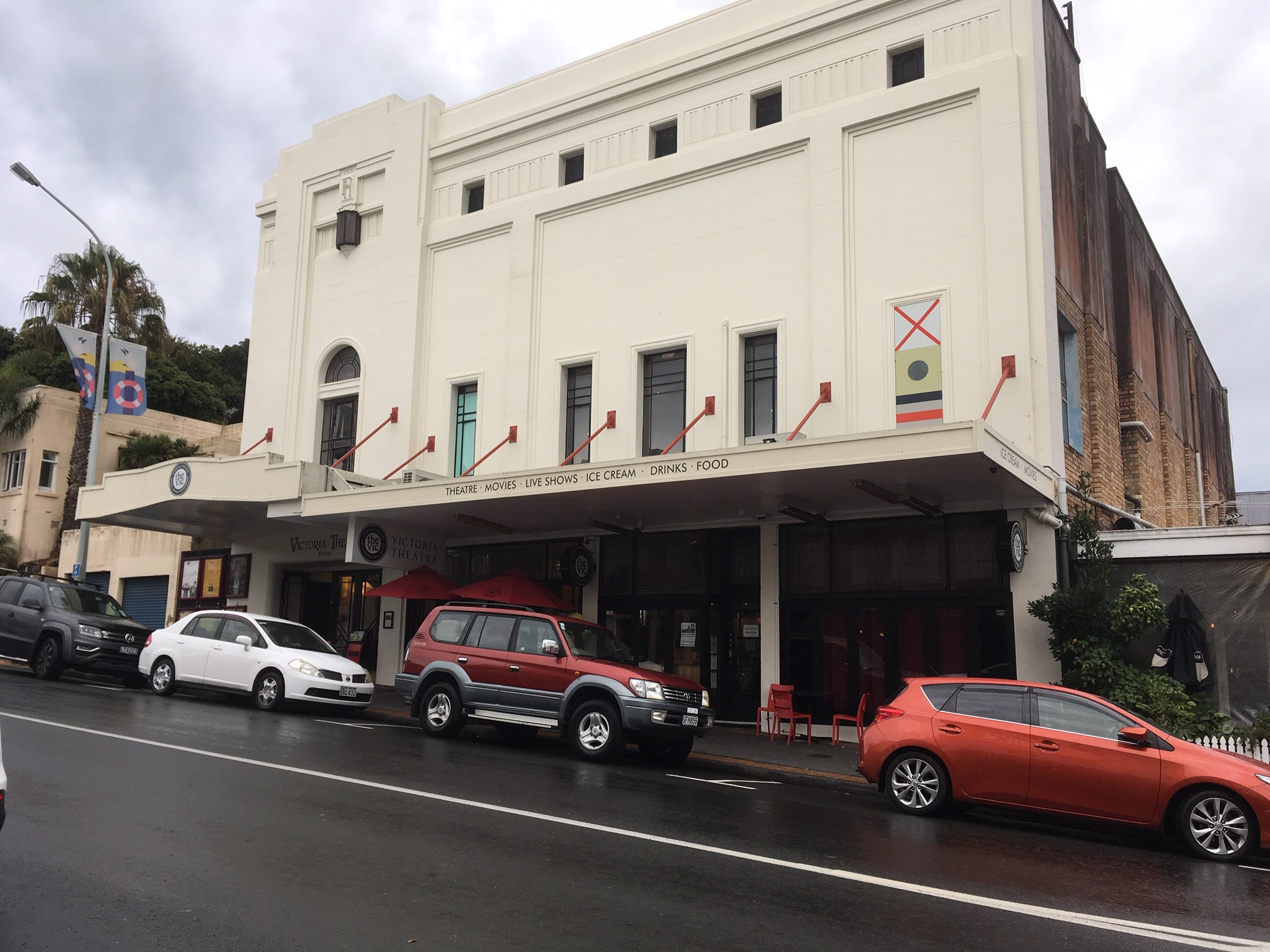 The Victoria Theatre, Davenport, image taken by Virginia Rundle March 2019
It was wonderful to discover that another Fuller's theatre survives in Devonport, Auckland and is regarded very fondly by patrons and enthusiasts as "The Old Vic". Unfortunately we encountered the first heavy rain Auckland had had in a month during our time at Devonport but our decision to photograph the theatre after visiting Queen's Parade paid off, because by the time we returned the rain had ceased. This early theatre was purchased by the Fullers in the late 1920's and it was decided by John and Ben Fuller to give it a "modern" make over inside and out in the very popular Art Deco theatre style.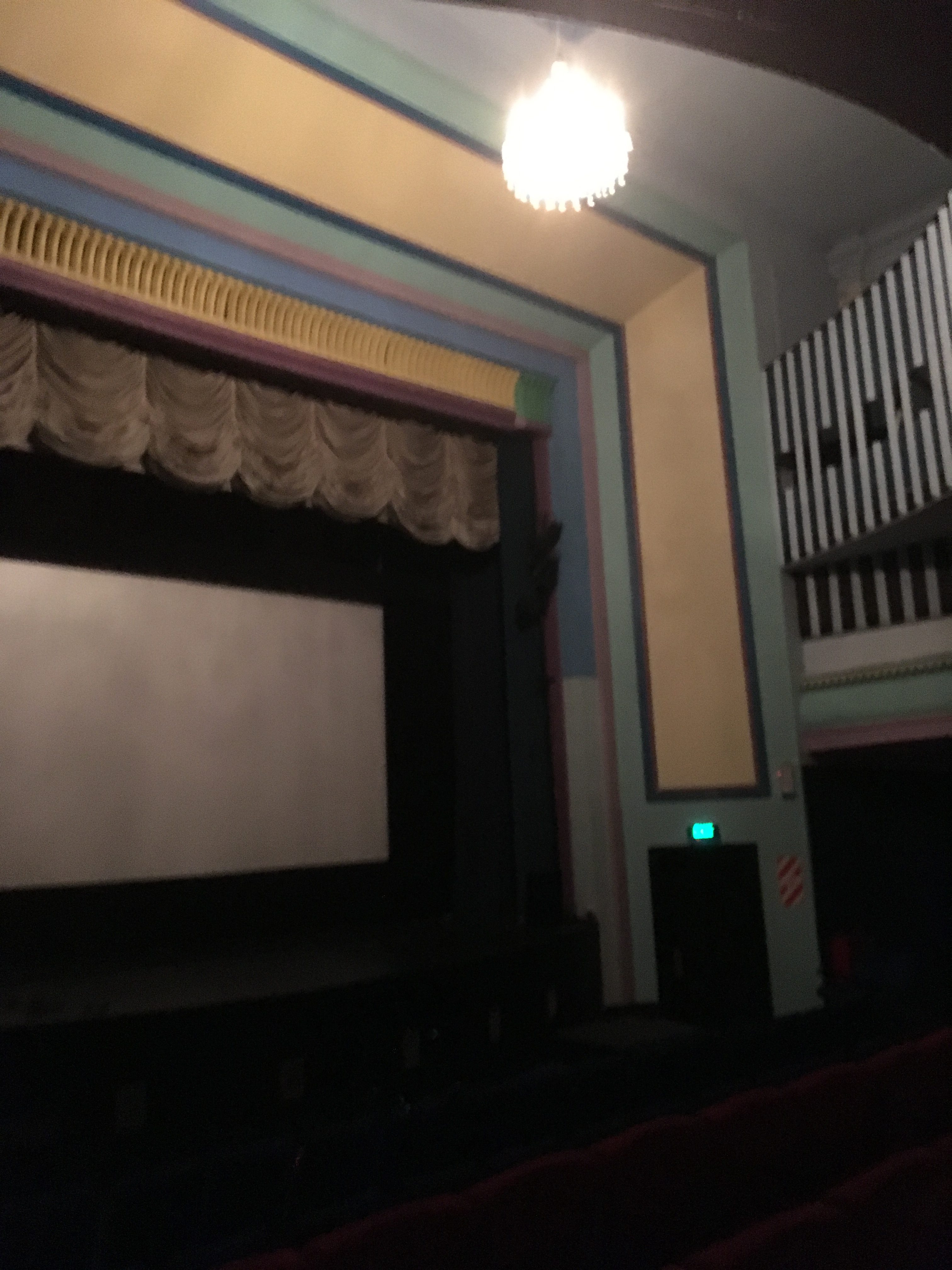 Interior of the Victoria Theatre, Devonport, New Zealand

Obituary for John Fuller, 10 May 1923, Auckland Star, Kingsview Road, Mount Eden, Auckland
Armed with the information from John Fuller's obituary that John had died at Kingsview Road, Mount Eden in Auckland, I was able to access rate books during my visit to the Auckland Archives and it was just a matter of trawling through the years prior to his death to come across this listing for John Fuller, giving his address at 33 Kingsview Road. Unfortunately due to time restraints for our departure from Auckland airport, when we unexpectedly encountering very heavy traffic returning from our holiday in the Bay of Islands, we had to choose between a visiting John's grave or the Mount Eden address and so a visit to Mount Eden will have to wait for a further visit to Auckland.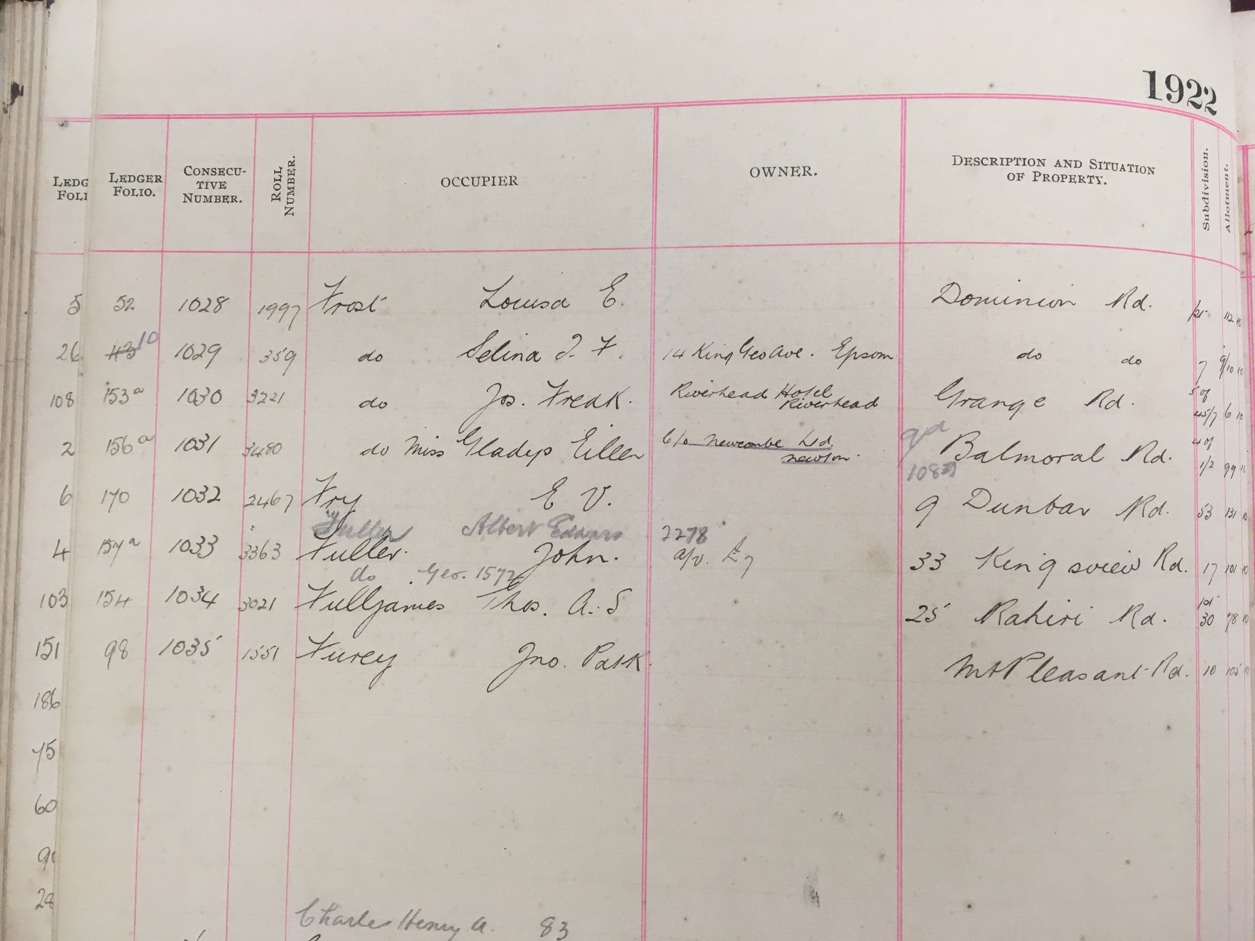 Auckland Archives 1922 Rate Book, John Fuller, 33 Kingsview Road, Auckland
Whilst I was at the Auckland Archives, the Librarian very kindly checked out the Kingsview Road property on Google maps for me and we discovered that the front half of the property had been subdivided off and another house had been built on the garden; so it would be a matter now of accessing a battle-axe driveway to the original home.
This is where I leave my research for now on the Fuller Family of Auckland, but excitingly, after emailing a descendant of May Fuller, I have already had two lovely email replies from her extended family, one from Brisbane and one from London, after my email was forwarded to several branches of May's family. News has come through that the descendants of May Fuller are thrilled to have the Fuller connection with Johnny Fuller's family, after receiving my email explaining about Geoff's and my visit to the Fuller's House, Geraldine, 18 Queens Parade, Devonport on 9 March 2019. The emails explained that May Emily Victoria Fuller (1892-1955), the youngest daughter of John Fuller (1860-1923) and his second wife Emily Matilda Crier (1861-1932) married Henry Thomas Grubb (1882-1962) on the 25 November 1919 in Auckland and they had three daughters, Margaret Emily Grubb (1920-2004), Geraldine Florence Grubb (1923-2009) and Barbara May Grubb (1928-2008).
One interesting thing I noticed during my Auckland Electoral Roll research on May Fuller was that Henry Grubb was living next door to the Fullers in Queens Parade and from information from the Thompsons, there was also a family of builders called Grubbs who were still living in the area 35 years ago.
Virginia Rundle
16 March 2019