The beginning of 1899 was marked by a decision to take the Fuller Myriorama Company to Australia and Melbourne was the first destination chosen by the family. John Fuller's sons Ben and John were more business minded than their brother Walter, who was happy to let other members of the family make these decisions. He was a gentle and gifted musician who just wanted to play music and direct an orchestra. His brothers on the other hand were more ambitious and took on their father with their big ideas to further the family business.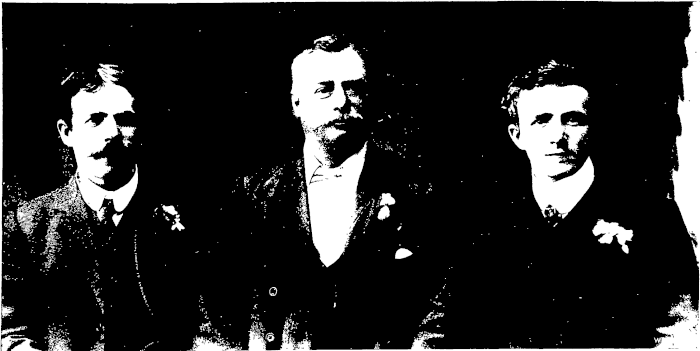 Portrait of Ben, John and Johnny Fuller, Otago Witness, 29 March 1905
An interesting article appeared the Australian newspaper at the end of January 1899 describing the entertainment business in New Zealand as overflowing with touring entertainment companies. It may well have been this reason that the Fullers decided to suspend their activities and initiate another area for their enterprise.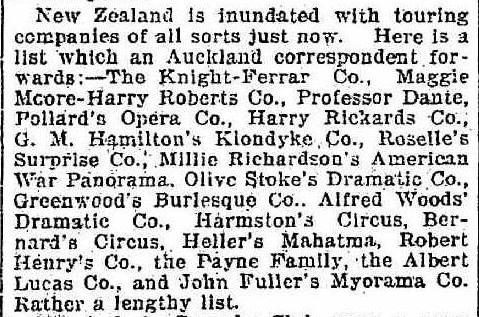 Sunday Times, 29 January 1899
John Fuller's Myriorama Company had returned to Auckland at the end of September 1898 and had been performing for the city audiences for about three months. John and his family probably had discussions about what to do next.
The Fuller Family purchased a set of historical wax models from Kreitmeyer of Melbourne, and immediately set them up in Auckland where they would be displayed in the foyer of the theatre. It was another way of extending the interest of their audiences. There was a huge amount of interest in English and European figureheads, Prime Ministers, famous explorers, historical characters, celebrities and even criminals. These life-like wax models were a great draw card for the Fullers, who were intent on keeping at the forefront of the entertainment business.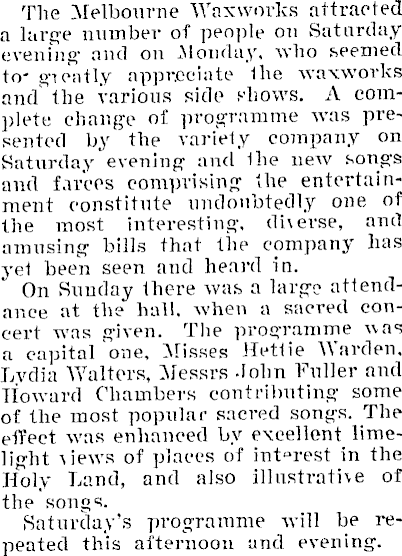 Auckland Star 3 January 1899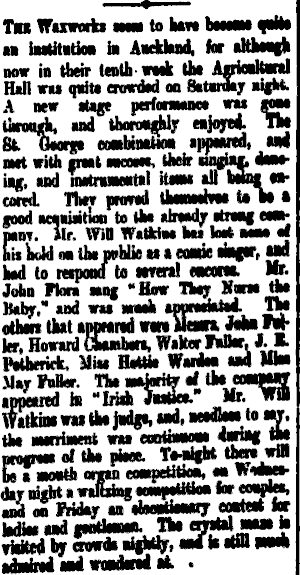 New Zealand Herald, 6 February 1899
John Fuller was using every ploy he could think of to keep his audiences amused and interested. Dancing, mouth organ competitions, an elocutionary contest, wax models and crystal mazes contributed to the merriment. It was well received and reviewed.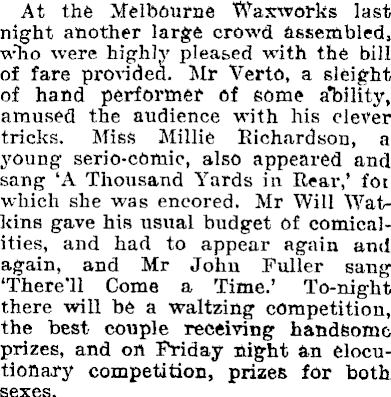 New Zealand Herald, 8 February 1899
By March the Fuller's were touring again, this time I found clippings for the family in Nelson and Christchurch, and in June they were to take this show to Australia. Interestingly, this was the first time that the Fullers diversified with Ben Fuller staying behind in New Zealand touring with the waxworks models and other comedy and musical acts.
Ben took Fuller's Waxworks to Dunedin and Wellington in 1899.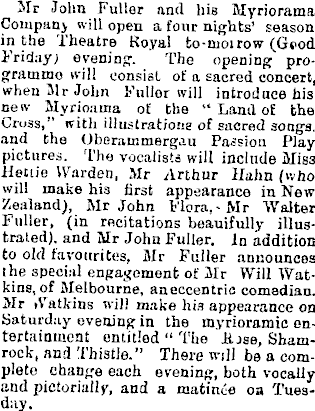 Nelson Evening Mail, 30 March 1899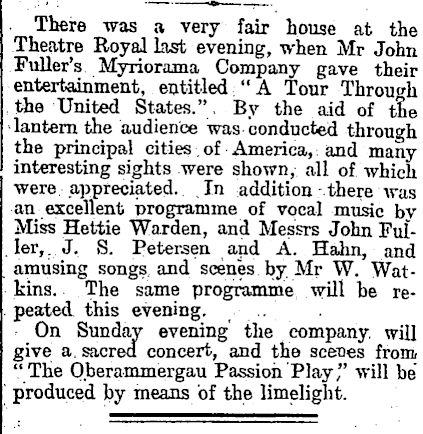 Star Christchurch, 27 May 1899
Christchurch Evening Star, 31 May 1899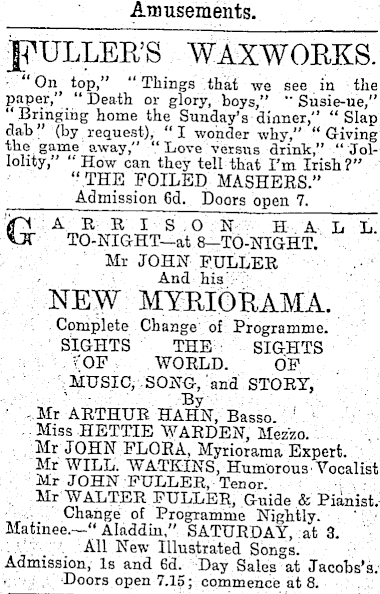 Otago Daily Times, 7 June 1899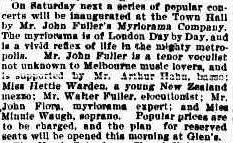 Melbourne Age, 26 June 1899
Punch, 29 June 1899 Fuller's Myriorama Advert for Melbourne Town Hall
Punch, 6 July 1899 Fuller's Myriorama Ad for Melbourne Town Hall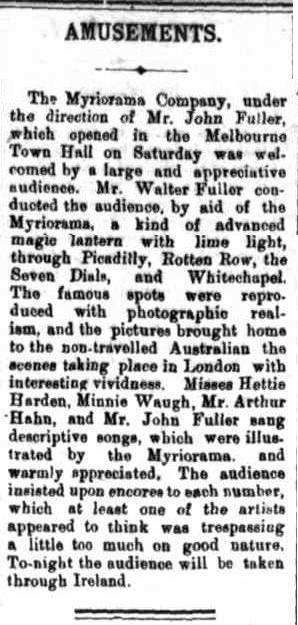 Prahran, Telegraph 8 July 1899
Note Hettie's name is misspelt as Harden instead of Warden.
The Age, 12 July 1899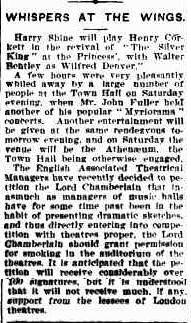 Sportsman, 18 July 1899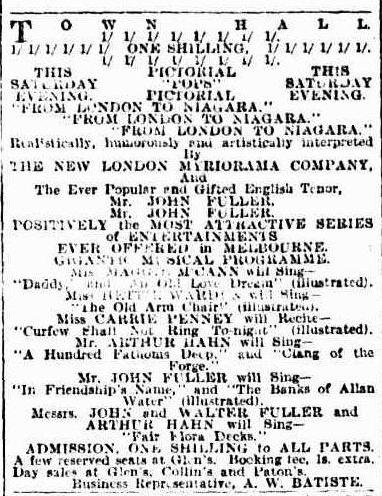 The Age, 15 July 1899

The Age 29 July 1899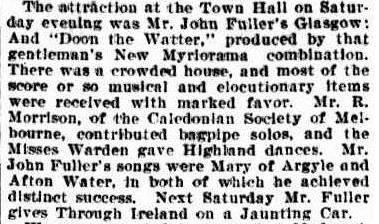 The Age, 31 July 1899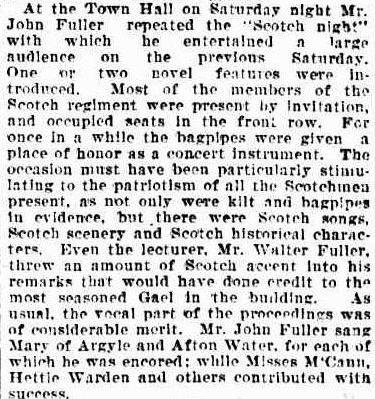 The Age, 7 August 1899
Bendigo Independent, 12 August 1899
I could see from the reviews that John Fuller Senior was accompanied on the tour to Victoria by Hettie Warden and Walter Fuller, however there was no mention of Lydia, Johnny or Ben Fuller. I felt certain that Johnny was there as he would have been manning the Myriorama. I could also see that the Victorian newpaper critics were warming to the Fuller's entertainment, as time went on. It was interesting to see how they had to make a name for themselves, not only with the press but with their audiences.
It was not until the Fullers arrived in Ballarat that I was able to finally capture a newspaper review including John Flora, who was described as a Mechanician and who received good applause for his clever behind the scenes work. See the article following the Bendigo Independent review.
After Melbourne, the Fullers took their show on the road to Bendigo, Ballarat, Williamstown and Castlemaine, Portland and Hamilton.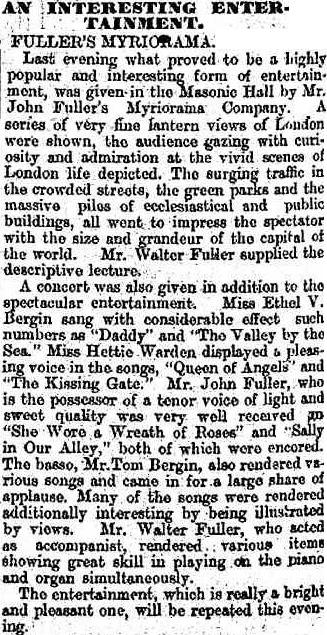 Bendigo Independent ,16 Aug 1899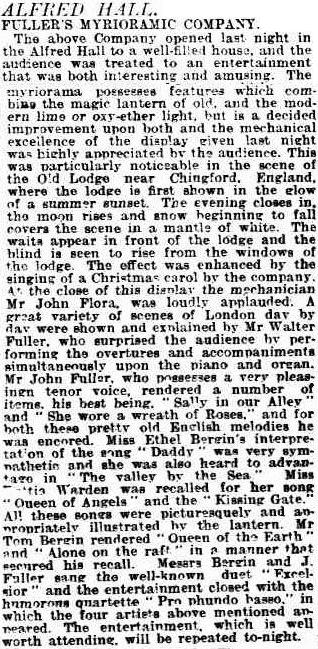 Ballarat Star, 18 August 1899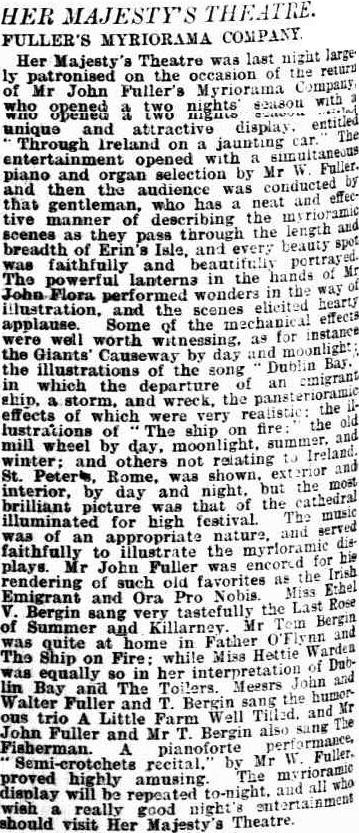 Ballarat Star, 25 Aug 1899
Bendigo Independent, 28 August 1899
It was wonderful to capture this Letter to the Editor of the Bendigo Independent show Johnny's keen interest in all things financial. It was also interesting to see how he had included his stage to accompany his letter. The next article from the Williamstown Chronicle, 18 August 1899, is most interesting as it calls into question the taste of the time and the realisation that minstrel shows should be a thing of the past, however Australian audiences were still entertained by them, when there was a more superior form of entertainment which the author recognised as that from John Fuller and Sons.
Williamstown Chronicle, 18 August 1899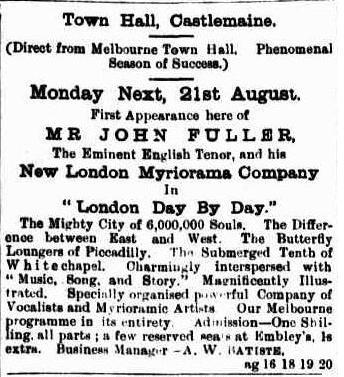 Mount Alexander Mail, 19 August 1899
The Fullers had hired a new business manager, Mr A. W. Batiste, for their Australian tour and the following page from The Portland Guardian, 20 September 1899 prints an interesting article, whereby Mr Batiste goes ahead of the tour readying the halls for the Myriorama, giving a more detailed idea of their day to day life.
Mr John Flora is described as a myrioramic expert. In other newspaper articles, I have seen him described as an electrinoptician.

The Portland Guardian, 20 September 1899
The Hamilton Spectator, 28 September 1899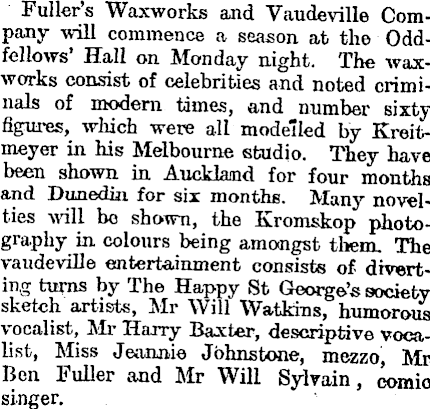 The Christchurch Star, 9 September 1899
This article from The Christchurch Star was so informative and helpful in identifying that Ben had indeed remained behind in Dunedin, New Zealand to run the Fullers Waxworks Vaudeville Company, whilst Johnny and Walter Fuller took the Myriorama Company on the road in Australia.
By the beginning of 1900 the Fullers had a new company, The Waxworks Bijou and Bijou Minstrel Group, and had diversified their entertainment companies. I believe that this was indeed the very beginning of their entertainment and theatrical empire. Good management and diversification was critical, and who better to do this than the Fuller family themselves.

Auckland Star, 19 July 1900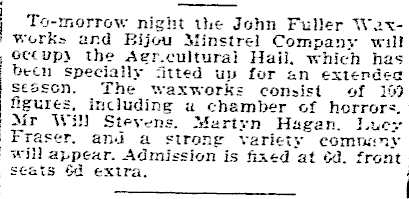 Auckland Star, 20 July 1900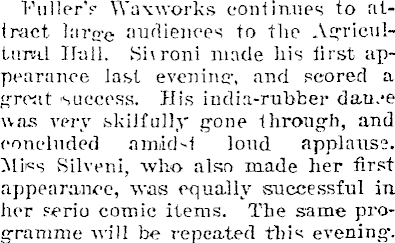 Auckland Star, 30 November 1900
It has been interesting for me to work out from the newspaper clippings from New Zealand what Ben Fuller's was up to. Missing from the Australian Tour, it turns out that Ben Fuller was in Dunedin showing his Waxworks and Bijou Company, and had struck up a friendship with George and Jessie Burton. George and Jessie Burton owned and managed the Imperial Hotel in Princes Street, which was conveniently just a short walk away from the Alhambra Theatre. Ben and his company of actors, humorists and singers were living at the Imperial Hotel during the six months the Company were playing in Dunedin.
The Burtons six young children were born during the 1890's, however, in late September of 1899 George Burton tragically died at the young age of 34 years from a heart attack, he is buried in Southern Cemetery, Dunedin, also known as Otago General Cemetery (Lot 14, Block 12B).
Headstone of George Burton, Southern Cemetery, Dunedin, image taken by V Rundle, March 2018
Geoff and I visited Dunedin in March 2018, our fourth trip to New Zealand since 2011. It was a good walk from central Dunedin to Southern Cemetery and the weather was glorious. Southern Cemetery is a magnificent and well kept cemetery perched on a hillside with lovely leafy outlooks. George Burton is buried separately to his wife Jessie, but in the same section of the cemetery. His grave is simply marked BURTON.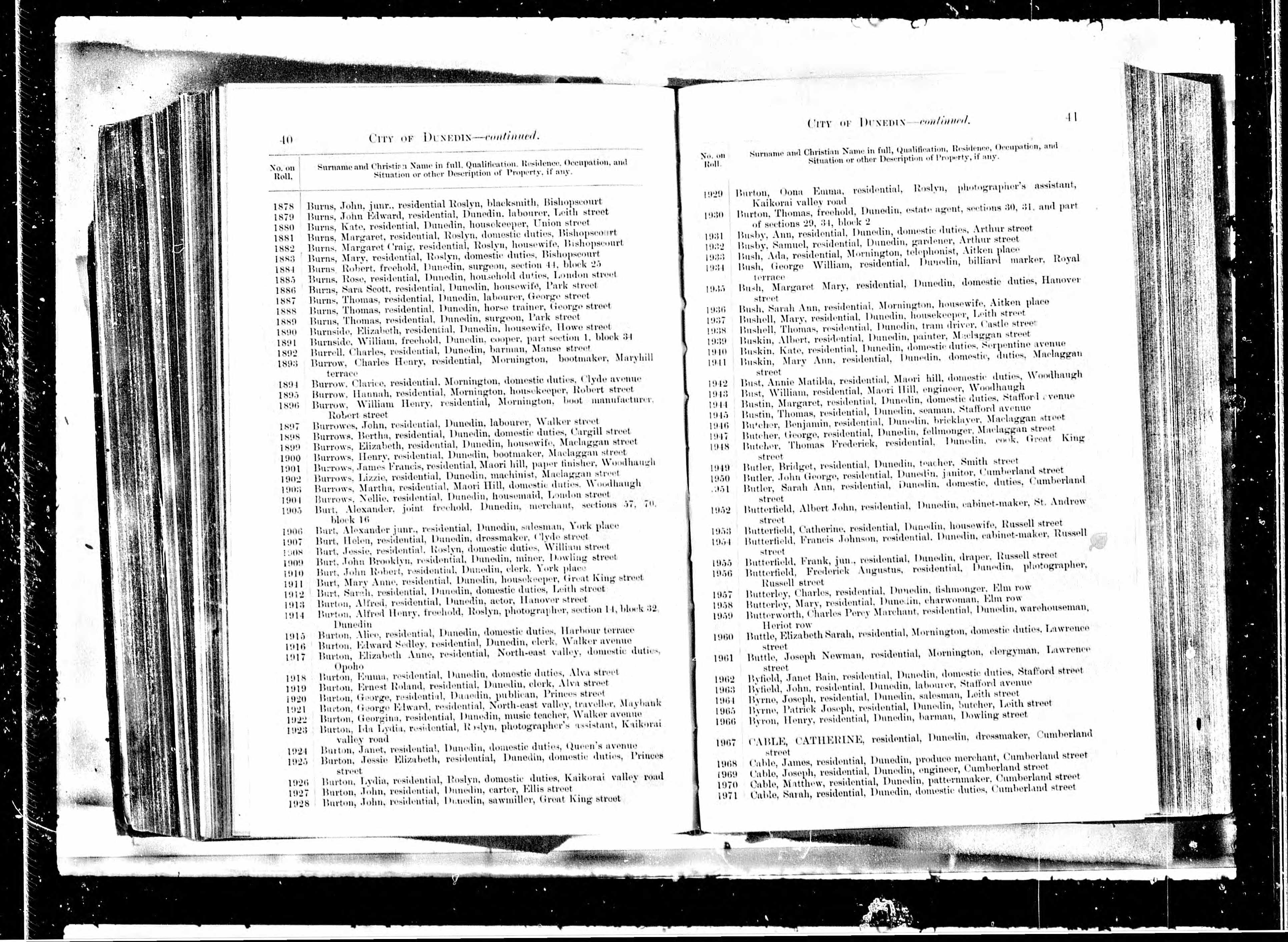 New Zealand Electoral Record, Dunedin 1896, for George and Jessie Burton
It must have been a terrible shock and a difficult time for the newly widowed Jessie Burton, but from all accounts she was an incredible organizer and a very beautiful and much admired woman.
Just a year later on 6 October 1900 Jessie Burton nee McDonald and Ben Fuller married at St Matthew's Church in Stafford Street, Dunedin.
Alistair Duncan who wrote about Fuller's Theatres in his book Actor's Blood explains some of the circumstances:
" Perhaps, it's somewhat cynical to wonder why. Quite simply, it could be that he came to love her, and by all accounts she was a lovable as well as a remarkably capable woman. It was unusual though, for a man in those days to marry a woman older than himself. Ben was 25, Jessie 30. And part of her dowry was the baggage of six children.
Perhaps Lily Thompson had something to do with it. A pianist of concert platform standard, Lily was also an excellent accompanist, and before Ben removed himself to Dunedin, often appeared on stage in this role with his father in Auckland. Naturally, she became acquainted with the rest of the family and Ben soon found himself much smitten, so much so that he contemplated marriage. When this reached the ear of Lily's father he immediately suggested that Ben get this idea right out of his head. It was one thing for the apple of Mr. Thompson's eye to gain practice and stage presence and social confidence by playing the piano for a theatrical person; it was quite another to marry one.
MISS LILY THOMSON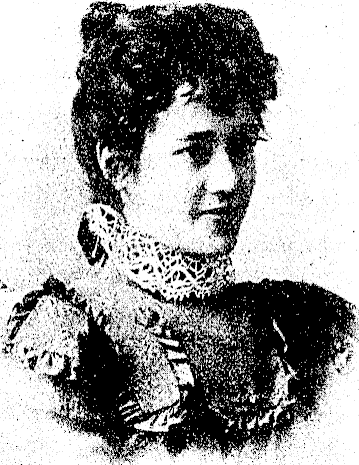 New Zealand Illustrated Magazine, 1 June 1901
Possibly Ben proposed to Jessie on the rebound, but an equally valid motive, and typical of him, would have been that he decided it was time to marry, and therefore set out to put this aspect of his life in order. Never a man to do things by halves, he may well have considered that if he were to marry he might as well be much married, and his blazing confidence that there was little or nothing he could not handle would have convinced him that if Jessie and her brood needed someone to look after them, he was just the man to do it. Whatever the motive, in October, as well as changing Jessie's name to Fuller, Ben inherited William 11, Gladys 9, Hilda 8, Jessie 7, Lionel 5 and Alex 4."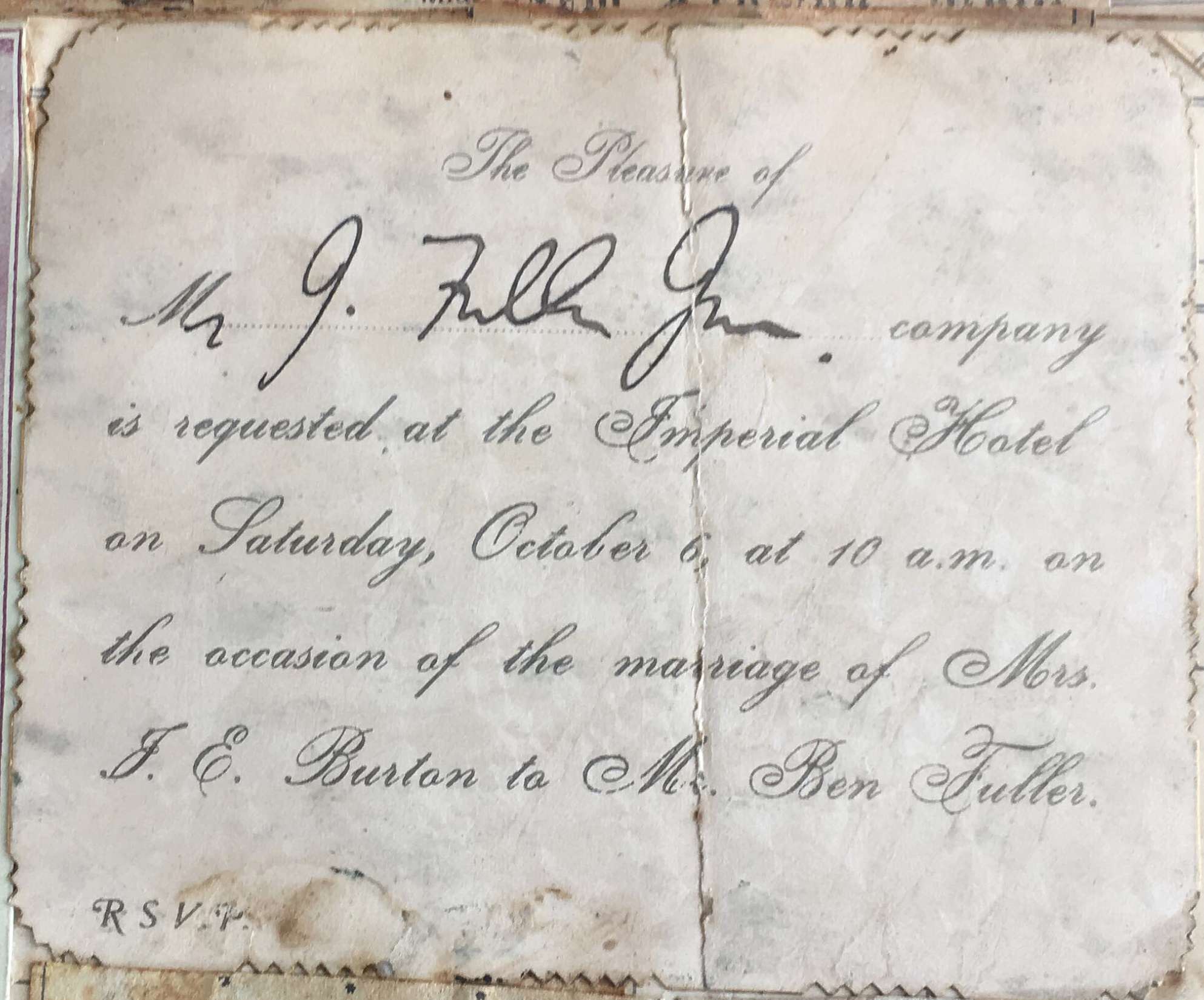 Invitation of Mr J. Fuller Jnr. to the marriage of Mrs J. E. Burton and Mr Ben Fuller, which I found in Johnny's scrapbook.
It would seem to have been a formal affair, and also very planned with invitations to the wedding sent out well in advance of the marriage.
Marriage of Ben Fuller and Jessie Burton, St Matthew's Church.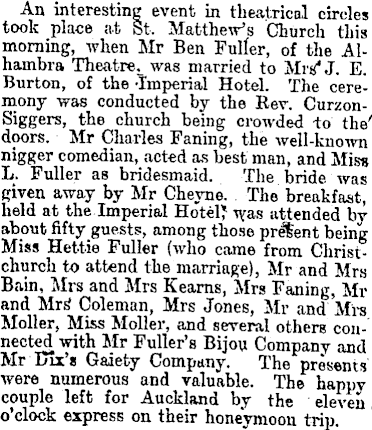 Dunedin Evening Star, 6 October 1900
Wedding Portrait of Mr Ben Fuller, Otago Witness, 10 October 1900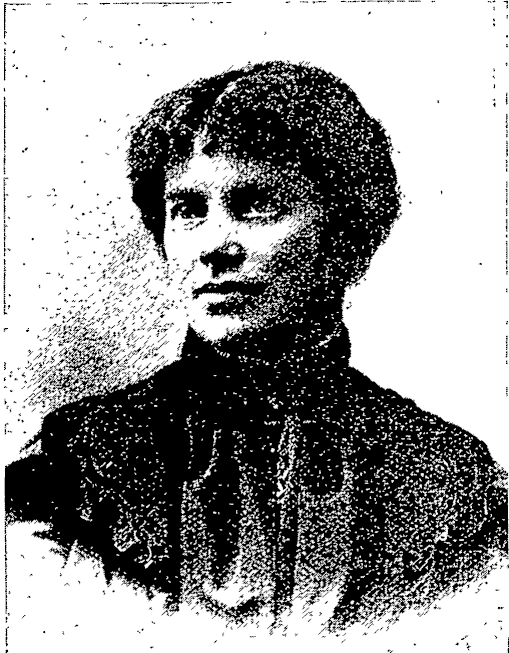 Wedding Portrait of Mrs Ben Fuller, formerly Mrs George Burton, Otago Witness, 10 October 1900
The Ben Fullers were on the move the following month, whether it was this proposed move that spurred Ben's marriage proposal, we shall not know, but clearly Ben Fuller's life without his new love, Jessie, was not something he contemplated. The following month Ben and Jessie Fuller had moved to Wellington.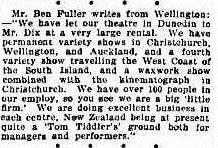 Wellington Referee, 7 November 1900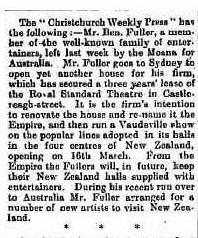 Sydney Sportsman, 12 March 1901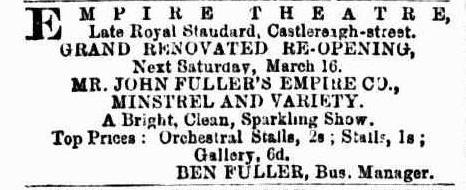 Sydney Mail, 16 March 1901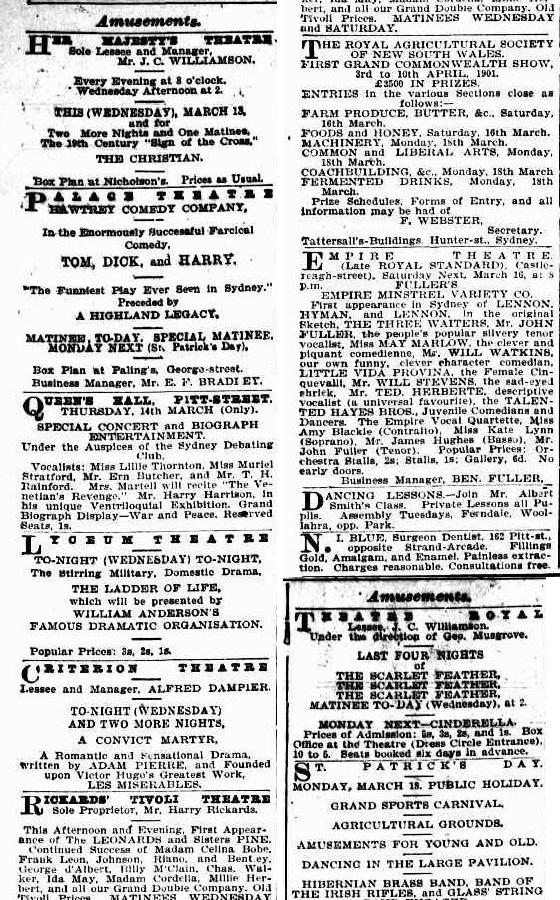 Australian Star, 13 March 1901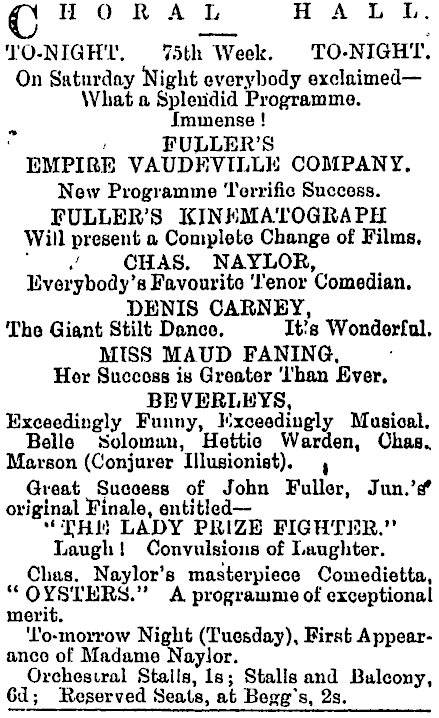 Wellington Evening Post, 27 May 1901
The Colonist, 31 May 1901
The newspaper article from The Colonist, shows Johnny presenting a diamond ring to Mr. Petherick, retiring manager of the Choral Hall in Wellington. Two months later Johnny is in Sydney.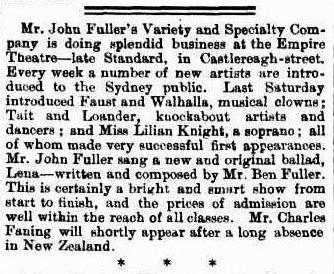 The Worker, Wagga, 8 June 1901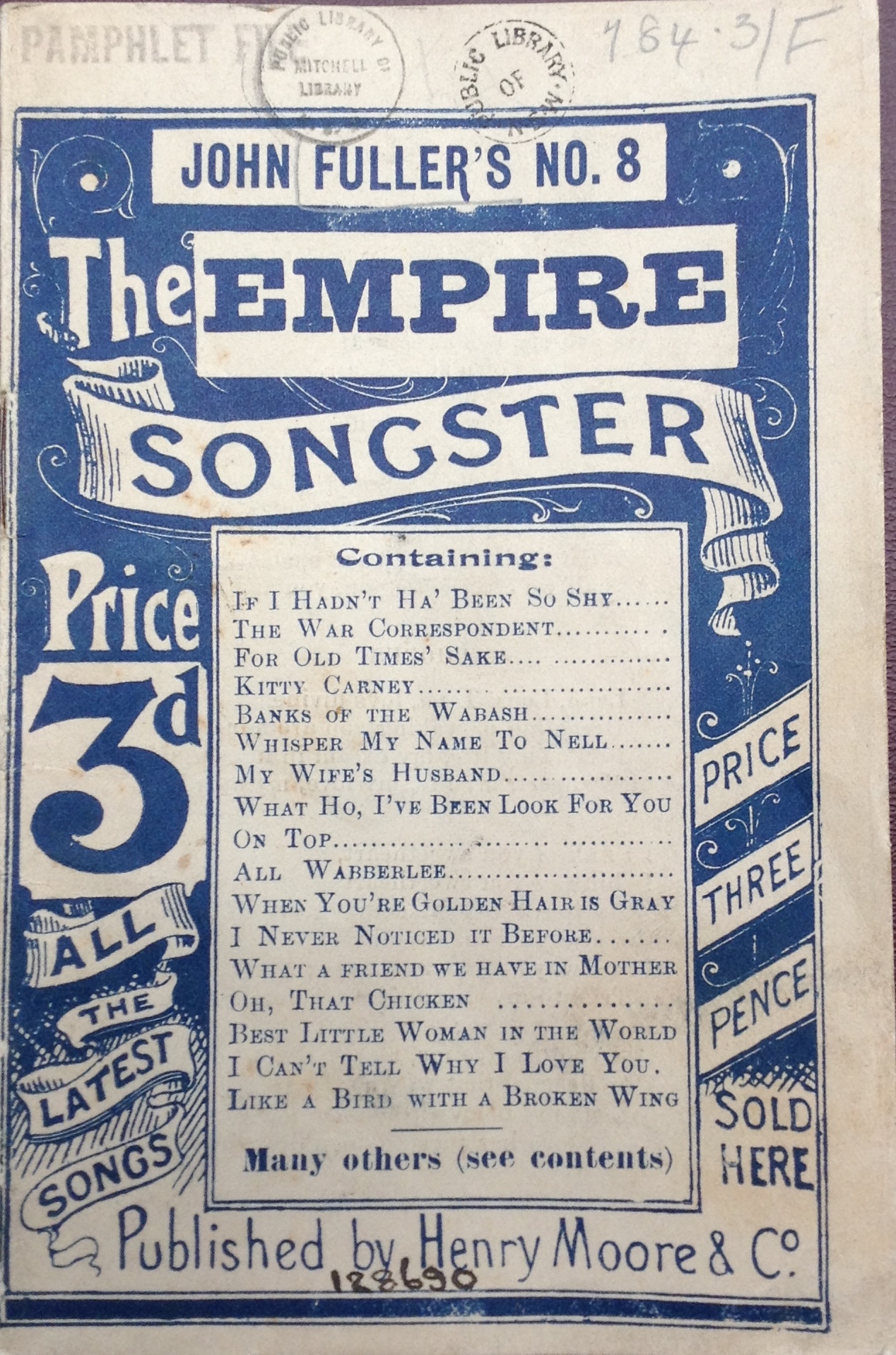 John Fuller's Empire Songbook No 7, box lodged with The State Library of New South Wales
John Fuller's Variety and Specialty Company is showing at the Empire Theatre in Castlereagh Street, John Fuller sings a new and original ballad, Lena – written and composed by Mr. Ben Fuller.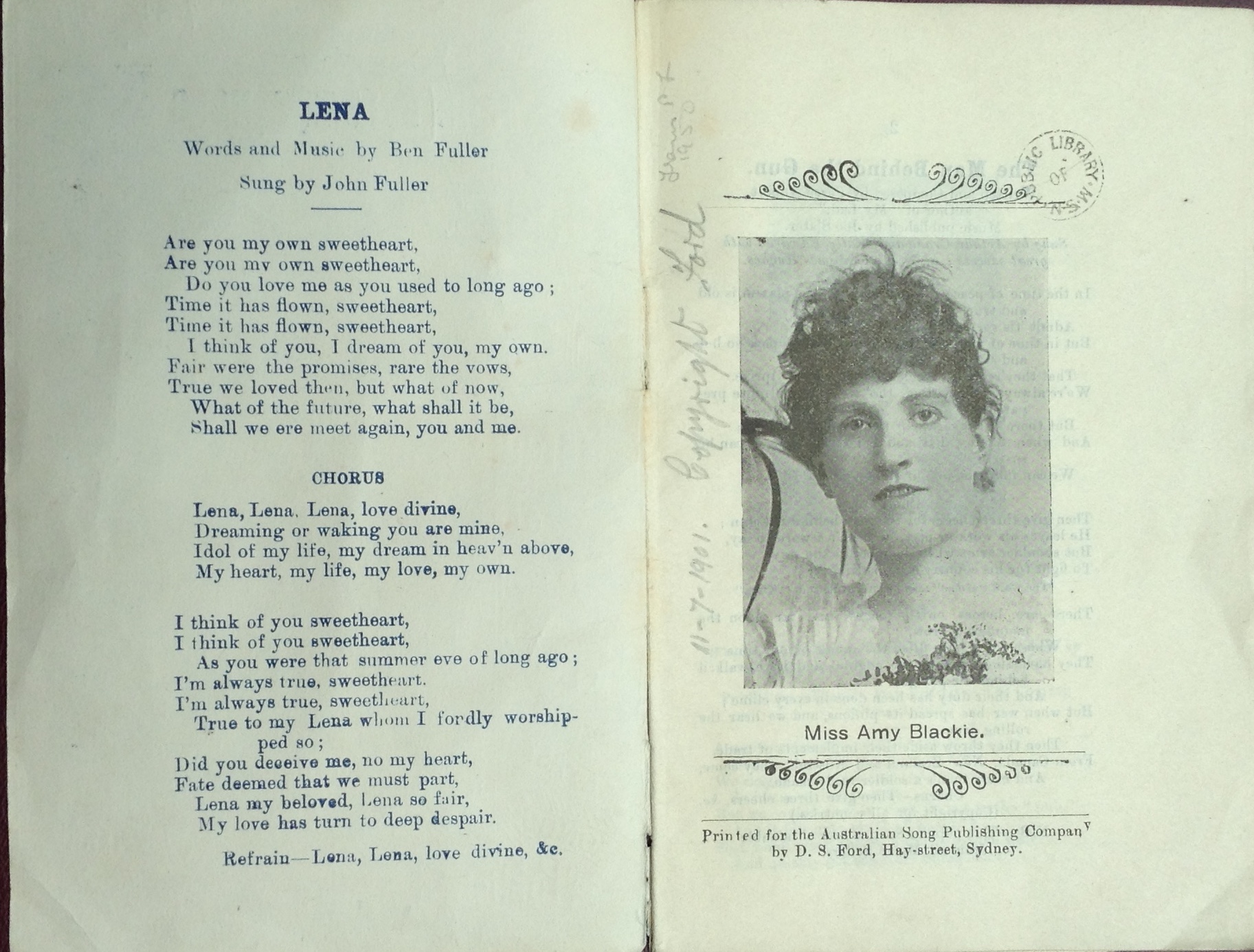 John Fuller's Empire Songbook No 7, Lena and portrait of Miss Amy Blackie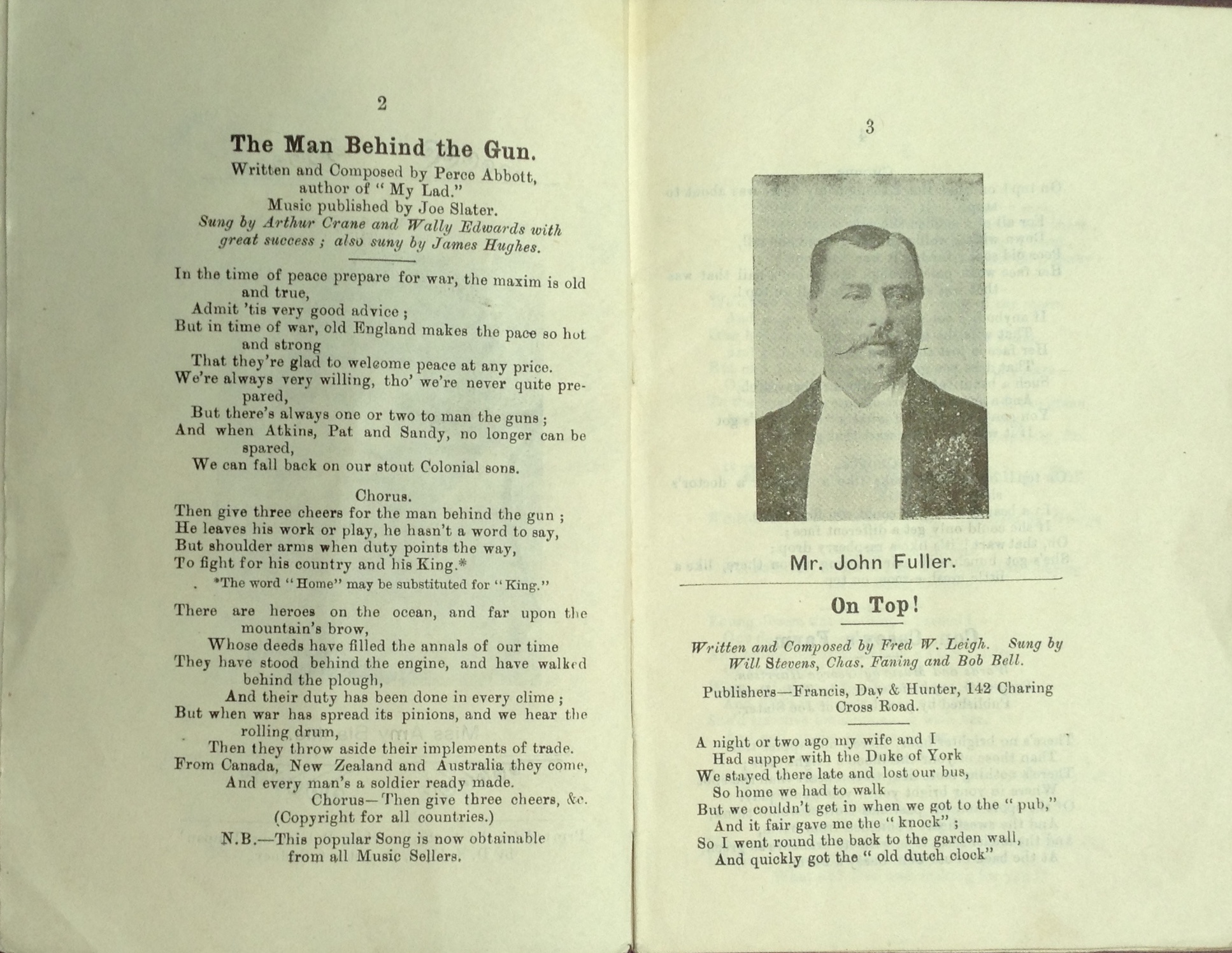 John Fuller's Empire Songbook No 7, portrait of Mr. John Fuller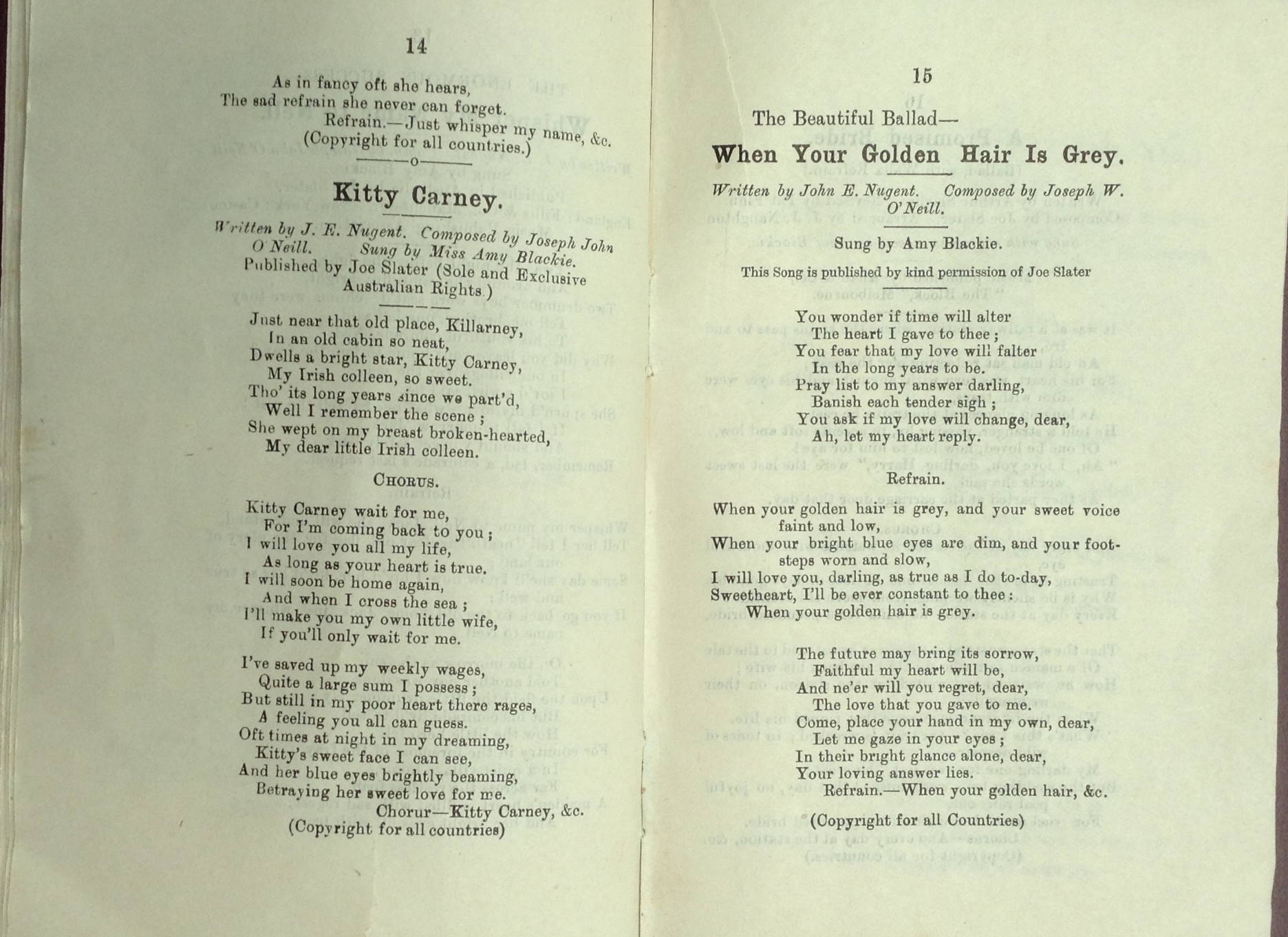 John Fuller's Empire Songbook No 7, Amy Blackie's song, Kitty Carney
The songbook is lodged with the State Library of New South Wales is a box of ephemera and Songbooks, amongst these gems I found two of John Fuller's Empire Songbooks, No 7 and 8. It was so interesting to see the song Lena sung by John Fuller, words and music by Ben Fuller, another of his songs listed was for the Banks of the Wabash. Also included was a portrait of Miss Amy Blackie, who famously sang for Fuller's Theatres, several of her popular songs, Whisper my Name to Nell, When your Golden Hair is Grey and Kitty Carney also appear in the book.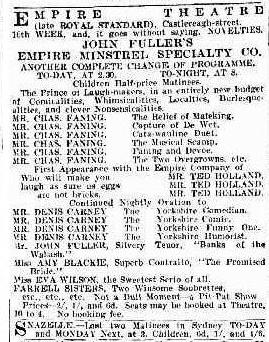 Daily Telegraph, 29 June 1901, Empire Theatre, Castlereagh Street, Sydney
Miss Amy Blackie sings The Promised Bride and John Fuller Snr., Banks of the Wabash at the Empire Theatre on 29 June 1901. Whilst Ben Fuller is in Sydney with his father John Fuller Snr., John Fuller Jun. is in New Zealand, performing in Fuller's Empire Vaudeville Company.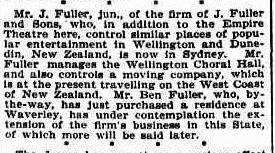 Australian Star, 20 July 1901
Ben Fuller has just purchased a residence in Waverley, Sydney for the purpose of expanding their business interests in the State.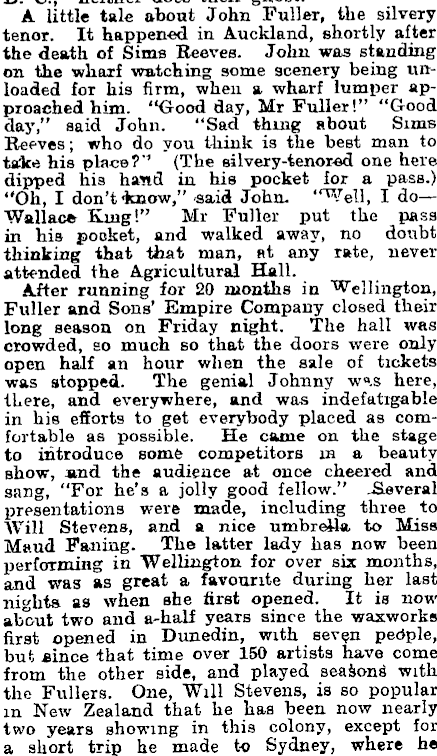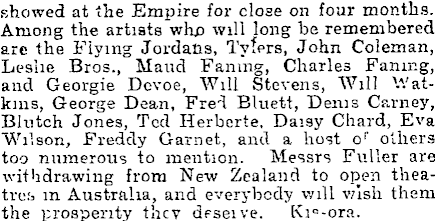 "Stage Chat", The Otago Witness, 14 August 1901
I love the fact that John Fuller Snr is down at the docks keeping an eye on his precious theatrical scenery. It gives an insight into the thoroughness and earnestness of their business. John Fuller had an excellent reputation as a fair businessman and also as a jovial, talented and friendly personage. He was not forgetting his humble beginnings, nor that fact that he would not countenance money wasting. By turning up at the docks, he would have impressed his workmen.
This article is also important because it shows that a decision had been made to withdraw from New Zealand, put their theatres up for good rents and move to open theatres in Australia. Sydney in particular must have been seen as a good entry for the Fullers, it had been the centre of a Bubonic plague scare in early 1900, the disease had been spreading from Asia, through Malaya, the Philippines, Japan and even San Francisco and South America. In New South Wales 303 people caught the disease and 103 people perished. It was enough to dull the enthusiasm for Sydney-sider's need for entertainment. A theatre was considered a dangerous place in times of plague and disease, health authorities must have worked hard to ensure patrons safety, however, just the mention of the word plague was enough to create panic, and the ensuing empty theatres in Sydney may have sent some business to the wall. Timing is everything, and by March 1901 the Fullers had obviously decided to take advantage of this temporary lull in the entertainment business in Sydney. They would have been looking for reduced rents under the circumstances.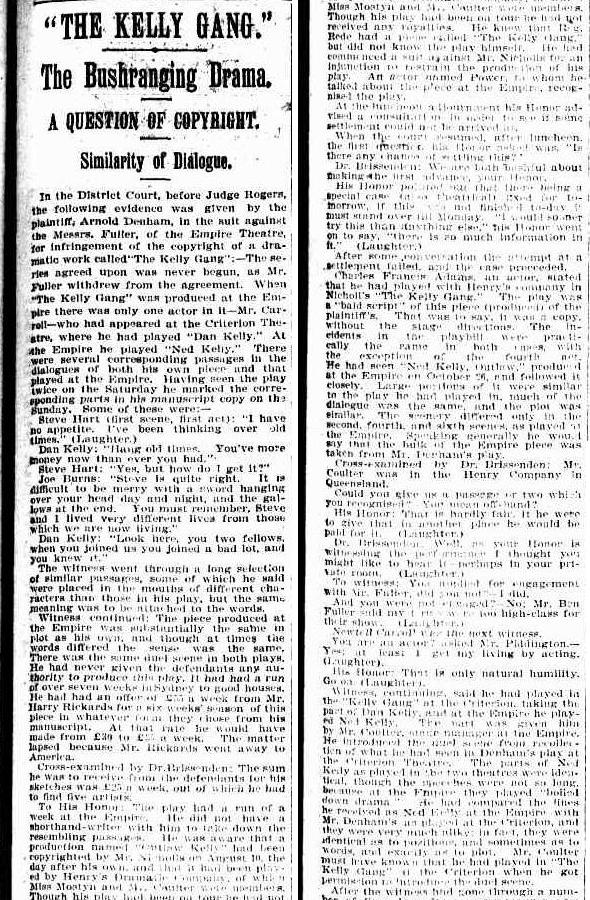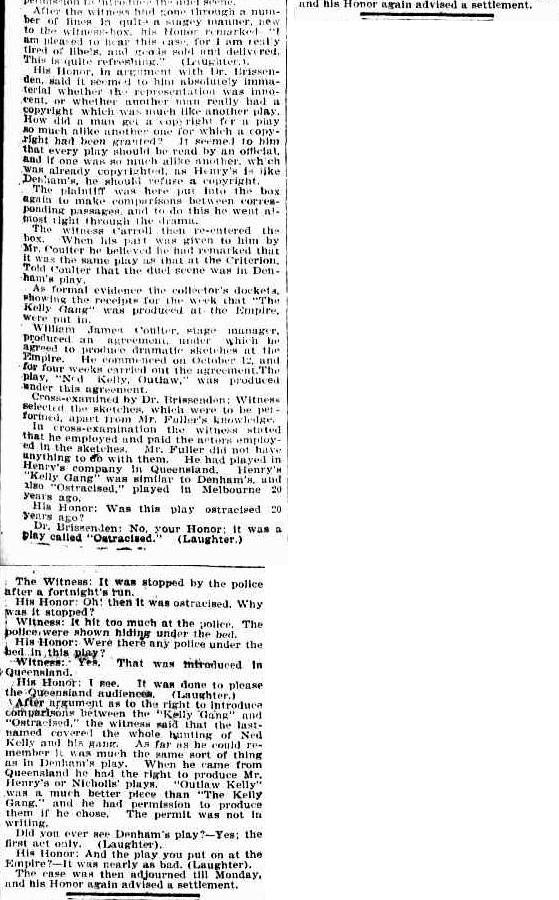 Australian Star, 13 December 1901
Arnold Denham bought a breach of copyright case against the Fullers for two hundred pounds. There was a lot of hearsay in the case, much dissention in regarding to the originality of the play, including much "borrowing" of scores and songs. It sent the judge into a temper, due to the fact that the parties could not settle the dispute out of court, and in the end the judge settled an amount of twenty-one pounds in favour of the plaintiff.
The Fullers turned their interests away from the courts to stage a pantomime, their first, called Robinson Crusoe, which opened on Boxing Day of December 1901. It was popular with the audiences, with sailors, pirates, cannibals apparently played by a group of beautiful women. The wreck of Crusoe's ship was enthusiastically applauded.
On the 6 January 1902 Jessie gave birth to Alfred Benjamin Fuller, known to the family as A. Ben Fuller in Sydney, New South Wales, with the birth being registered in Waverley.
Australian Birth Index 1788-1922:
| | |
| --- | --- |
| Name: | Alfred B Fuller |
| Birth Date: | 1902 |
| Birth Place: | New South Wales |
| Registration Year: | 1902 |
| Registration Place: | Waverley, New South Wales, Australia |
| Father: | Ben Fuller |
| Mother: | Jessie E |
| Registration Number: | 8227 |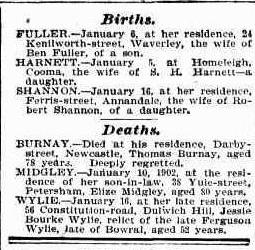 Birth notice for A Ben Fuller, Australian Star, 18 January 1902
Tasmania was also an area of interest to the Fullers in 1902 and their Easter concerts were well covered in the local newspapers.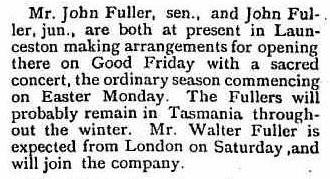 The Newsletter (Aust), 15 March 1902

The Newsletter (Aust), 22 March 1902
TASMANIAN LEASE OF THE BIJOU THEATRE
The Daily Telegraph, 29 March 1902
The Bijou Theatre in Launceston, Tasmania is extensively renovated and later renamed The Empire Theatre.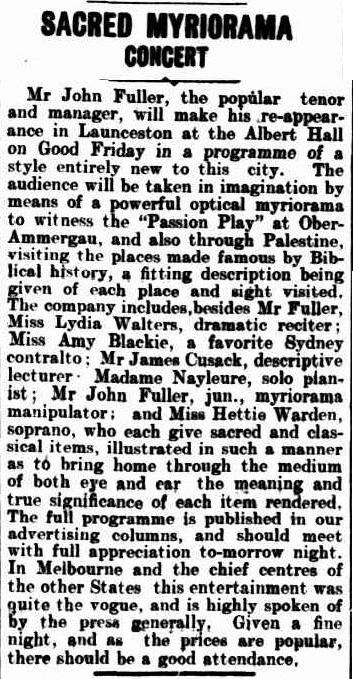 Daily Telegraph (Launceston), 27 March 1902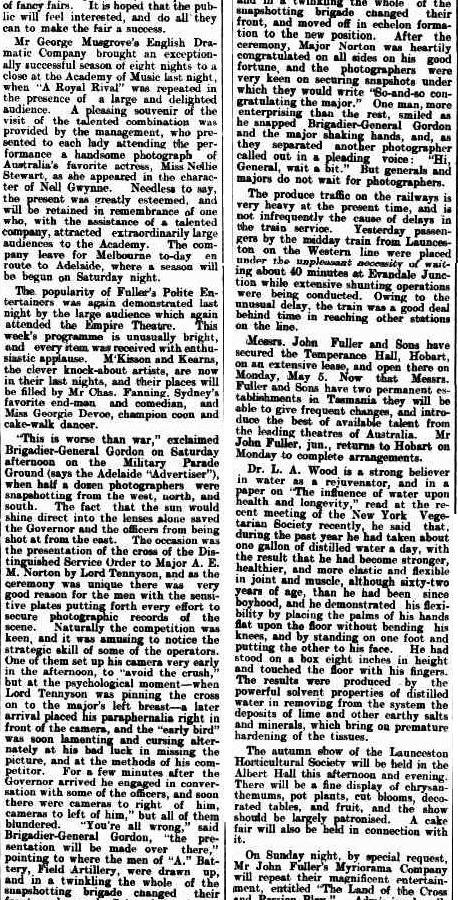 Daily Telegraph, 24 April 1902
Johnny Fuller had fallen in love with the beautiful Gertie Fraser from Newcastle. Gertie was a child star of the stage, a dancer and singer of some note. Her parents John Fraser and Annie Heath would have been very happy with the forthcoming marriage for their daughter to a member of the Theatrical Fuller Family. The Fraser family were well immersed in show business. Annie Heath's sisters Jane and Elizabeth had married two brothers William and Edwin Wynne who had taken the stage name Deglorian, they were performers, agents and trapeze artists. Gertie had performed since she was a child in Newcastle at various venues. She had the voice of an angel and a face to match. I am sure Johnny Fuller was completely spellbound by her beauty. During a stint working for Fullers Theatres that Gertie met Johnny. Gertie was employed by Ben Fuller to work at his newly opened theatre, The Empire, Sydney in September 1901.
Evening News, Sydney, 14 September 1901
The Empire Theatre was in Castlereagh Street in Sydney, before the Fuller's leased the building it was known as the Royal Standard Theatre.
Evening News, 18 September 1893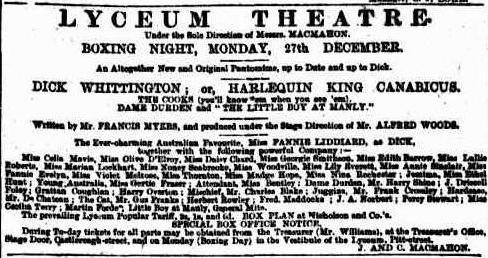 Sydney Morning Herald, 25 Dec 1897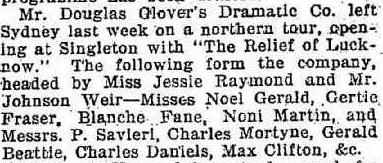 Sunday Times, 21 April 1901
Ballarat Star, 20 April 1898
Australian Marriage Index 1788-1950:
| | |
| --- | --- |
| Name: | John Fuller |
| Spouse Name: | Alice Gertrude Mary Fraser |
| Marriage Place: | Tasmania |
| Registration Place: | Tasmania |
| Registration Year: | 1902 |
| Page Number: | 0288 |
Hobart Newsletter, 28 June 1902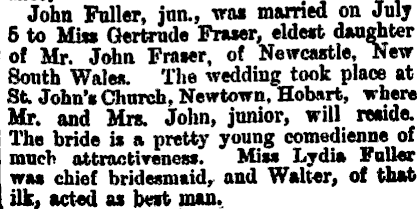 New Zealand Herald, 26 July 1902
I found this snippet from the Launceston Examiner 7 July 1902, entitled Orange Blossoms. Trove Digitised Newspapers is continually adding more regional titles to their website, more recently the Tasmanian News was added. It wonderful now to have such a full description of Johnny and Gertie's marriage from the Tasmanian News, with detailed information about the marriage, reception and honeymoon.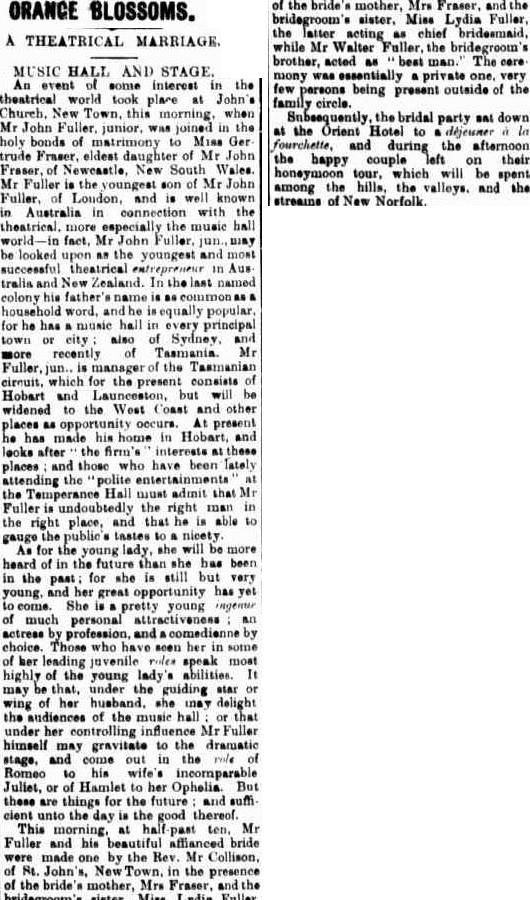 Tasmanian News, 5 July 1902
St John's Church, Newtown, Hobart
St John's Church, organ, photos taken 21October 2017 by Virginia Rundle
St John's Church, Interior. Images of St John's taken by Virginia Rundle 21 October 2017
Historic St John's Church is one of the oldest churches in Tasmania, and was built by convicts on a square floor plan. We were so lucky to be met by a kind parishioner who was doing the flowers for Sunday's service. She explained that the pews were for the settlers, and the galleries were for the convicts on one side, and the orphans on the other. Being above, it was seen to be less confronting for the congregation.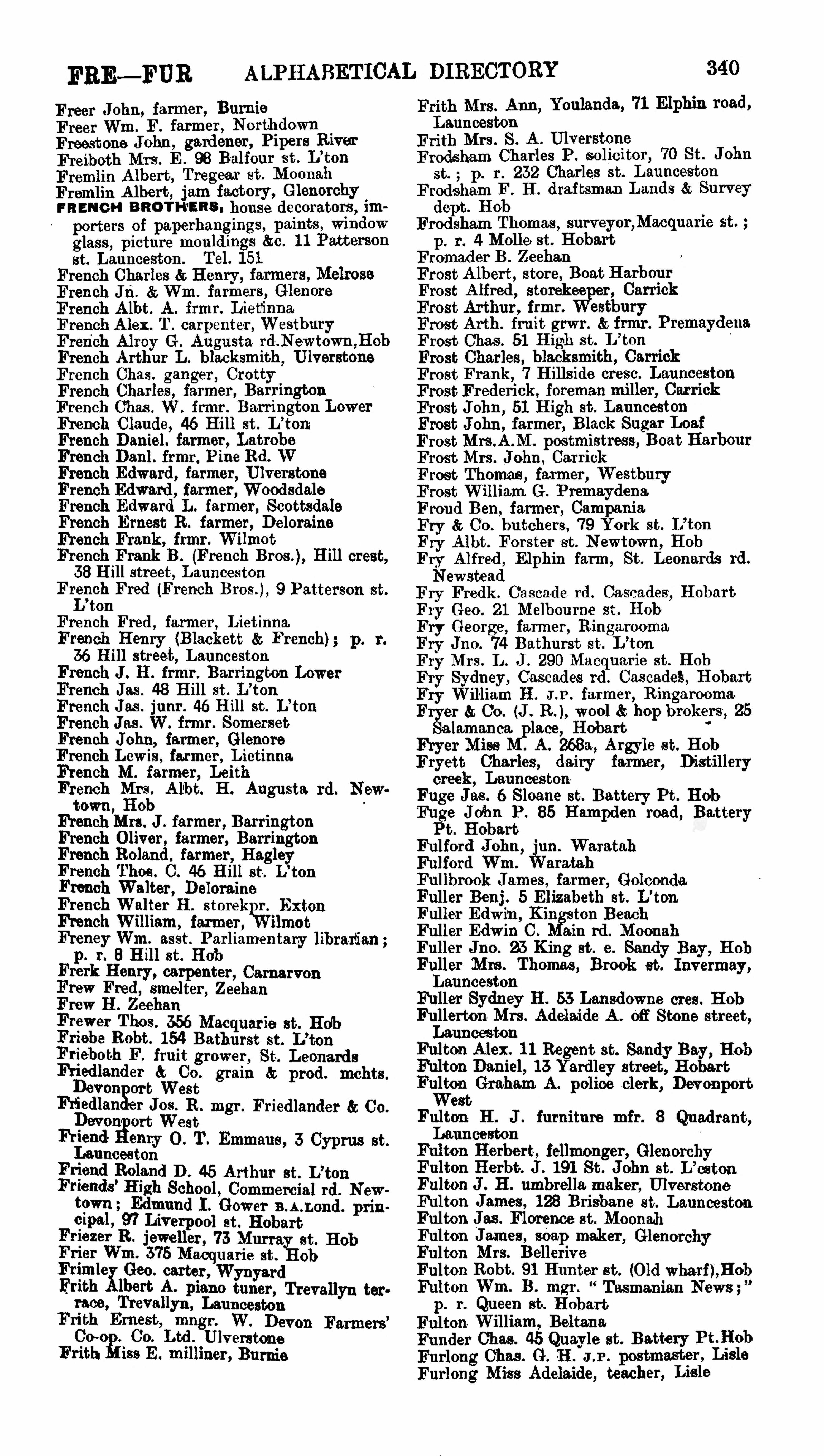 Wise's Directory of Tasmania 1903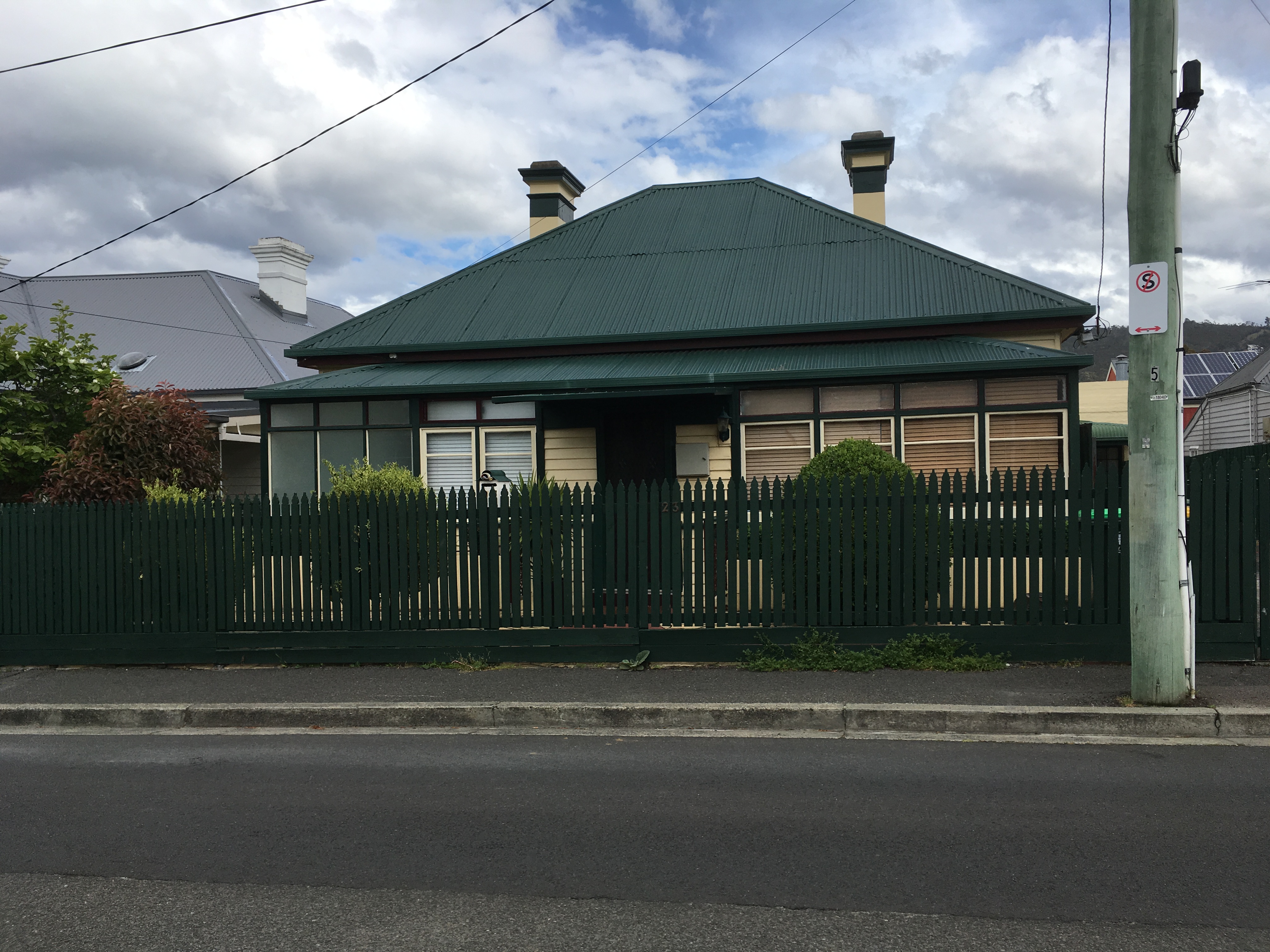 Johnny Fuller's home in 23 King Street, Sandy Bay, Hobart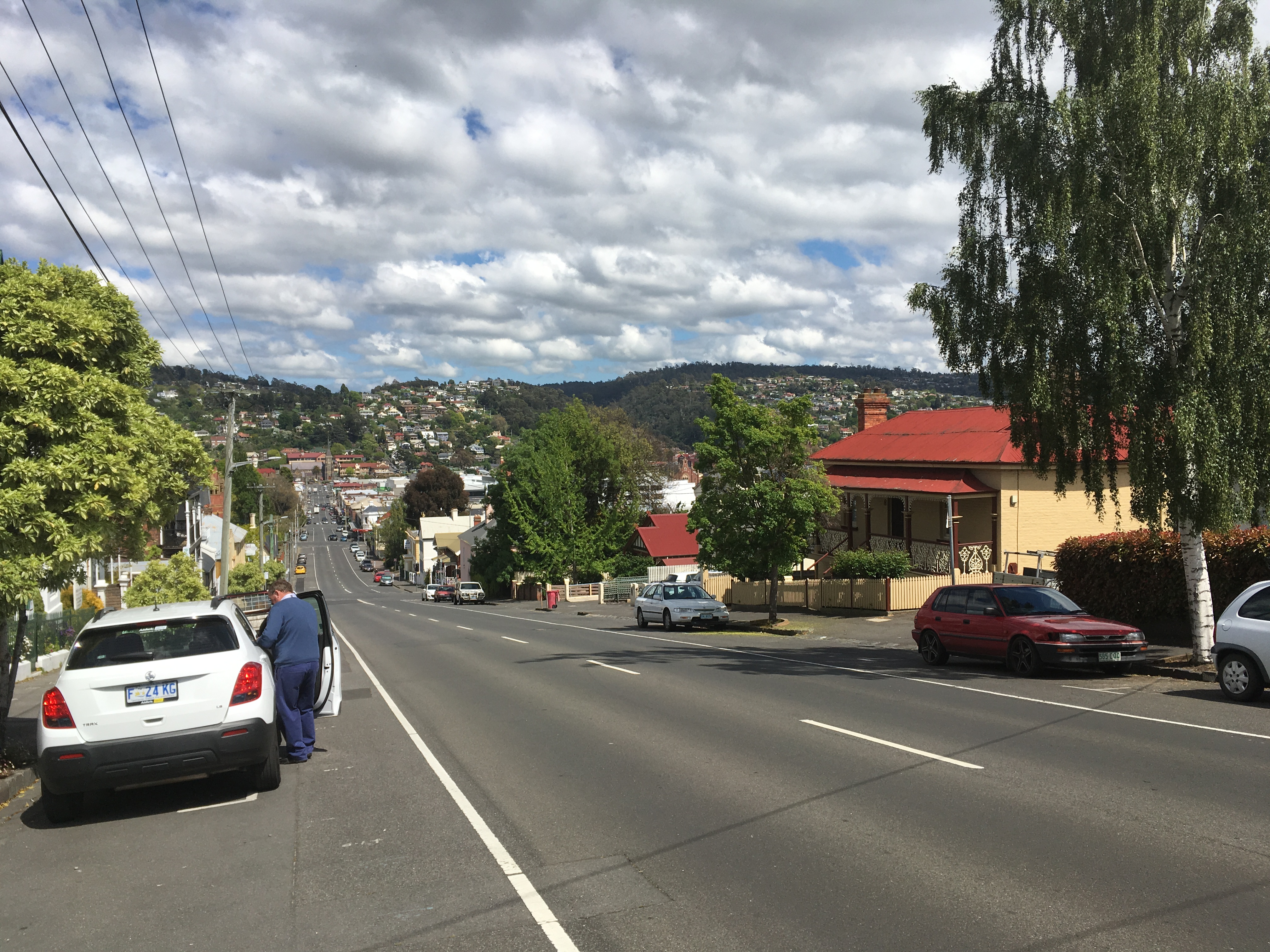 View from Ben Fuller's home in Launceston of the Tamar Valley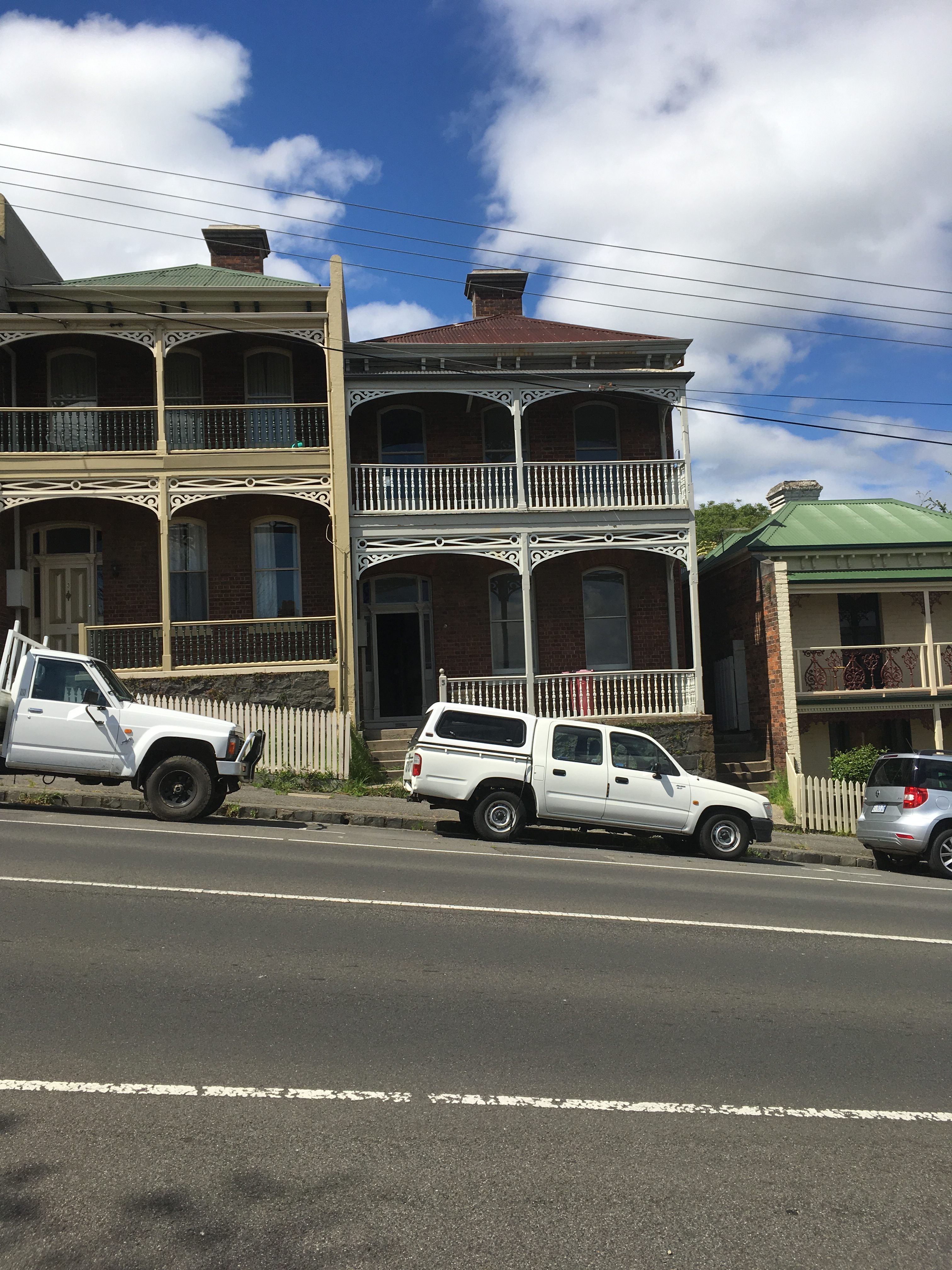 Benjamin Fuller's home, 5 Elizabeth Street, Launceston, Tasmania
The year 1902 was to be a landmark year for the Fullers with three siblings marrying by the time the year is out. Firstly, Johnny Fuller, then Walter Fuller and finally Lydia Fuller were all married.
Walter and Dolly were married in the same church that Johnny and Gertie Fuller had been married in earlier that same year. Dolly Cameron was the stage name of Walter's wife and in her married life she was actually known as Jessie Fuller.
Otago Witness, 10 September 1902

New Zealand Herald, 18 October 1902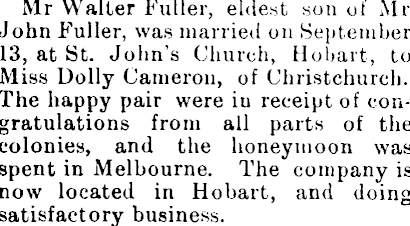 Newsletter, 1 November 1902

Daily Telegraph, 20 October 1902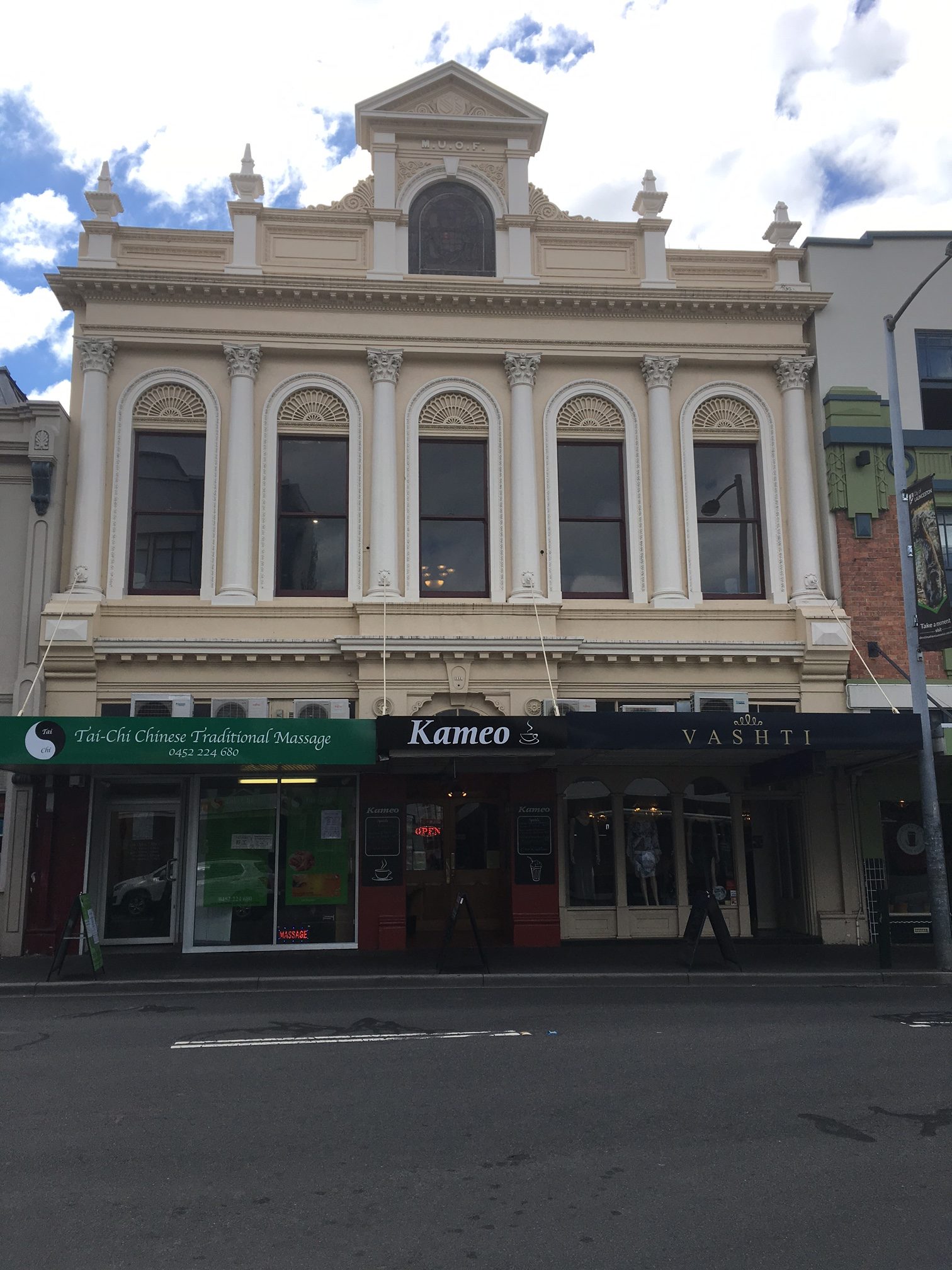 Empire Theatre, 95 St John Street, Launceston
Although the Empire theatre is now longer operating as such, in its lifetime before becoming a restaurant and shop front it was renamed many times over depending on which theatrical company was leasing it. The original building on the site, The Theatre Royal was pulled down 1878, and a new building called the Launceston Temperance Hall was built, however it soon reverted to a theatre, firstly named the Gaity, then Bijou, and then by the turn of the century, the Fuller Family had renamed it The Empire Theatre. It was later to be re-named again as the Lyceum Theatre. Much of this information is substantiated in the next newspaper clipping from 1902.
Fullers Set Record in Tasmania
Daily Telegraph, 13 December 1902
I then searched for a newspaper clipping for the Fuller's Easter Concert and found the most wonderful description of the evening. So much so, that now I have been to Hobart and seen the Albert Hall, I am filled with the huge desire to try and recreate that night again!

Daily Telegraph 29 March 1902 An Easter Concert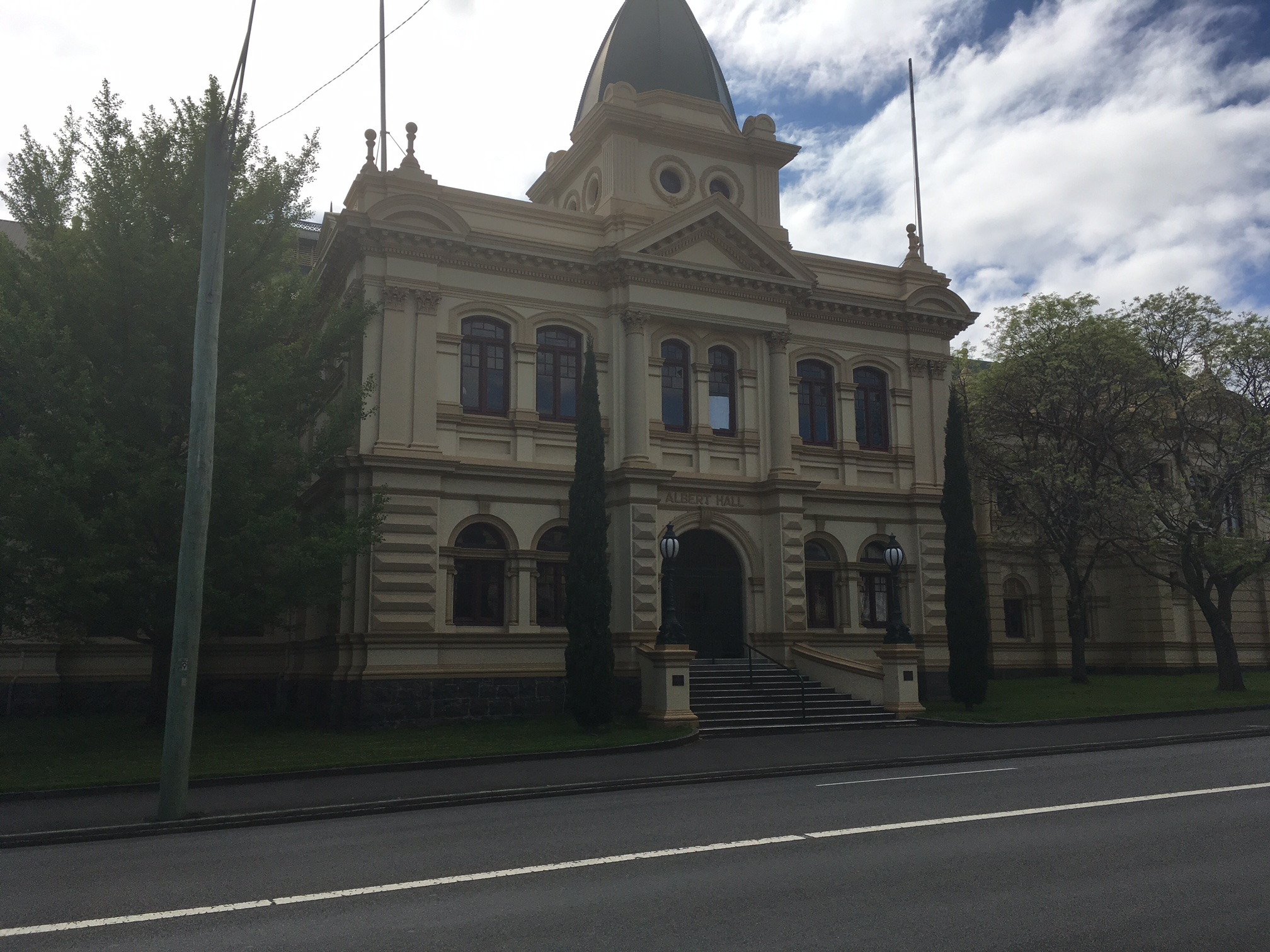 The Albert Hall, Launceston, Tasmania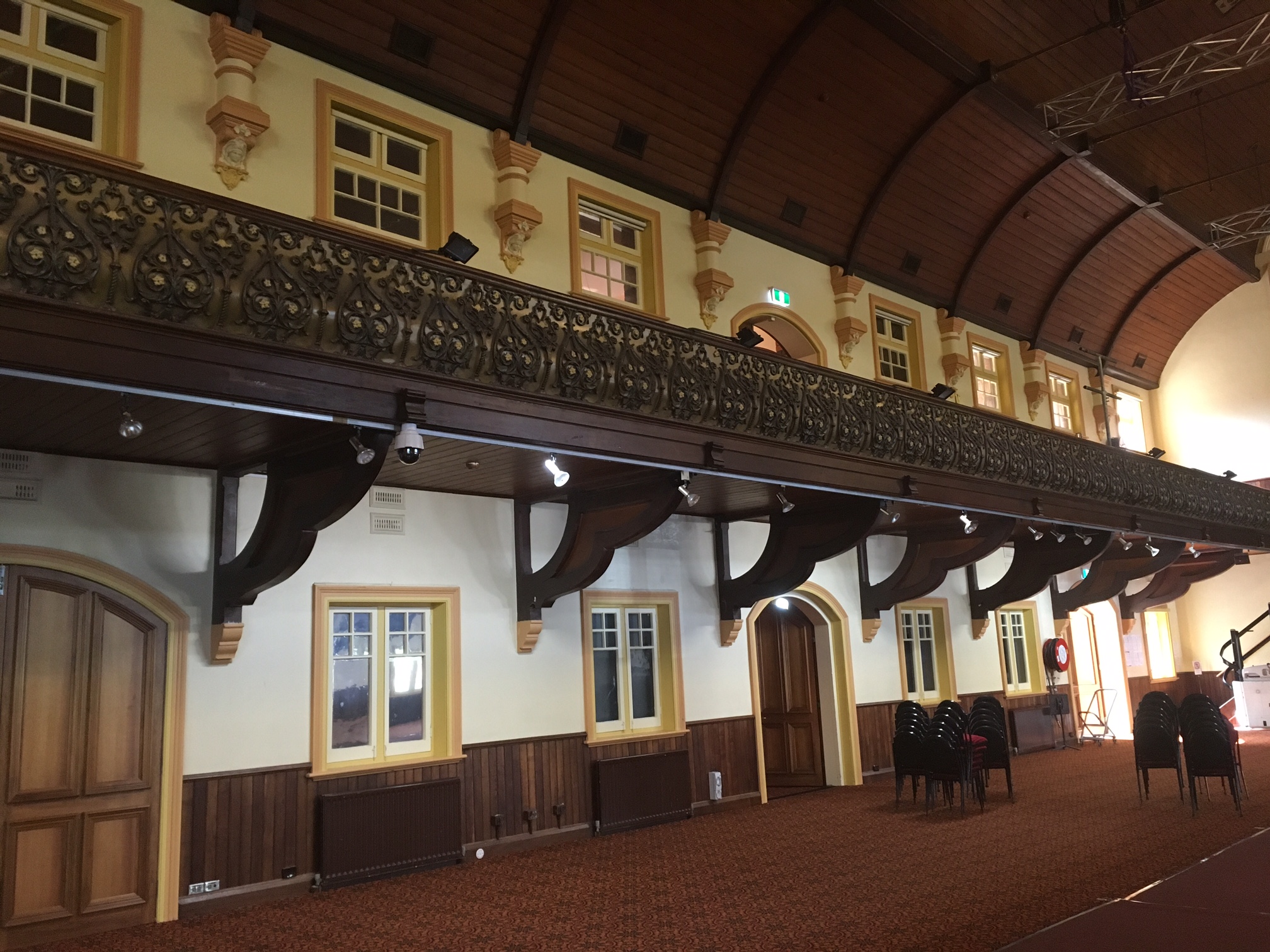 The Albert Hall, interior showing the gallery which was filled to capacity that Easter evening in 1902.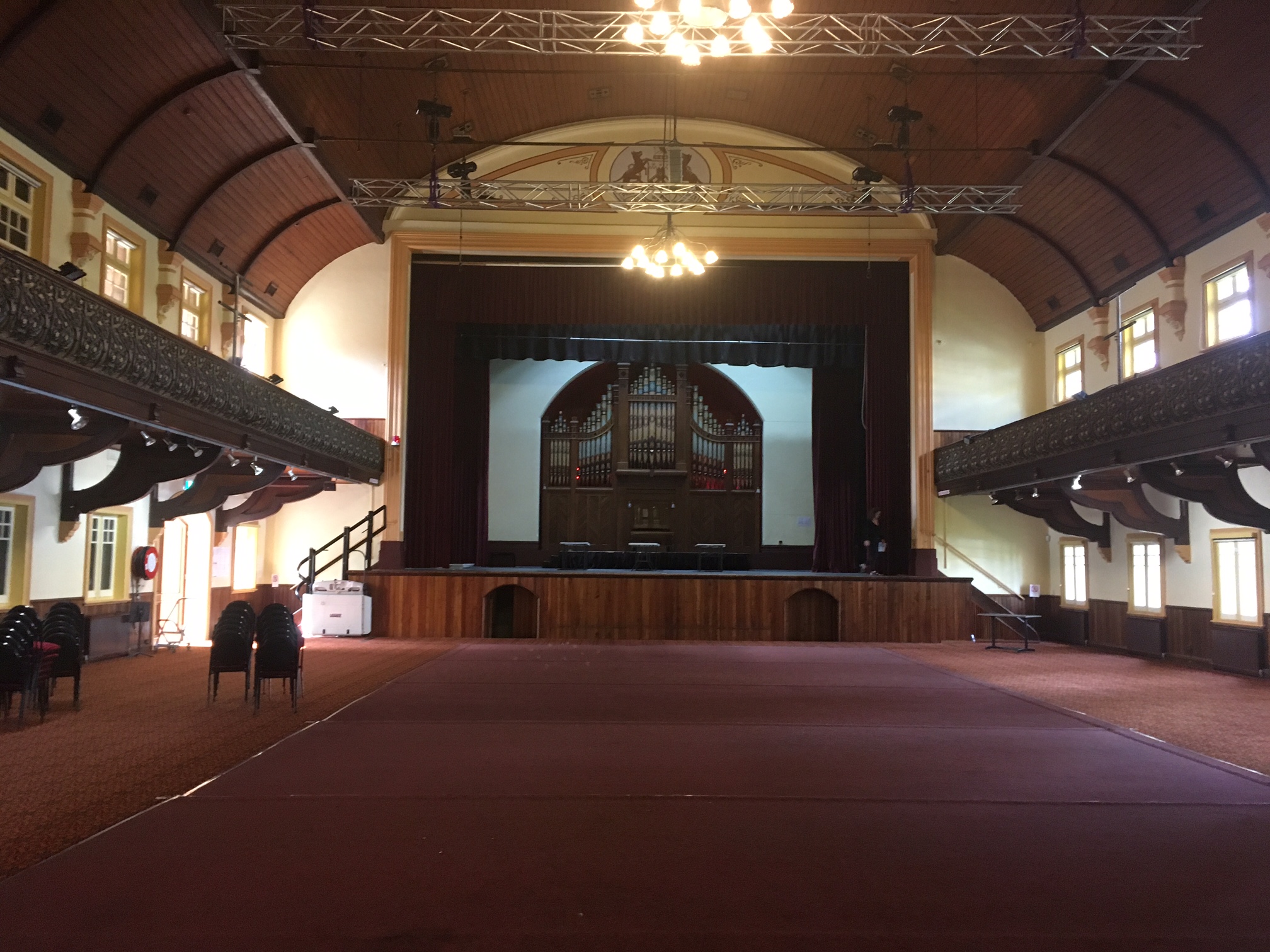 Albert Hall showing galleries, organ and stage, below to the back of the Hall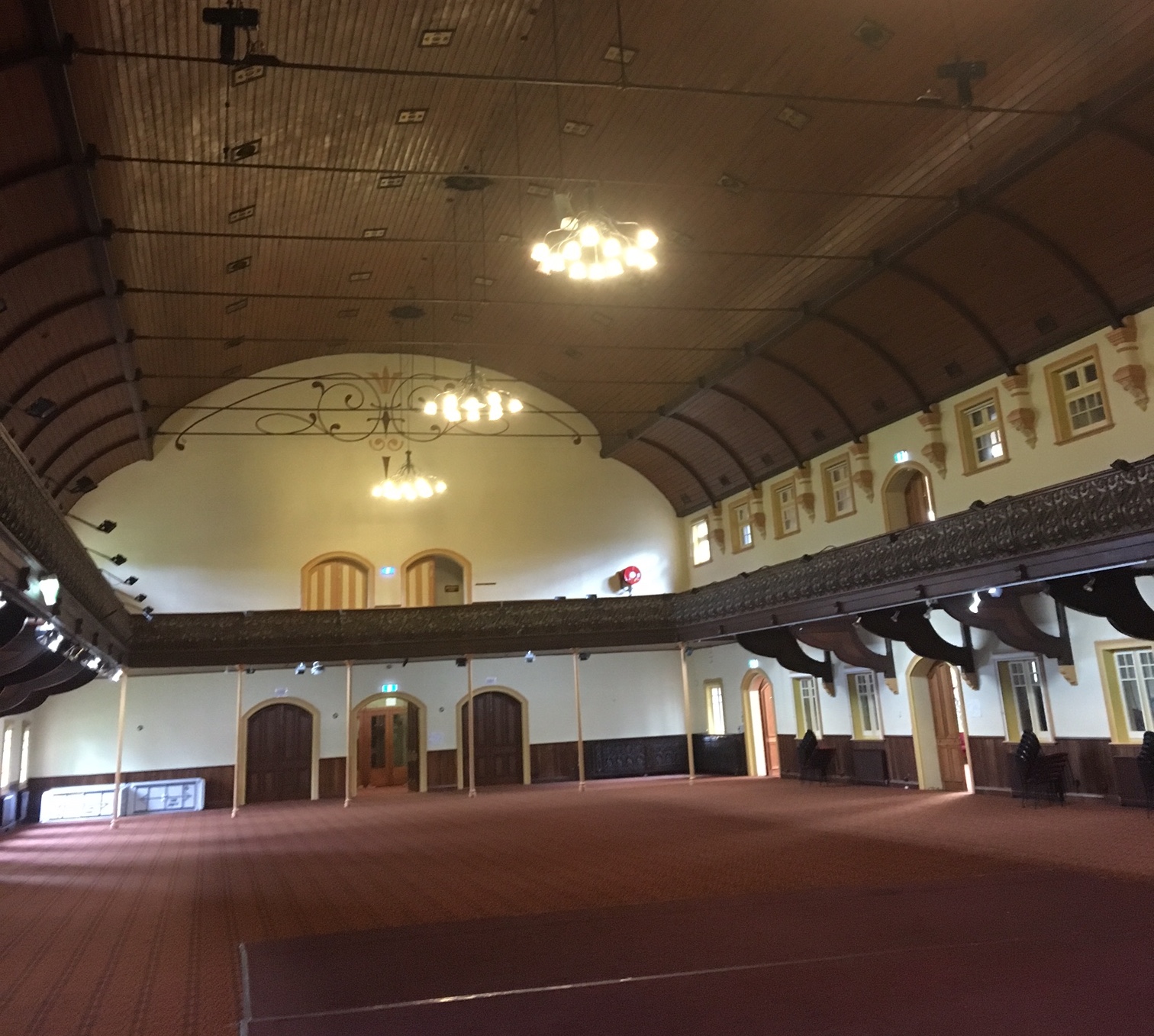 Temperance Hall, 52 Melville Street, Hobart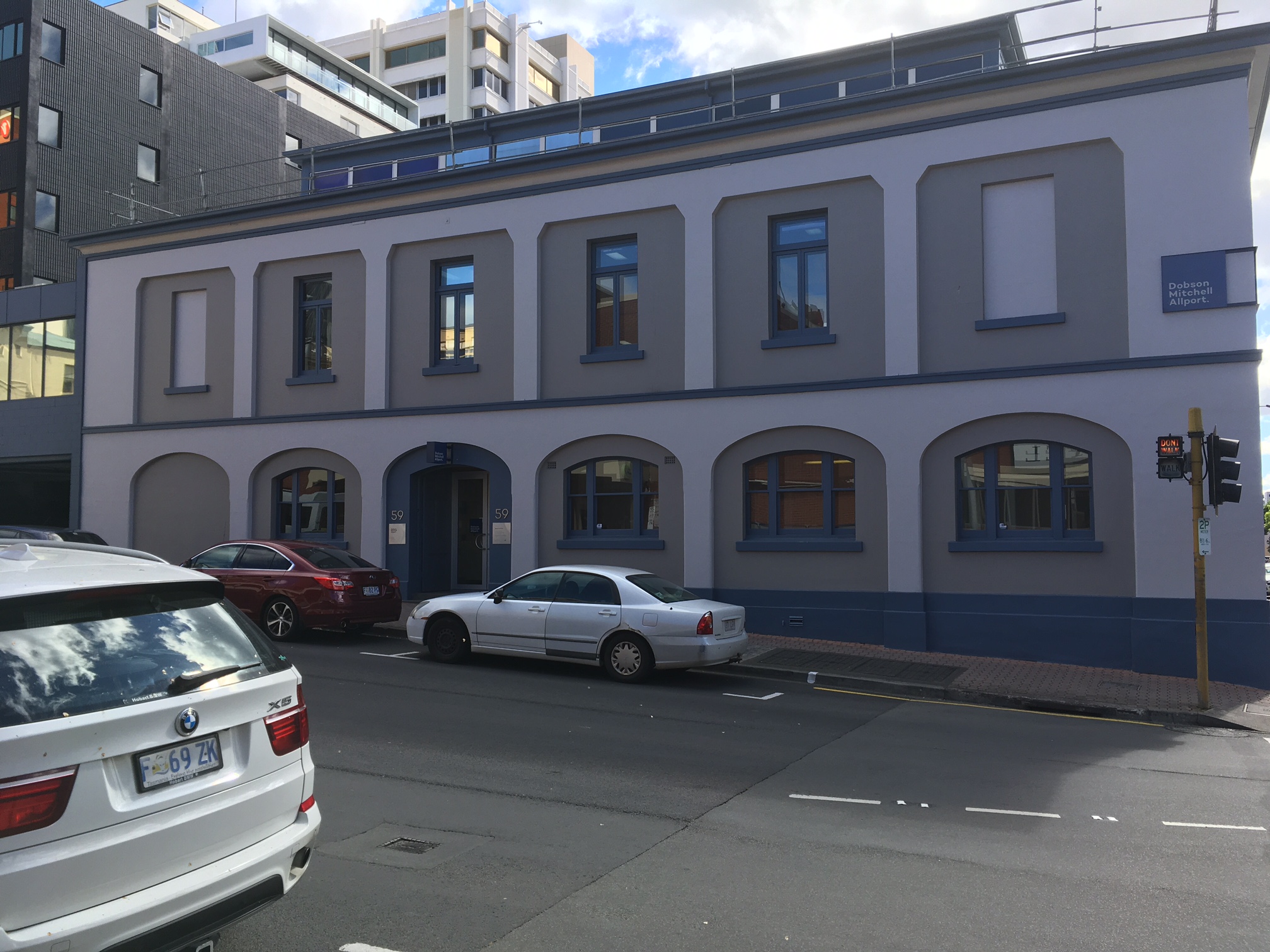 Oddfellows Hall, Cnr. Davey and Harrington Streets, Hobart
This theatre is now classified and being reused as a lawyer's premises.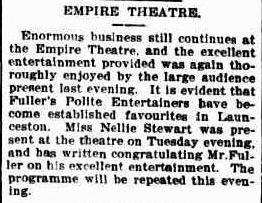 Launceston Examiner, 10 April 1902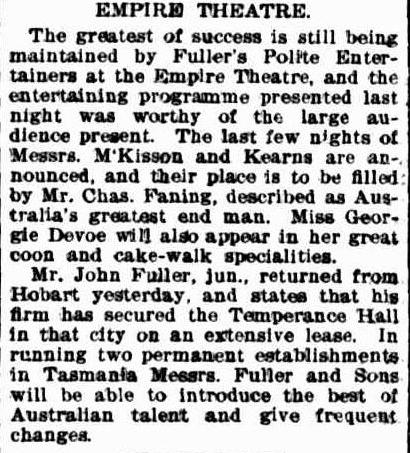 Launceston Examiner, 24 April 1902
It is important to note that the Fuller Family were running two theatres at the same period of time called "The Empire", one in Sydney and one in Launceston.
The tremendous success of the Fullers in Tasmania, and it was a case of being in the right place at the right time. The idea to move their shows from district to district, state to state, country to country meant fresh faces and keen audiences were maximized.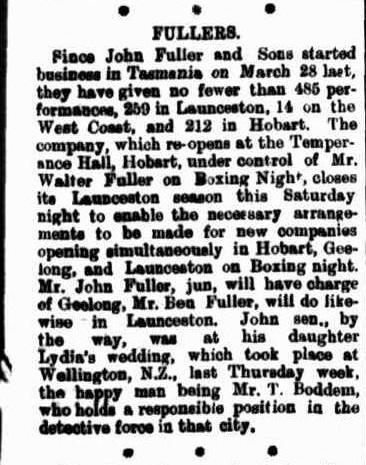 Clipper, 13 December 1902
This article from the Clipper, above, on the same day as the Daily Telegraph article shown earlier, has the very precious mentioning of Lydia's wedding back in Wellington, New Zealand to Mr Tudor Boddam, who was the detective in charge of the city. Tudor had been born in India where his father was part of the English Army stationed there. In fact, his entire family traditionally served in India, often the children were sent back to England for their schooling.
It was also wonderful to get the information that John Fuller was back in New Zealand. It was just incredible how I could pick up snippets from the newspapers to track the Fullers nearly every move. Their public and private lives had definitely captured the interest of the press and their readers, so much so that they had become quite famous, today they would be known as celebrities.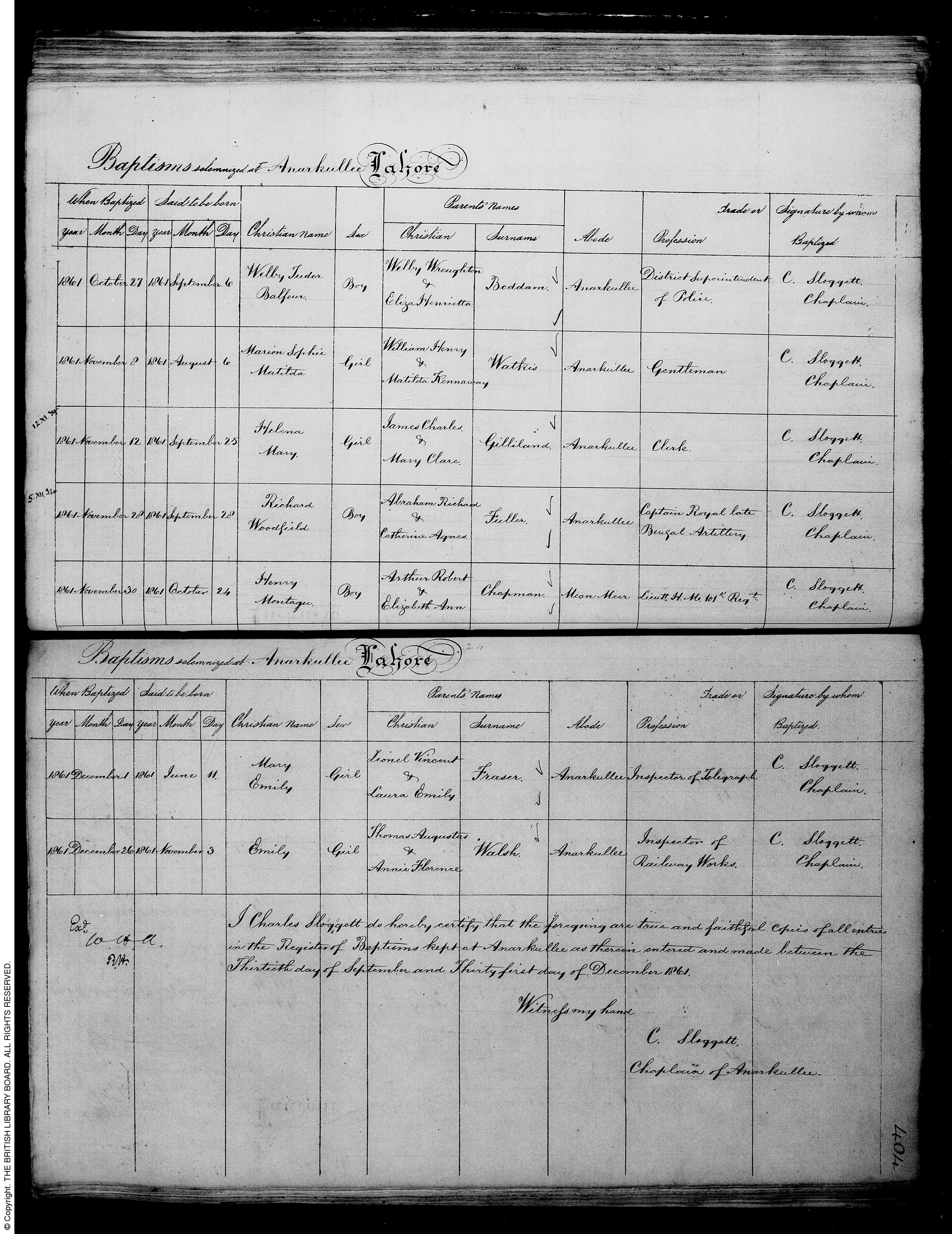 Baptism of Welby Tudor Balfour Boddam, son of Welby Wroughton and Eliza Henrietta Boddam Annarkuuller, Lahore, India, 27 October 1861
There is so much information on this baptism, including Tudor's birthdate 6 September 1861, and the fact that his father's occupation was District Superintendent of Police. Thus, it was no surprise that Tudor followed in his father's footsteps. An offer for a month's world subscription to Find My Past allowed me to capture Tudor's entire family from the Baptism, Marriage, Military and Census records in India.
I also found Tudor Boddam mentioned in New Zealand newspapers well before his marriage to Lydia.

Grey River Argus, 2 December 1886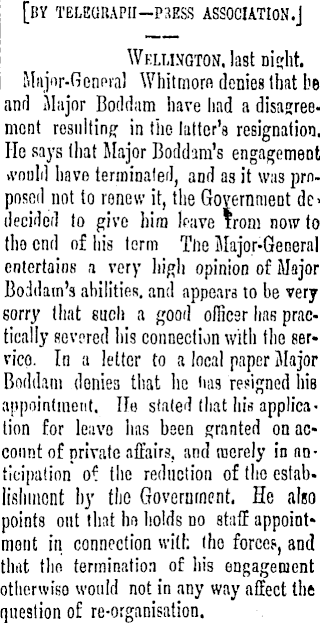 Thames Advertiser, 24 January 1888

West Coast Times, 10 April 1901
Freelance, 20 December 1902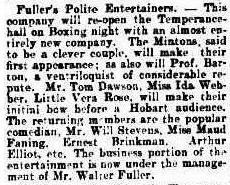 Hobart Mercury, 20 December 1902
This article shows that Johnny Fuller's time managing Fuller's Theatres in Hobart has been left now in the secure hands of his elder brother Walter. Johnny has moved on to Geelong near Melbourne in Victoria.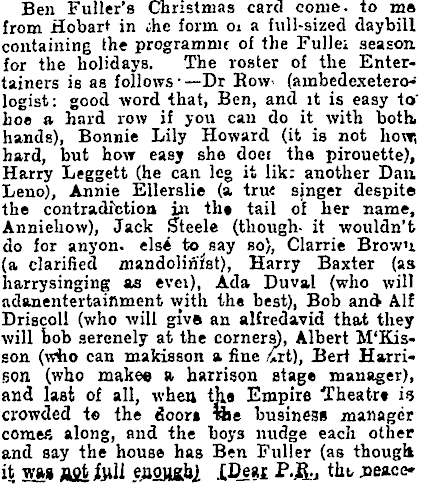 Otago Witness, "Wellington Wing Whispers", 7 Jan 1903
This above article was written by the aptly named Mr P. Rompter and is an amusing insight into the theatre critic who is sending up the business. Although Ben wrote his card from Hobart, he is now running the Empire Theatre in Launceston for the Fullers. The Empire Theatre was previously known as the Bijou Theatre.
I discovered that Ben's stint in Launceston was just for the festive and summer season because by March Ben Fuller would withdraw from Australia to concentrate on the Dunedin, Christchurch and Wellington Theatres in New Zealand. It would appear that by the end of March, Johnny had also withdrawn from Ballarat and had moved to Wellington to manage the Choral Hall.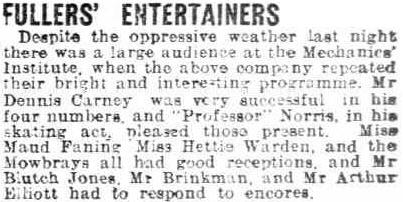 Ballarat Star, 10 February 1903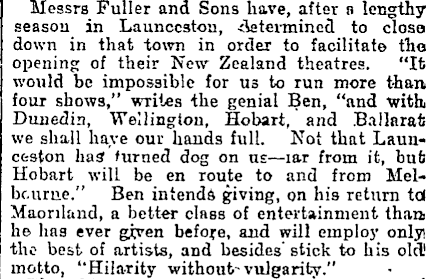 Otago Witness, 4 March 1903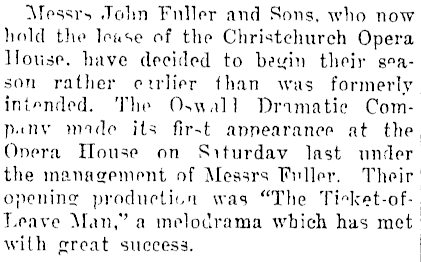 Auckland Star, 21 March 1903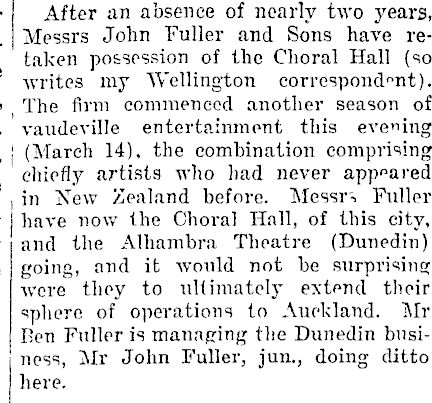 Auckland Star, 21 March 1903
MRS. JOHN FULLER JNR.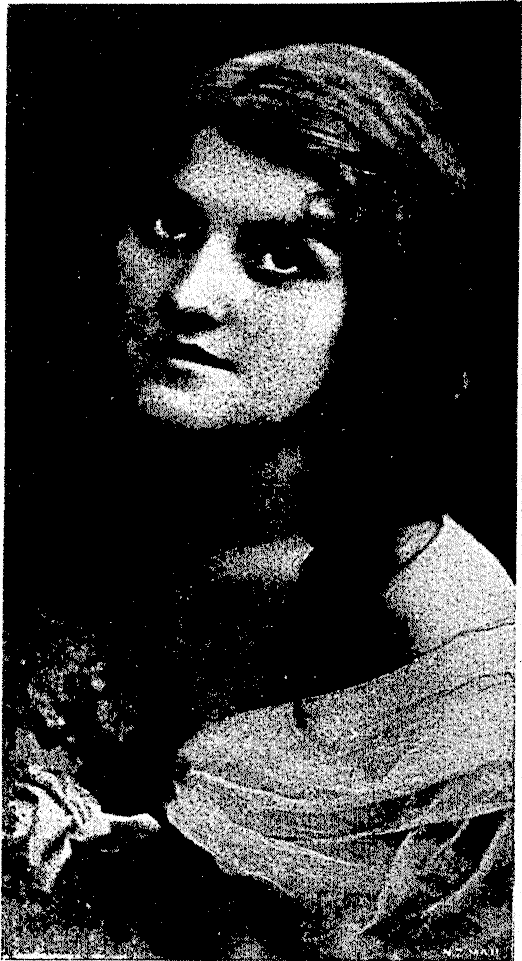 New Zealand Herald, 6 May 1903
Recently I found this wonderful photograph of Gertie Fuller in the New Zealand Herald from May 1903 and it is so precious, being the only one I have of Gertie during her marriage to John Fuller Jnr.
OPERA HOUSE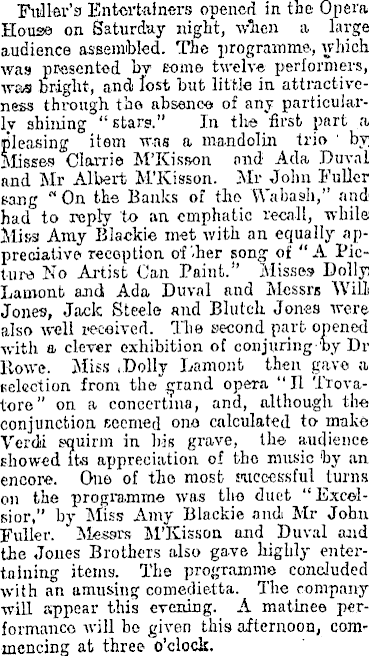 Lyttelton Times, 25 May 1903
Fuller's Entertainment at the Opera House in Wellington on Saturday evening 23 May 1903 opened with a pleasing mandolin trio performed by Miss Clarrie M'Kisson, Miss Ada Duval and Mr. Albert M'Kisson. Mr. John Fuller received an emphatic recall for his song, On the Banks of the Wabash, equally met by Miss Amy Blackie and her number A Picture No Artists Can Paint, later they sang a duet, Excelsior; one of the most successful turns for the evening.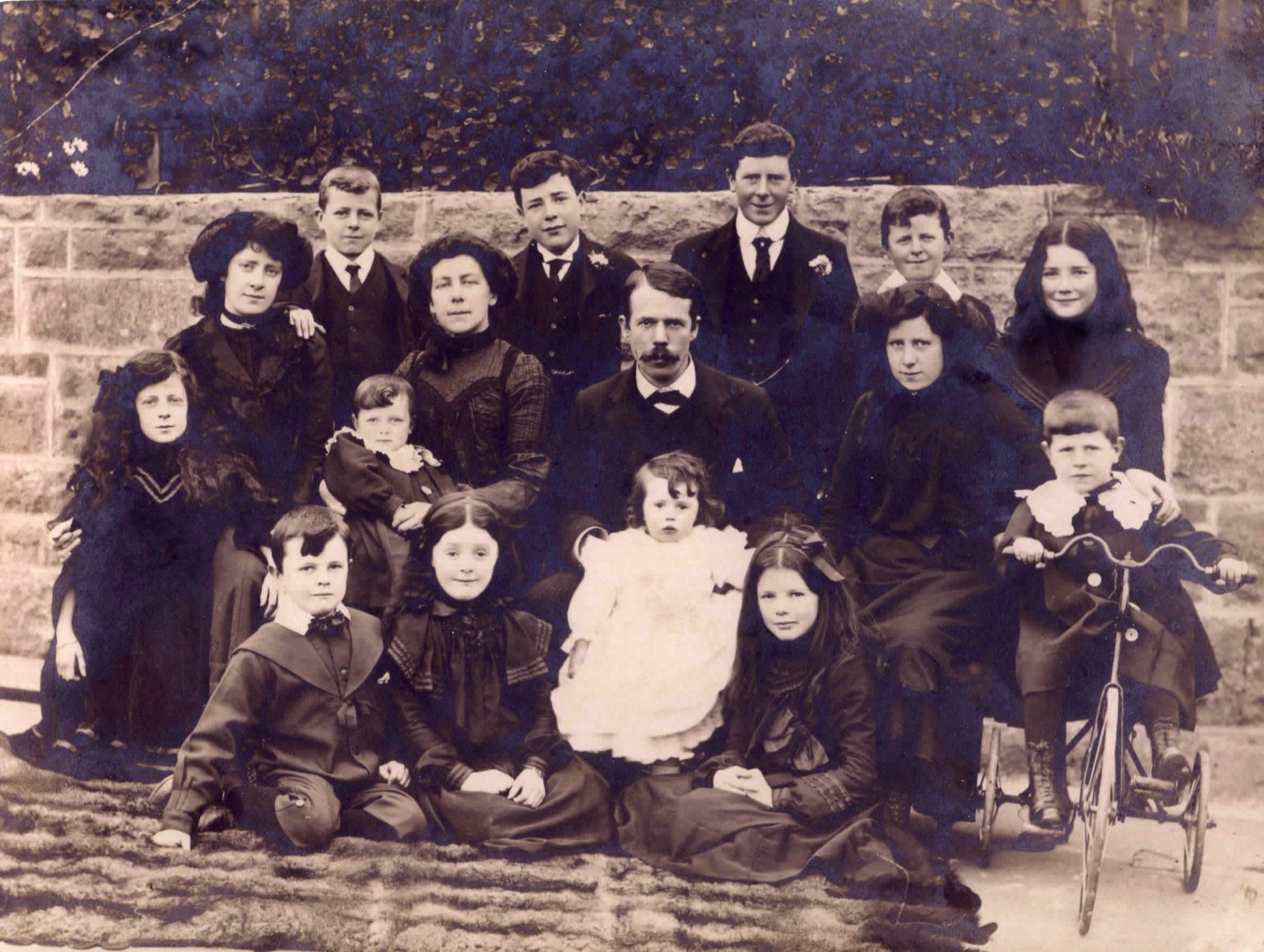 BURTON, FULLER AND JONES FAMILIES circa 1902/3
Back row, standing
John A Jones 14yrs, William Burton/Fuller 14yrs, Arthur Thomas Jones 20yrs, William Frank Jones 13yrs, Jeannie May Jones 17yrs
Middle row, seated unless stated
Olive Jessie Jones 12yrs (kneeling), Elizabeth M Jones 18yrs, Jessie Elizabeth Burton Fuller, Alexander John Burton Fuller (on Jessie's lap), Sir Benjamin Fuller, Alfred Benjamin Fuller 15mths (on Sir Ben's lap), Gladys Burton Fuller 17yrs, Albert George Jones 6yrs (on tricycle)
Front row, kneeling
Lionel George Burton Fuller 7yrs, Jessie Elizabeth Burton Fuller 10yrs, Hilda Burton Fuller 11yrs
Chris Mathias of Auckland, New Zealand,  a descendant of the Burton family kindly supplied the caption information and the photograph.
It was only a short time after I started my Ancestry.com family tree in 2011, that  I had a message from Chris Mathias of Auckland, and we corresponded on the connection, hers through the Burton family and mine through the Fuller. It was a most interesting experience and I became determined to visit Dunedin and see what was left of the Fuller theatres there.
Chris very kindly sent me a photograph of Ben and Jessie Fuller and their children, which must have been taken in 1903 as A. Ben looks about fifteen months old. It was fascinating to discover that Jessie and Ben were also living with Jessie's sister Jane McNeil Jones nee McDonald and her large brood of children. I could see that the entire family was dressed in mourning clothes and it didn't take me long to realise that another family tragedy had occurred when Jane's husband John Jones had died, also at the relatively young age of 45 in 1903.
Tragedy strikes the McDonald family again on 27 May 1903, when Jessie Fuller dies of complications from influenza and leaves Ben with seventeen-month-old A Ben, and the Burton children to care for. I would think that Jessie's sister and mother stepped in at this stage to care for the Burton children, I can hardly imagine that a busy man like Ben could cope with this sort of tragic situation, and as much as he felt he was their father, I don't think it was possible for him to fulfil this role, as these children would have needed mothering.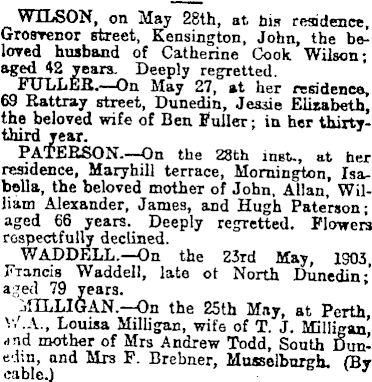 Evening Star 28 May 1903
I must at this point out some inconsistencies made by Alistair Duncan in his book Actor's Blood, regarding Jessie dying in Sydney, Australia. At the time Alistair was researching, he didn't have access to online newspapers, and on some occasions, he had to rely on family memoirs, which at the best of times can be unreliable. The placing Ben and Jessie Fuller in Sydney at the time of Jessie's death was incorrect, however I have found a death notice stating that the Fullers had recently visited Sydney. I don't have high regard for family "stories" for the good reason that they are often untrue, or at best partly true. I decided that the only way to resolve the confusion regarding Jessie's place and cause of death was to order her death certificate.
The passage below is quoted directly from Alistair Duncan's book, Actor's Blood:
"One night in May of 1903 Ben and Jessie Fuller were due to attend an opera opening night. They were back in Sydney now; the plague having died down. Jessie had bought a fashionable dress for the occasion, and as they were about to leave for the theatre Ben noticed that, in spite of the coolness of the night, she was not wearing a wrap over it. He suggested that she do so, but Jessie's response was that there was no sense in wearing a beautiful new gown if it could not be seen. Ben did not argue the point, and she left coatless. She contracted pneumonia and died soon after.
That is the story the family agreed on for public consumption, but most of them were aware that the cause of Jessie's death was a bungled abortion. Ben might have shared the parenting of eight children. As things turned out, he was now solely responsible for seven."
The death certificate clearly establishes that Jessie died from complications from a three-day infection of pleurisy and influenza. Jessie died in Dunedin, New Zealand on 27 May 1903.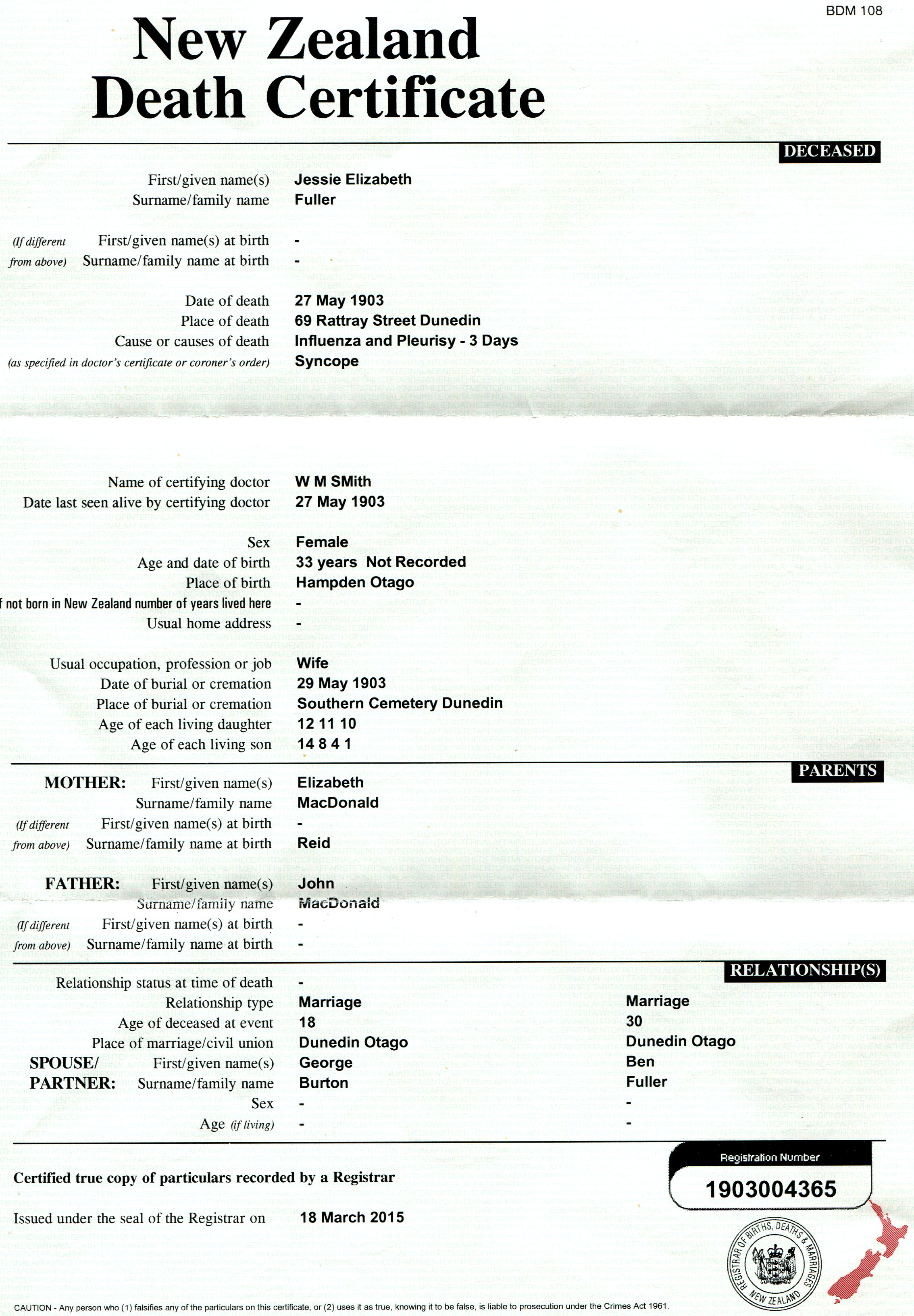 Evening Star, 28 May 1903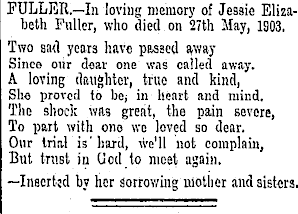 Otago Daily Times, 27 May 1905

Evening Star, 28 May 1903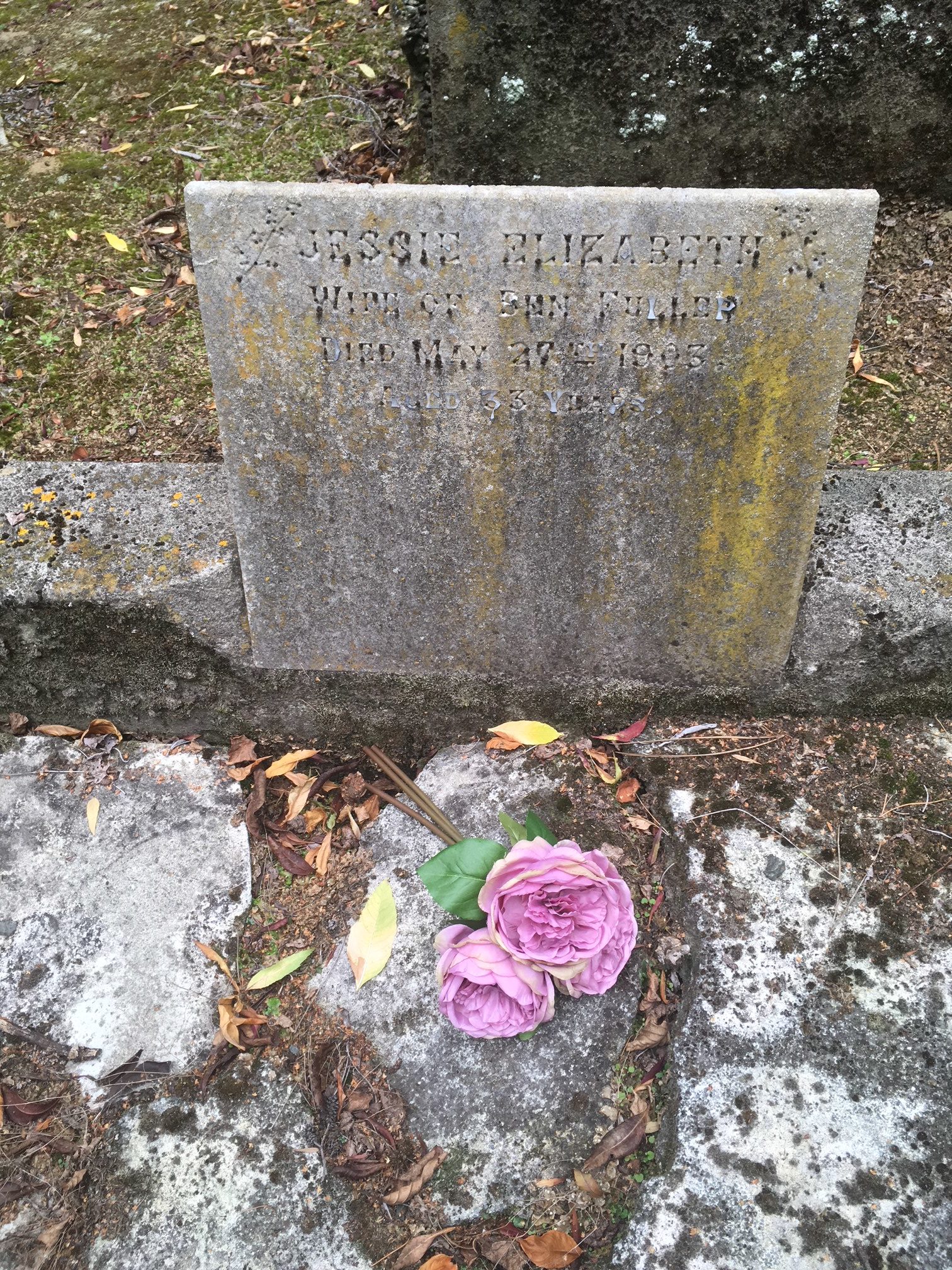 Headstone of Jessie Elizabeth Fuller, Southern Cemetery, Dunedin, photo V Rundle Mar 2018 
Otago General Cemetery Burial Record for Jessie Fuller
At this stage, until I can travel to Dunedin, and record the grave details, I am not sure if Jessie is buried nearby to her first husband George Burton.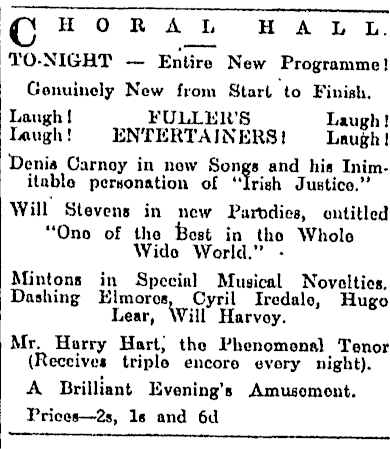 Evening Post (Wellington), 6 June 1903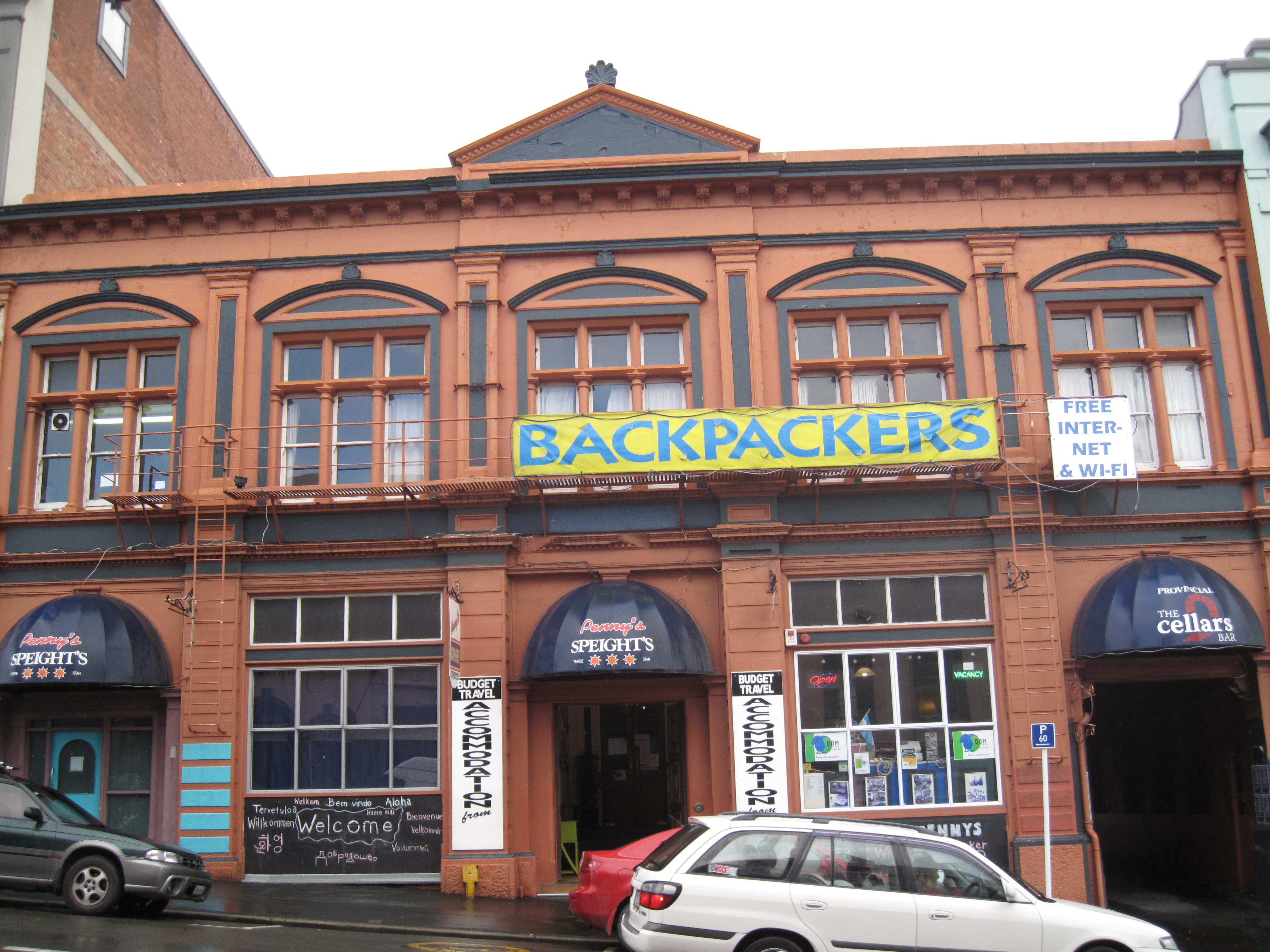 Provincial Hotel, Cnr Stafford and Princes Street, Dunedin, 2012
Formerly Princess Theatre, Princes Street, Dunedin, 2012
Evening Post (Wellington), 6 June 1903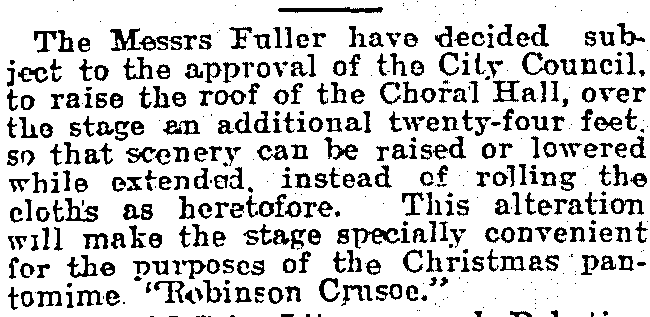 New Zealand Times 9 November 1903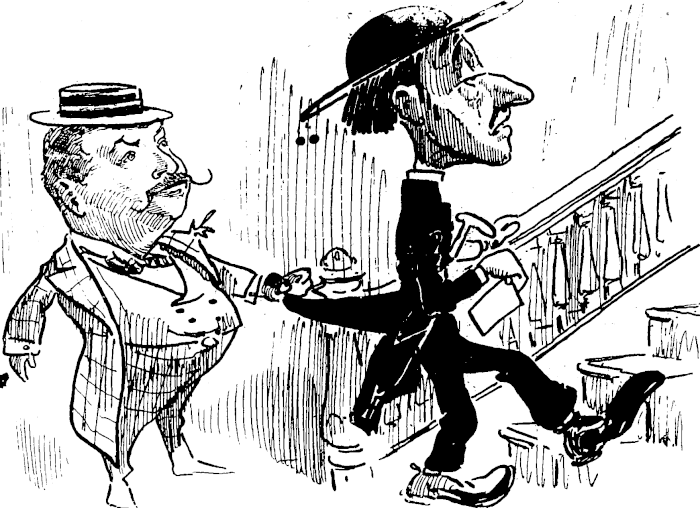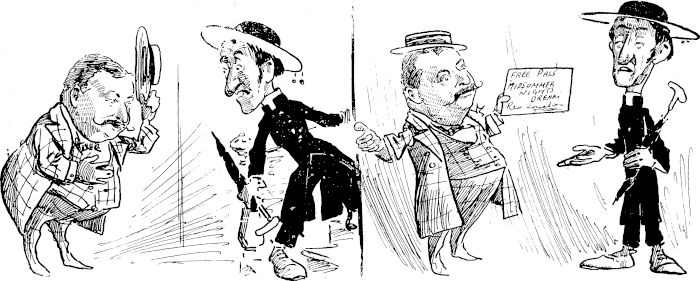 Observer, 14 November 1903
This cartoon was a jibe at John Fuller Snr. from the Observer newspaper, John it would seem was not an ungenerous man, however, he gave nothing away to freeloaders and some even said, John Fuller still had his first dollar. Apparently John had found the Vicar creeping up stairs of the theatre, with no intention of paying his way. The Vicar of course had no idea he was trying to "con" the proprietor of the theatre. John Fuller's policy was firmly enforced, without a ticket, meant you were without a seat, as he escorted the Vicar off the premises.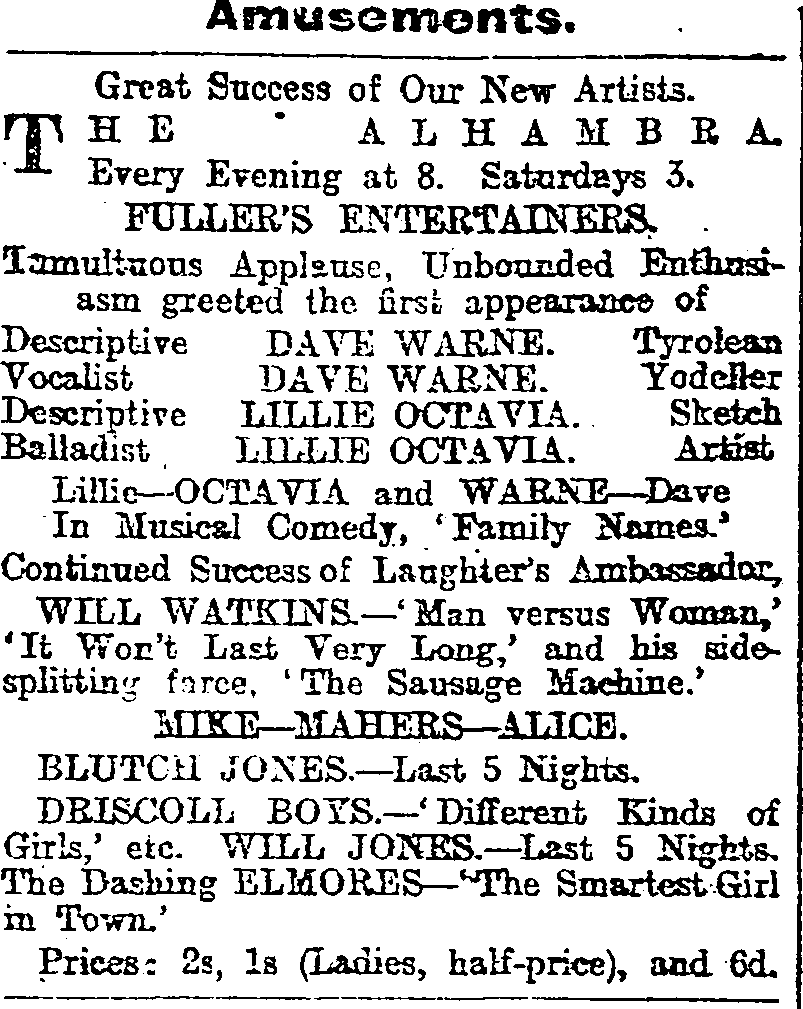 Evening Star, 16 November 1903
Johnny and Gertie Fuller welcomed their daughter Phyllis Gertrude in November 1903, it must have been a joyous occasion for them.

New Zealand Times 21 November 1903
New Zealand Birth Record 1840-1950:
| | |
| --- | --- |
| Name: | Phyllis Gertrude Fuller |
| Birth Date: | 14 November 1903 |
| Registration Place: | New Zealand |
HIS MAJESTY'S THEATRE, WELLINGTON
         FORMERLY THE CHORAL HALL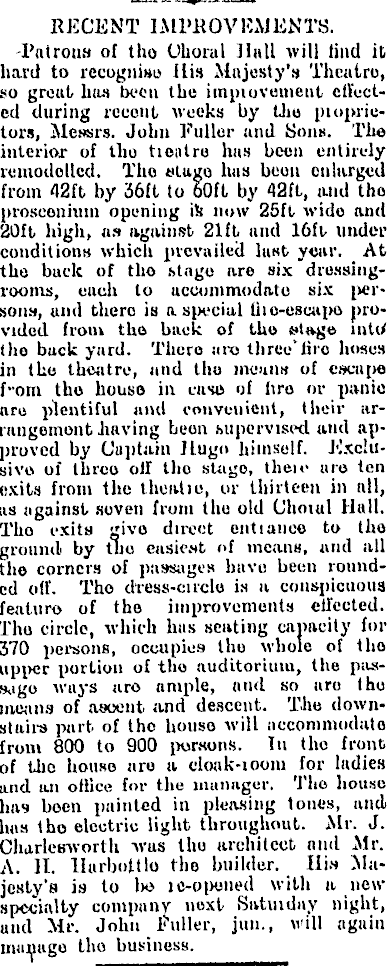 Evening Post, 8 March 1904

New Zealand Times, 9 March 1904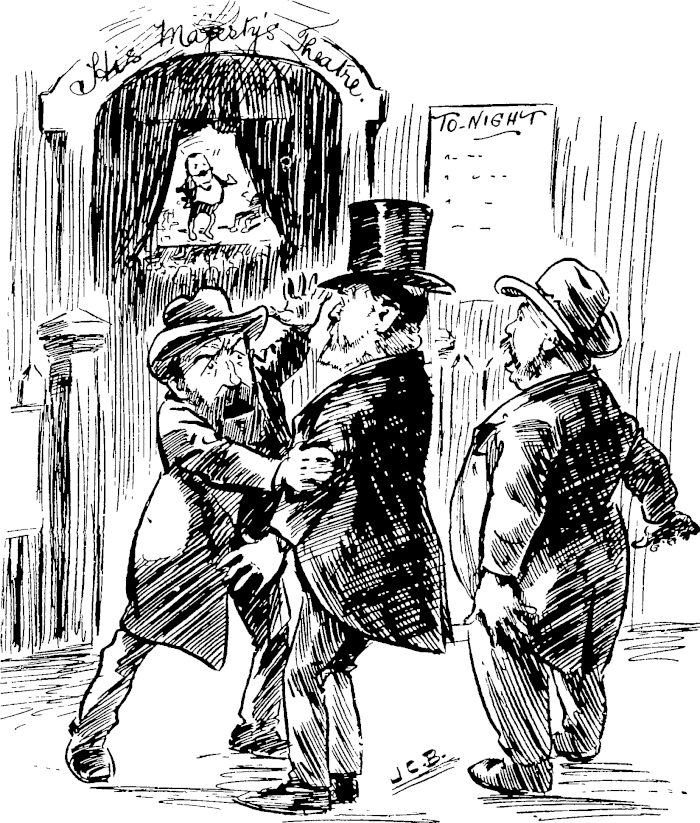 Freelance 14 March 1904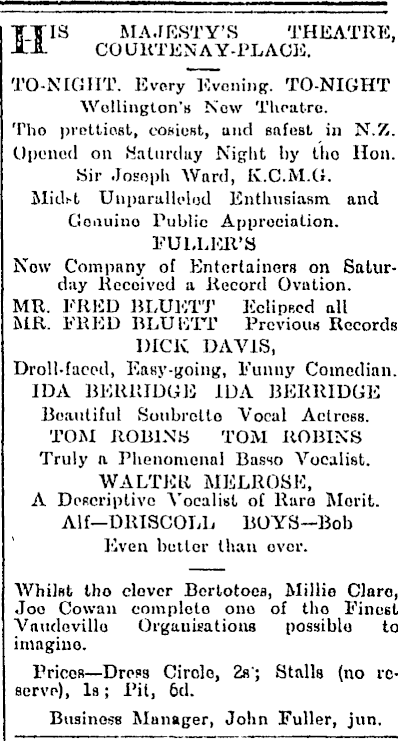 Evening Post 14 March 1904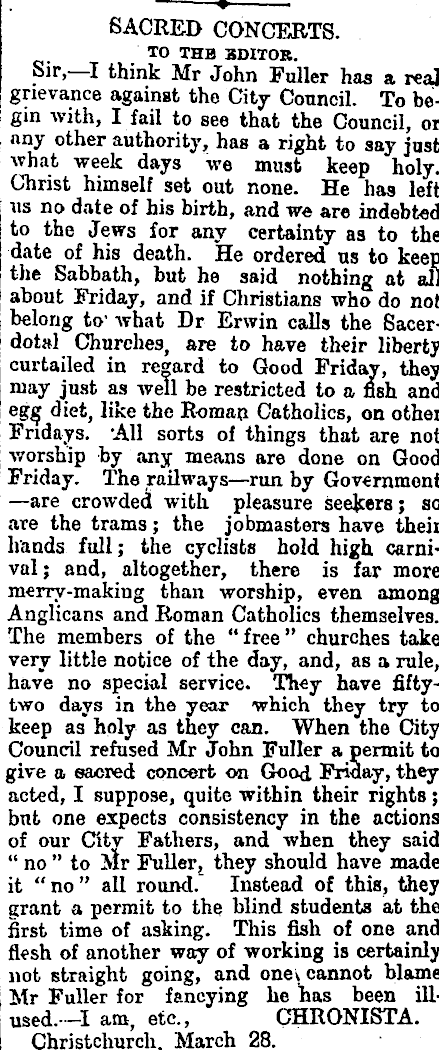 Star, 28 March 1904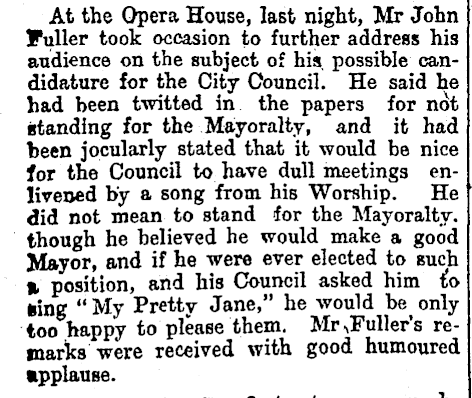 Star, 30 March 1904

New Zealand Free Lance 2 April 1904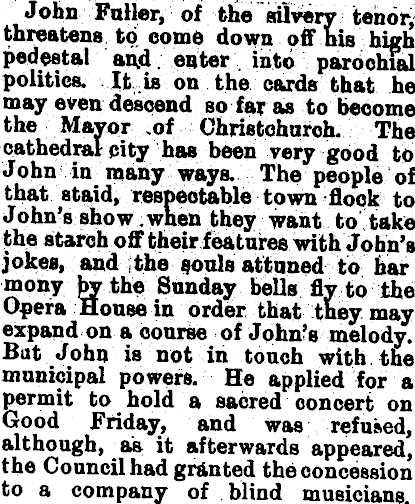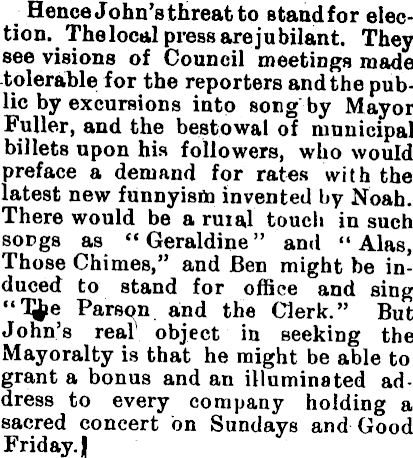 Auckland Observer, 9 April 1904
Press, 2 May 1904

Christchurch Star 9 May 1904
Recently, original Anglican Parish Records, Sydney, were released onto Ancestry.com and I have been impressed at how many of these records are available online at the press of a button. It was during a Fuller search that the Christening record for Phyllis turned up, quite surprisingly amongst these records. It was to my astonishment that I discovered Johnny was Christened on the same day, solving my dilemma about finding no baptism records for the children of John and Harriett Fuller in Shoreditch, London.
Baptism of John Fuller and his daughter Phyllis Fuller 18 May 1904, Saint Matthias Church, Paddington, Sydney
John gives wonderful details about the family and interestingly, for the first time, I can see he lists his abode now as Wellington, New Zealand.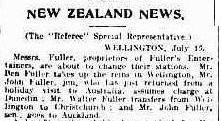 Referee, Sydney, 27 July 1904
The Fullers have decided to make some changes to their management. Mr. Ben Fuller will take up the reins in Wellington, Mr. John Fuller, who has just returned from a holiday visit to Australia will take charge in Dunedin and Mr. Walter Fuller transfers from Wellington to Christchurch and Mr. John Fuller Snr. will go to Auckland as manager.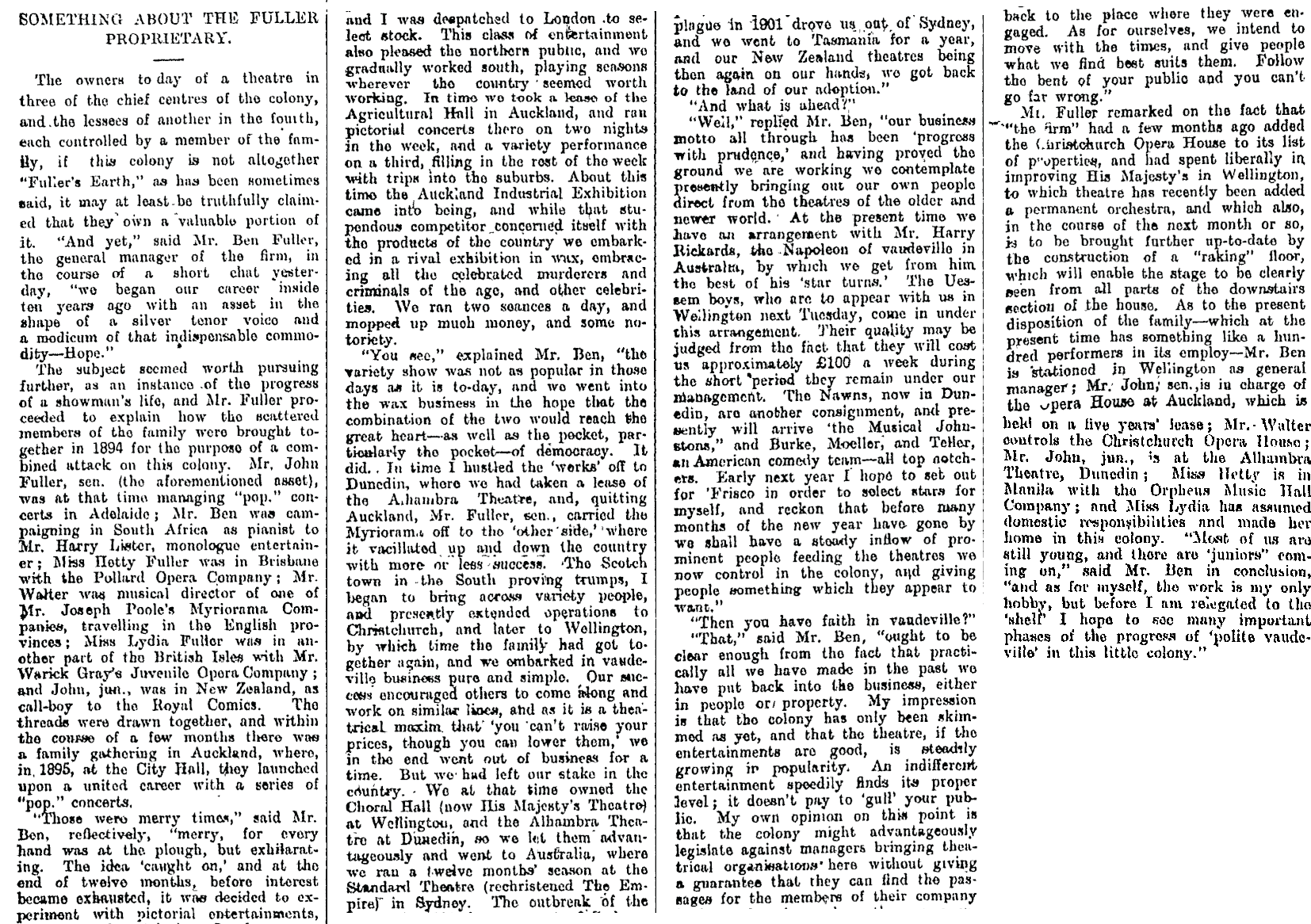 Ben Fuller Interview – Evening Post, Auckland, 25 August 1904
The interview with Ben Fuller is entitled "Something about the Fuller Proprietary" and is a wonderful summary of the Fuller family, what they have been up to in the past, and in the present. This seems to be a wonderful way to finish my chapter on the Fuller Family Fortunes 1899 – 1904. It is also the first time I saw the phrase "Fuller's Earth" being applied to the Fuller family.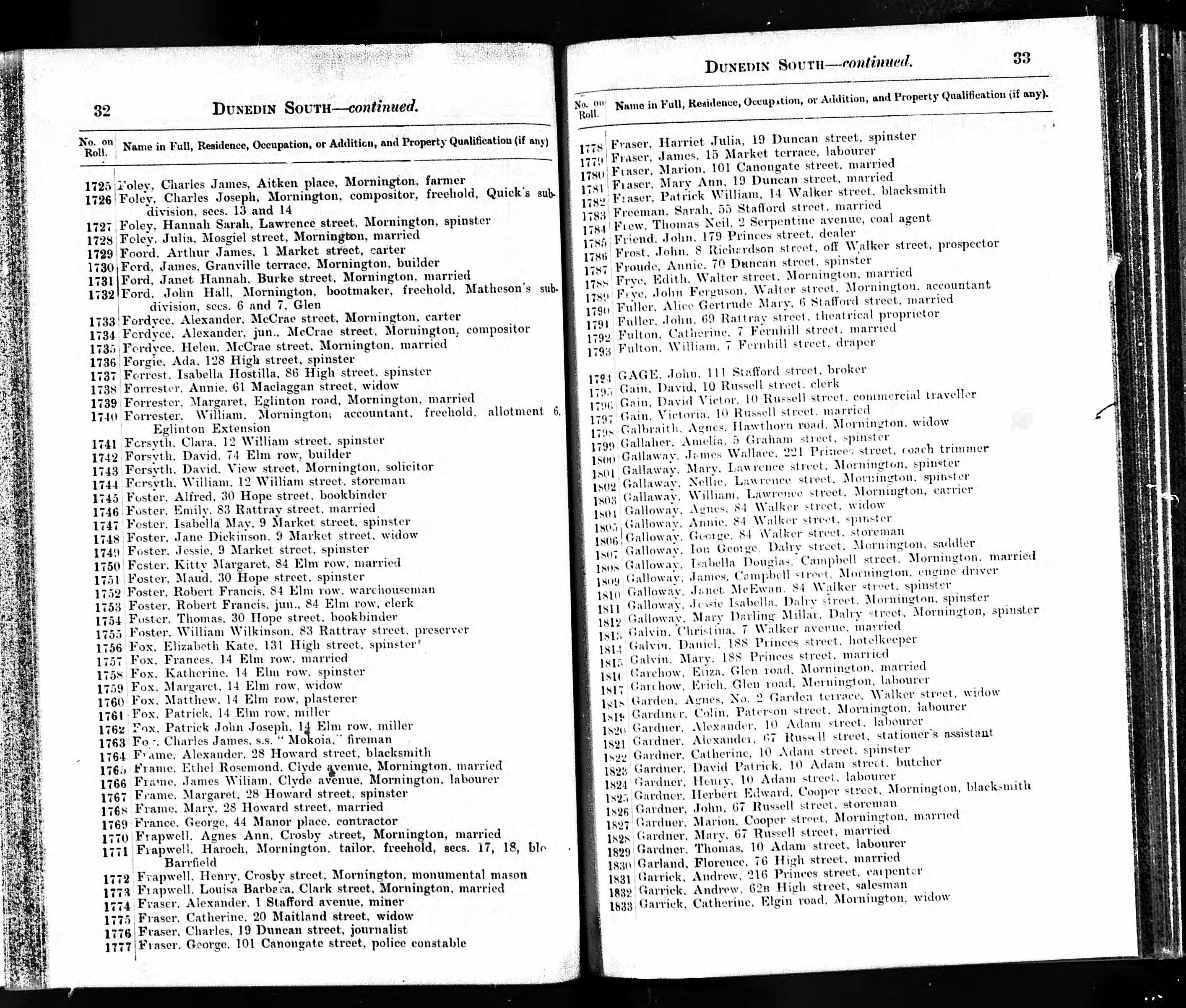 New Zealand Electoral Roll 1905-1906, Otago, Dunedin
Gertie is listed as living at 6 Stafford Street, Dunedin, which is the address of the  Provincial Hotel, and Johnny is listed as living at 69 Rattray Street, which interestingly is the same address where Jessie Fuller died in May 1903. Jessie had owned the Imperial Hotel in Princes Street and upon her move to Sydney with her new husband Ben Fuller the hotel was taken over by Mr George Searle in May 1901. Jessie and her first husband George Burton had purchased the hotel and ran it as a successful business as it was near the theatre district of Dunedin.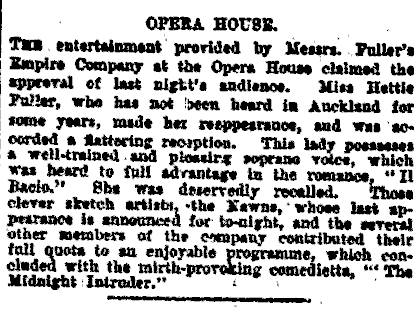 New Zealand Herald, 1 November 1904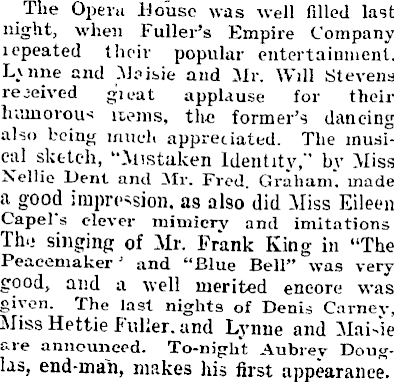 Auckland Star, 11 November 1904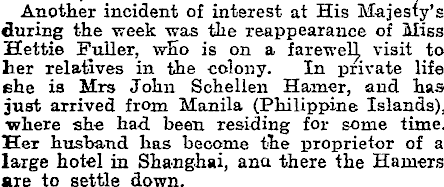 Otago Witness, 23 November 1904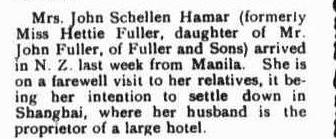 Newsletter, (Sydney) 10 December 1904
Hettie had married John Jacob George Shelenhamer in the Philippines on 27 August 1904, after accepting an invitation with the Delroy-Bell Company to tour the Philippines. John Shelenhamer had been serving in the US Army Corp during the Spanish American War and in 1900 he was listed in a US Federal Census as a cook and theirs must have been a whirlwind romance.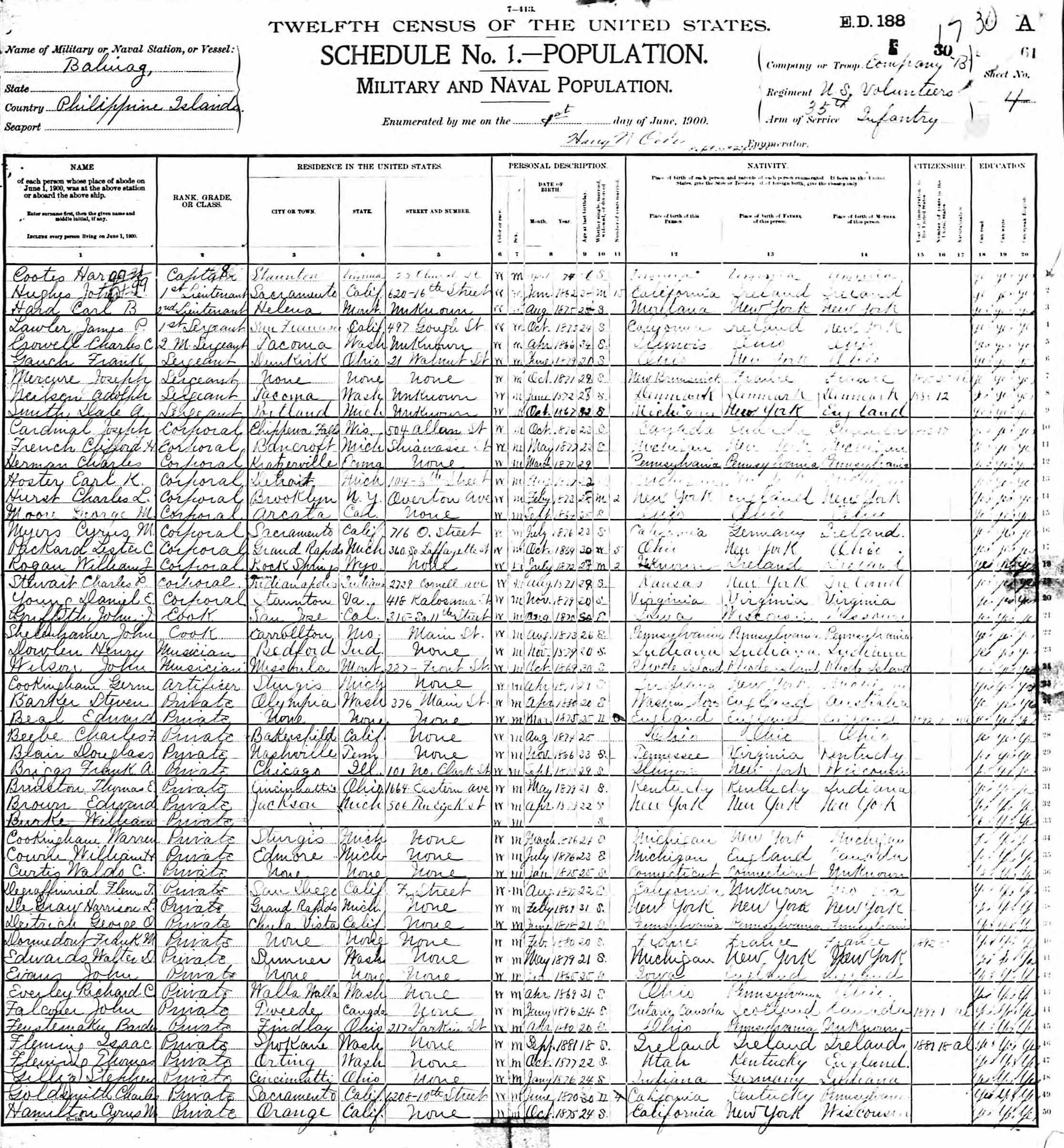 United States Federal Census 1900 for John Schelenhamar, Balinag, Philippine Islands

Critic Adelaide, 9 January 1904
 I also picked up this snippet about Hettie Fuller in the Philippines from the Newsletter, an Australian newspaper
.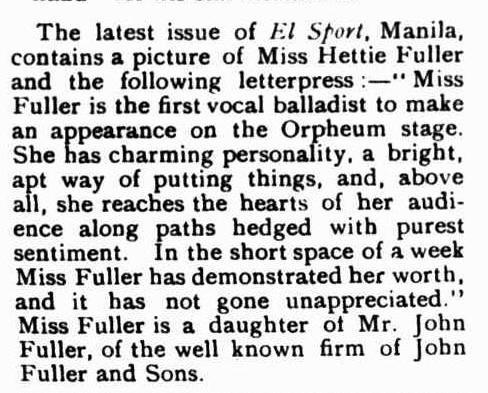 Newsletter (Sydney) 16 April 1903
The advertisement below helpfully sums up how the Fuller's have spread out in New Zealand to manage their empire.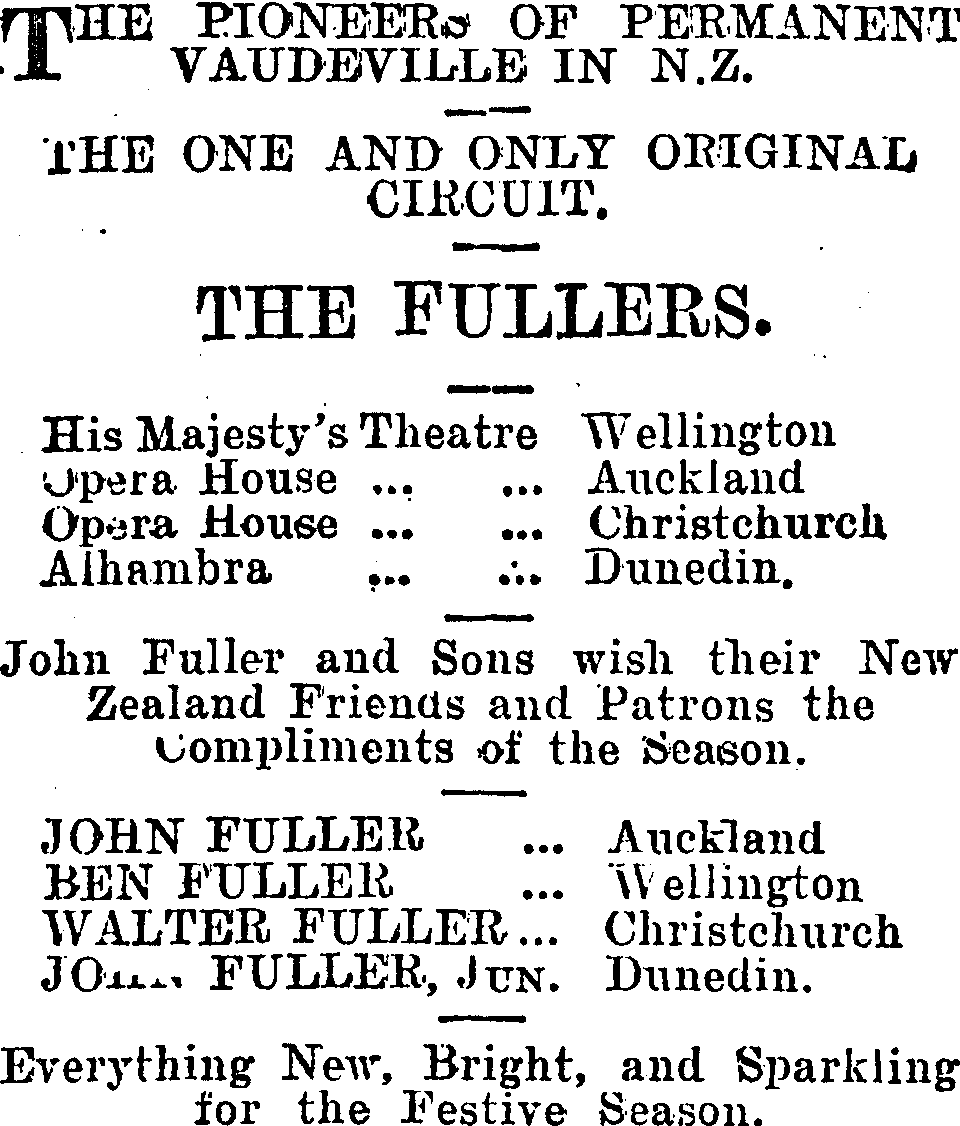 New Zealand Mail, 21 December 1904
My two next chapters will concentrate on Fuller's Theatres and include Johnny Fuller's World Trip in 1907, his contributions as a Wellington Councillor, which sadly also coincides with his divorce from Gertie in 1913.
Virginia Rundle
13 November 2017
BIBLIOGRAPHY
Trove Digitised Newspapers
Papers Past New Zealand
Actor's Blood, Alistair Duncan
Johnny Fuller's Scrapbook
Scott Fuller memorabilia and photographs
Australian National Gallery
State Library of New South Wales