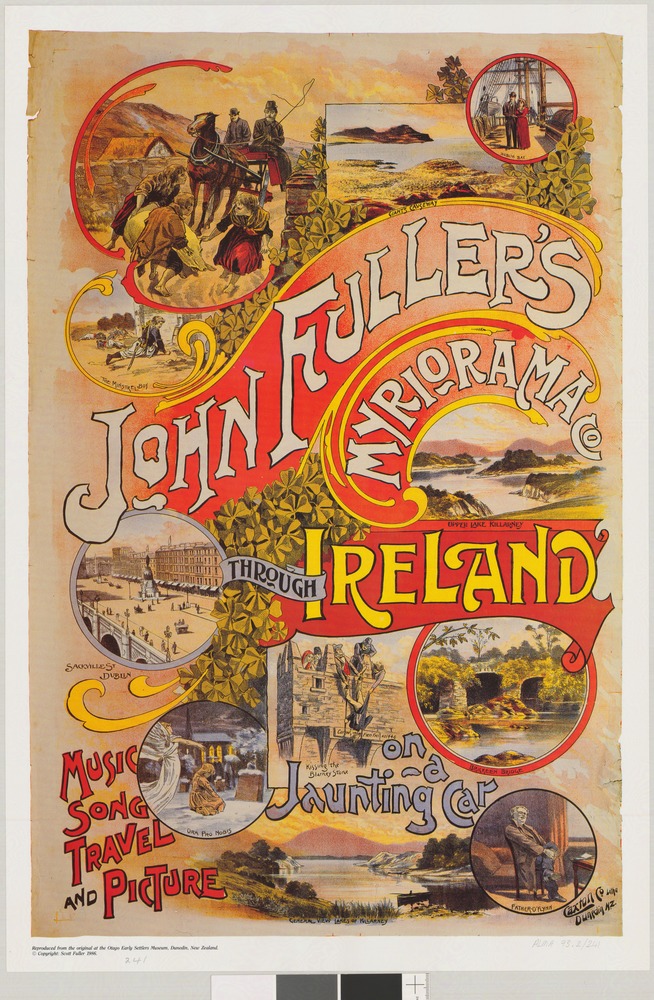 John Fuller's Myriorama Through Ireland on a Jaunting Car, image courtesy of Australian National Gallery and Trove Digitised Images.
1895 was the year when the rest of John Fuller's children, Walter, Benjamin and Lydia arrived in Auckland, New Zealand for the family reunion that John Fuller Snr had so anticipated and longed for. Early in 1895 John Fuller went on tour to Australia with The Continentals, visiting both Adelaide and Melbourne.
The South Australian Register 16 February 1895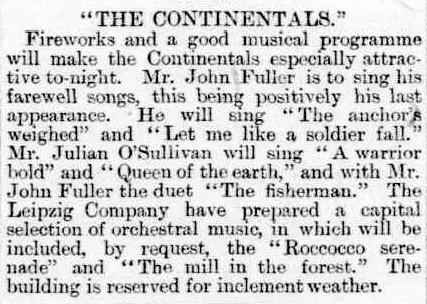 Express and Telegraph 20 February 1895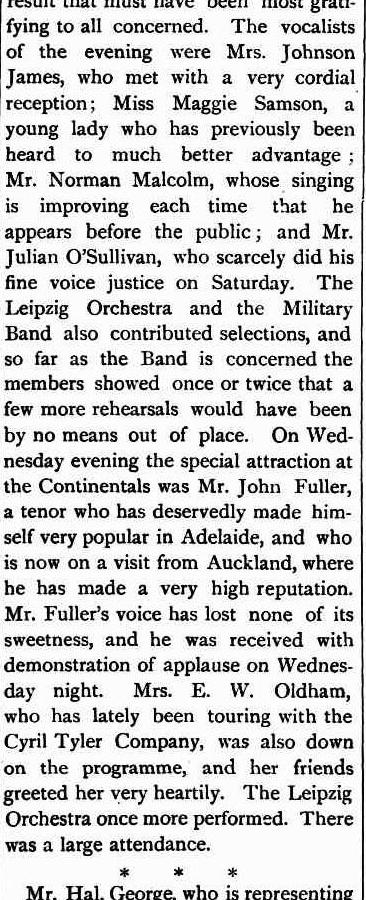 The Auckland Quiz 7 Feb 1895
As can be seen from the previous newspaper clippings, the show must go on, and when John was not producing his Peoples Popular Concerts in Auckland, he was taking work with other companies, which paid him well. He got all his expenses paid, plus 3 guineas for each show.
While impatiently waiting for the arrival of Ben, John took the opportunity to travel with The Continentals to Adelaide, and if family stories are correct John and Ben met down on the docks when Ben arrived aboard the Austral. The Austral had already called in at Adelaide so this family reunion may have taken place in either city. Later I found that John Fuller was appearing in a Harry Rickards Production at the Melbourne Opera House, no doubt filling in time till Ben arrived, which was reviewed by The Melbourne Age on 25 February 1895, newspaper article illustrated below.
Alistair Duncan tells this marvellous story in Actor's Blood:
"It has been recorded in print several times as fact that Ben met his father by the merest chance on disembarking at Port Melbourne. If so, then possibly John had come to Melbourne on some business arising from his company management job in Adelaide, and happened to be strolling along the wharf when Ben, having clambered down the gang plank from "SS Austral", spotted him. Or John spotted Ben, or they passed each other and then went into two gigantic double takes.
Of course, Ben could have let his father know his arrival date and time and John could have come to Melbourne to especially meet him. What gives the chance encounter story some credence is the "Austral" would have called in at Adelaide en route to Melbourne and John could have met his son there, but by then he might already have had to leave for Melbourne on business. There are dozens of permutations and combinations possible – but without any doubt, if asked, the Fullers would have sworn by the accidental meeting. Like the River Lee rescue of the singing teacher, it plays well.
One thing John would certainly have mentioned to Ben was that he had sent home his passage money to Australia, not realizing that he was already on his way out. Now no longer needed by Ben it could be made available to Walter or Lydia. When John's Adelaide job ended and the time came to put out a call for the family to assemble in Auckland, with any luck the reunion could be complete in a matter of months."
Readers will see a slight divergence of fact and fiction, however this was the way John Snr liked to remember the facts!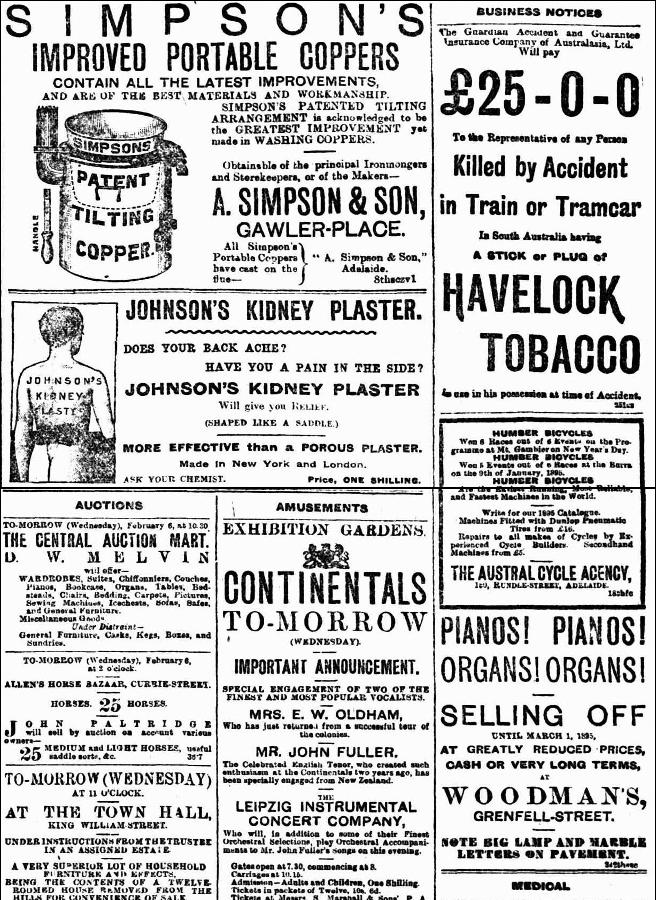 The Evening Journal, Adelaide, 5 February 1895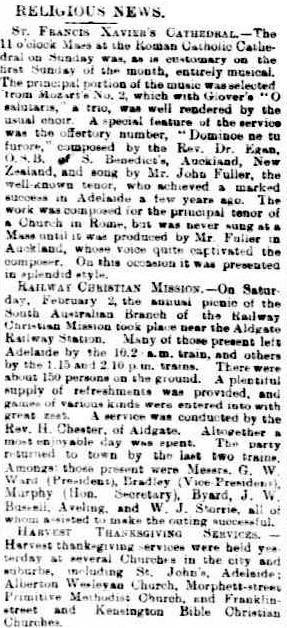 Religious News Adelaide, 5 February 1895
As can be seen from this newspaper article, John loved to sing in churches and cathedrals, clearly something that he had loved dearly as a youth. I am sure he discovered his silvery tenor voice singing in the churches of Shoreditch, London.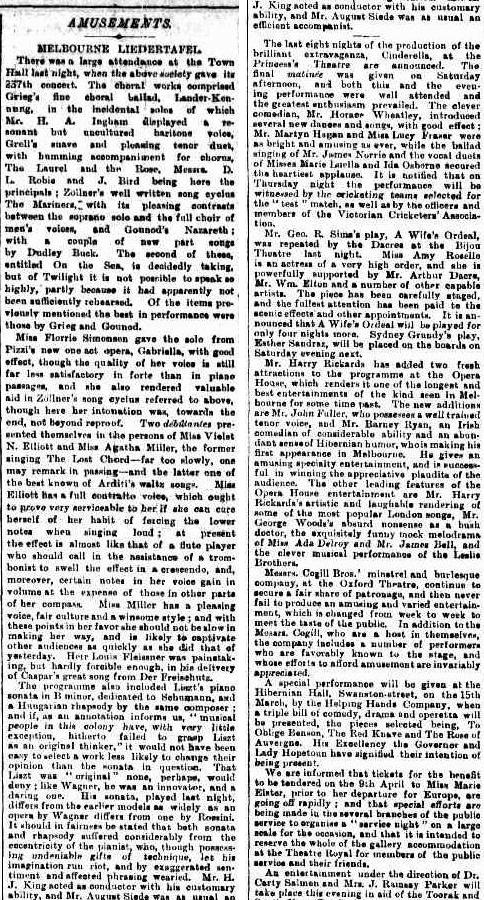 The Melbourne Age, 25 February 1895.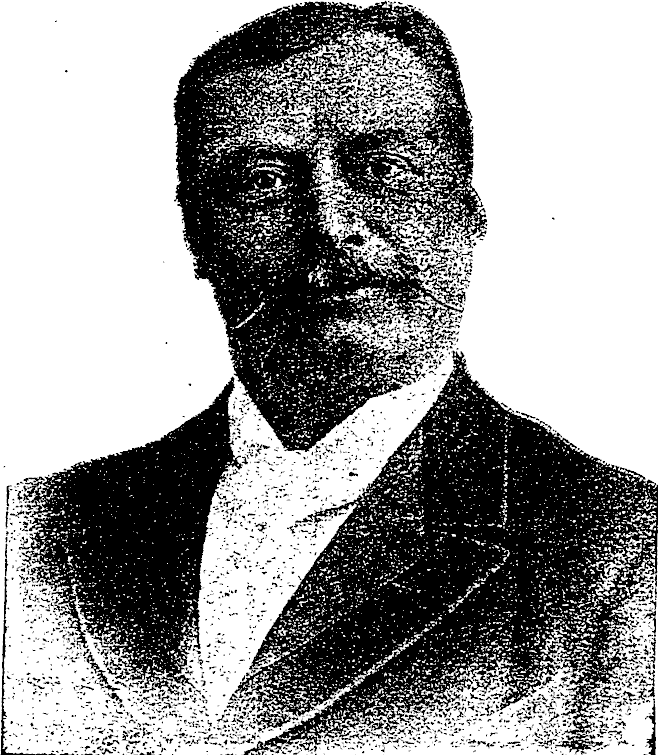 Photo of John Fuller, courtesy of Auckland Observer, 15 June 1895
I captured several articles regarding the arrival of The Austral into Australian waters, whilst none mention Ben Fuller by name; the ship's arrival dates support the family story about Ben Fuller's arrival in Australia.
It would seem that the Melbourne date fits better than the Adelaide date of 19 February 1895 to celebrate the reunion on the dock of John and Ben Fuller. I feel I can confidently confirm that John Fuller and his son Ben met up in Melbourne on 21 February 1895 and then they travelled to Auckland together after John's contract with Harry Rickards was finished in early March of 1895.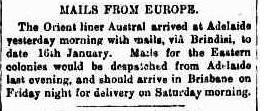 South Australian Register 20 February 1895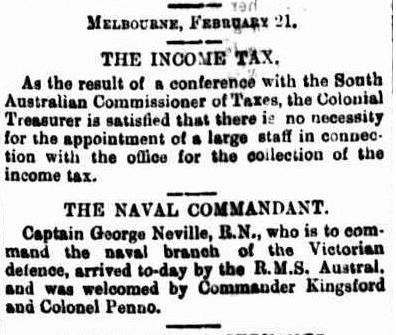 Brisbane Courier 22 February 1895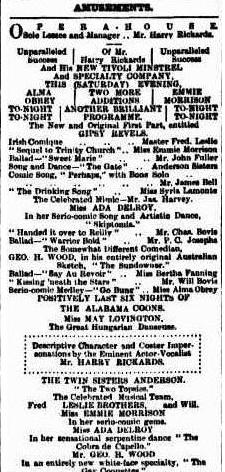 The Argus, 2 March 1895.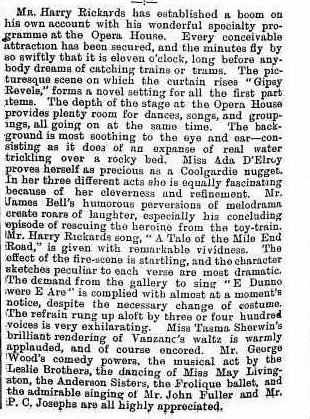 Table Talk, 1 March 1895

Auckland Quiz and Lantern, 4 April 1895

The Auckland Star 6 April 1895
The Auckland Star 9 April 1895
In April Ben Fuller makes his first appearance on the stage in Auckland. In a most interesting quirk of fate, in this first performance, Ben appears with his future wife, Lily Thomson, the first from The Auckland Star 6 April 1895 and a review from the same newspaper, on 9 April 1895.
Ben was very grandly described as "The Young English Pianist, Humorous Vocalist and Monologue Entertainer." Young Johnny is noticeably missing from this third Peoples Popular Concert performers that John Fuller was producing. No doubt Johnny was working backstage with the organisation of the Concert. Quick to recognise Ben Fuller's arrival in Auckland, the next advertisement for the People's Popular Concerts extolls Ben's enormous success.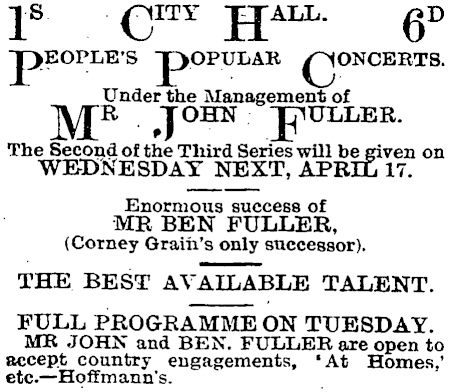 The Observer 13 April 1895

Thames Star, 16 April 1895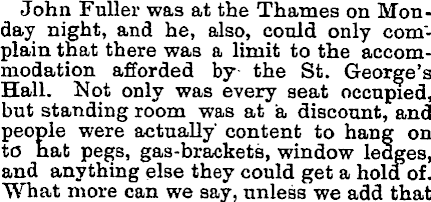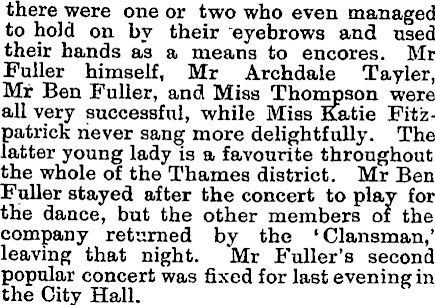 The Observer, 20 April 1895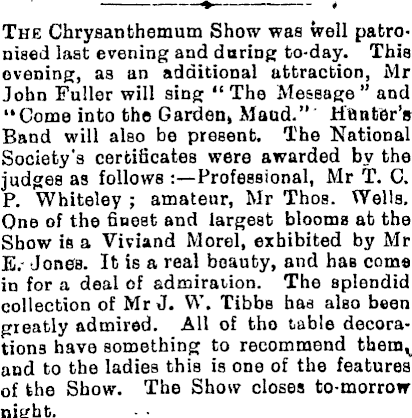 The Auckland Star, 19 April 1895
As always John Fuller had a voice for hire, and this advertisement shows his willingness to perform for his public and do favours, where possible, for his fans. These solo gigs were all part of John's clever publicity machine that kept him in the public eye and would have helped promote his own productions.
By the end of the April 1895, both Lydia and Walter have arrived to complete the reunion.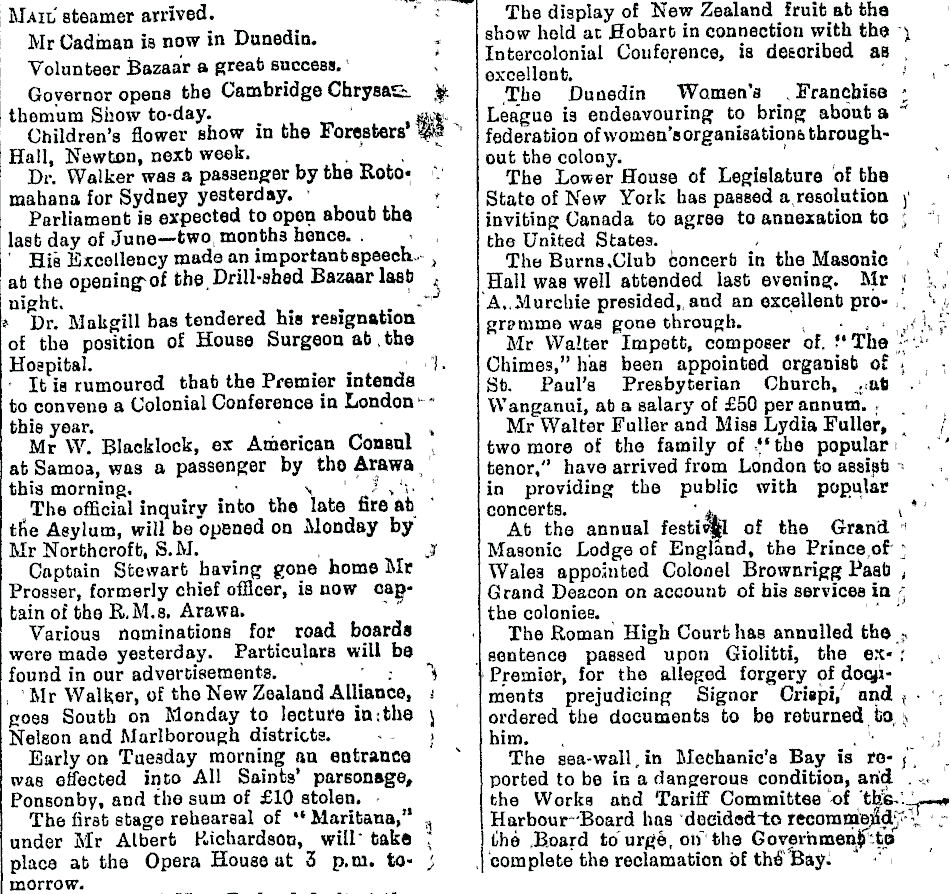 The Auckland Star, 26 April 1895
I was lucky enough to find the ship that Walter and Lydia Fuller arrived on the ship, Kaikoura from London, when I narrowed down the parameters of Paper's Past, New Zealand's online old newspaper website.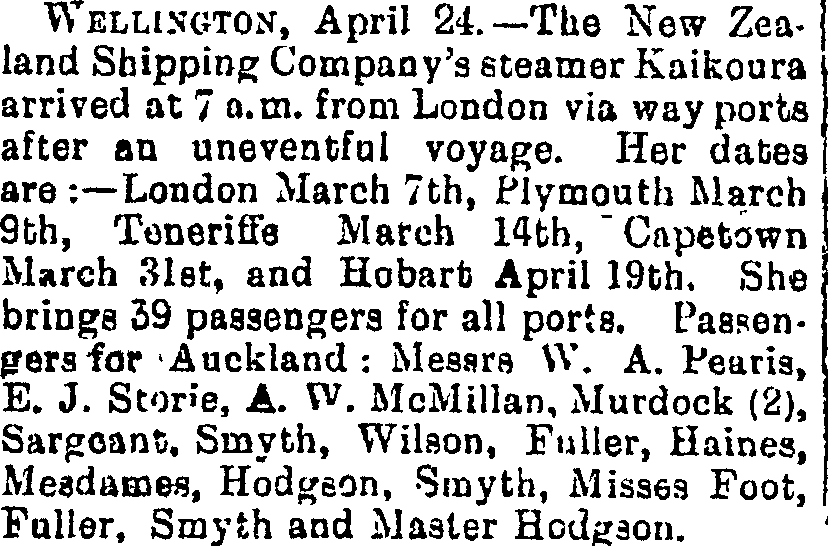 Arrival in Auckland of Walter Fuller and Lydia Fuller, aboard the Kaikoura, The Star, 24 April 1895 
To mark the Fuller family reunion John Fuller had a photographic session to record the family all gathering in Auckland. It must have been so exciting for Walter, Ben and Lydia to meet their new sister May. At the same time, John makes plans to launch the New Zealand careers of Walter and Lydia.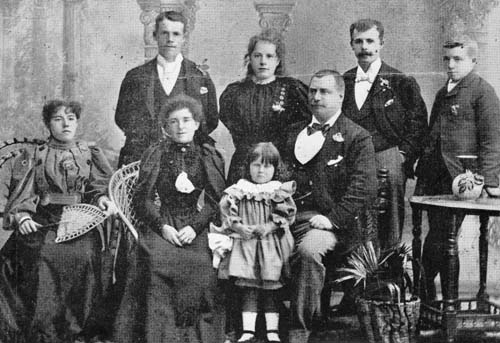 The Fuller Family Photo, Auckland, New Zealand, 1895 image courtesy of Scott Fuller
Back L to R: Walter, Hettie, Ben and Johnny Fuller, Front: Lydia, Ma, May and John Fuller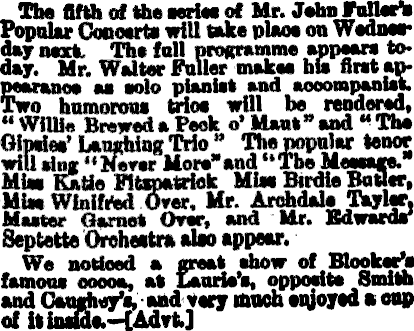 New Zealand Herald 7 May 1895

The Thames Star 17 May 1895
New Zealand Herald, 30 May 1895
John Fuller was a busy man, recruiting new acts, singers and devising new programs for his Concerts. The introduction of a finale operetta, The Rose of Auvergne was an instant hit. The Thames Star advertisement of 17 May 1895 and a review from the New Zealand Herald, 30 May 1895, mentioning John and his children, Walter, Ben and Lydia. However, Hettie is yet to make an appearance, and Johnny is probably working on the production side, physically just waiting in the wings.
Once the Company has exhausted its audiences in Auckland, John then takes the show on the road with his children. They head for the Taranaki area which is on the south western side of the North Island an area John Fuller has not been to before.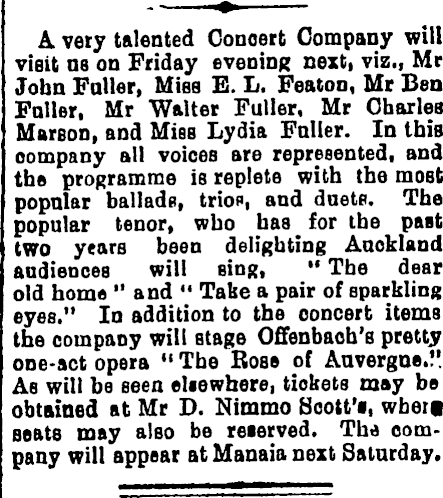 Hawera Star 22 June 1895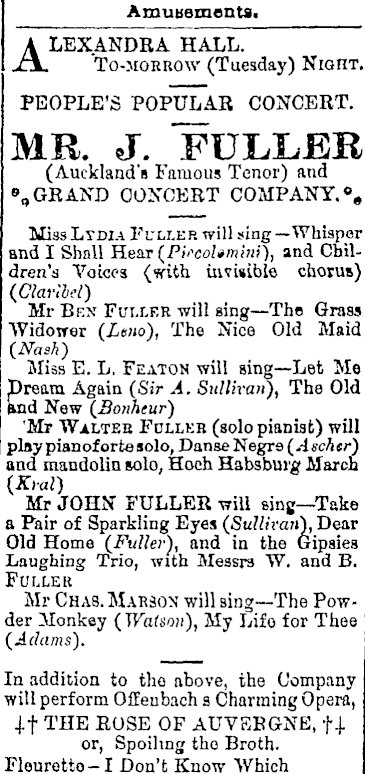 The Taranaki Herald 24 June 1895
An advertisement placed in The Taranaki Herald 24 June 1895 shows John is hiring the Alexandra Hall in New Plymouth for his concerts.
The Fuller family returns to Auckland for another series of concerts in July. Master John Fuller is back, this time as a reciter, and I can see that his father John is working on a routine to get Johnny regularly appearing in his Company.
The New Zealand Herald 4 July 1895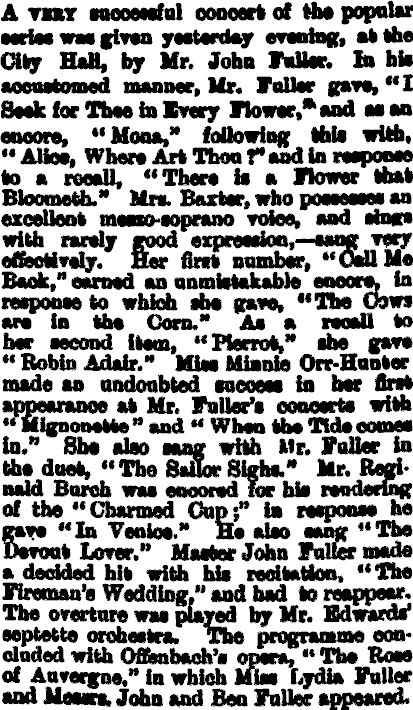 The New Zealand Herald, 9 July 1895
A review of the previous night's concert at the City Hall in Auckland, when Master John Fuller scored a hit with his comedy recital of The Fireman's Wedding.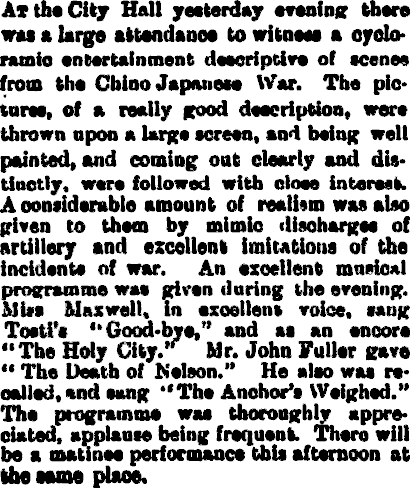 The New Zealand Herald 13 July 1895
This newspaper clipping mentions cycloramic entertainment, and for the first time it is clear that they are using myrioramic effects during the first part of the evening, later the Fullers present their musical programme. Clearly all the Fullers are happy with the compromise in their business, and clearly it is a good formula.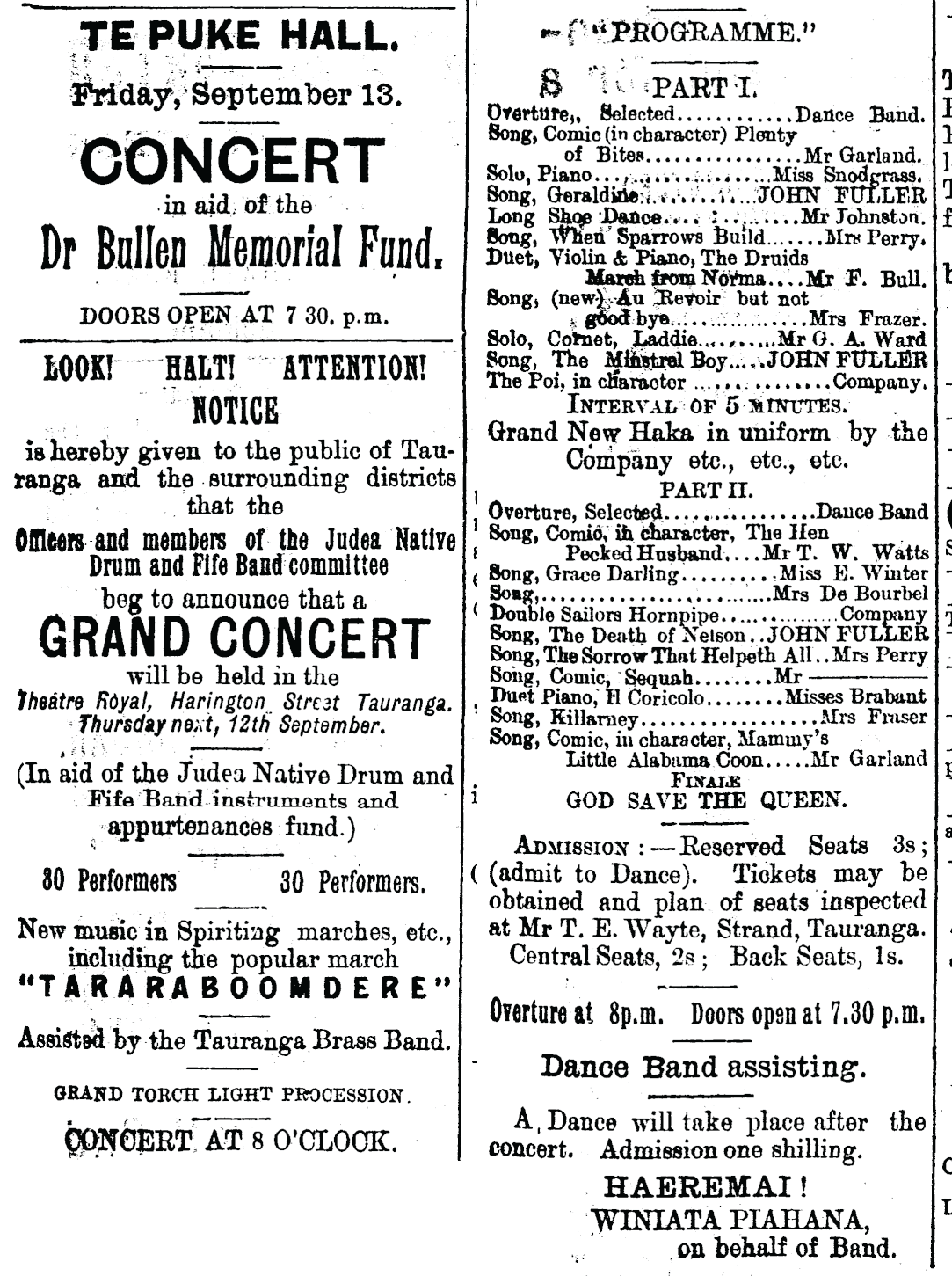 The Bay of Plenty Times, 9 September 1895
John is singing with another company at a Grand Concert in Tauranga, a town on the Bay of Plenty, on New Zealand's North Island. It must have been an impressive venue because the following month John Fuller takes his talented family to Tauranga, where he hires the Theatre Royal, for his newly formed Grand Auckland Concert Company.

New Zealand Herald, 13 November 1895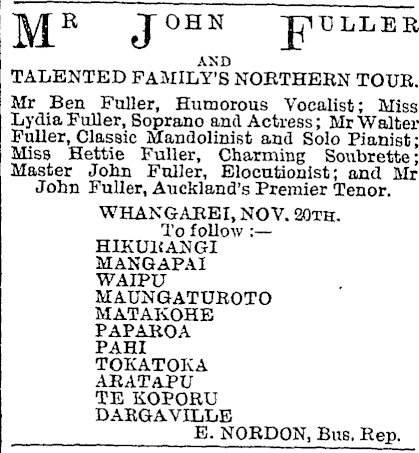 The Observer 16 November 1895
This incredible advertisement gives so much information about the family and one has to marvel at the itinerary town names where they are to tour. We can now see that Hettie has joined the Talented Family's Northern Tour. For the very first time the entire family is now on the stage in New Zealand. Also John is doing well enough to have employed E. Nordon as his Business Representative, he now has an agent who is looking out for opportunities for the family business.
It must have been a very Happy Christmas in the Fuller household that year and I am sure they must have toasted their early success and wished each other more triumphs in the following year. John had made some interesting plans for the Fuller family entertainment business.
The Bay of Plenty Times, 21 February 1896
The Bay of Plenty Times, 21 February 1896, shows where the family are on the road again singing at the Theatre Royal at Tauranga, a town only about a two-hour train ride south from Auckland. This notice in the New Zealand Herald is part of the magic that John Fuller weaves and his knack of achieving publicity for his business in about to become legendary.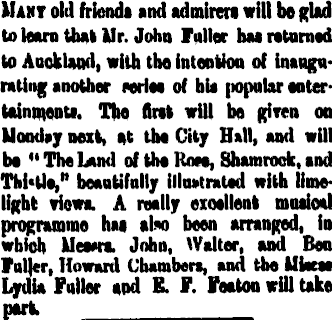 New Zealand Herald 14 March 1896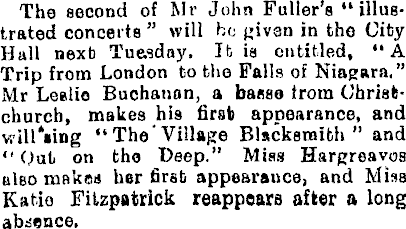 The Auckland Star 20 March 1896
It is interesting that the reviewers have still not settled on a name for the Fuller's "illustrated concerts", they are without a doubt using the Myriorama machine that was hired from the Sydney School of Arts, with Johnny Fuller working the machine, the show was entitled A Trip from London to the Falls of Niagara.
A MUSICAL TREAT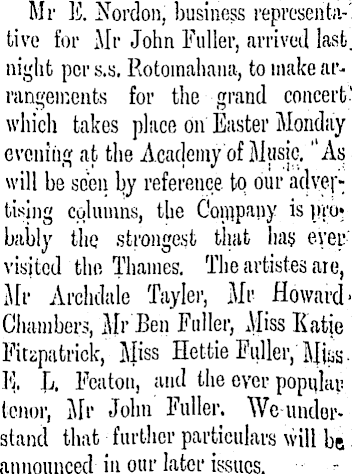 The Thames Advertiser, 31 March 1896
Thames is a town just south of Auckland and a favourite one on John Fuller's Popular Concert tours.
Whilst Ben and Walter had stayed in England during the period when John Fuller toured Australia and New Zealand, the two brothers had the good fortune to be employed by Poole's Myriorama Company. Walter was conducting the music and Ben was employed to their publicity department, which actually meant bill sticking and circulating leaflets. The two men had learned pretty well everything there was to be known about the business. They both felt that the Fullers entertainment business could be complemented with a show. It would appear that they managed to procure a machine from the Sydney College of the Arts, on a hire basis with the understanding that it would be returned when needed to Sydney. The Sydney machine was called an Electrinopticon Lantern complete with a variety of interesting slides, mainly English, Irish, European and African historical and geographical scenes. They developed a theme for the slides and several shows were invented.
There had apparently been a family vote regarding the move to a change in the Fuller business in 1896. John Fuller was happy with the status quo; his sons however, felt the need for modernisation. John's company was making money, but only just breaking even, some Concerts saw a hefty profit, and others were less successful and profits were gobbled up with these losses. The household laughed, some nights it was soup for dinner, others nights it was roast chicken!
The vote was taken, the decision was made, and it would need to raise extra money to start the enterprise, as hiring a machine was not without expense. It was also decided that Ben would continue his job as marketing and publicity manager, Walter would be the vocalist who described each scene, and it fell to Johnny to become the controller of the electrinopticon lantern, and handle the slides and at the same time organise the off stage sound effects and lighting.
Patrons were to be treated to the wonders of scenes from the other side of the world, bought to life in the theatres of New Zealand. Many citizens had been born in New Zealand and had only read books and seen illustrations about Europe, Asia and Africa. This curiosity for the past and all things from the other side of the world was about to strike pay dirt for the Fuller family who had come up with a popular way of combining John Fullers vaudeville with his son's spectacular Myriorama shows. It was a matter of being in the right place at the right time with the right equipment. The New Zealanders loved it, and they flocked to the theatre time and again as new shows were mounted. The formula worked and now Ben Fuller was on the verge of travelling back to England, purchasing a machine and more slide shows to quench the thirst of the New Zealand populace.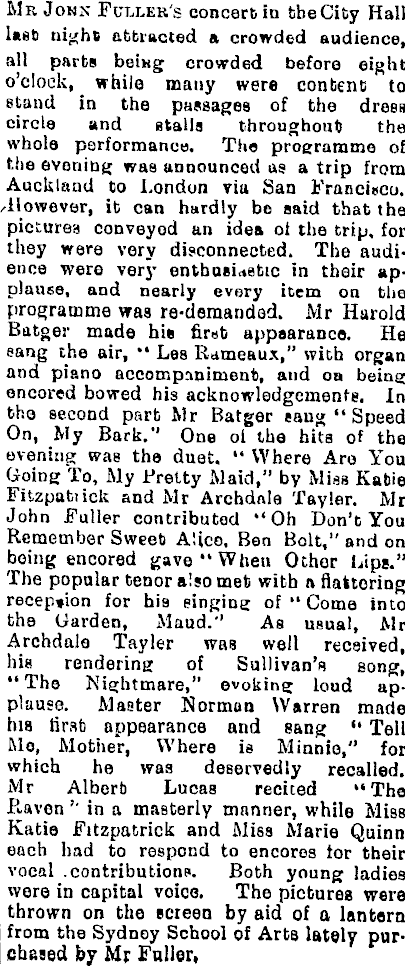 Auckland Star, 24 June 1896
This article mentions the lantern from the Sydney School of the Arts in the Auckland Star, 24 June 1896. Whether is was a purchase or a loan is questionable, however I am sure John Fuller felt that the mention of such a scientific machine borrowed from Sydney was a matter of great impression to the New Zealand public, and as with all things scientific, there was considerable interest in these new contraptions.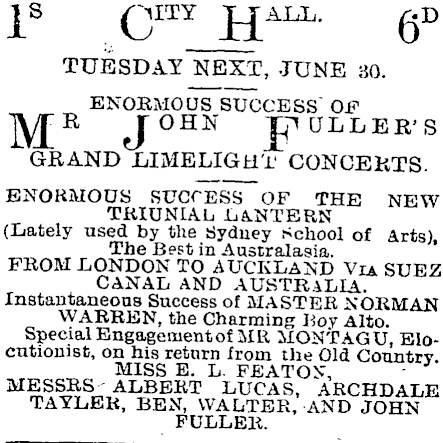 The Observer, 27 June 1896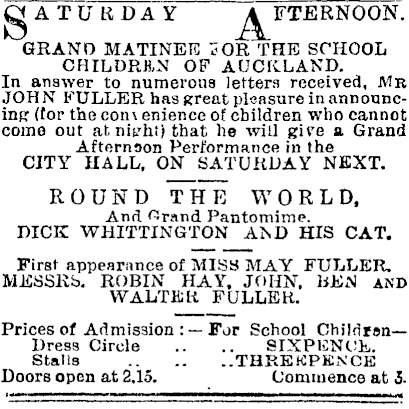 Auckland Star 30 July 1896
The Fuller's entertainment business was branching out to encompass the ever-popular pantomime shows, so beloved by both the young and the young at heart. For John Fuller, it was a matter of show business, and if he had a theatre he would promote a show, thus matinee shows became a popular feature of both Australian and New Zealand audiences. In fact, it was a clever business, because once inside a darkened theatre, one simply forgot whether it was day or night.
The pantomime Dick Whittington and his Cat records the first appearance at the age of four of Miss May Fuller.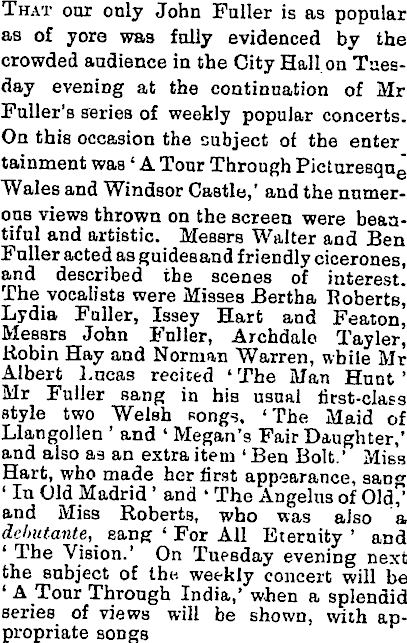 The Observer, 18 July 1896
Auckland Star 20 July 1896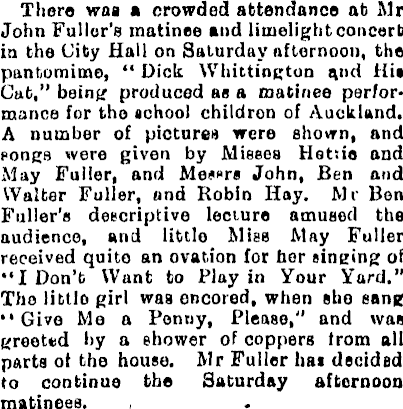 Auckland Star, 3 August 1896
Wonderful reviews were recorded for the Pantomimes and the success from the public's point of view hailed the Saturday afternoon matinees as a popular event. I am sure John Fuller was pleased to announce they would continue.
The combination of placing advertisements in the newspapers came with the added bonus of wonderful reviews and promotions. Again, the Fullers had found a brilliant formula to promote their theatrical business. Success was coming quickly to this very energetic family.

New Zealand Herald, 3 August 1896
The reviewer of the pantomime of Dick Whittington and his Cat is full of praise for the performance of the newest cast member, May Fuller, and also promotes their new concert, A Tour through Switzerland.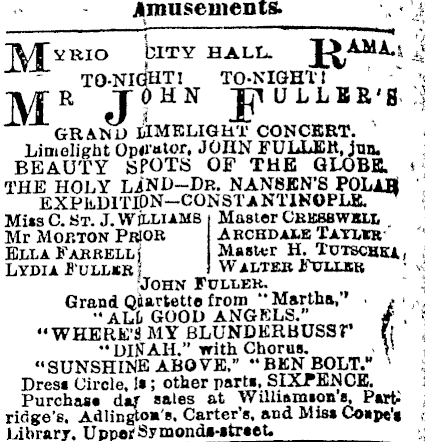 Auckland Star 7 September 1896
The one thing that probably troubled John Fuller was that his shows were very much dominated by the Fuller name and there could have been criticism levelled at them to state that this was just a Fuller Show and lacked depth and substance. John soon came up with a remarkable solution to this perceived problem by giving his children stage names. It only took me a few minutes to work this latest ploy out and it was with much amusement that I collected the next few newspaper clippings from old New Zealand newspapers. I was also at a point in my research where I was getting to know my great grandfather and understanding what was going on in his head. He was a clever showman who was one step ahead of his audiences, with the remarkable cunning of knowing what they wanted and how to keep them entertained and keep them coming back to his new shows.
The Globe, 8 September 1896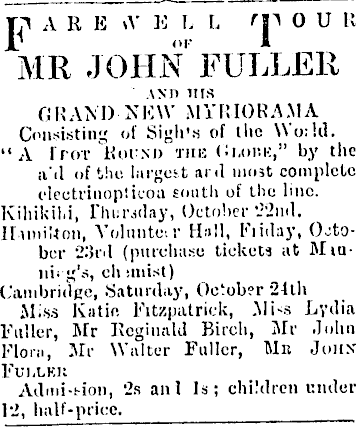 Waikato Argus 20 October 1896
This was the first time I saw the name Mr John Flora, and I must say I wondered who this new operator of the Fuller myriorama was. Another reviewer soon comes up with another novel name for the Fuller's machine, the Glechinophion!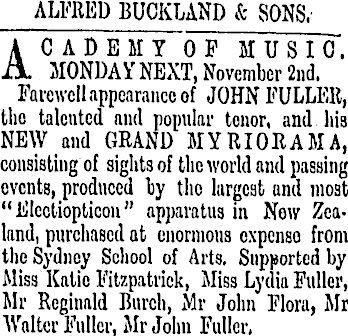 The Argus, 20 October 1896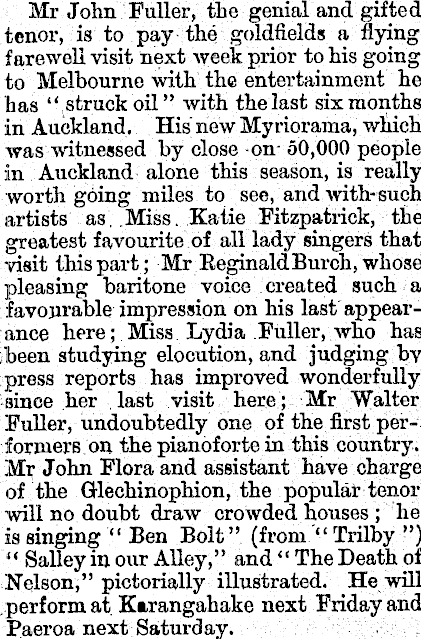 Ohinemuri Gazette, 24 October 1896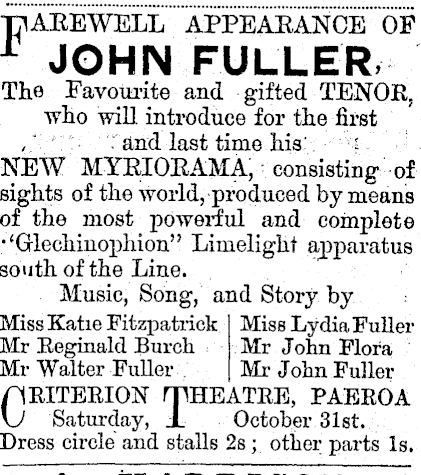 Thames Advertiser, 31 October 1896
I was enjoying my research so much, with each and every new month, there was something new this talented family was up to. They delighted me with their sense of invention, tireless enthusiasm and for me their enormous talent that I hadn't realised had involved the entire family. The Fullers travelled to Wellington for Christmas in 1896 and again received rave reviews for their concerts. The transition to stage names for Lydia and Hettie occurs in time for their Christmas Concert.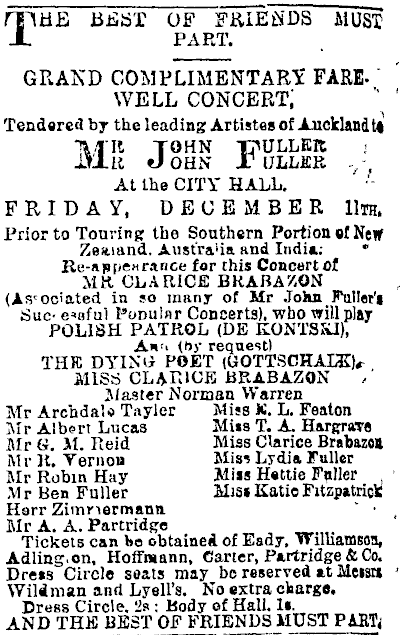 Auckland Star 8 December 1896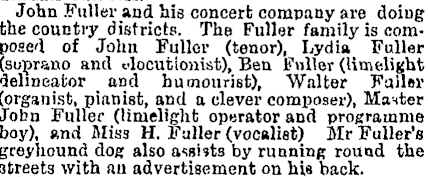 Otago Witness 10 Dec 1896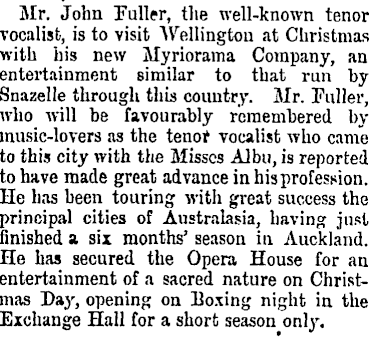 Evening Post 12 December 1896
Evening Post, 19 Dec 1896
As well as Johnny Fuller becoming John Flora, Lydia Fuller had become Miss Lydia Walter and Hettie Fuller had become Miss Hettie Walden, two interesting stage names. Lydia's was most definitely chosen for her grandmother Mary Walter's maiden name. Mary Walter had married Benjamin Richard Fuller, and were John Fuller Snr. parents.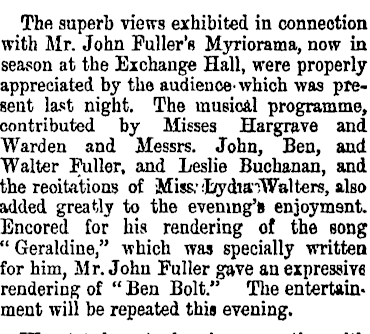 Evening Post 31 December 1896
Following on from the family's great farewell tour in Auckland and the Fuller's Christmas and New Year shows in Wellington, John Fuller decided to take the show on the road and in the new year they visited Fielding, Whanganui and Hawara on the lower regions of the North Island. The plan after that was to visit the South Island and in particular John Fuller was keen to return to the Otago peninsula and play in Dunedin.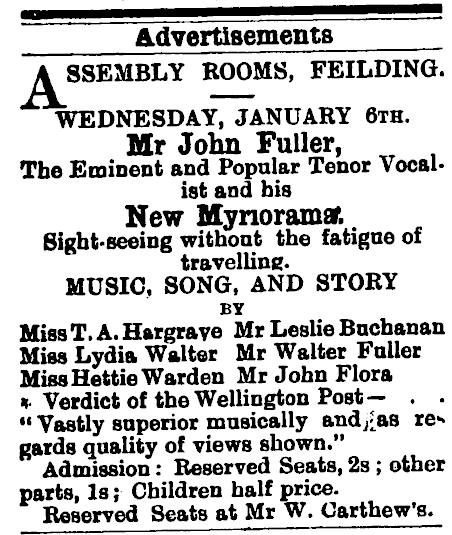 Fielding Star 4 January 1897
Whanganui Chronicle 7 January 1897
Hawara Star 16 January 1897
It is entertaining to read the information supplied by John Fuller to these journalists for their reviews. Where he got the idea to promote Miss Hettie Warden as a well-known London drawing room entertainer shows John's marvellous invention and imagination. Perhaps he was thinking back to his own home, and how Hettie could sing to entertain her family?
Southland Times 8 March 1897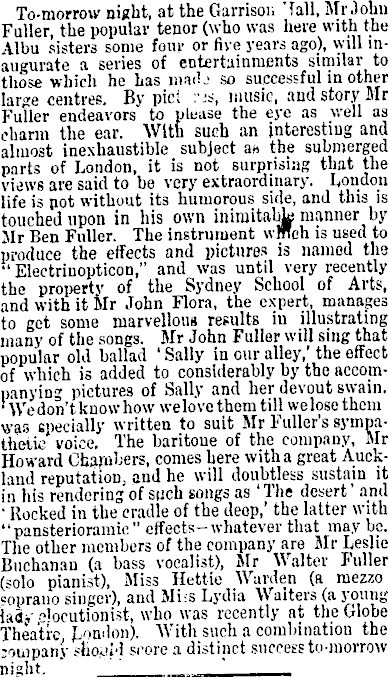 Evening Star 2 April 1897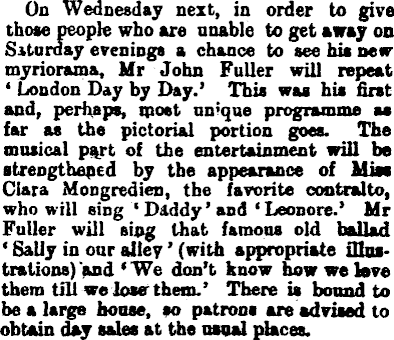 Evening Star Dunedin, 20 April 1898
John Fuller's Myriorama, London Day by Day, poster image is courtesy of The Scott Fuller Collection.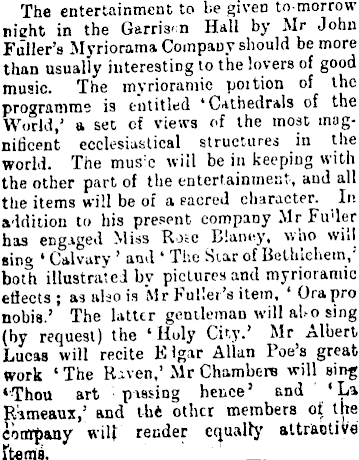 Evening Star, Otago, 11 May 1897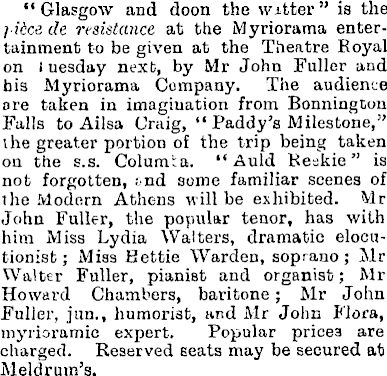 Omaru Mail 16 July 1897
The Fullers by now had been on the road for over 6 months, and worked their way up the coast from Dunedin to Omaru and then returned to Wellington. Ben Fuller was absent from September 1897, because he made a trip back to England to obtain more urgently needed myriorama slides and to recruit new acts for the Fuller's shows. It was essential that the Fullers keep updating their shows as variety was everything, and new acts were a vital part of their entertainment business. Ben Fuller also investigated the idea of bring a wax works exhibition to New Zealand. These were of tremendous interest to the general public and museums, and were very popular. The idea of combining wax works figures and roaming historical figures before the start of their shows was another extension of their entertainment business.
By August the Fullers had returned to Wellington, this time performing at a skating rink, adding another interesting theme to their concerts.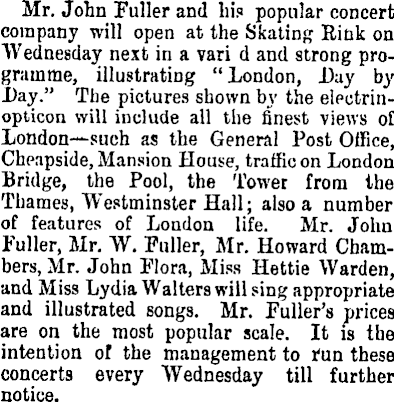 Evening Post 23 October 1897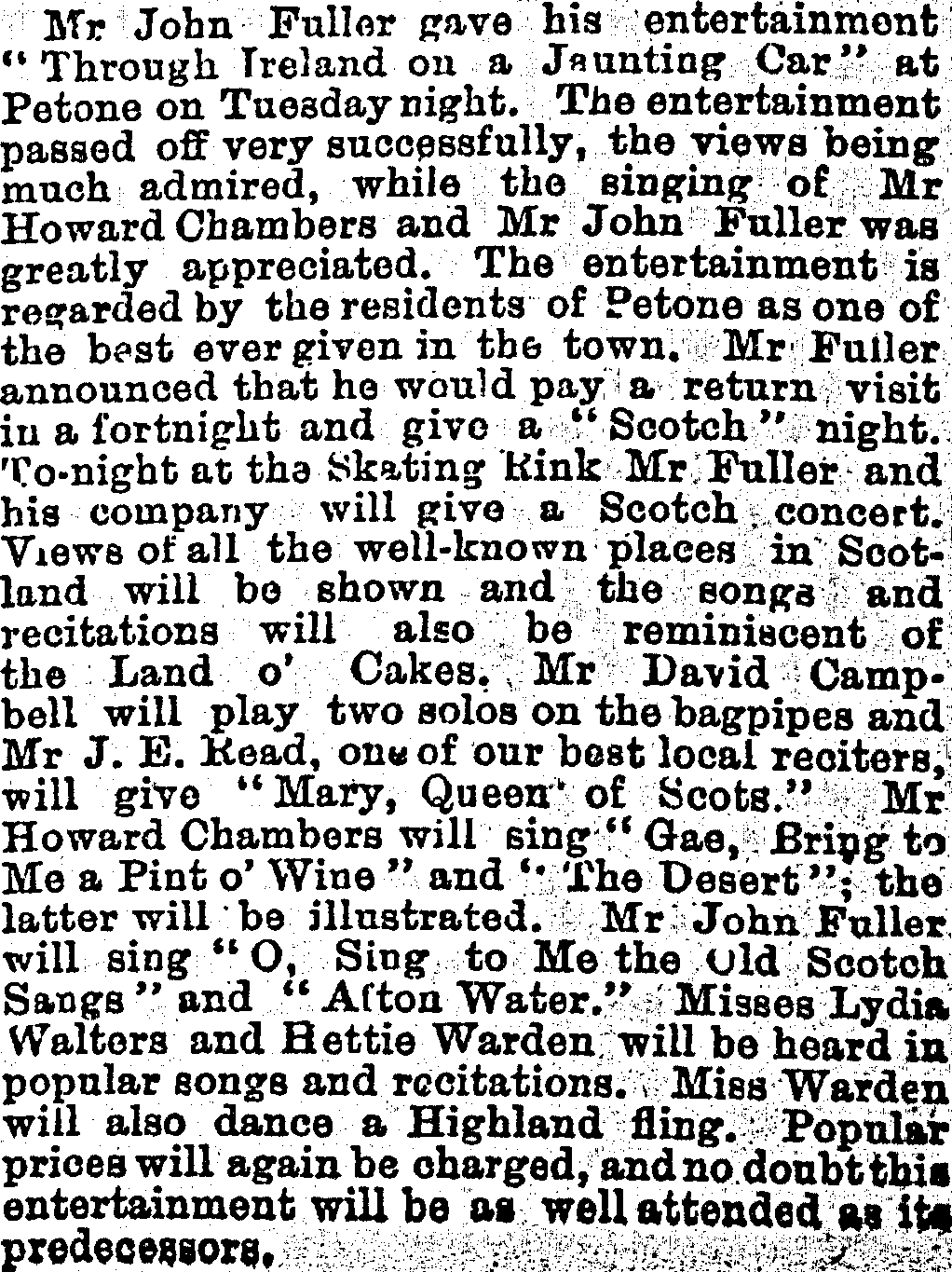 New Zealand Mail, 18 November 1897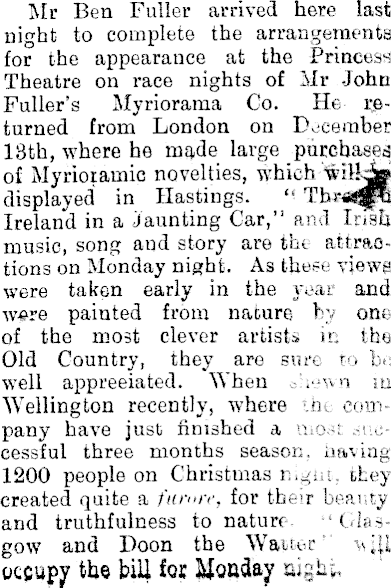 Hastings Standard, 29 December 1897
These newspaper articles describe the new Myriorama delights that Ben Fuller obtained in London. What is amusing is that John Fuller continues his interesting tales and inventiveness to include Professor Malden's contribution from The London Polytecnic (sic), now Westminster University. Rapid advances in technology resulted in new courses and lecture programs to promote further understanding. John Fuller, on the other side of the world was embracing this new world enthusiastically.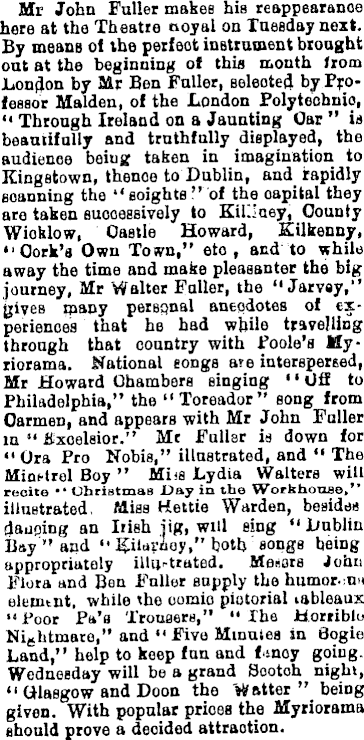 Daily Telegraph 31 December 1897
1898 would continue to be another year of great successes with the Myriorama being the major draw card. The Fullers had actually shown some of their "new" myriorama's to the Wellington and Dunedin audiences first. It was probably more of an experiment to see how receptive the audiences were to change as much as giving his audiences in Auckland a breather for the year 1897 while the Fuller Concerts went on tour.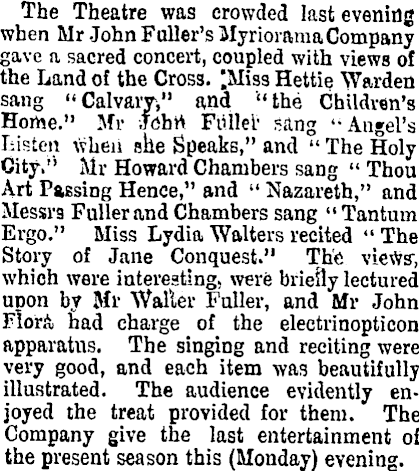 The Nelson Colonist 2 February 1898
Nelson is a town on the most northern part of the South Island of New Zealand. Following on from this town, the Fuller's next major city they visit is Christchurch.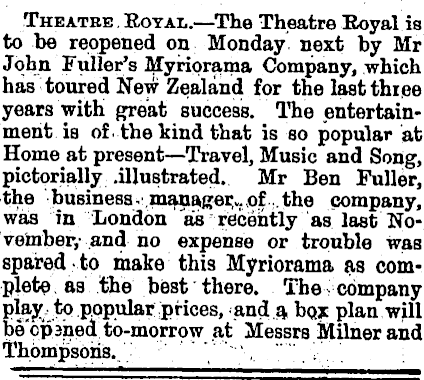 Christchurch Star 20 April 1898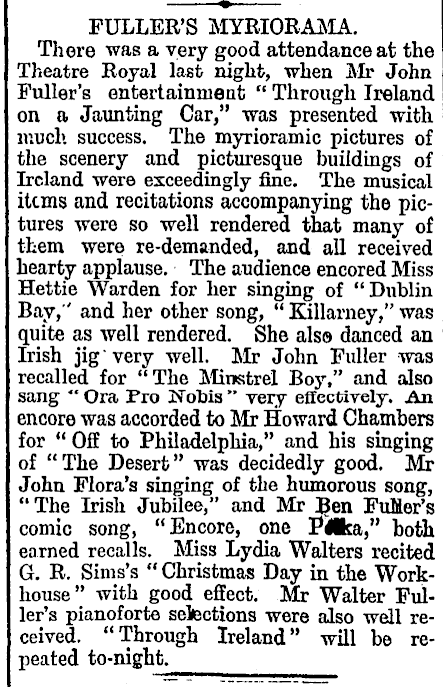 Christchurch Star, 29 April 1898

Ellesmere Guardian 8 June 1898
This is a wonderful account of the Fuller's talented entertainers and even though John Fuller is billed as the "star" there is an even higher acclamation for Howard Chambers with the statement about the best bass voice ever heard in Leeston.
By the end June the Fullers were in Temuka, near Timaru, south of Christchurch for a revisit which proved popular.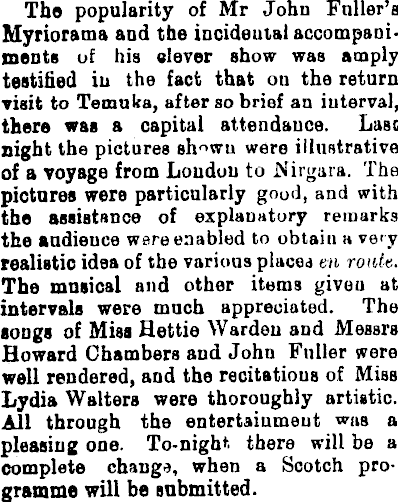 Temuka Leader, 23 June 1898
The Fullers were again working their way down the coast to Dunedin and by the end of June I found newspaper clippings showing that they were pulling in exceptionally large audiences to their Myriorama shows. Also impressive was how incredibly varied the Fuller concerts had become.

Otago Daily Times, 30 June 1898
New Zealand Herald 17 September 1898
September heralded a welcome back to Auckland for John Fuller and his theatrical company. They had been touring solidly for two years and although probably exhausted by this effort, it had certainly paid off financially for the Fullers. The next few years see the Fullers move out of New Zealand for a short time while they take their show on the road to Australia. Again, they are overwhelmed by the successes of their shows and the reception of the audiences. The newspaper attention must have been very flattering and turned them into what we now call celebrity status; whereby the journalists recorded their every move.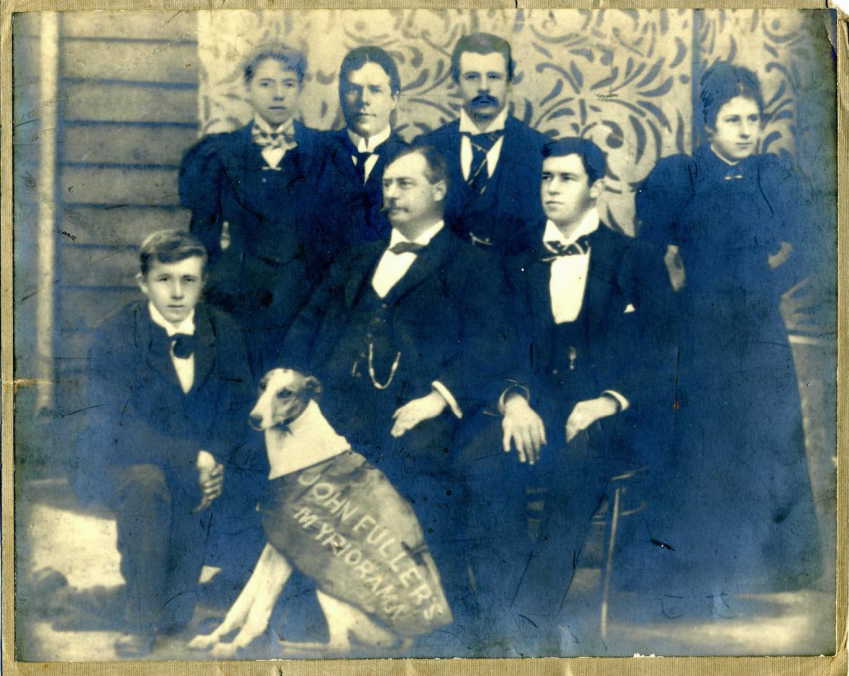 The stars of Fuller's Myriorama Company. Sitting, left to right, Johnny Fuller, Roto the Greyhound, John Fuller Snr, Howard Chambers, Standing, left to right, Lydia Fuller, Walter Fuller, Benjamin Fuller and Hettie Fuller. Image courtesy of Emily Dickson, a grand-daughter of May Fuller.
To celebrate the return of the Fuller's Myriorama Company back to Auckland, John Fuller organised a photograph to mark the occasion. Roto famously patrolled the pavement outside the Auckland Opera House when the Fuller's were performing. He became a star in his own right, helping to fill the theatre to capacity.
Matilda Emily "Ma" Fuller was expecting her second baby, and on 22 October 1898 Raymond Gerald Fuller was born. John Fuller proudly announced the birth in the newspaper.
Auckland Star 27 October 1898
My next two chapters, The Fuller Fortune 1899-1904 and Fuller's Earth 1905-1913 continue the tale of the increasing fortunes of the Fuller Empire, highlighting their world tours, marriages, a personal tragedy, a divorce scandal that would create a publicity furore, and a libel and a copyright case that hit the headlines in both New Zealand and Australia.
Virginia Rundle
8 November 2016, updated March 2019
Bibliography:
Trove Digitised Newspapers
Papers Past New Zealand
Actor's Blood, Alistair Duncan
Johnny Fullers Scrapbook
Scott Fuller memorabilia and photographs
Australian National Gallery
Photographs courtesy of Emily Dickson